Ocean Bingo is such a fun chill game the whole family can play! It doesn't take any skill and with the ocean pictures, even your little kiddos can have a good time playing! 
Ocean Bingo Printable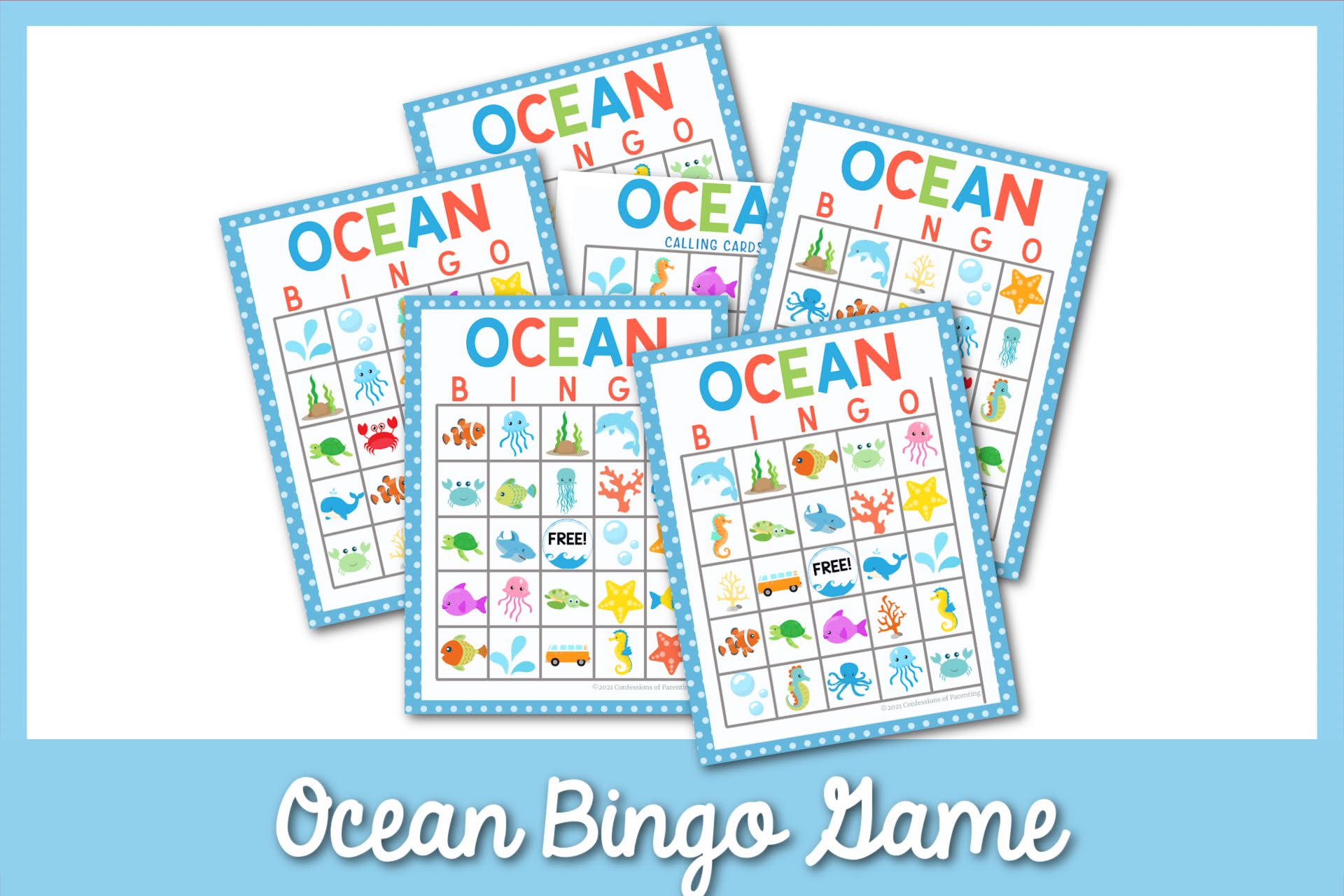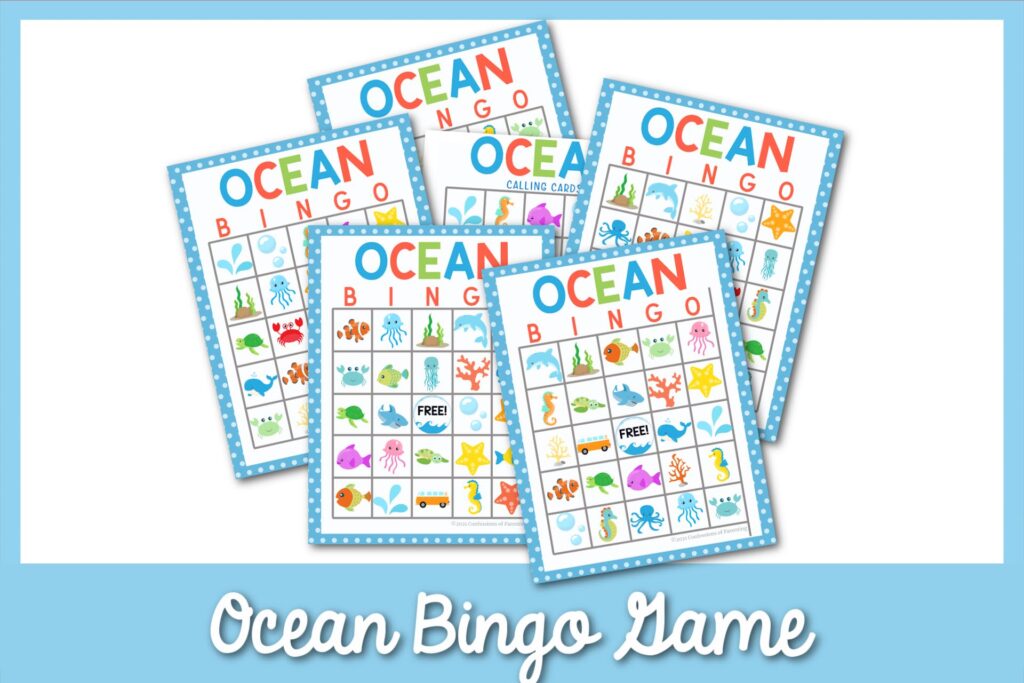 Bingo is a classic go-to game for lots of family fun! In our home, we love Animal bingo, summer bingo, fall bingo, and of course this fun Ocean Bingo game because who doesn't love the ocean and the beach?! My family has shared countless memories at the beach and this game helps us remember those good family moments together. I feel like most of the time spent playing is actually spent reliving those stories. I love it! 
I love how versatile bingo is! It's fun for your Kindergartener, your senior in high school, your spouse, and your parents when they come to visit! There is just enough competition to keep the game fun, but you mostly just have to rely on luck which helps the game playing atmosphere! There is a lot of anticipation and it's so fun! And winning prizes certainly help!
How to Play Ocean Bingo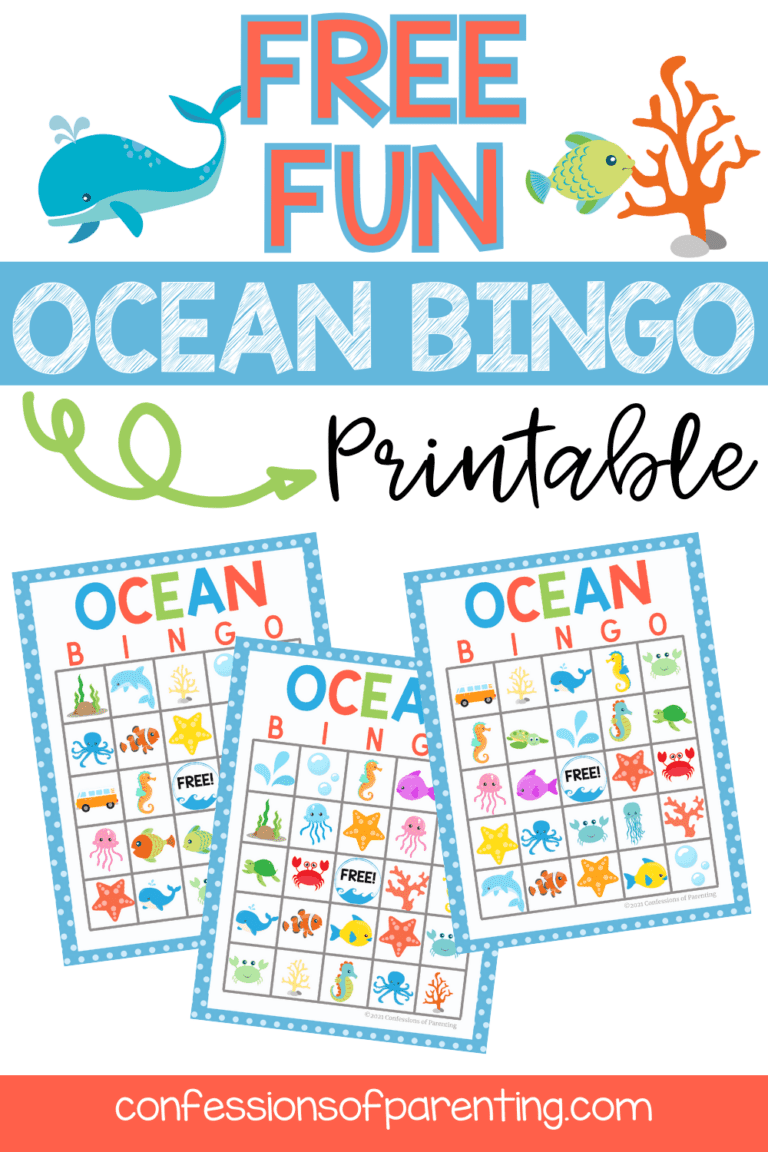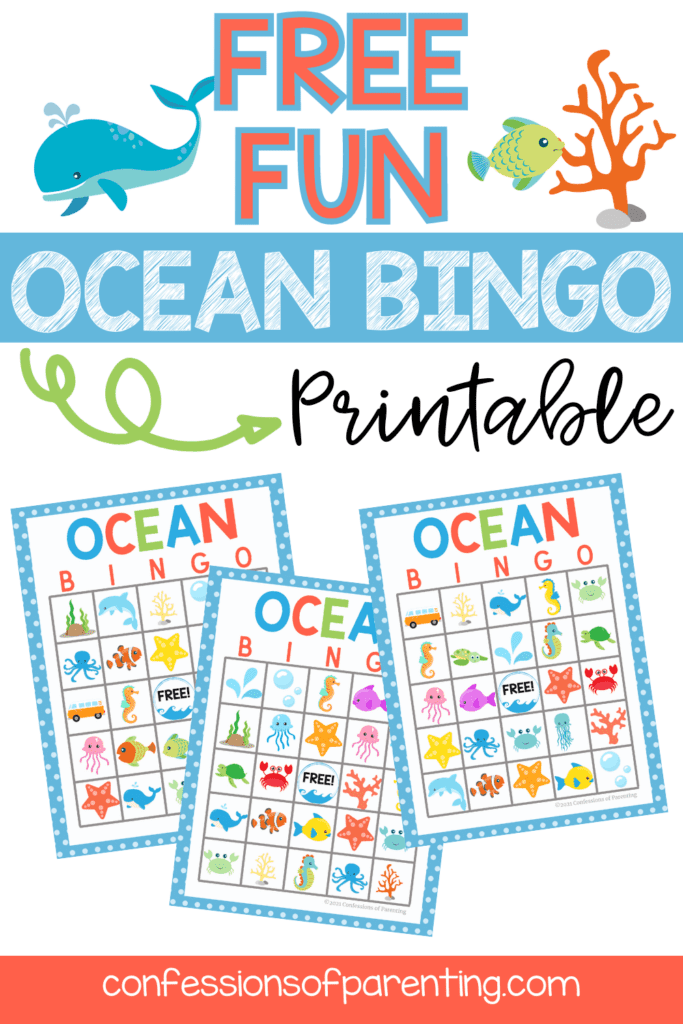 Bingo is one of the easiest games to learn! Don't worry if you've never played it before!
First you're going to print the bingo sheets below (there are instructions for how to do that below). There are 6 bingo boards and one calling card list.
To set up you're going to cut out each of the calling cards, laminate them for added durability, mix them up and put them in a bowl or a bag or something that will make pulling out cards easy.
Then you're going to hand out a bingo card to everyone playing. For this bingo set you can have up to 6 people playing! If you have more than that, you can play in teams. Each player will get bingo markers as well. A list of marker possibilities is listed below.
Once everyone is set up The caller is going to pull a card out of the calling card pile. They'll show the card to everyone and whoever has that picture on their bingo board will put a marker over the picture.
For example, if I was the caller and I pulled out the red crab picture everyone with a red crab on their board would place a bingo marker over the picture.
The object of the game is to get 5 matches in a row in any direction (vertical, horizontal, or diagonal). The first one to get 5 in a row yells "BINGO!"
After someone gets a BINGO you can give them a small prize or let them pick from the prize table. Everyone then clears their cards and you start again!
Tips and Tricks for Playing Ocean Bingo
There are so many ways you can spice up this game! Just add some little prizes for the bingo winners. Some of my favorites for Ocean Bingo are these super cute mini stuffed animals. The ultimate winner could choose the dessert for the night if you choose.
You can have so much fun with the bingo markers! There are the classic bingo chips. You could use pennies, cheerios, my personal favorite, M&M's or any other small candy.
Printable Ocean Bingo Cards
Grab your free ocean bingo cards by joining our free Confessions of Parenting VIP club below! But if you aren't quite ready to get exclusive offers and emails from us, you can grab your Ocean bingo cards right here!
Helpful Tools We Love When Downloading Printables
Printer– I love my HP+ printer that uses Instant Ink. I love it because we can use as much color ink as you want for one low cost starting at $.99/ month for ink. Try it out for free here!
Cardstock- I always recommend printing on cardstock. This makes it way more durable so you don't have to worry about printing it time and time again.
Laminator / Laminating Sheets- Again, for added durability, grab a laminator and laminating sheets so that you can use this again and again!
Scissors (I seriously love these ones)
Dry Erase Pens- Use dry erase pens so that you can wipe your laminated printable clean over and over again for endless use!
Love Bingo Games? Don't forget to grab these too!
How Do I access my free printables?
Fill in the form above. You will receive an email in your inbox. If you don't see it, check your spam folder! You will then click to confirm your subscription. Once confirmed, you will be sent an email with your free printable.
How Do I Print a PDF?
You'll need a program that supports PDFs. Adobe Acrobat is a great option. Open the program, click File, then print. Select your printer and the number of copies you want to print. Be sure you click double-sided if you want it to print on both sides.
Can I resell these?
You may not resell any printable found on our website or in our resource library. You may use them for class parties, at church, at home, or in the classroom. You may get these printed at an office supply store or copy center at your own expense.