Get ready for some mega fun with our Dinosaur Bingo! It's the perfect activity to play with friends of all ages! Just download, print, and play!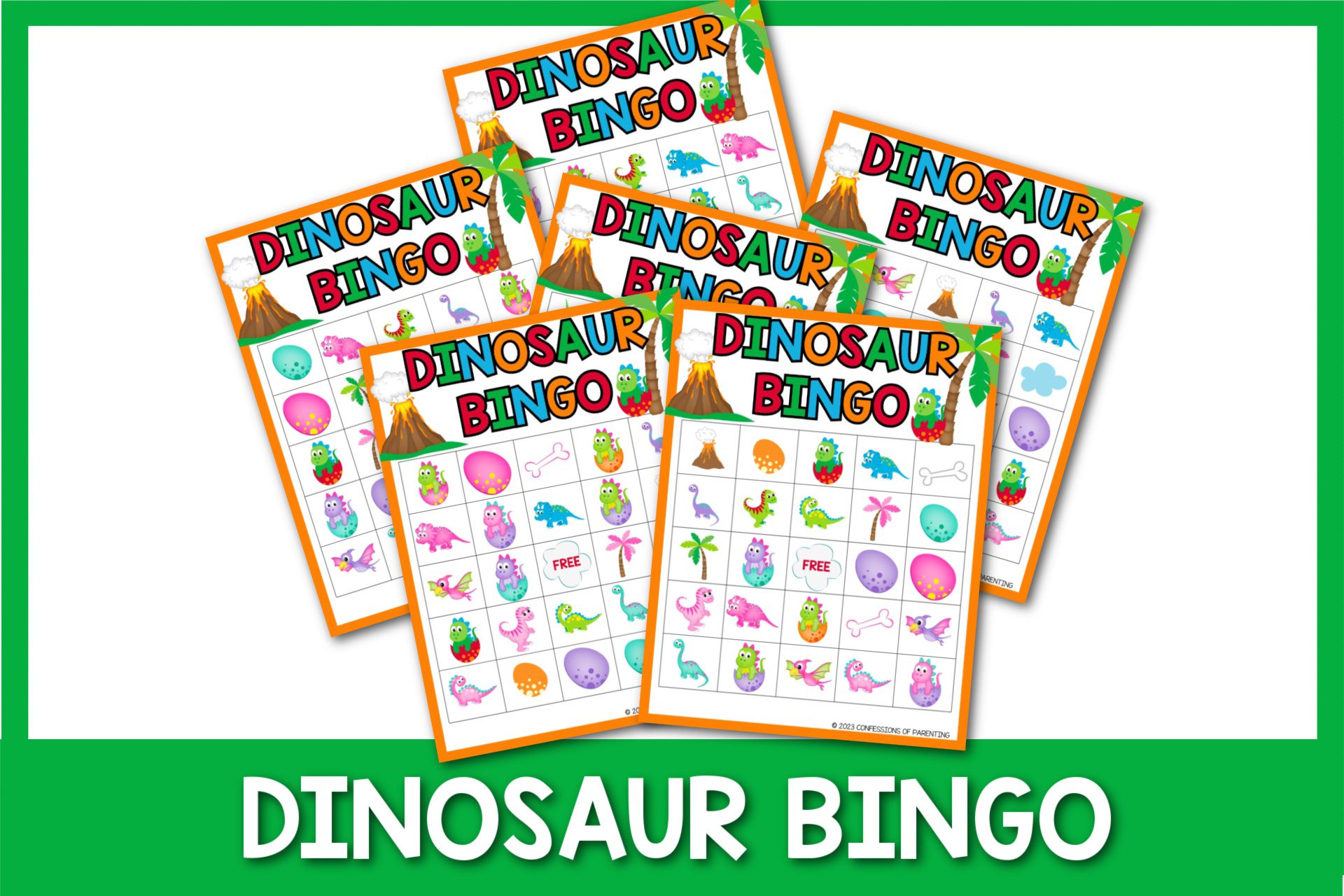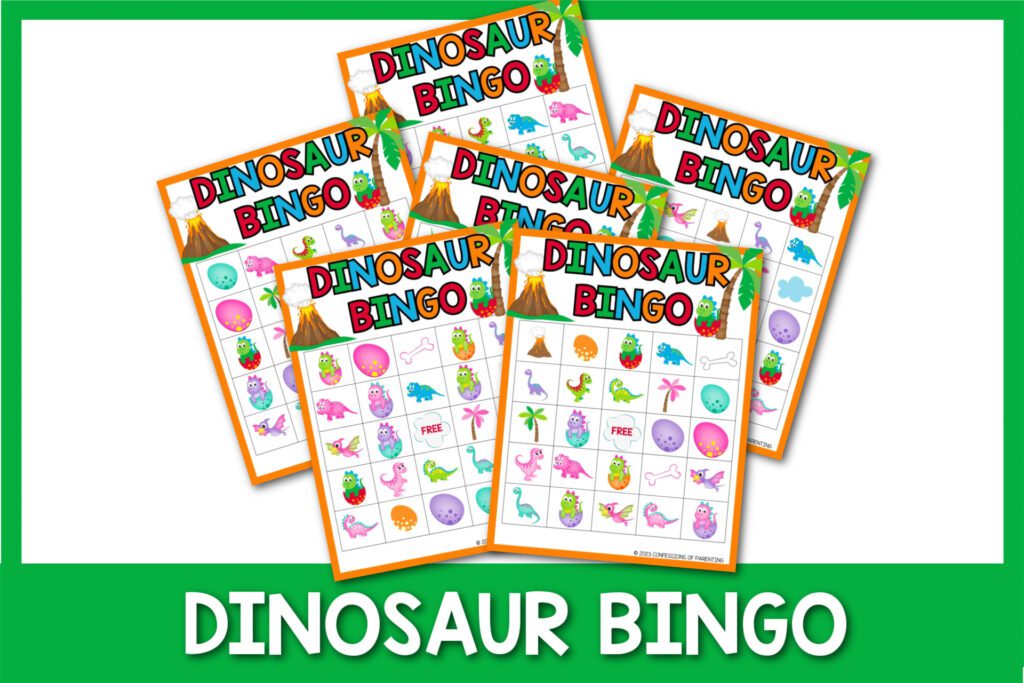 Dinosaur Bingo
With a house full of boys, you can imagine we're a little dino-obsessed over here. From the mighty tyrannosaurus rex to the megalodon, each of my kids has a favorite dinosaur. That's why this Dinosaur Bingo Printable is perfect for my family and yours too! I love hearing my kids share facts about their favorite dinosaurs as they play together.
As a mom, I always search for activities that my whole family will enjoy. We have teens and toddlers, so finding the perfect games is tricky! Bingo is a great option because it's simple enough for my little ones to play and also keeps my big kids entertained.
My kids love to pull up our Big List of Bingo Games and take turns picking which one to play for family game night.
During birthday season at my house, you can be sure we will play Birthday Bingo to celebrate! Bingo is also a great way to sneak in some learning fun with games like Alphabet Bingo or Multiplication Bingo. Your kids will have so much fun that they won't even realize they're learning!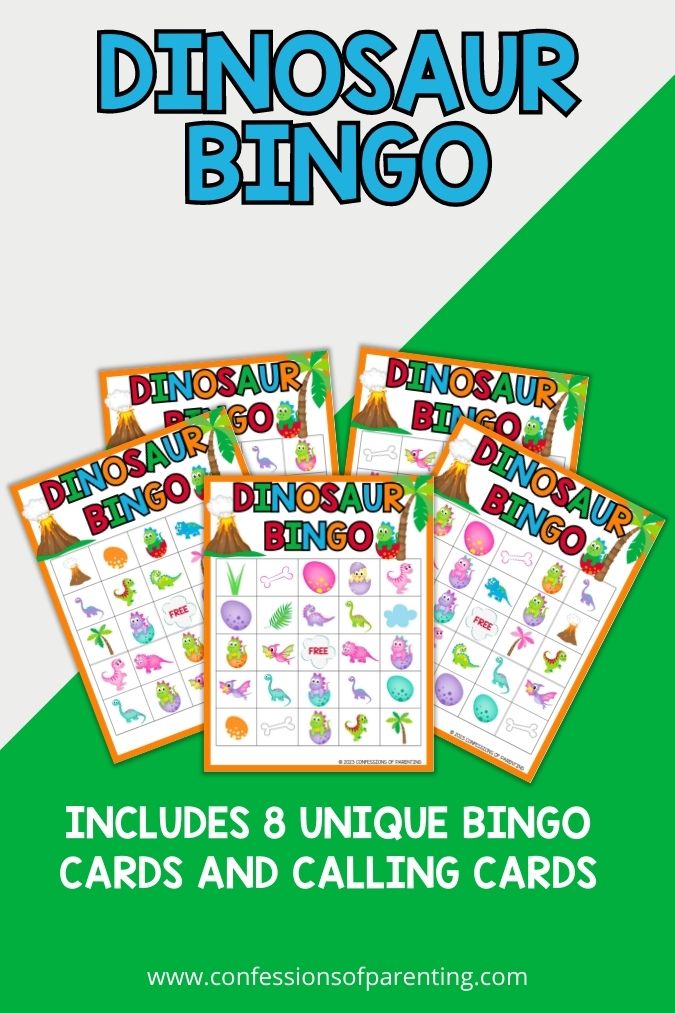 How to Play Dinosaur Bingo
Dinosaur Bingo is a fun theme for a classic party game! It's ideal for groups of people of different ages and can be played with any number of people! It would be the perfect addition to an easy classroom party, a family activity, or a game night with friends!
The first thing you will need to do is download and print the dinosaur bingo printable. You'll need one bingo sheet for each player and the calling cards. Make sure you cut out the cards in advance so that you can start playing right away!
When you're ready to play, ensure everyone has their own dinosaur bingo sheet. If you have to print out multiple copies for a large group, that's ok! Just make sure that they're evenly spread throughout the group.
Each person will also need something to mark their squares. You could give them a little piece of paper or a marker, but I love using candy! My kids love when I use pennies because they get to keep them when we're done playing. The options are endless! Don't forget to remind everyone to start by marking off the free space on their bingo sheet!
Put all of the calling cards in a hat or bowl and mix them up. If you don't have a bowl, you can also lay them in a little pile on the table.
Now you're ready to start! Draw one of the calling cards and tell the players what it is and show them the picture. They will place one of their markers on that spot on their sheet and wait for the next square to be called. Make sure to set the used calling card to the side so you don't draw it twice!
The round is over when one of the players fills 5 squares in a row and yells, "Bingo!" The squares can be horizontal, vertical, or diagonal as long as they are in a row!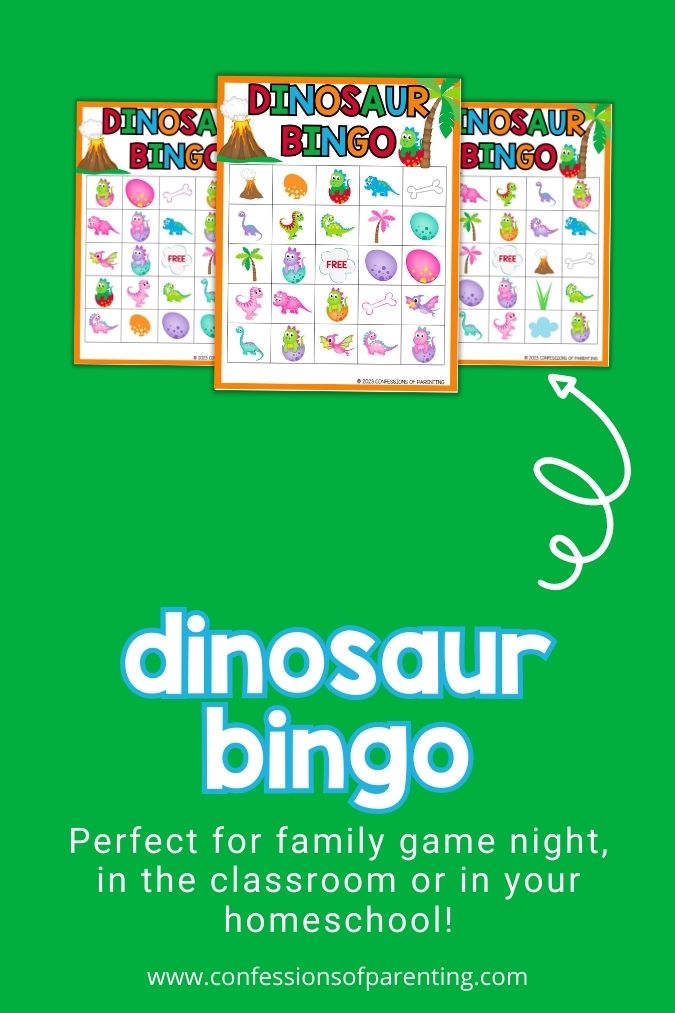 What's Included in Dinosaur Bingo:
8 different bingo cards to allow for many winning combinations! These cards will not work for blackout bingo!
Calling card sheet, which should be cut apart to be used as the drawing pile.
Benefits of Playing Dinosaur Bingo
Bingo is a great activity because it is simple to put together and learn how to play. It also:
Encourages young children to work on their fine motor skills and pincer grasp
Promotes good sportsmanship
Teaches observational skills
Helps kids focus
Increases hand-eye coordination
Encourages socialization
Is a whole lot of fun!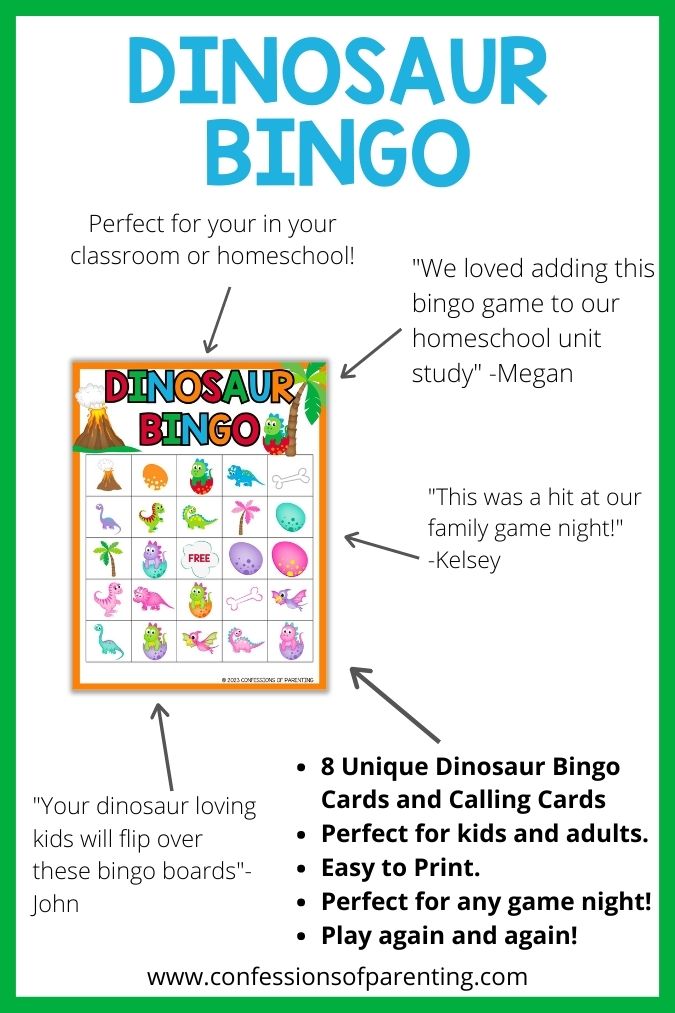 Tips For Playing Dinosaur Bingo
Dinosaur Bingo is perfect for your next game night! You could set up several different tables and have prizes for the winners. Or, you could switch out the markers for small pieces of candy, like Skittles, for a sweet treat.
If you want to make the fun last even longer, be sure to laminate your sheets to make them more durable! Bonus for laminating the sheets: players can use dry-erase markers to mark their squares!
For extra fun, you can play one of these variations of traditional bingo:
Pattern-The players need to create a pattern with their markers to win. For example, to create an X on their sheet, they would need two intersecting diagonal lines beginning and ending in each of the four corners.
Top and Bottom-To win, the top and bottom rows on the sheet need to be completely marked.
Shape-The players would need to make a shape (i.e., square or diamond) of the caller's choosing to win.
Download Dinosaur Bingo
Grab your free Dinosaur Bingo printable today by joining our email list below! Just download, print, and play! But if you aren't quite ready to get exclusive offers and emails from us yet, you can grab your dinosaur bingo cards right here!
Love Bingo Games? Don't forget to grab these too!
How Do I access my free printables?
Fill in the form above. You will receive an email in your inbox. If you don't see it, check your spam folder! You will then click to confirm your subscription. Once confirmed, you will be sent your printable through your email.
How Do I Print a PDF?
You'll need a program that supports PDFs. Adobe Acrobat is a great option. Open the program, click File, then print. Select your printer and the number of copies you want to print. Be sure you click double-sided if you want it to print on both sides.
Can I resell these?
You may not resell any printable found on our website or in our resource library. You may use them for class parties, at church, at home, or in the classroom. You may get these printed at an office supply store or copy center at your own expense.