Looking for a fun way to help your first grader practice their sight words? Our First Grade Sight Words Bingo is just for you! Grab yours today and make learning together fun!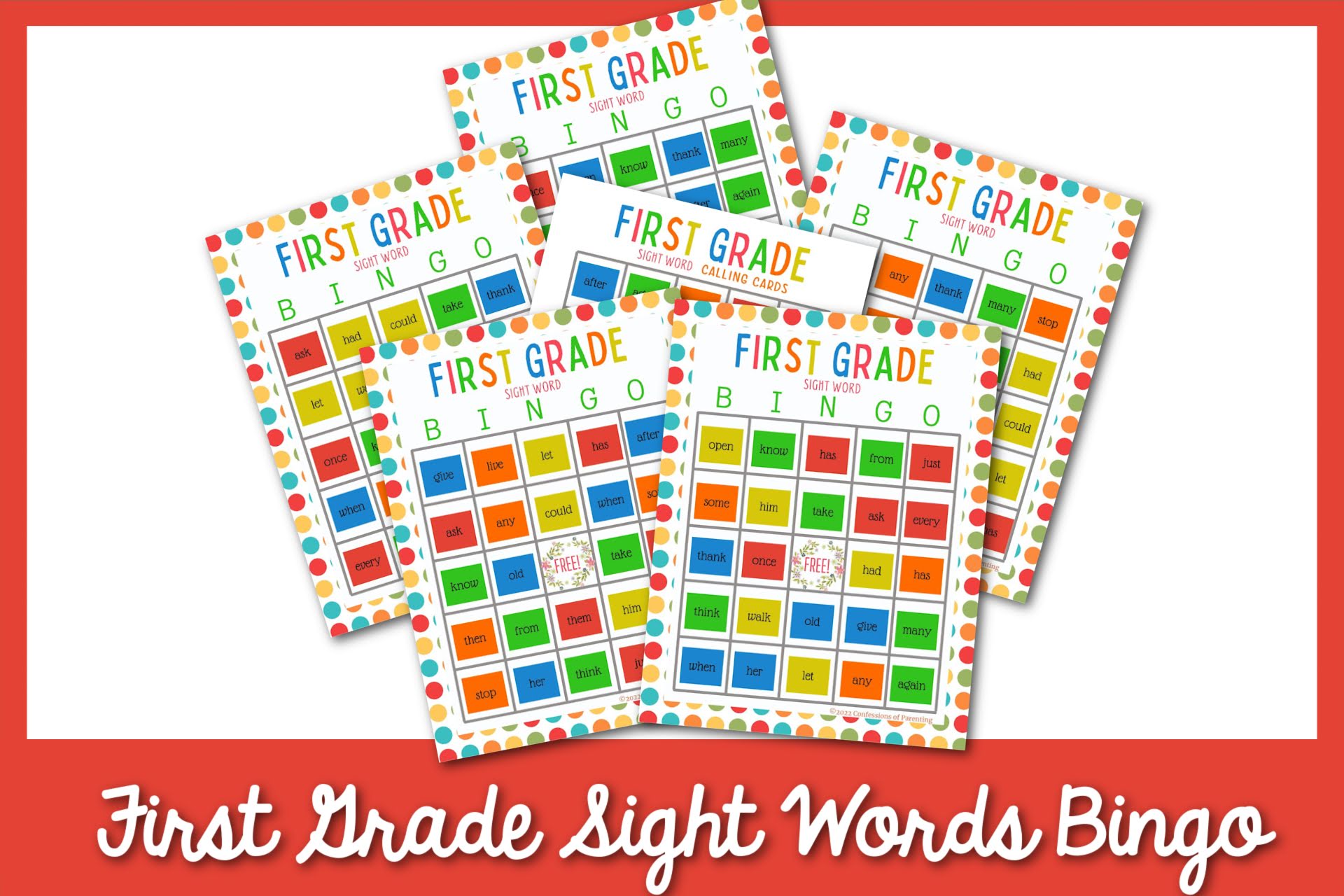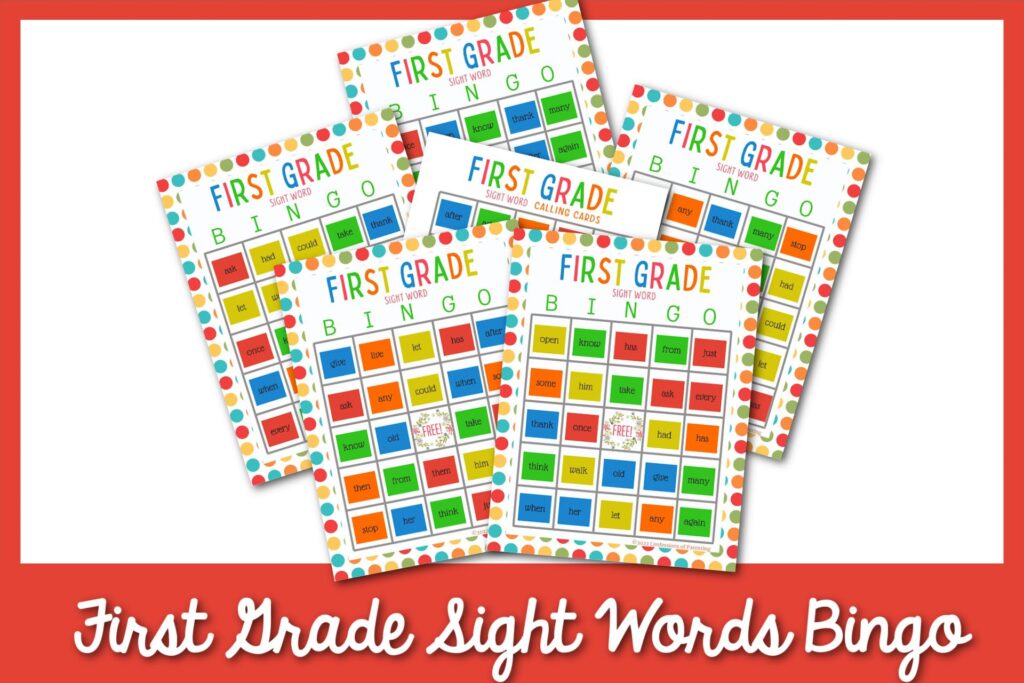 First Grade Sight Words Bingo
My kids get so excited when we play a game of Bingo! Some of their favorites have been Animal Bingo and Spring Bingo.
They love the chance to compete in a fun and exciting way, and they always ask to play multiple rounds!
We had so much fun playing First Grade Sight Words Bingo! The kids enjoyed the challenge of being the quickest to recognize the word and find it on their bingo card.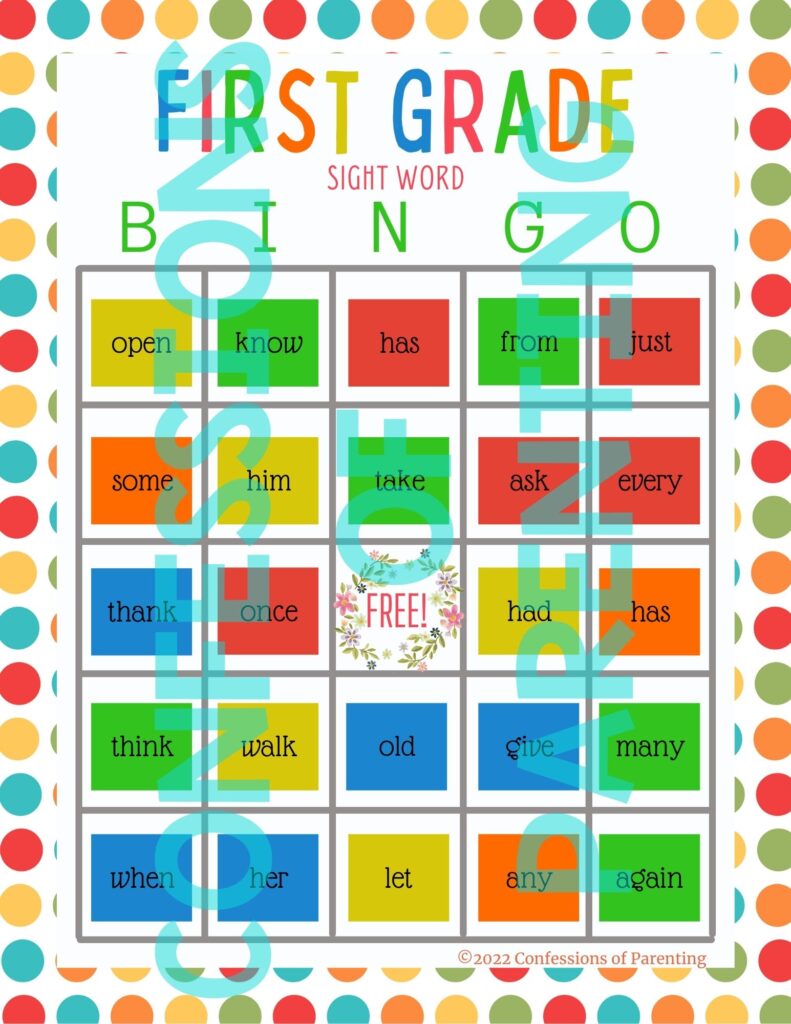 It can sometimes be a challenge to get my kids to practice their first grade sight words, but First Grade Sight Words Bingo makes it so easy!
It combines fun and learning in a way that is exciting and gets the whole family involved!
Even my older kids had fun getting into the competition and trying to be the first to shout, "Bingo!" Whether at home or in the classroom, your young readers will love First Grade Sight Words Bingo, so be sure to grab your printable cards today!
For more sight word bingo, check out our Pre-K Sight Word Bingo! You'll also love playing and learning with Alphabet Bingo and Multiplication Bingo!
How to Play First Grade Sight Words Bingo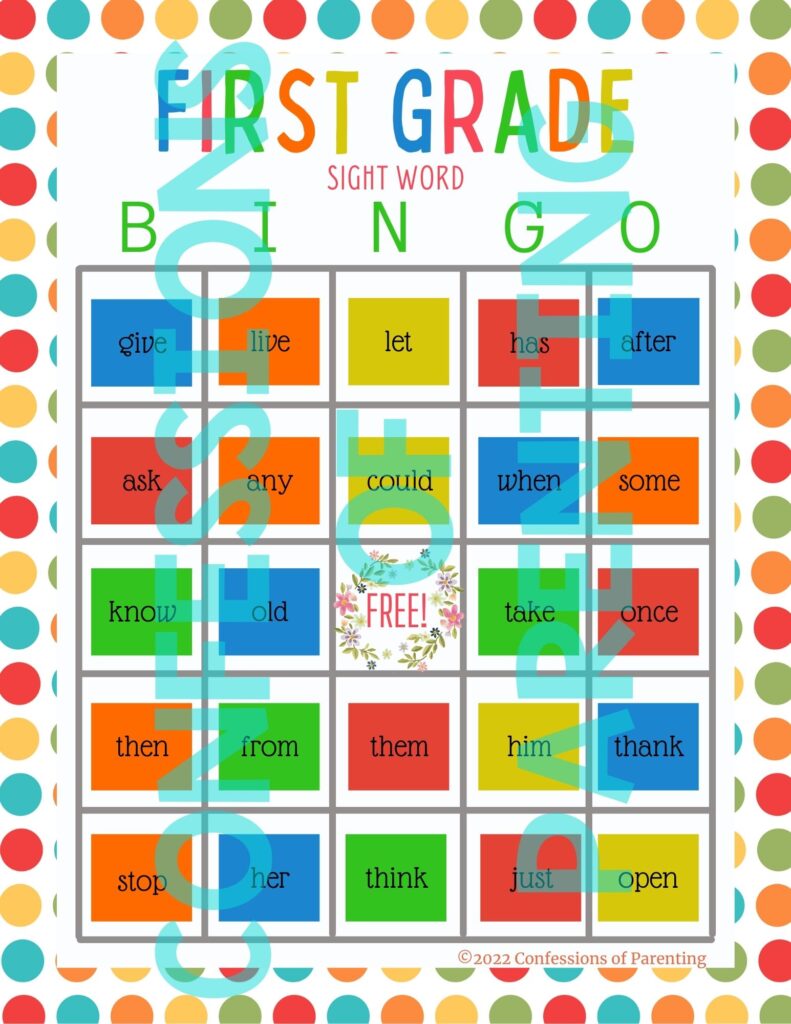 Download and print the calling card and bingo playing cards. Cut out the calling cards and place them in a bowl.
Choose someone to be the caller; this person will be in charge of drawing calling cards from the bowl and calling them to the players.
Give each player a bingo card and tokens to mark the spaces on their cards.
As the caller draws each card from the bowl, the players mark the matching square on their bingo cards. The first player to get five in a row (horizontally, vertically, or diagonally) shouts "Bingo!"
After checking each space with the caller to make sure they have bingo, that player wins!
Repeat as many times as you want! Clean off your bingo cards, put all of the calling cards back in the bowl, and you are ready to play again! For more variety, you can swap bingo cards with each other. Be sure to rotate caller duties so that everyone gets a turn!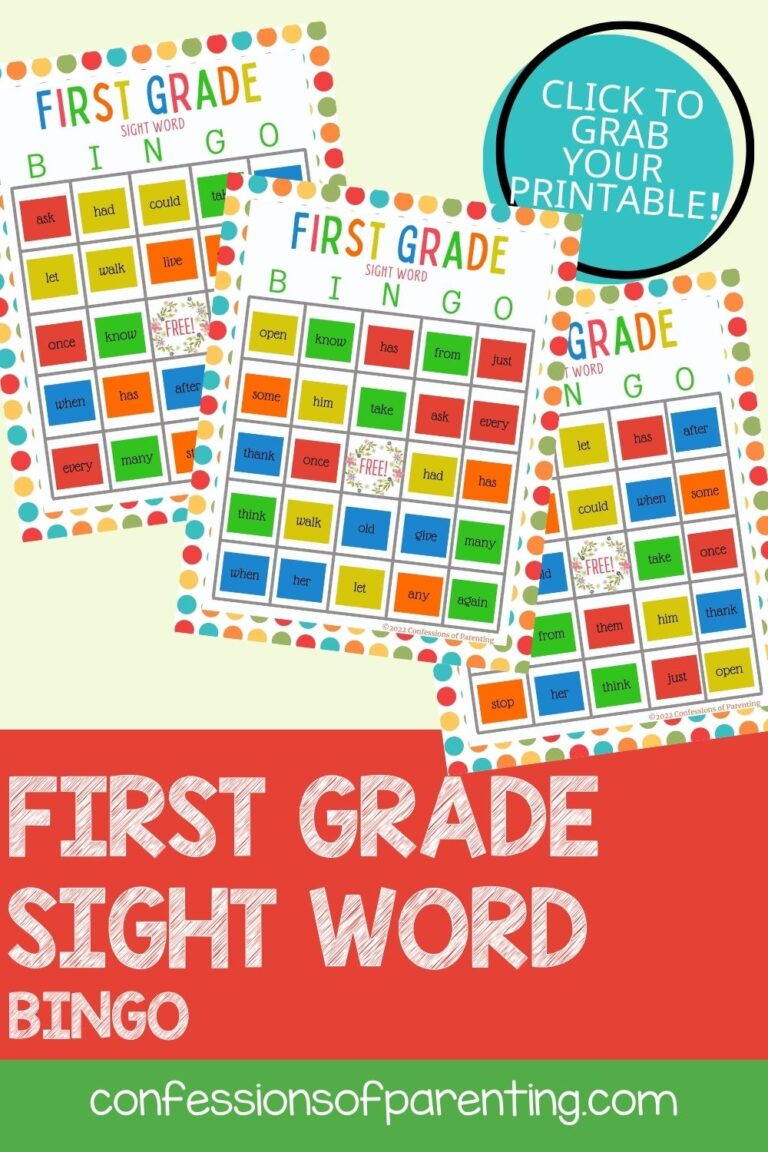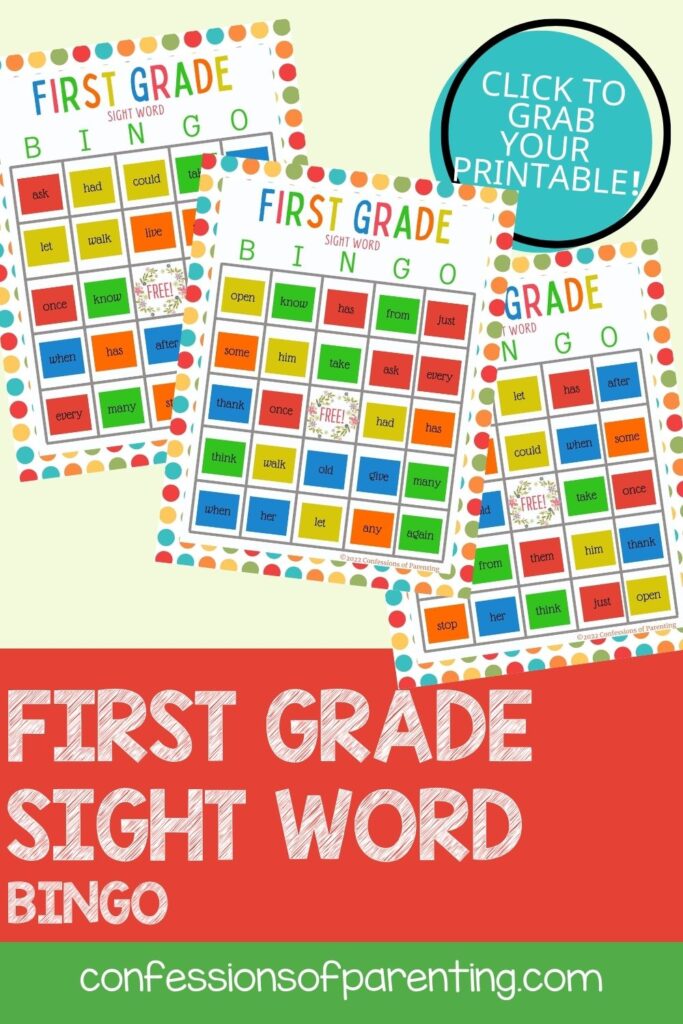 Tips for Playing First Grade Sight Words Bingo
Laminate your cards for more durability, because you are sure to play this game again and again!
You can use almost anything as tokens for your bingo cards! Small candies, like smarties or skittles, are always a hit! Dry beans, small pieces of paper, or small toys are also good ideas. If you've laminated your cards, you can use dry-erase markers and then wipe your bingo cards after playing.
Have some prizes for the winners, such as a favorite treat or a small toy!
Benefits of First Grade Sight Words Bingo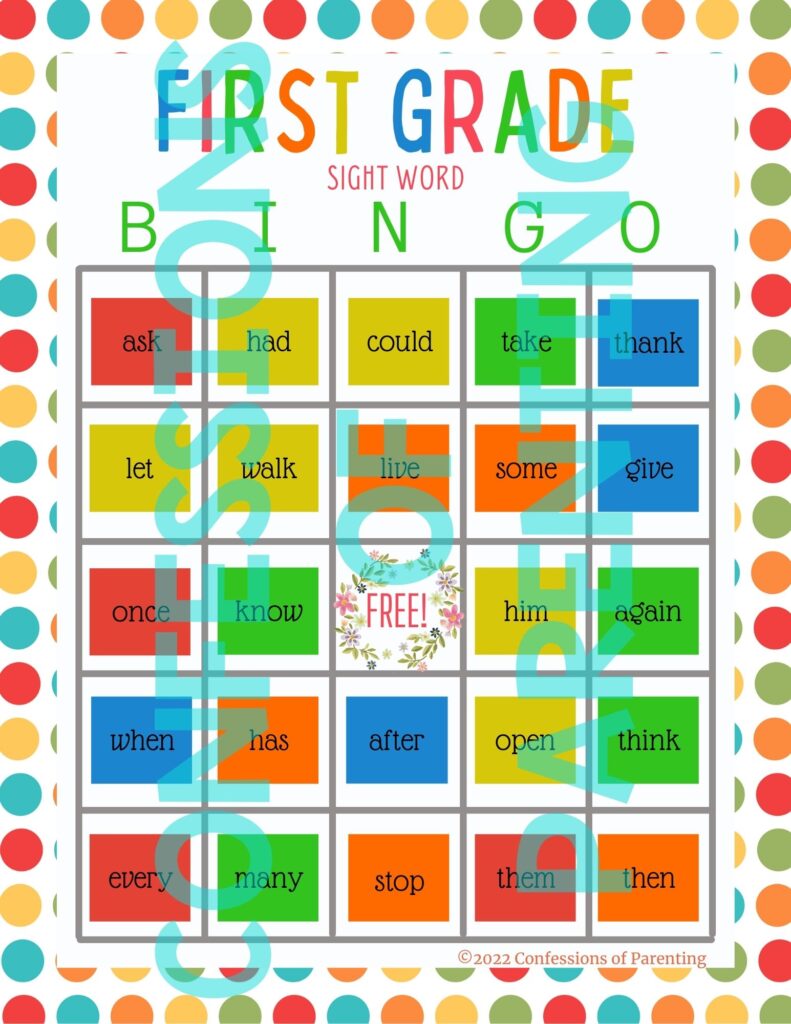 First Grade Sight Words Bingo is a great opportunity to help your young readers practice their reading skills! They will have so much fun recognizing the sight words as they hear them and then finding them on their bingo card.
Bingo is also a great way to practice skills like:
Patience
paying attention
taking turns
and winning or losing gracefully.
You'll build wonderful character traits as well as family memories playing bingo together!
Printable First Grade Sight Words Bingo
You can get this free printable First Grade Sight Words Bingo cards by joining our VIP club below! This will give you access to exclusive offers and emails from us. Or, you can grab your First Grade Sight Words Bingo cards right here if you aren't quite ready to join!
Helpful Tools We Love When Downloading Printables
Printer– I love my HP+ printer that uses Instant Ink. I love it because we can use as much color ink as you want for one low cost starting at $.99/ month for ink. Try it out for free here!
Cardstock- I always recommend printing on cardstock. This makes it way more durable so you don't have to worry about printing it time and time again.
Laminator / Laminating Sheets- Again, for added durability, grab a laminator and laminating sheets so that you can use this again and again!
Scissors (I seriously love these ones)
Dry Erase Pens- Use dry erase pens so that you can wipe your laminated printable clean over and over again for endless use!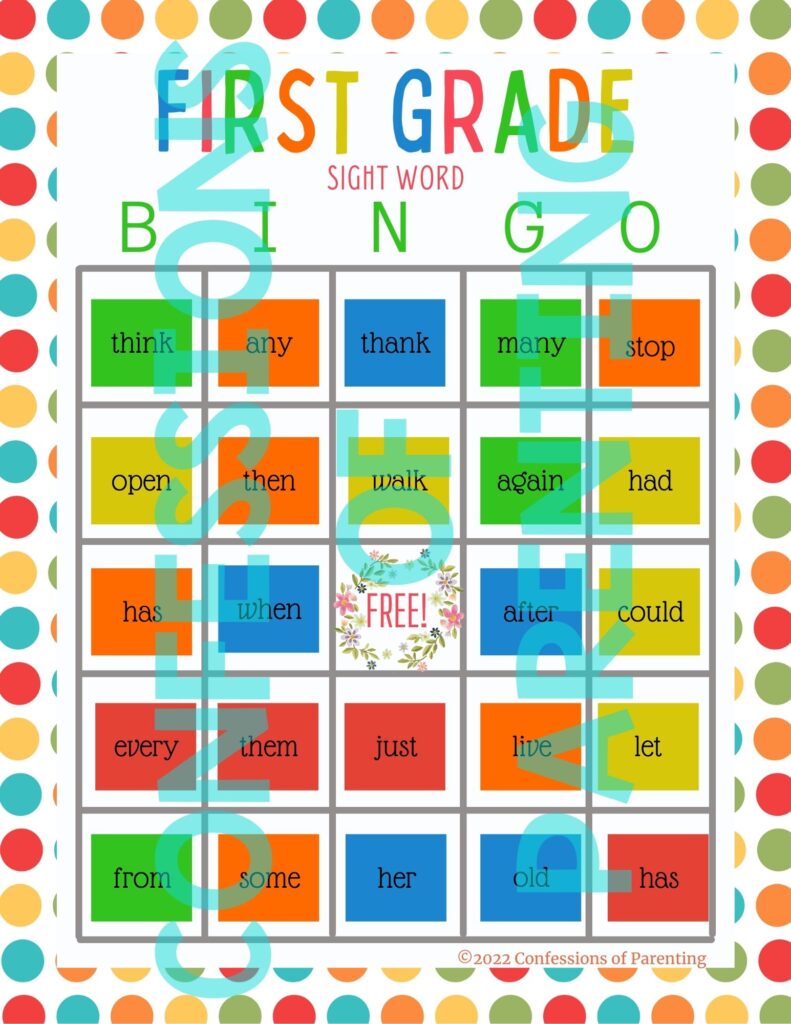 Love Bingo Games? Don't forget to grab these too!
How Do I access my free printables?
Fill in the form above. You will receive an email in your inbox. If you don't see it, check your spam folder! You will then click to confirm your subscription. Once confirmed, you will be sent an email with your free printable.
How Do I Print a PDF?
You'll need a program that supports PDFs. Adobe Acrobat is a great option. Open the program, click File, then print. Select your printer and the number of copies you want to print. Be sure you click double-sided if you want it to print on both sides.
Can I resell these?
You may not resell any printable found on our website or in our resource library. You may use them for class parties, at church, at home, or in the classroom. You may get these printed at an office supply store or copy center at your own expense.