General Conference Bingo is the best way to keep the whole family engaged during conference this year! Grab this fun LDS conference bingo full of all your favorites today! Just download, print, and play.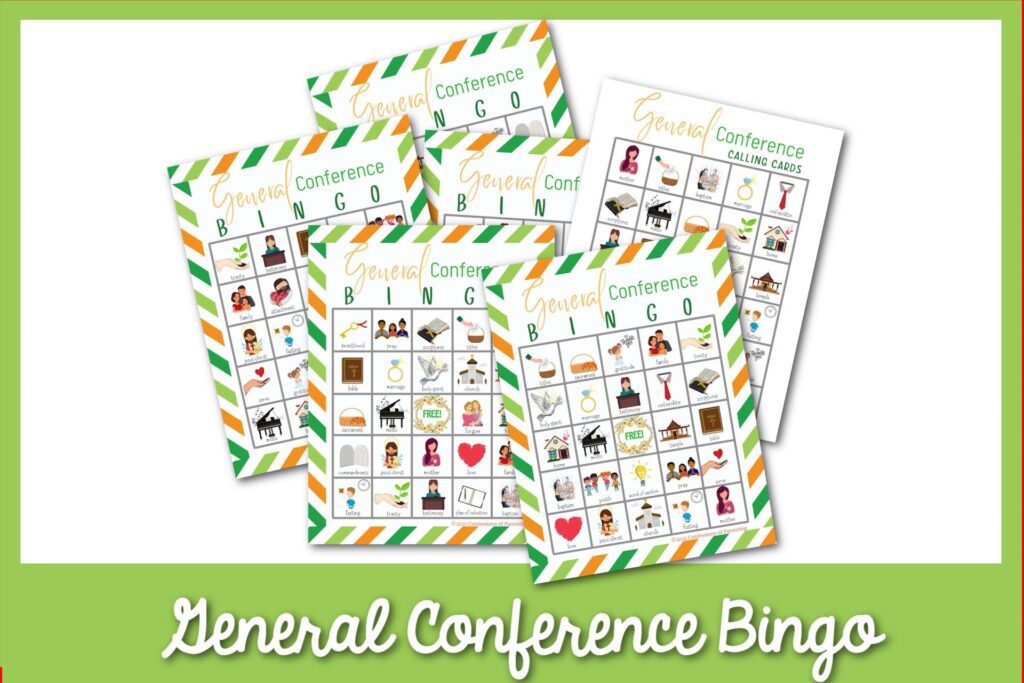 General Conference Bingo
When General Conference time approaches, I'm always trying to prepare ways to keep the whole family engaged and happy so we can listen to messages. And General Conference bingo is one of my favorite ways to do that!
These LDS Conference bingo sheets are full of favorite moments and popular topics that are shared by leaders of The Church of Jesus Christ of Latter Day Saints during the semi-annual conference. I absolutely love conference, but let's face it, it's hard to watch conference as a family! The kids can get pretty antsy and it can make it so hard to focus.
But bingo is my secret weapon! My kids can't get enough of bingo lately. I think we have played Animal Bingo, Pre-K Sight Word Bingo, and Alphabet Bingo a million times!
As your family plays general conference bingo, I'm confident that you'll find that everyone is more committed to listening and learning. So don't forget to grab your download below!
What is General Conference?
General Conference is a semi-annual event held by The Church of Jesus Christ of Latter Day Saints. At conference, members gather around the world to hear the prophet and other leaders of the church share inspirational and educational messages about Jesus Christ.
Some people travel to Salt Lake City, Utah to view the conference in person, but most watch from local churches or their homes from a broadcast.
And since we usually watch right at home, keeping the kids focused and interested with activities like general conference bingo is so important!
For more information about conference or to view it, you can go to the church's website!
Why I Love LDS Conference Bingo Sheets
I've tried a million conference activities, but general conference bingo is my favorite! Here's why.
First of all, it's way fun! Young kids, teens, and adults alike all love playing bingo. And having a conference theme is a great twist.
Not only does it keep everyone happy and entertained, but it also is a way to encourage everybody to pay attention to the messages! So your family will not only be having fun, but they'll be learning from the messages too.
How to Play General Conference Bingo
Once you've downloaded your LDS conference bingo sheets below, here's how you play. First, give everyone in your family a bingo sheet.
Next, make sure everybody has something to mark off the spaces. It can be anything as long as it's safe and age-appropriate for everyone playing. You could use:
A pen, crayon, or pencil
Cheerios or other cereal pieces
Candies or chocolate chips
Dried beans
As conference begins, pay attention and mark off the spaces of anything you hear or see during conference. If you are playing with young kids, you may want to partner up or make sure you say if you see something so they can mark it off too.
The first person to get 5 spaces marked off in a line wins!
If you want to keep playing, you can play for second place, start the game over, or go for blackout where the whole board is covered!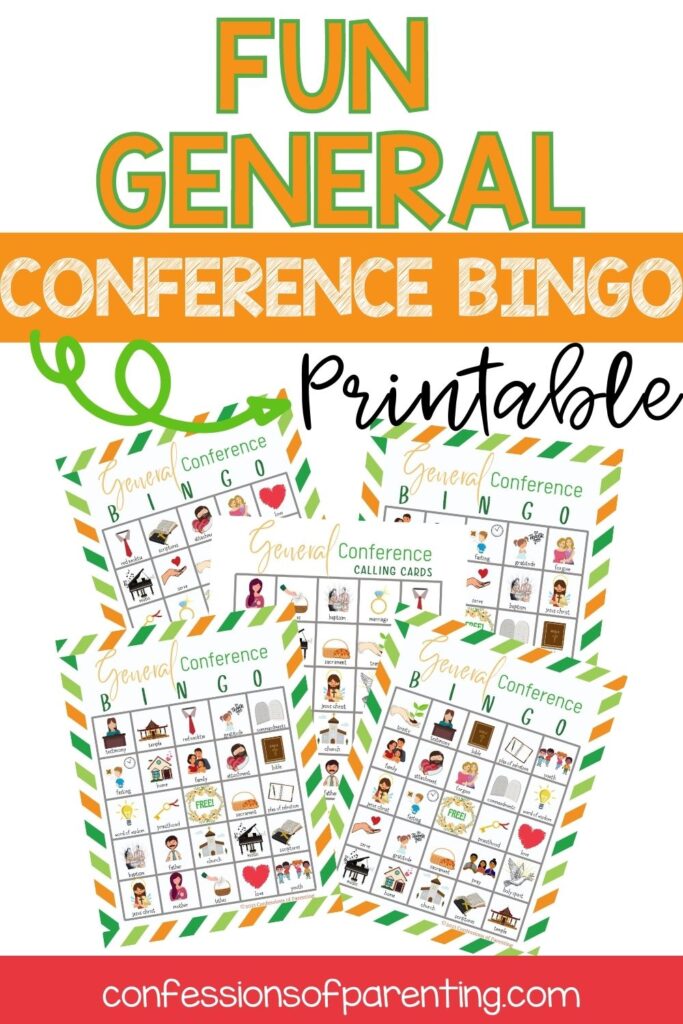 Prize Ideas for LDS Conference Bingo
And don't forget about prizes. First in line for post-conference treats is always a good prize in our house! But you could also try any of these fun ideas:
General Conference Bingo Free Printable download
You can grab your general conference bingo free printable cards by joining our free Confessions of Parenting VIP club below! But if you aren't quite ready to get exclusive offers and emails from us yet, you can grab your LDS conference bingo right here!
Helpful Tools We Love When Downloading Printables
Printer– I love my HP+ printer that uses Instant Ink. I love it because we can use as much color ink as you want for one low cost starting at $.99/ month for ink. Try it out for free here!
Cardstock- I always recommend printing on cardstock. This makes it way more durable so you don't have to worry about printing it time and time again.
Laminator / Laminating Sheets- Again, for added durability, grab a laminator and laminating sheets so that you can use this again and again!
Scissors (I seriously love these ones)
Dry Erase Pens- Use dry erase pens so that you can wipe your laminated printable clean over and over again for endless use!
Looking for more Fun Church Themed Posts? Try these!