St. Patrick's Day is the perfect time for celebration and family-fun! Create a fun new tradition with this free St. Patrick's Day Bingo printable.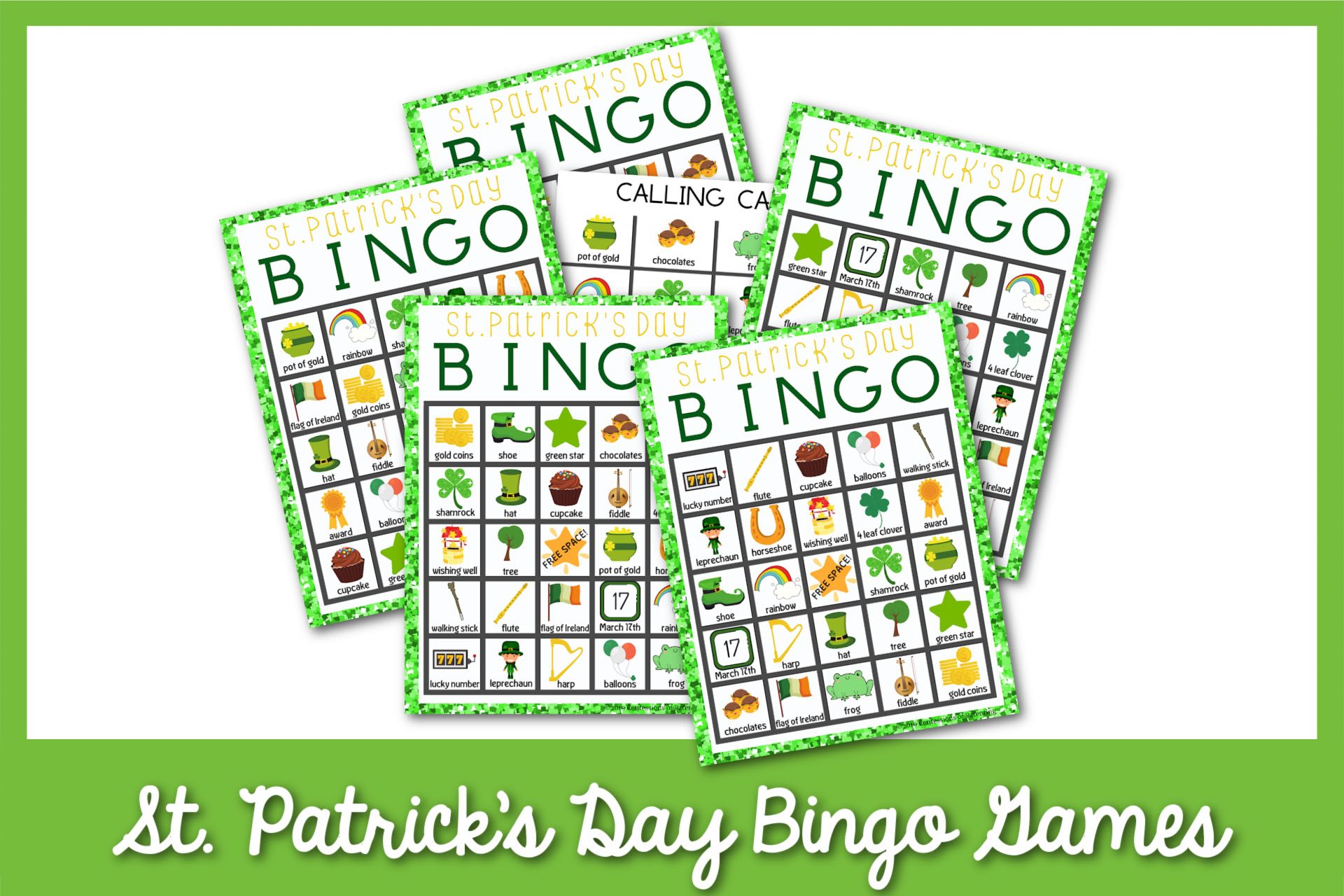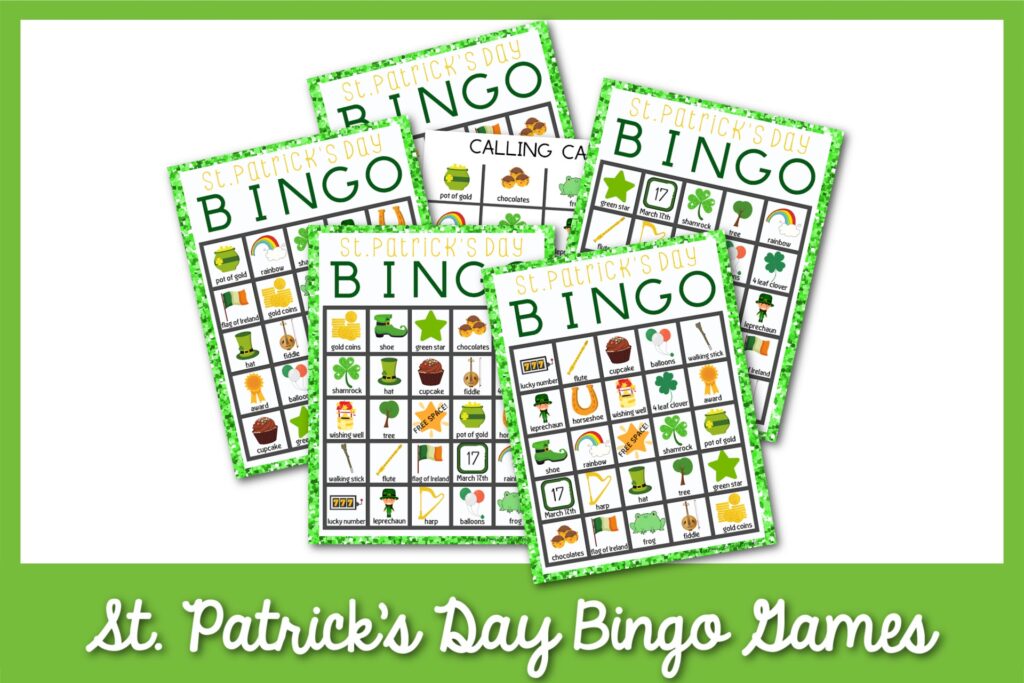 St. Patrick's Day Bingo Free Printable
St. Patrick's Day is such a fun holiday and so often overlooked by my family! I realized that we all needed an extra excuse to celebrate something this year, so we went big into St. Patrick's Day.
However, the most fun we had came from this simple St. Patrick's Day Bingo game. My family loves bingo already, but this game provided some extra fun this year as we played, laughed, and grew closer together.
Be sure to check out all our other fun bingo games like our Spring bingo, Summer Bingo, Multiplication bingo, and more! Check out all our other bingo games for kids!

St. Patrick's Day Bingo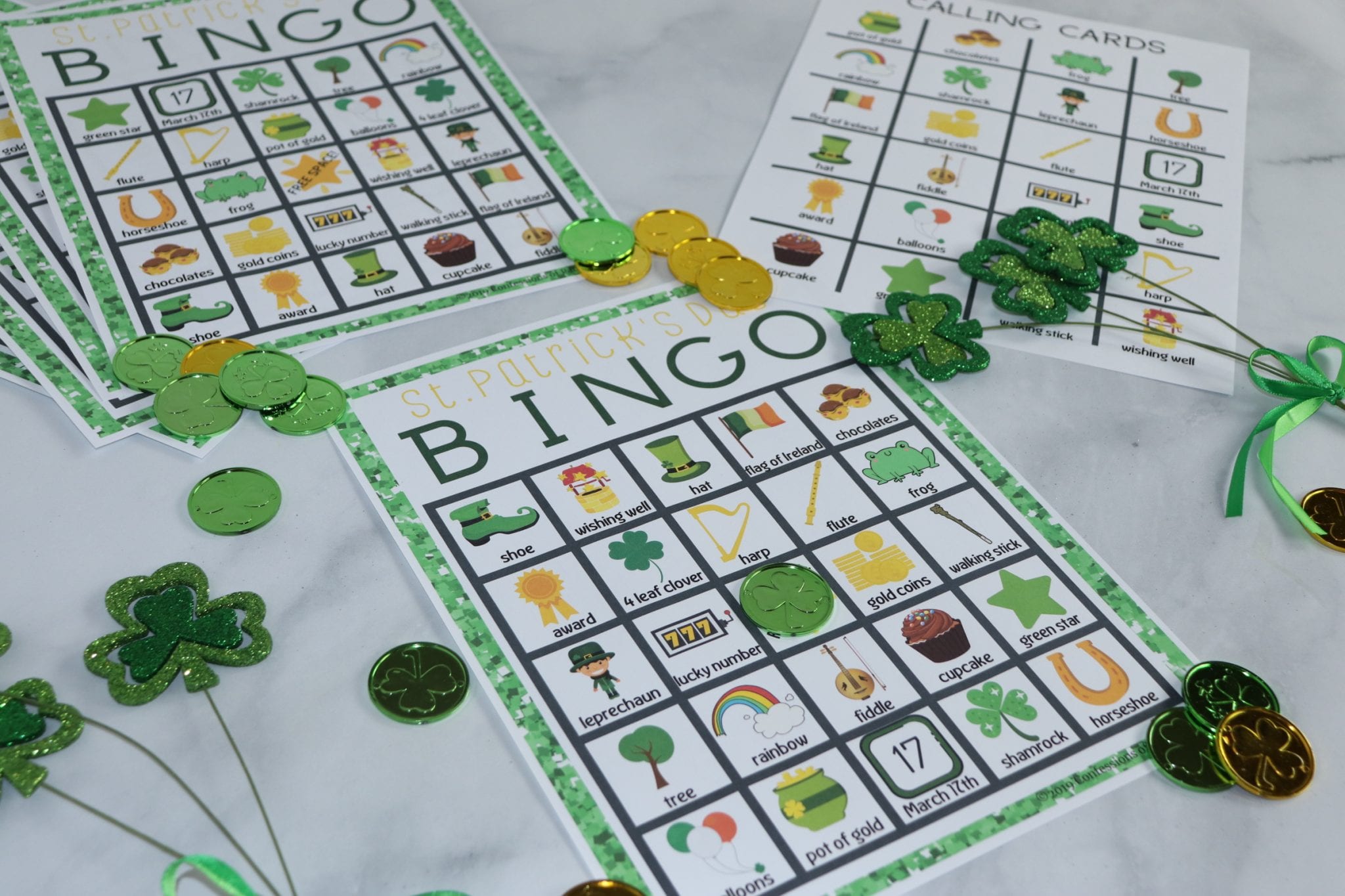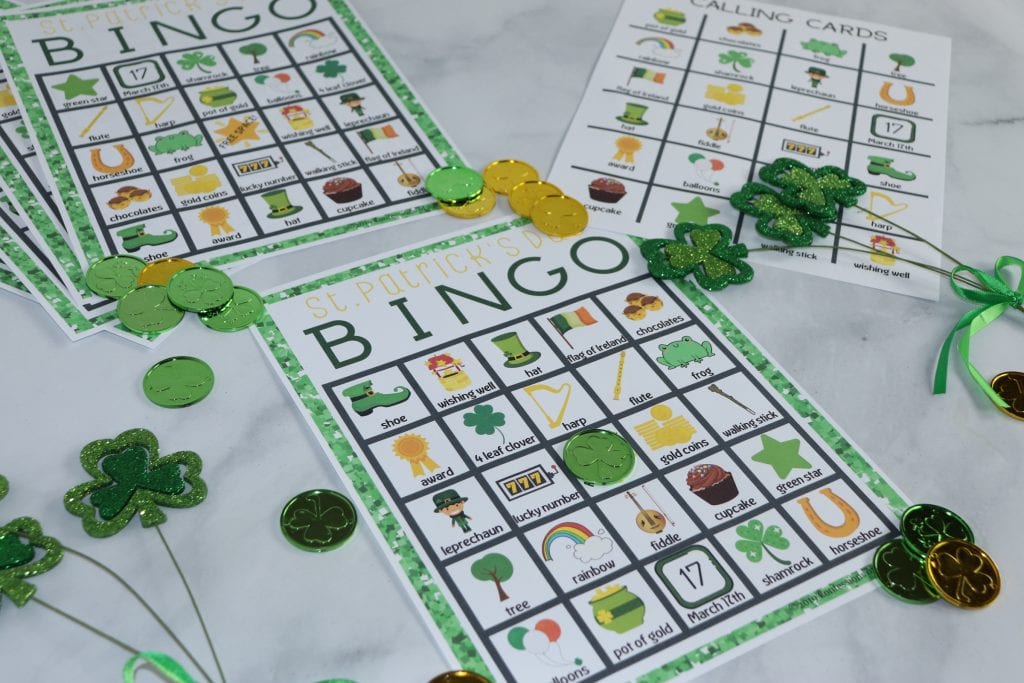 How to Play St. Patrick's Day Bingo
One of my favorite things about bingo is that it is so easy to learn. The rules are so simple, a 3-year-old could easily learn to play! St. Patrick's Day Bingo could be played at school, home, church, or parties! The instructions are easy to explain and understand.
The first thing is to make sure everyone who is playing has a bingo card. Those that are sitting next to each other should have different cards. (there are 6 different cards to choose from in the printable). You should also print out just one copy of the calling cards.
Cut out the calling cards and put them in a large bowl or hat.
After everyone has a bingo card, give them something to cover their squares with. You could use paper scraps, candies, pebbles, or coins.
When everyone is ready, pull out one card from the bowl and call it out to the group. Everyone must find the corresponding picture on their bingo sheet and cover it with their place markers.
Repeat this process several times until someone had filled in a row diagonally, vertically, or horizontally. When it is filled up the person must yell out "BINGO!" and that person wins!
Helpful Tools We Love When Downloading Printables
Printer– I love my HP+ printer that uses Instant Ink. I love it because we can use as much color ink as you want for one low cost starting at $.99/ month for ink. Try it out for free here!
Cardstock- I always recommend printing on cardstock. This makes it way more durable so you don't have to worry about printing it time and time again.
Laminator / Laminating Sheets- Again, for added durability, grab a laminator and laminating sheets so that you can use this again and again!
Scissors (I seriously love these ones)
Dry Erase Pens- Use dry erase pens so that you can wipe your laminated printable clean over and over again for endless use!
St. Patricks Day Bingo Tips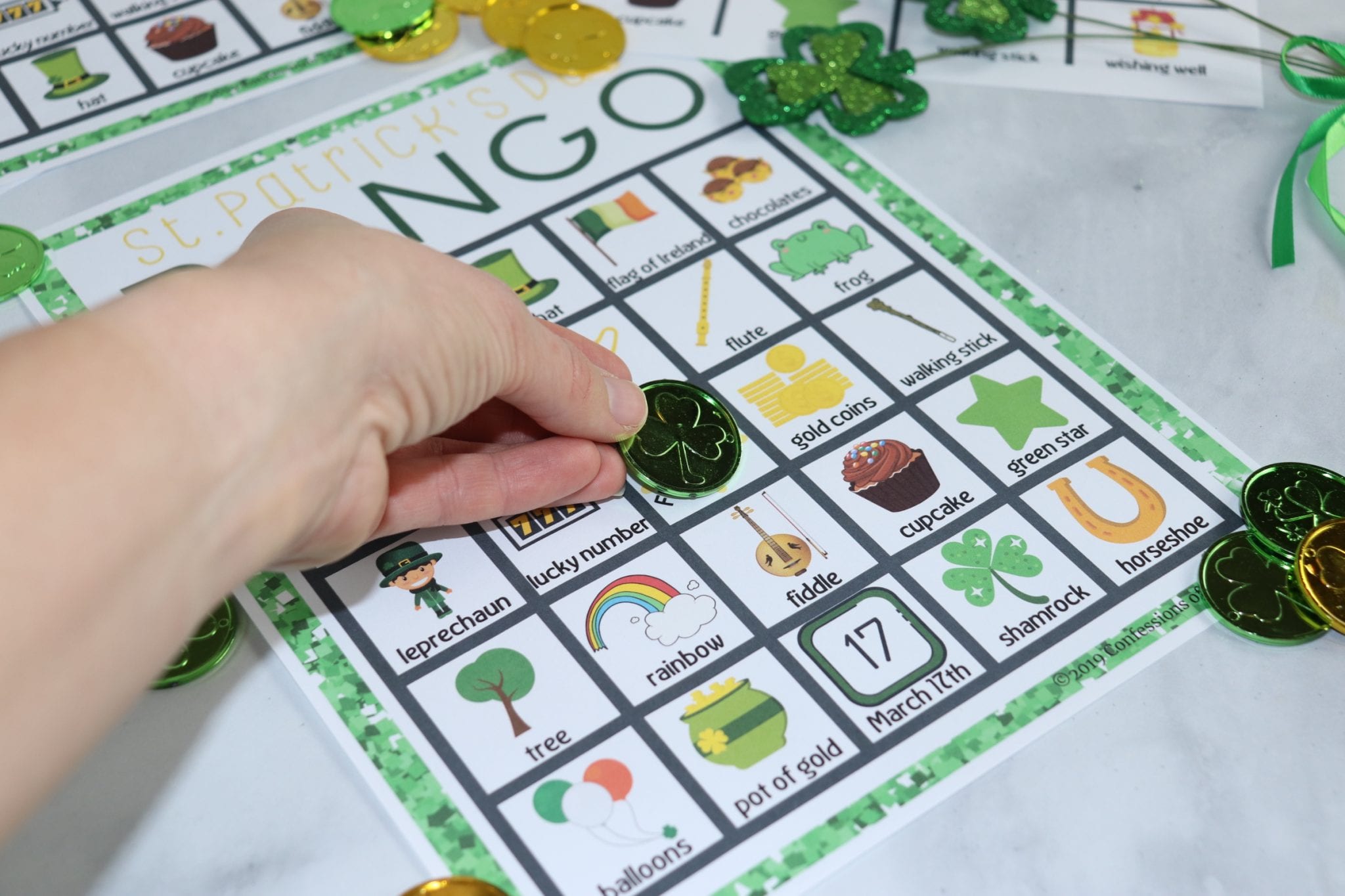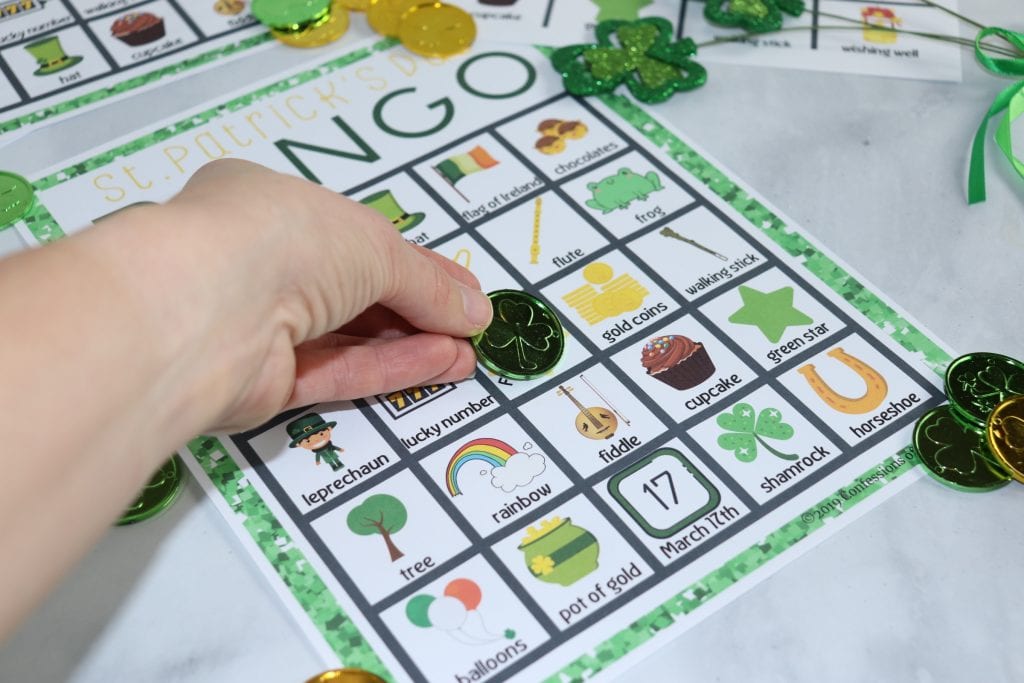 Laminate or print on cardstock
Playing bingo is exciting, and more times than not, when kids are excited messes are made. If you want to keep your bingo sheets for multiple days or even for next year, I recommend laminating or printing on heavier paper, such as cardstock.
Play with your placeholders!
Get creative in this area and your kids will have even more fun! There are so many things you can try, from festive M&Ms or just a bunch of clovers from outside. The possibilities are endless, and so is the fun!
Make it educational
St. Patrick's Day bingo is a perfect opportunity to teach your children or students about some of the history of St. Patrick's Day. After each picture explain how that item related to St. Patrick's Day. Or if your children are older, have them explain it to you (if you want to be competitive you could give an extra point to whoever tells you how it relates!)
Give the winner a prize!
If you want to keep things competitive, you can offer a prize for the winner. This is a great way to keep everyone involved and interested. It also motivates everyone into playing multiple rounds.
If you are worried about hurting someone's feelings because only one person will win a prize, you can try to pass out a prize for everyone, but something extra special for the winner. That way everyone gets something, but the winner still gets the special prize, which keeps motivation high.
Play different types of bingo
If you have older children, chances are they might get bored playing regular bingo multiple times. You can fix this issue by implementing different types of St. Patrick's Day Bingo. For example, instead of playing just one-row bingo, you can play specifically horizontal bingo or diagonal bingo. The winner must have bingo in a horizontal, diagonal, or vertical pattern.
You can also play Bingo blackout (where the winner must fill out every card on their bingo sheet). But, just a warning about this, if you have older kids and they're really paying attention, then Blackout Bingo may be hard because they will all get a bingo at the same time.
Switch cards
My family loves to switch cards after each round. It keeps things interesting because your odds of winning are never the same. And you have to spend time looking for pictures in different places. It keeps things fun!
How Do I access my free printables?
Fill in the form above. You will receive an email in your inbox. If you don't see it, check your spam folder! You will then click to confirm your subscription. Once confirmed, you will be taken to Airtable (a different website) where all our free printables will be waiting for you! It is free to sign up for Air Table!
How Do I Print a PDF?
You'll need a program that supports PDFs. Adobe Acrobat is a great option. Open the program, click File, then print. Select your printer and the number of copies you want to print. Be sure you click double-sided if you want it to print on both sides.
Can I resell these?
You may not resell any printable found on our website or in our resource library. You may use them for class parties, at church, at home, or in the classroom. You may get these printed at an office supply store or copy center at your own expense.
Free Printable- St. Patrick's Day Bingo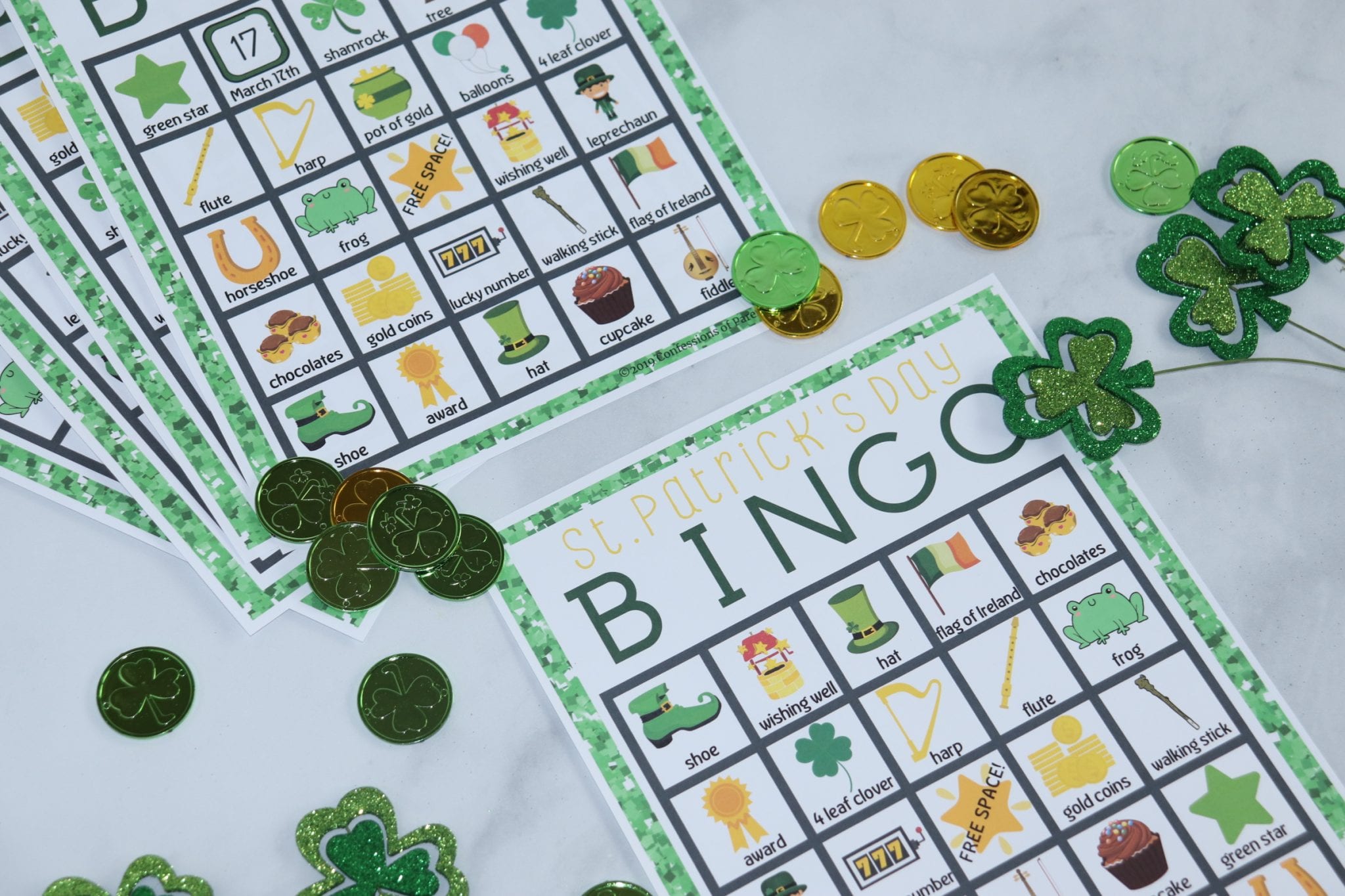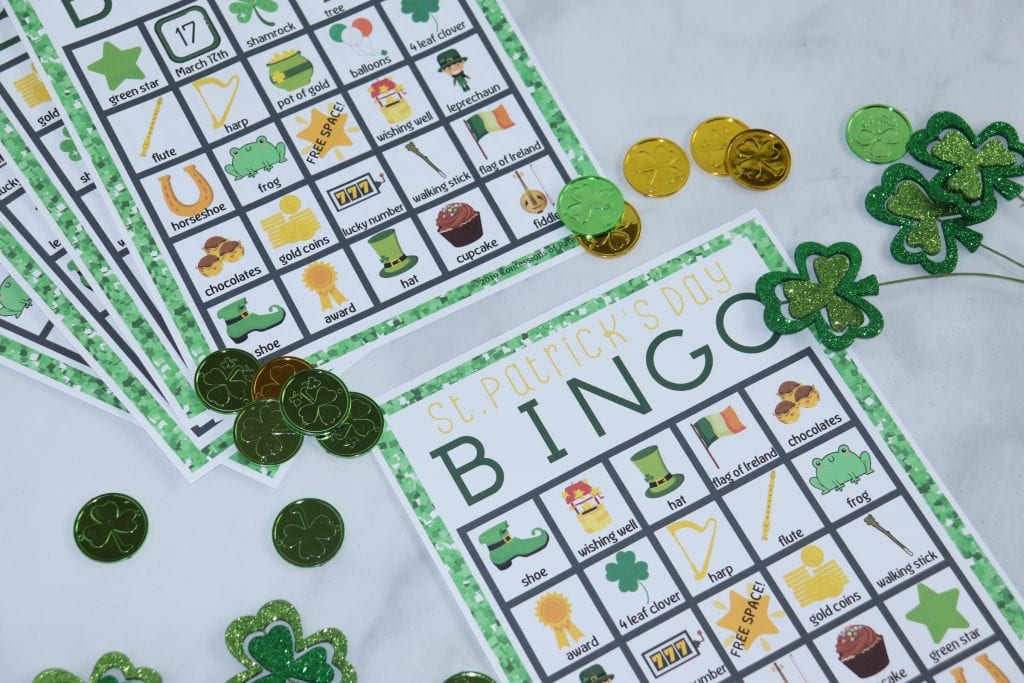 There you have it! Print our cute, fun, and simple St. Patrick's Day Bingo Free Printable here! I hope your family loves this tradition as much as mine does.
Love Bingo Games? Don't forget to grab these too!