With drawing, laughing, and guessing, Thanksgiving Pictionary is the perfect game to get the whole family involved this year at Thanksgiving!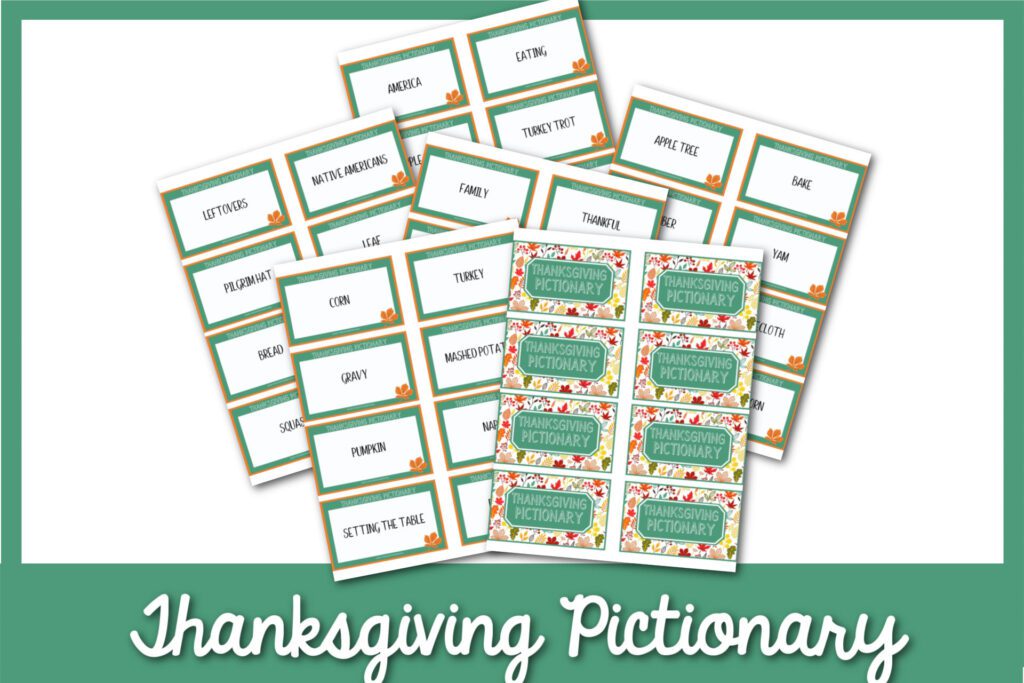 Thanksgiving Pictionary
Pictionary is perfect to play together as a family or to keep your kids and their friends entertained this Thanksgiving season! You don't need amazing drawing skills for this game, just some pens, paper, and some creativity.
As a family, we love drawing and laughing together so Thanksgiving Pictionary is the perfect addition to our Thanksgiving festivities! Of course, we also love a good game of Thanksgiving Would You Rather, Thanksgiving Riddles and Thanksgiving Minute to Win It Games, as well as Thanksgiving Scattergories!
What is Pictionary?
Pictionary is simple and easy to follow drawing and guessing game. It's easy for the whole family to play, children and adults alike!
One person draws their assigned word while all the other players on their team guess what they are drawing. The person drawing can't talk, make sounds, or write words. That means their drawing needs to show the other players what the word is.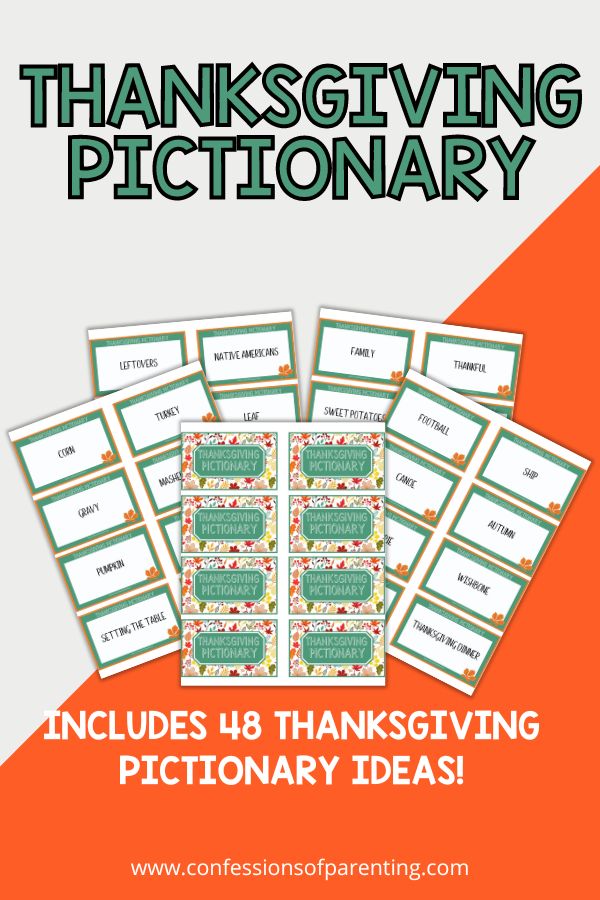 How Do You Play Pictionary
You can use our pre-printed Thanksgiving Pictionary words and a game timer to get started. Whether you decide to work all together or divide into teams, Pictionary is sure to get everyone laughing and having a good time!
If you want to make the game more competitive then divide up into two teams. Have a person from each team come up at the same time to draw. Let them pick a card with a word, set the timer, and let the drawing begin! The team that guesses the word correctly first, gets a point.
If you prefer less competition or want to play with younger kids, work together as a team to guess the word. This version is perfect for families with varying ages and smaller children.
Rules of Pictionary
Pictionary is versatile because you can all work together or you can divide everyone into teams. Choose one person to pick a printed Thanksgiving Pictionary card with a word on it. Only the person drawing can look at the card. Use a game timer or set a digital timer set for one minute, or whatever time length you decide before starting.
The drawer has one minute to draw the word on a whiteboard or on a piece of paper while the other players try to guess what they are drawing. They keep drawing until the team correctly guesses the word or time runs out. After that, choose the next person and start the fun all over again!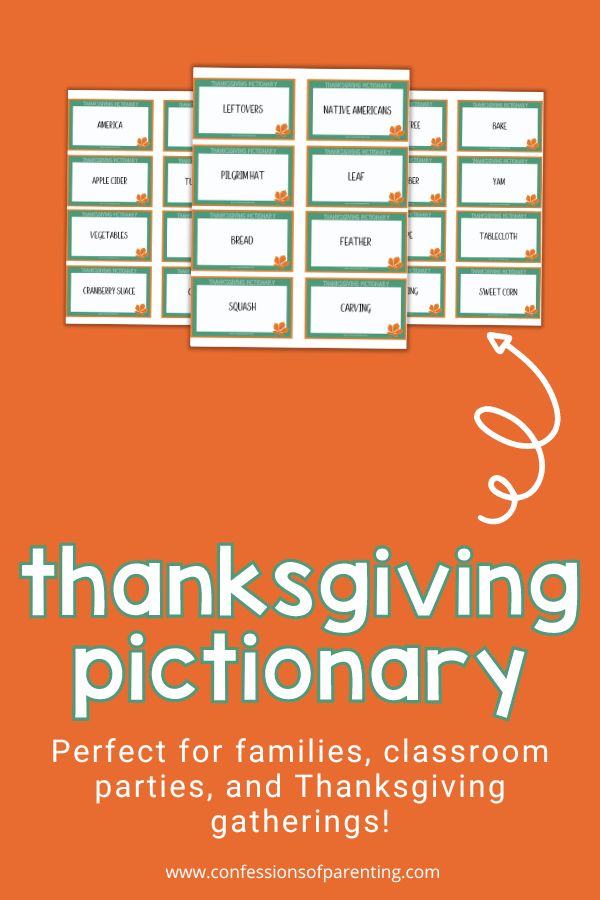 Tips for Playing Thanksgiving Pictionary
Make Pictionary even more fun with these simple tips.
Involve Young Children
If you are playing with younger children, try and make it less stressful for them. You can do this by giving them extra time to draw, give them a partner to help draw, or someone can whisper ideas of what to draw to them. Less stress means more fun for everyone!
Use Cardstock
Print the Thanksgiving Pictionary cards onto cardstock. It makes them a lot more durable and you won't be able to see through them. I always go the extra step to laminate them as well so we can keep playing them year after year!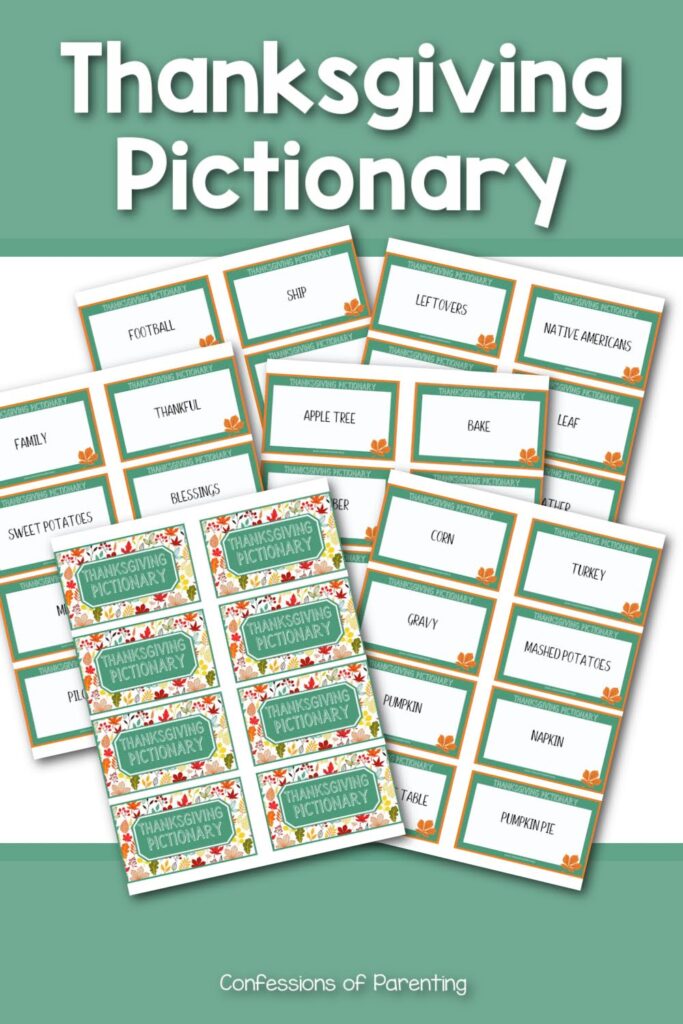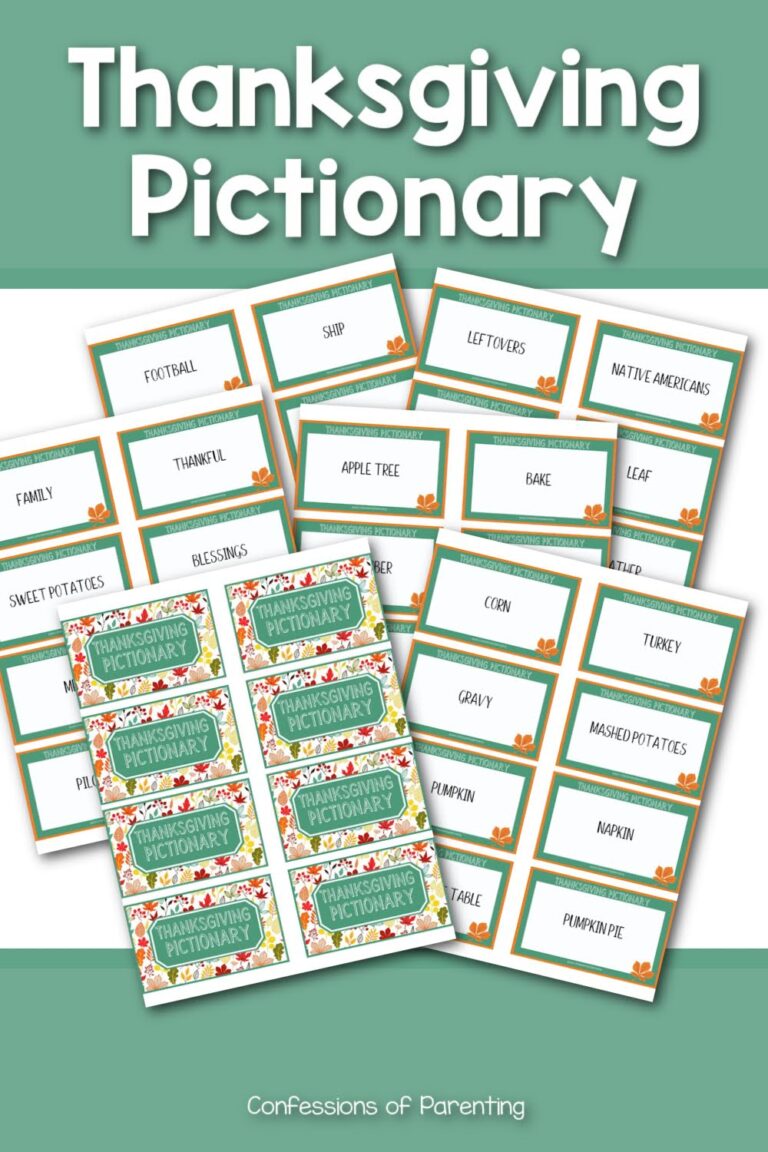 Use a Whiteboard
Using a Whiteboard to draw on is a lot easier for everyone to see and wipe clean. Plus you have more space to create beautiful drawings on! I love a portable whiteboard because it's compact but stands up on its own so you can easily use it on a table.
Offer Prizes
Thanksgiving Pictionary is even more fun when you can win a prize! You can have smaller prizes for participating or a large prize for the winning team. Thanksgiving sticker games and Thanksgiving Sunglasses are some of my go-to prizes for Pictionary! Or come up with your own fun prize like the first piece of pie after dinner. Be sure to try our Apple pie recipe it is delicious!
Ready for a ton of Thanksgiving Fun? Grab our Thanksgiving bundle pack!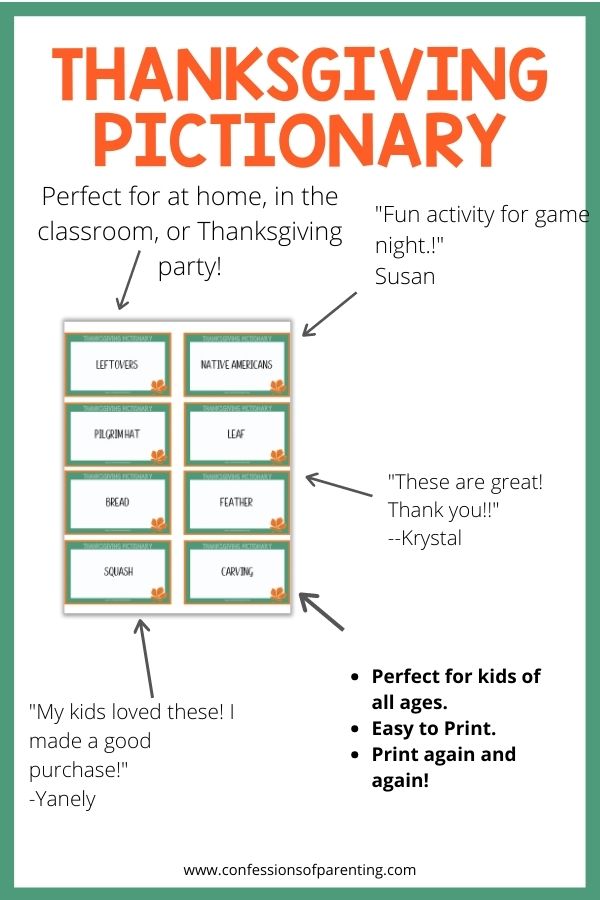 Thanksgiving Pictionary Words
Grab your free Thanksgiving Pictionary cards by joining our free Confessions of Parenting VIP club below! But if you aren't quite ready to get exclusive offers and emails from us, you can grab your Thanksgiving Pictionary cards right here!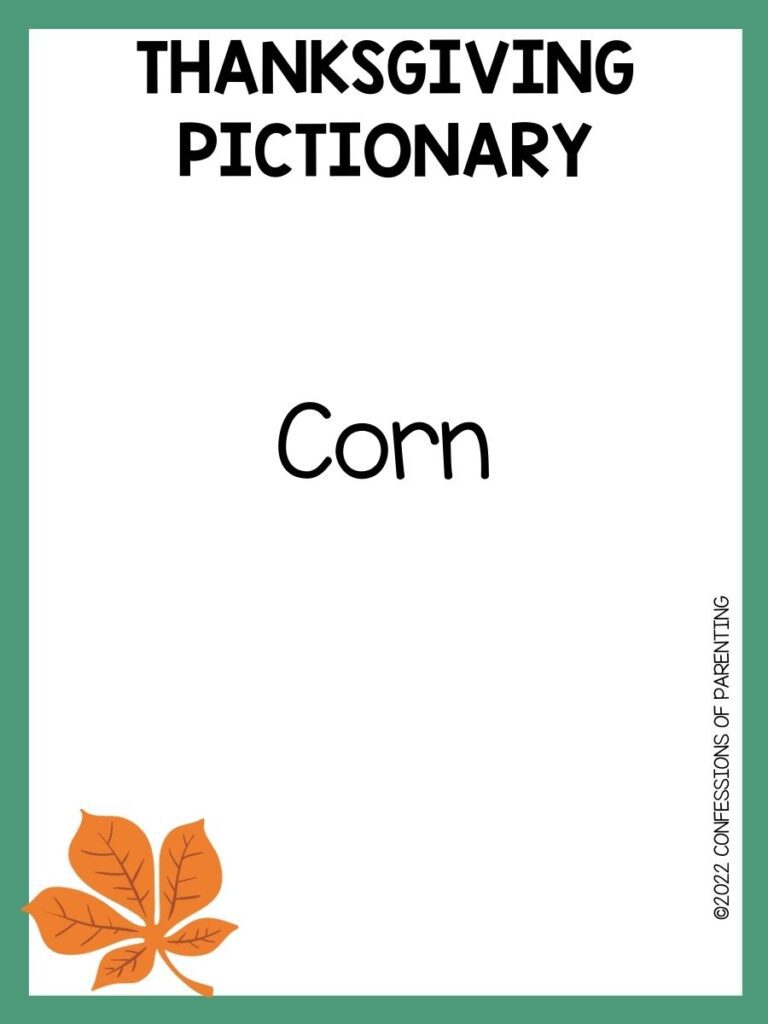 Corn
Turkey
Mashed Potatoes
Gravy
Pumpkin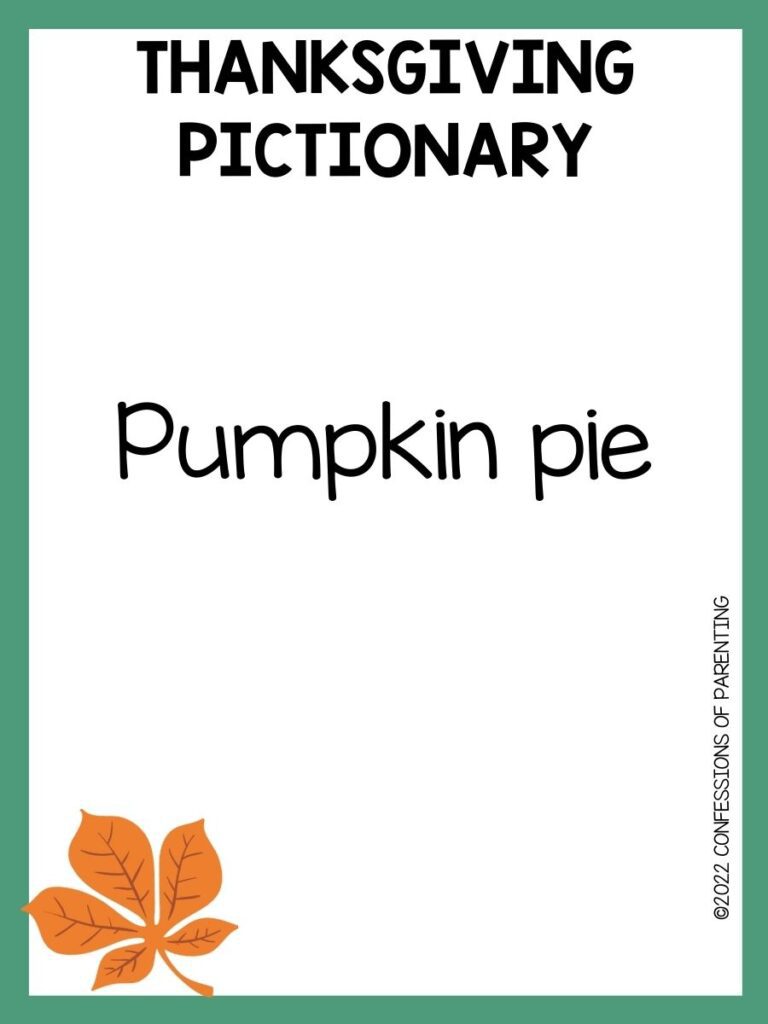 Pumpkin pie
Napkin
Setting the table
Family
Thankful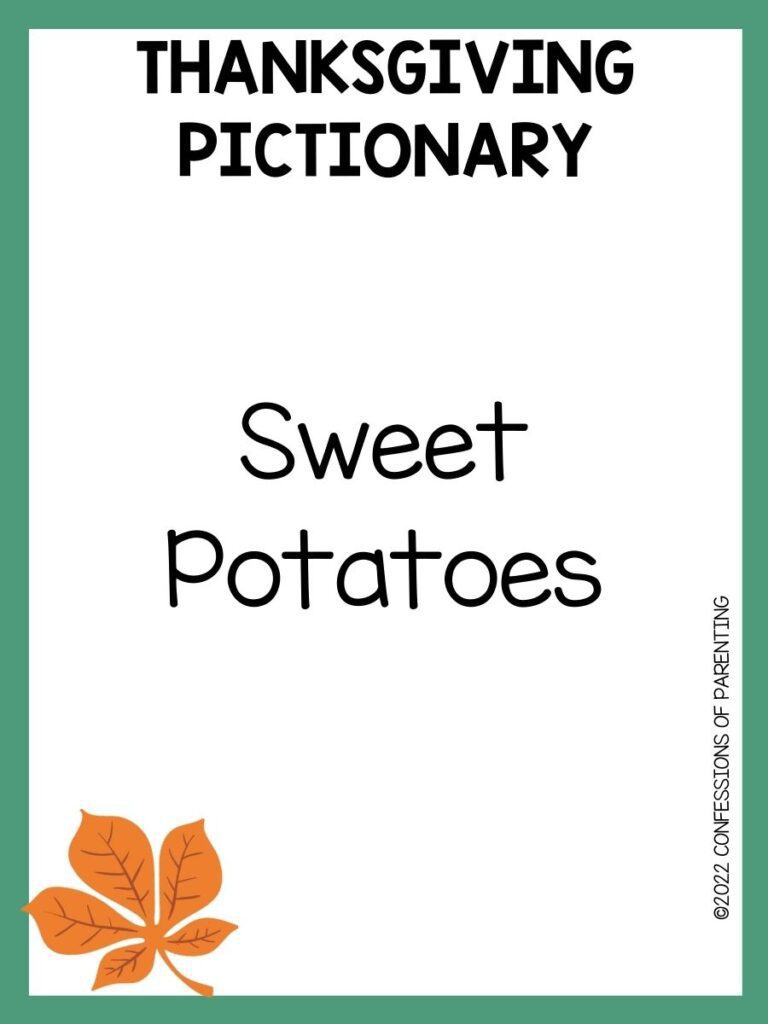 Sweet Potatoes
Blessings
Meal
Cornucopia
Acorn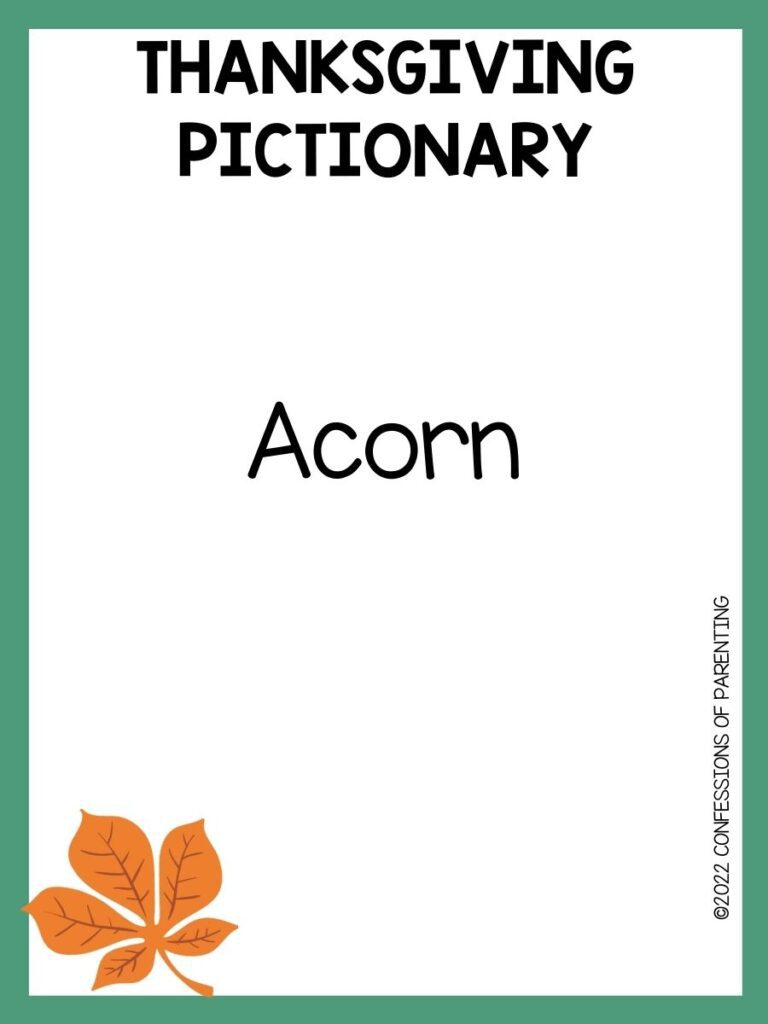 Pilgrims
Leftovers
Native Americans
Pilgrim Hat
Leaf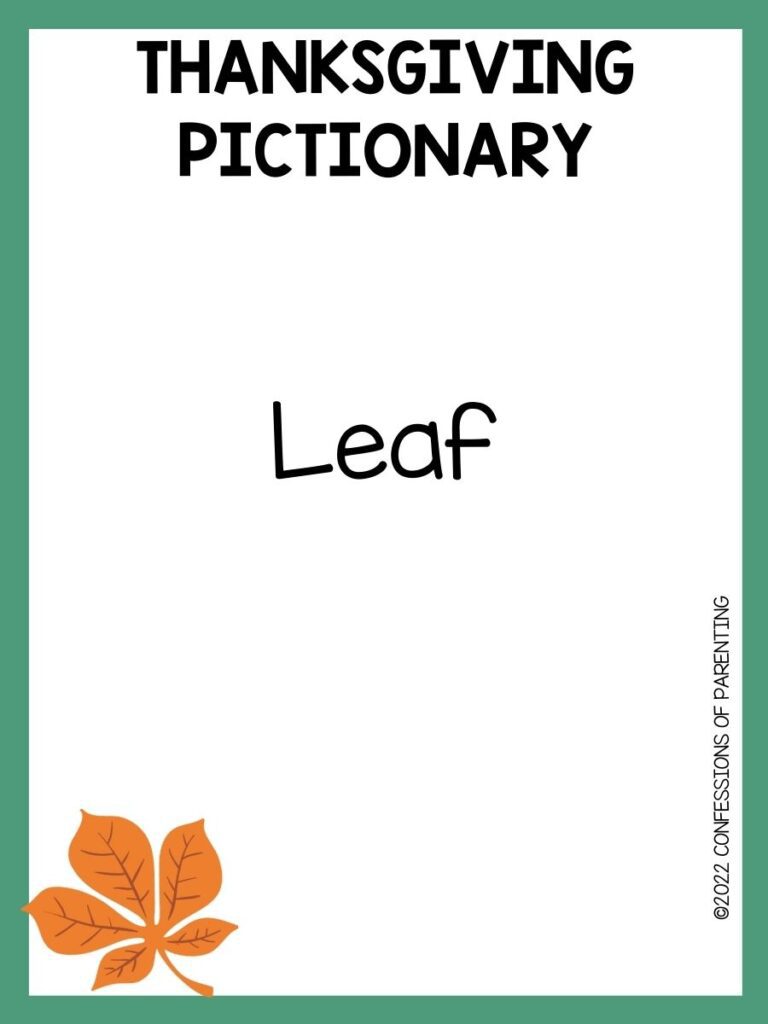 Feather
Carving
Bread
Squash
Football
Canoe
Pecan Pie
Apple Pie
Thanksgiving Dinner
Wishbone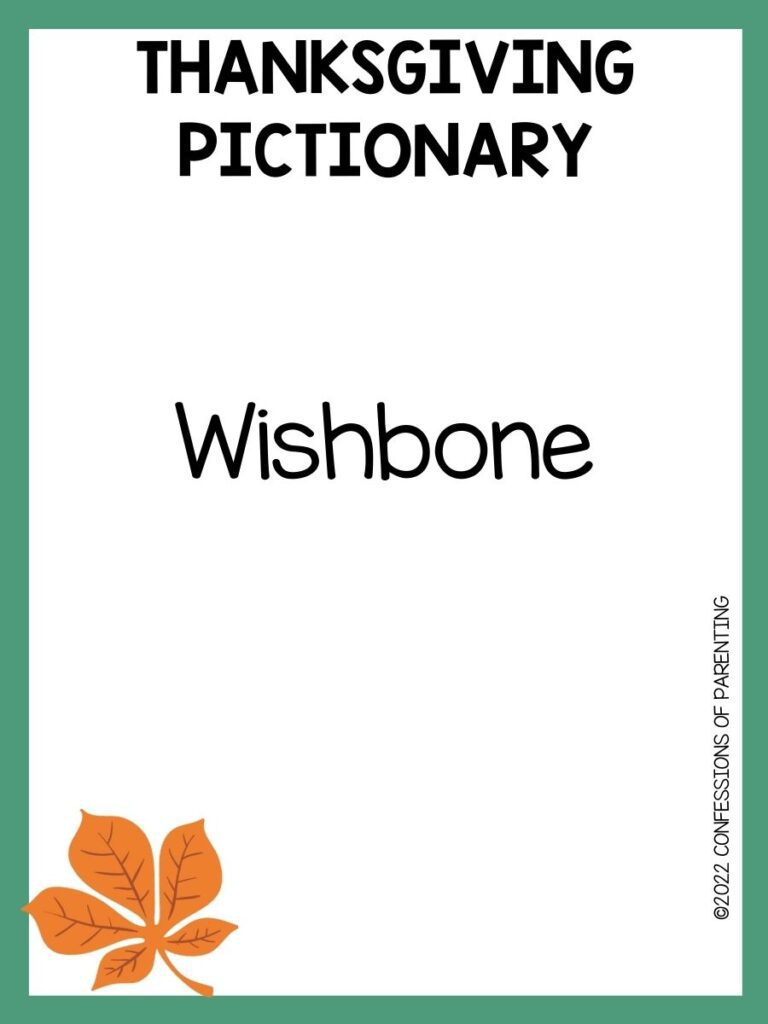 Autumn
Ship
Apple Tree
November
Recipe
Stuffing
Sweet Corn
Tablecloth
Yam
Bake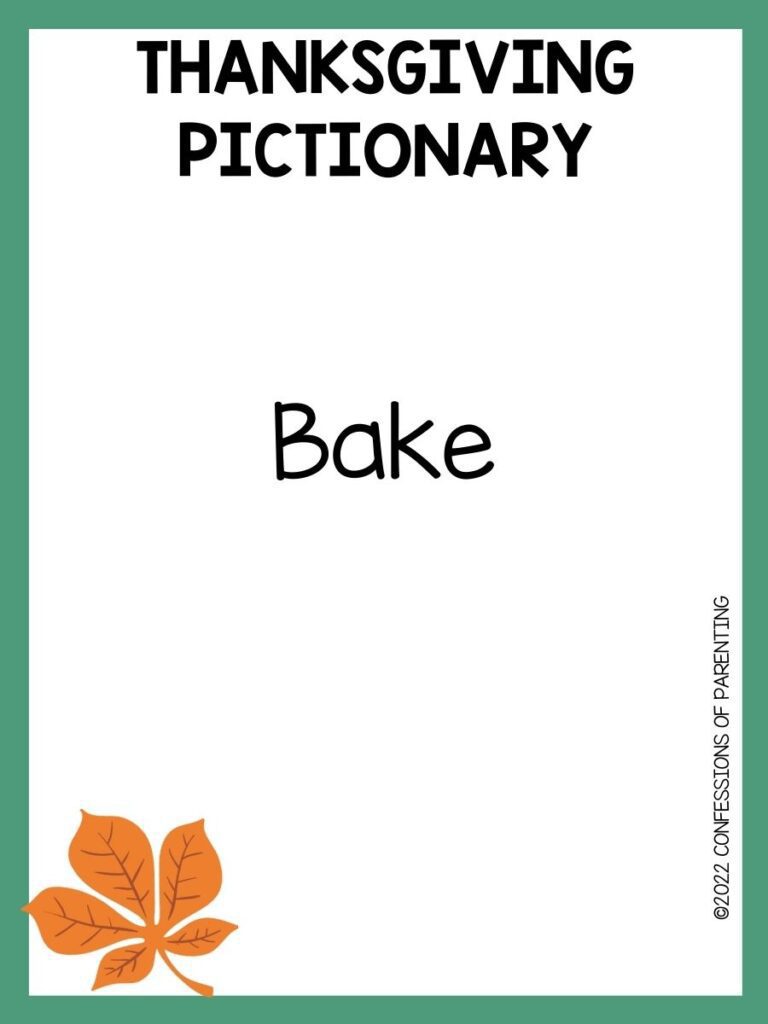 America
Apple Cider
Vegetables
Cranberry sauce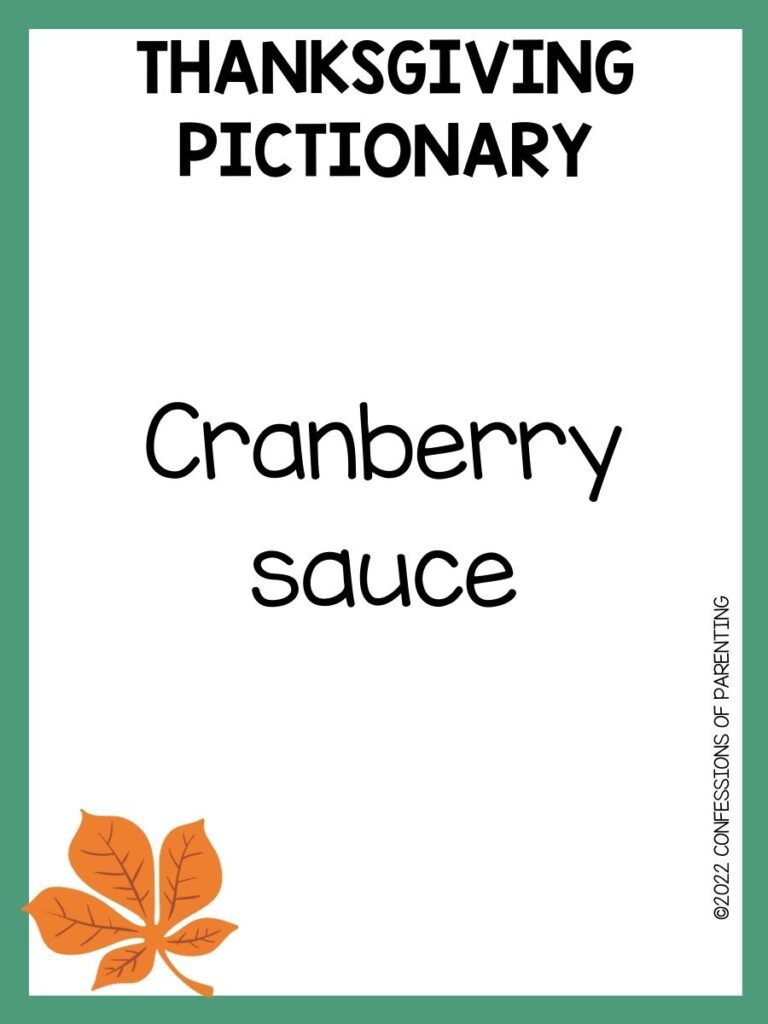 Eating
Turkey Trot
Ham
Casserole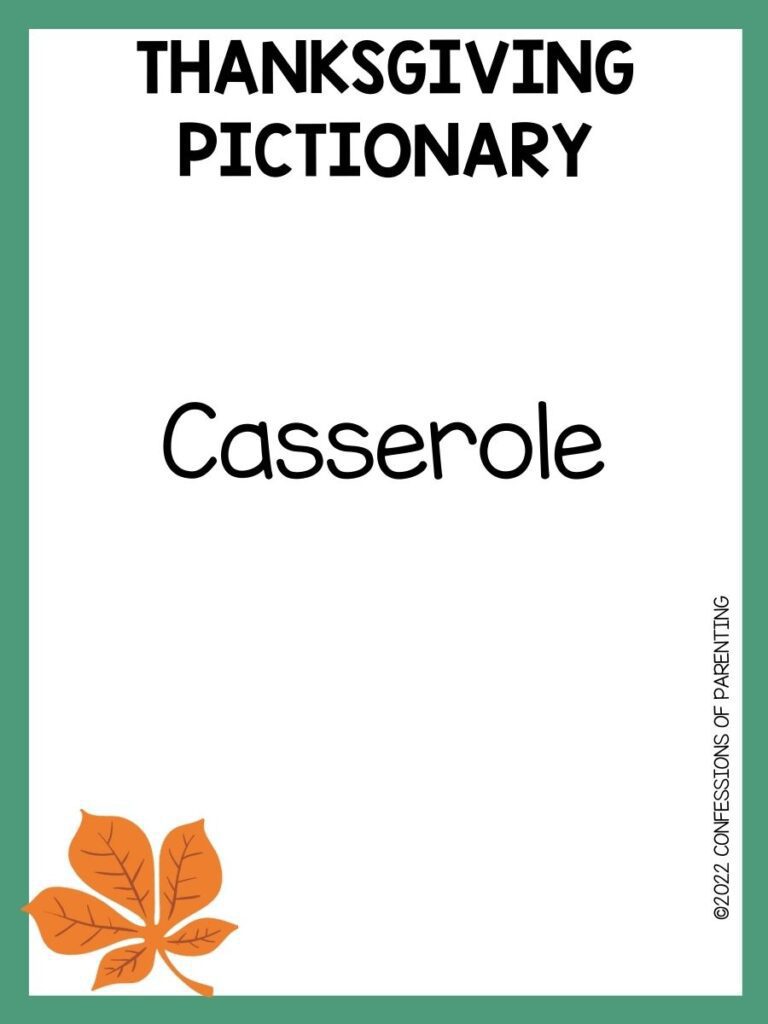 What other words would you add to the list? Share in the comments!
How Do I access my free printables?
Fill in the form above. You will receive an email in your inbox. If you don't see it, check your spam folder! You will then click to confirm your subscription. Once confirmed, you will be sent your printable through your email.
How Do I Print a PDF?
You'll need a program that supports PDFs. Adobe Acrobat is a great option. Open the program, click File, then print. Select your printer and the number of copies you want to print. Be sure you click double-sided if you want it to print on both sides.
Can I resell these?
You may not resell any printable found on our website or in our resource library. You may use them for class parties, at church, at home, or in the classroom. You may get these printed at an office supply store or copy center at your own expense.