Baby led weaning choking is a concern many parents have when doing baby led weaning. Knowing the difference between gagging and choking as well as the signs for choking can help you feel more comfortable with doing BLW.
Baby Led Weaning Choking
A lot of parents are concerned with their baby choking when it comes to baby led weaning. This is completely understandable, and why it is important to understand the signs of choking when your baby is starting baby led weaning.
There are several ways to avoid choking while doing baby led weaning and important to recognize what the signs of choking are. Here are some important ways to be successful at baby led weaning and how to keep your baby safe in your baby led weaning adventure.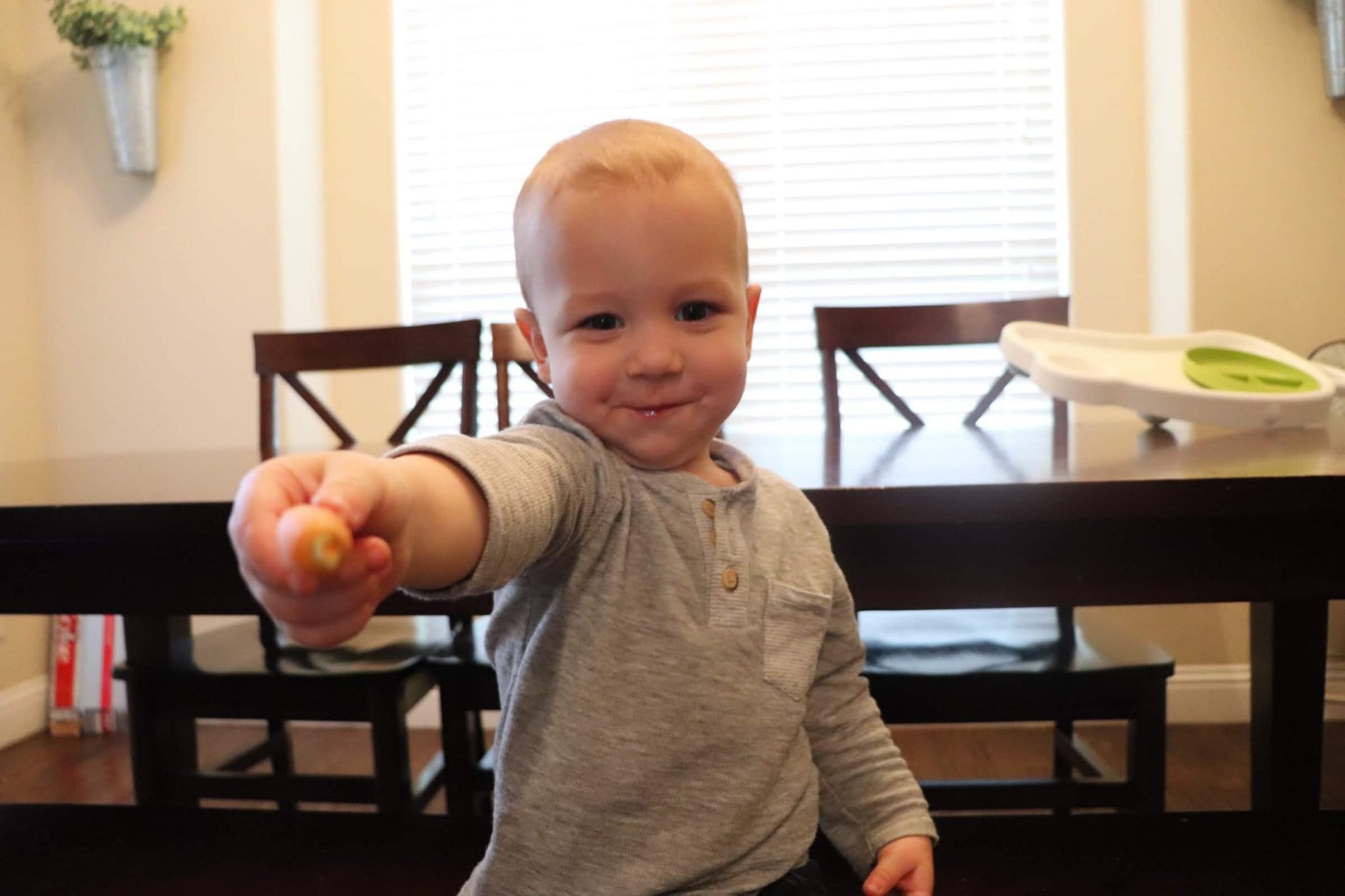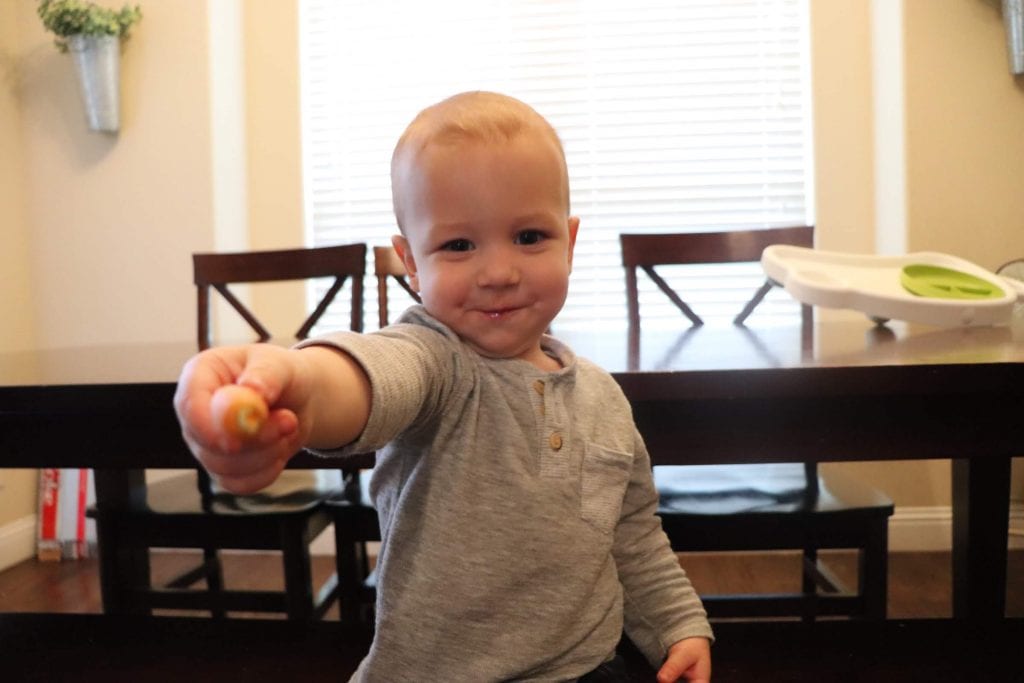 Avoid Choking Hazards
While this tip might seem obvious, it can sometimes be hard to know what is a choking hazard. When questioning if food may be a choking hazard take this question into consideration. Is it a round shape and smaller than a quarter? If it is then it can be a choking hazard.
Grapes, cherry tomatoes, popcorn, and even green peas fall into the category of foods that are considered choking hazards.
Hard fruits and vegetables like apples and carrots are also a choking hazard. This is because your baby's throat is actually only the diameter of a drinking straw which makes it more difficult to swallow and can easily block their throat.
Keep these things in mind as you dive in to baby led weaning and are becoming more familiar with signs of choking and what could possibly cause your baby to more easily choke.
Be Attentive
Now that your baby is independently sitting in a high chair you may feel it is time to get a few things done! This isn't a time to leave your baby alone while they are eating. Being close by and watching them eat is a way you can physically see and hear the signs of choking.
You can hear your baby when they are gagging but choking is sometimes silent so it is essential that you are watching them closely while they are eating.
Another thing to keep in mind when it comes to BLW choking is if you have other kids, they might think it would be fun to help feed the baby. This is absolutely okay under your supervision, but if left unsupervised, who knows what they might try to feed the baby!
Talk to your kids about what is and isn't ok to give the baby, but always be attentive when your baby is eating.
Understand the Difference Between Choking and Gagging
Choking and gagging are two very different things. When it comes to baby led weaning, your baby is in charge of how much they are putting in their mouths. They are also discovering new textures as well. New texture means there will likely be gagging at first as they figure out the process. This is why it's important to understand the signs of choking. Choking and gagging are two different things.
Remember gagging is normal! It is the body's natural response that pushes food away from the airway to protect the baby from choking.
If you notice your baby is gagging, you will hear noises. This isn't the time to reach your finger in their mouth to get the food out, as it could push the food further back in their throat.
If they are gagging, try not to panic. Stay close by and let them try to work through it. Letting them work it through is how they will learn!
When they are choking, the airway is completely blocked so no noise will pass through. If they are choking, they will require your immediate attention.
As they get older, the gag reflex moves further back in their mouth so by the time they are around 9 months, the gagging reflex should be minimal or could even be gone all together.
Educate Yourself on Infant CPR
It's so important to learn about what to do if your baby does choke. You could take a CPR class, or look up online what you should do. Whichever you choose to educate yourself, this is key in feeling confident that you would know how to help your baby if they ever were to choke.
Search online for nearby classes many community colleges and local police stations offer classes monthly.
Always Have Baby Sitting up While Eating
Make sure your baby is sitting upright in a highchair. If there is a buckle be sure to fasten them in and know how to quickly get them out incase they were to start choking.
Just remember to never let your baby eat while they are laying down, crawling, or sitting in your lap. Since they typically face outwards while sitting in your lap you can't see their face while they are eating which means it's hard to see their face if they were to choke.
Let Your Baby Feed Themselves
With baby led weaning it is very important you don't put food in your baby's mouth for them. When you do this it is more likely to fall to the back of their throat and become a choking hazard.
When you allow your baby to feed themselves, you will see how they can easily learn how to control their tongue and chew the food.
Offer Your Baby Soft Foods
Soft foods are much easier for your baby to handle when starting baby led weaning. You can avoid choking by offering baby soft foods.
I like to test the food myself and see how easy it is for me to mash the food on the roof of my mouth before I offer it to my baby.
This allows me to see if this food will present as a choking hazard or not.
Signs of Choking
When starting to wean your baby and introducing foods to your baby's diet don't be anxious or nervous, but that's not easy right? As a parent we always worry and want to be safe when it comes to our baby.
Just be educated and relaxed and know the signs of choking and watch as your baby is starting this new adventure of the world of food!
Key signs of choking are:
Unable to make a noise
Color changes to blue in the face
Attempts to cough
You hear nothing
There are several ways to educate yourself on choking when it comes to Baby Led Weaning. Share in the comments things you have done to educate yourself on signs of choking.
Be sure to share your experience in your stories on
Instagram
and tag us @confessions_of_parenting! We love seeing what you are up to!