Weaning your baby can be overwhelming. Finding the essentials for baby led weaning can be tough when there is so much information to look through. Here are the must have baby led weaning essentials and some of the best baby led weaning accessories on the market.
Baby Led Weaning Essentials
Weaning your baby can be hard. As a new mother struggling to figure out what's best for your child, it can be exhausting filtering through all the information out there. However, whether your doctor told you about baby led weaning, your friends did, or you saw something about it on Facebook or Pinterest, we're glad you're here!
Baby led weaning is so great for your child in so many ways. In fact, did you know that BLW helps your child develop healthy eating habits, learn self-regulation, and a bunch of other benefits of baby led weaning.
Just like when you had your first child, the information about what to do and what to buy can be overwhelming.
In fact, many people will tell you after their second or third child that they didn't need half of the stuff they bought when they were expecting their first child. We want to help you save money and give the best to your child, so we compiled this list of some of the best baby led weaning accessories and weaning essentials that will help you and your child as you embark on this fun new journey!
What Do I Need for Baby Led Weaning?
~We are a participant in the Amazon Services LLC Associates Program. As an Amazon Associate, I earn from qualifying purchases.
Though there are a ton of products out there that claim they are must have baby weaning essentials, a lot of them are really just a waste of money. When it comes to absolute essentials for baby led weaning there are only a few things that we suggest:
Good placemat, to help protect your table from all the spills.
Specific baby led weaning utensils. Using baby led weaning utensils makes all the difference when introducing baby cutlery to infants learning to feed themselves.
A good baby led weaning highchair. We break down the best baby led weaning highchairs in our baby led weaning series.
Baby led weaning bibs, typically the best baby led weaning bibs are long sleeved and waterproof.
Gotta have a splat mat to protect that floor, because it might get a little bit messy.
These baby led weaning essentials are not super extensive, but it's a great place to start when you're wondering how to start baby led weaning. (Also, we have blog posts about the best baby led weaning products: such as placemats, splat mats and more! We also have dedicated posts that breakdown the best baby led weaning utensils, baby led weaning high chairs, baby led weaning bibs, Baby led weaning plates and bowls, as well as BLW cups. Be sure to check them out to make sure you get the best baby led products that work for you!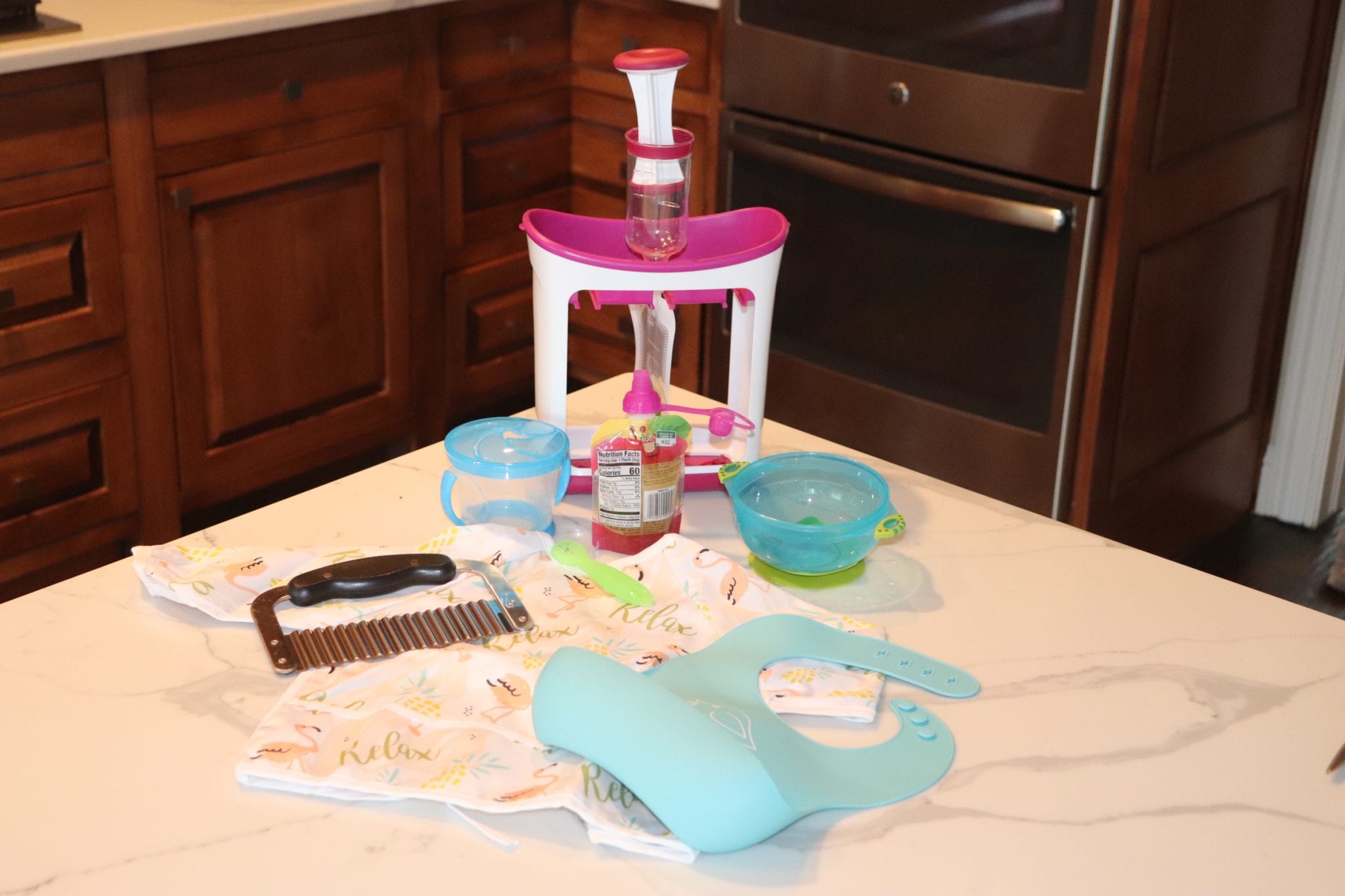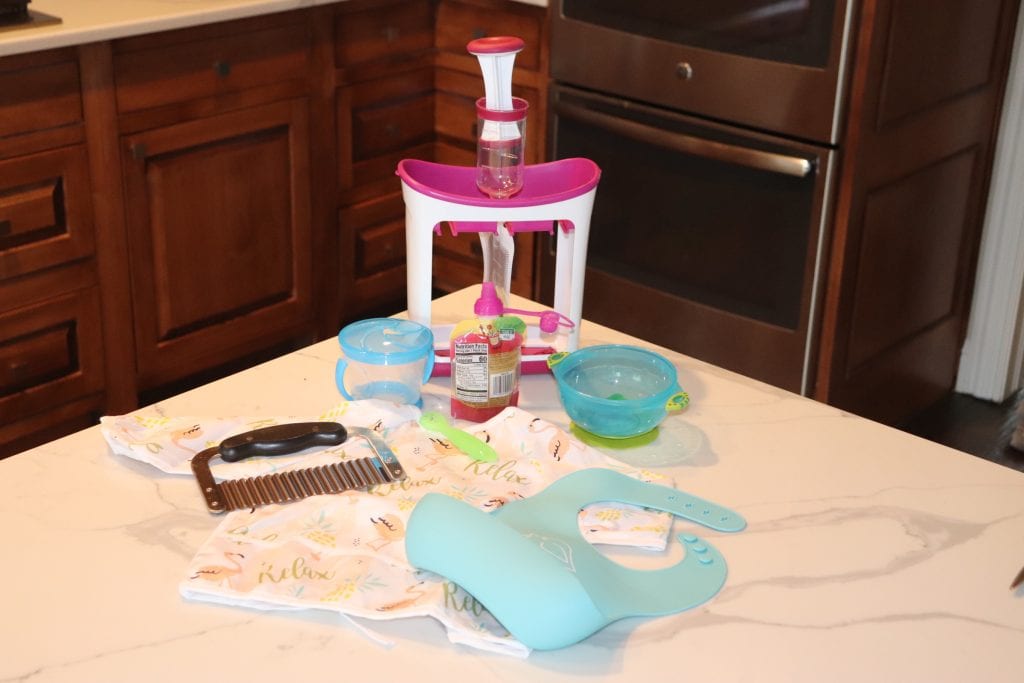 Baby Led Weaning Tools
When it comes to the best baby weaning products you might automatically start thinking about highchairs, bibs, and plates. But there is actually a lot more to it that you may need to look into.
Baby led weaning is wonderful because it allows you to give your baby a modified version of whatever the rest of the family is eating. However, mashing, softening, and steaming your baby's food in the right way can be tricky unless you have the right baby led weaning tools to make your life much easier! .
Instant Pot
I love having my Instant Pot and it is one of my favorite baby led weaning tools! I am a huge fan of quick and easy meals and the Instant Pot really saves me there. If you don't have an Instant Pot yet, you will want to grab one for baby led weaning. It's a great way to make soft, easy to eat foods fast for your baby.
This baby led weaning tool is one that you will come to love in the kitchen. It's cheap and easy to use and your baby will love the new sensory experience that the crinkle cutter provides for their foods. You can use it on zucchini, sweet potatoes, or carrots. Not only does the texture really capture your child's attention, but it will also make their foods easier to grip!
And let's be honest, if you have older kids, they will love the crinkle cutter too!
I will admit, it took me a while to get my food processor. But now that I have it I am in love! It makes mashing, chopping, and shredding so much easier. You can mash up all sorts of things for your baby in the food processor and it will save you so much time!
Okay, so this is not a baby led weaning tool you will need right away, but you will love having once your baby is old enough for it (18 months)!
One of my favorite things about baby led weaning is the opportunity I have to share my love of food and cooking with my baby. The SDADI Kitchen Step Stool is a great way to keep your child involved in how you make their meal and what goes into it. I love having my child right by me as we prepare food together.
I love using this Prepworks from Progressive Apple Slicer & Corer. Apples are a great baby led weaning food and they are stuffed full of important nutrients for your baby. This baby led weaning product is extra great for BLW because it slices the apple into thinner pieces, making it the perfect size for little fingers and little mouths.
Baby Led Weaning Equipment
When it comes to the best baby weaning equipment it can be really hard to narrow down what is good and what is great. However, we've done a few posts about some of the best baby led weaning products to help ease your mind that you are finding exactly what you are searching for!
In order to make things easier for you, we've gathered the best BLW weaning products for you. If you want to see the full list of each category just scroll to the bottom of the post and they will be linked at the end as well!
Like I said earlier in this post, when it comes to weaning equipment there is a lot out there. However, you should only concern yourself with what are baby led weaning essentials. These would include a good high chair, sippy cup, placemat, utensils, and bibs. Here are a few that we love!
The Ingenuity Smartclean highchair is my absolute favorite for baby led weaning. It's a great price and can be used in 3 different ways. It can go from highchair to booster seat to toddler chair. It is super easy to clean and has wheels on the bottom making it easy to move around.
The Bumpkins Sleeved Bib is one of the best when it comes to full coverage bibs. It is long-sleeved and waterproof. It's easy to wipe down and the front pocket catches a lot of spills. I also really like that it's a cinch to put on and take off.
The SILIVO Baby Placemat is a hit for me when it comes to getting the right placemat for my baby. This one has a few different compartments for food, covers a large amount of surface area, and suctions right to the table or highchair. The different compartments provide an excellent opportunity for my baby to explore different foods, but it also helps me to remember to give them a veggie, a carbohydrate, and a protein so their meals stay balanced.
Honestly, I don't love having sippy cups around. But if I have to have one the Munchkin Miracle Training Cup is the one for my baby. It's super easy to use, it pretty much never spills, and it teaches your child how to properly hold and drink out of a cup. I love it!
For someone just starting out with baby led weaning, this Baby led weaning spoon is one of those BLW weaning essentials!
The Spuni Feeding Spoons helps promote a natural transition from liquids to soft solids. The design of the spoon helps prevent choking by bringing the right amount of food to your baby's mouth. This spoon is a winner!
And there you have it! The best baby led weaning essentials! Are there any BLW essentials that we missed or that you love? Comment down below and let us know!
There are more great articles in our baby led weaning series! Check out these BLW posts:
Be sure to share your experience of baby led weaning in your stories on Instagram and tag us @confessions_of_parenting! We love seeing what you are up to!
Don't forget to save these Baby Led Weaning Essentials on Pinterest so you can find them easily!