Bring in the new year right with these family activities that help you celebrate January! These simple and fun January bucket list ideas are an easy way to bring your family closer together.
Celebrate January
Happy New Year, everyone! It's a time full of fresh starts and new beginnings.
If you have been wanting to add more family time into your schedule, January is a great time to start! This list is full of fun ways to celebrate January that are inexpensive, simple, and enjoyable for the whole family.
You can do this! Family time is completely attainable with some good ideas and a little thinking ahead!
If you like these ideas don't forget to scroll down to download your printable!
January Bucket List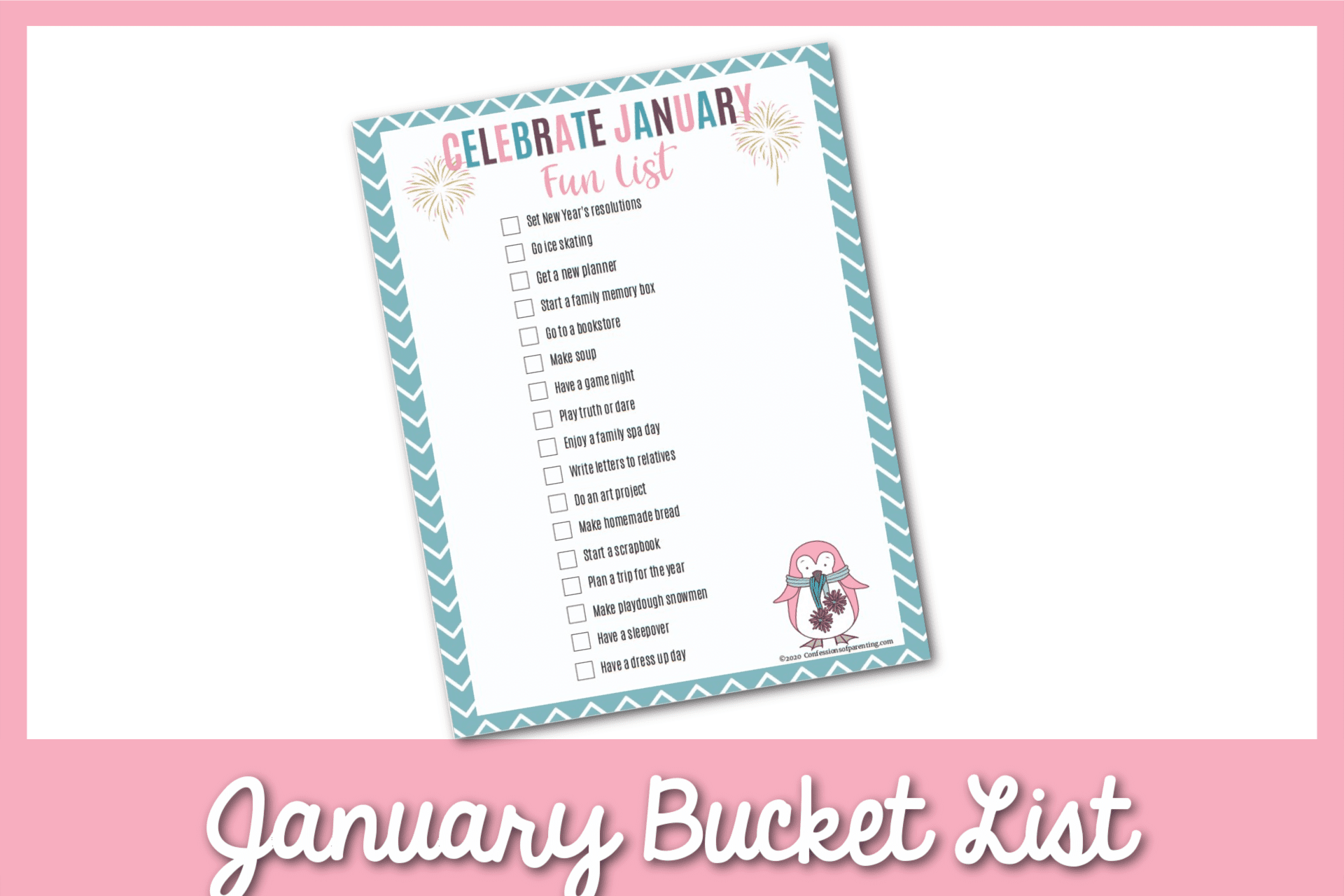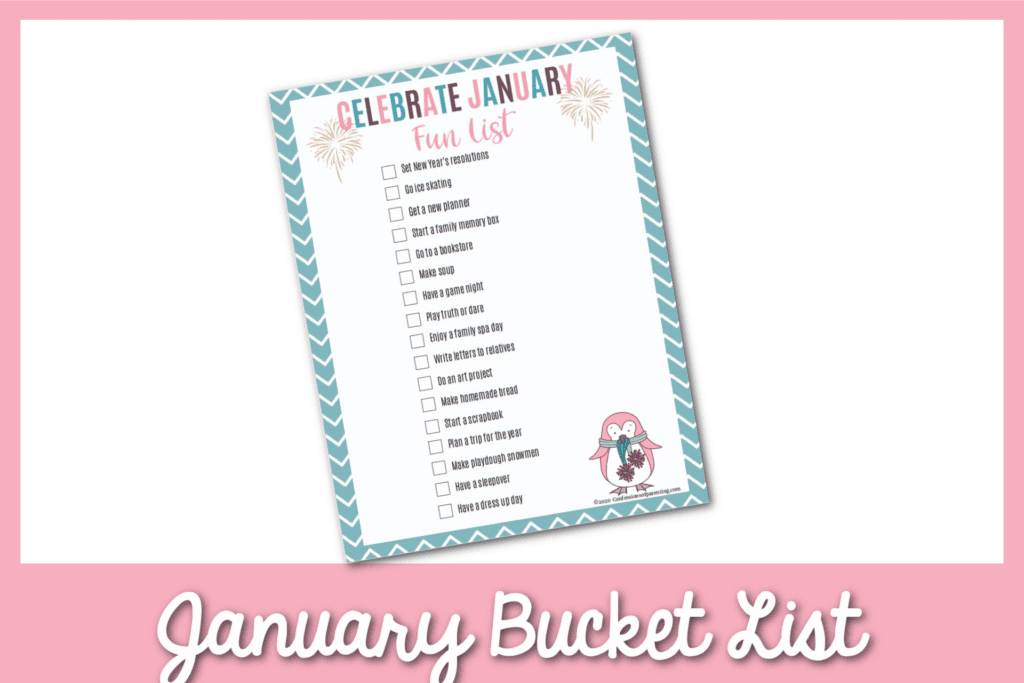 Set New Year's Resolutions
Many of us set goals at the beginning of the year on our own, but doing it together as a family is even better!
You can set individual goals and maybe a family goal and discuss them together. Make a chart or something visual that can help everyone remember what their resolutions were.
This is a great time to talk about reasonable goal setting with your kids, and making it a family event means lots of encouragement to keep trying!
Go ice skating
While it's still winter weather outside, visit your local ice rink and go ice skating!
You may end up with quite a few falls, but ice skating always ends up being a fun activity that the whole family loves. Most rinks have walkers so even your little ones can get involved!
Get a new planner
Does anyone else get so excited about getting a new planner each year?! It's a must to have this on your January bucket list.
Take your time and look at different options before you make your choice. Think about how you use or planner and what you need in it.
They have so many options out there now, so you can get exactly what you want and what will be the most effective for you.
Start a family memory box
Set aside a special box, jar, or whatever you can find to collect memories through the new year.
Have a discussion with the family about the memory box and remind each other to add fun memories throughout the year. At the end of the year, you can take them out and read them together.
This is also a great simple way to journal if you don't have much time!
Go to a bookstore
Get some new books for your family at the bookstore!
Reading to your kids and encouraging reading in your home has so many benefits for your family members' well being.
Start your new year off by reading together with some new books!
Make soup
Make some soup while you still can! If you are a soup lover you will definitely want to celebrate January with some soup before the weather changes.
If you need some ideas for some great soups, check out our recipe section for some amazing soup recipes.
Have a game night
Test out some of those new toys and games that you were gifted for Christmas and have a family game night!
Playing games is such a good family activity because it builds relationships and lets everyone let go of the stress of daily activities. It's a fun way to get competitive and have a great time together.
Make a movie
Instead of watching a movie… make your own!
This idea needs to be on your January bucket list. Your kids will absolutely light up when you talk to them about it! Get creative as a family and think about what you want your movie to be about.
Record it on your phone and see what you can come up with. You'll be sure to have lots of bloopers at the very least!
Have a puzzle race
Puzzle races are a great competitive family activity.
Simply grab two puzzles and split your family into two teams. Set a timer and see which team can complete the puzzle first!
The great thing about this activity is that it can be as short or as long as you want. Pick really small puzzles for a short competition or large puzzles for an ongoing ing challenge!
Play truth or dare
Use our fun deck of Truth or Dare Questions for Kids on a simple family night!
This is a fun easy activity that helps you to get to know your kids. It's also a great deck of cards to keep around for kids' parties and other events!
Enjoy a family spa day
This January bucket list item might seem a little bit selfish as a parent… but your kids will love it too!
Pamper your family however you can. Walk around in robes. Paint your nails. Use lotions. Give neck massages. Light some candles.
Have a nice relaxing day spent right at home.
Write letters to relatives
Kids love writing letters and relatives love receiving them!
Grab some paper, let your kids color or write a note to people who don't live near you. January is a great time to do this because you can say thank you for any gifts received and wish them a happy new year!
Do an art project
Come up with a simple project that you can do as a family!
You could each make your own art piece, or you can work together to make something beautiful. If you need some help, you can always sign up for a local art class!
See if you can find somewhere to hang your artwork in your home so everyone can see it.
Make homemade bread
Go simple and make bread in a bag or if you have older kids teach them about bread and make a more advanced loaf.
Homemade bread tastes so good and will warm up your home with the sweetest smell. Your January bucket list just got way more delicious!
Start a scrapbook
Start a book of memories for your family and start a scrapbook. Throughout the year you can collect pictures and memories and add them to your book.
Even though a lot of our memories are online now, scrapbooks are still great to have around and your kids will love looking back at them.
Try a new healthy meal
Since someone in your family is likely trying to be a little bit healthier, try out a new recipe for a healthy family meal!
We have some great ideas for healthy meals in our recipe section if you need some help coming up with something yummy.
Have a dress up day
Costumes aren't just for Halloween! Have a fun day dressing up in costumes together!
Make sure your schedule is clear of events where costumes would be inappropriate, and then try on some different looks together.
If you don't have enough costumes, switch clothes and pretend to be each other!
Plan a trip for this year
Celebrate January by looking forward to the new year! Think about summer vacation, spring break, or any other time and decide on a few options for trips that your family wants to take.
Have a fun family meeting about dream vacations and take the opportunity to talk about costs, savings, and different aspects of planning a reasonable and fun trip!
Make playdough snowmen
Whether or not you have snow outside, stay in your warm cozy house and make some playdough snowmen!
Make your own dough if you don't have any. There are tons of recipes out there, and most of them are great for an activity like this.
See who can make the best or most creative snowman!
Have a sleepover
Have a family sleepover night! Have you ever done this?
Pick a room in your home and have everyone bring out the blankets and pillows. Have snacks and play games just like you would at any fun sleepover!
Have everyone spend the night together in the room for a fun unique family activity!
There you have it! Some great ways to Celebrate January with your family! What would you add to the list? Share in the comments!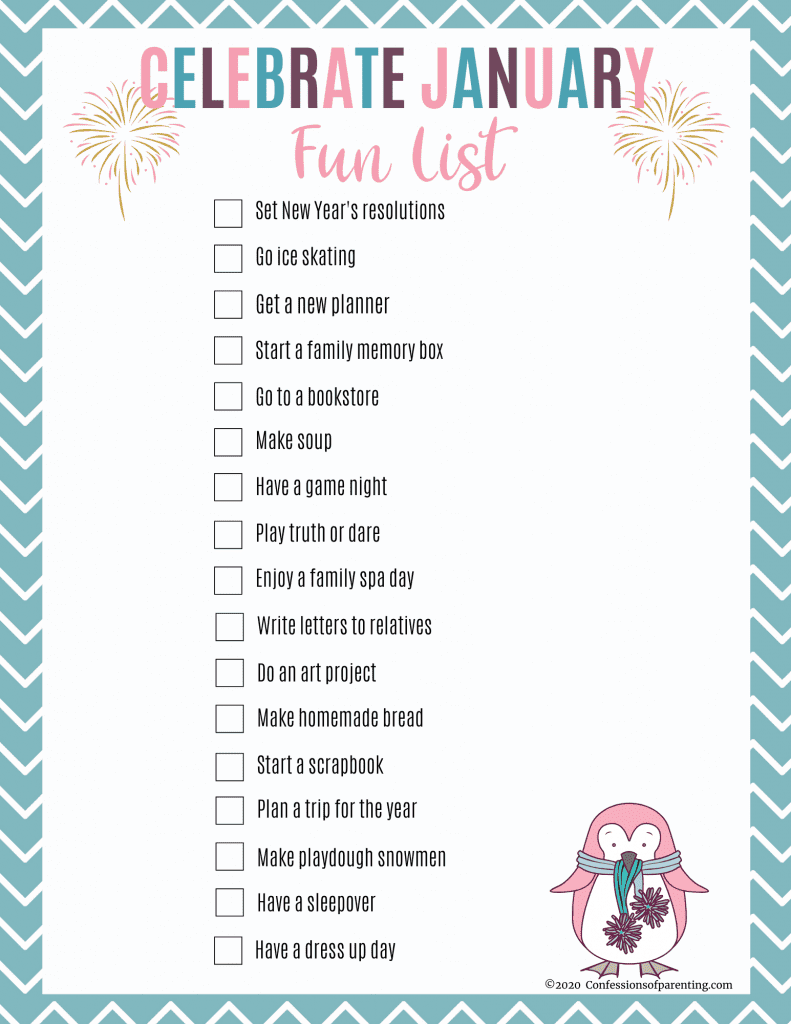 Check Out Our Other Bucket List Posts!
Don't forget to save this Celebrate January Family Fun List on Pinterest so you can find it easily each January!