Your family will have so much fun with these simple ways to celebrate November. Check out our November bucket list for families with an included printable!
Celebrate November
Welcome to the month full of gratitude and family time. There's no better time to come together as a family!
Celebrate November with these fun and simple family ideas that can help complete any November bucket list!
November Bucket List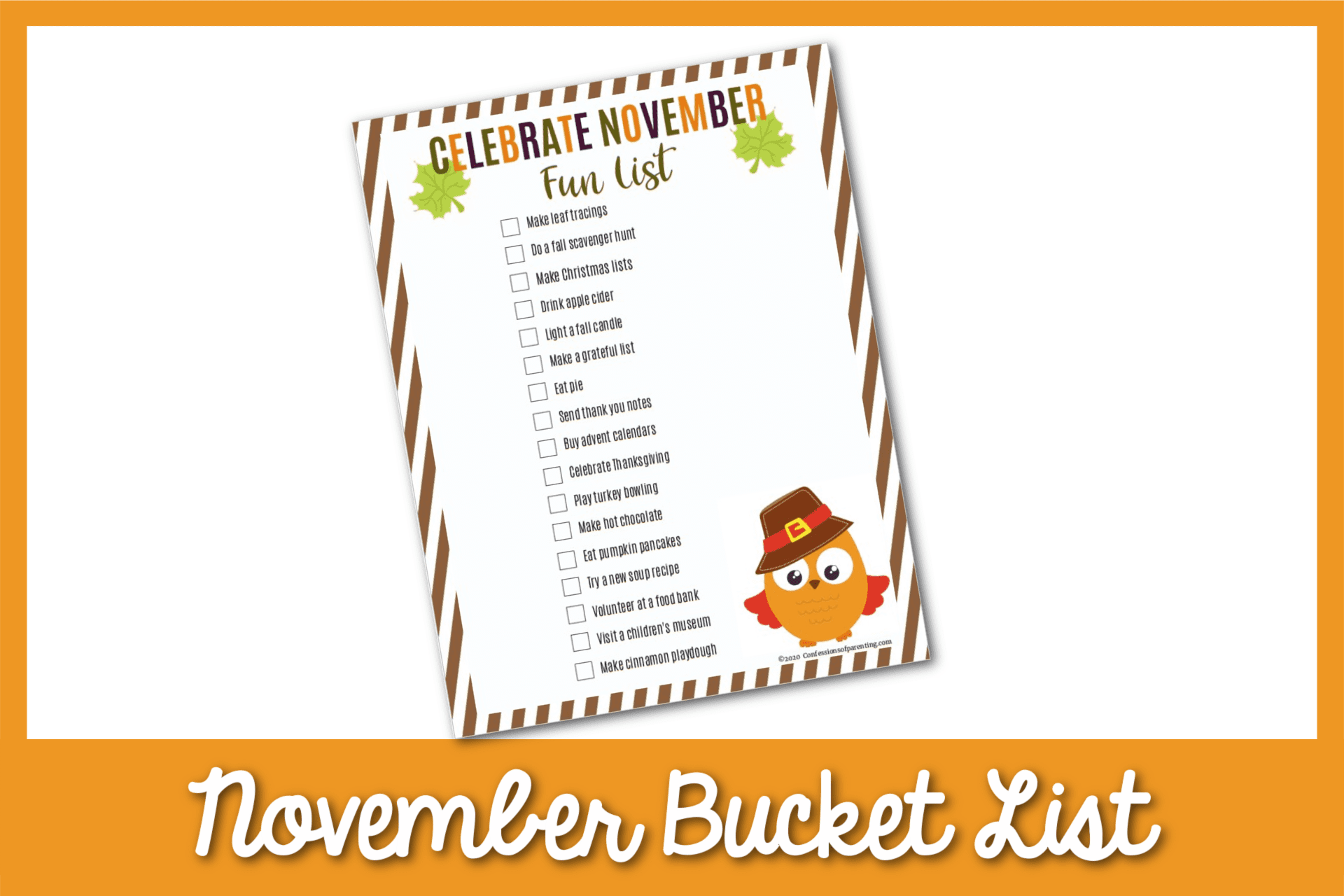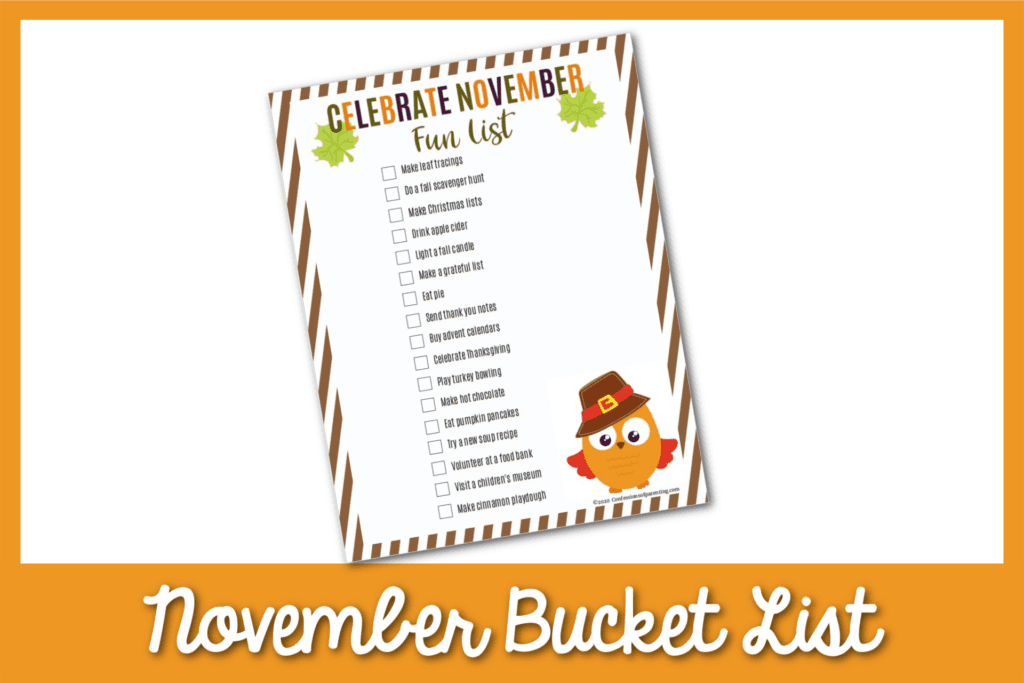 Make leaf tracings
This is the easiest fall activity ever and so much fun with your kids of all ages.
Collect some leaves in your yard or neighborhood and make sure they are nice and dry. Bring them inside, or do this activity outdoors if it's warm enough. All you have to do is rub a crayon over the leaves for a beautiful design.
Let this be an easy sensory experience for your younger kids. For the older kids, you could add these to a frame and make a lovely fall decoration.
Do a fall scavenger hunt
This is going to be a family favorite. You may have to do this more than once! Make a list of simple fall items that you are likely to see outside.
Go for a walk as a family and hunt for all the items on the list.
If you want to get extra fancy, make some binoculars out of paper or toilet paper tubes and bring out your kids' inner adventurer!
Make Christmas lists
It's always a good idea to ask your kids nice and early what they are wanting for Christmas. Give yourself some extra time to see what you can do.
Make it a fun activity as a family to make your Christmas lists and put them somewhere where everyone can reference them while they are preparing their gifts.
Drink apple cider
Apple cider is a delicious fall tradition and a great way to celebrate November. Whether you get some cider at your favorite cafe, drink some at a fall festival, or make it yourself, it will be sure to warm you up! If you are feeling adventurous try some homemade wassail!
Apple cider is also a great thing to throw in the Crock-Pot if you make it yourself. It will keep it warm and toasty all day!
Order Christmas cards
If you like to send out Christmas cards, you are going to want to remember to put ordering them on your November bucket list for your family.
Make sure you check out Black Friday and Cyber Monday deals. Many shops put their cards on sale big-time that weekend and they'll be at your home in perfect time to send them out.
Light a fall candle
Add a little bit more calm to your home this November with a fall-scented candle.
Not only do candles smell amazing and have aromatherapy benefits, but your kids will love it and it is a good sensory event for them.
Make a grateful list
Since November is the season of thanksgiving, sit down as a family and make a "grateful list."
Put the list somewhere that the whole family can see and try to add as many things to it as you can before the month ends.
This is a great opportunity to talk about the happy things of life and what brings your family health, comfort, and joy!
Eat pie
Can you celebrate November without eating your favorite flavor of pie with a big dollop of whipped cream or scoop of ice cream on top?
Make some homemade apple crumble pie as a family or stop by your favorite shop to get a delicious fall treat. Remember pie isn't limited to Thanksgiving. You can have pie all month long!
Send thank-you notes to friends and loved ones
November is a time full of friends, family, and loved ones. However, there are always some people you love that you don't get a chance to see during the holiday season.
If you are missing someone, get together as a family and send some thank you notes to them!
Have your kids think about what they are grateful for about that person and send your thoughts off in a letter. This will be sure to be a treasured memory for all who receive one.
Buy advent calendars
Can you believe it's almost time to countdown to Christmas and other holidays?
Don't forget to put together a countdown so it will be ready for your family when December begins. Grab pre-made advent calendars or make a paper chain or other countdown as a family.
Countdowns are a great way to help express time to your young kids!
Celebrate Thanksgiving
Thanksgiving may just be the perfect family holiday. Lots of delicious food, spending time together, and a focus on the things that your family is grateful for.
Wherever you are and whoever you are with during the holiday, celebrate November with a little extra thankfulness this year!
Play turkey bowling
Turkey bowling is a kid-favorite, and maybe mom and dad's too!
Decorate some plastic cups to look like turkeys, and take turns trying to knock them over with a ball you have sitting around.
This would be a great activity to play with your kids while food is getting ready on Thanksgiving.
Make hot chocolate
Adding some hot cocoa to your November bucket list will warm your family up when the days start getting colder and colder!
Making hot chocolate together is really fun especially if you get creative with your mix-ins and toppings. Let your kids add in their favorites and have fun drinking this yummy treat together.
Put on a movie and drink your hot cocoa while you relax together. If you want to be even more creative set up a hot chocolate bar!
Make cinnamon playdough
Fill your home with the smell of cinnamon as you make some cinnamon playdough!
Make your favorite homemade recipe for playdough and add in a whole bunch of cinnamon and other favorite spices.
Let your kids place with the dough and have fun making whatever shapes that they come up with.
Eat pumpkin pancakes
Make breakfast extra special with some pumpkin pancakes! Add some pumpkin puree to your favorite pancake mix or recipe and enjoy!
This is a great idea for a fall family breakfast and might need to be repeated throughout the season. Yum!
Try a new soup recipe
If you've been putting off trying that new soup recipe you found, now is the time to try it! It's the perfect season for some nice warm soup.
If you need help finding a recipe, search through our recipe section for some super delicious soup recipes to try out with your family!
Volunteer at a food bank
See how your family can get involved with community organizations and volunteer together at a food bank.
Teach your kids some humility and give some much-needed help to those who are struggling right now. This will be a great family experience.
Make pumpkin ice cream
Add a fall twist to your homemade ice cream! Make ice cream in a bag or use a machine if you have one and add some pumpkin and spices to it.
If you haven't had pumpkin ice cream, you are missing out. Your family will absolutely love it!
Attend a Thanksgiving parade
There are tons of local parades to attend on Thanksgiving, or national parades to watch on TV. Parades are a fun way to get involved with your community.
They are also lots of fun! Bundle up and see what kind of fun community events you can find on Thanksgiving morning!
Make Thanksgiving placemats for the family
Making placemats is a great way to get your kids involved with the preparation! Let yourself be okay with some imperfections and let the kids paint, color, or decorate some turkey-themed mats together.
Add everyone's name to their mat and it will be a special addition to your Thanksgiving table… and one less thing for you to worry about!
Visit a children's museum
When it's too cold to go out to your favorite parks, visit your local children's museum!
These museums are so much fun for the whole family! They have activities for all ages that help kids learn and grow and have fun together. It's a great November bucket list item for those extra cold days!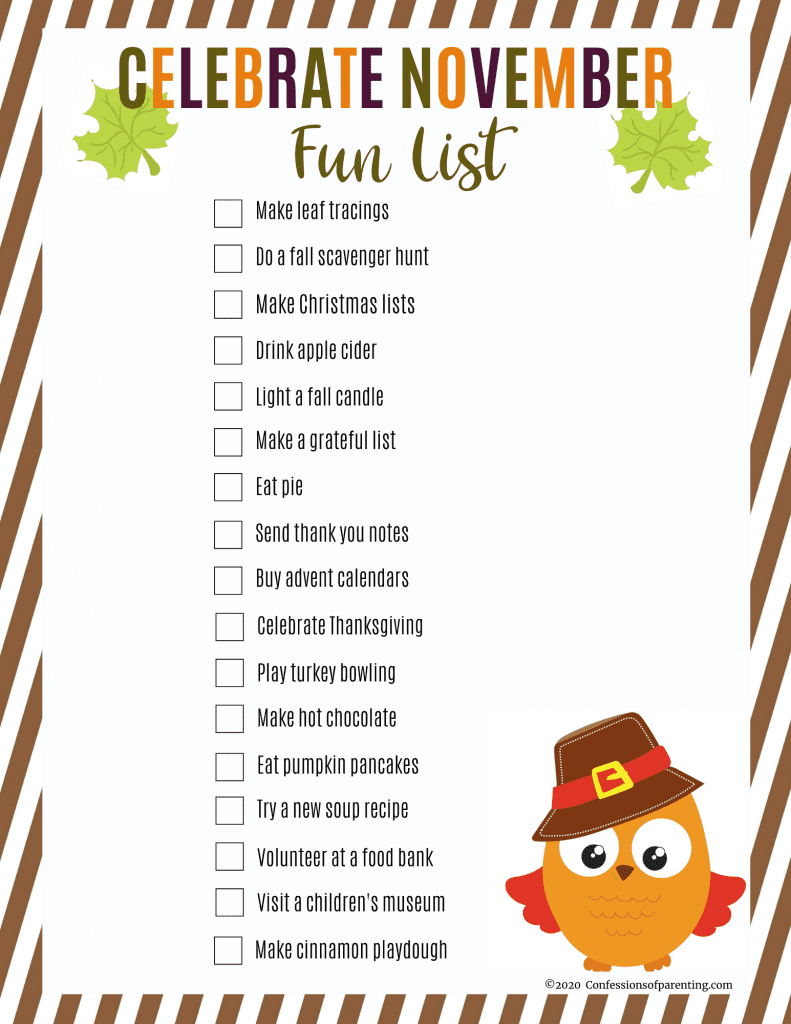 There you have it! Some great ways to Celebrate November with your family! What would you add to the list? Share in the comments!