Every marriage needs a little focus on ways to spice up your relationship. We have 30 ways to spice up your marriage that are simple and fun! Check out how you can spice up your marriage in no time!
30 Ways to Spice Up Your Relationship
When I first got married I remember thinking to myself, "My husband is so hot there is no way we will ever lose the spark in our marriage!" Well, let me tell you we are 6 years into our marriage, and on multiple occasions, we have lost that loving feeling, otherwise known as losing the spark.
You know it's always at those busy times in our lives: having babies, holidays, and then throw in older kids' activities into the mix and you are destined to feel overwhelmed! There comes a point during all of this when the spark in our marriage starts fading and we really have to work on getting it back! But luckily over the years, we have figured out how to Spice Up Marriage with simple things that make all the difference! Here are 30 ways to spice up your marriage today!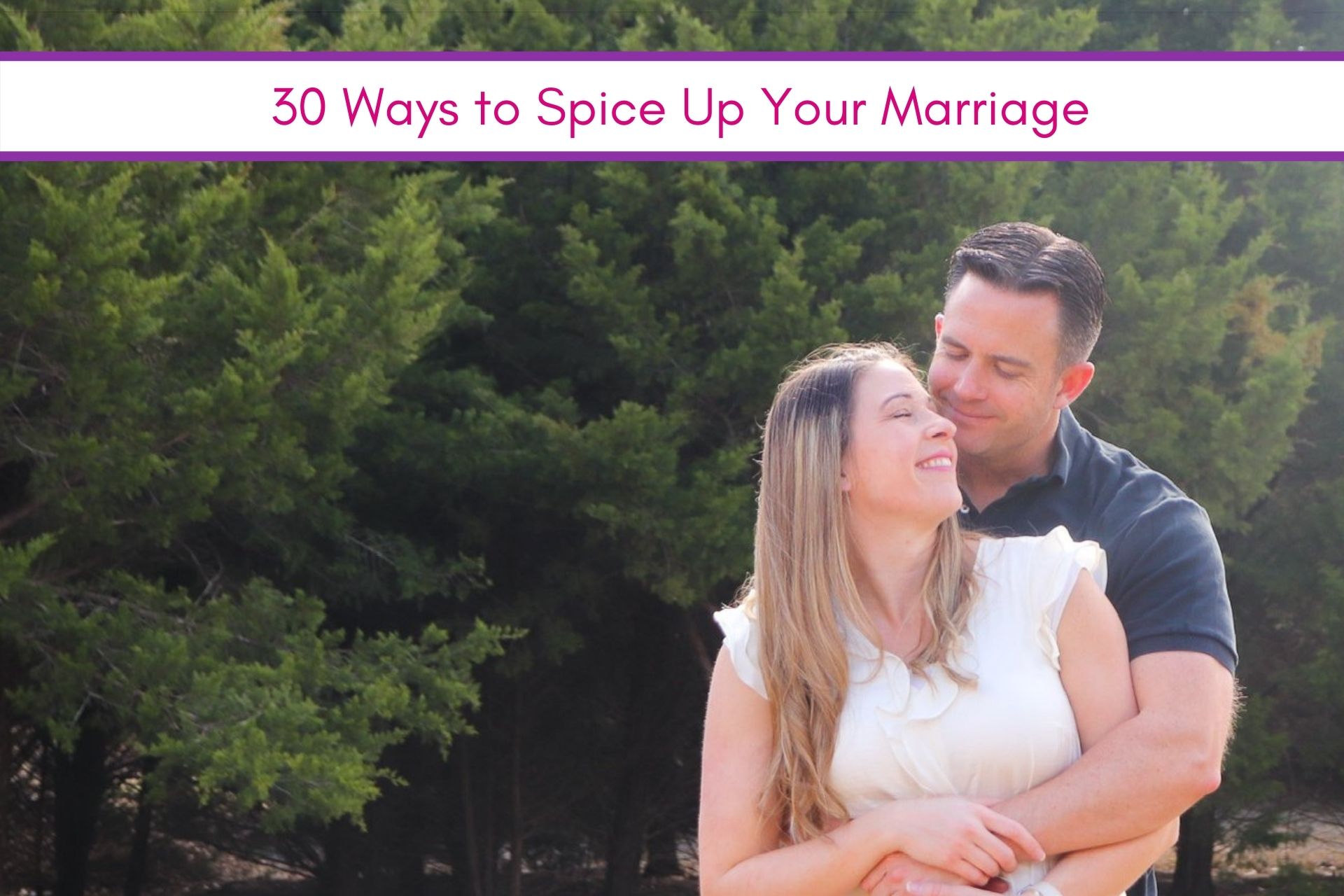 How to Spice Up My Boring Marriage?
Okay, first of all let's be real, no one's marriage is boring! Your marriage might just be on an extended vacation! So rather than ask, "How to spice up my boring marriage?" Let's ask how do I put the spice back in my marriage?! Check out these fun ideas to spice up the marriage!
For more ways to connect your spouse, try these!
30 Ways to Spice Up Your Marriage!
Bathe Together
I know what you are thinking, "I just need a few minutes alone," Trust me, I used to think this too! But then I discovered how intimate it can be to just relax with one another in the tub. Sometimes we talk to each other. Other times, we just relax, but it is just comforting and such a spark ignitor in marriage!
Something fun things to add to your couple's bath time might be a bath bomb or some Epsom salts with a foam bath!
Give Each Other Massages
My hubby knows the ticket to my heart is a good massage! If I am grumpy and he feels like the spark in our marriage is fading he grabs my foot and starts rubbing! Certainly, this leads to great back massages and other things (wink, wink). So, never underestimate the power of a good massage!
Candlelight Dinner
When our kids were small it was hard to have a date night! We felt like date night was impossible! So, we learned very quickly to improvise. One of our favorite ways was with candlelight dinners. We still do this even though some of our kids are older and can watch the little ones! But we light the candles, turn on some music, open some sparkling cider and we enjoy dinner for 2 while the kids are either in bed or upstairs!
Strolling Through the Neighborhood During Sunset
Ty's favorite thing to do is going on Sunday strolls around the neighborhood. The kids get their bikes or scooters out, we grab the stroller for the littlest ones and we walk around the neighborhood together. As Ty and I walk we will occasionally hold hands, but most of all just enjoy each other's company. These simple moments will spice up your marriage in no time!
Send them a Love Letter
I know mail is so old school, but how do you feel when you open the mailbox and there is an actual letter rather than a stack of junk mail and bills? Exactly! Then imagine your spouse opening the letter and seeing a note from his wife or all the amazing things you think about him. I can pretty much guarantee that sparks will be flying that night!
Blindfold One Another
Grab two blindfolds, like good ones, and just sit holding each other's hands. Although you might think this might be weird it is actually one of the best ways to spice up your marriage. I'm getting chills just thinking about it! Go try it, like today! Oh, the blindfold. Admittedly I was a little worried about how this would play out, but holy cow! That's all I am going to say! Grab a blindfold, a little feather duster and just relax and trust!
Love Notes
Everyone loves love notes, so why not grab a notebook and take turns writing them back and forth to each other. Not only will this spark intimacy and love, but on those hard days reading these messages will help you forgive faster!
Mini Staycation
Everyone loves to get away, so why not go on a mini staycation. Pack the bags, find a friend to watch the kids for a night, and head into town and explore. While exploring, hold hands and enjoy each other!
Spouse Conversation Starters
There is no better way to spice up your marriage, than really getting to know your spouse! And what better way to do this than spouse conversation starters! Use these spouse conversation cards to really connect with your spouse on many different levels!
Make a Sexy Deal with Him!
Oh, as women we know the power of persuasion, so why not use it to our advantage? I have made plenty of deals with my hubby for things that I would love in return for sexual favors. It's like a double win for you, you get what you want and you spice up your marriage!
Send Him Sexy Text Messages!
The other day my husband was at work and I decided to send him a little sexy text message! Well, guess what happened? He responded faster than I have ever seen him respond to me with excitement to come home! #winning. So, with that being said, sending him sexy text messages are usually always a good idea! Click here for some sexy text message ideas!
Take that Picture!
Every husband's fantasy is to get a sexy picture of his wife, so just take that picture! Our husbands love us so much and they think we are gorgeous. So take a picture (queue selfie pose) you know he will love and send it to him!
Date More!
The key to success in spicing up your marriage is to date more! Date your spouse. Spend time with them! This allows you to escape from the stresses of everyday life and sometimes that is exactly what your marriage needs! I know it's hard with kids but we offer some great date ideas to get you thinking of what to do!
Save Water, Shower Together!
I have a friend and the other day she told me that the best way she and her husband have spiced up their marriage is through showering together. She says, "If we are home, then we are showering together!" She added, "And we save water!" That's an added bonus!
Give Him a Naughty Coupon Book!
This Christmas I gave my husband a Naughty Coupon book and you would have thought I gave him a million bucks! This coupon book is filled with 52 ways to spice up your marriage. By far the best gift I have ever given him! His favorite thing is to come and whisper to me, "I'd like to use  a coupon tonight!"
Plan a Surprise Getaway!
Like I said earlier, everyone loves to get away from reality. So, a great way to do this is to plan a surprise getaway with your spouse! There is no denying that doing this you are sure to really spice up your marriage!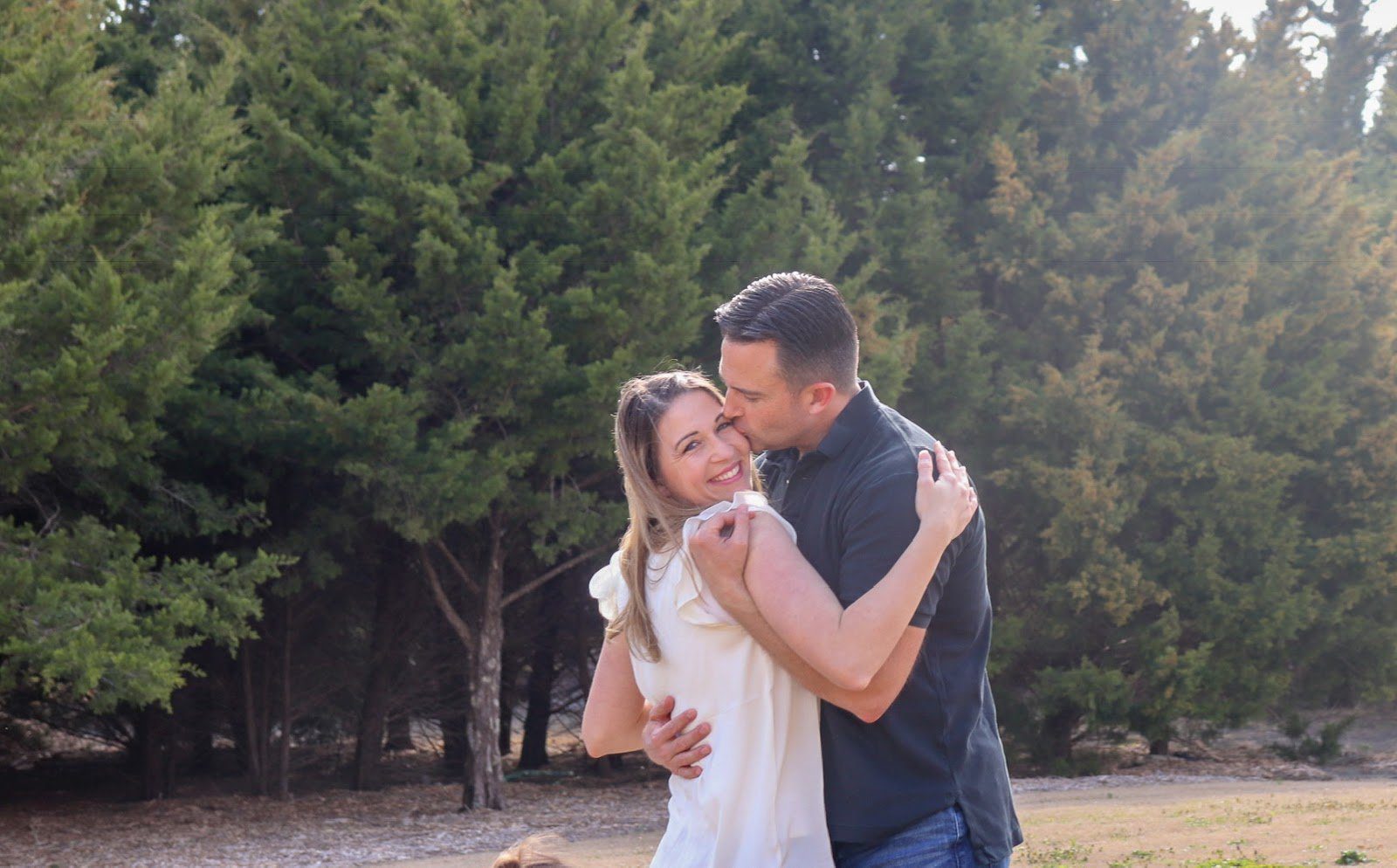 Fun Ideas to Spice Up the Bedroom
I know we don't want to admit it to anyone except our closest girlfriends, but we are all looking for fun ideas to spice up the bedroom. So, we have gone and found you fun ideas to spice up the bedroom! Who's ready for more tips and ideas?! Check out how you can spice up the bedroom tonight with your husband.
Play After Hour Games!
There are so many adult games that you can play! Never Have I Ever Dirty Question- Couples Edition, Spin the Bottle with Body Parts, Naked Twister, Strip Uno (or Poker)  just to name a few! So get creative and play some games together!
Have Sundaes!
Have sundaes together, and I don't mean in a bowl! Grab the whip cream and cherries and have some fun! A popular favorite amongst couples is 'I place it you lick it!
Step Outside Your Comfort Zone!
Sometimes the key to spicing up your marriage is stepping outside your comfort zone. I always say, "Stepping outside your comfort zone is when the magic happens!" I'm not saying to go crazy outside of it if you aren't comfortable with that but take baby steps.
Sleep Naked Together!
It's time to snuggle up with your hubby and sleep naked together! You don't have to do this every night, but definitely do it on occasion! So, tonight rather than putting on your baggy sweatshirt and flannel pj's, stroll to bed naked! I have no doubt your husband will keep you warm!
Shop For Lingerie Together!
Deep down all husbands love to shop for lingerie for their wives. So let them! If you have never bought lingerie or it has been a while, grab some new pieces and wear them to bed! You can even shop together. My favorite place to shop for lingerie with my husband is Mentionables. They don't use models, so it's super comfortable to look through their collection together, I promise! You can pretty much guarantee that it will add some spice to your marriage tonight!
Say Yes More Often!
My favorite line used to be, "I'm too tired. Or After I finish this." So let's say "yes" more often to our husbands, I'm sure they will love that!
Try a New Position!
I'm just going to leave this one right there for you to think about.
Make a New Playlist!
"Alexa, play Ty's playlist!"
The smile that comes across my husband's face when he hears these words makes it all worth it! So, make a new playlist, so when your husband hears it he knows you are ready to spice up your marriage tonight in the bedroom! If you don't have an Alexa, I honestly recommend it, even if you only use it for this sole reason.
Give Him a Coupon Book to Redeem Weekly!
Like I said before, my husband admits to his friends even that this was the best gift he has ever gotten! Grab yours right here!
Put Makeup on and Curl Your Hair Before Coming to Bed!
At the end of the day, the last thing we want to do is to put makeup on and curl our hair before hopping into bed. But to our husbands, nothing is sexier. And honestly, it makes us feel great to be done up. Don't forget to throw some awesome dry shampoo in your hair that night so you don't have to wash it in the morning!
Spray Some Perfume On!
My husband loves when I come to bed with perfume on. I smell good and those smells turn into more. Smells trigger vivid memories, so maybe bring back an oldie you always wore a specific scent while dating. Try this if you want to subtly tell your husband, "Hey, I'm in the mood!" Here are some great options!
Whisper in His Ear!
The other night my husband was upstairs watching TV and I simply walked up behind him and whispered something sexy in his ear! Instantly he perked up and was ready for bed!
Just Have Fun!
Finally, the best way to spice up your marriage is to just have fun! Be the person your spouse fell in love with! Life can be hard, but if you have fun with your spouse you will never be bored in marriage.
So there you have it! 30 super simple ways to spice up your marriage!
What is the one thing you struggle with when it comes to spicing up your marriage?
LOOKING FOR MORE TIPS ON HOW TO SPICE UP YOUR MARRIAGE?