If you have a child starting preschool then you need to check out this list of 25 items for your preschool supply list! At home, or in school, I've got the must-haves for your list.
What's Going On My Preschool Supply List
Between all my kids, we've done every kind of preschool from me teaching them at home to going to a public-style school. And after it all, I've pinned down what my favorite things are to put on my preschool supply list!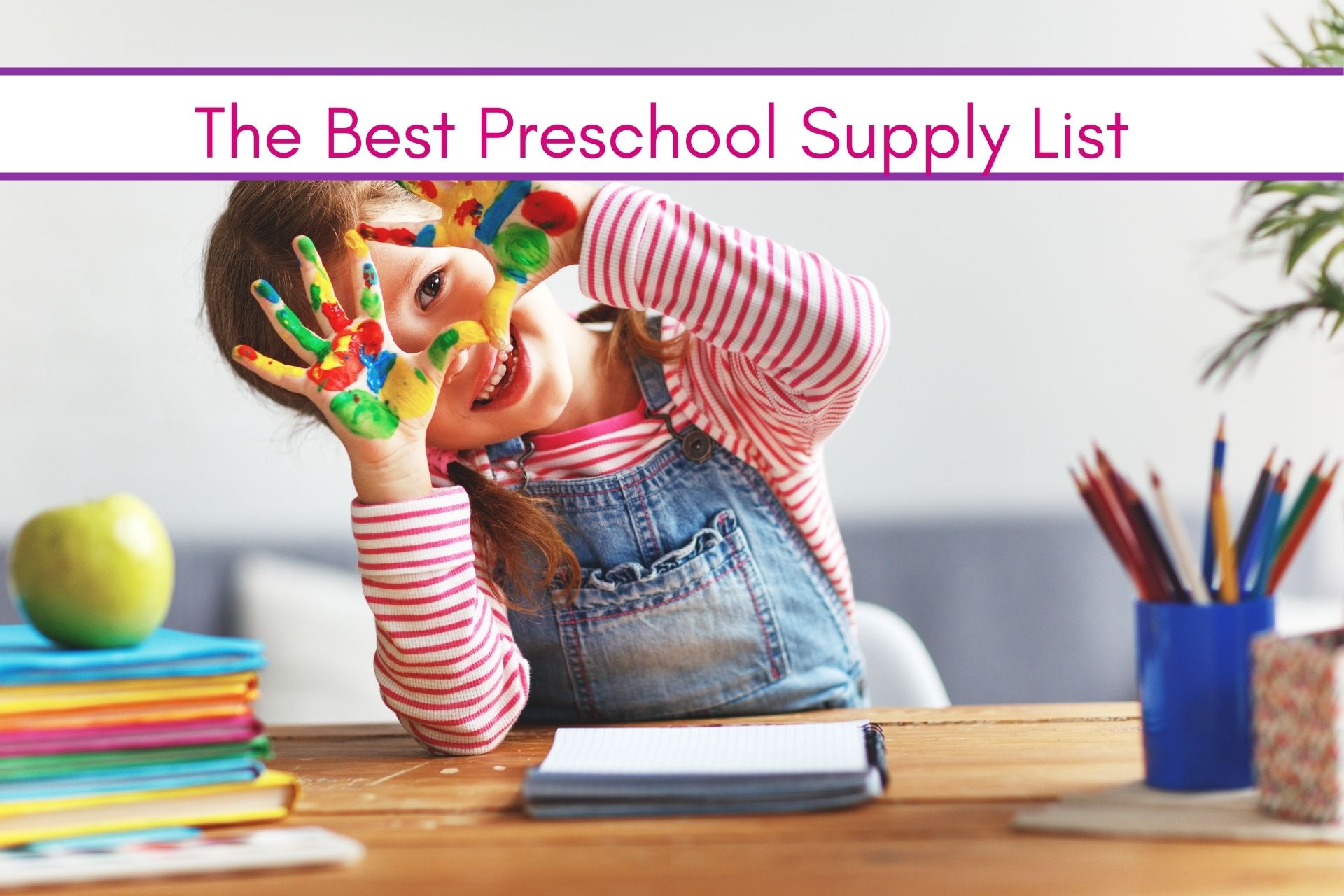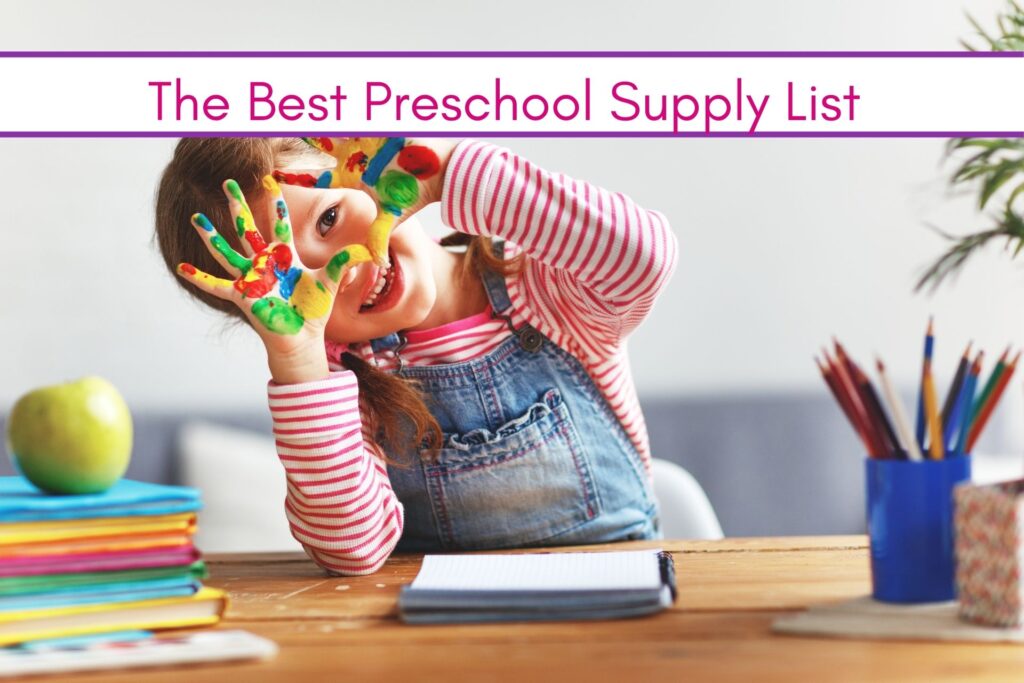 Preschool is such a fun age! Kids are so eager and excited to learn and they are changing so much. And with all that learning, you need to be prepared with everything you need!
Of course, your list is going to be different depending on whether you are sending your child to a traditional school or teaching them right at home.
But either way, I've made a list of my top 10 must-have preschool supply list items for each school option! Check out the list below.
More preschool posts you'll love
Do I need a Preschool School Supply List?
No matter what your school plans are, you'll definitely need to pick up a few things to get you started!
You may get a preschool supply list from your school if your child is attending one, which can be really helpful. But even if you are learning at home there are some things that can help your child more effectively learn!
I'm a big fan of keeping things simple, too. So these items are things that are versatile, helpful, and long-lasting!
Traditional Preschool Supply List
There are certain preschool supplies that you always want to have on hand regardless if you are doing at-home preschool or sending your preschooler to traditional preschool.
If you are sending your little one off to school for the first time, here are 10 things you won't want to miss in your preschool supply list!
A backpack is definitely at the top of the list of things your child will need when they start school. At the preschool age, you'll want something durable and medium-sized so it can fit what you need without being too big for your little one's body! I love this Wildkin backpack line that has the cutest designs and plenty of space.
I have yet to find a water bottle better for my kids than the Contigo kid-sized bottles. Plus, when you send them to school with your child they are sure to be leakproof and easy to use without help opening and closing.
These are my favorite little lunch containers for my kids' lunches. They seal so well, have convenient compartments, and keep everything contained and fresh all day. I usually go for the snack size but it's actually plenty of room for a preschooler's lunch.
You'll realize soon that you have to label so many things for your child that they are sending to school! Vinyl letters are great for placing your kid's name on lunch boxes, water bottles, backpacks, and more.
Insulated lunchboxes are definitely needed if your child is eating lunch or snack at school. These cute boxes are great with their handle, pockets, and leakproof design.
I'm a big fan of making things fun, and I love using this set of cutters and food picks to go inside my kids' lunches. I'm not super fancy, but using these to cut vegetables, fruit, cheese, and more into shapes (in no time at all) makes me feel like I'm doing something so fun and special for my kids.
You don't want to miss out on capturing the moment of your child's first day of school! I love the new trend of having these signs because it's a great way to not only show your child but also little bits and pieces of how their year is beginning.
I'm pretty much obsessed with these cute and cozy muslin blankets and they are perfect for preschool quiet time or nap time if it's included at your child's school. And if they don't need one for school, grab one anyway because these are amazing!
Ziplocs are truly a mom's best friend. From bagging up spare changes of clothing to sending school supplies to packing lunches, you'll likely need plenty of baggies. So make sure you stock up before the year begins.
Before you get overwhelmed with all the crafts, homework, and pictures you are sure to get this year, do yourself a favor and snag a memory box to start putting things in from each year of school. Using file folders and a divided container is a great way to keep things organized.
At-Home Preschool Supply List
No matter what curriculum or teaching style you decide to use, these items are things you won't want to forget including on your preschool supply list!
Tempera paint is my favorite for the preschool age. It's the perfect consistency to limit drips and dries bright and beautiful. And don't be too nervous… this paint is so easy to wash off everything from clothes to walls to bodies!
Colored tape is great for teaching at home! Masking tape can be used on the floor, most walls, and more to help learn about colors, shapes, and to guide many learning activities.
We have gone through more of this white paper than maybe anything else in our supply closet! Having a huge roll means that you can stick it on the wall for activities, make a large surface for coloring and learning games, and it can even be added onto an easel for more fun.
If you are planning to do any sort of craft or project for your preschool curriculum, then you need to have colored paper! I like grabbing a variety pack with plenty of color choices so that I will have everything that I could possibly need.
I couldn't live without my laminating machine for preschool at home! Even though your kids are getting older, your papers and supplies are sure to get crumpled and dirty but with a laminator you can make things last so much longer. If you don't want to grab a laminating machine, you may want to grab some self-adhesive laminating sheets that work without a machine.
Having a whiteboard is so helpful at home to be able to demonstrate to your child different skills or let them use it to practice. Don't forget to grab some dry-erase markers to go along with it!
You can't go wrong with a big pack of Crayola crayons when you are starting your preschool education. Crayola brand is so smooth and easy to use for your kids, plus this pack has tons of colors to choose from!
We have this calendar and my kids absolutely love it! Starting each lesson by going over the date, weather, and activities for the day is so helpful to get organized and teach important practical skills that will last long beyond preschool.
Okay, you might just have to trust me on this one! I use puff balls constantly with my kids. You can use them to teach colors, counting, sorting, size recognition, motor skills, and more!
We love using little letters to form words and learn about letter sounds and having a magnet set is even more fun because you can stick them to the board or to your fridge!
More School Articles