If your kids love word searches, you've come to the right place! Check out our ultimate list of Word Search printables for any occasion! You'll find just what you need for hours of learning and fun!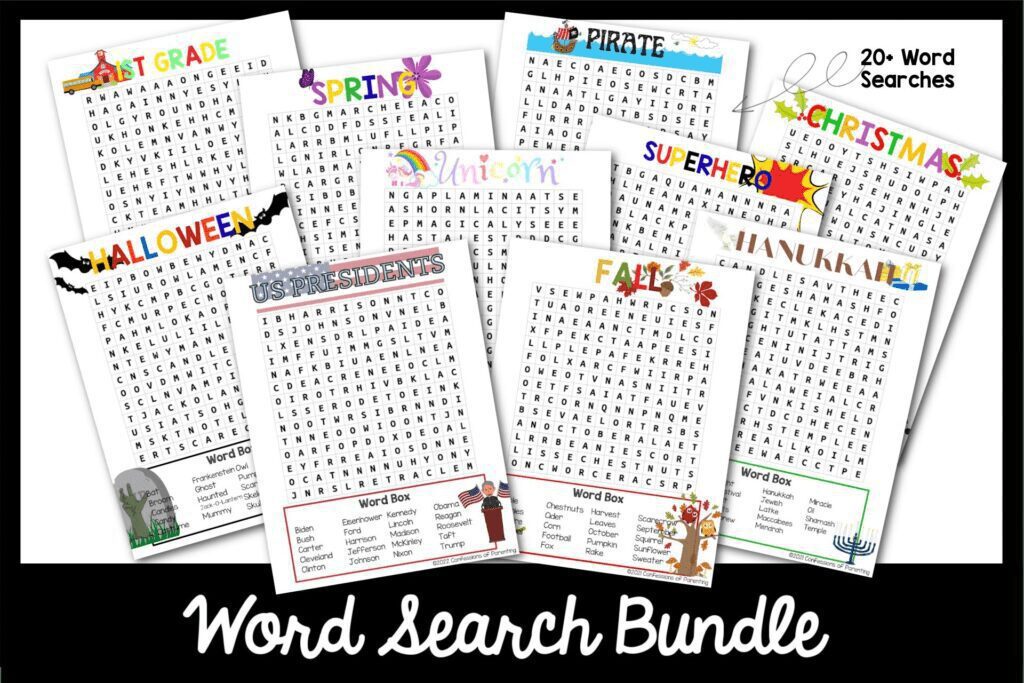 Free Word Search Printables for Kids
I love activities that combine learning and fun, and word searches are a perfect fit for both!
My kids get so excited when we do a new word search. They can't wait to get right to work finding each word in the puzzle.
They enjoy the challenge of finding a difficult word, and they feel so satisfied when they finally complete the whole thing!
Sometimes we get a little competitive and make it a race to see who can finish the word searches fastest.
We also love to make our word searches more colorful by using crayons, colored pencils, or markers to highlight each word.
There are so many ways to enjoy these word search printables! Whether at home or in the classroom, you and your kids will have so much fun with them!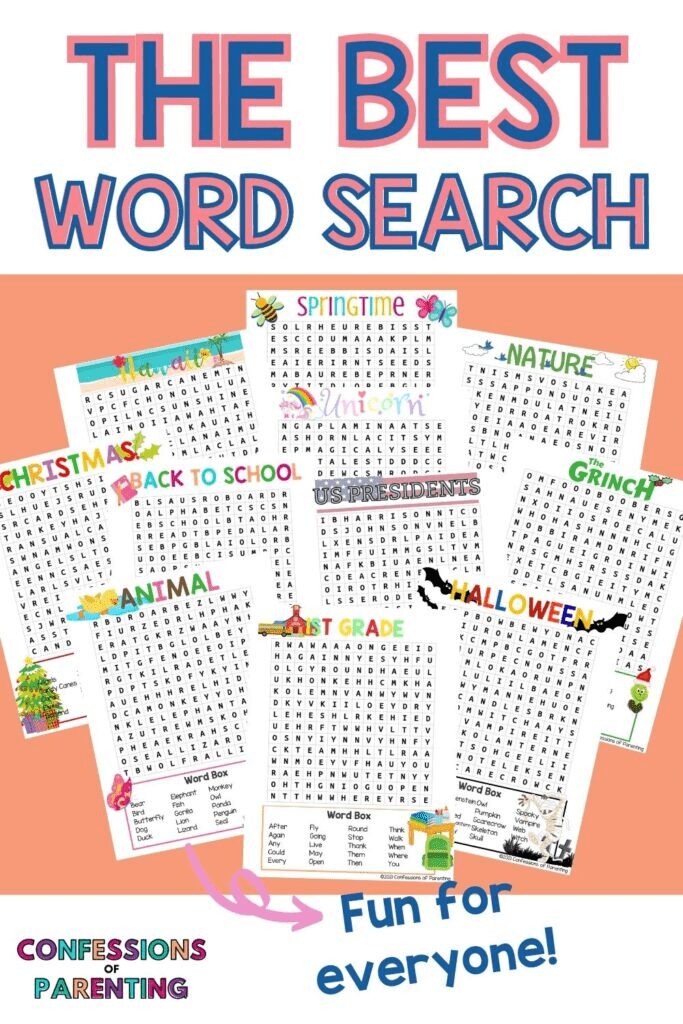 Benefits of Word Search Puzzles
With each word search puzzle, your kids will have fun and learn as they practice important developmental skills such as
letter recognition
word recognition
ine motor skills.
practice their ability to be patient and to concentrate on a task.
You'll love seeing the pride on their face when they successfully find every word!
Word searches are also the perfect quiet activity for when you need to keep your kids entertained.
You will want to have plenty of word searches on hand for when you are sitting in a doctor's office, waiting for your food at a restaurant, or on a long car ride.
How To Solve a Word Search
Start by scanning each row as you look for the words on your list.
Remember, words can be found horizontally, vertically, diagonally, and even backward. When you find a word, circle it and check it off your list!
If you feel like you're stuck, try searching for the beginning letter of a word, and then look at the surrounding letters for the next letter of the word, and so on. Continue until you find the word you are looking for.
Feeling competitive? Make a game out of it! Grab a friend, set a timer, and see who can find the most words in the allotted time.
Free Word Searches to Grab
With this collection of word search puzzles, you are sure to find just what you need or any age group, interest, or occasion!
1st Grade Word Search This first grade word search is perfect for your first grader! They'll have so much fun practicing their word recognition as they search for each familiar word!
2nd Grade Word Search Our 2nd grade word search is specifically designed for your 2nd grader! With words that are familiar and easily understood, they'll have fun while reinforcing what they've learned.
4th of July Word Search: Check out our 4th of July Word Search! It's the perfect activity for your kids this Independence Day. Add this to your holiday plans this year! Just download, print, and have fun!
Animal Word Search Your little animal-lovers will have so much fun with this animal word search! They'll love looking for the names of all of their favorite animals!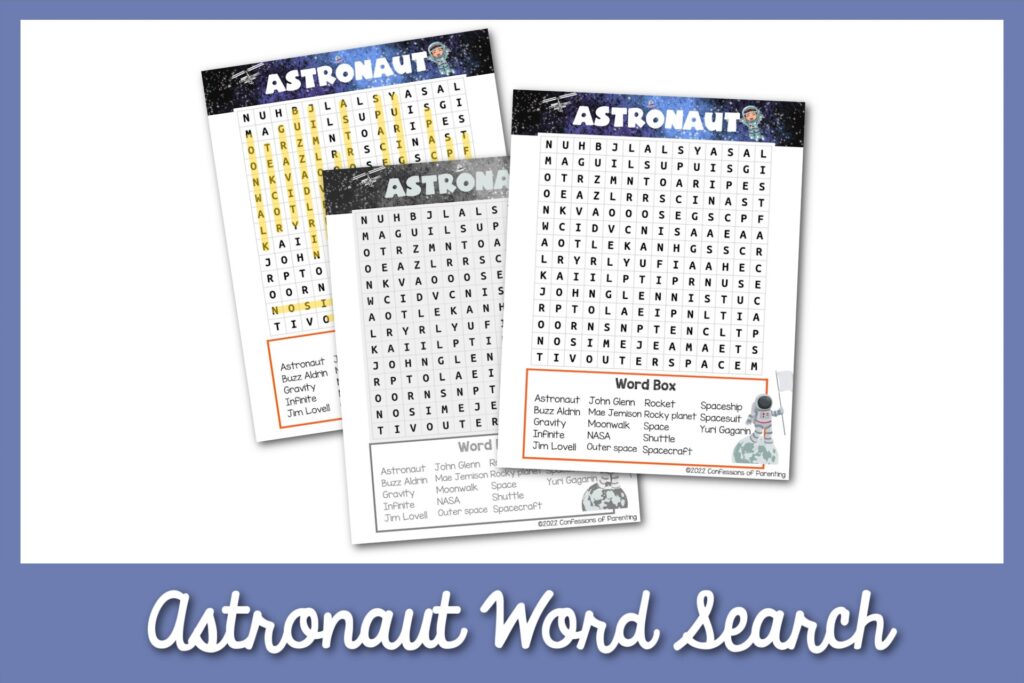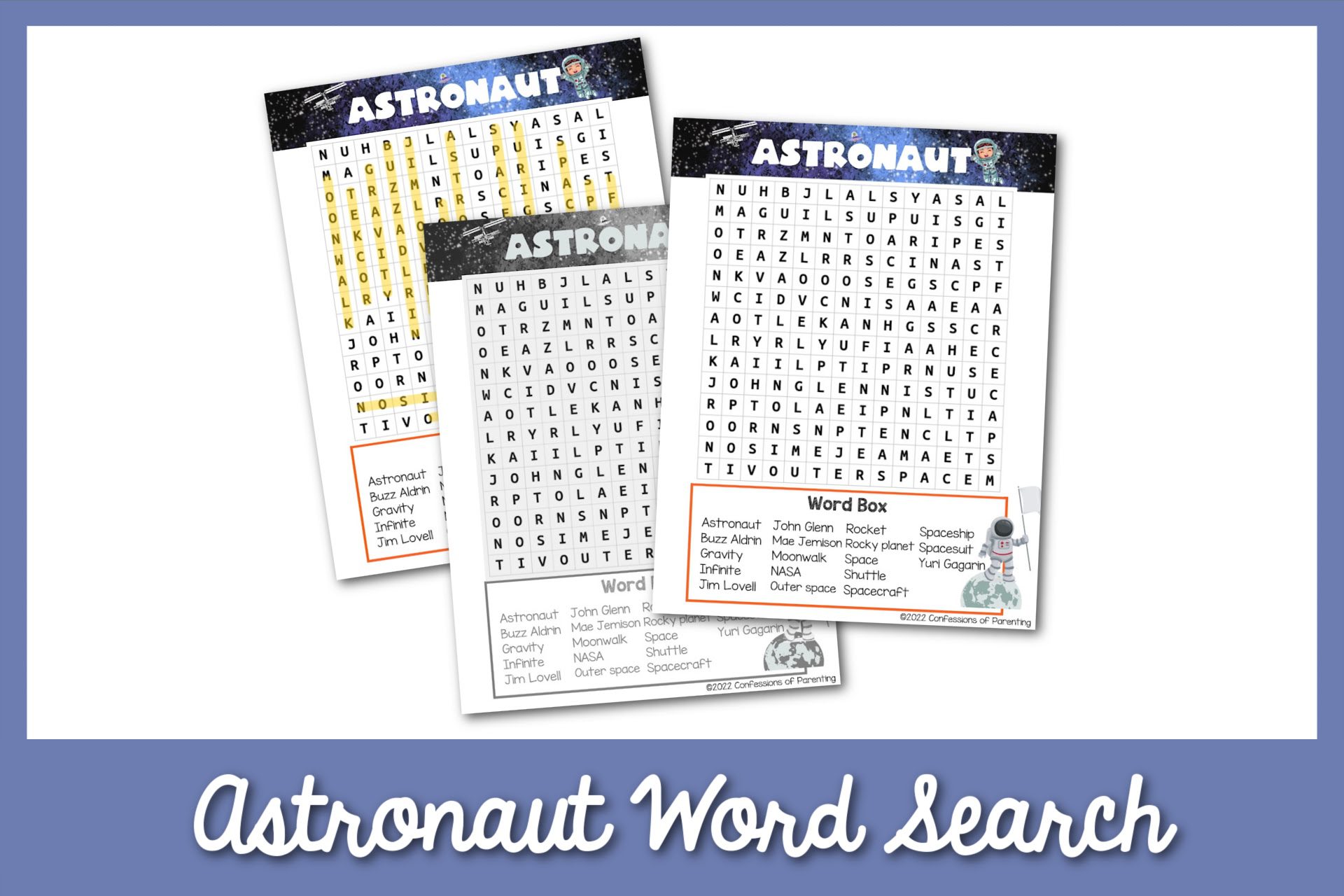 Astronaut Word Search: If your kids are huge fans of astronauts? Then grab this fun astronaut word search for them! Just download, print, and get finding all the words!
Back To School Word Search Are your kids excited to go back to school, or are they feeling a bit nervous? Make it a happy time with this fun back to school word search full of things they will find at school!
Bible Word Search This Bible word search is full of topics that are sure to spark a conversation with your child! Grab this word search for a fun learning experience together!
Birthday Celebration Word Search: Celebrate your birthday with this cute birthday celebration word search! This puzzle is perfect for any birthday celebration. Have fun and happy hunting! Just download, print, and play!
Christmas Word Search Are your kids excited for the most wonderful time of the year? Chock full of fun Christmas words, this Christmas word search is sure to put you in a festive mood!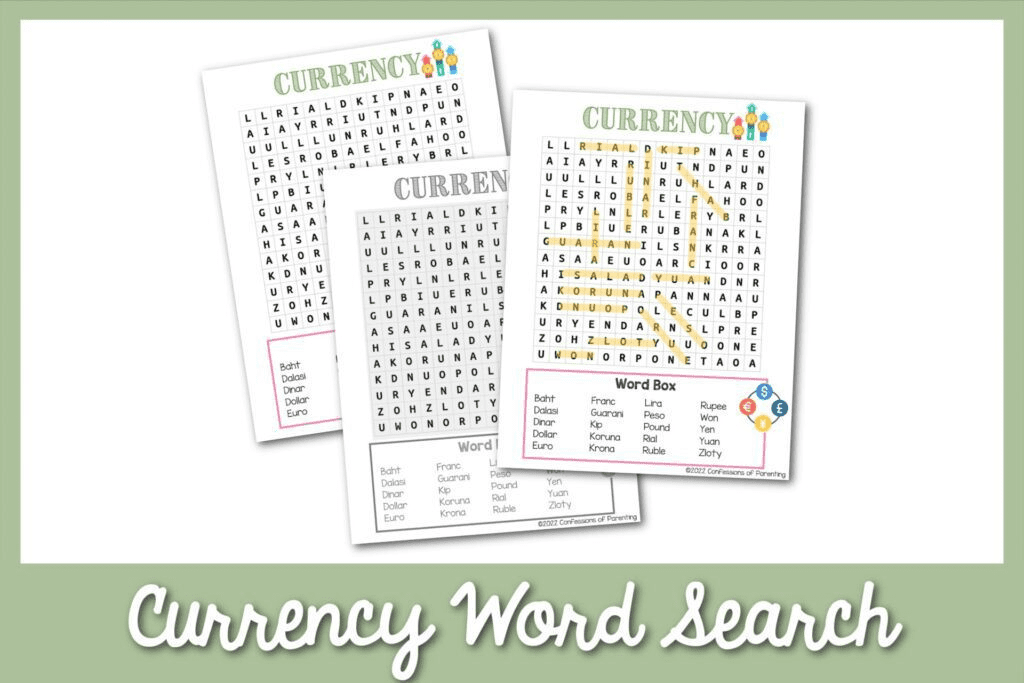 Currency Word Search are so much fun for kids who are learning all about money. Be sure to grab this fun word search for them to learn all the money terms.
Easter Word Search Your kids will love this fun Easter word search! With so many fun words to find, they'll have so much fun learning and celebrating this wonderful holiday!
Fall Word Search: Fall is such a fun time of year! This Fall Word Search puzzle is a great way to help you celebrate the crisp air and changing leaves! This free word search is perfect for the classroom or at home!
Gardening Essentials Word Search Get in the gardening mood with this fun gardening essentials word search! Your kids are sure to get excited to start working in the garden!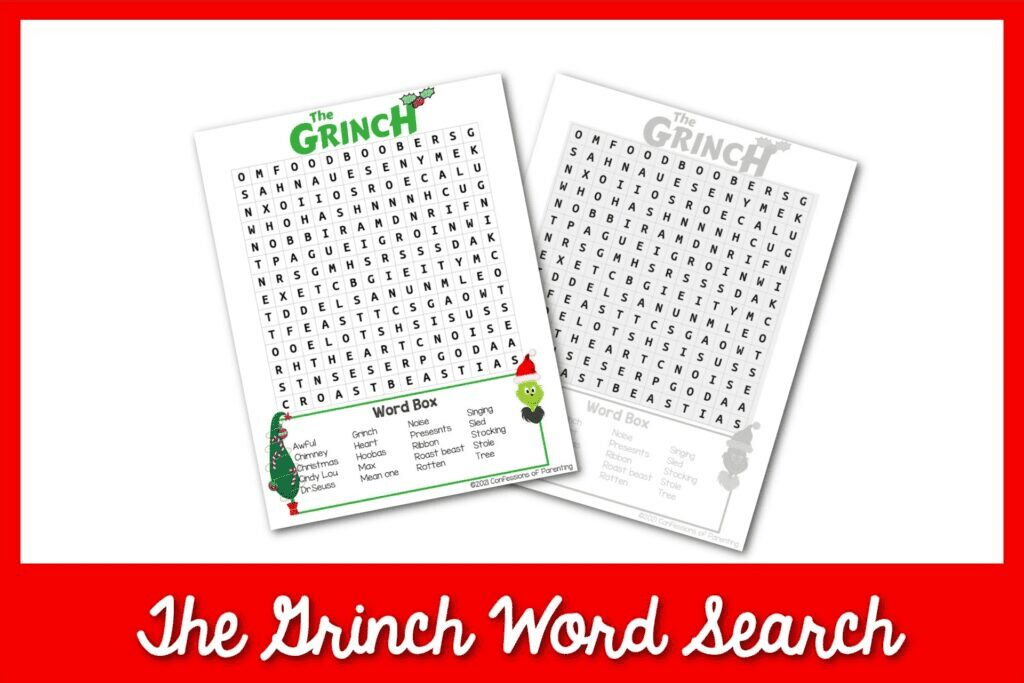 Grinch Word Search If your family loves How the Grinch Stole Christmas, this Grinch word search is is must-have! You'll have hours of fun finding each grinchy word!
Halloween Word Search Your little ghosts and ghouls are sure to love this Halloween word search! Full of spooky words to find, it's perfect at home or for a classroom party!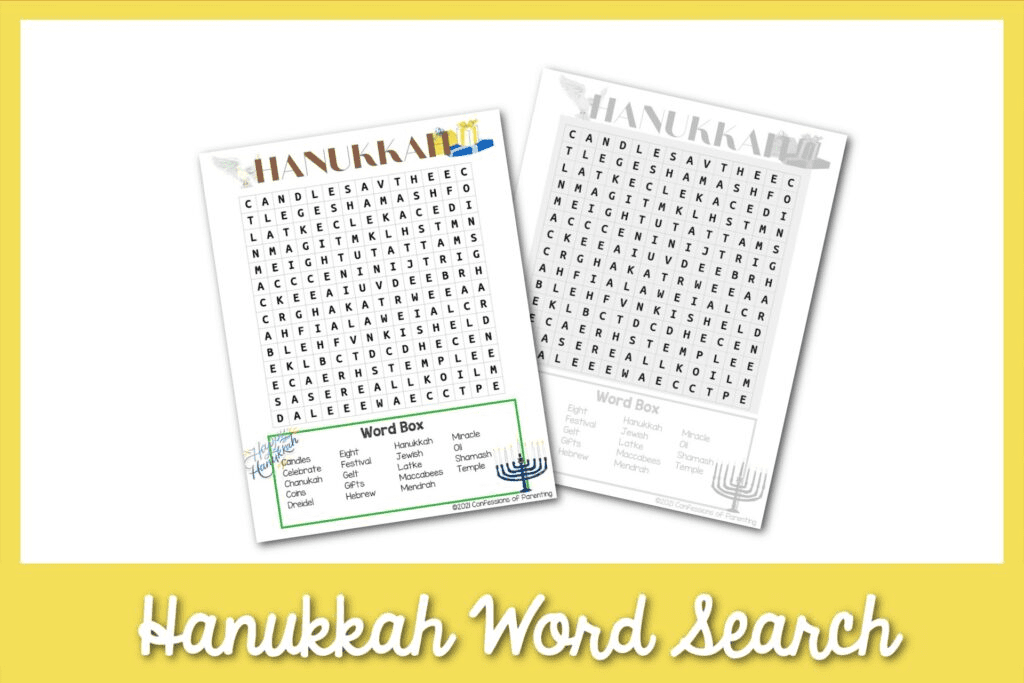 Hanukkah Word Search This Hanukkah word search is a great way to learn more about this wonderful holiday! Grab this word search today and make it a part of your celebration!
Hawaii word search Aloha from Hawaii with this fun island-themed Hawaiian word search!
Hiking Word Search: Do you love going on adventures, but can't go outside? Try this hiking word search for some fun adventures without leaving the house. Just download, print, and enjoy!
Hockey word search for all the hockey fans you are going to love this hockey word search!
Kindergarten Word Search This Kindergarten word search is just what your little Kindergartener needs! They'll have so much fun practicing and searching for each sight word.
Morning Routine Word Search: Teaching your kids good morning habits can be a struggle? Help them learn with this fun morning routine word search! Just download, print, and get searching for all those morning habits!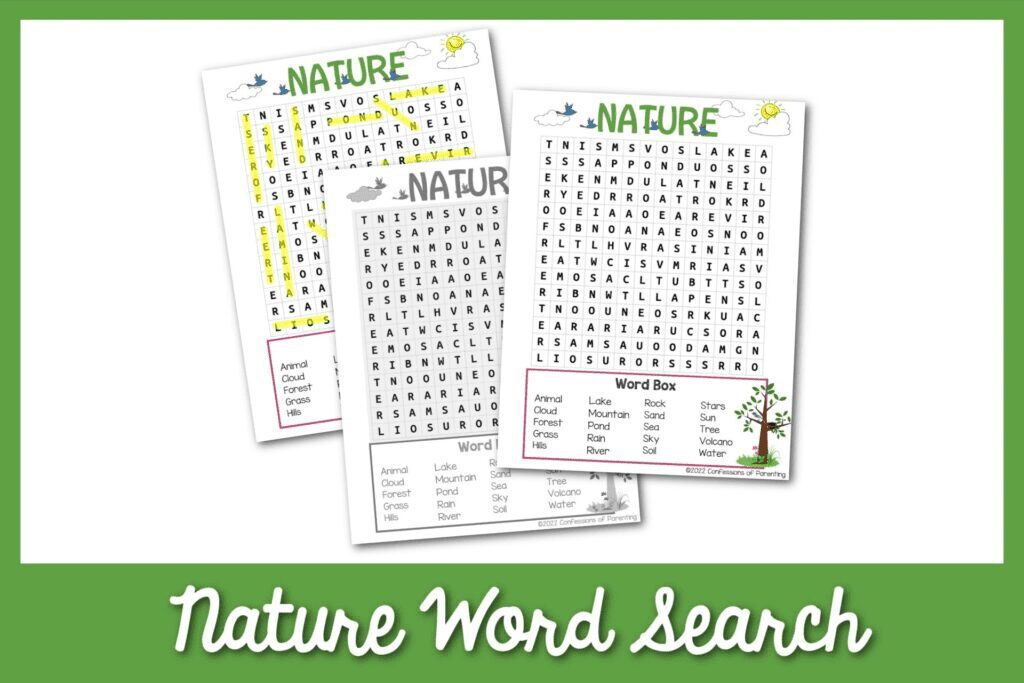 Nature Word Search If your kids love the great outdoors, they'll have so much fun with our nature word search! Grab this word search today and start talking about all of your favorite things!
Outer Space Word Search If you are looking for something out of this world, then grab this fun outer space word search.
Pack Animals Word Search. Are your kids obsessed with pack animals? This free pack animals word search is the perfect quiet activity for them to find their favorite animals! Grab yours now.
Pirate Word Search Ahoy mateys! This pirate word search is fun for scurvy pirates and landlubbers alike! Grab this today for hours of fun!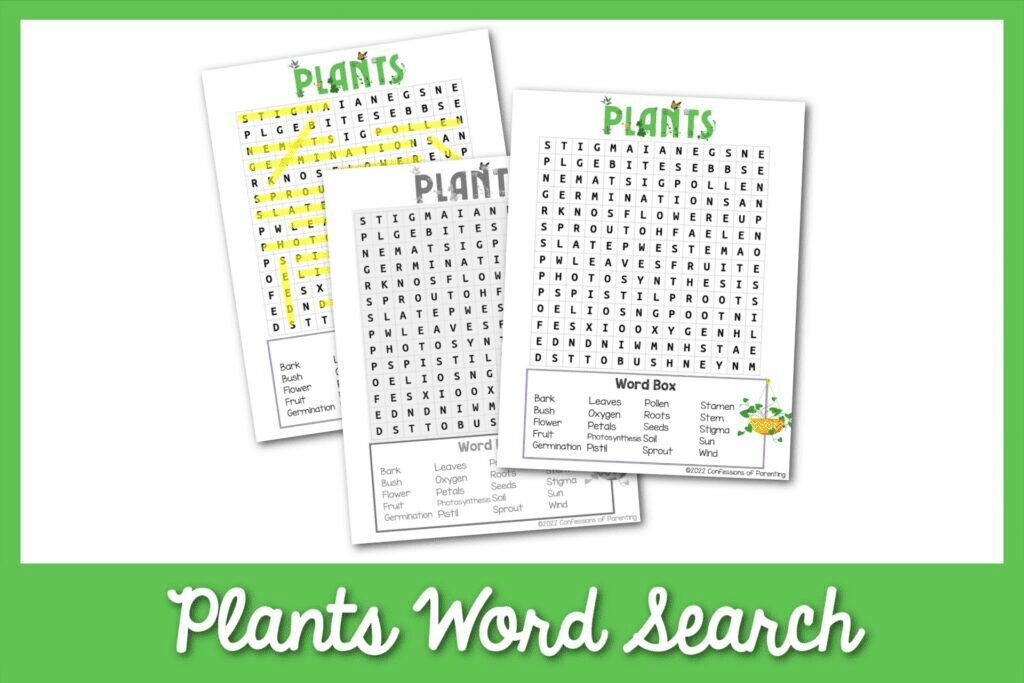 Plant Word Search This plant word search is a fun activity for both kids and adults!
Salty Snacks Word Search: Too guilty to eat too many salty snacks? Worry no more! You can still enjoy it by solving our salty snacks word search without any guilt! Just download, print, and play!
Shark Word Search If you have shark lovers then this Shark word search is just what you want to grab for them! They love finding everything that is sharktastic!
Spring Word Search Spring into fun with our spring word search! Celebrate the end of winter and a fresh, new season with this exciting word search!
Springtime Word Search: This Springtime Word Search is perfect for kids of all ages. Heck, even I enjoy sitting down for a few minutes and putting my brain to work. Get your kids thinking and having fun all at the same time with this free printable!
St. Patrick's Day Word Search It's your lucky day, because this free St. Patrick's Day word search is ready for you and your kids to enjoy! Don't miss out on this fun word puzzle!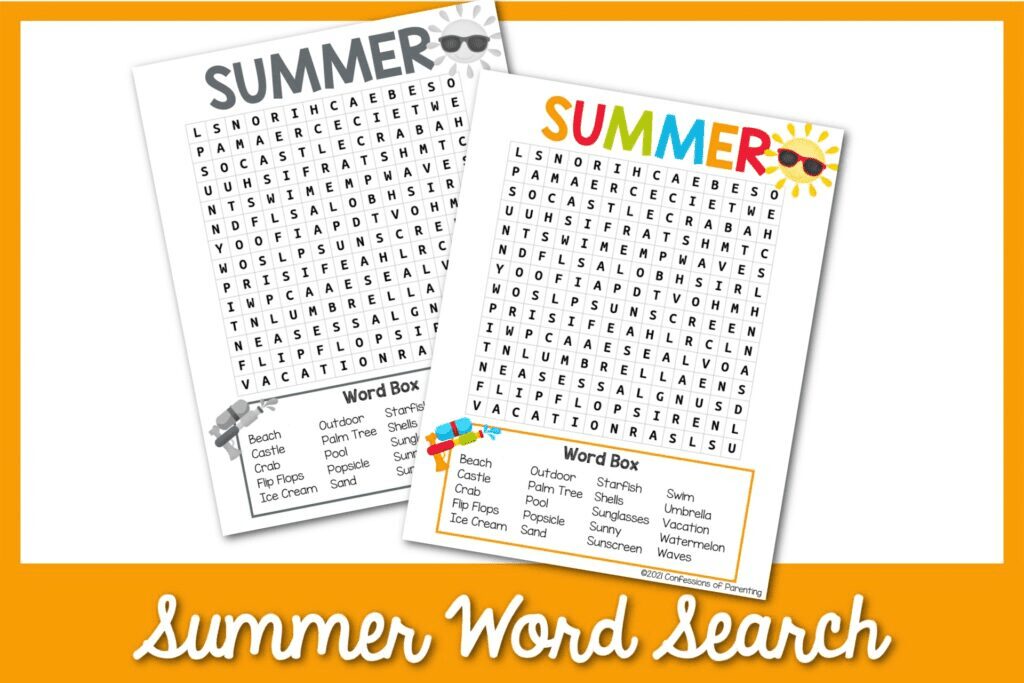 Summer Word Search If summer is your favorite season, you won't be able to resist this summer word search! Your kids will be reminded of all the things that make summer fun with this cool word search puzzle!
Superhero Word Search Calling all superhero fans! Which one is your favorite? Our superhero word search is sure to have them on our list! Grab this one and let the fun begin!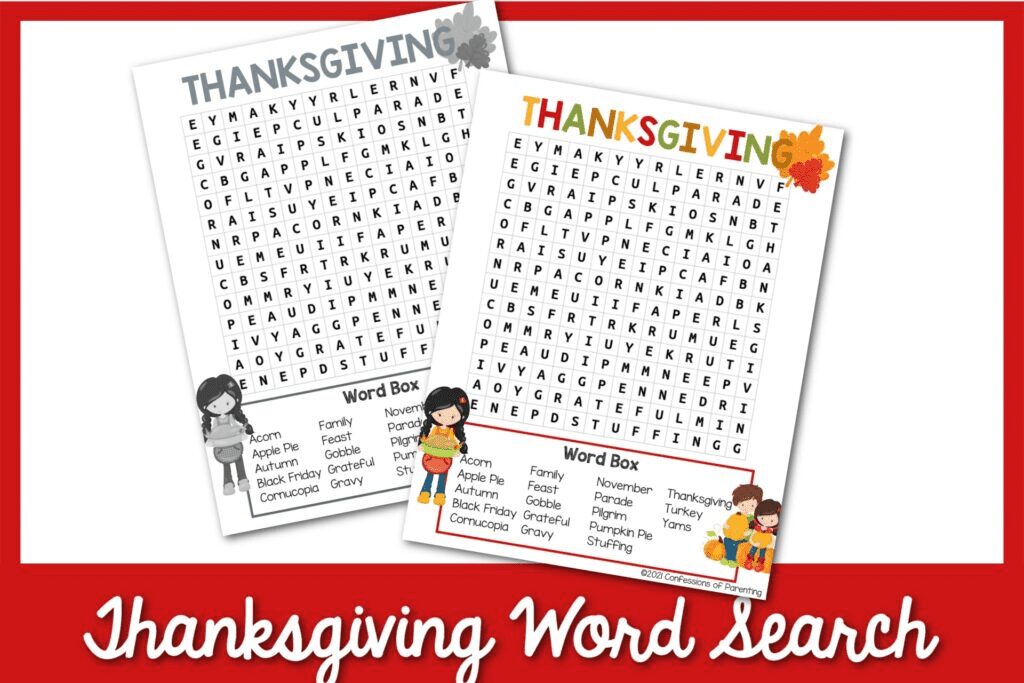 Thanksgiving Word Search You'll be so thankful you found this fun Thanksgiving word search! Your kids will have so much fun searching for each of their favorite Thanksgiving things in this puzzle!
Unicorn Word Search You won't believe how much fun you and your kids will have with this fun unicorn word search! Don't miss out on this magical opportunity to grab this for your family.
US Presidents Word Search Learn about so many important presidents in US history with this fun and educational word search puzzle! This is perfect to enjoy in your home or in the classroom!
With so many printable word searches, you and your kids are guaranteed hours of learning and fun!
Is there a word search theme you were hoping to find? We'd love to hear your ideas! Let us know in the comments below!