Celebrate the festival of lights with our Hanukkah Word Search! Whether you celebrate Hanukkah or you are learning more about it, this Hanukkah word search is a great addition to your holiday celebration!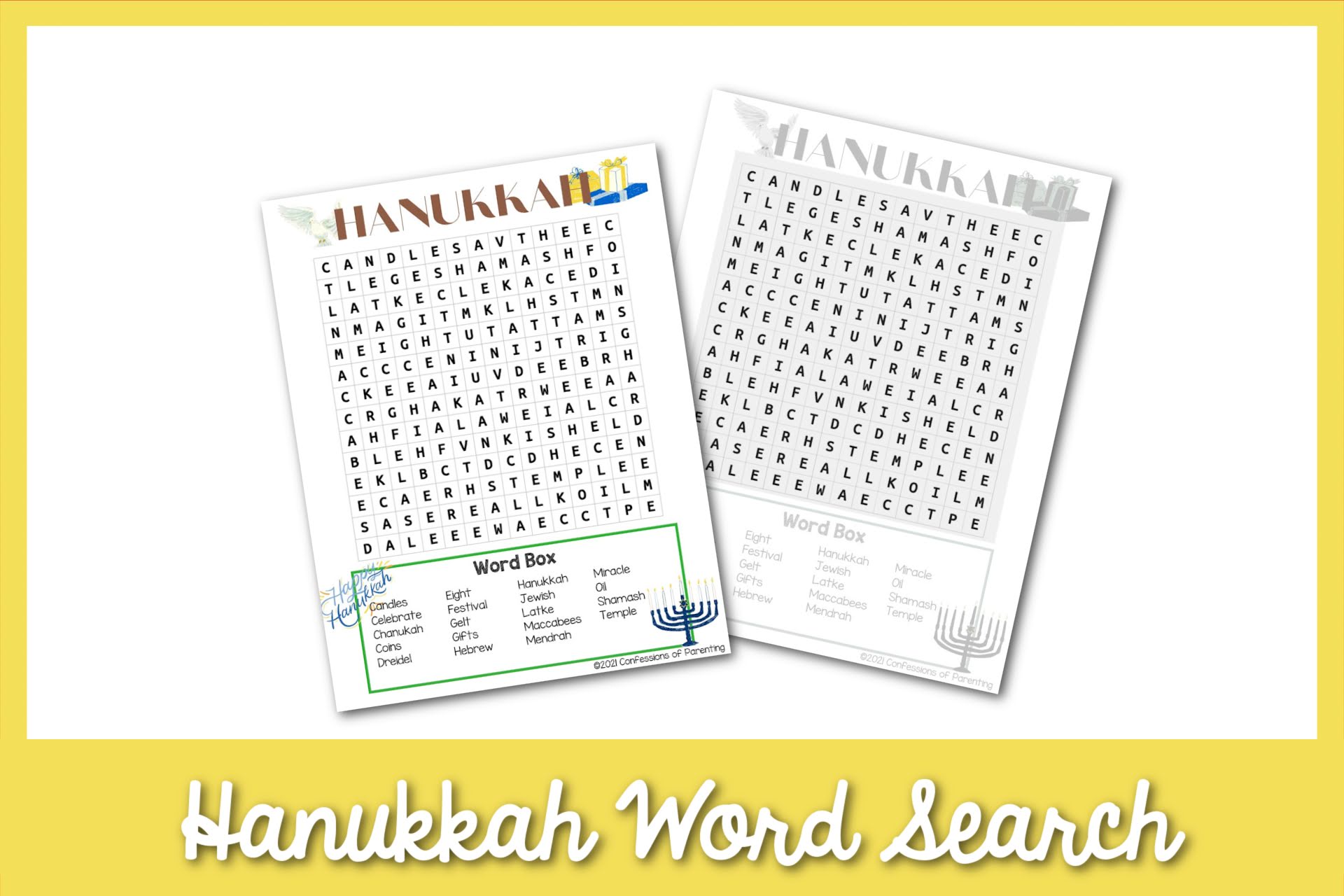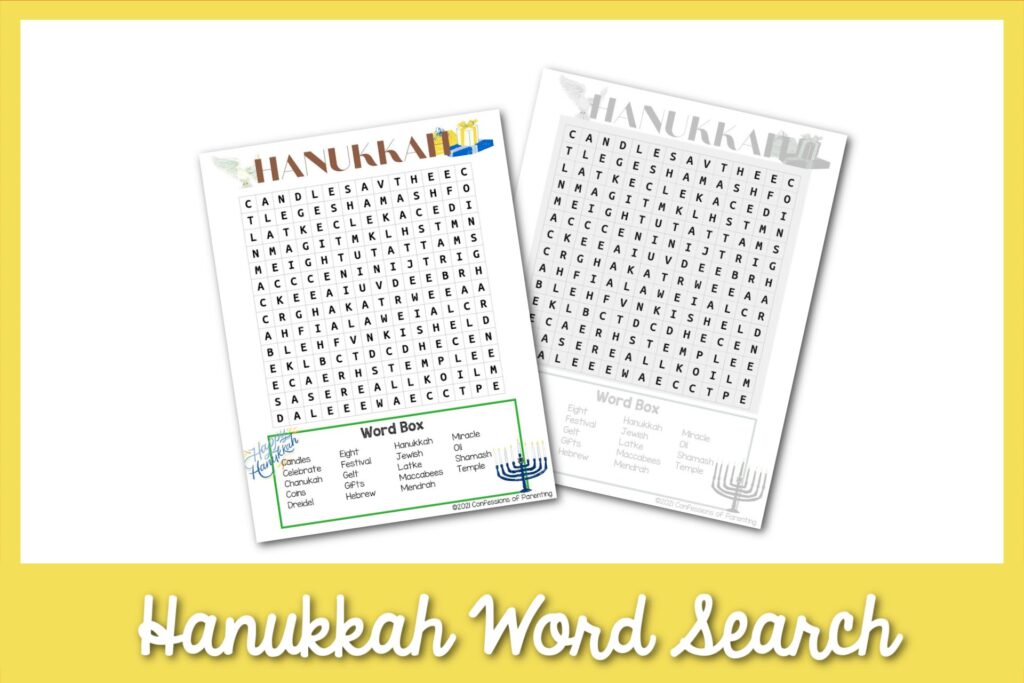 Hanukkah is such an exciting time of year! It's a wonderful time for family and friends to gather together, eat delicious traditional foods, play the dreidel game, and light the menorah. It is also a time to celebrate such special things as perseverance, hope, and miracles.
Our Hanukkah word search is such a fun way to learn more about this great holiday! Your kids will love searching for each word as you talk about the meaning of Hanukkah together. Pair this Hanukkah word search with our Hanukkah color by number pages or these Hanukkah Jokes for Kids for some more festive fun!
Helpful Tips to Complete Word Searches
I always find it helpful to start by looking through the letters, row by row, to find the words. You can do this by going left to right, top to bottom, or diagonally. Be sure to use a finger or pencil to guide your eyes and help them focus on the correct row.
If there's a word that you just can't find, try looking for the beginning letter in the puzzle, and then check the surrounding letters for the next letter of the word, and then the next. Eventually, you will find that word!
When you find each word, make sure to cross it off the list. It's so much easier to keep track of what you've found and what you still need to search for!
Benefits of Word Searches
Word searches are an excellent way to combine learning with fun! As your kids solve these word puzzles, they will practice important developmental skills, such as letter and word recognition and fine motor skills. They will also develop their ability to be patient and to concentrate on a task until it is done. They will feel so much pride and accomplishment when they complete each puzzle!
Word searches are also a wonderful quiet activity for your kids when you need to keep their minds and hands busy. Keep these on hand for any time you are on a long car ride, waiting for your food at a restaurant, or sitting in a doctor's office.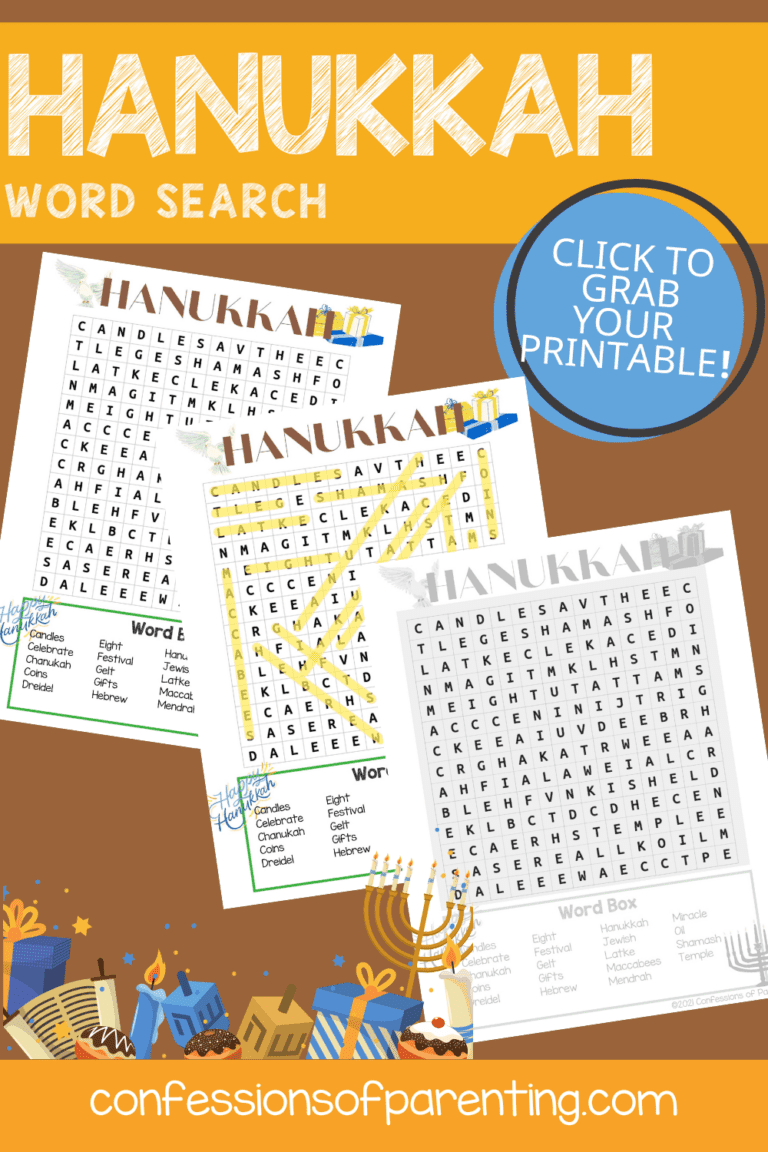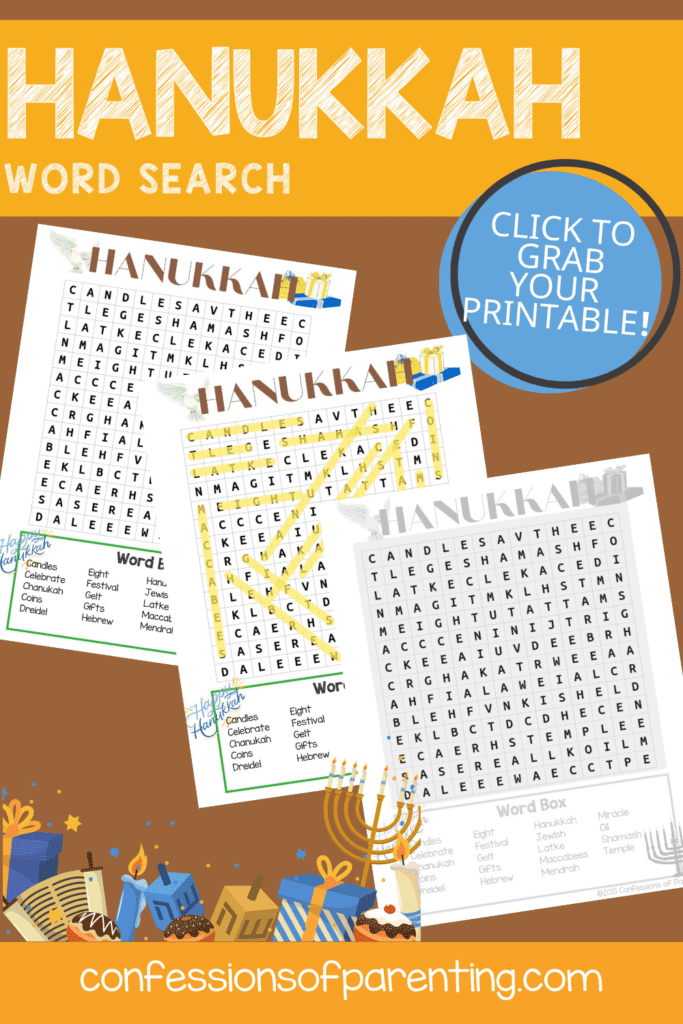 Hanukkah Word Search
Our Hanukkah word search can be printed in black and white or color, whatever you prefer. With 20 Hanukkah-themed words, your family will love the challenge of solving this word search puzzle! Words can be found vertically, horizontally, diagonally, and even backward. Don't worry if you get stuck! We've included an answer key to help you. Be sure to grab this Hanukkah word search for your next celebration!
Hanukkah Word Search Bank
Candles
Celebrates
Chanukah
Coins
Dreidel
Eight
Festival
Gelt
Gifts
Hebrew
Hanukkah
Jewish
Latke
Maccabees
Menorah
Miracle
Oil
Shamash
Temple
Helpful Tools We Love When Downloading Printables
Printer– I love my HP+ printer that uses Instant Ink. I love it because we can use as much color ink as you want for one low cost starting at $.99/ month for ink. Try it out for free here!
Cardstock- I always recommend printing on cardstock. This makes it way more durable so you don't have to worry about printing it time and time again.
Laminator / Laminating Sheets- Again, for added durability, grab a laminator and laminating sheets so that you can use this again and again!
Scissors (I seriously love these ones)
Dry Erase Pens- Use dry erase pens so that you can wipe your laminated printable clean over and over again for endless use!
You Can Never Have Too Many Word Searches! Grab our whole Collection!
How Do I access my free printables?
Fill in the form above. You will receive an email in your inbox. If you don't see it, check your spam folder! You will then click to confirm your subscription. Once confirmed, you will be sent an email with your free printable.
How Do I Print a PDF?
You'll need a program that supports PDFs. Adobe Acrobat is a great option. Open the program, click File, then print. Select your printer and the number of copies you want to print. Be sure you click double-sided if you want it to print on both sides.
Can I resell these?
You may not resell any printable found on our website or in our resource library. You may use them for class parties, at church, at home, or in the classroom. You may get these printed at an office supply store or copy center at your own expense.