Ready to boost creativity and inspire your kids to write? These November Writing Prompts will do exactly that and get them ready for Thanksgiving!
Fall is here! Which means it's the perfect time of year to spend some time warm and cozy inside. My kids love to spend some quiet time writing which is why journal prompts for kids are a perfect way to keep them entertained during the fall season.
Did your kids love the October writing prompts and the September writing prompts? Keep the writing fun going, with these November Writing Prompts. It's a perfect way to prepare for Thanksgiving! If your kids are getting really excited for Thanksgiving then be sure to grab our Thanksgiving journal prompts as well.
You can easily print these writing prompts or grab some fall writing prompts for kids. I always love to add some Thanksgiving Charades and Fall Bingo to get the whole family involved and having fun on Thanksgiving!
Benefits of Writing Prompts
Writing prompts are a great way for your kids to start journaling. Our November writing prompts make it easy for them to write every day this month and sharpen their writing skills. It is an educational activity that will keep your kids entertained for hours this month!
Not only do writing prompts improve writing skills but they also give you something to look back on next year. The November writing prompts are set up to allow your kids to write down thoughts and traditions that will become a treasure to read year after year.
Time to get writing and create some memories this Thanksgiving!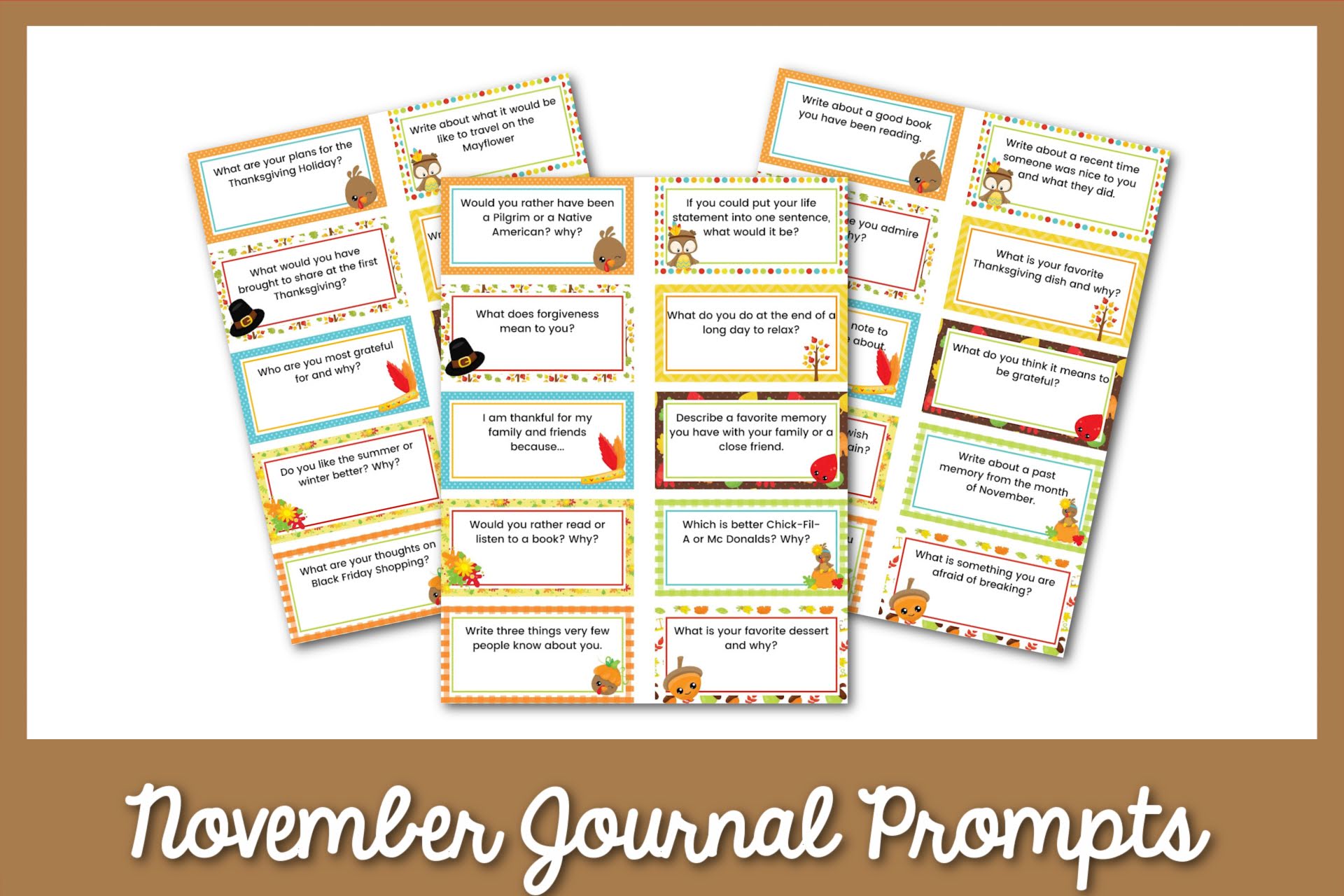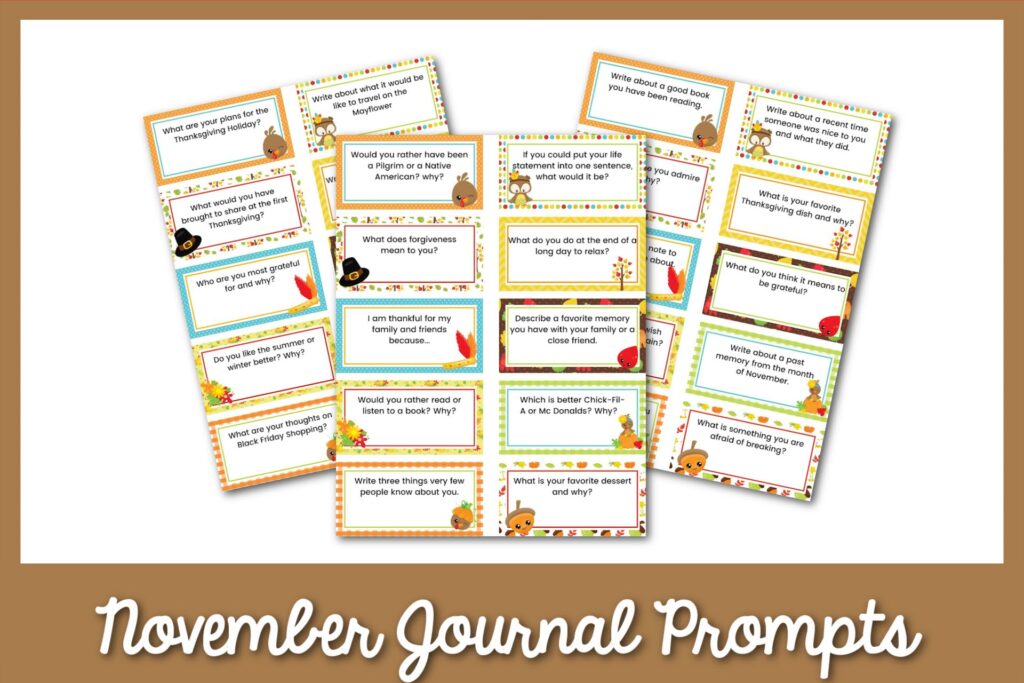 How to Use These Prompts
Use these November writing prompts to encourage your child or your students to write. All you need to do is print them out, laminate them for extra durability, and use them over and over each year!
Pass out a card to each child or student. Let them write about their prompt for a set amount of time. Once the time is up, collect the cards and store them for the next day. With 50 prompts, the fun can continue with a new prompt every day of November!
November Writing Prompts
1. What are your plans for the Thanksgiving Holiday?
2. Write about what it would be like to travel on the Mayflower
3. What would you have brought to share at the first Thanksgiving?
4. Write about your Thanksgiving Day traditions.
5. Who are you most grateful for and why?
6. If you could invite any one person to Thanksgiving dinner, who would it be and why?
7. Do you like the summer or winter better? Why?
8. What does Veteran's Day mean to you?
9. What are your thoughts on Black Friday Shopping?
10. What are you looking forward to with the Holidays?
11. Write about a good book you have been reading.
12. Write about a recent time someone was nice to you and what they did.
13. Who is someone you admire and why?
14. What is your favorite Thanksgiving dish and why?
15. Write a thank you note to someone you care about.
16. What do you think it means to be grateful?
17. What is one thing you wish you never had to do again?
18. Write about a past memory from the month of November.
19. What would life be like if you could live forever?
20. What is something you are afraid of breaking?
21. Write about the room you are currently in right now.
22. What is something you consider to be fragile?
23. What is your best talent?
24. What is one silly thing that happened in the last week?
25. What is your favorite thing to do with your mom or dad?
26. What was a piece of advice that you treasure?
27. Write about the last lie that you told.
28. What is the worst sound in the world?
29. What is an opportunity you are grateful to have had?
30. In what ways do you honor those who have passed on?
31. Would you rather have been a Pilgrim or a Native American? why?
32. If you could put your life statement into one sentence, what would it be?
33. What does forgiveness mean to you?
34. What do you do at the end of a long day to relax?
35. I am thankful for my family/friends because…
36. Describe a favorite memory you have with your family or a close friend.
Would you rather read or listen to a book? Why?
38. Which is better Chick-Fil-A or Mc Donalds? Why?
39. Write three things very few people know about you.
40. What is your favorite dessert and why?
41. What is one thing you never want to share?
42. Write about one thing that always makes you really happy.
43. What concerns you most?
44. If you could live with only 5 items what would they be and why?
45. How do you show others you appreciate them?
46. If you were going to have to share a room with someone for a year, who would you choose, and why?
47. If you could only choose one, would you rather be indoors or outdoors for the rest of your life? Why?
48. Write down 20 things you are currently grateful for.
50. How do you show your parents you love them?
What is your favorite thing to do on Saturday?
What November writing prompts would you add to the list? Share in the comments!
Check out these other writing prompts!