These December writing prompts will inspire young writers to be creative and explore their imagination as they develop a love of writing this holiday season.
December Writing Prompts
Wintertime is here! Which means it's time for some fun indoor activities to keep everyone warm and cozy. In December, we love to make festive treats like Christmas tree cupcakes and red and green layered jello!
With a belly full of sweets, it's the perfect time to get cozy with a blanket and a journal. Our December Writing Prompts are the perfect way to inspire your kids to write in their journals! If you missed our November writing prompts or Fall writing prompts, be sure to grab them too!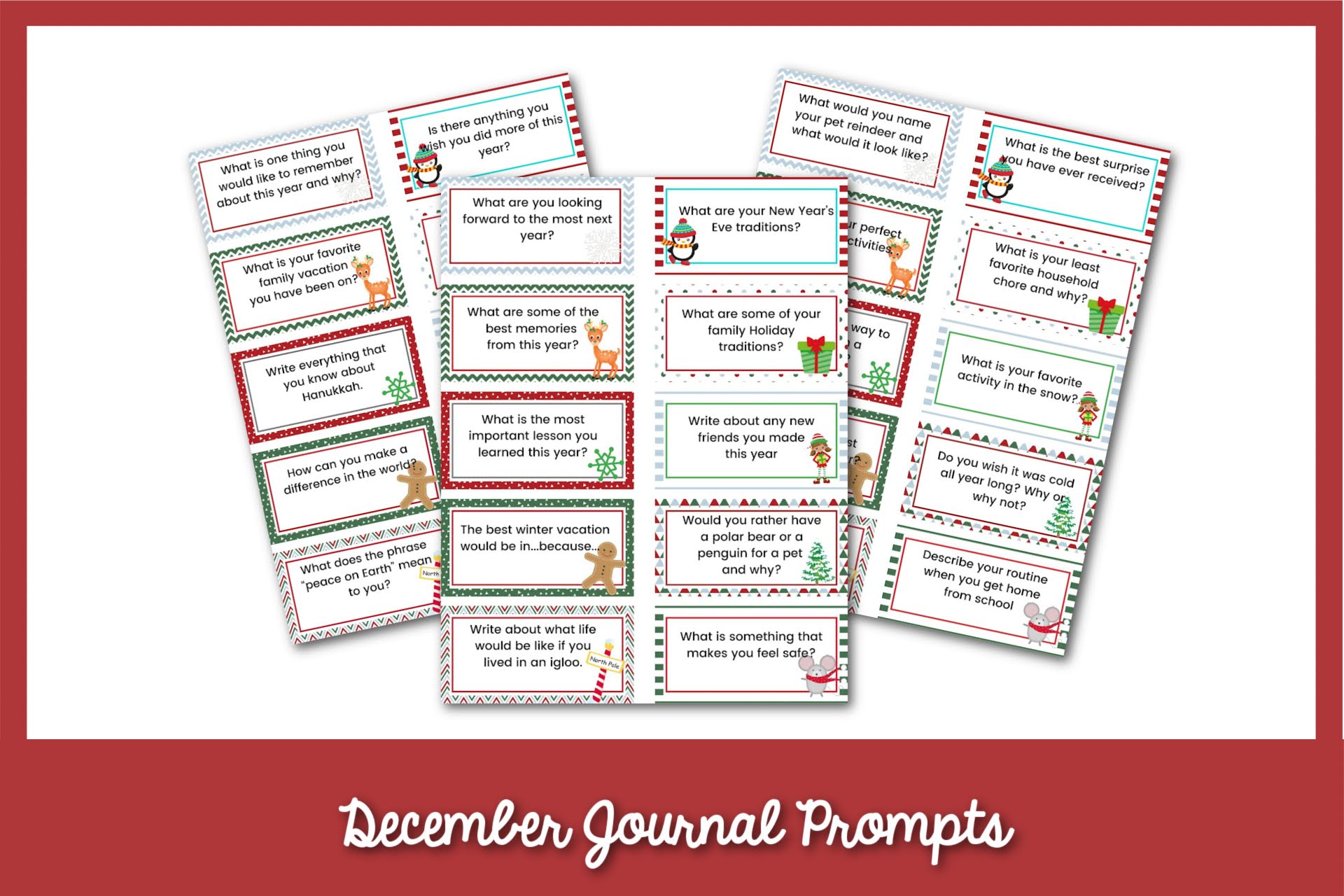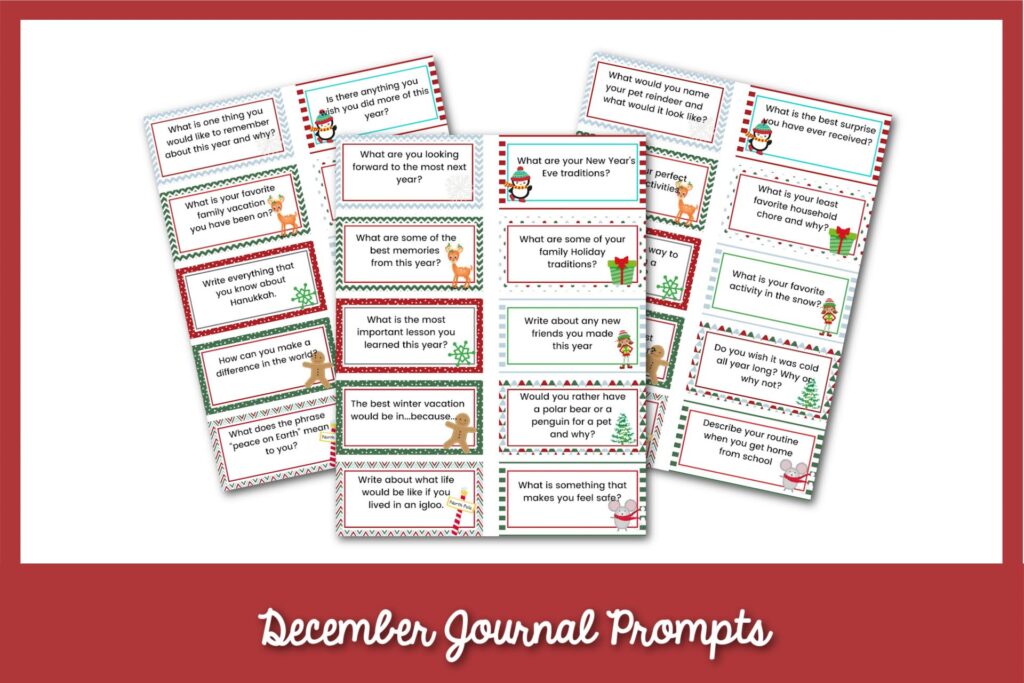 Benefits of Writing Prompts
Writing prompts make it fun for your kids to start journaling. Our December writing prompts to make it easy for your kids to write every day this month and perfect their writing skills. They are educational and fun!
In addition to improving writing skills, journal prompts also give you something to look back on next year. Your kids can write down their thoughts and read them year after year! It's an easy way to track their writing progress.
Time to grab your December Writing Prompts and start writing this holiday season!
How to Use Writing Prompts
December writing prompts can be used to encourage your child or your students to write during the holiday season. All you need to do is print out the cards, cut them out, and laminate them so you can use them over and over!
Give each child a card and let them write in their journal about that topic. Give them a set amount of time to write about their writing prompt.
When the time is up, you can collect them and store them for the next day. With over 50 prompts, there is a new topic for each day of the month!
December Writing Prompts
What are you looking forward to the most next year?
What are some of the best memories from this year?
What are your New Year's Eve traditions?
What is the most important lesson you learned this year?
What are some of your family holiday traditions?
Write about any new friends you made this year?
The best winter vacation would be in…because…
Would you rather have a polar bear or a penguin for a pet and why?
Write about what life would be like if you lived in an igloo.
What is something that makes you feel safe?
What is one thing you would like to remember about this year and why?
Is there anything you wish you did more of this year?
What is your favorite family vacation you have been on?
What would you do if the Grinch showed up at your door?
Write everything that you know about Hanukkah.
Write about a favorite memory from December
How can you make a difference in the world?
What is your favorite holiday movie and why?
What does the phrase "peace on Earth" mean to you?
Write about if you got to visit the North Pole
What would you name your pet reindeer and what would it look like?
What is the best surprise you have ever received?
Describe your perfect snow day activities
What is your least favorite household chore and why?
What is the best way to stay warm in a snowstorm?
What is your favorite activity in the snow?
What is your biggest holiday wish this year?
Do you wish it was cold all year long? Why or why not?
What is the first thing you do in the morning?
Describe your routine when you get home from school
What are 5 things you want to do on winter break this year?
Do you wish it snowed more or less where you live. Why?
What is the next book you want to read?
Where is one place you'd like to visit in December?
Do you think ice skating would be easy or hard?
If you could switch places with someone who would it be?
Write a poem about winter
How would you dress your snowman?
What is your favorite treat to eat after dinner?
Who do you think has been especially good this year and why?
What other prompts would you add to the list? Share in the comments!
Check out these other writing prompts!