This Halloween Bingo free printable is perfect to use for family game nights, classroom parties, or Halloween parties! Grab this Halloween bingo game by downloading, printing, and enjoy!
Halloween Bingo Free Printable
Halloween is such a magical time for children and adults alike! I love spending time picking out costumes with my kids and trying out fun activities like our Halloween matching game.
All things spooky, fun, and cute come together to make a fun Halloween tradition in this awesome Halloween Bingo free printable. Let your children explore some of the fun aspects of Halloween in this simple and addictive game!
If you are looking for something to do to get your kids excited for Halloween then you'll love this Halloween Bingo free printable. Whether you play with young kids, teens, or adults, it's sure to start great conversations about Halloween memories and traditions.
You won't want to miss the fun that this Halloween Bingo free printable will bring to you and your family this year! You can find our free download at the end of this post! While you are at it, grab our Fall Bingo game for even more fun this time of year! Check out all our other bingo games for kids as well as our Thanksgiving Bingo!
If you are looking for other fun Halloween games and activities, you're going to love our Halloween Minute to Win It Games, Halloween Scattergories, Halloween This or That, and Halloween Scavenger Hunt.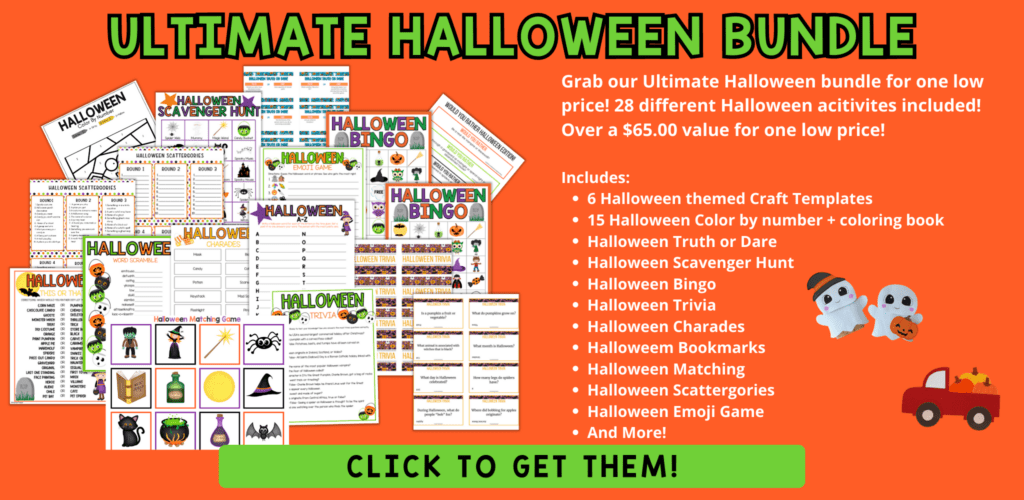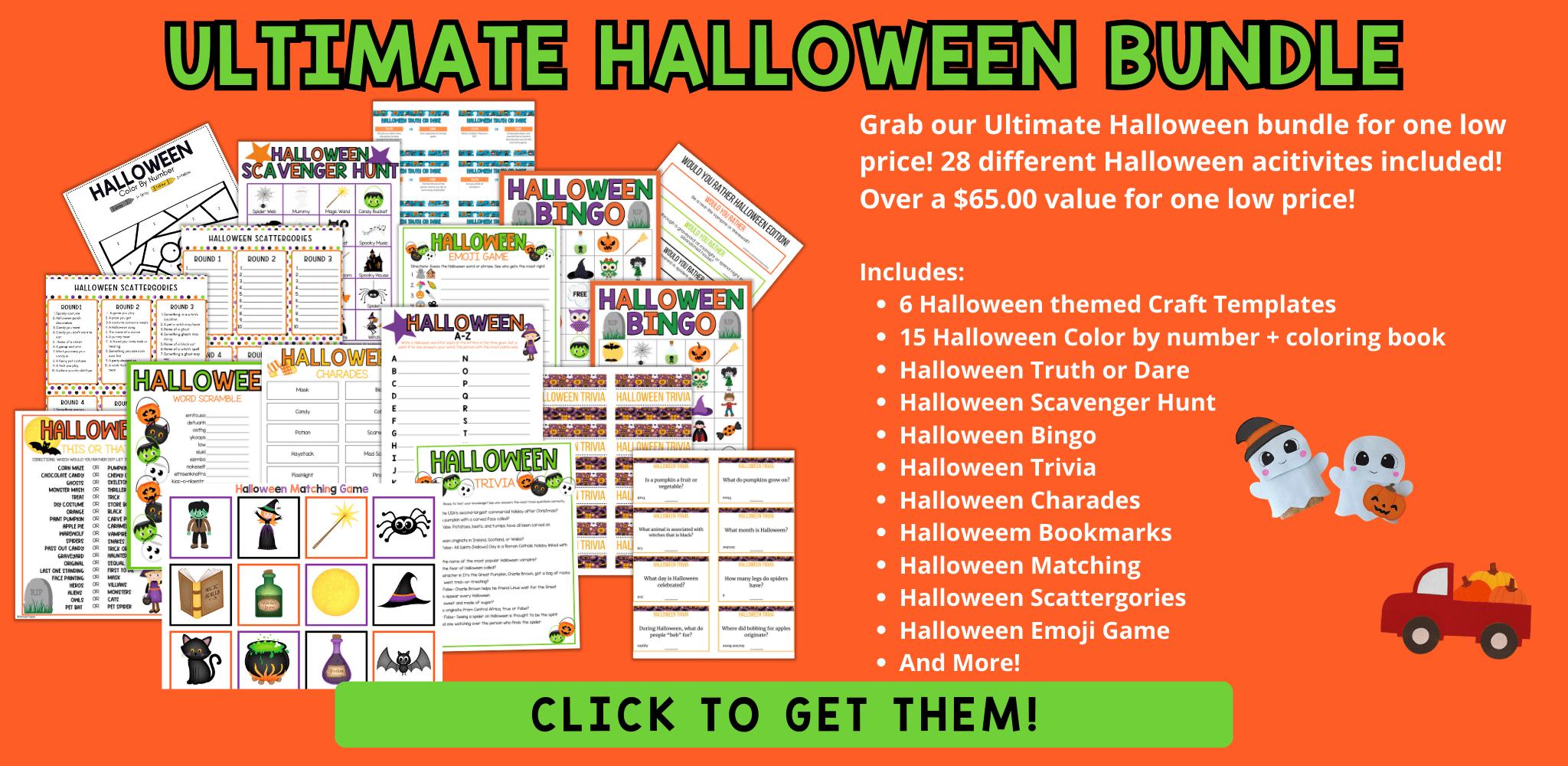 How to Play Halloween Bingo
The great thing about bingo is that it has no age requirements, size limits, or strict rules. You can play this game however best fits your group!
Don't think that this game is just for your kids either. I have a blast playing this with my little ones, my teens, and my adult friends and family! This can be played at any party, gathering, school event, or just at home with family. The instructions are easy to follow and easy to explain.
The first thing to do is to give everyone a Halloween bingo card. There are 6 different cards included in this free printable. Make sure those sitting next to each other have different cards.
When you print your Halloween bingo card, you'll find on the last page a set of cards with all the pictures from the bingo sheets. These are called "calling cards". You will notice the last page is titled "calling cards." These have all the pictures from the bingo sheets. You will want to cut out all the calling cards, shuffle them, and set them in a pile upside-down or place them in a bowl, hat or even a basket will work.
After everyone has a Halloween bingo card, give them something to cover their squares with. Since this is Halloween bingo, try using something Halloween bingo themed! I love using these classic spider rings, candy corn, or some cute halloween themed stickers. Look for more creative ideas in the tricks section!
Be sure to remind everyone to put a marker on their "Free Space!"
Next, draw a card from the calling card pile. After a calling card is drawn everyone must find where the corresponding picture is on their Halloween bingo cards and cover it up with a marker.
Once someone fills up a row of 5 horizontally, vertically, or diagonally they have to yell out "BINGO!" The first person to yell bingo wins!
Tricks and Treats for Halloween Bingo!
Halloween bingo is a game that can be played in a variety of ways with a variety of people. But, keeping a large number of people happy for an extended period of time can be difficult. Here I've listed a few of my best tricks and treats for Halloween bingo! These tricks, tips, and treats are a great way to keep people excited and interested!
Laminate or use Cardstock
If you are going to play multiple rounds with different people, I suggest printing your Halloween bingo on cardstock! It'll help them stay nice and sturdy so that you get more use out of them.
If you really want to keep your Halloween bingo nice for years to come, you can also laminate your boards! This will help prevent rips, tears, and even spills!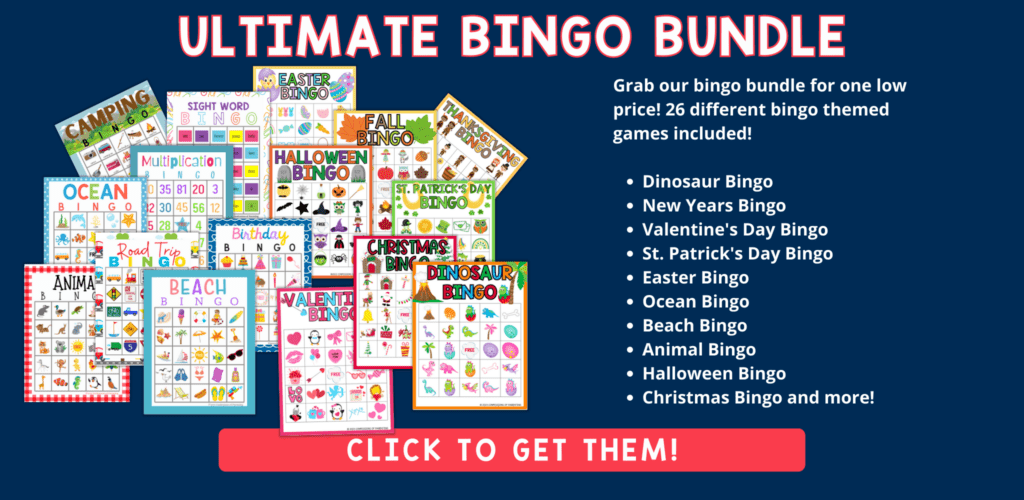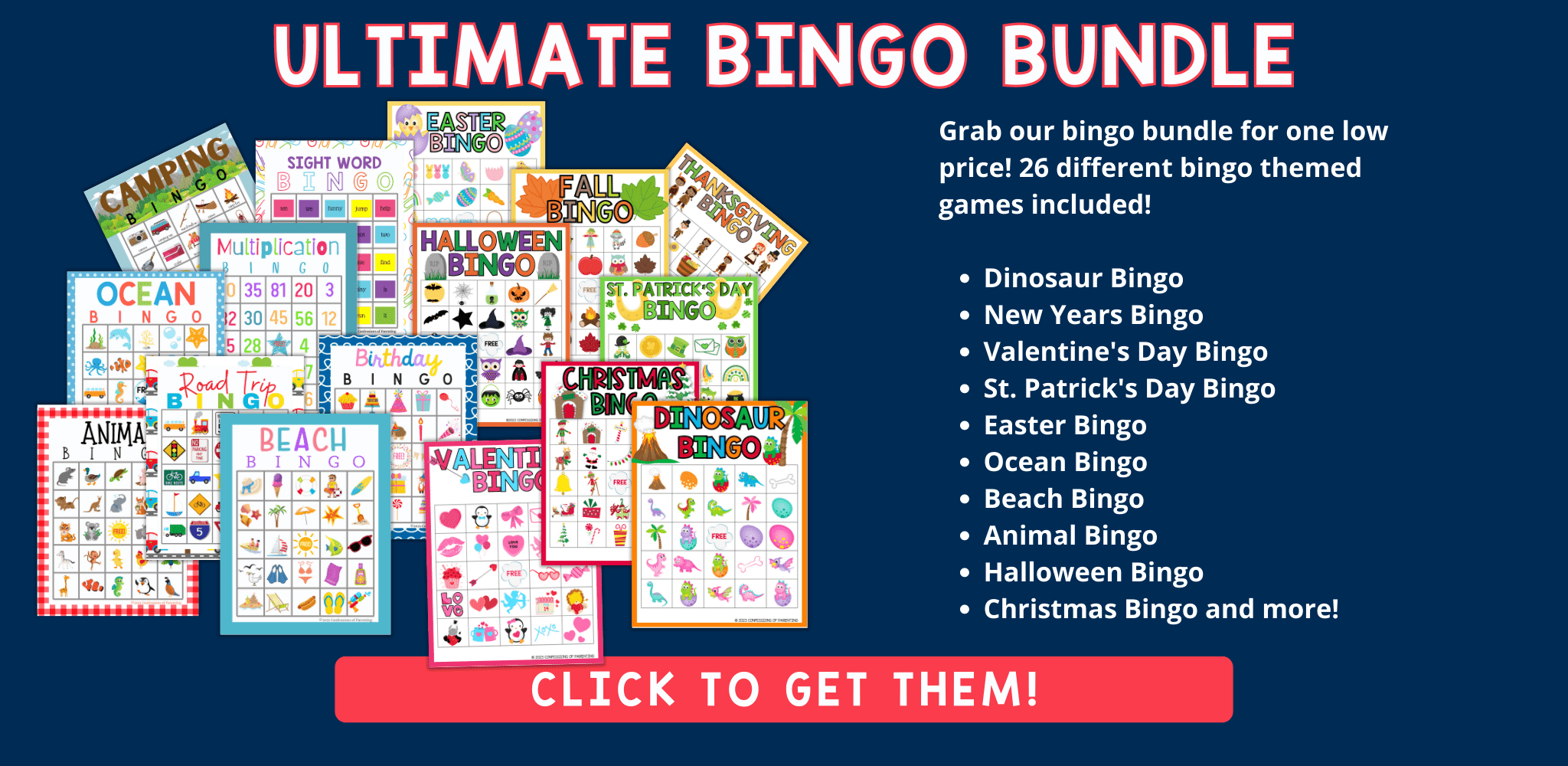 Make the Markers Fun
Like I said earlier, the different markers that you use can really make or break the game. This is a good way to keep everyone interested and looking forward to the next card! I recommend using something Halloween themed. You can use candies such as Mello Creme Pumpkins, mini-pretzels, candy corn, mini chocolates, or little caramels!
If you are in need of some non-treat options, you can use Halloween confetti, autumn table scatter, Autumn flat marbles, skull beads, or even just buttons.
But don't be afraid to use what you have around the house! Add some extra fun by cutting out squares and having your kids decorate them to use as markers.
Start Conversations
This game is a great way to introduce new terms and topics to your young children! Get a great conversation started with your little ones to help them understand Halloween a bit better.
If you have older children, you can ask what types of memories they have associated with each picture. This is a great way to keep things fun, interesting, and memorable!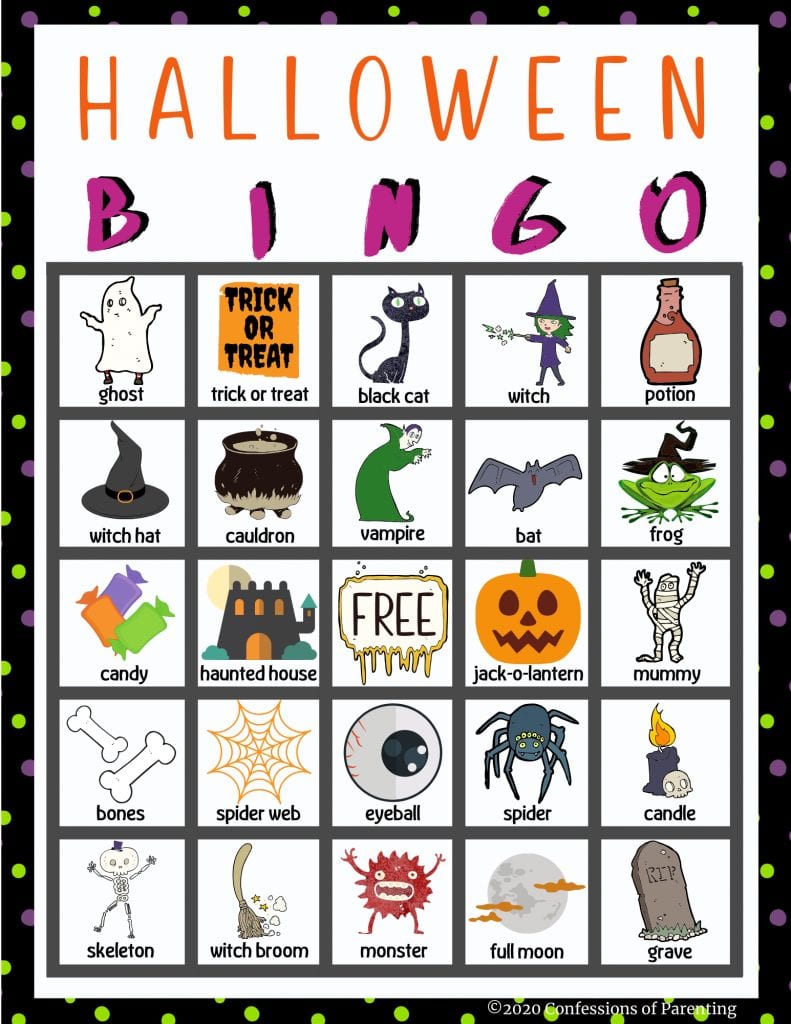 Use Teams
Using teams is a great way to invite some friendly competition to your game. You can play boys vs. girls, in partnerships, or kids vs. adults to see what team can all get bingo first.
Teaming up with your little ones will help them get more involved with the game as well!
The winner gets a prize!
This is another great way to up the ante in your games. Prizes help everyone stay excited and involved, especially those teens who may be a bit hesitant at first! Your prizes can be just about anything, from a tiny trinket like these cute plastic medals, to a larger incentive.
If you want to give your prizes a spooky silly theme, you can use a Halloween cake, king-sized candy bars, a bouncy ball eyeball, Halloween toys, fake snake, or some Halloween slime!
Trade Bingo Cards
It's always a good idea to switch the cards up between participants after each round! It'll keep everything random and give everyone a fair shot at winning the game.
This is also another great way to keep things interesting because you have to look for the pictures in a new place each time.
I hope your family loves this tradition as much as mine does. It's a great way to keep the holidays fun and family-friendly.
Love Bingo Games? Don't forget to grab these too!
How Do I access my free printables?
Fill in the form above. You will receive an email in your inbox. If you don't see it, check your spam folder! You will see an email with your free printable.
How Do I Print a PDF?
You'll need a program that supports PDFs. Adobe Acrobat is a great option. Open the program, click File, then print. Select your printer and the number of copies you want to print. Be sure you click double-sided if you want it to print on both sides.
Can I resell these?
You may not resell any printable on our website or in our resource library. You may use them for class parties, at church, at home, or in the classroom. You may get these printed at an office supply store or copy center at your own expense.