If you need a fun family-friendly game to add to your New Year's Eve party, then this New Year's Word Scramble printable is the perfect addition to your party!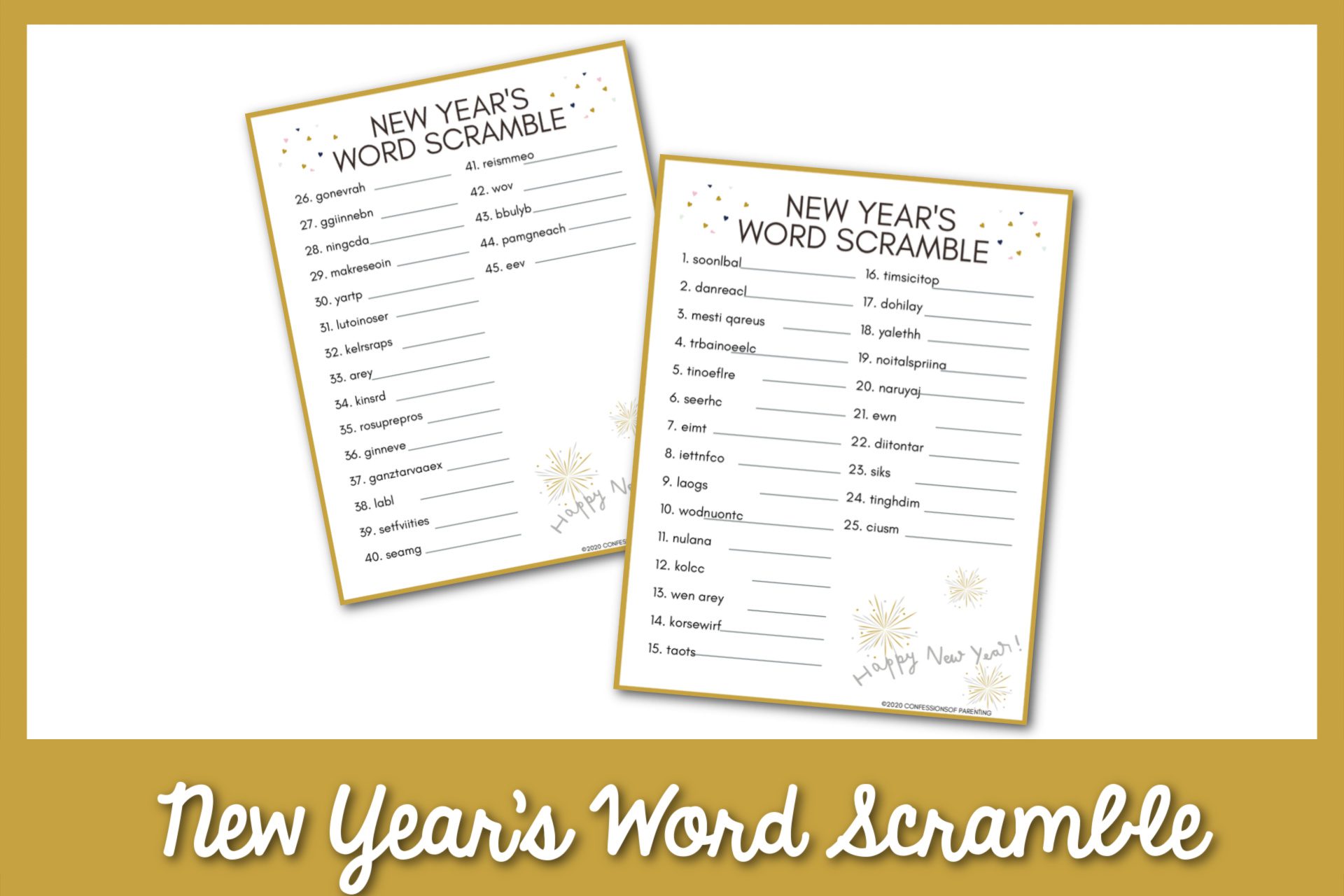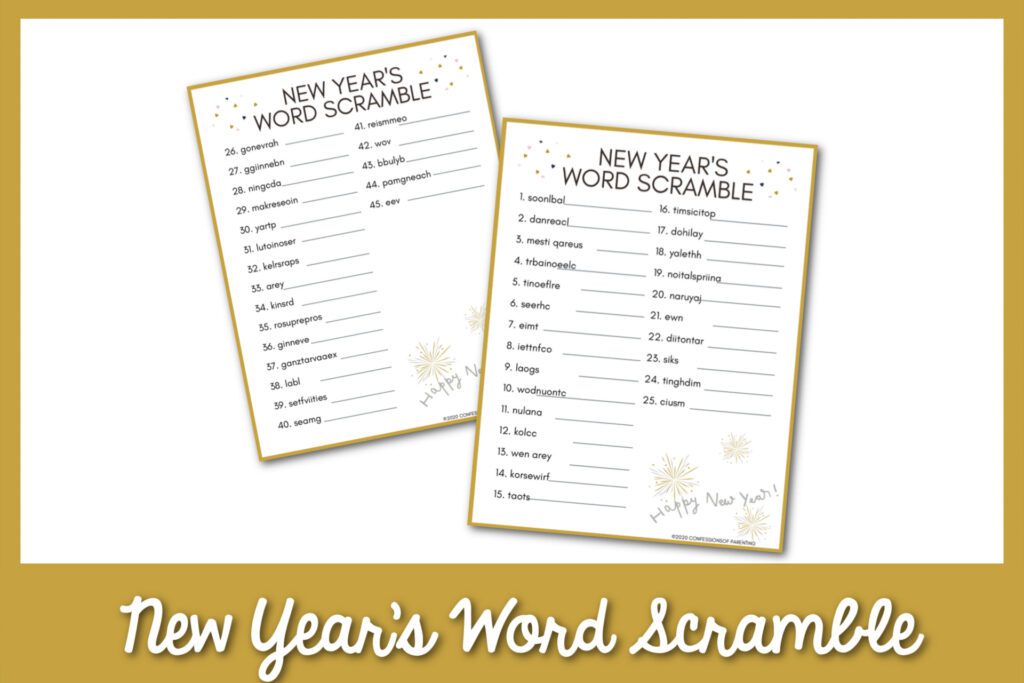 New Year's Word Scramble
New Year's is a time of year filled with lots of excitement, optimism, and celebration. Between setting goals and looking forward to a new year, it's always nice to sit down with my family and play some games. My family loves playing winter bingo and Winter word scramble so I decided to make a New Year's Word Scramble to add to our fun!
As a mom, its important for me to have family-friendly activities to play on New Year's Eve. This New Year's word scramble is just what you need to get your mind moving and help you stay awake as you countdown to the new year! With long and short words, its so easy for the whole family to play.
I love how customizable word scramble is because you can choose to make it competitive with a timer or use it as a relaxing activity to pick up and play throughout the evening. Its a perfect game to play while you wait for the ball to drop at Times Square!
Word scrambles are a total mom win because they are fun for everyone and they help your kids improve their problem solving skills. They even help improve spelling and expand their vocabulary!
Put on your thinking caps and welcome in the new year with some puzzle fun by using our New Year's Word Scramble Printable.
Looking for more Word Scrambles? Try these!
How to Play New Year's Word Scramble
Word scrambles are a great family-friendly activity that take no time to prepare. Plus it's super easy to explain. There is a mixture of long and short words on our list so that the whole family can play. All you have to do is print copies of our free printable for everyone in the family, and unscramble the words!
To play, rearrange the letters to come up with a New Year's related word. Then write your anser on the blank line next to the letters. Repeat for all 45 words on the list. It's that simple!
Tips and Tricks for Word Scrambles
To have a relaxing activity, simply play it as is and have everyone unscramble the words throughout the evening. If you are looking to add some excitement and switch things up, check out our fun tips below!
Playing with Small Children
When playing with little ones, its a good idea to give them a partner. Pair the young children with an adult so they have help solving their words. The longer words will be more difficult so you can have the adults focus on solving them while the little ones look at the shorter words.
Let your kids take the lead and have the adults help when needed so that everyone can have a good time!
Add a Time Limit
To add some competition to the evening, all you have to do is add a time limit of 2-3 minutes. Then have everyone unscramble as many words as they can before time runs out. Its a great way to get everyone thinking quickly and scrambling to finish on time!
Offer a Prize
You can add even more competition by offering a prize. Whether its a fun bubbly, alcohol free drink or a delicious treat, its great motivation for everyone to play.
Add Confetti
Adding confetti is a great way to celebrate the winner. Whoever solves all the words the quickest or gets the most correct, gets to launch confetti at the end of the round. Its a fun New Year's twist to add to your New Year's Word Scramble.
Divide the List
Another fun way to play word scramble is to divide the list into sections. Each group of words can be their own round. Either divide everyone into groups or play solo to see who can solve their words the quickest.
It makes the game even faster and flexible as you break it up to play throughout the evening.
Play on Teams
Playing on teams is a fun way to solve each of the words, especially at a New Year's Eve party. Playing on teams even takes out the frustration because if you don't know a word, someone else in the group probably does!
Divide everyone into teams and have them work together. If you have small children, its a great time to place them in a group with some adults so they have someone to help them figure out the answers.
Ready for some puzzle fun? Scroll down to get your free printable!
Love Word Scrambles? Try these other fun ones!
45 New Year's Word Scramble Words
soonlbal
danreacl
mesti qareus
trbainoeelc
tinoeflre
seerhc
eimt
iettnfco
laogs
wodnuontc
nulana
kolcc
wen arey
korsewirf
taots
timsicitop
dohilay
yalethh
noitalspriina
naruyaj
ewn
diitontar
siks
tinghdim
ciusm
gonevrah
ggiinnebn
ningcda
makreseoin
yartp
lutoinoser
kelrsraps
arey
kinsrd
Rosuprepros
ginneve
ganztarvaaex
labl
setfviities
seamg
reismmeo
wov
bbulyb
pamgneach
eev
Answer Key
Balloons
Calendar
Times Square
Celebration
Reflection
Cheers
Time
Confetti
Goals
Countdown
Annual
Clock
New Year
Fireworks
Toast
Optimistic
Holiday
Healthy
Inspirational
January
New
Tradition
Kiss
Midnight
Music
Hangover
Beginning
Dancing
Noisemaker
Party
Resolution
Sparklers
Year
Drinks
Prosperous
Evening
Extravaganza
Ball
Festivities
Games
Memories
Vow
Bubbly
Champagne
Eve
Grab your free download here!
What are your favorite New Year's Traditions? Tell us in the comments!
You Can Never Have Too Many Word Scramble! Grab our whole Collection!