Get your kids' minds working (without them even realizing it!) with this ultimate list of Word Scrambles for kids. Your kids will be sure to have fun while playing, and you will enjoy not having a huge mess to clean up after!
Word Scrambles Kids Love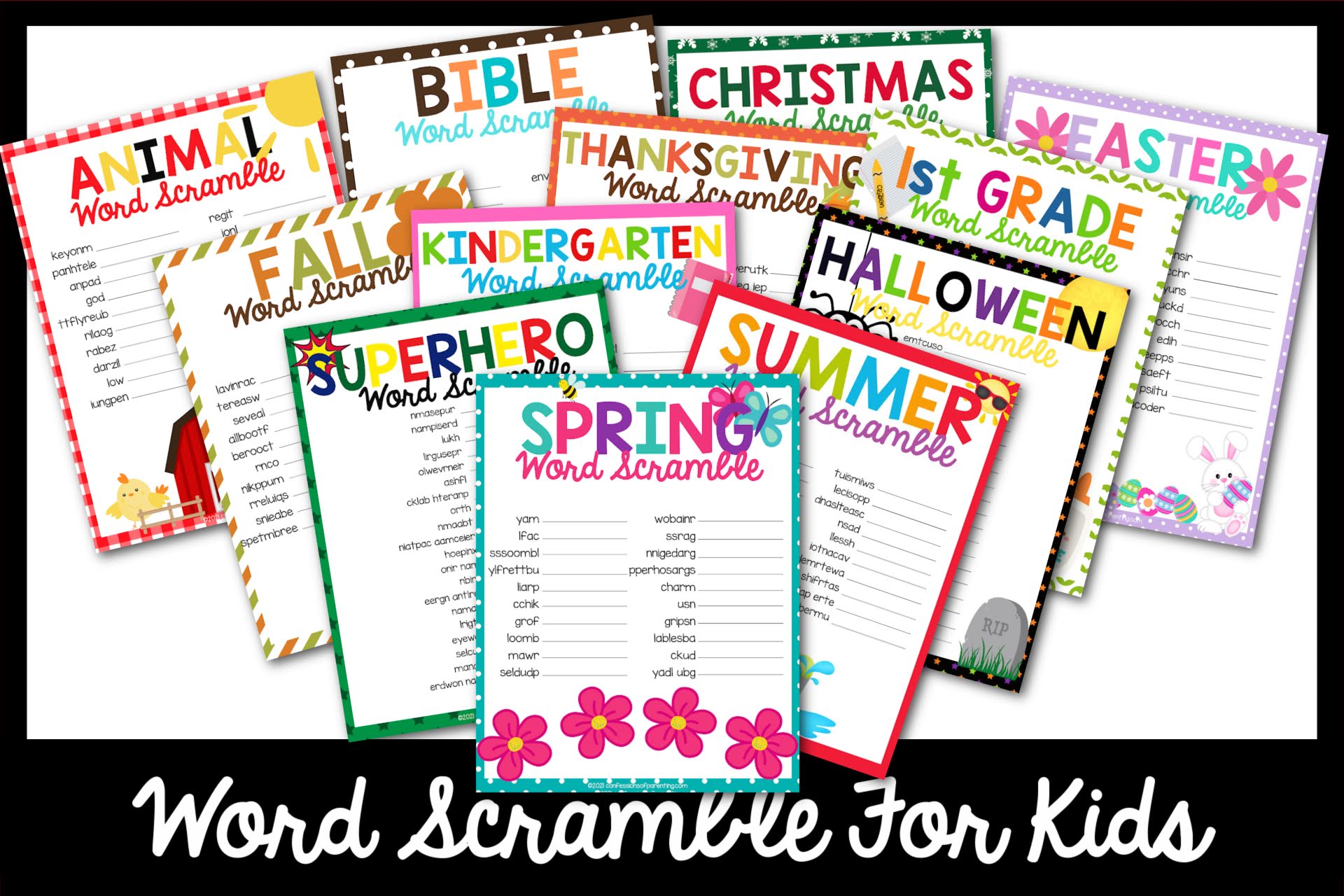 Family game nights are a must in my household. The kids love competing with each other, and I know I love us all spending quality time with one another too!
Add a puzzle element to your next family game night with one of these word scramble games. No matter the age of the players, each person will have fun playing these fun games!
How to Play Word Scramble Games
First, download and print your word scramble of choice. Each word scramble theme has a list of jumbled up words. The player's job is to unscramble the words and write down the properly spelled words on the blank line next to the question.
These word scrambles are great for your kindergarteners all the way up to your teens. Even adults can have fun with this game. For your younger kids, you may find it helpful to pair them up with an older kid or an adult to help them with some of the harder words on the sheets.
The great thing about word scrambles is that they are very adaptable. If you wanted to, you could break one up into sets of ten and have each set be one round. Or you could have the players just pick it up throughout the day as they wish. This makes it easier for all ages to stay engaged in a way that works for them!
To make it more competitive, you can set a timer from somewhere between one to five minutes (or however long it takes for your group!). See who can complete their list the quickest, or get the most done in that time limit. Whoever gets the most words unscrambled is the winner!
Benefits of Word Scrambles
Word scrambles for kids test their spelling skills. They also reinforce vocabulary, writing skills, patience, problem-solving, and more!
The great thing about these word scrambles is that you only need the printed pages and a writing tool. Just like that you're good to go! It is an easy on the go activity that requires no clean up!
Give those young minds a good stretch with these easy and fun word scrambles!
Word Scrambles for Kids
Enjoy the variety of word scrambles for kids found in this list. And with more coming all the time, you will be sure to find a word scramble perfect for your occasion.
Kindergarten Word Scramble: With all of the information your little sponges are soaking up, it is a great idea to play games to help your kids reinforce what they are learning. This Kindergarten Word Scramble is the perfect way to engage your kids' minds. They will have fun while learning without even realizing it!
First Grade Word Scramble Printable: Word scrambles are a great way to practice spelling in an exciting way. Help build your kids' vocabulary with this simple First Grade Word Scramble game.
2nd Grade Word Scramble: Reinforce your kids' sight words with this super fun 2nd Grade Word Scramble printable game!
Bible Word Scramble Printable: This Bible Word Scramble is a great way to work on reading, spelling, and your kids' bible knowledge. Pull out this fun word scramble at home or at church to get those young minds working!
Animal Word Scramble Printable: Test your kids' animal knowledge with this Animal Word Scramble. This word scramble includes farm animals, pets, and even reptiles!
Superhero Word Scramble Printable: This Superhero Word Scramble is perfect for your kid's that adore all things superhero. The whole family can play, creating lasting memories together!
Holiday Word Scrambles
New Year's Word Scramble Printable: Pull out this family-friendly New Year's Word Scramble to fill some time as you wait for the clock to strike midnight. It is a great way to keep your minds awake and active!
Easter Word Scramble Printable: Grab this easy Easter Word Scramble to provide some no mess entertainment for your kids. They will love the challenge. It also provides a great conversation starter as to the many aspects of the Easter holiday that you can then discuss with your kids.
Halloween Word Scramble Printable: Get in the spooky spirit (pun intended) with this fun Halloween Word Scramble! This printable is great for fun at home, at school, or on the go!
The Best Thanksgiving Word Scramble Printable: This Thanksgiving Word Scramble is a great way to fill some time as you wait for the turkey to finish cooking or as you kill time before serving dessert. It can easily be played with a large group of people, which can be helpful with extended family members in town.
Classic Christmas Word Scramble: Family game nights are always a hit in my home! Build some new family memories while playing this Classic Christmas Word Scramble this year.
Seasonal Word Scrambles
Spring Word Scramble Printable: This Spring Word Scramble is a perfect busy activity for those rainy days when you're stuck at home.
Summer Word Scramble Printable: Keep summer boredom at bay with this Summer Word Scramble.
Fall Word Scramble: To keep young minds busy on those cozy fall evenings, check out this Fall Word Scramble! Your kids are sure to love this brain challenge.
Which word scramble was your family favorite? Let us know in the comments section below or which one you are searching for so that we can add it to the list!