Get your kids outside playing with our fun Outside Scavenger Hunt for Kids! You'll love this exciting way to explore your neighborhood, so be sure to grab this free printable today!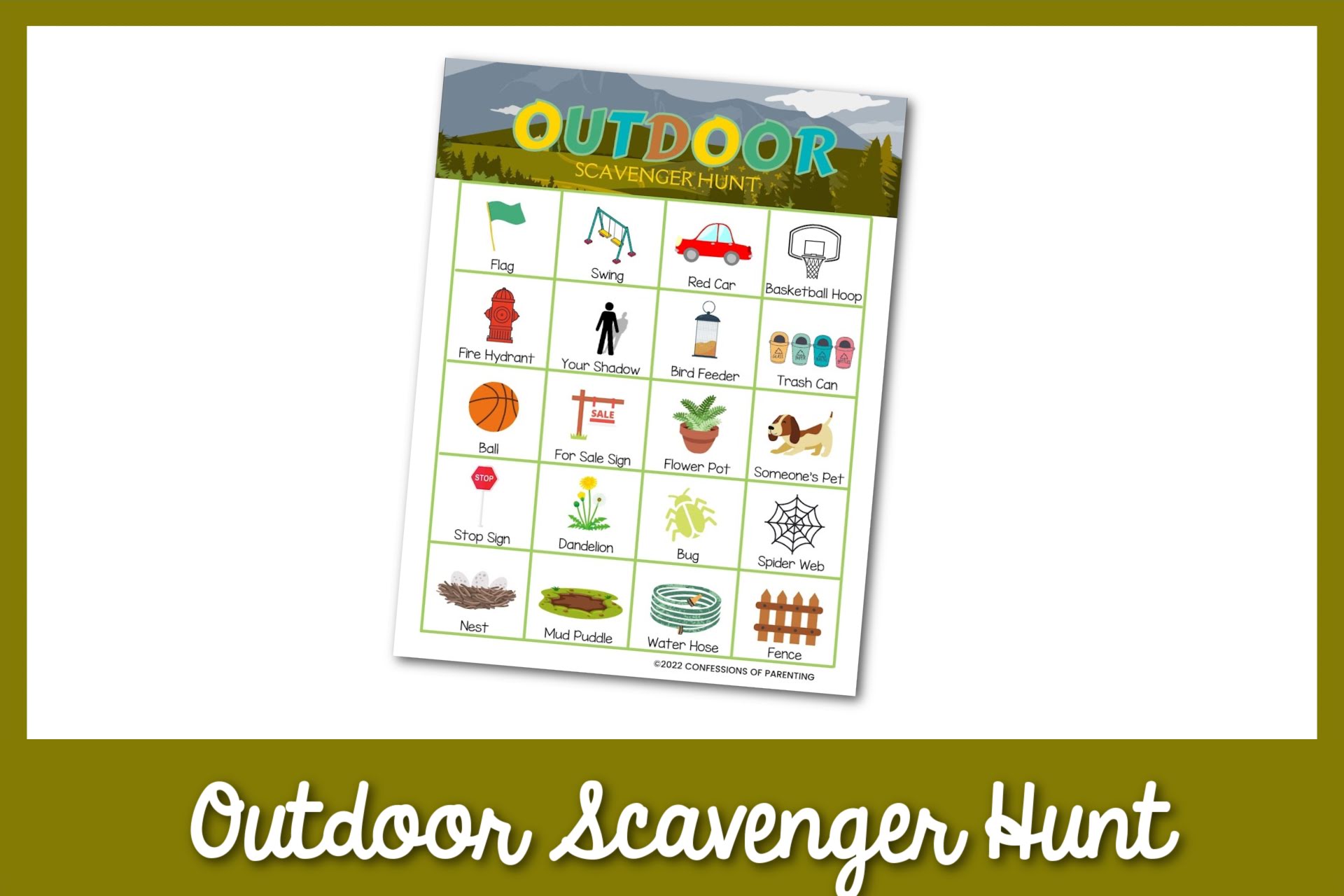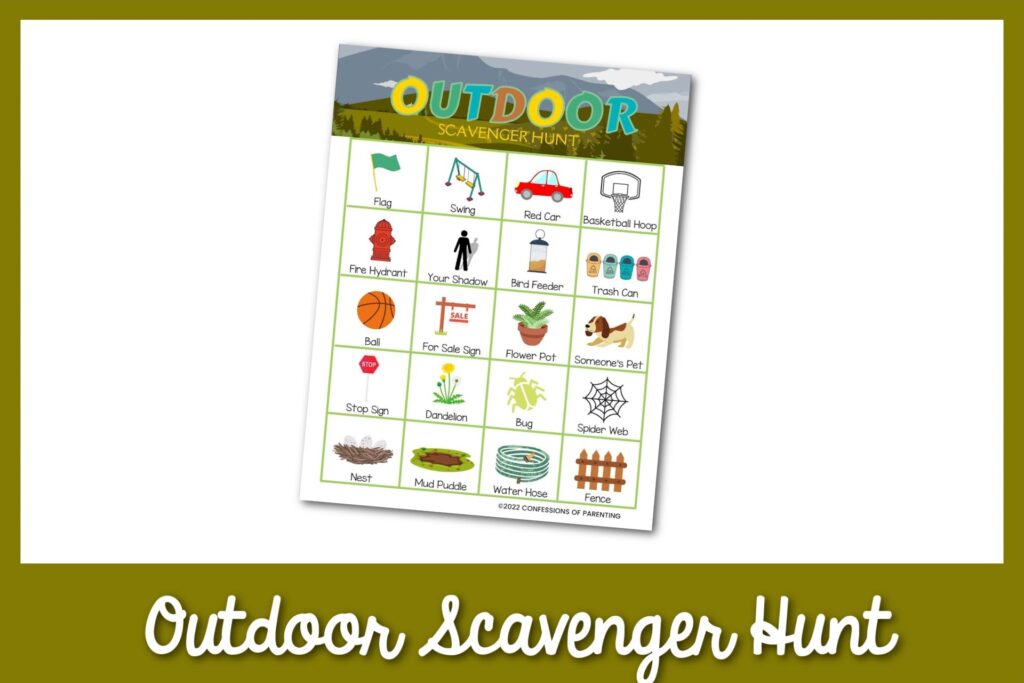 One thing my kids always love to do is to go on a family walk! It's fun to get out of the house, stretch our legs, and stroll around the neighborhood on a sunny, warm day.
This Outside Scavenger Hunt is a great way to help us find all kinds of interesting things around us and get to know our neighborhood better!
I know your kids will have a blast with these Outside Scavenger Hunt lists, so be sure to print them today and take your kids exploring around your neighborhood!
Does your family like a little competition?
Scavenger hunts are a fun way to turn any situation into a friendly game!
You can either make it a race to see who finds all of the items first, or you can set a timer and see who finds the most items in that amount of time.
You can even offer a prize to the winner, such as a favorite treat, skipping a chore, or picking the movie for movie night.
Some more great scavenger hunts that we think you'll love are our Camping Scavenger Hunt and our Beach Scavenger Hunt. Also, be sure to check out this fun Picture Scavenger Hunt for a new way to play this fun game!
Why I Love Scavenger Hunts for Kids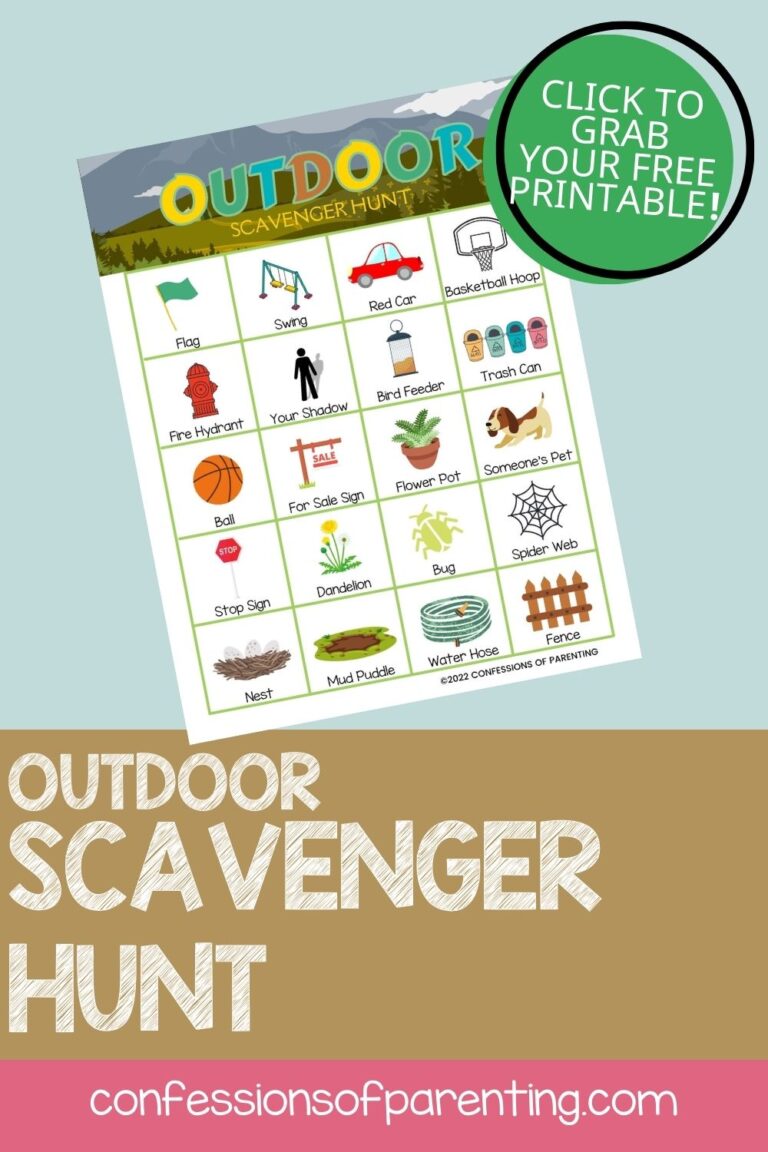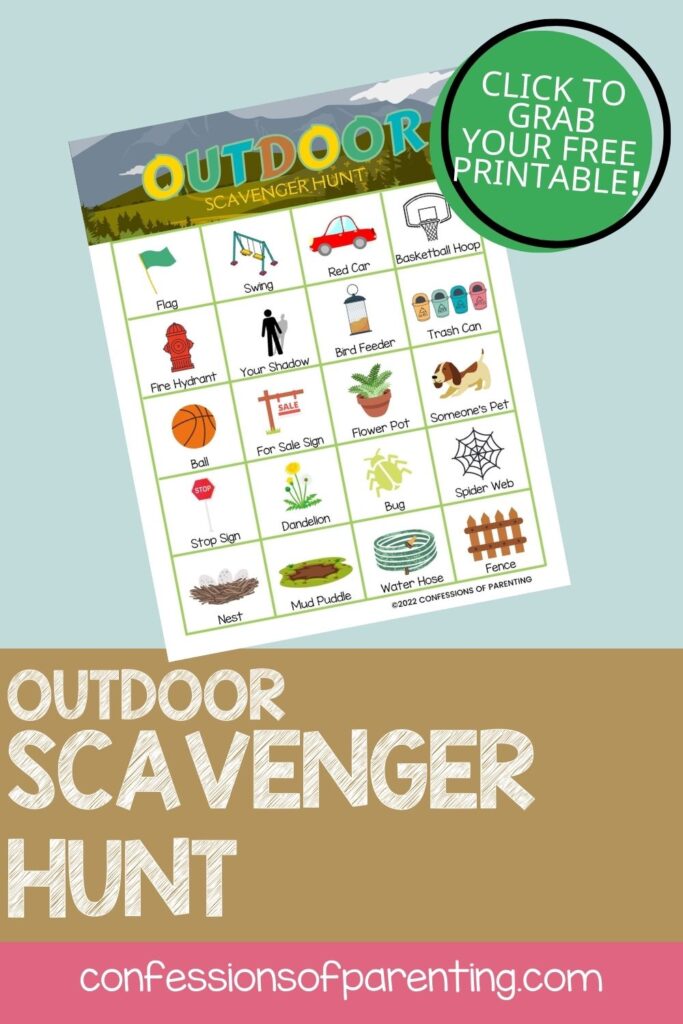 Scavenger hunts are my favorite way to turn any regular outing or playtime into a fun game!
No matter what you are doing or where you are, it's impossible to be bored when you are on a scavenger hunt!
I love to keep plenty on hand for situations when I need to keep my kids busy and entertained.
I love that scavenger hunts help kids to practice important developmental skills, such as problem-solving and teamwork, disguised as a fun game to play!
Every parent needs this fun activity for when you want to draw your kids away from their screens and send them to play outside!
How To Do An Outside Scavenger Hunt
You'll love how easy it is to start an Outside Scavenger Hunt!
Just print enough sheets for each player or team, and you are all set!
You will need to decide whether you want each person to have their own Outside Scavenger Hunt list, or if you want to work in pairs or teams.
Make sure each person, pair, or team has a copy of the Outdoor Scavenger Hunt list.
Head outside and explore your neighborhood!
As you find each item, check it off your list.
The person or team with the most items found wins!
How To Adjust Scavenger Hunts for Different Ages
It's always important to make sure your little ones are supervised when playing outdoors. Have your little kids partner with an adult who can keep them safe while they explore their neighborhood.
Young kids may need some help with reading and instructions, but let them take charge of finding the items on the list.
They'll surprise you with how great they are at observing things and solving problems!
It is sometimes not easy to get teens to participate, but adding a little competition usually does the trick.
Make it a race, and offer a prize for the winner, and they are sure to get in the spirit of things!
Don't miss out on your chance to have fun together and make memories; be sure to play with them, too!
Outside Scavenger Hunt for Kids List
Flag
Swing
Red car
Basketball hoop
Fire hydrant
Your shadow
Bird feeder
Trash can
Ball
For sale sign
Flower pot
Someone's pet
Stop sign
Dandelion
Bug
Spider web
Nest
Mud puddle
Water hose
Fence
Free Outside Scavenger Hunt for Kids Printable
Grab your free outside scavenger hunt for kids printable at the bottom of this page!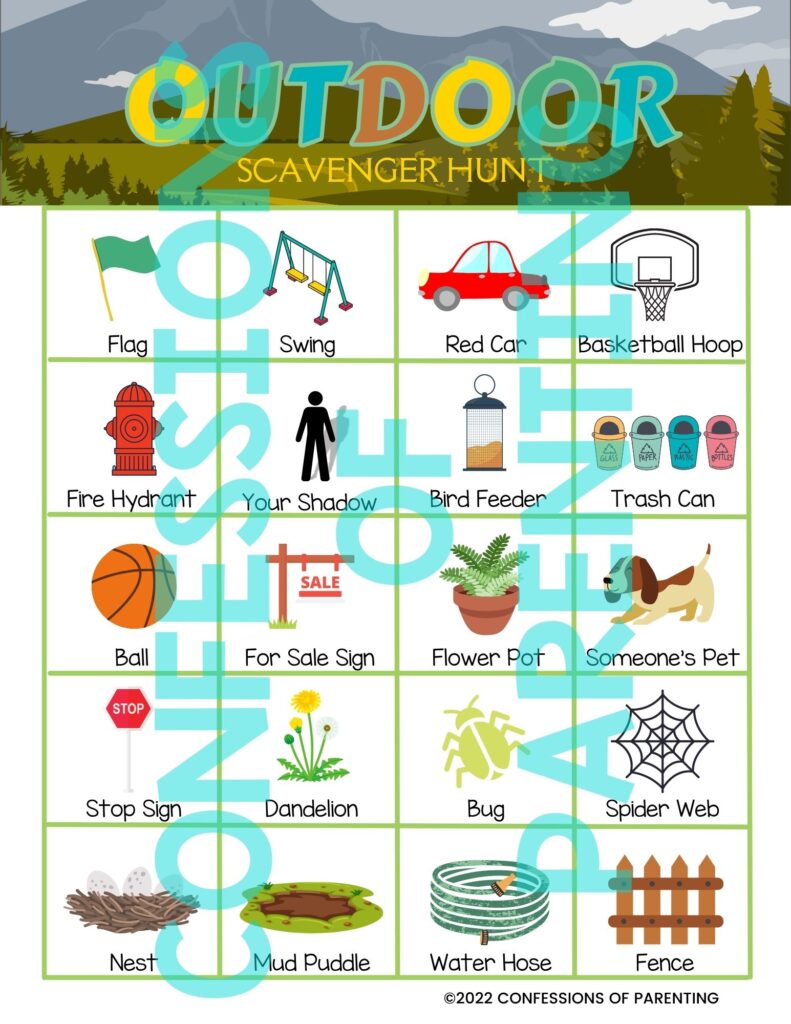 Helpful Tools We Love When Downloading Printables
Printer– I love my HP+ printer that uses Instant Ink. I love it because we can use as much color ink as you want for one low cost starting at $.99/ month for ink. Try it out for free here!
Cardstock- I always recommend printing on cardstock. This makes it way more durable so you don't have to worry about printing it time and time again.
Laminator / Laminating Sheets- Again, for added durability, grab a laminator and laminating sheets so that you can use this again and again!
Scissors (I seriously love these ones)
Dry Erase Pens- Use dry erase pens so that you can wipe your laminated printable clean over and over again for endless use!
Love this scavenger hunt? We want to hear all about it! Share your experience on Instagram and tag us, or include the hashtag #confessionsofparenting. We are excited to see all the fun you're having!
Great Scavenger Hunt Ideas to Try
How Do I access my free printables?
Fill in the form above. You will receive an email in your inbox. If you don't see it, check your spam folder! You will then click to confirm your subscription. Once confirmed, you will be taken to Airtable (a different website) where all our free printables will be waiting for you! It is free to sign up for Air Table!
How Do I Print a PDF?
You'll need a program that supports PDFs. Adobe Acrobat is a great option. Open the program, click File, then print. Select your printer and the number of copies you want to print. Be sure you click double-sided if you want it to print on both sides.
Can I resell these?
You may not resell any printable found on our website or in our resource library. You may use them for class parties, at church, at home, or in the classroom. You may get these printed at an office supply store or copy center at your own expense.