Looking for a great Valentine's Day idea for your spouse and kids? A Valentine's Day scavenger hunt is the perfect surprise!
Valentine's Day Scavenger Hunt
Can you believe it is almost Valentine's Day? I feel like the year just started and now we are already celebrating Valentine's Day!
The kids and I have been having so much fun with our Celebrate February list this month so far. Have you? If not, be sure to download your free Celebrate February printable!
Along with that, they have been loving Valentine's Day bingo, probably because they love eating the snacks associated with it!
One of the ideas on the list was a Valentine's Day Scavenger hunt, so I thought it would be fun to share with you two easy Valentine's Day Scavenger hunt ideas with you, both have a free Valentine's Day Printable, so be sure to download them below!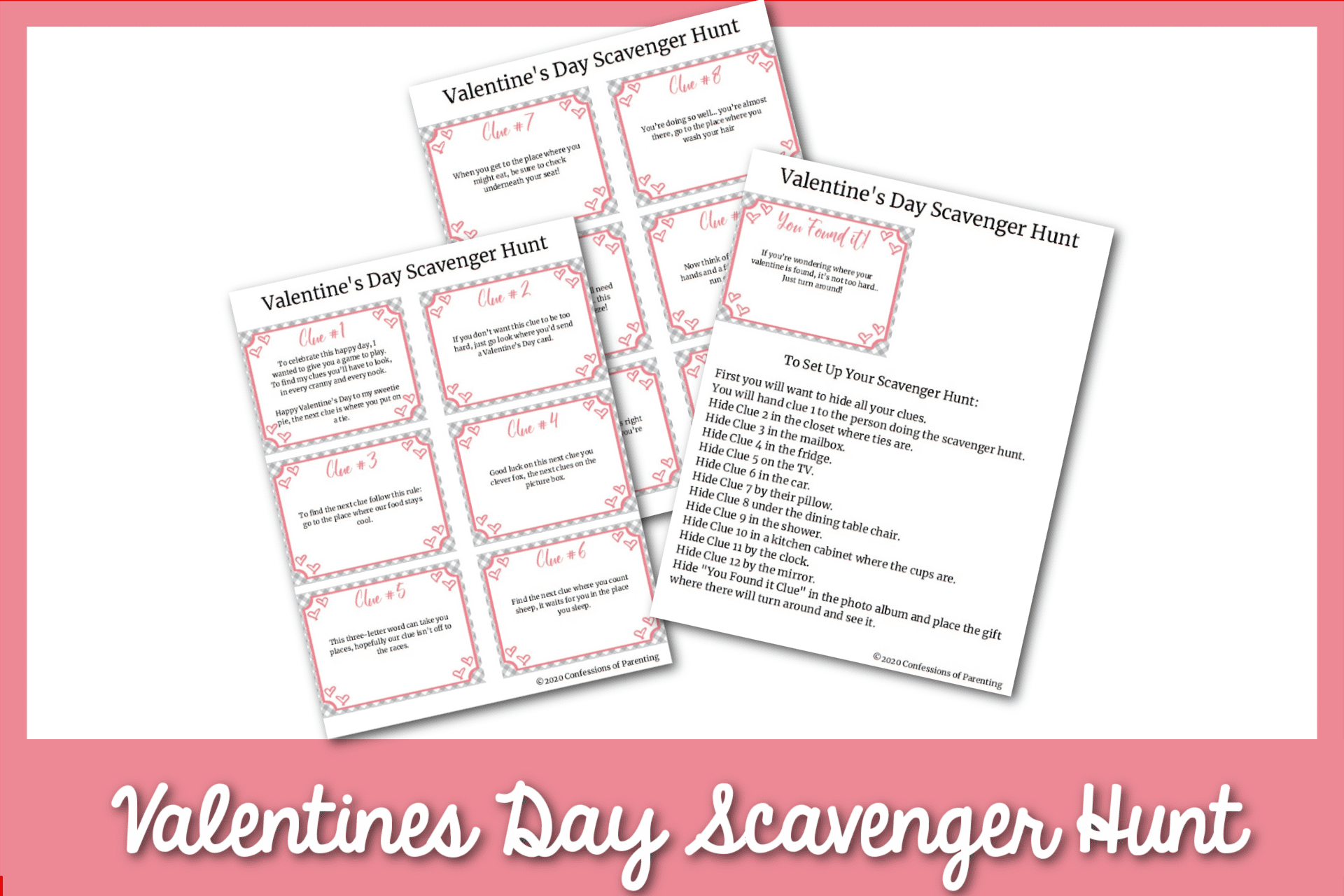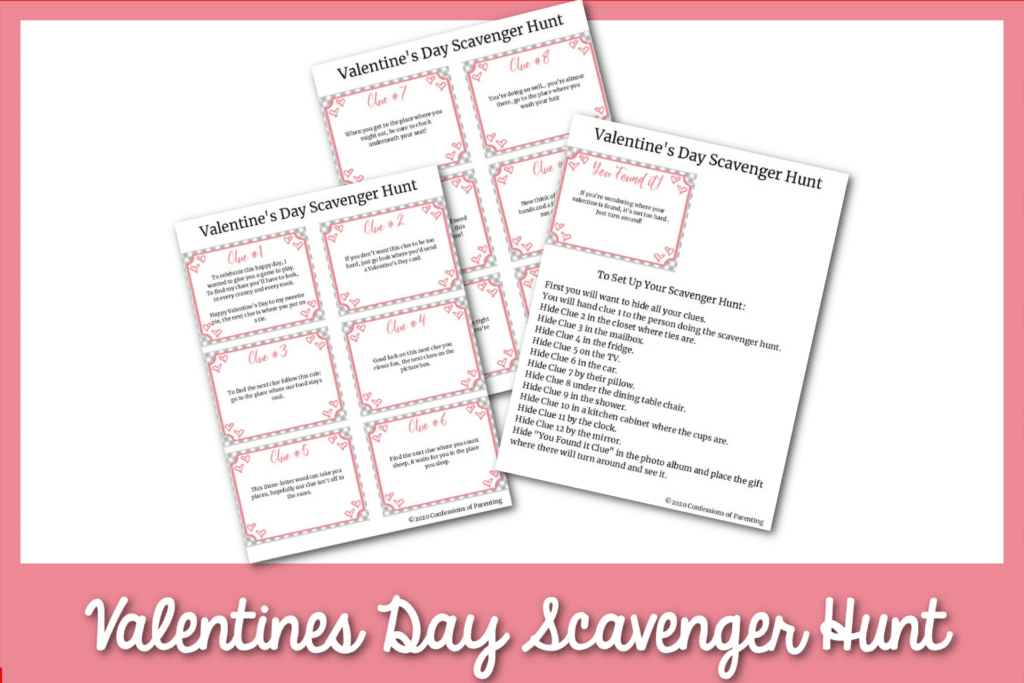 The Perfect Way to say, "I Love You!"
Valentine's Day is coming up and that means you are probably searching for the perfect way to tell the people in your life that you love them.
If you want something fun and unique for your family members, try a scavenger hunt! It's a great activity that will get the whole family involved.
Luckily for you, we have a scavenger hunt ready for you! All you have to do is hide the clues around your home and let the fun begin.
Valentine's Scavenger Hunt Idea

How to Setup your Scavenger Hunt
First, you will want to download the free Valentine's Day Scavenger hunt printable below.
Then you will print them out and cut them apart.
Once cut, you will want to put the clues around your home according to the clue. (Don't worry we give you the spots below!)
To spice it up you could add candy or trinket to each clue that they can collect as they do your Valentine's Day Scavenger hunt!
At the end of the last clue, it instructs the player to turn around for their Valentine's surprise. You could either stand behind them with a special gift or have it sitting behind the last clue!
This doesn't have to be anything big.
Maybe a teddy bear for your kids, or a printable kids coupon book.
For your husband, maybe a new tie or a box of chocolates or maybe a love coupon book!
Valentine's Day Scavenger Hunt with Clues!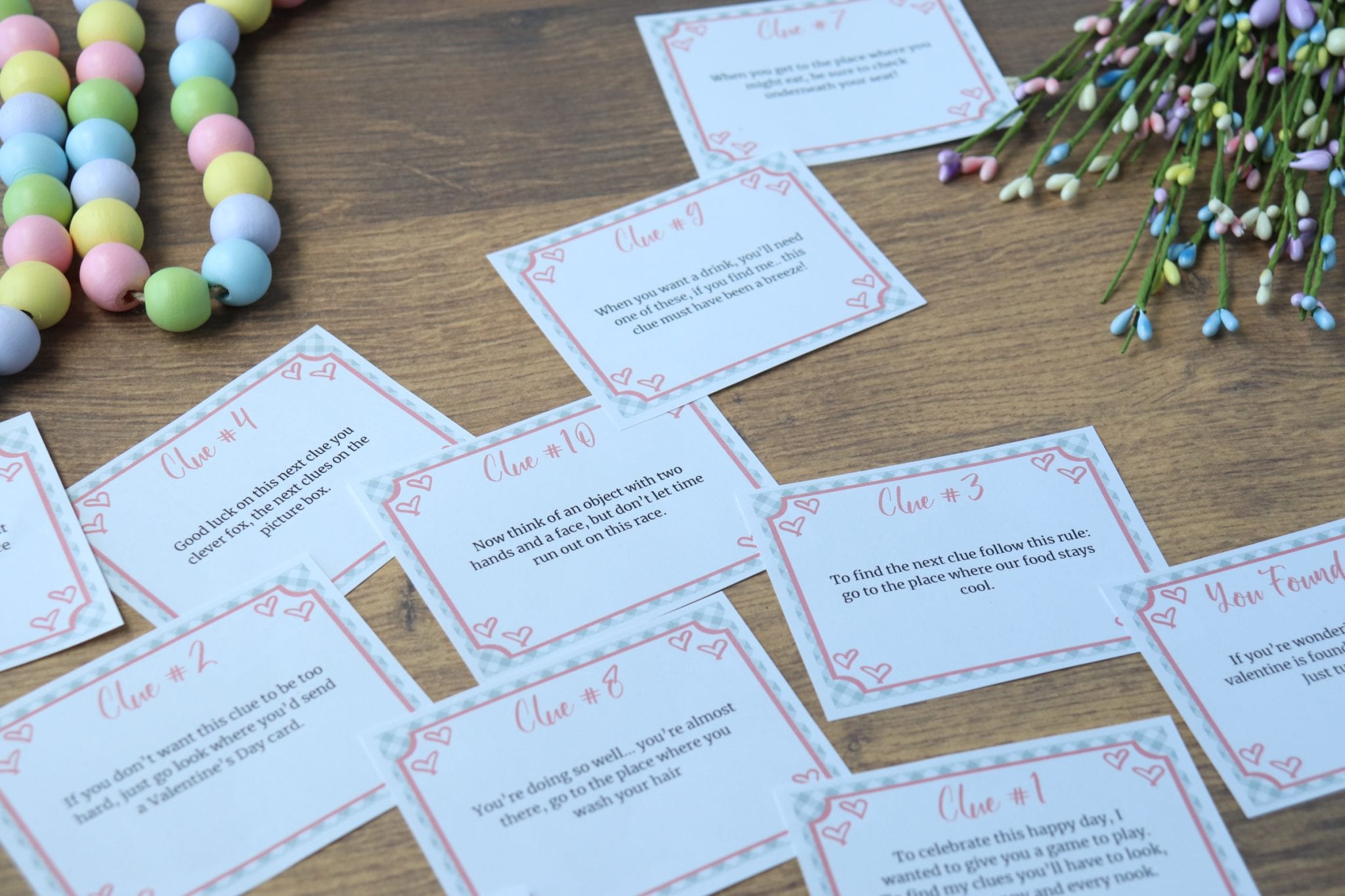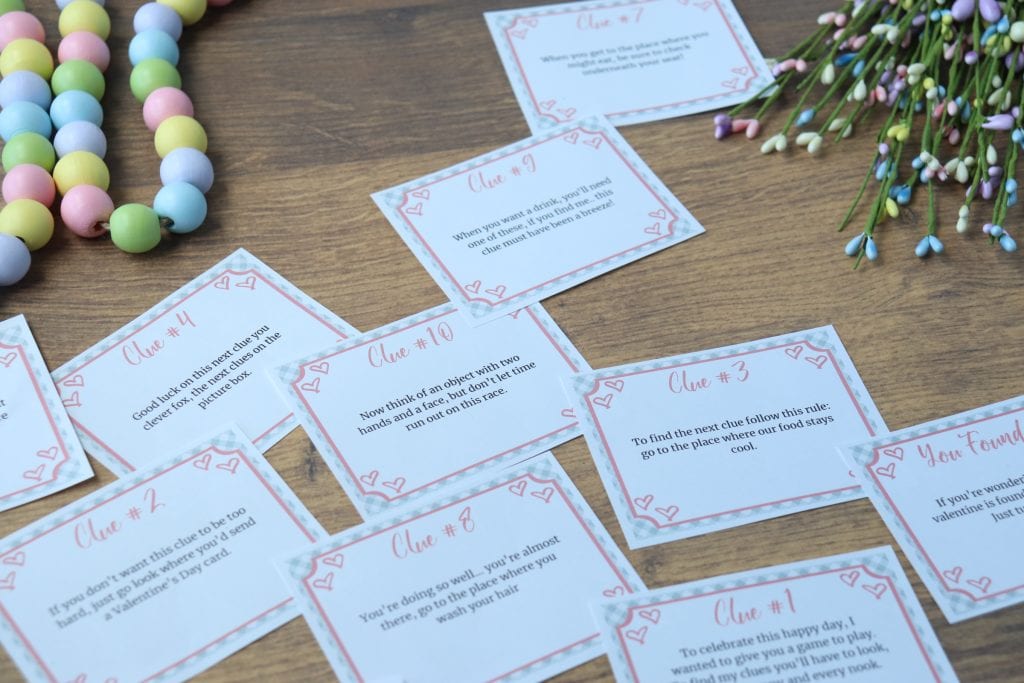 These clues would be great for your spouse, or your children that are 8 years or older. For your littles, we have a simpler version below.
The first clue you will hand directly to the person who is doing the scavenger hunt.
Clue #1: To celebrate this happy day, I wanted to give you a game to play. To find my clues you'll have to look, in every cranny and every nook.
Happy Valentine's Day to my sweetie pie, the next clue is where you put on a tie. (Place Clue #2 in the closet)
Clue #2: If you don't want this clue to be too hard, just go look where you'd send a Valentine's Day card. (place clue #3 in the mailbox)
Clue #3: To find the next clue follow this rule: go to the place where our food stays cool. (Place clue #4 in the fridge)
Clue #4: Good luck on this next clue you clever fox, the next clues on the picture box. (Place clue #5 on the TV)
Clue #5: This three-letter word can take you places, hopefully, our clue isn't off to the races. (Place clue #6 in the car)
Clue #6: Find the next clue where you count sheep, it waits for you in the place you sleep. (Place clue #7 by their pillow)
Clue #7: When you get to the place where you might eat, be sure to check underneath your seat! (place clue #8 under the dining table chair)
Clue #8: You're doing so well… you're almost there, go to the place where you wash your hair. (place clue #9 in the shower)
Clue #9: When you want a drink, you'll need one of these, if you find me.. this clue must have been a breeze! (Place clue #10 in a kitchen cabinet where the cups are)
Clue #10: Now think of an object with two hands and a face, but don't let time run out on this race. (Place clue #11 by the clock)
Clue #11: When you look at it, it looks right back, you're doing great, you're right on track. (Place clue #12 by the mirror)
Clue #12: All our memories in picture form, the last clue will make your heart feel warm. (Place the conclusion in the photo album)
Conclusion: If you're wondering where your valentine is found, it's not too hard… Just turn around!
Ready to grab your free scavenger hunt? Join our free Confessions of Parenting VIP Club to grab this freebie and hundreds more!
How Do I access my free printables?
Fill in the form above. You will receive an email in your inbox. If you don't see it, check your spam folder! You will then click to confirm your subscription. Once confirmed, you will be sent an email with your free printable.
How Do I Print a PDF?
You'll need a program that supports PDFs. Adobe Acrobat is a great option. Open the program, click File, then print. Select your printer and the number of copies you want to print. Be sure you click double-sided if you want it to print on both sides.
Can I resell these?
You may not resell any printable found on our website or in our resource library. You may use them for class parties, at church, at home, or in the classroom. You may get these printed at an office supply store or copy center at your own expense.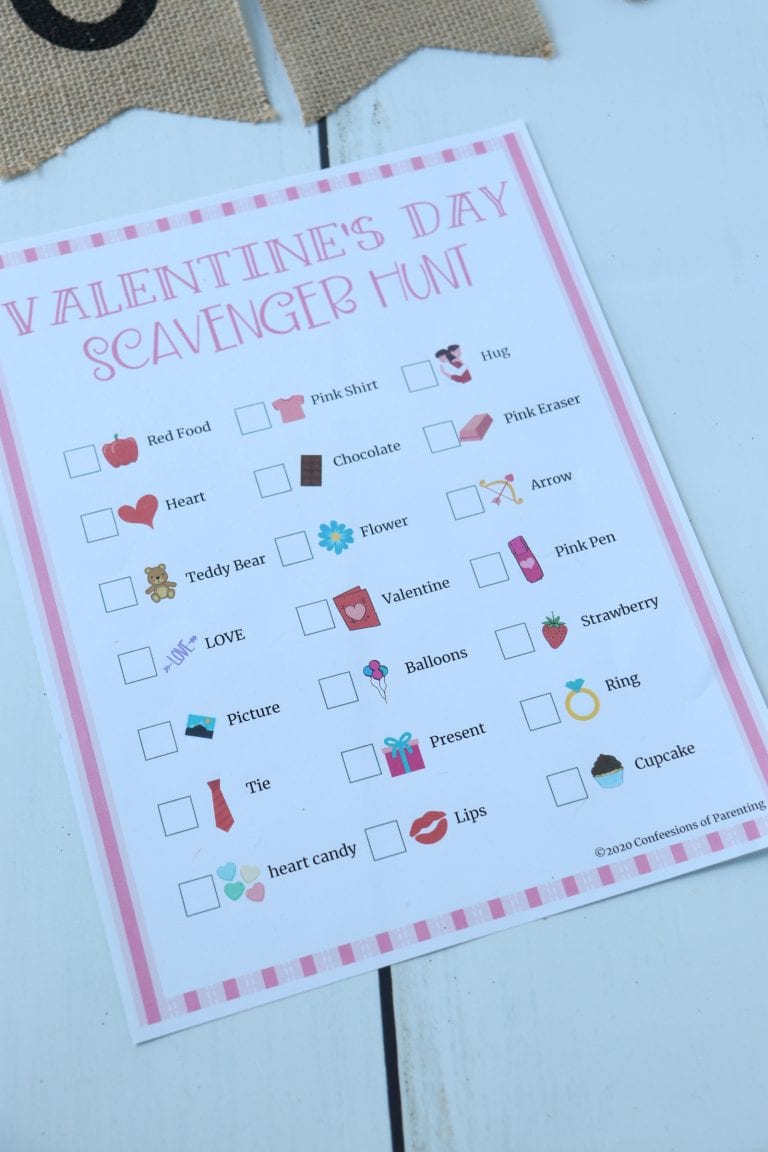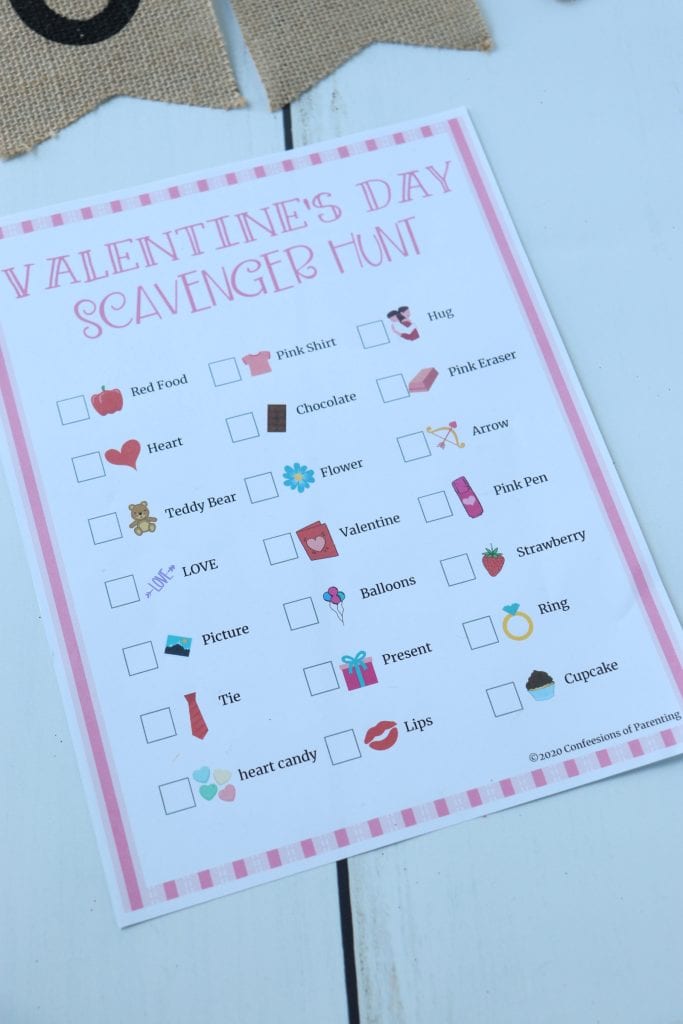 Do you have some mini scavengers? If you have littles at home that might not follow this scavenger hunt yet, we have an option for you too!
Instead of following clues, have your kids find all these Valentines themed items in your home. If they find them all you could reward them with a special treat.
Just grab our free Valentine's Day Picture Scavenger hunt below and print it!
Your little ones will love running all over and searching for these fun items! You could even get some fun valentine stickers or stamps that they can use to mark off the items as they get them!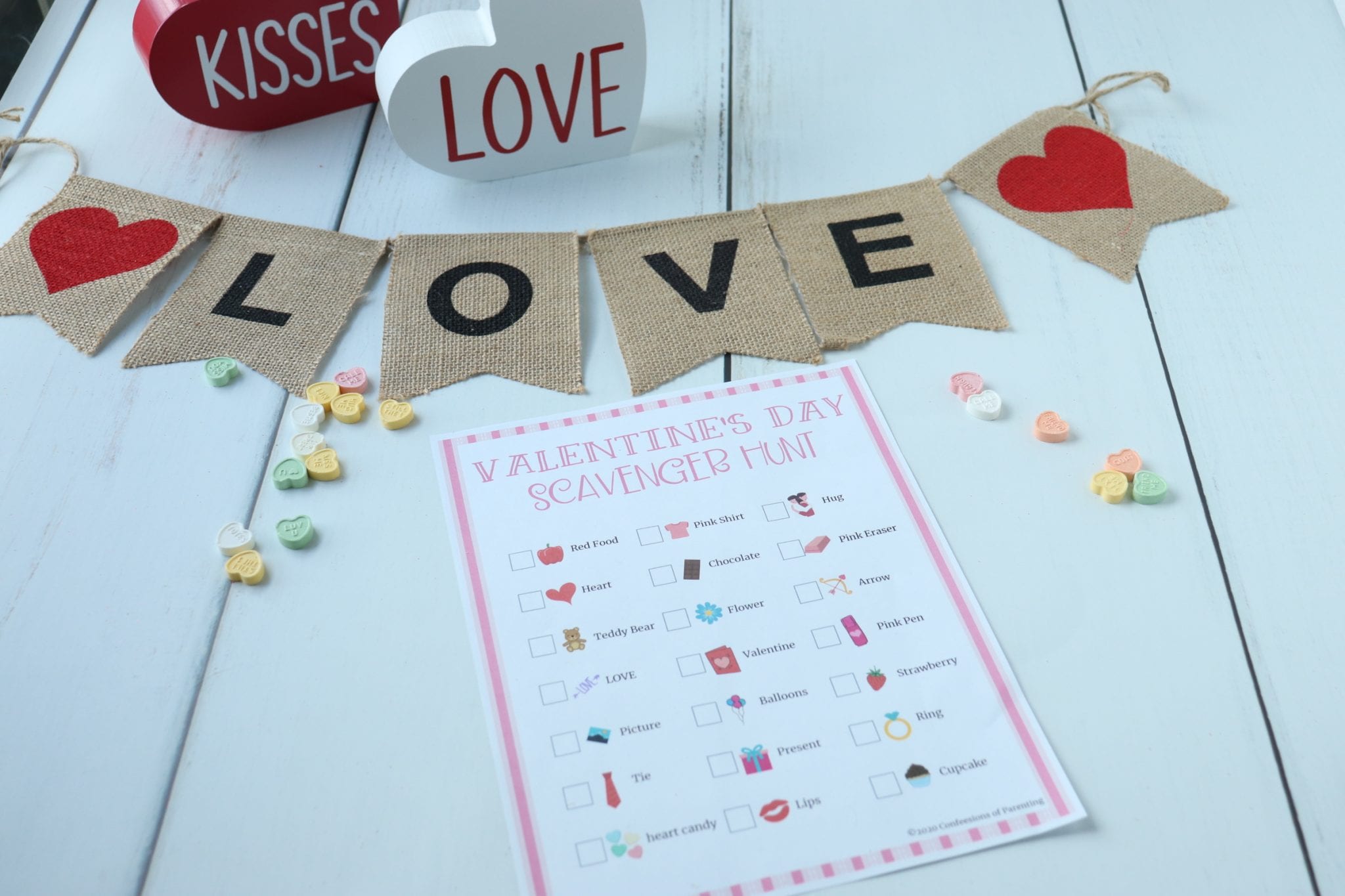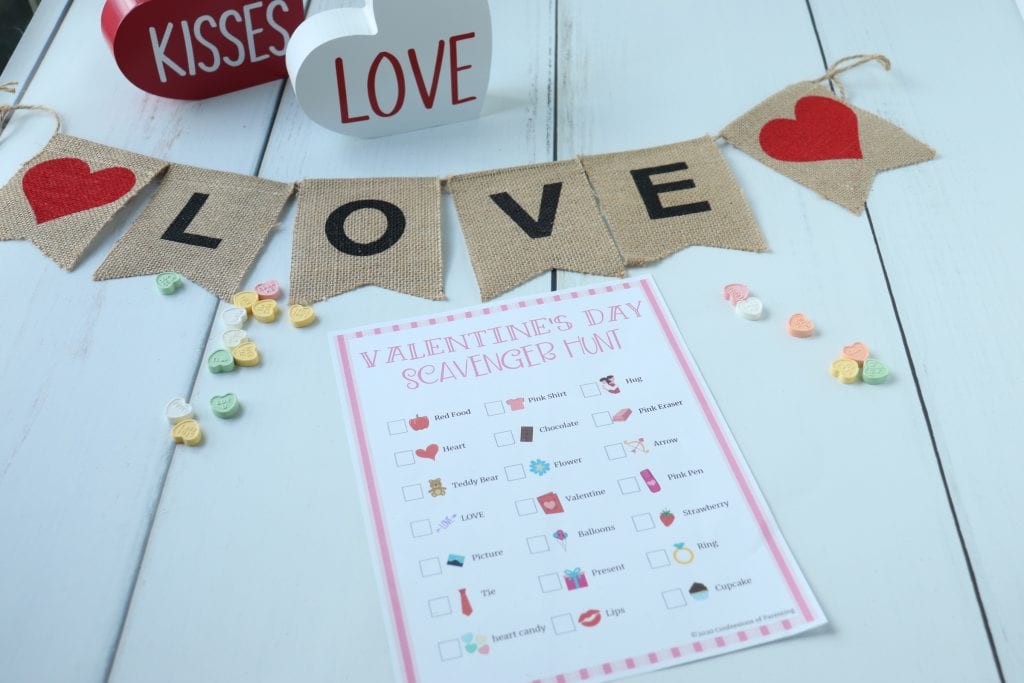 Valentine's Day Scavenger Hunt
A red food
A pink shirt
Something with a heart on it
Chocolate
A teddy bear
A flower
Something with the word "love"
Pink Pen
Picture
Balloons
An arrow
Strawberries
Conversation candy heart
Lips
Hug
Valentine
Pink Eraser
Ring
Tie
Cupcake
For More Valentine's Fun, check out these ideas!
Great Scavenger Hunt Ideas to Try