Groundhog Day Color By Number pages are a great way to commemorate this fun holiday to see if spring is on its way or 6 more weeks of winter! Download yours today!
Groundhog Day Color By Number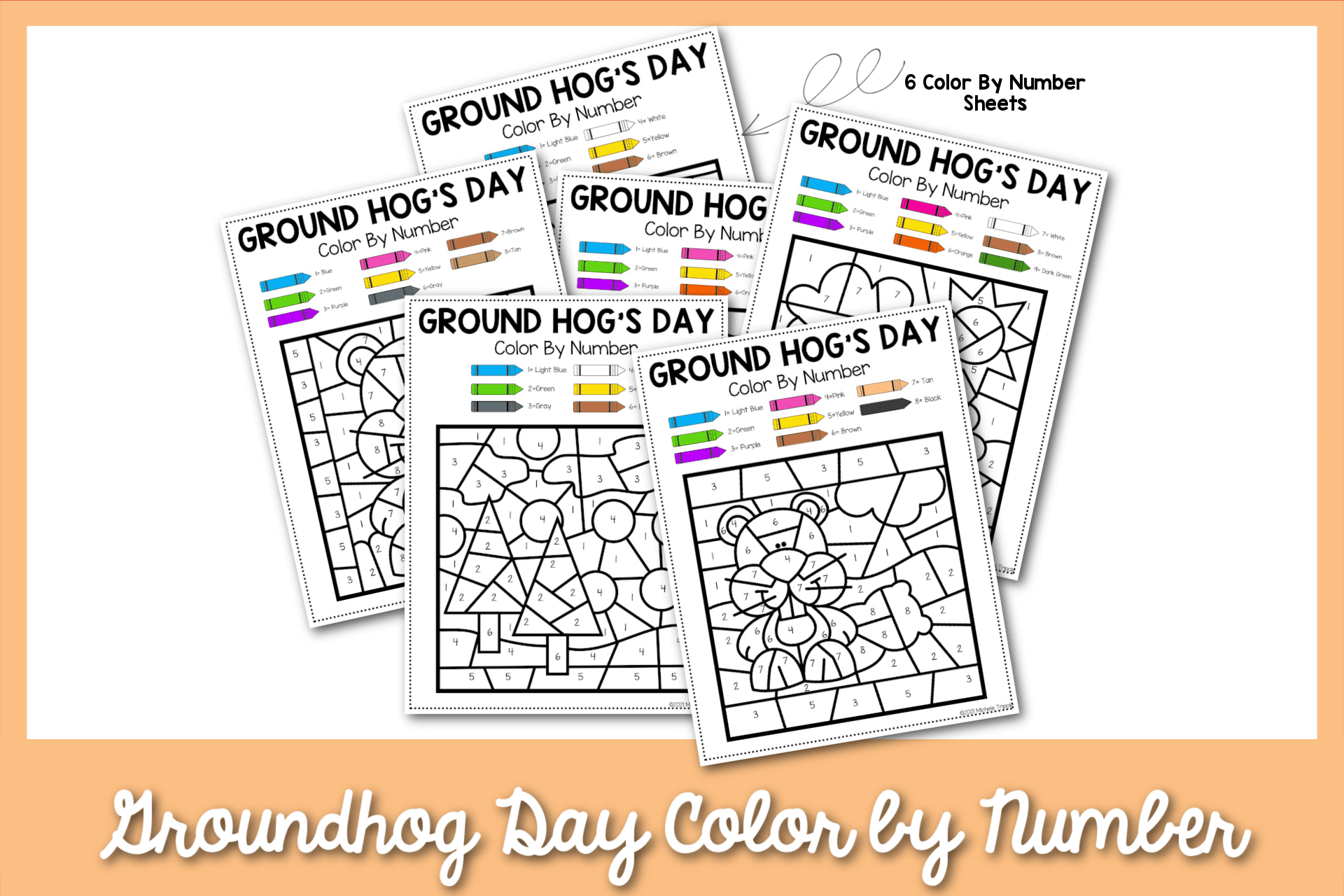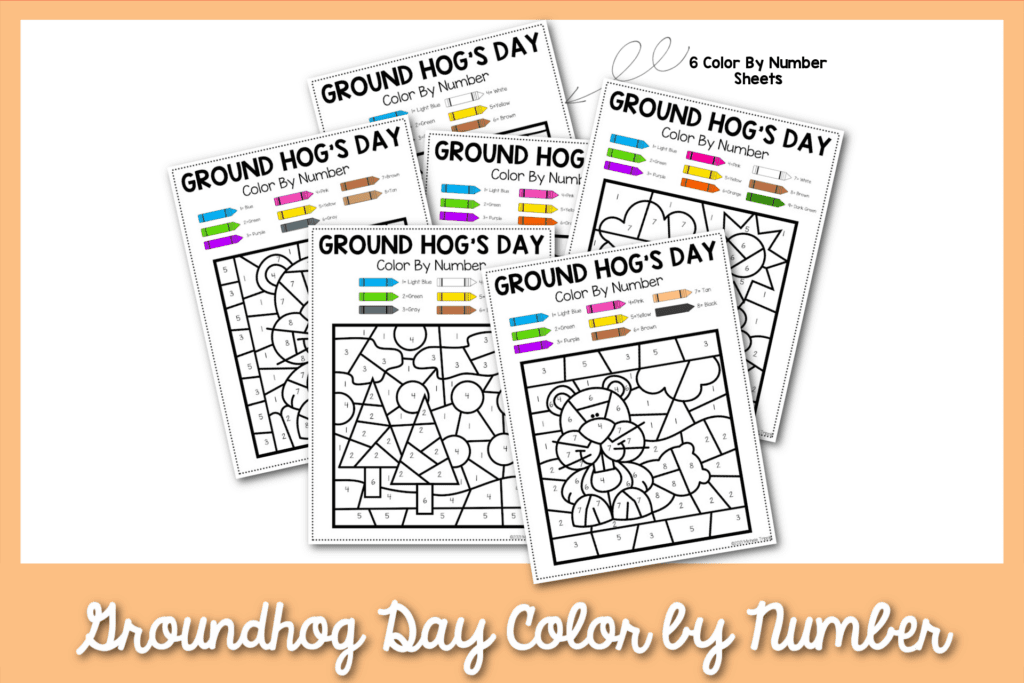 I don't know about you, but I love Groundhog day! It's such a fun holiday that carries a surprising amount of weight! I mean come on! A groundhog gets to decide if we get 6 more weeks of winter or not! Talk about luck right?!
These Groundhog Color By Number pictures are so much fun to do on Groundhog Day while you wait for the news on if winter will be longer or not. Depending on what the groundhog sees you can celebrate with either these Spring Color By Number pages, or these Winter Color By Number pages.
I can never remember if the groundhog sees his shadow means a longer winter or spring soon, so here's a refresher!
If the groundhog sees his shadow that means there will be 6 more weeks of winter. If he doesn't see his shadow that means spring is coming!
What's Included in these Groundhog Color By NUmber Sheets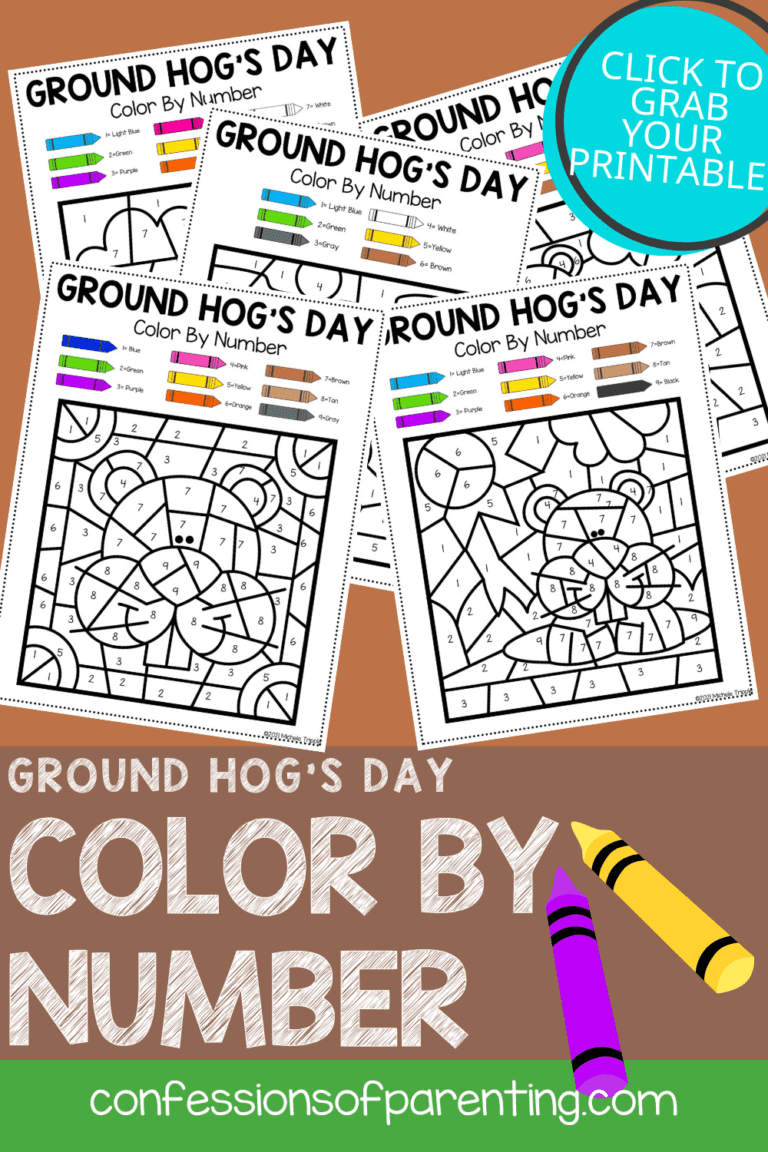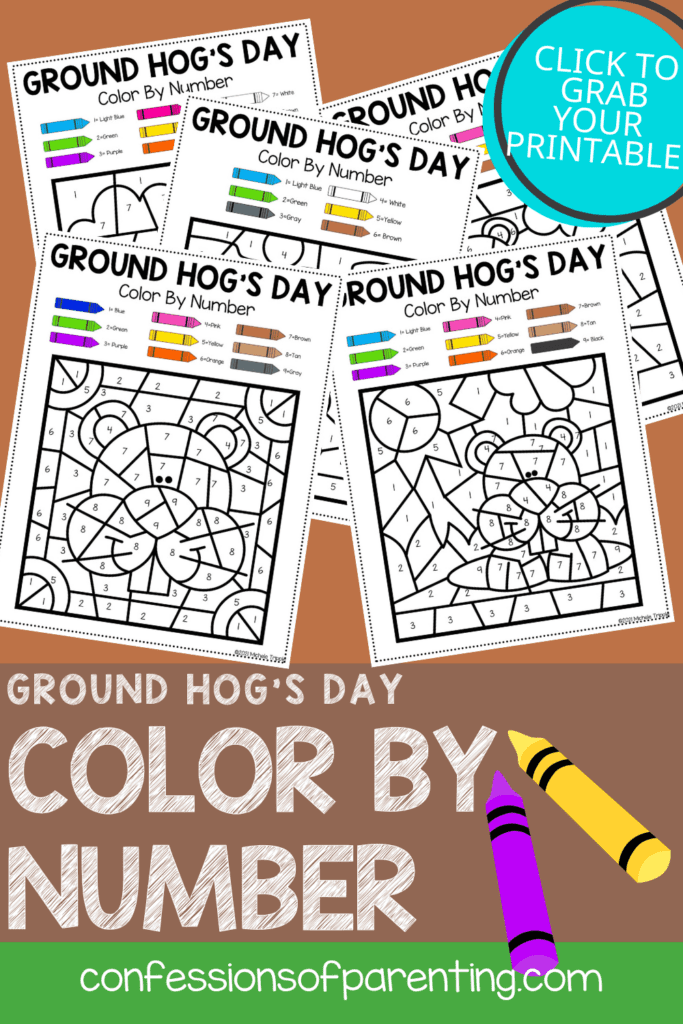 Groundhog and Sky
Trees
Flowers and Sunshine
Groundhog in the Ground
Groundhog face
Groundhog on a Hill
Want More Color By Number?
What are the Benefits of Color By Number?
There are so many benefits to color by number pages! Here are just a few!
Kids are learning all the time! Why not help reinforce the things they are learning with a fun activity! That's exactly what color by number pages do for your child!
They can practice reading the colors
Associate the names of the colors with the actual color of their crayon
Number recognition.
Hand eye coordination
Fine motor skills by learning to color in the lines.
They also learn how to focus and finish a task (even if that task is as fun as coloring a picture!)
I really think learning should be enjoyable! Color by number is the epitome of learning with fun!
How To Make Color By Number More Fun!
My kids love it when I enlarge their picture and make them poster size! Then they can color together, or just have a really awesome hand drawn poster to hang in their room! They insist on coloring with their jumbo crayons or with big washable markers when we make posters! It seems pretty fitting though!
Laminating the color by number pages is great as well for multiple uses! They last forever it seems like and my kids can color on the same page over and over! Just pull out the dry erase markers, (or wet erase if your kiddo likes to savor their creations a little longer) and you're all set!
Groundhog Day Coloring Pages
Ready to grab the whole collection of Groundhog color by number pages? You can grab them right here! If you want to try a sample first, be sure to join our free Confessions of Parenting VIP club to try a free sample first!
Helpful Tools We Love When Downloading Printables
Printer– I love my HP+ printer that uses Instant Ink. I love it because we can use as much color ink as you want for one low cost starting at $.99/ month for ink. Try it out for free here!
Cardstock- I always recommend printing on cardstock. This makes it way more durable so you don't have to worry about printing it time and time again.
Laminator / Laminating Sheets- Again, for added durability, grab a laminator and laminating sheets so that you can use this again and again!
Scissors (I seriously love these ones)
Dry Erase Pens- Use dry erase pens so that you can wipe your laminated printable clean over and over again for endless use!
More Color by number Worksheets to try
And if you want some great coloring Pages try these!
How Do I access my free printables?
Fill in the form above. You will receive an email in your inbox. If you don't see it, check your spam folder! You will then click to confirm your subscription. Once confirmed, you will be sent an email with your free printable.
How Do I Print a PDF?
You'll need a program that supports PDFs. Adobe Acrobat is a great option. Open the program, click File, then print. Select your printer and the number of copies you want to print. Be sure you click double-sided if you want it to print on both sides.
Can I resell these?
You may not resell any printable found on our website or in our resource library. You may use them for class parties, at church, at home, or in the classroom. You may get these printed at an office supply store or copy center at your own expense.