This Halloween Coloring Book is the perfect addition to your Halloween festivities this year! If you or your kids like to color, you need to grab this printable coloring book!
Halloween Coloring Book
Coloring is a huge pastime in our home. I can't resist getting new coloring books as the seasons change and holidays come and go. So when the weather gets colder and we start seeing pumpkins and ghosts all over, having a Halloween coloring book is a must!
Cue this spooky and cute printable Halloween coloring book!
My kids can't wait to get started coloring theirs. And luckily, since it's a printable version I can have it ready in just minutes.
If you haven't grabbed yours yet, you need to check it out below! And don't miss out on even more coloring fun! Grab our Ladybug coloring pages, or Donut coloring pages too!
Why You Need These Cute Halloween Coloring Pages
This Halloween coloring book is just filled with cute Halloween coloring pages! They are full of all your favorite Halloween characters and creatures. Each page has a simple design that anyone from toddlers to adults will enjoy.
I just love a kid-friendly coloring book that makes everyone in my family excited to color, me included!
So get ready! You can have these coloring books at home, bring them to a classroom as a learning activity, hand them out at a party, and more. You don't want to miss this printable!
Benefits of Coloring Books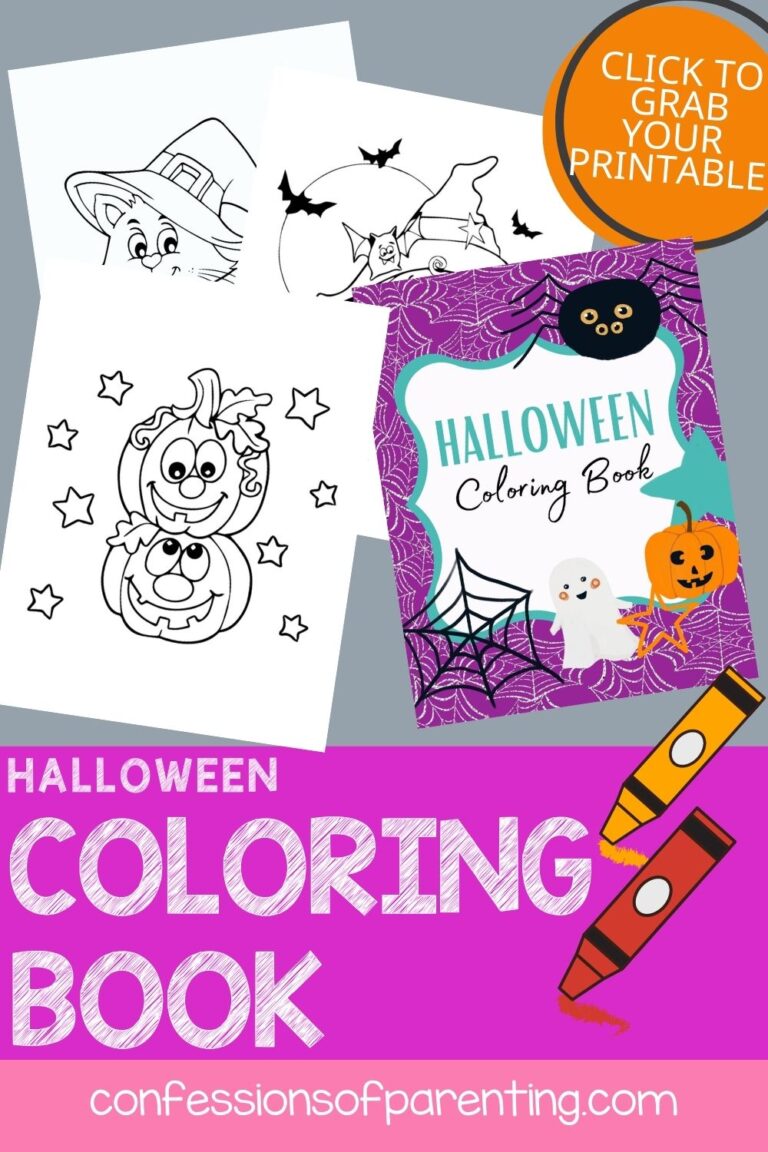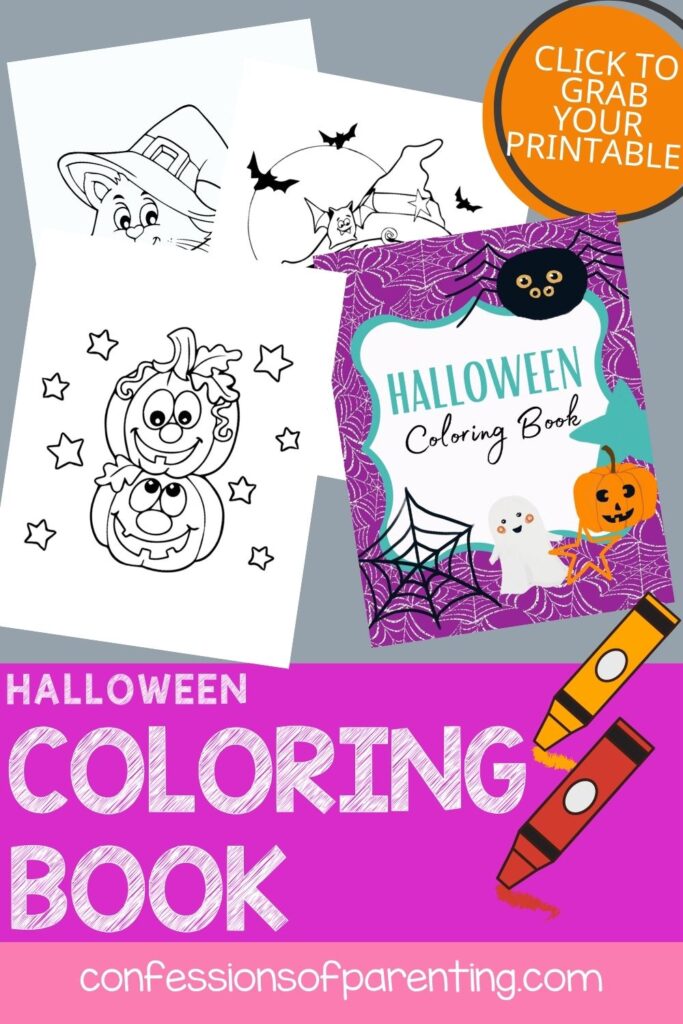 If you aren't convinced yet, just think about all the amazing benefits of coloring!
Coloring can help with motor skills, increase vocabulary, improve color recognition, strengthen focus and discipline, and help build attention skills. It can also help with anxiety, clear the mind, and lower stress!
And when you add a Halloween twist to coloring, it just makes it even more fun and inviting for your kids!
Ways to Use This Halloween Coloring Book
After you've printed and assembled your Halloween coloring book, you are ready to sit down and color! But if you want even more fun, here are a few ways to get creative with your coloring this fall.
Play Color-Switch
Grab a timer and set it for 2-3 minutes (or perhaps longer if you are playing with younger kids). Take turns coloring until the timer runs out and then pass them to someone else.
Then that person will color until the timer runs out! Keep passing around the page until it's completely colored and see how wacky and fun it turns out!
Laminate
My laminating machine is always working overtime, and these Halloween coloring book pages give me another excuse to get it out!
Instead of using the classic coloring tools, laminate your pages with a machine or with self-adhesive laminating sheets and use expo markers on the pages instead.
Pro-tip! This is a great road trip activity!
Give them as alternative trick-or-treat goodies
There's plenty of candy and treats on Halloween, so I often try to find alternatives to the classic treats to give to kids at parties or during trick-or-treating.
Giving this coloring book with a Halloween pen is a great fun gift without all the stomach aches!
Make it a pre-trick-or-treat activity
Anyone else have kids that are ready to trick-or-treat the second they wake up on Halloween morning? Mine sure are!
Try having some planned activities like a Halloween coloring book, playing Halloween This or That, or making a fun treat (Swiss Roll Bats are our personal favorite)!
How to Assemble Your Halloween Coloring Book
To make your coloring book, you'll start by printing out the downloaded pages. You can do this right at home or send it out to your favorite local print shop.
If you choose to print your book at home, you can use some staples or punch holes in the side and put the pages in a binder. Or you can simply leave the pages separate and get them out as you need them.
If you are sending the book to a print shop, they'll often have various binding options like rings, spirals, or classic book binding.
Printable Halloween Coloring Book
Ready for your Halloween coloring book? You can download the whole book right here, or you can download a sample below to check it out!
Helpful Tools We Love When Downloading Printables
Printer– I love my HP+ printer that uses Instant Ink. I love it because we can use as much color ink as you want for one low cost starting at $.99/ month for ink. Try it out for free here!
Cardstock- I always recommend printing on cardstock. This makes it way more durable so you don't have to worry about printing it time and time again.
Laminator / Laminating Sheets- Again, for added durability, grab a laminator and laminating sheets so that you can use this again and again!
Scissors (I seriously love these ones)
Dry Erase Pens- Use dry erase pens so that you can wipe your laminated printable clean over and over again for endless use!
More Color by number Worksheets to try
And if you want some great coloring Pages try these!