I love wintertime and these Winter Color by Number pages are a fun way for my kids and me to spend time together when it's chilly outside.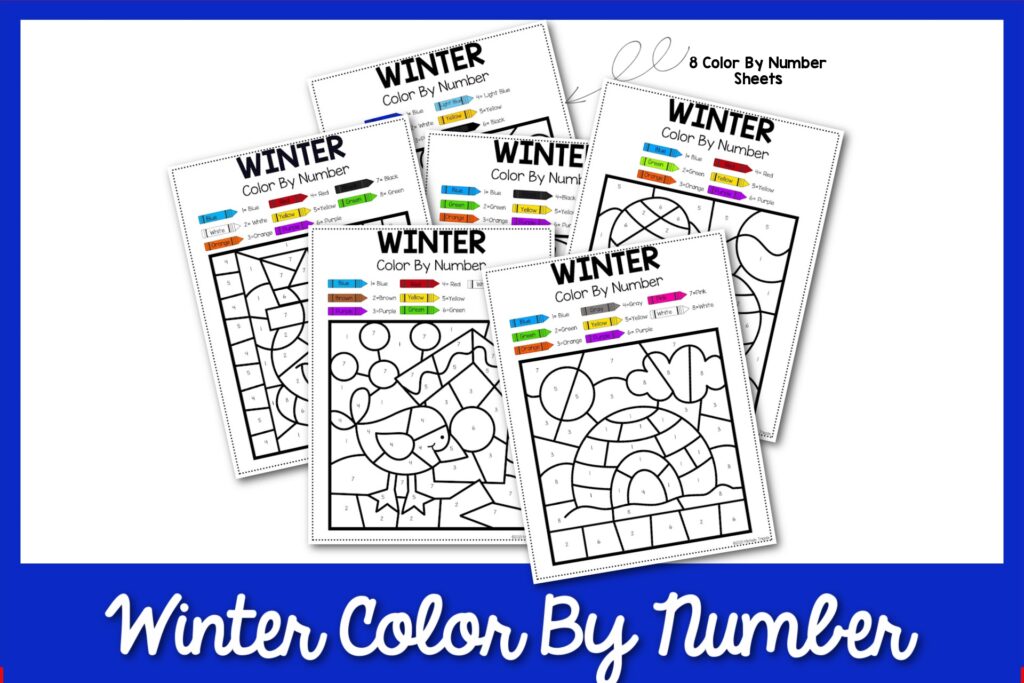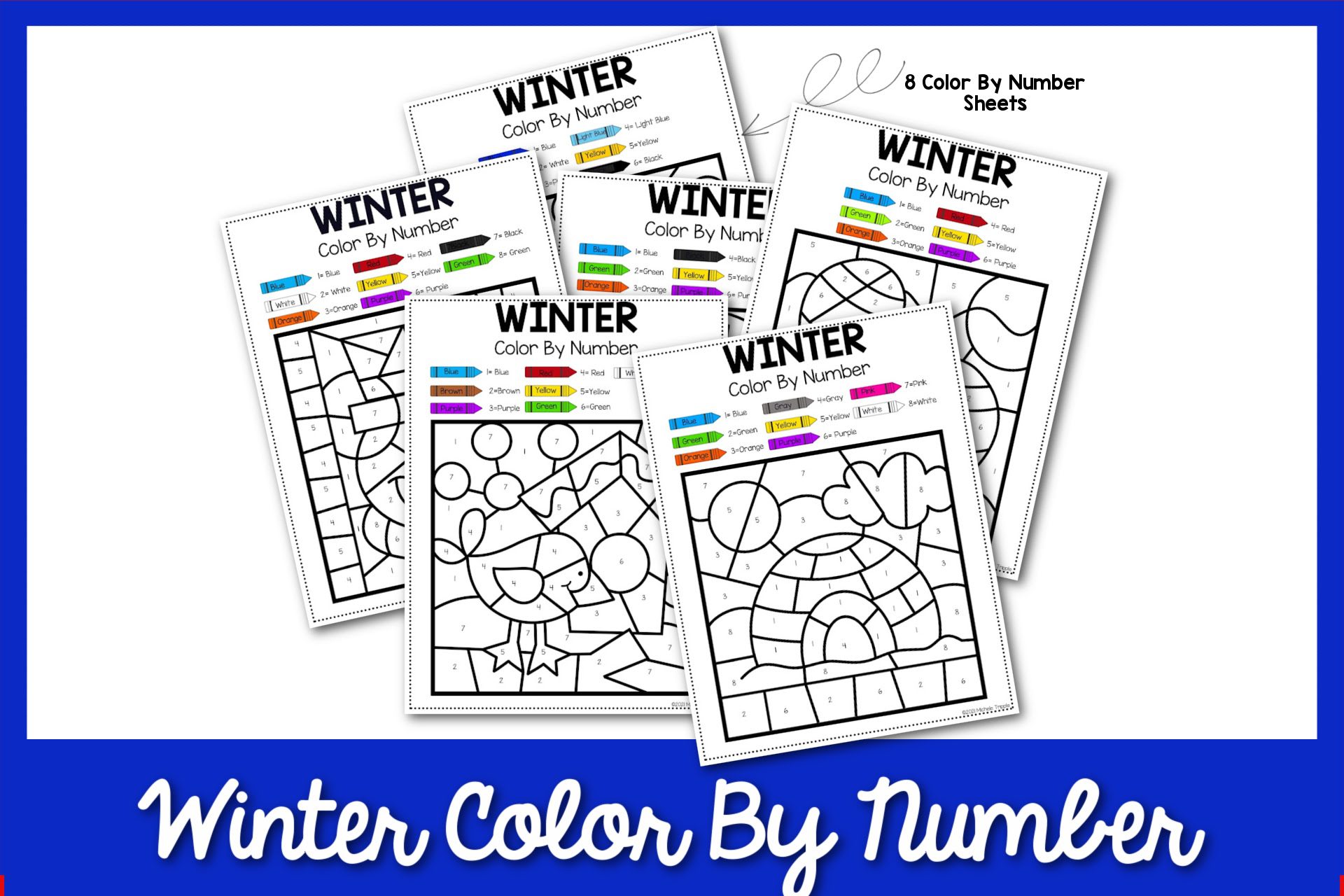 Winter Color By Number
There are so many fun outside activities kids can do during winter. But what about good inside activities? I love Winter Color by Number pages! My kids and I can spend the afternoon inside with some delicious homemade hot cocoa while we watch the snow fall. We color and talk together, it's some of my favorite times with them!
We take Color by Number pages with us everywhere! This year we've used the Winter Color by Number pages as we've gone to look at Christmas lights, as a distraction in the store when I'm buying Christmas presents, as an inside lazy day activity, and so many other places!
Another thing I really love about these pages is that my kids are secretly practicing their learning skills! I feel like such a professional mom! My kids are learning without knowing it and it's fun for them!
Add these Winter Color by Number Sheets to a couple other winter-themed activities and you have a COOL party! Check out our Winter Riddles, Snow-tastic Jokes, Winter Bingo, Winter Minute to Win It Games and Winter Scattergories for more winter ideas!
What Does This Winter Color by Number Pack Include?
Snowman
Penguin
Mittens
Snowglobe
Bird House
Igloo
Scarf and Hat
Hot Chocolate
Do You Want More Color By Number Pages? Check these out!
There are Color by Number pages for every season!
What are the Benefits of Color by Number?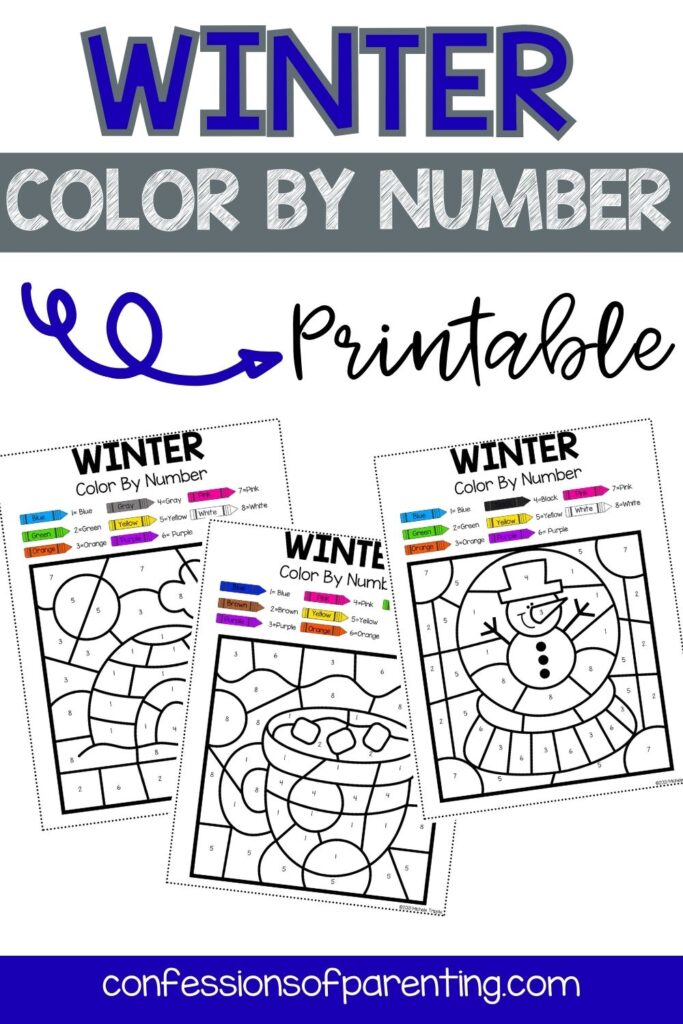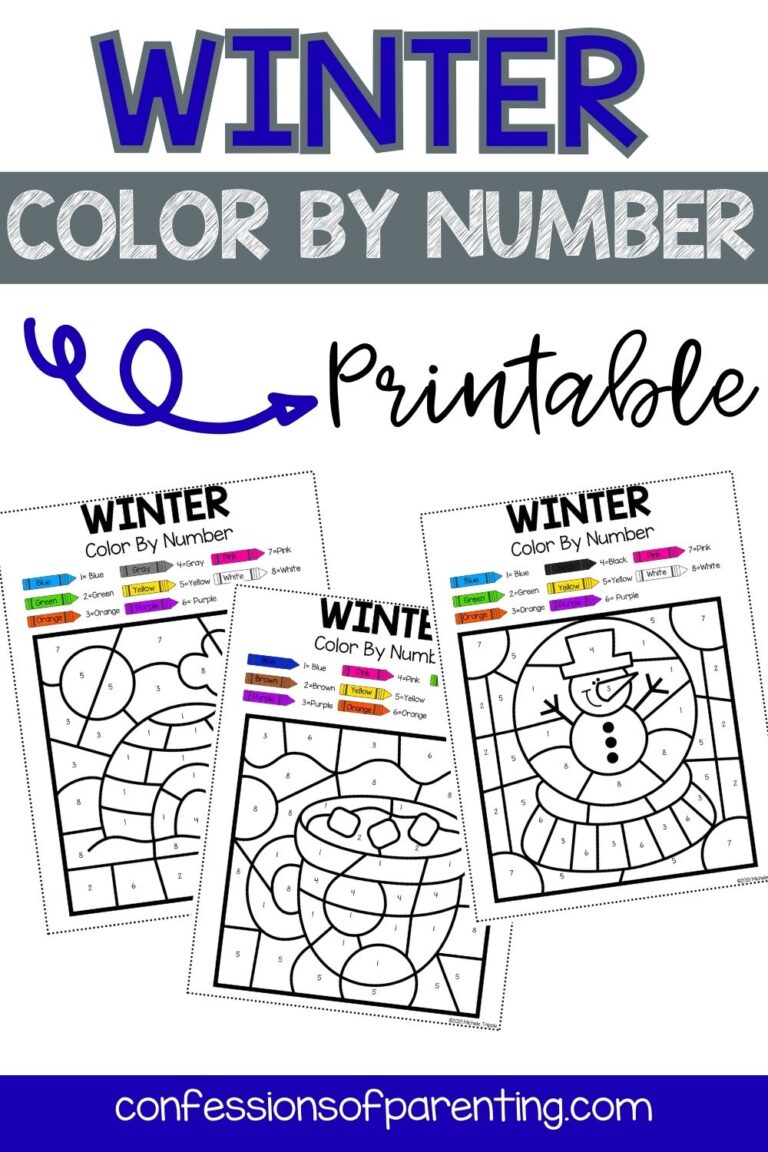 Little kiddos are learning so much! They are learning their colors, numbers, letters, and gaining more and more fine motor skills. Color by Number pages help children (especially younger children) reinforce those important skills!
These pages contain up to nine colors to practice with so they are learning nine colors and the numbers 1-9. Each of the little crayons in the key are labeled and colored so that children can associate the color they see with the letters that go with it. They feel a lot of pride when they finish their drawing too! I can't tell you how many pictures we have hanging on the fridge that are from our color by number collections!
How to Make Winter Color by Number Even More Fun!
It's one thing to keep printing out these amazing pages for your kids to keep coloring on, but it's another thing to laminate each page so that they can color on the same page over and over! Just grab some dry erase markers (that have tons of colors like these) and your kids will be set! I've found that printing these pages on cardstock works best whether or not I laminate them!
Enlarging these pages is a great way to encourage cooperation because a few kiddos can work on the picture at the same time. It also just looks amazing when you're done! My kids have some of their favorites hanging up in their rooms like posters.
When I'm out and about and my kids need something to do clipboards have become my life saver! Especially the storage clipboards! They are amazing! My kids can keep their coloring pages, crayons, pencils, markers, and whatever else they might have brought with them all in one place.
Winter Color By Number Worksheets
We know that your kids are going to love these Winter Color by number worksheets! You can grab the whole collection right here which includes 8 sheets! But if you aren't quite ready, you can grab a sample below by joining our email list!
Here's More Winter Fun!
There is so much family fun to be had in the winter! Winter is the perfect time of year to play games with the family! It's cold outside, you get to bundle up, and there are so many fun festive treats to make too!
Here are some of my family's favorite winter activities and treats! I hope you enjoy!
We love playing Winter Would You Rather. It's a game you can literally play anywhere! We will play when we are waiting in line at the drive through, while we are grocery shopping, as a family dinner activity and more! It's so fun!
Winter Bingo is another one of our family favorites! It's great for a small family activity, or part of a larger family gathering!
Here's a whole list of winter family adventures!
What did your kids think? Tell us in the comments and share with your friends!
More Color by number Worksheets to try
And if you want some great coloring Pages try these!
How Do I access my free printables?
Fill in the form above. You will receive an email in your inbox. If you don't see it, check your spam folder! You will then click to confirm your subscription. Once confirmed, you will be sent an email with your free printable.
How Do I Print a PDF?
You'll need a program that supports PDFs. Adobe Acrobat is a great option. Open the program, click File, then print. Select your printer and the number of copies you want to print. Be sure you click double-sided if you want it to print on both sides.
Can I resell these?
You may not resell any printable found on our website or in our resource library. You may use them for class parties, at church, at home, or in the classroom. You may get these printed at an office supply store or copy center at your own expense.