These Martin Luther King Jr Color By Number pages are a great way to teach your children about Martin Luther King Jr. and all the wonderful things he accomplished in his life.
Martin Luther King Color By Number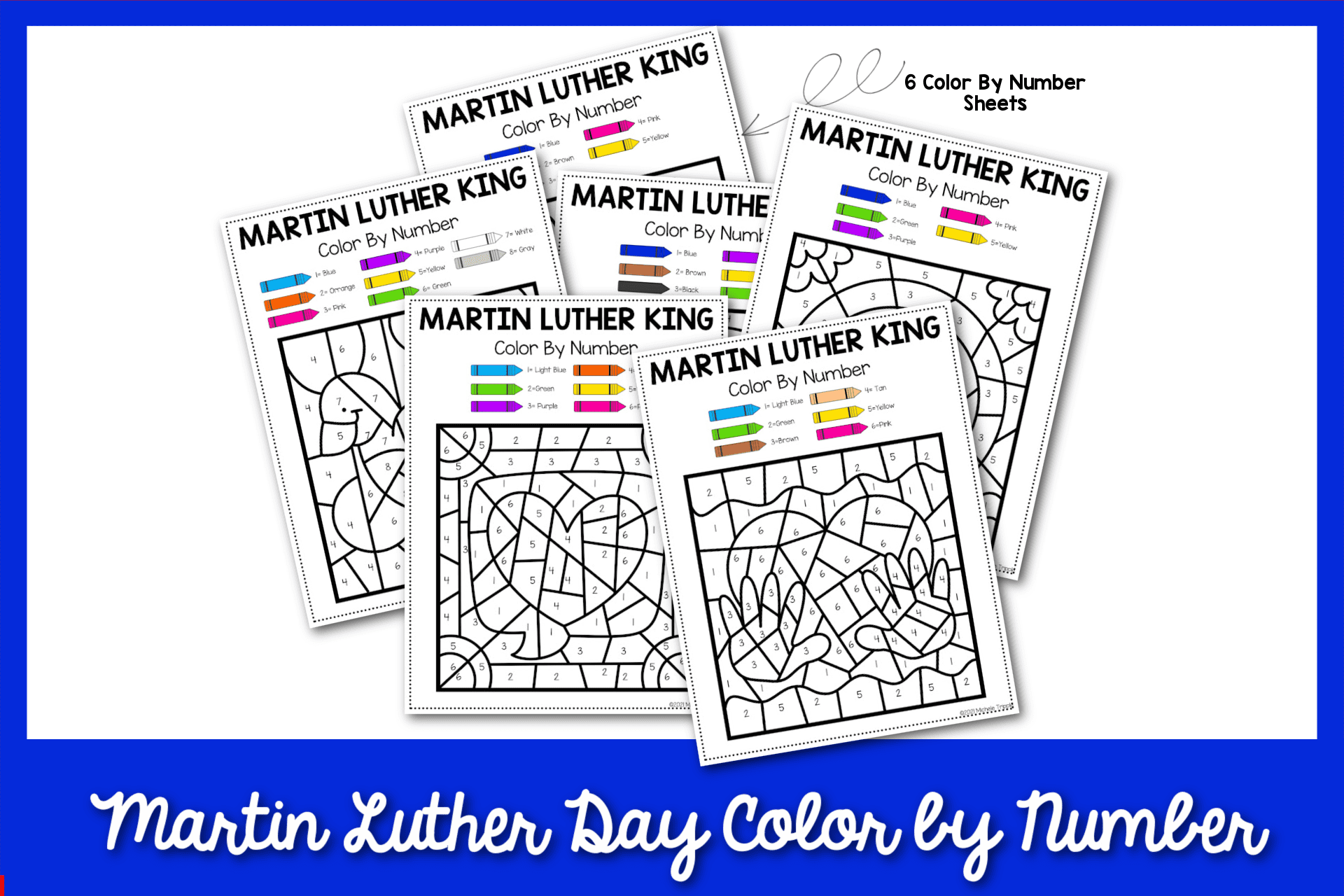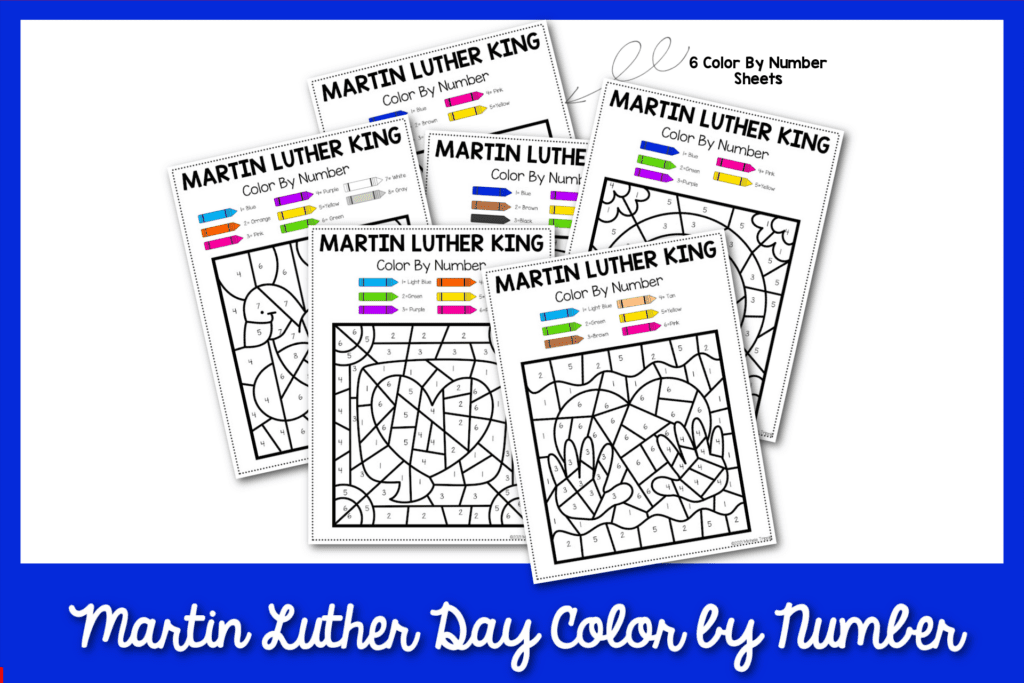 I know my kids understand things better when I can teach them with an interesting activity. Martin Luther King Jr. Color By Number pages are interactive and fun for kids. I can teach my children about peace and respect towards others when we color together. They are able to talk to me about their experiences and it really helps us get closer as a family. They have shared times when people were kind to them and times when people weren't kind and how to handle those instances.
Since we've colored these pages they have been more aware of how their actions affect other people. It's been awesome to see them sticking up for other people just like Martin Luther King Jr did.
These pages can seriously be used anywhere! They are a good distraction when we are out and about, have a day inside, learning in school and so on. I love how versatile they are because it allows me to stay busy doing my thing and promotes learning and growth.
These color by number pages are a great addition to our entire collection. Some of our other favorites are Veterans Day Color By Number and our 4th of July Color By Number.
What's Included in these Martin Luther King Jr. Coloring Sheets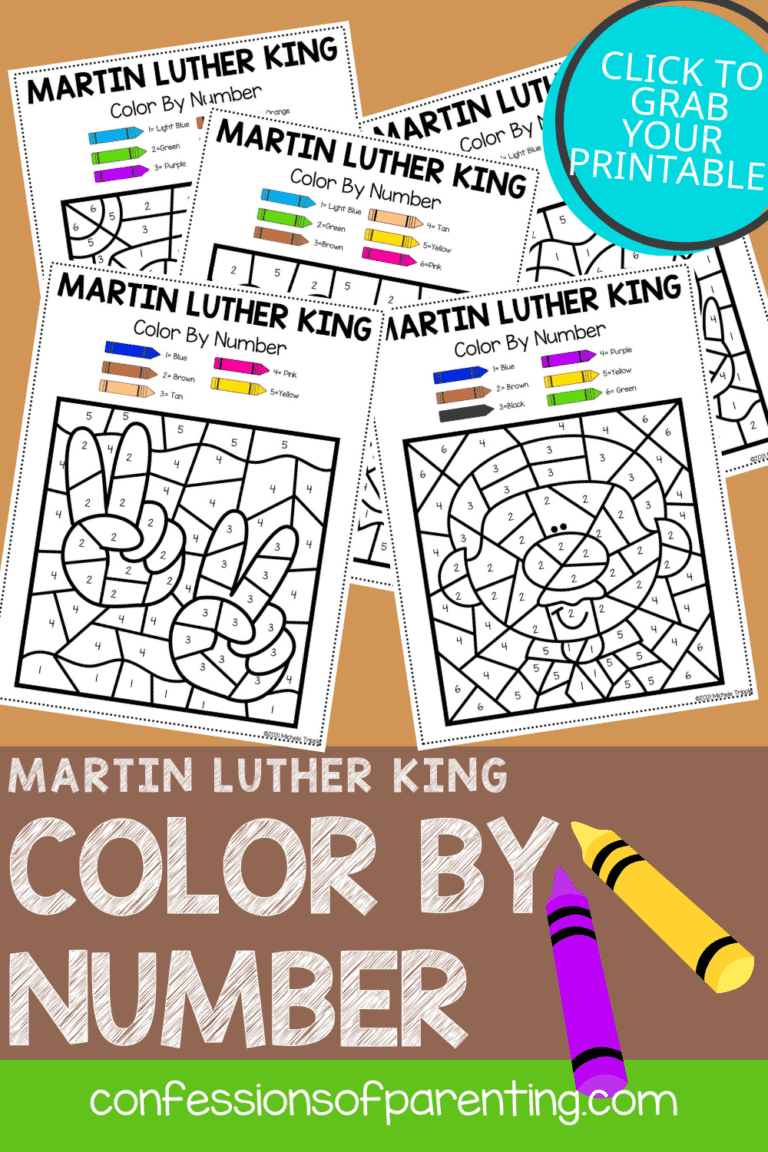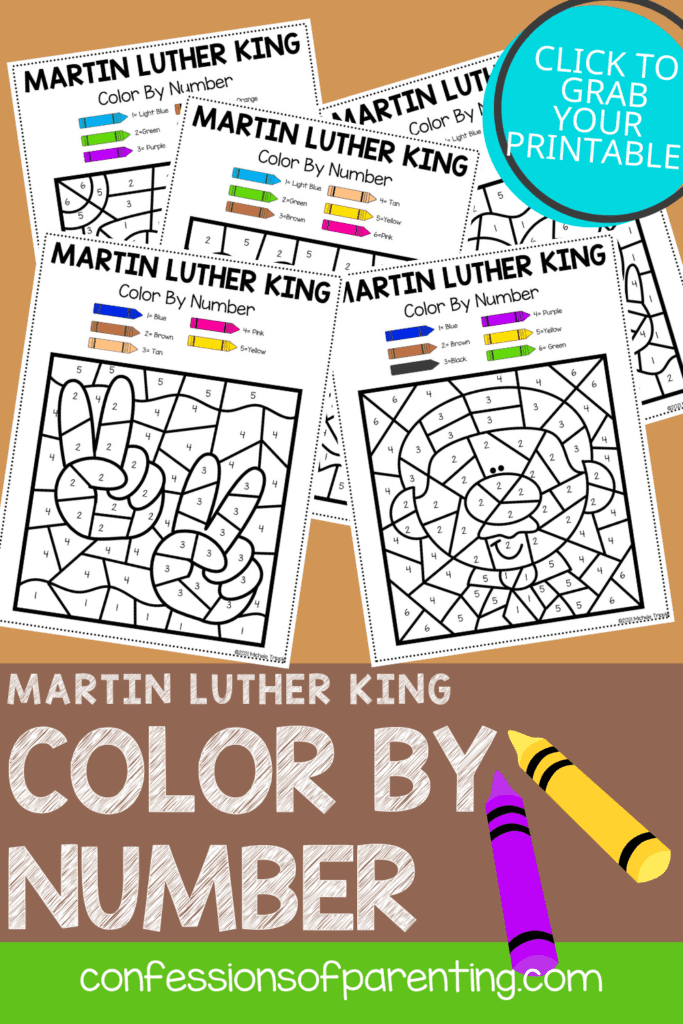 A Heart Speech Bubble
Hands in a Heart
Peace Symbol
Peace Hand Sign
Martin Luther King Jr.
A Dove
What are the Benefits of Color By Number?
There are many benefits to color by number! You children can learn to associate the name of colors to the color of their crayons, they can practice their counting and number skills, they can learn to focus on a task and see it through. As cliche as it might sound, it's important to learn how to color in the lines too. That means your kids are getting better at their hand-eye coordination and their fine motor skills. All these skills and more can be learned and reinforced with color by number pages.
I love it when I find activities my kids love that include the added bonus of learning and sharpening their skills. These Martin Luther King Jr coloring pages are unique in that they can learn a little more about the world and some of our country's history and heroes. Martin Luther King Jr really was a great man and now you kids can know it too!
How To Make This More Fun!
You can blow these pages up to poster size and color them with jumbo crayons. I know I would have loved this as a kid! When your kids are done they can hang their masterpiece poster in their room.
If you want to be able to reuse these pages, laminators will be your best friend! We just print one copy of the color by number set, laminate, and you are good to go for a long time. My kids color in the numbers with dry-erase markers. If your kids want their creations to last a little longer you can use wet-erase markers. All you need is some water and paper towels to wash that off.
Martin Luther King Coloring Page
Ready to grab the whole collection of Martin Luther King Jr. Color by number pages? Grab them right here! If you want to try a sample first, be sure to join our free Confessions of Parenting VIP club to set your free sample!
More Color by number Worksheets to try
And if you want some great coloring Pages try these!
How Do I access my free printables?
Fill in the form above. You will receive an email in your inbox. If you don't see it, check your spam folder! You will then click to confirm your subscription. Once confirmed, you will be sent an email with your free printable.
How Do I Print a PDF?
You'll need a program that supports PDFs. Adobe Acrobat is a great option. Open the program, click File, then print. Select your printer and the number of copies you want to print. Be sure you click double-sided if you want it to print on both sides.
Can I resell these?
You may not resell any printable found on our website or in our resource library. You may use them for class parties, at church, at home, or in the classroom. You may get these printed at an office supply store or copy center at your own expense.