Add a spine-tingling twist to your journal entries with some Halloween Journal Prompts. These 50 prompts are perfect for you and your kids to make some memories this Halloween!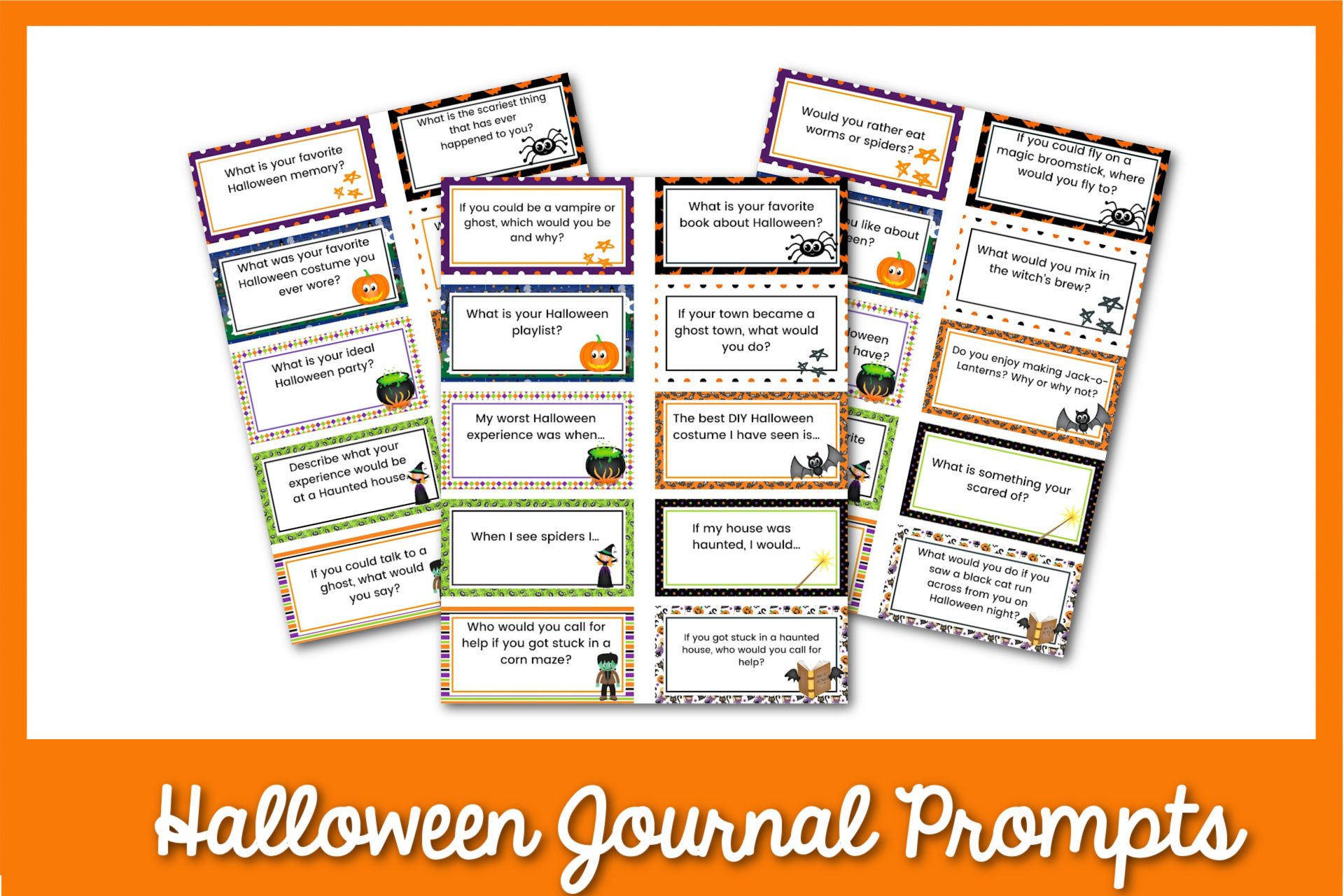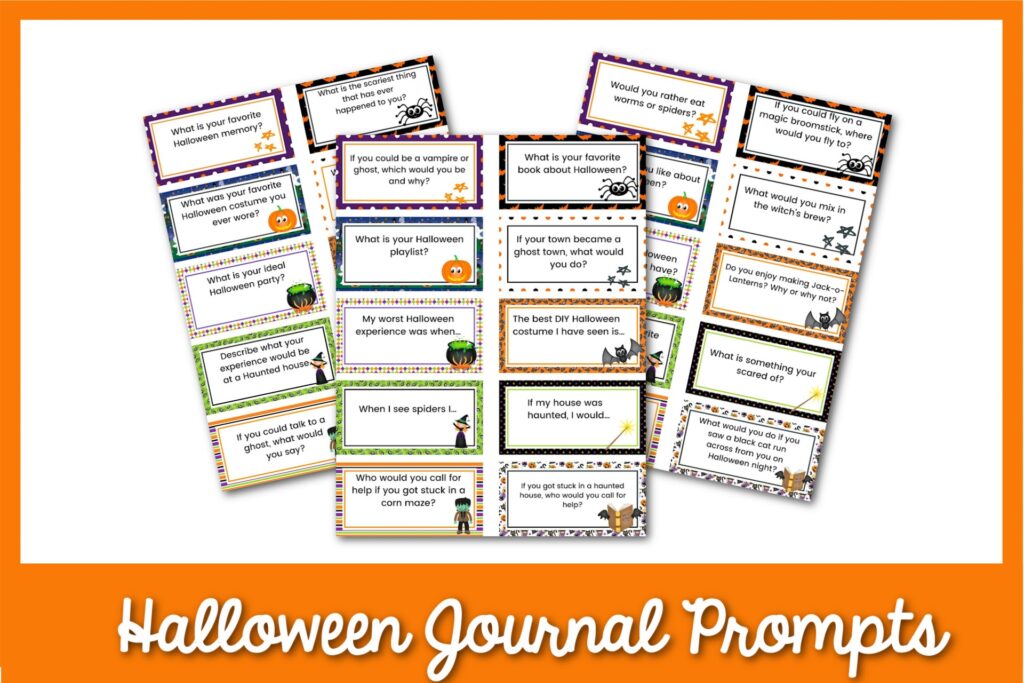 50 Great Halloween Journal Prompts
One of my best parts of my day is when my kids all sit down to write in their journals. I love seeing the way they think and I sure don't mind the peaceful minutes I get while they write!
Want to know my secret to getting your kids to journal? Use journal prompts!
A simple question always helps spark my kids' imaginations, and since Halloween is right around the corner, I came up with some fun Halloween Journal Prompts! It's the perfect way to build up some excitement for this fun holiday and to introduce journaling to your kids.
These prompts are a perfect mix of silly questions, spooky questions, and questions that make you think! I can't wait to see how my kids answer them!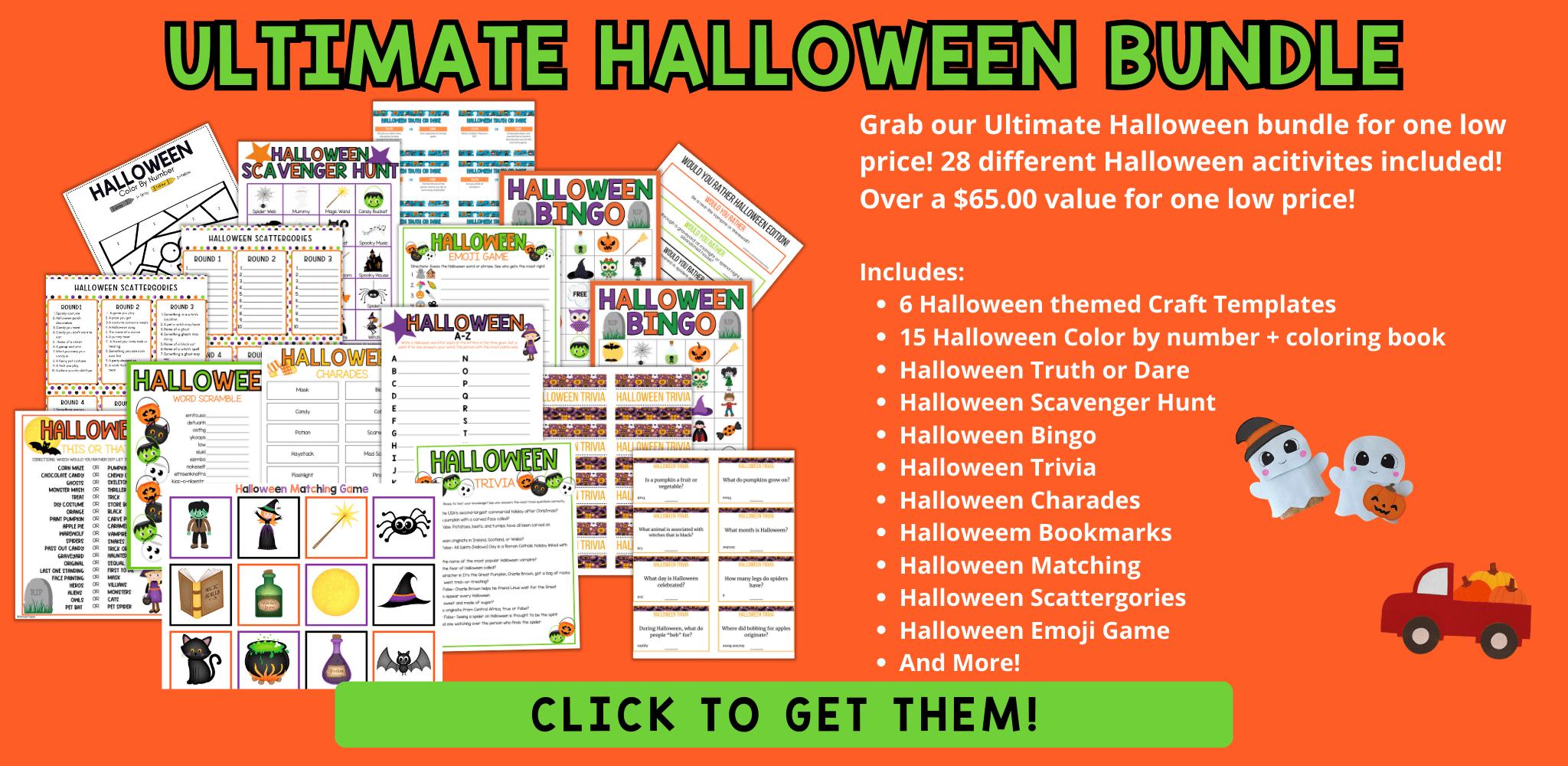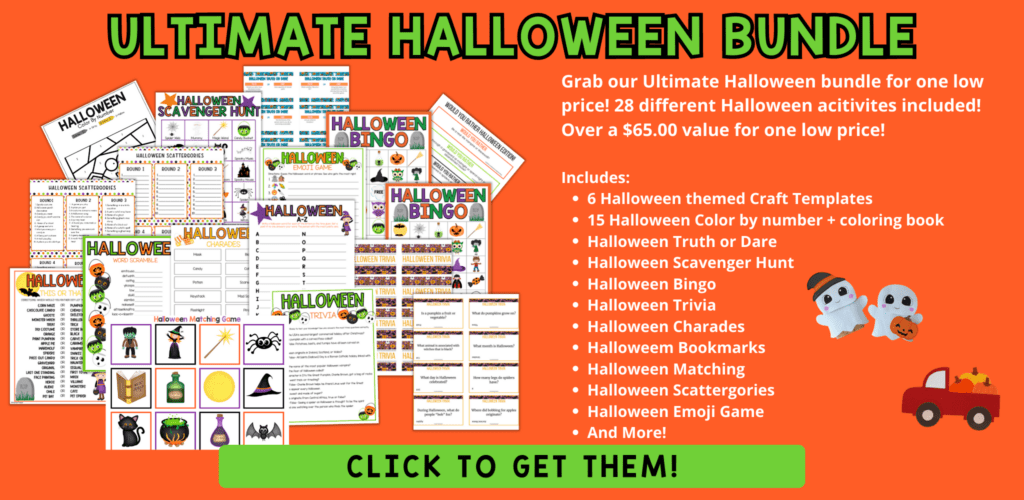 How to Use Halloween Journal Prompts
The first thing you need to do is grab some journals! I love using some simple composition notebooks for my kids, but these adorable pumpkin journals would be extra fun for Halloween!
Grab a prompt from my list and write it at the top of the page. If you want to keep these journals around as memories, make sure to add a date at the top as well.
You could also put each of the prompts in a bowl and have your kids pick a prompt each day. It'd be a great way to get some more use out of your Halloween treat bowl!
Once your child has the prompt, leave it up to them! They may choose to write in paragraphs or just jot down a few thoughts. Your younger kids can draw pictures instead!
It's a great quiet time activity, but you could do journaling just about any time!
Journaling for Kids
Other than it just being tons of fun, journaling is also really important for kids! It's a great way for children to use their imagination, preserve memories, find a love of writing, and build complex thinking skills.
Journals can also help them work through really tricky emotions and practice skills like empathy and communication.
Don't worry about having your kids use perfect grammar or writing the perfect answer, just grab these 50 great Halloween journal prompts and let their imaginative minds do the rest.
Halloween Journal Prompts
What is your favorite Halloween memory?
What is the scariest thing that has ever happened to you?
What was your favorite Halloween costume you ever wore?
What is something you look forward to during Halloween?
What is your ideal Halloween party?
Do you like going trick-or-treating? Why or why not?
Describe what your experience would be at a Haunted house.
What things remind you of Halloween?
If you could talk to a ghost, what would you say?
If vampires could talk, what would you say?
If you could be a vampire or ghost, which would you be and why?
What is your favorite book about Halloween?
What is your Halloween playlist?
If your town became a ghost town, what would you do?
My worst Halloween experience was when…
The best DIY Halloween costume I have seen is…
When I see spiders I…
If my house was haunted, I would…
Who would you call for help if you got stuck in a corn maze?
If you got stuck in a haunted house, who would you call for help?
Would you rather eat worms or spiders?
If you could fly on a magic broomstick, where would you fly to?
What don't you like about Halloween?
What would you mix in the witch's brew?
What family Halloween traditions do you have?
Do you enjoy making Jack-o-Lanterns? Why or why not?
Describe your favorite Halloween dish.
What is something your scared of?
What is your favorite Halloween movie and why?
What would you do if you saw a black cat run across from you on Halloween night?
What do you look forward to when picking out a pumpkin?
Describe what your monster would look like if you created it?
If you could have 3 wishes, what would they be?
Do you like mysteries? Why or why not?
Do you look forward to Fall activities? Why or why not?
If you could become a scarecrow, how would you dress?
What is your favorite Halloween trick?
What colors remind you of Halloween?
If you could cast three spells, who would you cast them on and why?
Describe three spells you would cast.
What is something you are grateful for during Halloween?
Describe your favorite DIY Halloween costume.
Write a poem using: Halloween, orange, ghost, bats, and candy.
If I were a bat I would…
If bats could talk I would…
My favorite treat from trick-or-treating is…
How would you feel if you passed a cemetery on Halloween night?
On a dark, cold spooky Halloween night, I would…
Describe the type of monster you would create for Halloween night.
Halloween is best with…
I hope you enjoyed these Halloween Journal Prompts! If you're looking for even more Halloween fun, make sure to try out Halloween Bingo, Halloween Trivia and Halloween Would You Rather!
Check out these other writing prompts!