What better way to get your kids working together and exploring than a scavenger hunt? This list of Scavenger Hunts for Kids includes a variety of scavenger hunts for every occasion.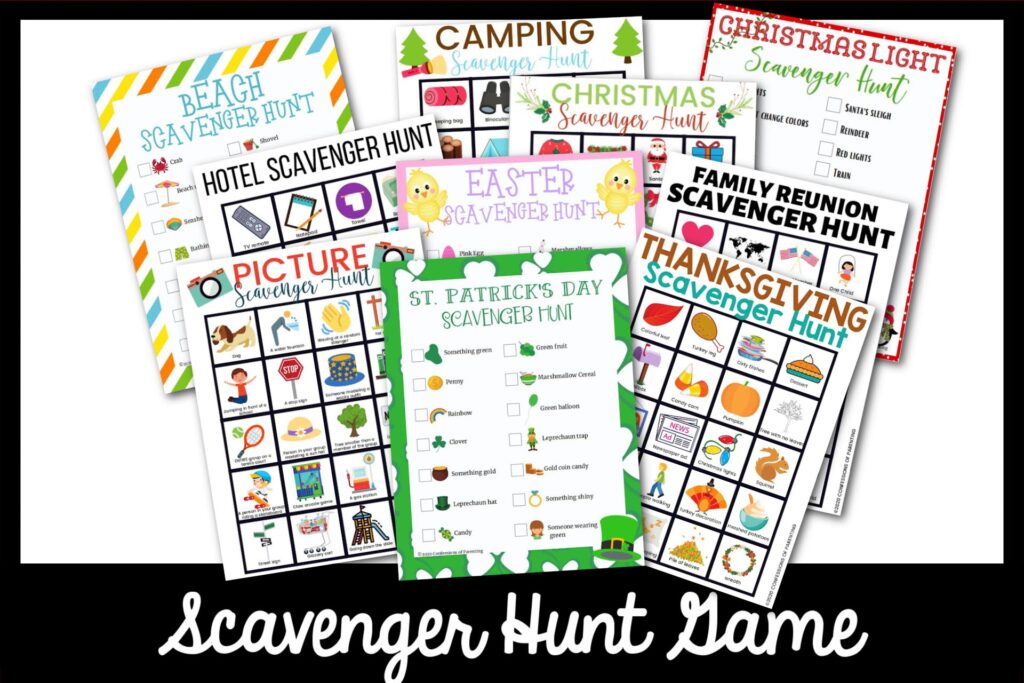 Scavenger Hunt for Kids
Whether it be entertaining kids on a drive, or having them follow clues like a pirate, your kids are sure to love these scavenger hunt games. It is a great way to get the whole family involved and working together.
Another awesome perk of scavenger hunts are that they are easily adaptable to kids of all ages. Scavenger hunts are a great way to practice teamwork, listening, problem solving, and safely exploring.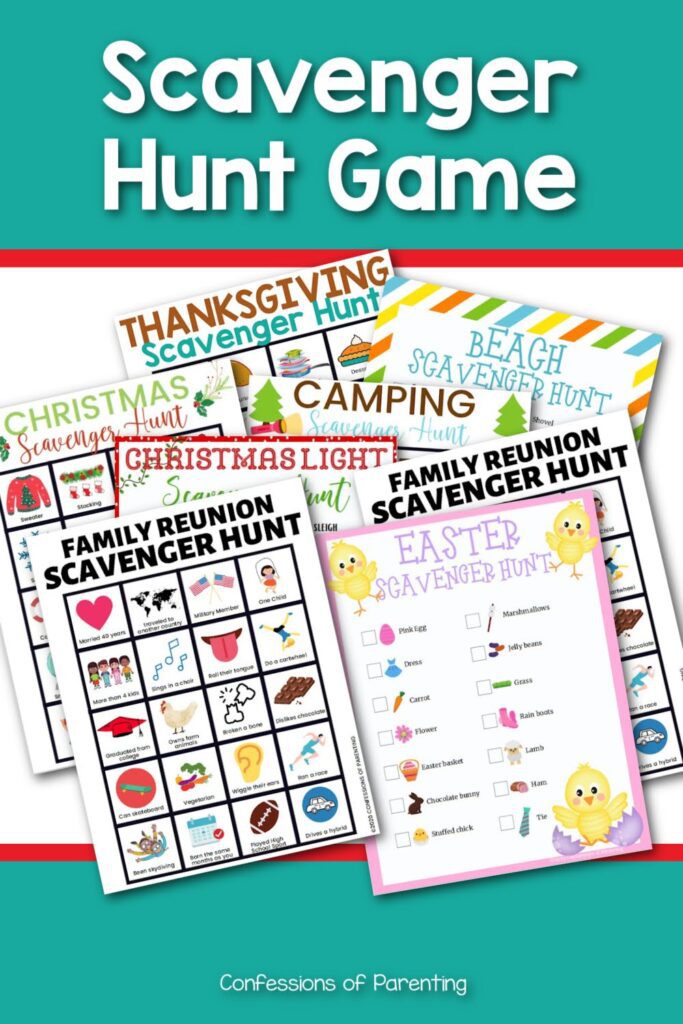 How do you play?
Scavenger hunts are so easy to play. Your group will be happily exploring in no time.
Start by dividing the players into teams, or they can work individually if they want to. Print out the cards beforehand. After they have been passed out, decide the rules (like if there will be a time limit or boundaries to stay within). And that's it! Let the games begin!
How do you start a scavenger hunt?
Starting a scavenger hunt is easy! Here's how to get started!
Choose the type of scavenger hunt that you will do! We have a growing list for you to choose from.
Choose what time you will begin. Keep in mind the type of scavenger hunt that you are doing when you decide this.
Find a place to start.
Create a scavenger hunt list (or hit the easy button and download one of our free scavenger hunt lists!)
Give each person or team the list of items to find.
The first one back wins!
What are good prizes for scavenger hunts?
We always do simple prizes that don't cost a lot! We have done dessert first, candy, small toys, books, playdoh, etc. We have even done $5 gift cards in the past.
What are good scavenger hunt ideas?
When it comes to scavenger hunt ideas the sky's the limit! You can do anything from ABC scavenger hunts, to scavenger hunts in books to scavenger hunts outside! We are sharing our favorite ideas! Be sure to keep checking back as our favorite scavenger hunt ideas keep growing!
Fun Scavenger Hunt Ideas for Kids
With these scavenger hunts to choose from, you will be sure to find one that fits the occasion!
Christmas Light Scavenger Hunt: Bring this Christmas Light Scavenger Hunt along with you as you and your family walk or drive through the various light displays. The list of things to find includes items you are sure to find in any neighborhood decorated for the holidays.
Christmas Scavenger Hunt: The Best Christmas Scavenger Hunt includes easy items to search for in your house, on the road, or in the neighborhood. You could even make it a competition and throw some prizes into the mix to up the stakes.
Picture Scavenger Hunt: This Picture Scavenger Hunt is a great way to have fun with a larger group of people. Each group must find the item and take a picture with it. Whoever gets all of the pictures and makes it back to the starting point first wins! Like the other scavenger hunt games, it is very easy to include all ages in the fun!
Hotel Scavenger Hunt: This Hotel Scavenger Hunt is sure to make your hotel stays much easier and fun. It is a great way to entertain the kids, get out some wiggles, and chase away the boredom.
Family Reunion Scavenger Hunt: This Family Reunion Scavenger Hunt is perfect to get family members connecting and learning more about each other. Everyone simply mingles and finds someone who matches the description in the box and writes that person's name down. It is a great icebreaker activity for a memorable family reunion.
Camping Scavenger Hunt: This Camping Scavenger Hunt encourages exploration and discovery. It is a great activity to include in your next family camping trip. The kids will love exploring all over the campsite!
Airport Scavenger Hunt: Are family travel plans on the horizon? This airport scavenger hunt is just what you need to keep your kids entertained while you wait for your flight! Grab this free airport scavenger hunt printable before your next trip!
Easter Scavenger Hunt: A mess free activity to add to your fun-filled weekend, the Easter Scavenger Hunt is sure to entertain your kids. It is easy enough for the kids to do on their own, providing them with a sense of independence, and gives the parents some quiet time to enjoy the holiday.
Beach Scavenger Hunt: Pull out this Beach Scavenger Hunt for added fun at your next beach trip. It is a great way to keep them busy and have fun exploring.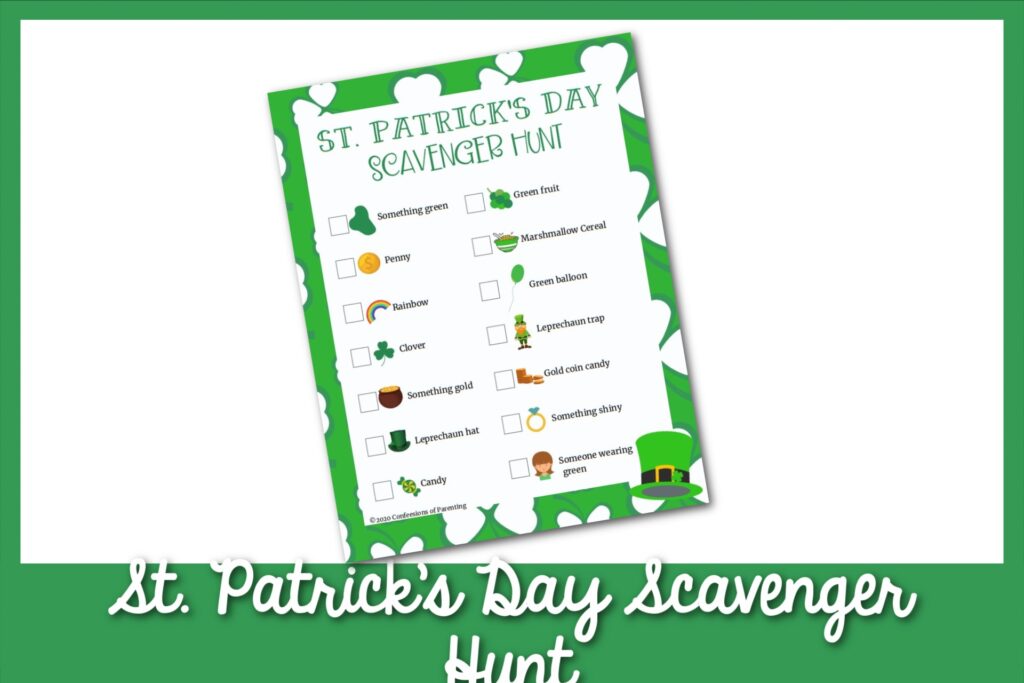 St. Patrick's Day Scavenger Hunt: This St. Patrick's Day Scavenger Hunt is perfect for a party activity. Kids can play in teams or even individually. It is a simple and easy way to involve everyone.
Valentine's Day Scavenger Hunt: This Valentine's Day Scavenger Hunt is a great way to remind your spouse and/or kids that you love them. This scavenger hunt is super easy to set up and can be adapted to a simpler version for your kids to be able to better participate.
Thanksgiving Scavenger Hunt: The Thanksgiving Scavenger Hunt is a great way to entertain the kids. Especially if a large group has gathered, this scavenger hunt makes sure that everyone can easily participate.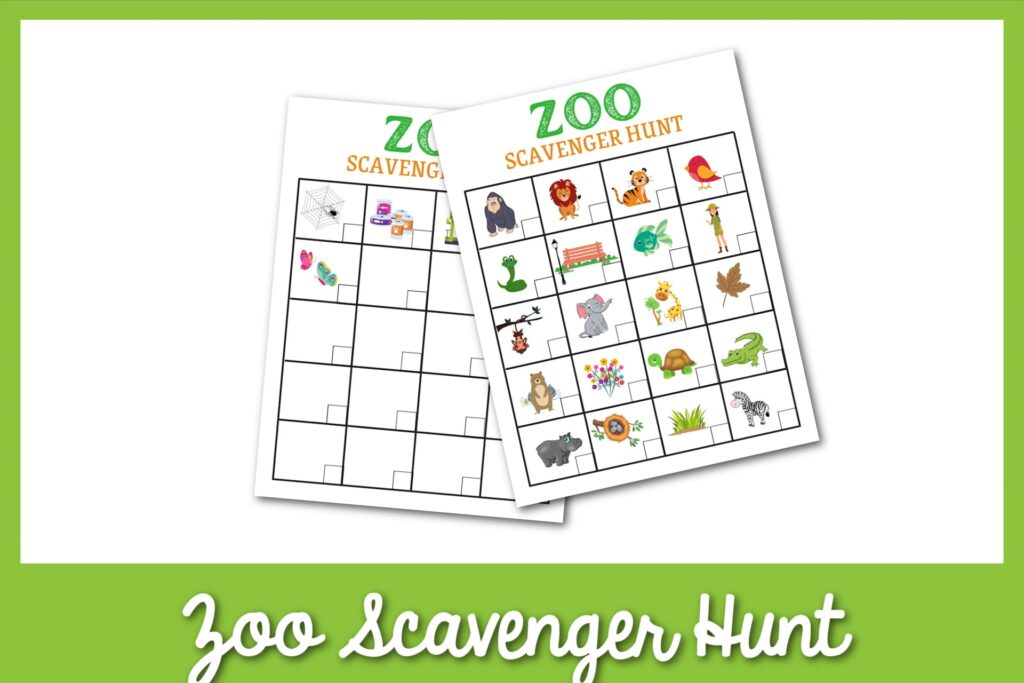 Zoo Scavenger Hunt: Heading to the zoo? You'll want to bring our Zoo Scavenger Hunt along with you! Your kids will have so much fun searching and racing to be the first to check off everything on their list! Don't miss out on this exciting new way to enjoy your day at the zoo!
Romantic Scavenger Hunt: Are you looking for a fun way to surprise the one you love? Create a cute date night or special occasion with this adorable romantic scavenger hunt! Your significant other will love where this fun romantic scavenger hunt takes you.
Halloween Scavenger Hunt: All of your little goblins and ghouls will love this exciting Halloween Scavenger Hunt! Grab your printable Halloween Scavenger hunt today, and start searching for all of your favorite things about this spooky holiday!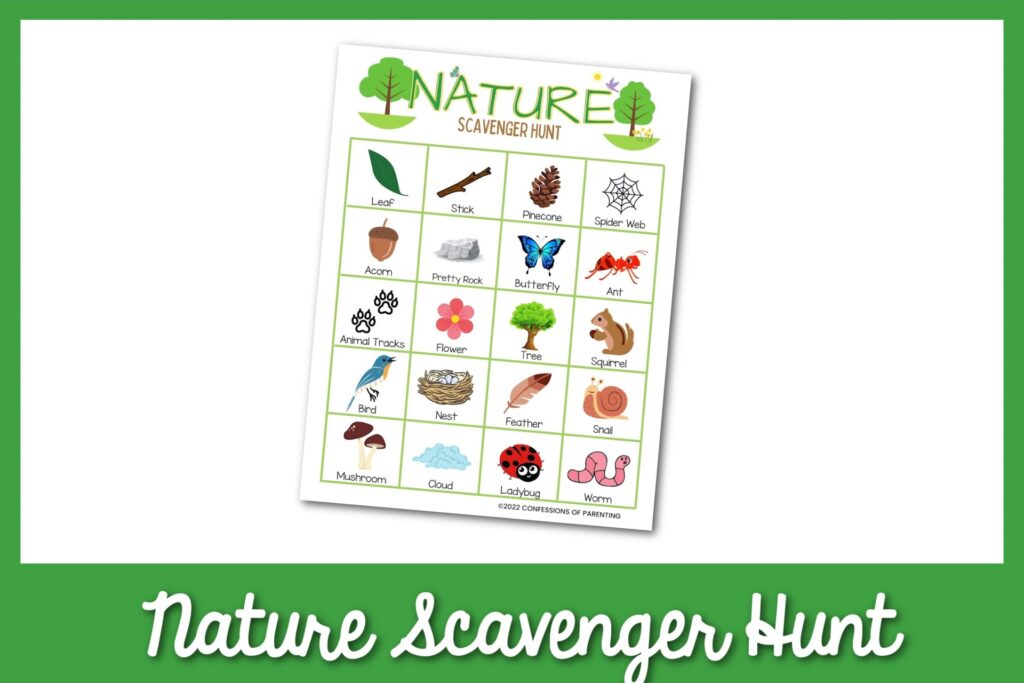 Nature Scavenger Hunt: Looking for ways to get your kids outside and enjoy nature? This Nature Scavenger Hunt is perfect for you! Grab this free printable today for your little explorers!
Alphabet Scavenger Hunt: Boost your kids' letter recognition and have some fun with our alphabet scavenger hunt! You'll have so much fun hunting down items for each letter of the alphabet!
Outside Scavenger Hunt: Get your kids outside playing with our fun Outside Scavenger Hunt for Kids! You'll love this exciting way to explore your neighborhood, so be sure to grab this free printable today!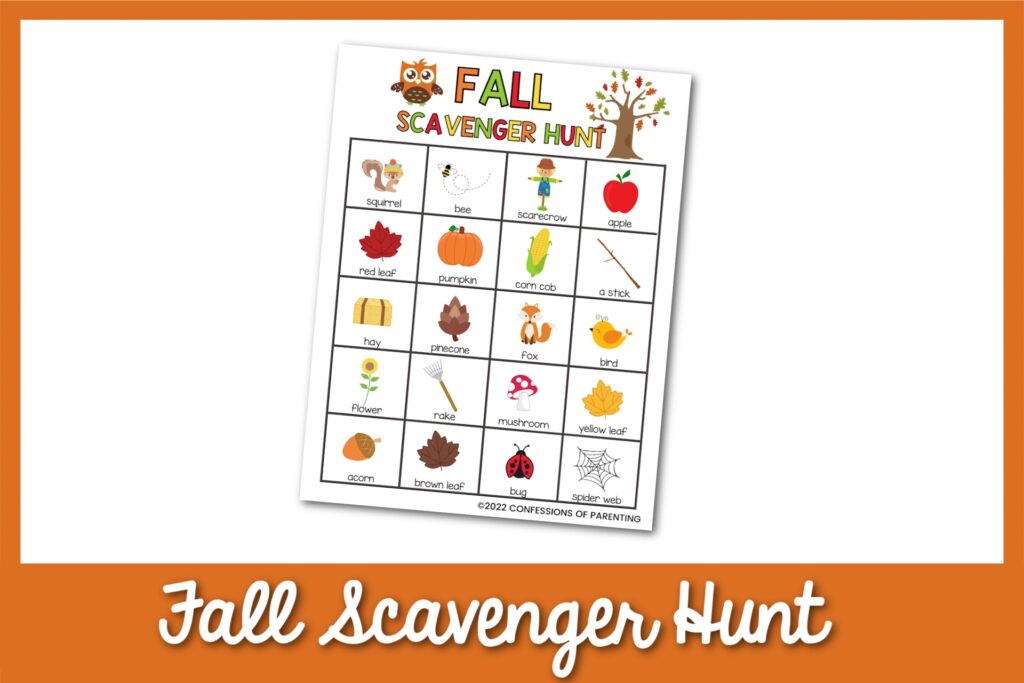 Fall Scavenger Hunt: The Fall is a fun time of change. The weather gets cooler, the leaves change, and the Holidays are just around the corner. This Fall Scavenger Hunt is perfect for kids of all ages to search high and low for the things that make Fall such a fantastic season.
4th of July Scavenger Hunt: This Independence Day, check out our free 4th of July Scavenger Hunt! It's sure to be a huge hit at your festivities. Just download, print, and play!
Adults and kids alike can be sure to enjoy these many scavenger hunts. What is your favorite type of scavenger hunt? Share in the comments!
Ready to join our Confessions of Parenting VIP Freebie Library! Sign up below to access to all these scavenger hunts and more for free!
How Do I access my free printables?
Fill in the form above. You will receive an email in your inbox. If you don't see it, check your spam folder! You will then click to confirm your subscription. Once confirmed, you will be sent an email with your free printable.
How Do I Print a PDF?
You'll need a program that supports PDFs. Adobe Acrobat is a great option. Open the program, click File, then print. Select your printer and the number of copies you want to print. Be sure you click double-sided if you want it to print on both sides.
Can I resell these?
You may not resell any printable found on our website or in our resource library. You may use them for class parties, at church, at home, or in the classroom. You may get these printed at an office supply store or copy center at your own expense.