Summer is a time for abundance, and there's no better way to enjoy the heat than with a delicious summer cookie recipe! These summer cookie treats are perfect for a BBQ or pool party – they're refreshing and easy to eat! There are so many options on this list for absolutely everyone to try and enjoy!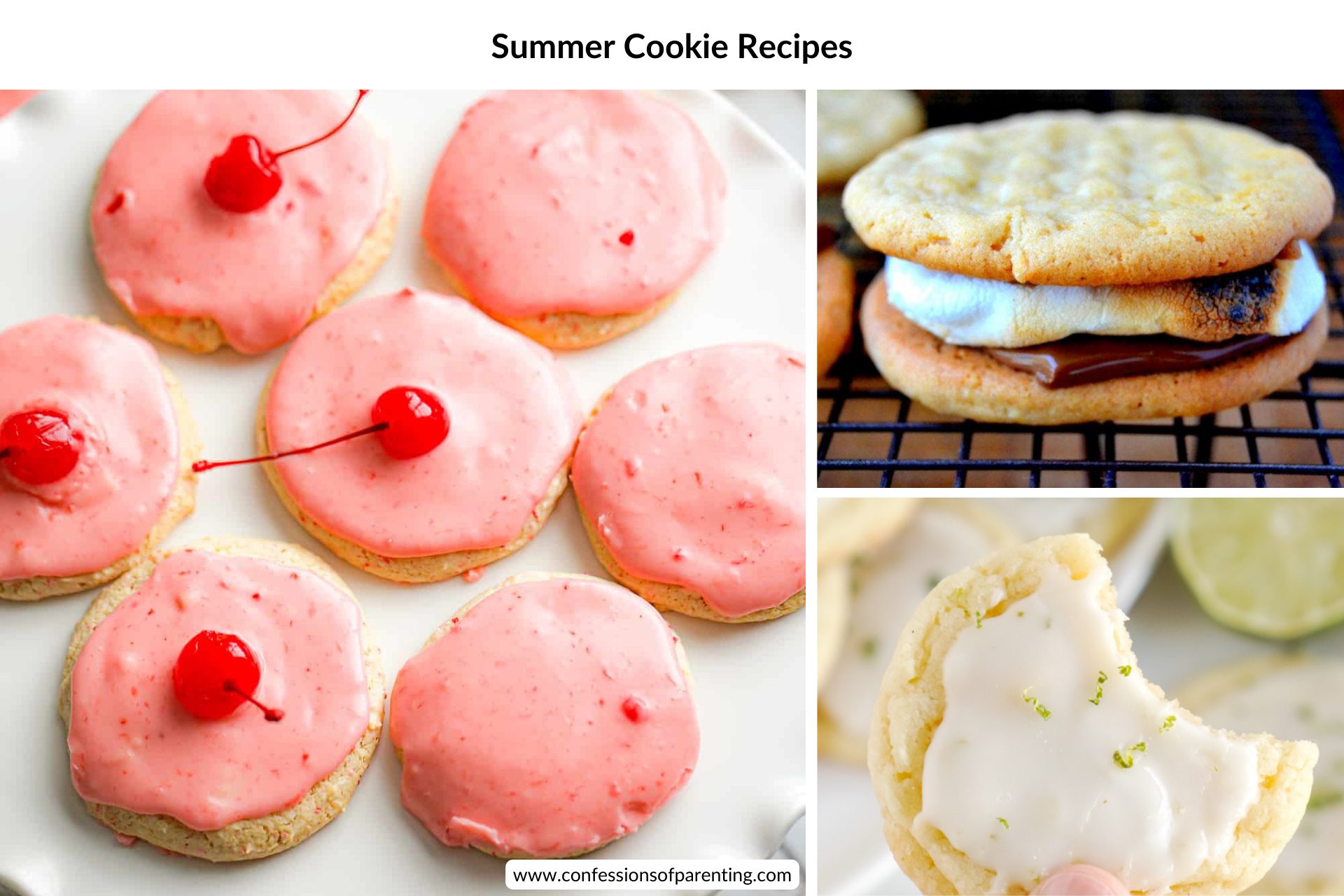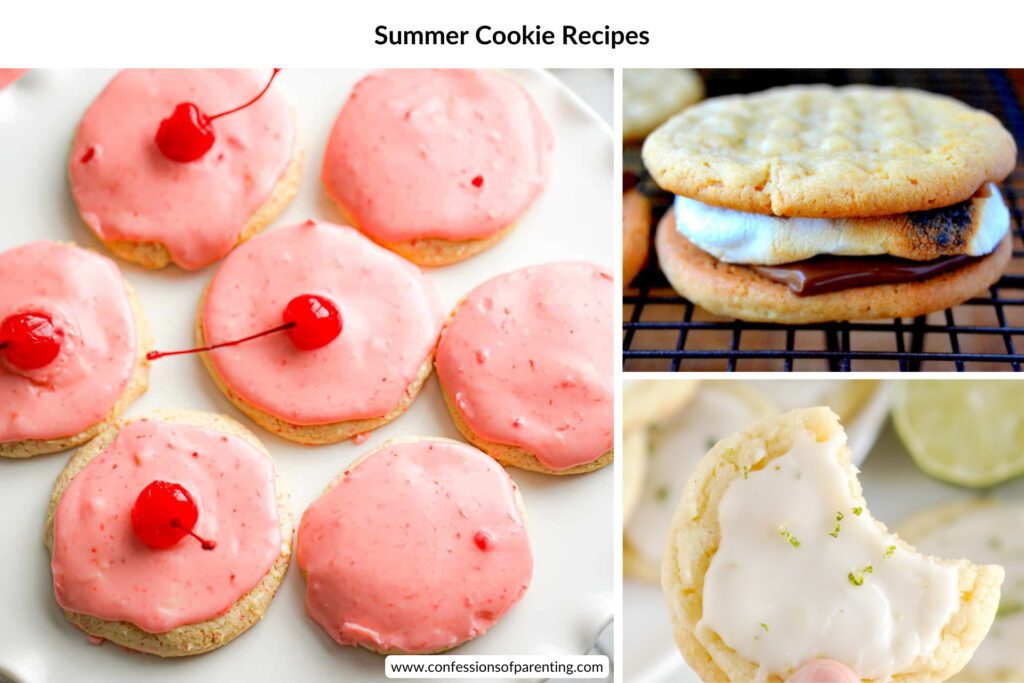 My family LOVES summer, and who doesn't love a good sweet treat for a hot summer day?! As fruit lovers in our house, I made sure to find some delicious fruity options as well. You are sure to find your favorite summer cookie on this list!
Refreshing Summer Cookie Recipes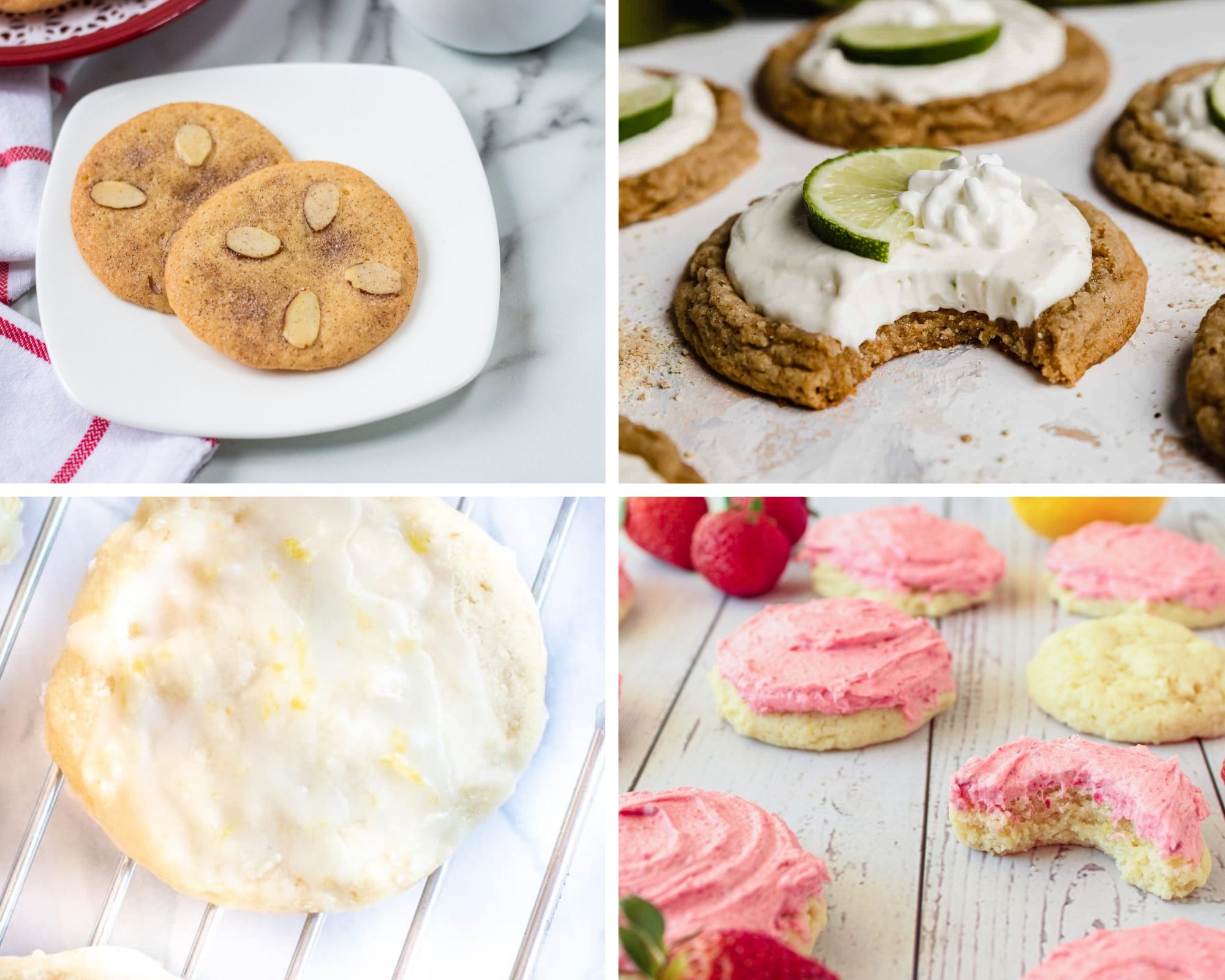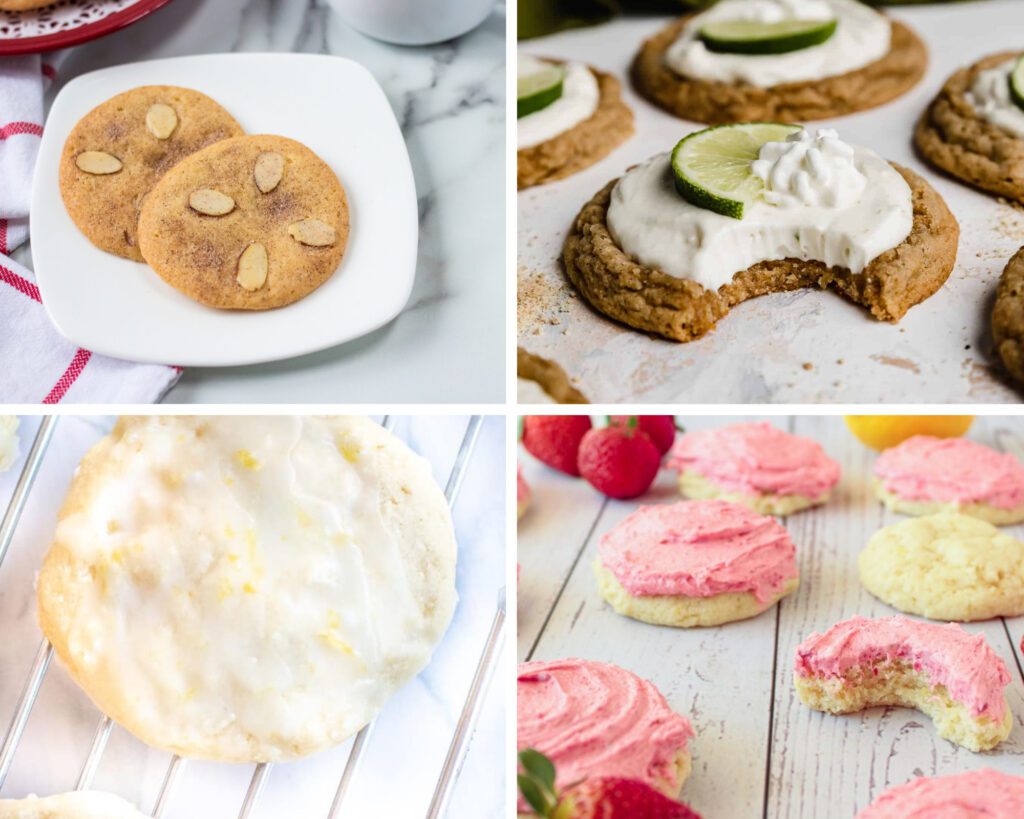 Confessions of Parenting has the perfect summer season cookies! Not only are they absolutely delicious – as cinnamon sugar cookies should be – but they also adorably resemble Sand Dollars! These Sand Dollar Cookies are perfect to make with the kiddos before a beach day to get everyone excited for the activities! Not to mention they are light and easy to take with you!
Salt and Baker certainly found the "key" to a delicious cookie recipe. You will not want to miss out on these. If you are a lover of pie, or a lover of anything citrus these are the cookies for you! Their Key Lime Pie Cookies not only look great but we are sure that they taste great too! They are the perfect replication of all the rage Crumbl from the simplicity of your own home!
Served from Scratch is keeping us on a citrus roll! We are huge lovers of lemon in our house and when I came across these Lemon Ricotta Cookies I audibly screamed in excitement. These cookies look incredible. We are so excited to try them in our house, my kids are going to absolutely love these.
Simply Scrumptious Eats saw lemon and thought "it's summertime how can we make these cookies even BETTER??" So she added STRAWBERRIES. There is no better combination for a summertime snack than strawberries and lemons. These Strawberry Lemon Cookies are not only sure to be tasty and scrumptious but the kids are going to love helping out when decorating them. We are so excited to try these cookies out!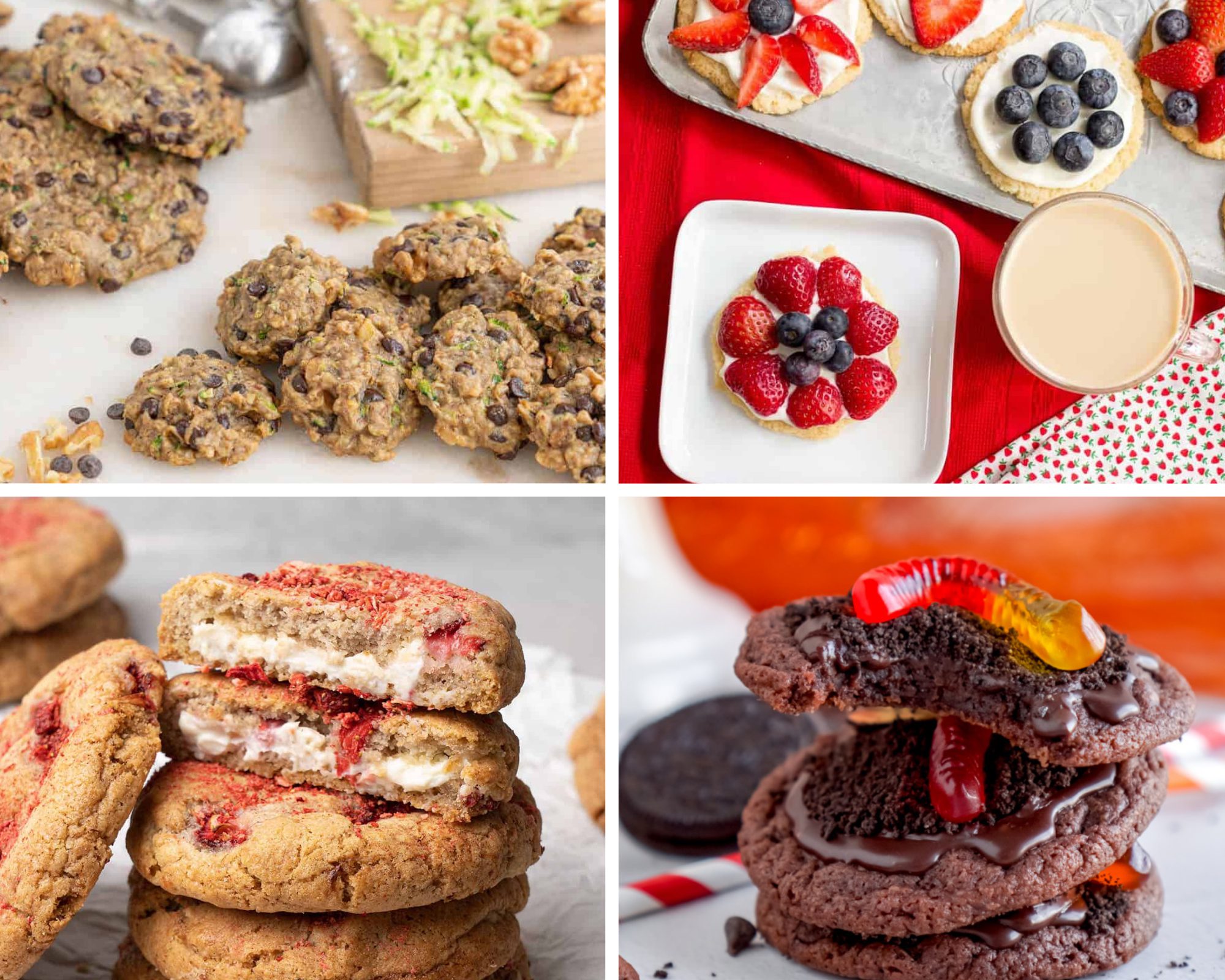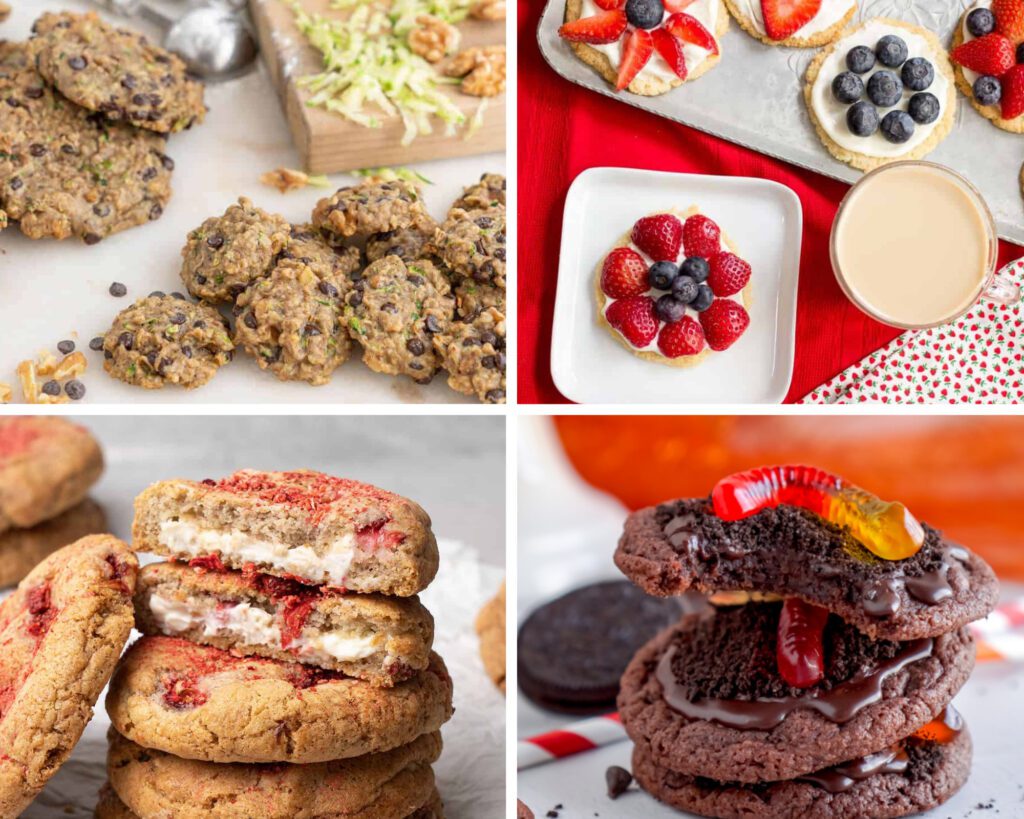 Plant Based on a Budget has the yummiest recipe here for us this summer. These Banana Zucchini Cookies look so refreshing and delicious. They are a great plant based alternative for everyone to enjoy!
Joy Filled Eats stole a "pizza" our hearts and stomachs with these amazing Mini Fruit Pizza Cookies. We absolutely LOVE fruit pizza in our house. It is a staple snack for summer. But when I found this Mini Fruit Pizza Cookies version I knew we had to make them! They are easier to transport and bring to parties too!
Spatula Desserts is sure to knock your socks off with this recipe! If you are a fan of cheesecake then look no further than this sweet, refreshing, and sure to be rich in flavor Strawberry Cheesecake Cookies. They look absolutely ooey gooey and perfect!!
Lemon Peony brought all of our childhood snack dreams to life in one cookie. Not only do my kiddos love Dirt Pudding but I love Dirt Pudding, and so when I found these Oreo Dirt Pudding Cookies, I knew my kiddos would have a field day making them with me. They look absolutely delicious and we know they taste good too! Pudding, chocolate, oreos, and gummy worms?! What could be better!!!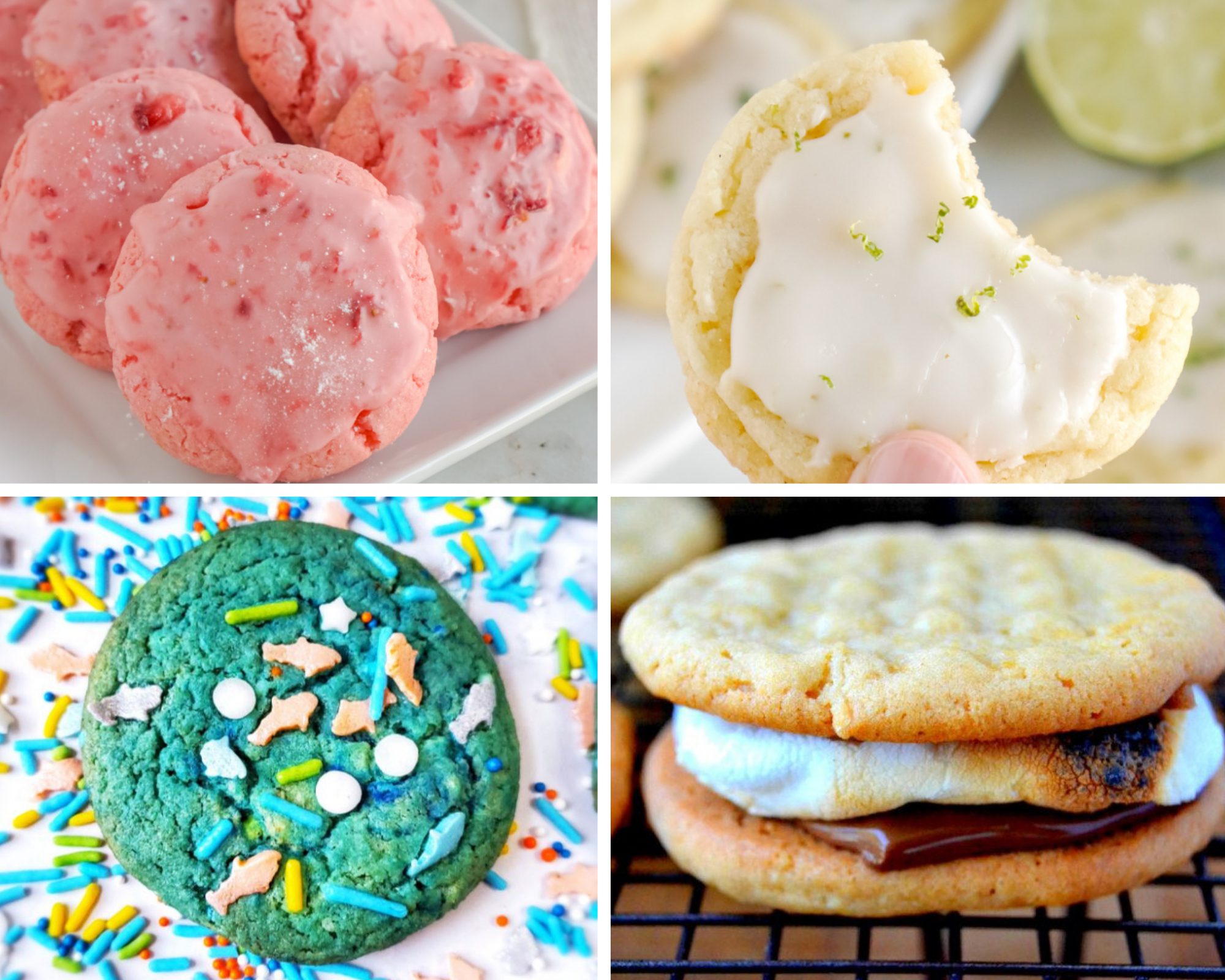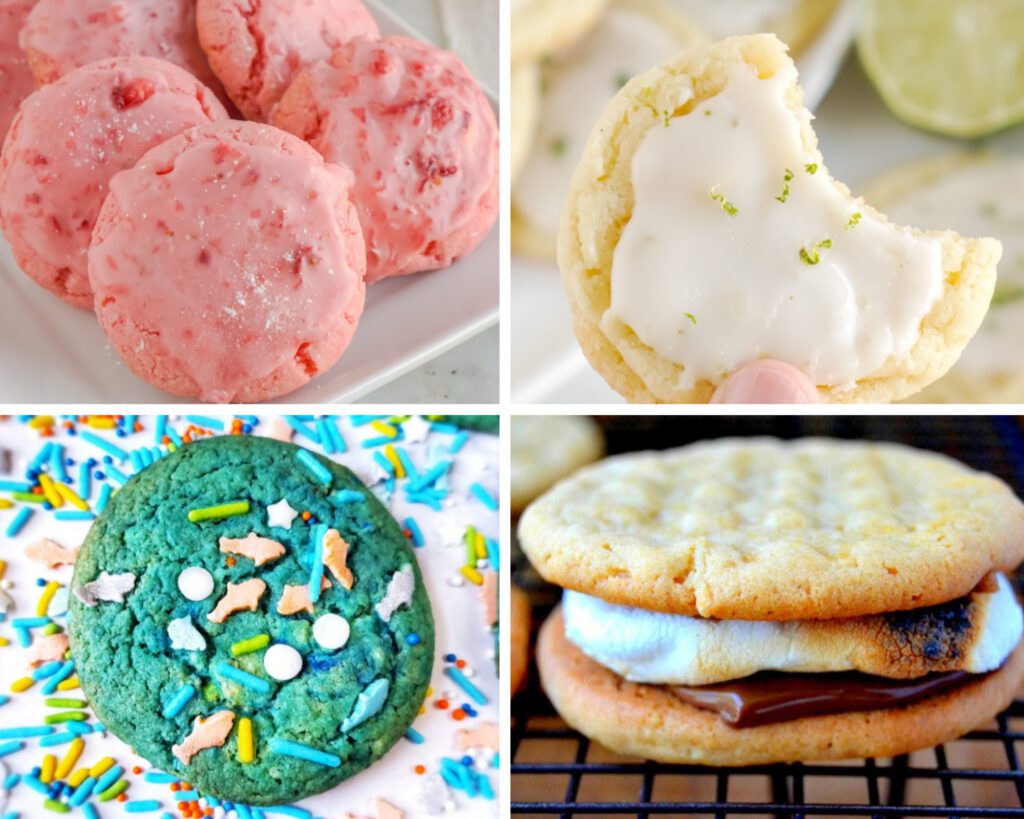 Lemon Peony kept the trend of delicious cookies going. One of our favorite summertime (or anytime) fruits is STRAWBERRIES and I loved the opportunity to find and whip up this delicious batch of Strawberry Cookies with Strawberry Glaze. You may be thinking "Double the strawberry? That's too much" …. It is never too much, no such thing. Do not miss out on these!
Lemon Peony closes their chapter on summer cookies with these delectable, tart, and tangy Lime Sugar Cookies. The glaze on these looks absolutely perfect. We are sure that if tangy and tart are up your alley that these cookies are it for you!!
Big Bears Wife's recipe here is one that you just might want to take a big CHOMP out of. There is no more perfect summer tribute than a Shark theme! These subtle, simple, blue Shark Cookies are perfect for any pool day or summer birthday! Your family's JAWS are going to drop when they try these!!!
The View from Great Island has a fantastic themed cookie for your summer camping adventures!!! Who doesn't love a good smore right?! We certainly do! For my non peanut allergy outdoorsy friends, this is the perfect cookie recipe! These Peanut Butter Cookie Smores are the best. The Peanut Butter Cookies are used in place of graham crackers…DELICIOUS. We cannot wait to bring these on our next outdoor camping adventure!!!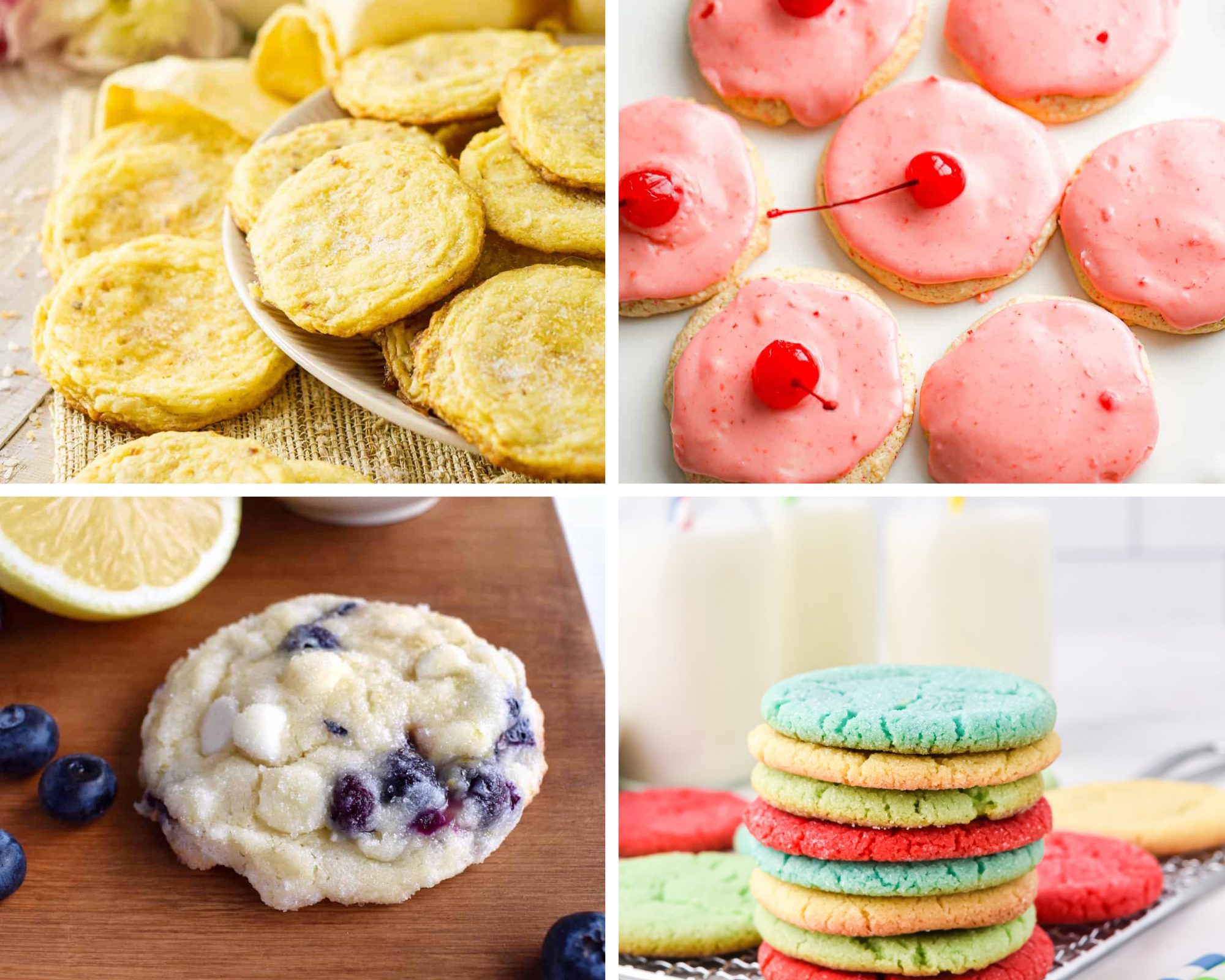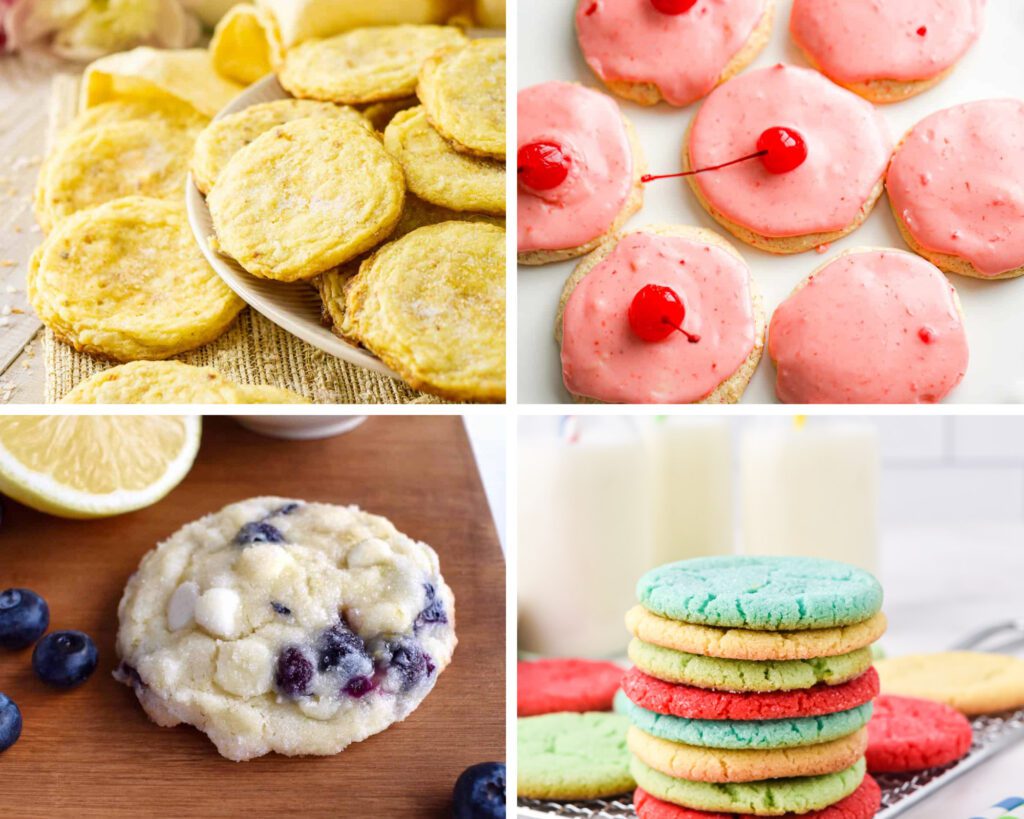 Burrata and Bubbles is bringing the tropical flavors to us with this cookie recipe! My husband LOVES coconut and I felt it was only fair to throw in a few sure to be favorites for him and all my coconut lovers into this list! These Toasted Coconut Sugar Cookies are simple but absolutely PACKED with flavor. I cannot wait for all of us to try these!
The Baking Chocolatess has a piece of "cake" recipe for you this summer! These Cherry Chip Cookies look absolutely delicious. With the fluffy and cakey texture you will keep going back for just one more bite! We are so excited to try out this new and easy recipe this summer!
Infinite Taste made an infinitely delicious recipe for all of us to try! We are huge fruit lovers in our house and there is nothing quite like sweet summer time fruits!! These Blueberry Lemon White Chocolate Chip Cookies look like they are going to hit just the right spot for a sweet treat!
Amanda's Cookin' has a unique sounding cookie – we cannot deny that. BUT these Jello Cookies are not one to miss out on. These are the PERFECT summertime cookies. These unique sugar cookies with their added Jello effect can make for a wide range of colorful cookies. So what does that mean? That means that for any event, holiday, or get together you can have COLORFUL COOKIES!!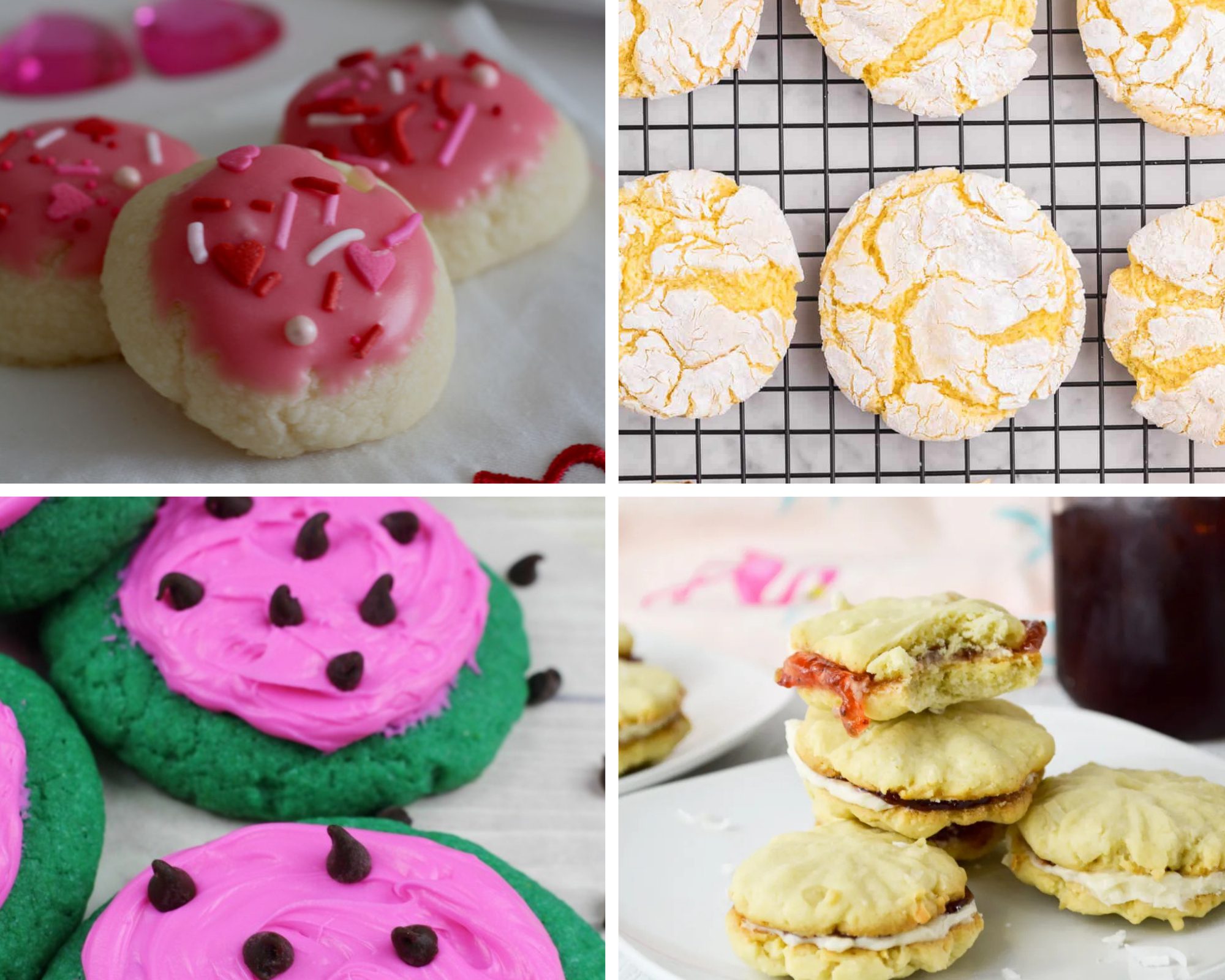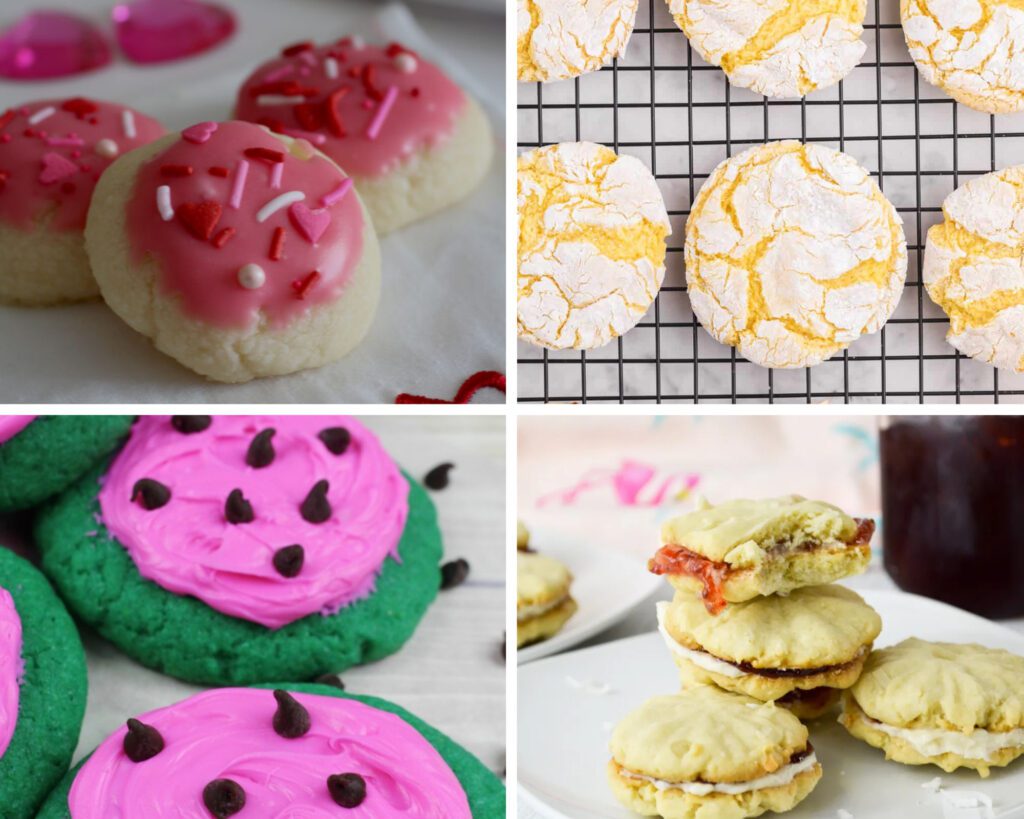 Nina Kneads to Bake has a recipe worth a thousand words! We are so excited to try out these Shortbread Cookies with Raspberry Icing. My husband and I could easily eat several cartons of raspberries a day, and so I knew I had to find a raspberry summer cookie for all of us to try!! These cookies look absolutely scrumptious and nothing short of perfect!
Simply Stacie whipped up the perfectly sweet recipe for all of us! These Cool Whip Cookies look fabulous. They are easy, simple, and fast to put together for the whole family! There are just a few simple ingredients to put together for these fluffy puffy cookies!
Ann's Entitled Life made the most adorable cookies. This Watermelon Cookies Recipe not only LOOKS like a delicious watermelon, but tastes like one too! These cookies would be perfect to make with the kiddos and for any summer themed party!
Stef's Eats and Sweets combined two of our favorite summer flavors and put them into one delectable cookie! These gorgeous and sweet Coconut Strawberry Jam Cookies are the perfect mixture of tropical and sweet. These sandwich cookies are bound to be a JAM at any summer party or for just a delicious snack to have on hand!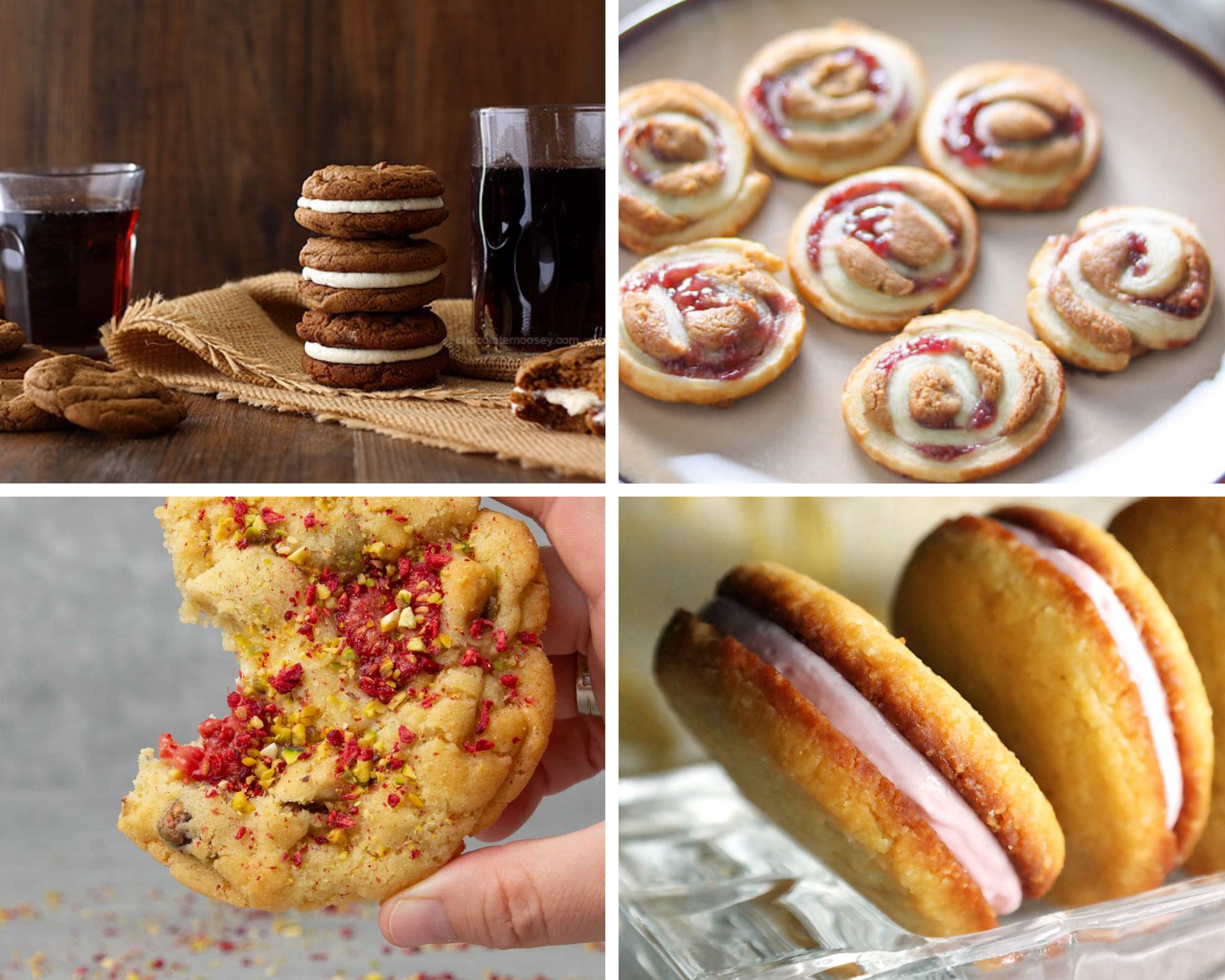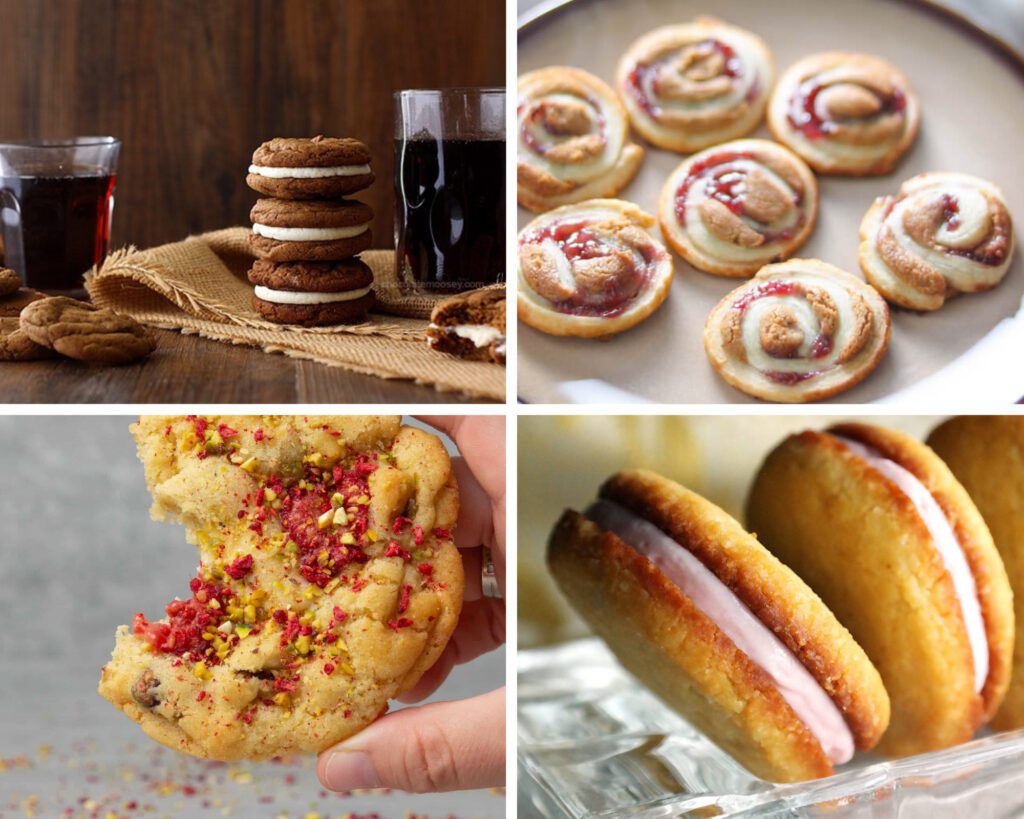 Chocolate Moosey has a flavor blasting cookie for all of us to try. This cookie is absolutely going to float its way to the top for our cookie favorites. With these Rootbeer Float Sandwich Cookies you will be the hit of every summer and pool party!
In the Kid's Kitchen has a fun and sweet twist on a traditional PBJ. My kiddos love PBJs so I thought it would be fun for all of us to find a recipe and try out something a little different! These Peanut Butter and Jelly Cookies look amazing. They not only are pretty to plate but delicious as well!
Spatula Desserts has one of the prettiest cookies on this list. These Raspberry Pistachio White Chocolate Chip Cookies look perfect. We are so excited to try these. I think they are perfect for any summer bridal shower or baby shower snack table too!
Like Hot Keto closes out this list with the perfect sandwich cookie. These Strawberry Cream Sandwich Cookies are a little bit of a healthier option for anyone needing it! There is no better find than healthy food that is STILL delicious. These cookies will be a great option for any party or summer event! Do not miss out!