We have all been there. The search for the perfect stocking stuffers for toddlers that aren't junk! Well, Look no further because we have non-junk toddler Stocking Stuffers all for under $10!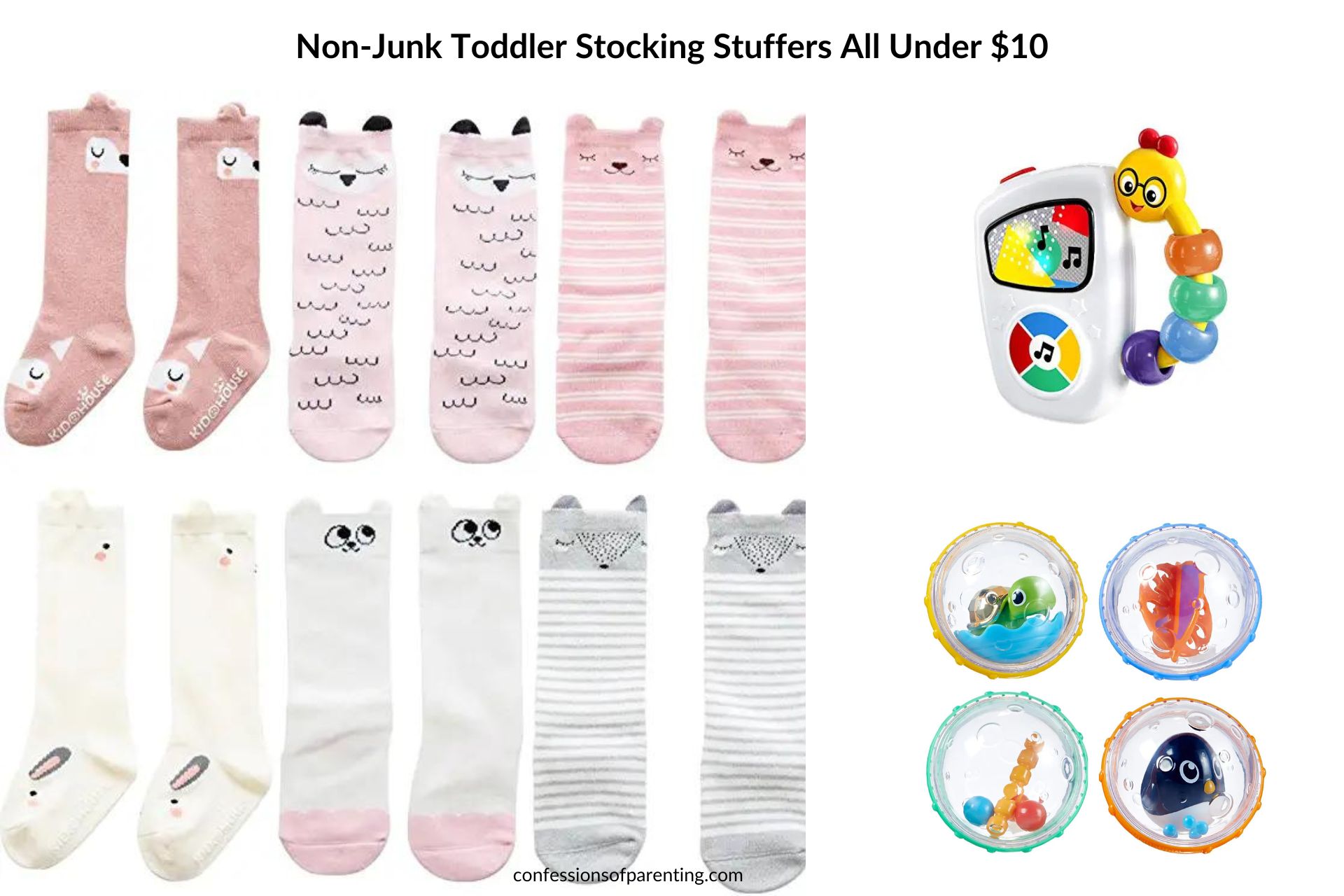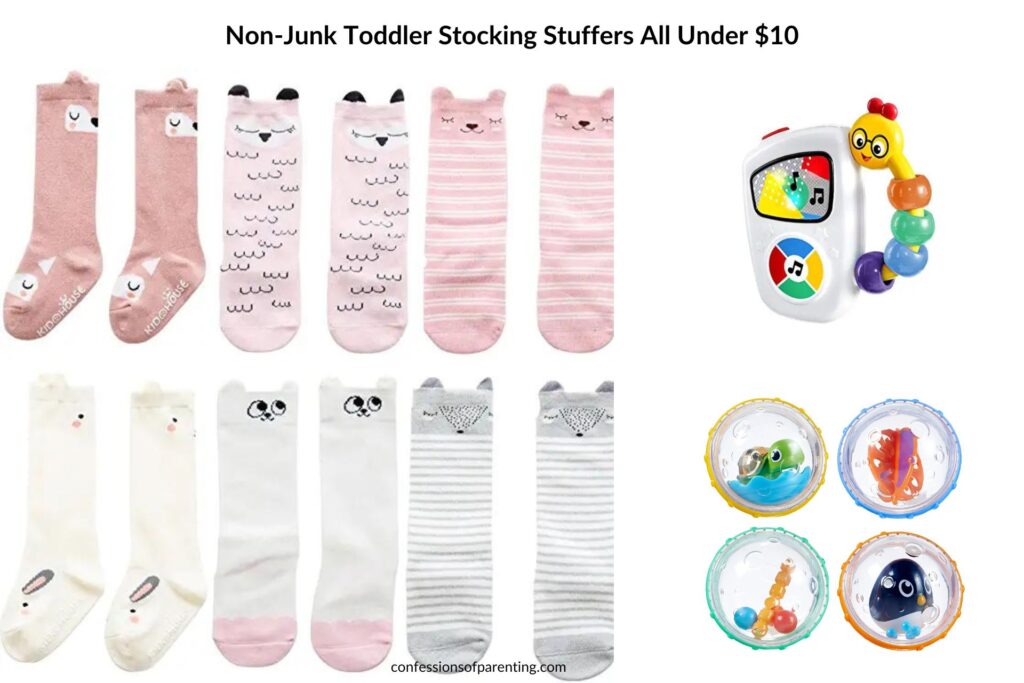 Stocking Stuffer Ideas for Toddlers- Bonus, All Under $10
**Prices as of 10/30/18. Prices are always subject to change based on the store.
**All items are under $10 through the links provided from various places, but if you like convenience like me, we also provided links to Amazon. Their prices may be just a couple of dollars more. A direct link is included via picture just in case you need it!
Toys
Wooden Animal Push & Pull Toy– Toddlers are fine-tuning their motor skills, and these wooden safari animals are perfect to help them learn balance and coordination. Choose from an Elephant, Zebra, Crocodile, or Giraffe. Perfect for little boys, or girls!
Baby Einstein Take Along Tunes Musical Toy– Music is a such a great stimulant for toddlers. Help them learn to appreciate classical music with an easy, on-the-go toy that they are sure to love. Don't worry- mom and dad can control the volume so it doesn't end up hidden forever in the garbage can…  
Infantino Textured Multi Ball Set– These brightly-colored and textured balls and shapes are perfect for sensory exploration! While these are great gifts for babies, toddlers like the different textures and colors, and these will encourage imaginative play.
Wooden Lacing Cheese Toy– This fun and creative toy is perfect for improving hand-eye coordination and learning how to sew/thread. For all the cheese lovers out there, this is perfect for your little one! Its compact design makes it perfect for traveling. Your toddler can thread, and re-thread this toy hundreds of times!
Hape Little Copter Wooden Toy Toddler Play Vehicle– Are there any toddlers in the world who don't look up at the sky when they hear the sound of an airplane or helicopter? I doubt it! Now toddlers can have this unisex helicopter of their own, complete with a spinning rotor and wheels. Encourage imaginative play with this fun and inexpensive toy.
Matching Shapes and Colors Eggs, Educational Game Toy– These toys are versatile! Your toddler can use them to learn colors and shapes or use them in their play kitchen to fry up some (pretend) scrambled eggs. Once the eggs have been broken in half, toddlers can practice problem-solving and matching to put them back together. Perfect for fine-tuning those fine-motor skills!
5-Pack of Stretchy String Fidget / Sensory Toys– Want to help your child with sensory and tactile stimulation? These are the perfect stocking stuffers! These stretchy strings stretch, bend, and twist in any way imaginable! Toddlers can increase focus by playing with these or alleviate stress and anxiety. The perfect stocking stuffer for a toddler who might show some signs of anxiety or ADHD.

Crayola Paw Patrol Color Wonder Coloring Pad and Markers– I am a huge fan of the wonder coloring pad with the absolutely, 100% mess-free markers. This adorable set comes with 18 coloring pages and 5 markers. It is such a fun stocking stuffer that they can spend hours enjoying. Bonus: If your child doesn't love Paw Patrol, check out this adorable Frozen Coloring Pad!
Bath Toys
Nuby 16-Piece Floating Foam Bath Animals Set – Bathtime is an important time of a toddler's day. If your child is becoming bored with their baths, try this Nuby set! It will promote imaginative play and the foam animals will stick to the sides of the bathtub when wet. How fun is that? An added bonus- teach your toddler about the different animals to expand their vocabulary.
Munchkin Float and Play Bubbles Bath Toy– Another fun bath time toy! These whirly toys spin and rattle, and are just the right size for a toddler to grab, improving hand-eye coordination. They are designed to be mold-resistant, so mom and dad have no need to worry! Your toddler can play with these toys for many, many baths!  
Nuby 36 Piece Bath Tub Alphabet Set– Want your toddler to learn the alphabet, and to count to 10? Then this stocking stuffer is perfect for you! These foam letters and numbers will stick to the side of the tub so your toddler can spell out as many words as they want! Encourage language development and creativity while having fun in the tub!
Crayola Color Bath Dropz– Make bath time more exciting with these safe, toddler-approved bath bombs! A very fun and simple way to teach your toddler all the different colors, as well as teach them about color mixing.
Practical Gifts That Are Still Fun
Munchkin 2-Piece Snack Catcher– If you don't have these snack catchers for your toddler, you are missing out! They are perfect for taking snacks on the go and designed to be mess-free. Your toddler will enjoy the independence of eating snacks by himself. Reaching his tiny hands into the snack catchers will improve dexterity as well.
Hudson Baby Crew Socks, 8-Pack– These adorable star socks are the perfect stocking stuffer for a cute toddler boy! It seems like socks are always disappearing around my house, so I think that any excuse to buy socks is a good one. Your toddler will stay cozy and warm this winter with these inexpensive socks!
Baby Girl Socks- 3 Pair Animal Knee-Highs– I honestly cannot get enough of these adorable socks! I imagine a cute little dress to go with these. Oh, the cuteness! My heart can't take it. Your animal-loving toddler will go crazy for these purr-fect socks!
Cozy Unicorn Socks– Ok, this is the last pair of socks, I swear! I just couldn't resist how adorable these socks are! Unicorns are all the rage, and these fuzzy socks will not disappoint! Not a fan of unicorns? No problem! Choose from a variety of styles including pandas, reindeer, stripes, penguins, or snowmen. How fun is that? Perfect for little boys or girls.
Minnie Mouse Disney Toddler Girl Underwear, 7-Pack– What toddler girl isn't obsessed with all things Disney? These underwear are a great stocking stuffer and incredibly useful. Look at you being all resourceful! One cute pair of underwear for each day of the week!
Superfriends Toddler Boys Underwear, 3 Pack- Does the little man in your life love superheroes? This stocking stuffer is the perfect gift. 3 pairs of awesome underwear your little dude is sure to love! Help him get excited about potty training, or reward him for already doing it like a big boy.
Munchkin Miracle 360 Spoutless Trainer Sippy Cup- A sippy cup is a very practical stocking stuffer. These Trainer Sippy Cups are spill-proof and perfect to take on the go. Your toddler will feel like a big kid, and you won't have to clean up a thousand messes. They come in pink or blue.  
Toddler Girls' 4pk Velveteen Bow Hair Clips – Cat & Jack- Velvet is SO in right now. With adorable colors: purple, mauve, pink and beige, these bows are sure to go with everything and anything! Dress them up, or wear them on a casual day, either way, these bows will become your toddler's new favorite hairbow!
Baby Boys' Plaid Suspenders & Bow Tie Set – Cat & Jack- Girls can't have all the fun, right? This little suspender and bowtie set is the cutest thing for toddler boys! I can't handle it. I wish I had a son to put this on right now. Your toddler will look so fashionable during your next family party. The "oohs" and "ahs" will be audible and frequent!
Wonder Nation Cotton Tight Fit Pajamas, 4-piece Set– Who doesn't love to get new pajamas for Christmas? Get two pairs of adorable pajamas for under $10. Your toddler boy will be so excited about the superhero pajamas in his stocking, he'll want to put them on immediately! If he isn't excited about superheroes, choose the monster, plane, or sports pajamas instead!
Wonder Nation Cotton Tight Fit Pajamas, 4-piece Set- More fun pajamas, for toddler girls! Choose from unicorns, cupcakes, dinosaurs, elephant, or owl designs. One of these incredibly affordable sets is sure to put a smile on your little toddler's face! My personal favorite is the dinosaur set! It is so much fun!
Books
Goodnight Moon (Board Book) by Margaret Wise Brown– If your toddler doesn't have this book, now is the time to buy it! This classic book was first published in 1947. It is the perfect bedtime story to read with your toddler to help them relax and get ready for bed. There are only a few words on each page, and the focus is on the pictures. Have your toddler look for the little mouse hidden in each colored illustration!
Giraffes Can't Dance (Board Book) by Giles Andreae and Guy Parker-Rees– This is one of my favorite books to read to my little one. It is such a clever story, and the rhymes are so fun. It teaches children to dream big and that it is ok to be different than other people. If you only buy your child one book this Christmas, make it this one!
DIY Graffiti Tote Bag Drawing Toy for Kids (Pack of 4)- If you want your toddler to get into the habit of reading, take them to the library often. These tote bags are a wonderful gift to encourage reading! Have your children decorate their own tote bag and then use it each time they go to the library to hold their favorite books! A win-win gift.
Fun & Healthy Treats
Dole Fruit Bowls, No Sugar Added Mandarin Oranges (4 Cups)– A classic stocking stuffer is an orange. Mandarin Orange fruit bowls are a fun take on a classic! Your toddler will love these sweet treats, without any added sugar!
Larabar Minis Peanut Butter Chocolate Chip/Peanut Butter Cookie 10 ct- If you haven't tried Larabars yet, you are missing out! These are such healthy snacks that your toddler will love. Larabars are made with less than 5 simple ingredients that you can pronounce. Throw a couple in your toddler's stocking and hide the rest in your cupboard to satisfy your sweet tooth later!  
Kellogg's Mini Breakfast Cereal (30 Count), Assortment Pack – I can't be the only one who loved getting cereal in their stocking as a child! These mini cereal boxes are the absolute cutest! A perfect snack for your toddler to stuff into their new snack catchers! Bonus- these are the perfect gift for kids to give to their friends for Christmas. Add a tag that says, "We cereal-ously love you!"
GoGo Squeez Applesauce On The Go Apple Berry (12 Count)– Throw a couple of these delicious applesauce packets into your toddler's stocking this year! Such a fun, healthy snack that they are sure to love!