Rock postpartum recovery like a pro with these 15 must-have items in your postpartum survival kit! These items are great for new moms!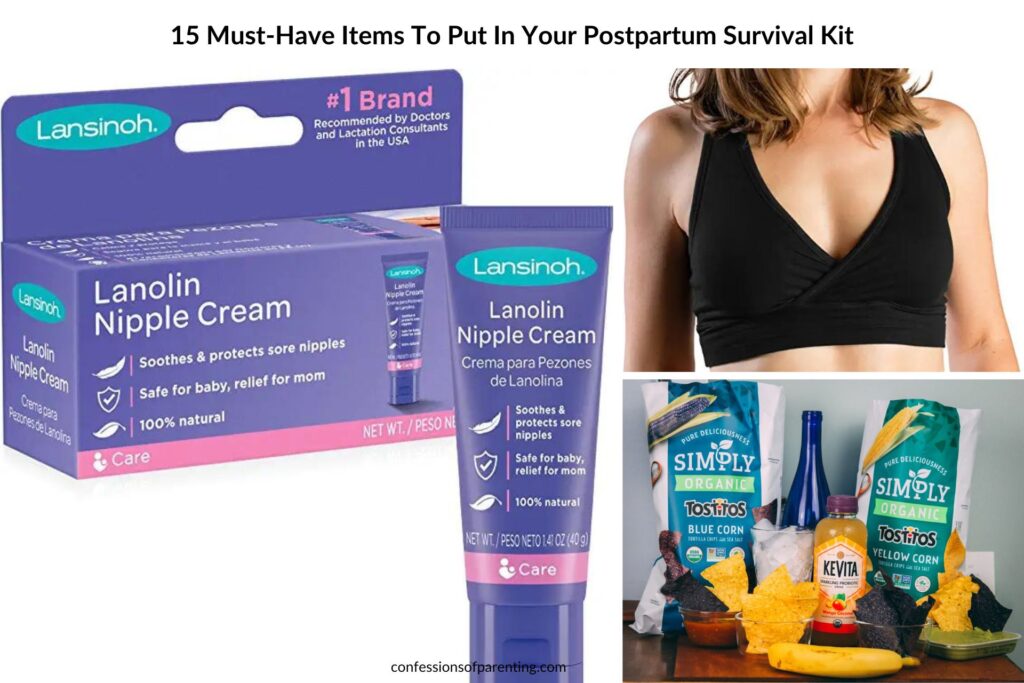 15 Must-Have Items To Put In Your Postpartum Survival Kit
Postpartum can be a miserable time. The aching, stinging, burning and throbbing pains are no joke! With these 15 must-have items in your postpartum survival kit, you will be able to rock postpartum recovery like a pro.
Postpartum Necessities for Mom:
Colace
Two words: stool softener. This is one of the most important things to put in your postpartum survival kit. If you thought having the baby was hard, having your first bowel movement just might top that! Colace is the perfect stool softener because it is perfectly safe for nursing mommas. It is a win-win!
Snacks, Snacks, Snacks
The nights are going to be very long, and you are going to be so hungry. Prepare ahead of time by putting granola bars, pretzels, chocolate, fruit snacks, and other convenient foods by your bedside. It takes a lot of food to sustain you and produce breast milk.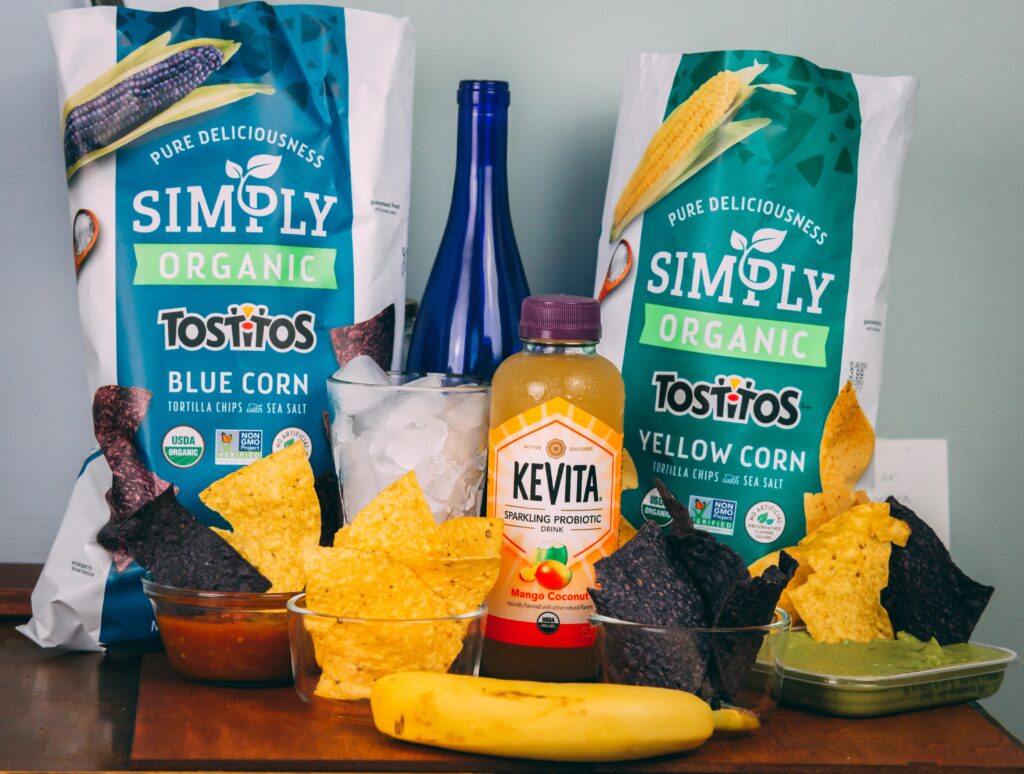 Quality Water Bottle
Staying hydrated after giving birth will help you heal more quickly. It also will help boost your milk supply, while also fighting off dreaded kidney stones. You need to drink more water than you think, which is why it is nice to have a big water bottle by your bedside. I have this hydroflask and I absolutely love it. Nursing women need an extra 32 ounces of water per day, above the recommended 64 ounces.
Witch Hazel Pads
Giving birth vaginally leaves its mark, and can burn or sting for days (especially if there was tearing or an episiotomy). These wipes are soaked in witch hazel, which instantly provides relief from burning. I'd buy a lot of these if I were you! I went through them like candy. Ha 🙂
Cozy Underwear
If it weren't for cozy underwear, I don't think I would have worn anything the first week after giving birth. This underwear has excellent reviews and will be soft and comfortable, even for c-section mommas.
Nursing Pads
After giving birth, your nipples are going to start producing lots of milk. Especially in the first few months when your body doesn't know how much milk to produce and may overproduce significantly. Your boobs will be leaking like crazy, and if you don't want your shirt soaked through, then invest in nursing pads!
Nipple Shields
Babies are often aggressive when they are breastfeeding. These nipple shields not only protect your nipples from some of the pain, but they also help the baby to be able to latch properly. I definitely recommend buying a few of these.
Nipple Cream
Your breasts are going to be incredibly sore during the first few days and weeks of breastfeeding. Some moms even experience cracked and bleeding nipples. Ouch! This nipple cream provides relief and helps to hydrate the skin around the nipples.
Netflix and Books
When your baby decides that 1am is a fun time to be awake, you might be left wondering what to do to occupy your time. If sleeping isn't an option, try relaxing while watching a good show on Netflix, or by picking up a good book. One of my absolute favorite books is The Host by Stephenie Meyer.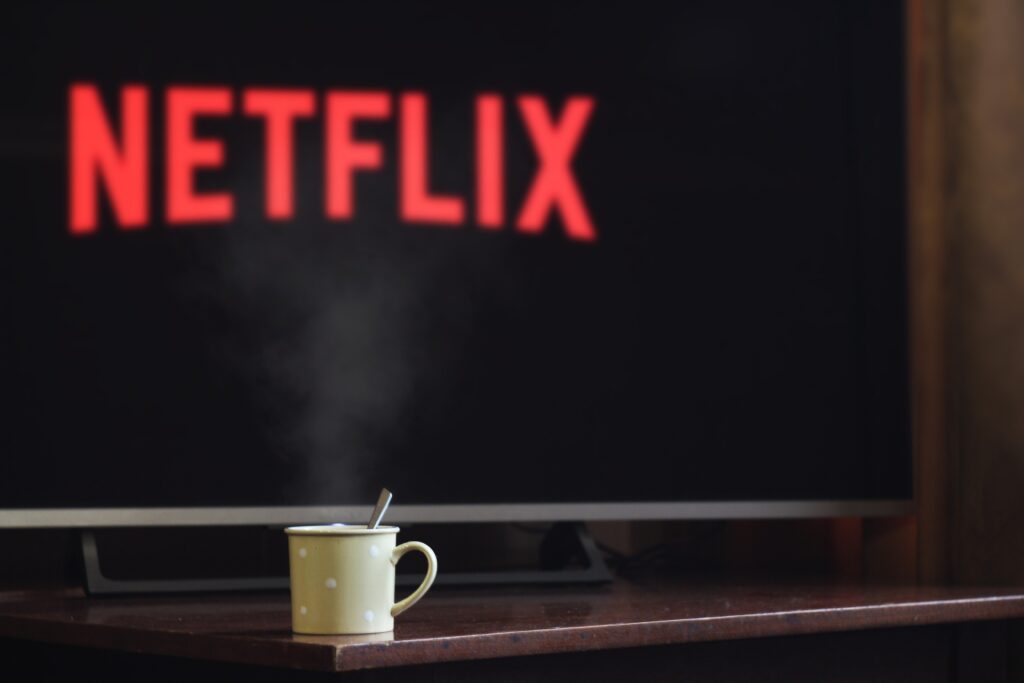 Pads
There will be quite a lot of bleeding for up to 6 weeks after delivery. It is important to have quality pads that you trust will do the job. These overnight maxi-pads will provide adequate protection so you don't have to stress about leaking all over your sheets.
Cleansing Squirt Bottle
There's no good way to put this. Wiping after giving birth is excruciating! At the hospital, they have cleansing squirt bottles to help with that! You can buy them on Amazon too! This squirt bottle literally saved my life. Make sure to fill it with warm water for added comfort and relief.
Ibuprofen
Pain is inevitable with delivery and recovery. I was surprised to learn that the afterpains almost hurt worse than the real contractions! Since many medications are off-limits to nursing mothers, ibuprofen is the best way to get pain relief. You don't have to worry about ibuprofen affecting your milk or your baby!
Benzocaine Spray
If you had tearing or an episiotomy, you are going to want some of this benzocaine spray. I used it for the first few weeks after giving birth. It makes sitting down much more bearable! This spray instantly numbs the area it comes in contact with, providing much-needed relief.
Cozy Nightgown
Cozy clothes are the best kind of clothes for postpartum recovery! There are many nightgowns to choose from, but one of my favorites is this super soft nursing nightgown. Make sure to buy a nightgown that is nursing-friendly, it makes it so much easier to handle those night time feedings!
Nursing Bra
You are going to eat, sleep, and breathe in a nursing bra for the next few months! I bought several nursing bras so that I could have one on at all times. This one was a favorite of mine! It is nice to sleep in a nursing bra that offers some support, but isn't at all restrictive!
What will you to your postpartum survival kit? Share your ideas with us in the comments!
LOOKING FOR MORE POSTPARTUM TIPS:
You can also FOLLOW ME on FACEBOOK, TWITTER, INSTAGRAM, and PINTEREST to find more great ideas on raising kids, spicing up your marriage, and having fun as a family!
Were these helpful items for putting together a postpartum survival kit? Share them with your friends on Pinterest!