This post was sponsored by Southeastern Mills and all opinions expressed in my post are my own. 
This Simple Biscuits and Sausage gravy will soon be a family favorite. Moms everywhere love that it is ready in 25 minutes and only takes 5 ingredients to make!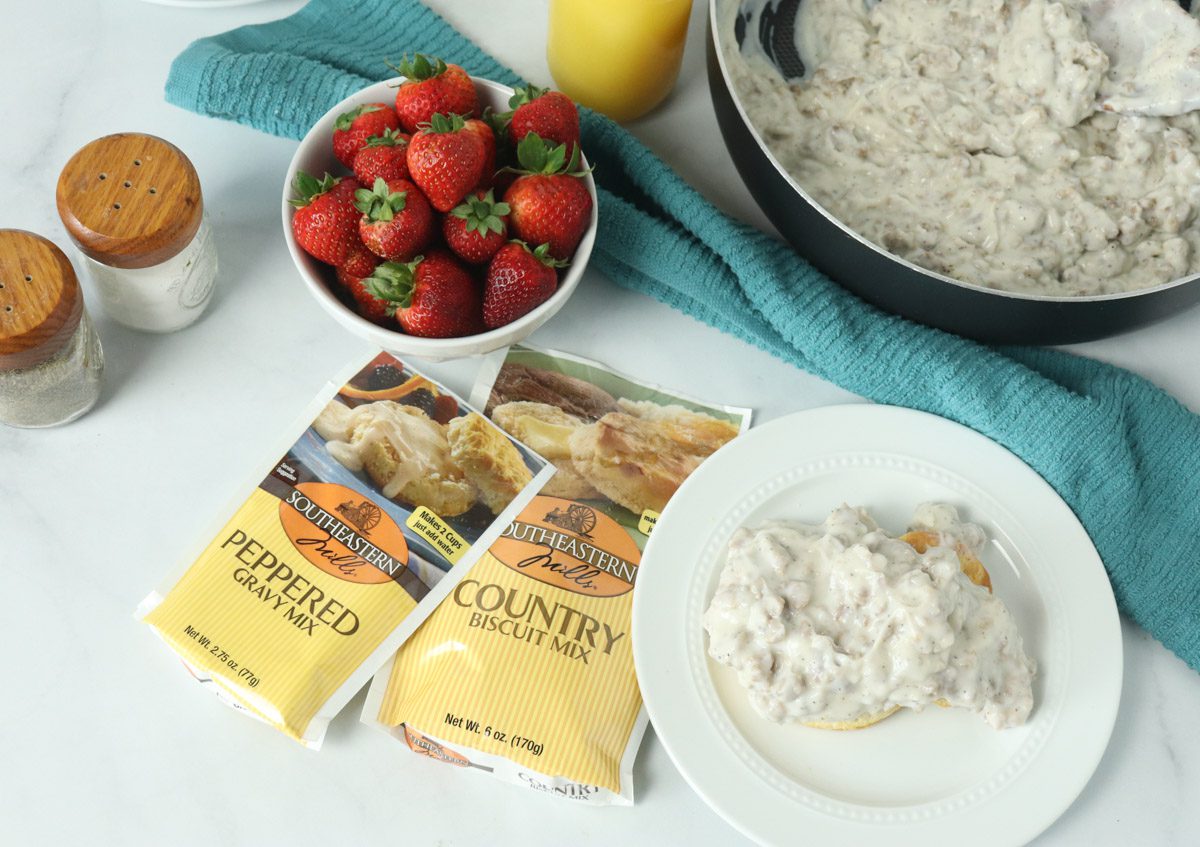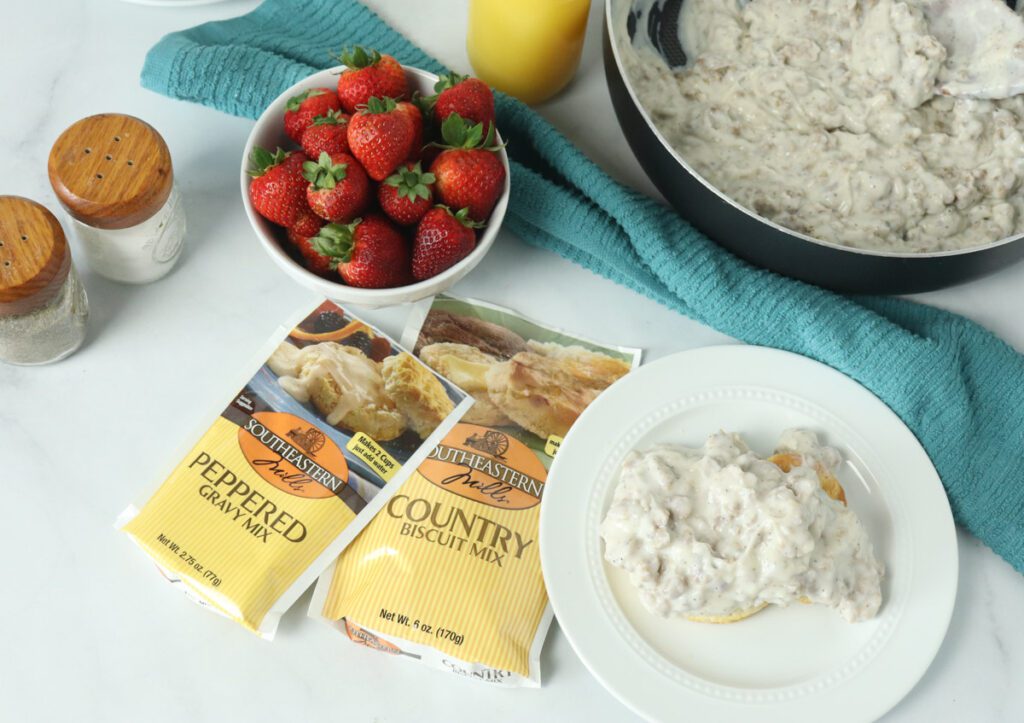 Simple Biscuits and Gravy with Sausage
My family loves biscuits and gravy! Whenever we go out to breakfast if they spot it on the menu they are ordering it! There is something about the country biscuit and the peppered gravy that they fall in love with every single time. They also beg for me to make it at home and I quickly cringe because it takes so much time, until now, meet my family's new favorite Simple biscuits and sausage gravy recipe! This recipe is packed full of flavor, is so easy to make, and is ready in about 25 minutes. Yes! 25 minutes from start to finish!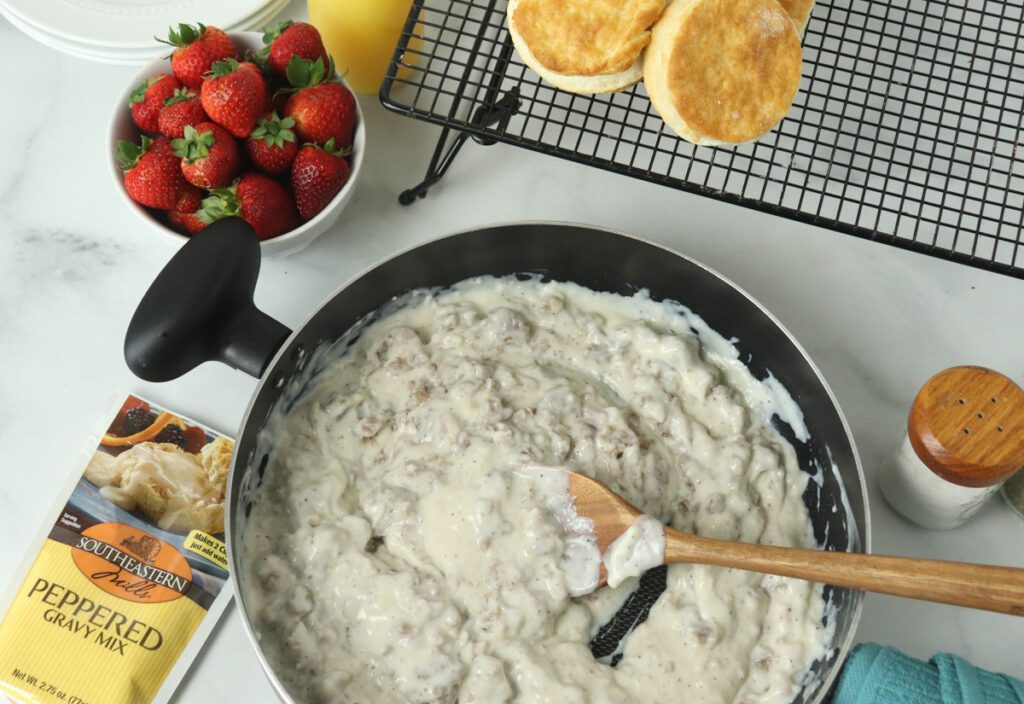 How can you make biscuits and gravy in 25 minutes?
I know you might be scratching your head as to how you can make biscuits and gravy in just 25 minutes but it is simple thanks to Southeastern Mills. Southeastern Mills mixes are so convenient! They have the made from scratch quality in all their mixes (baking and gravy) and are simple and easy to use giving you homemade tastes and flavor with minimal effort in the kitchen. This is the perfect secret ingredient you want to use this holiday season. 
Southeastern Mills Gravy and baking mixes are the perfect complement to any meal and can be used in so many ways. They can be used traditionally served on the table next to the turkey or in other non-traditional ways like biscuits and gravy and casseroles.
If you are already familiar with Southeastern Mills,be on the lookout for their brand new packaging coming soon when looking for your favorite gravy and baking mixes. A new look on the outside, but the same great homestyle flavor that we love on the inside that has been saving us all time in the kitchen for years.
Simple Biscuits and Sausage Gravy Ingredients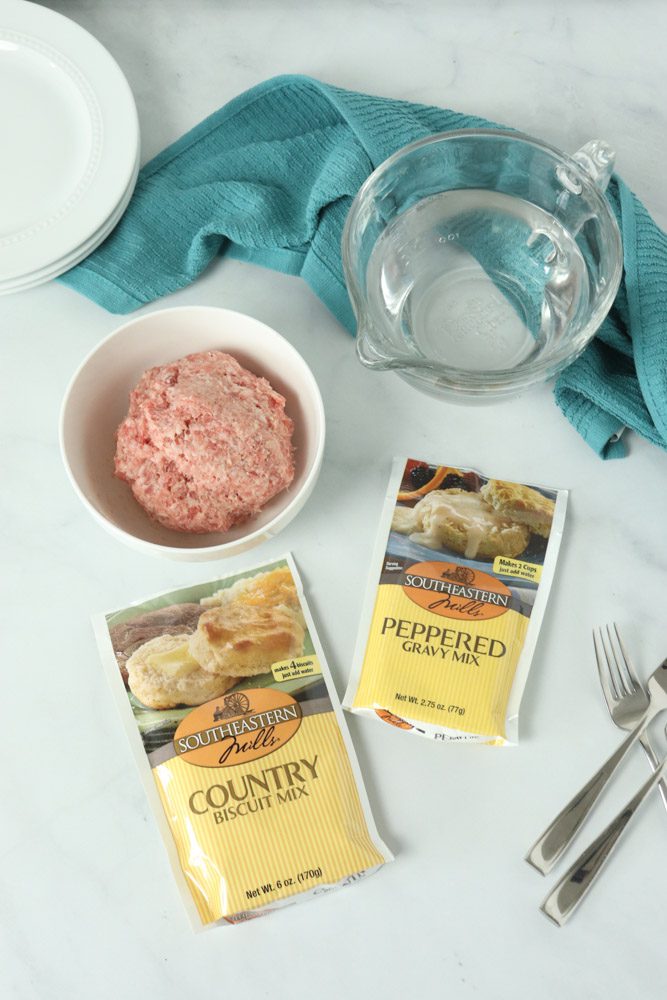 Southeastern Mills Peppered Gravy Mix
Southeastern Mills Country Biscuit Mix
Water
Sausage (any flavor, I love maple)
How to make these simple biscuits and gravy
Don't forget to download the full printable recipe below so you can print it out and use it whenever you feel like making this delicious recipe!
To make these simple biscuits and gravy you will want to preheat your oven to 400 degrees. 
Combine Southeastern Mills biscuit mix with ¼ cup of water. 
Mix with a fork until a soft dough forms. You want to make sure there are no wet spots or dry spots. If it is too dry add water 1 Tablespoon at a time. If it is too wet add a small amount of water. 
Form your dough into a ball
Place on a floured surface and knead the dough about 4 times. 
Roll out the dough ½ inch thick
Cut dough with a biscuit cover and place on a greased cookie sheet. Be sure the biscuits are touching slightly. 
Continue rolling the dough until you have all the dough is used. 
Back for about 12 minutes or until golden brown. 
Remove from the oven.
While the biscuits are baking, start browning your sausage in a pan. 
In a separate pot, mix your Southeastern Mills Peppered Gravy Mix with 1 ¾ cup of water and whisk with a wire whisk until mixed. 
Bring to a boil. Stir occasionally. 
Once it boils, turn down the heat and let simmer for about one minute. 
When the sausage is browned combine with gravy. And stir well. 
Place the biscuit on a plate and add the desired amount of sausage gravy on top. 
Enjoy.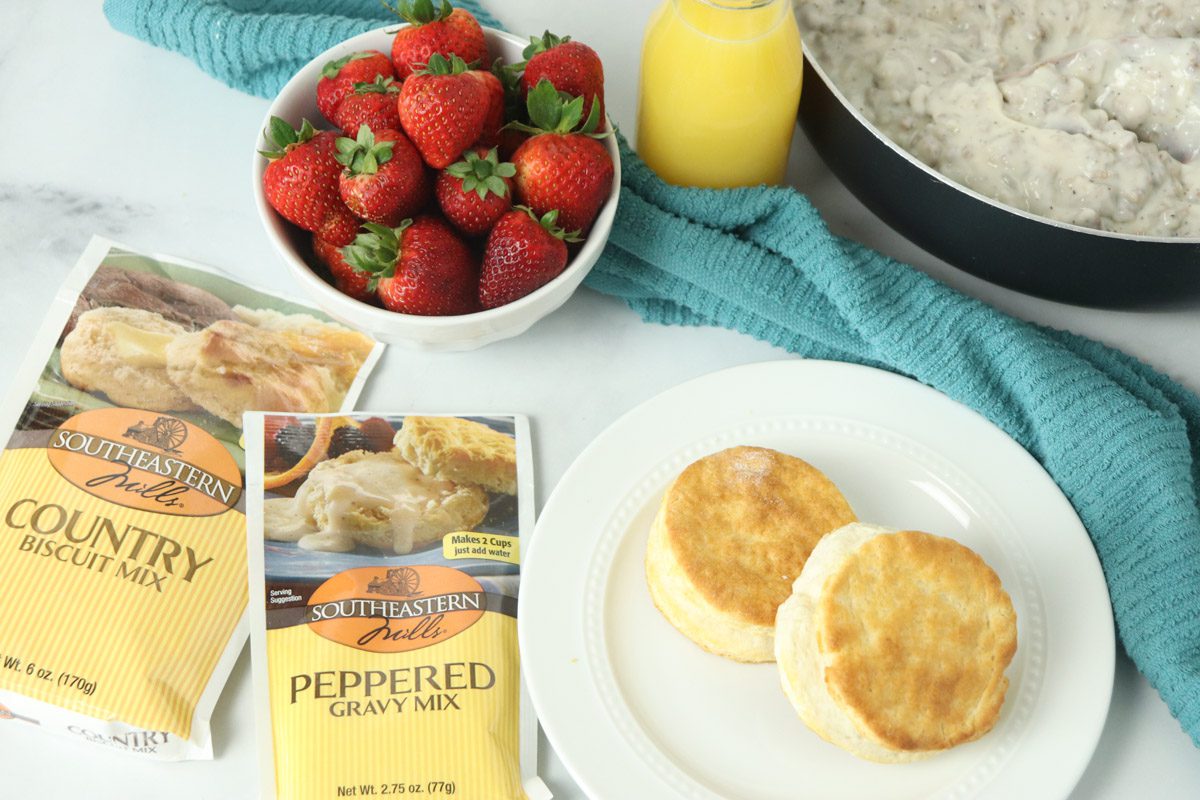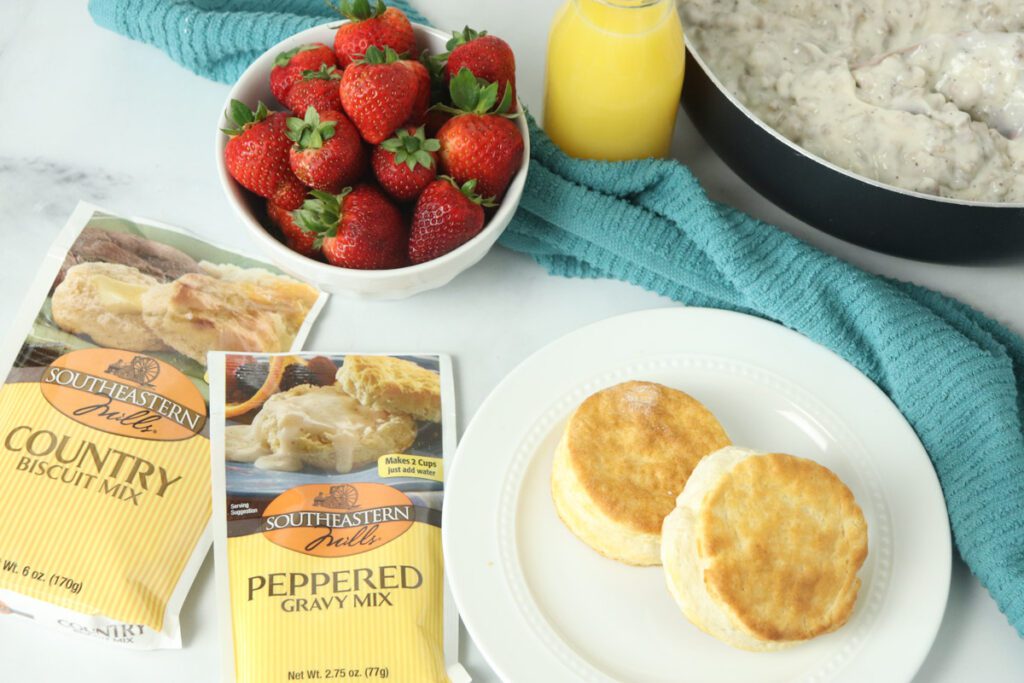 Tips Tricks and FAQs
Use your favorite variety of sausage. 
This recipe is easily doubled. 
If you prefer you can omit the sausage in the gravy. 
Swap out the sausage for ground beef or ground turkey if you prefer. 
If you find your gravy to be too thick you can add a little bit of water to thin it out. It will thicken as it sits.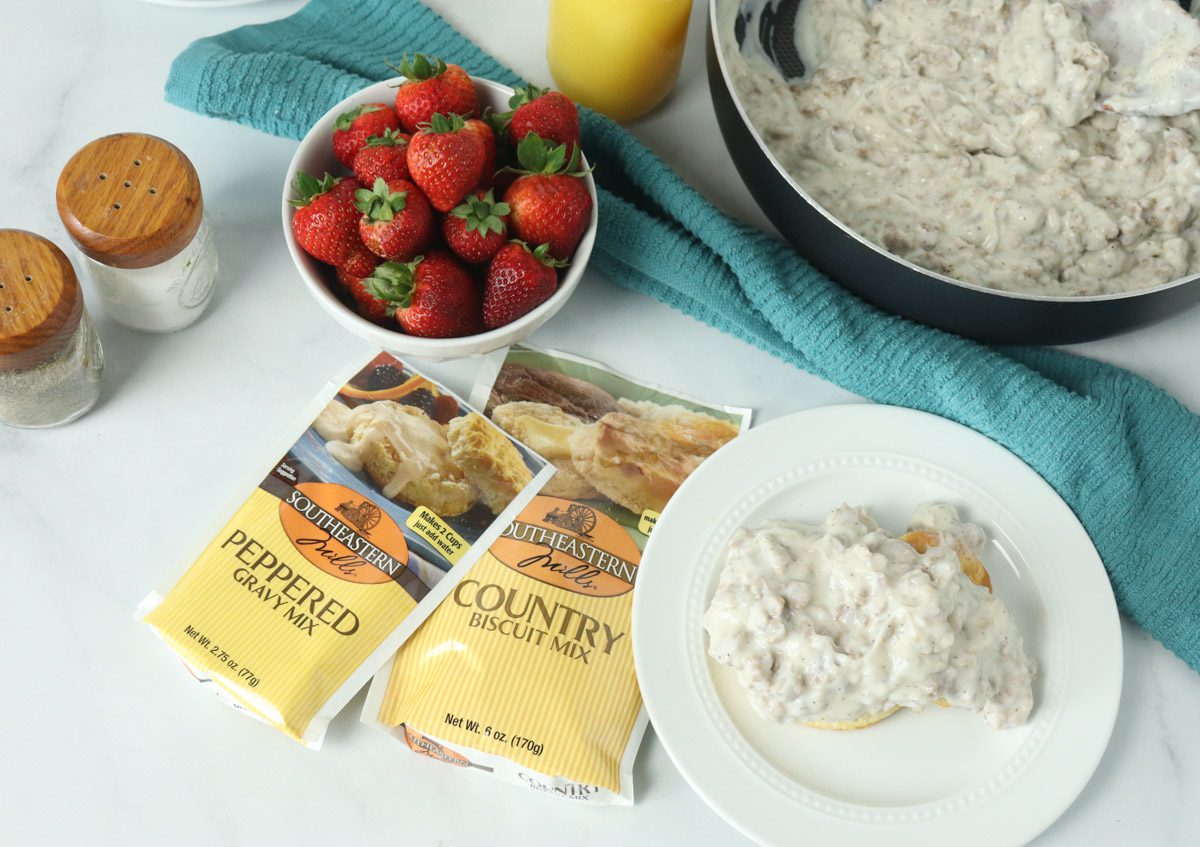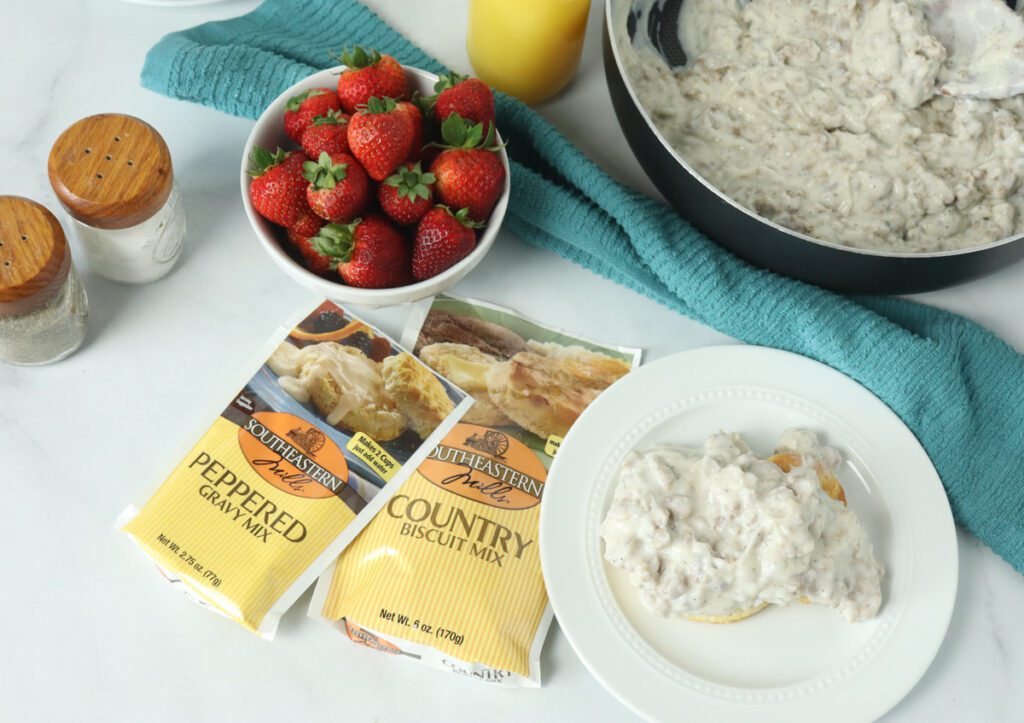 Storage
You will want to store your leftover biscuits in an airtight container at room temperature. Store your sausage gravy in an airtight container in the refrigerator for up to 3 days.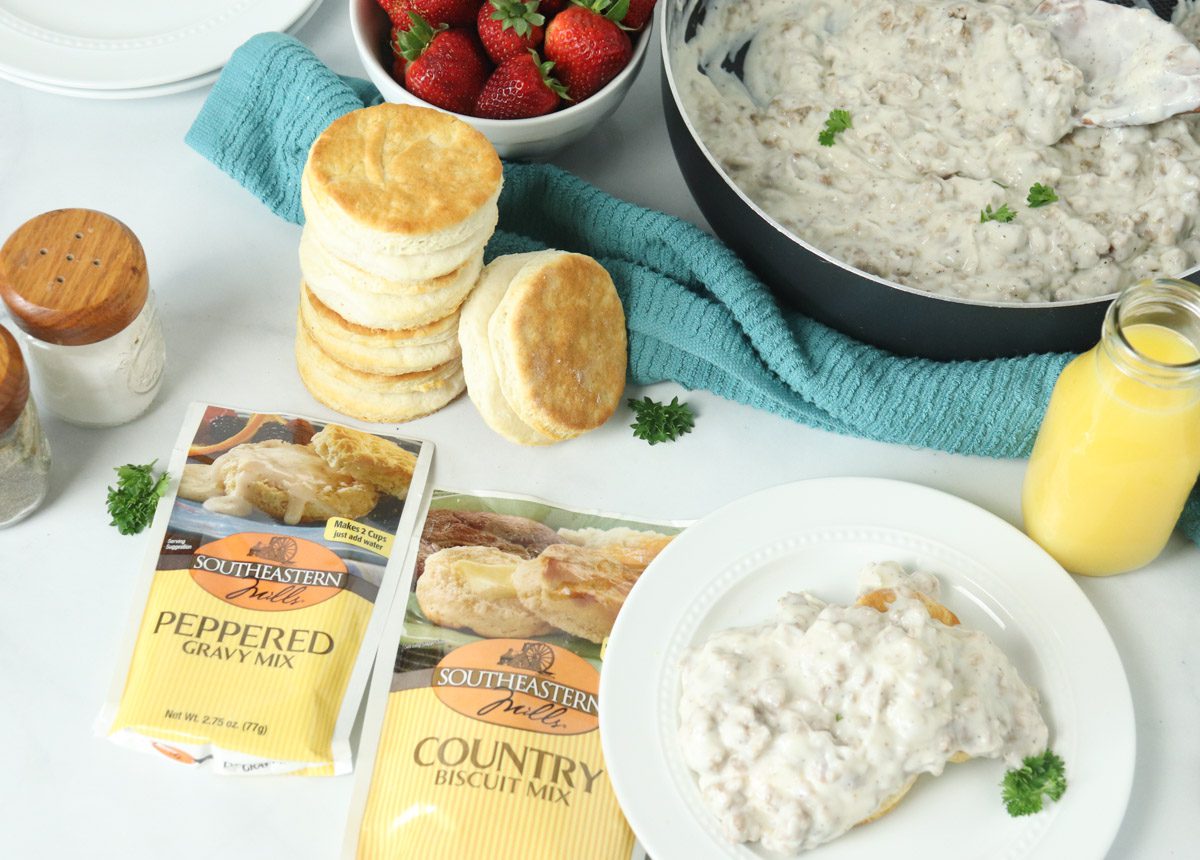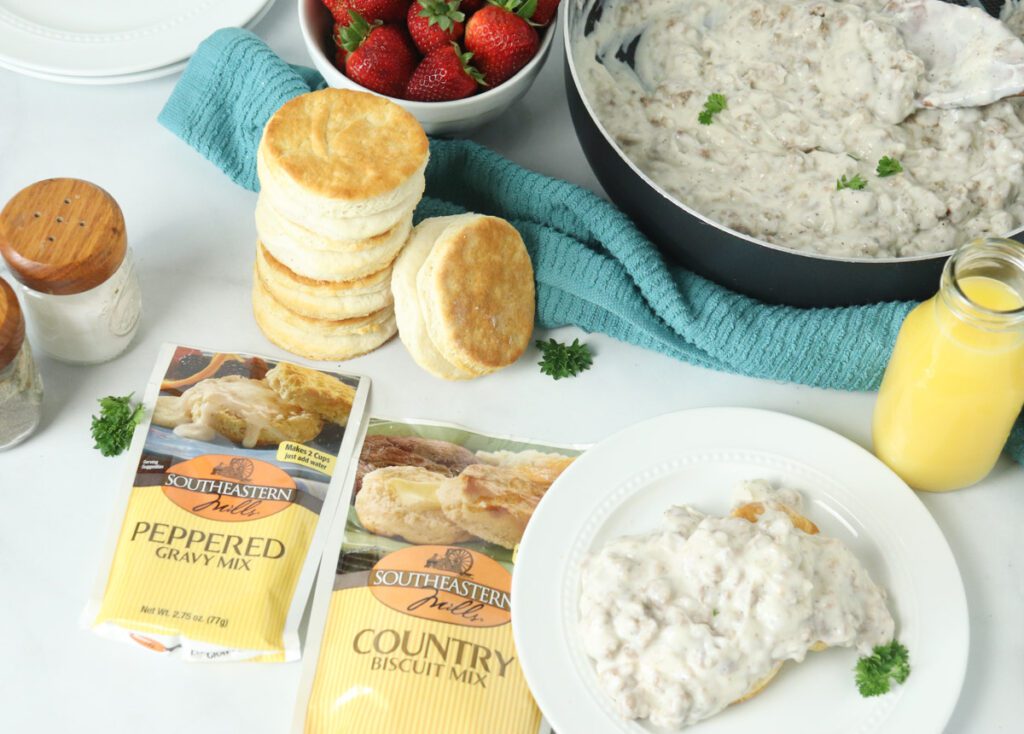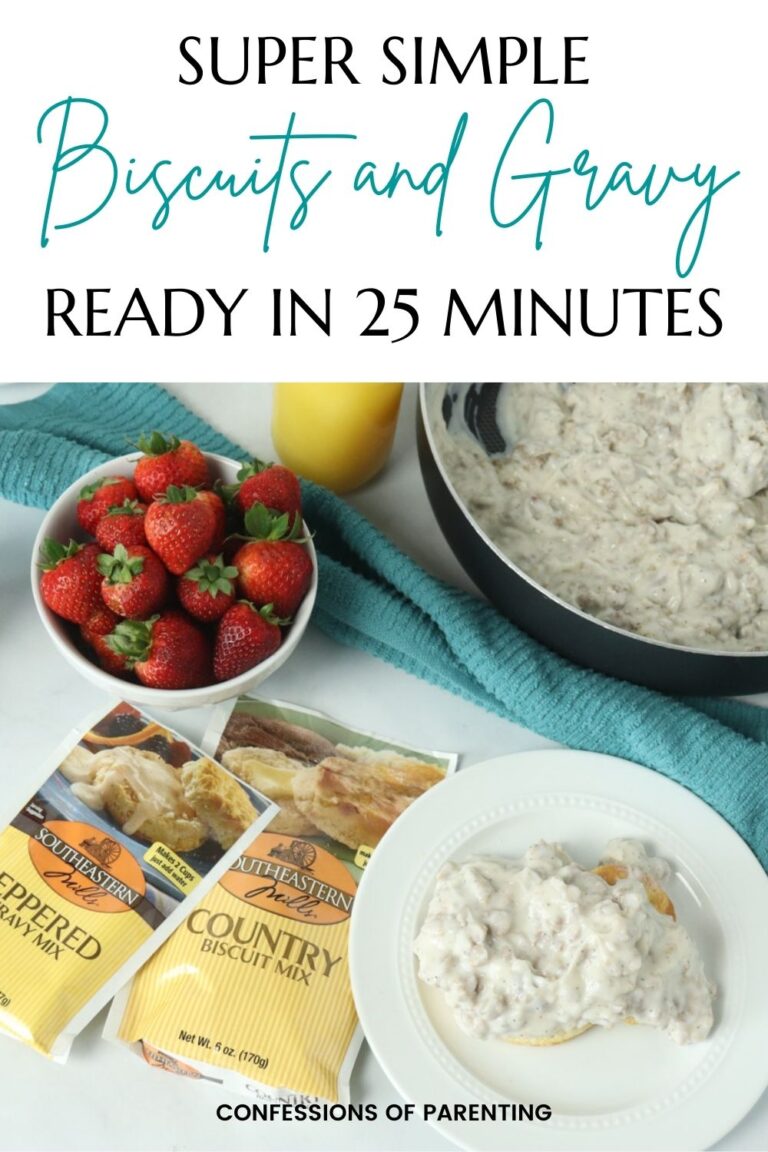 " thumbnail="https://confessionsofparenting.com/wp-content/uploads/2021/12/simple-biscuits-and-gravy-29-1.jpg"]