Is your toddler obsessed with their pacifier like mine were? Pacifier weaning may seem impossible but this method will have you getting rid of a pacifier in just 3 days!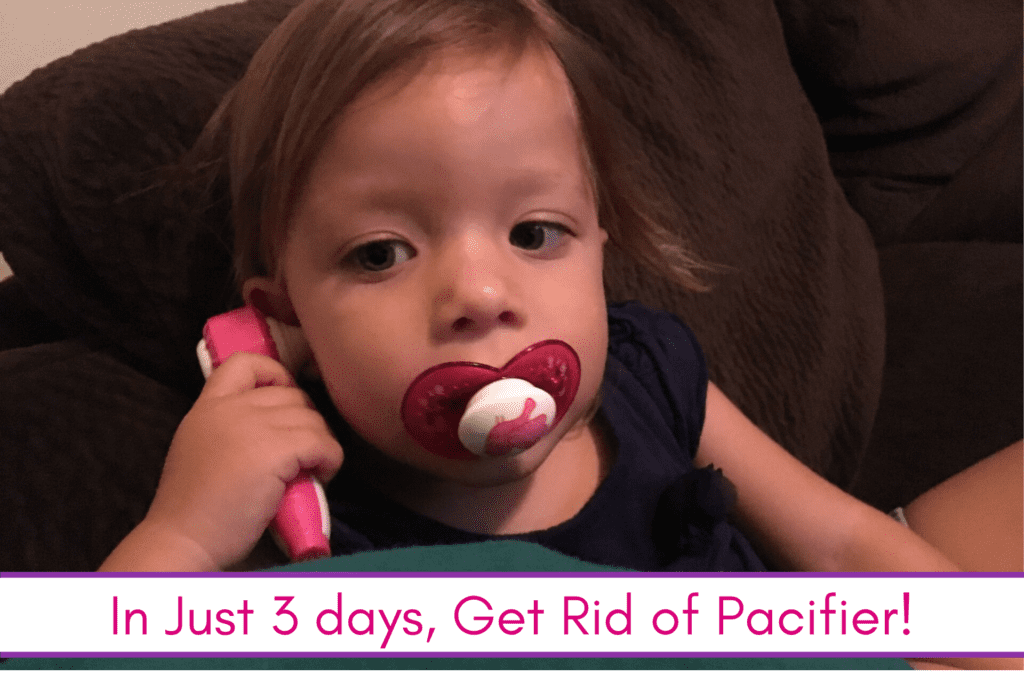 Getting Rid of the Pacifier in 3 Days!
Every toddler has that one thing that they love more than anything in the entire world! For some, it's their blanket. Other kids love a favorite stuffed animal, and then there are those kids that love a certain toy. Comfort items are super important for a child's development and coping skills.
For my kids', that comfort item just happened to be their pacifier!
Why I wanted to start weaning from pacifiers
With Talie, saying her pacifier was her favorite thing is a huge understatement! I'm pretty sure she would have chosen her pacifier over food if she had to.
We couldn't go anywhere without making sure Talie had her pacifier. It was really stressful! If we forgot it or couldn't find one, there was no way to avoid a toddler tantrum. Her pacifier habit was out of control!
My 2 ½-year-old was addicted to a pacifier and I had NO IDEA what to do about it!
But thank goodness, I came across the best idea that got us pacifier free in only 3 days! You read that right. Weaning from pacifier addiction with my toddler was quick and pretty painless!
Two years later was getting rid of the pacifier in just 3 days as well!
This system for getting rid of the pacifier works like a charm!
Ready to find out how to save your sanity and get started pacifier weaning?

Getting Rid of the Pacifier in 3 Days
Here is how the pacifier weaning method idea began!
Years ago, I read an article on how to ditch the pacifiers and get rid of the pacifier addiction in just three days!
When I first read it, I actually laughed out loud and thought to myself, "YOU HAVE NO IDEA JUST HOW ADDICTED MY TODDLER IS… I mean that thing is in Talie's mouth for at least 20 hours a day."
But with 2 simple steps and a promise of weaning from pacifier addiction in 3 days I was ready to try anything!
Now with 2 little ones who have successfully ditched their pacifier habit with this 3-day method, I'm a big believer!
The method has 2 basic steps: preparation and then pacifier removal.
It takes into account the empathy and intelligence that your sweet toddler has even at a young age! Believe it or not, your toddler WANTS to grow up and be a big kid!
So if you want pacifier weaning done right… try this weaning from pacifier method.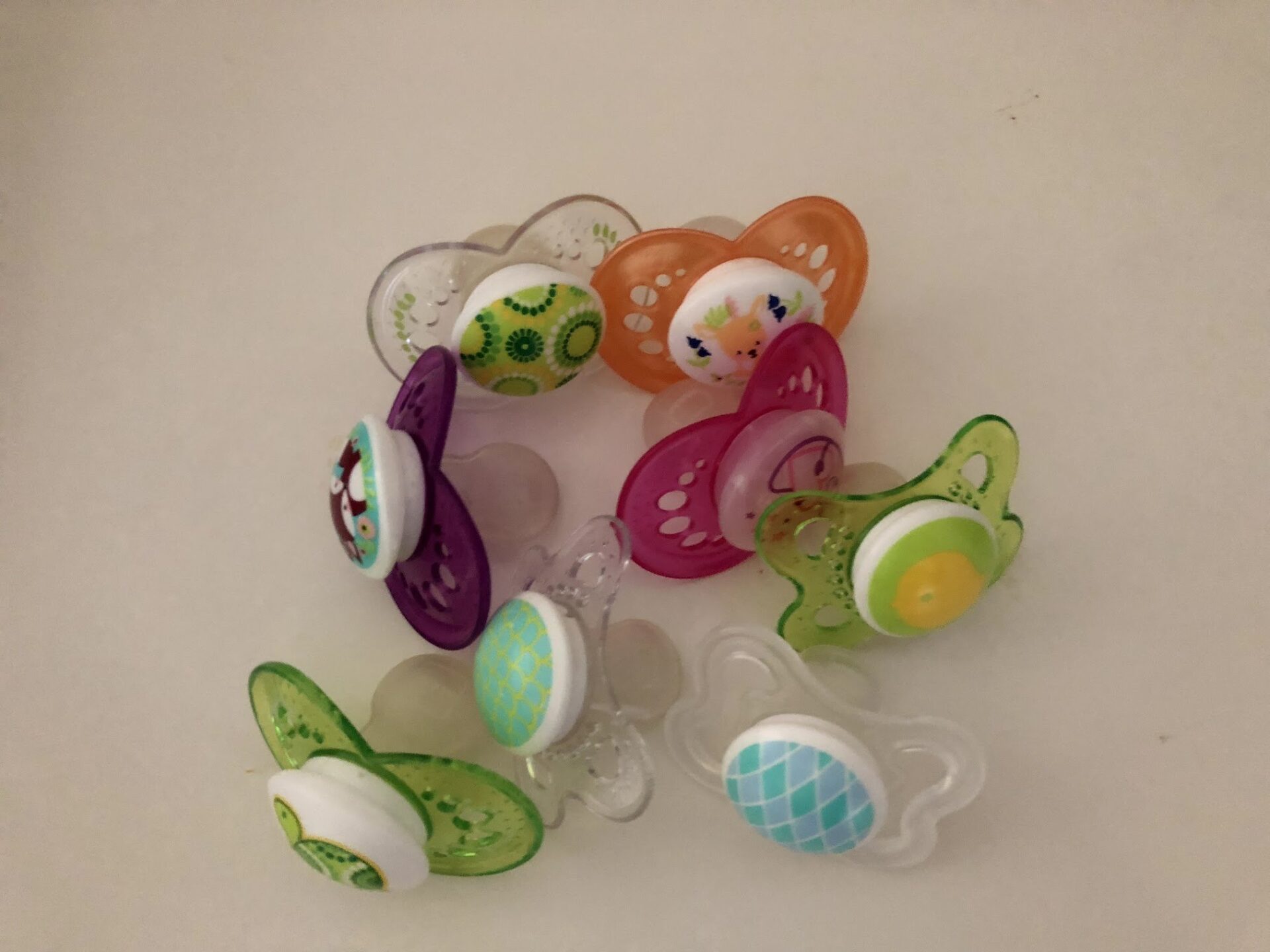 How to do the 3 day Weaning from Pacifier Method
Step 1: Start By Prepping Your Toddler for pacifier weaning
The process starts three days before you actually take the pacifiers away. Start the conversation about your toddler's pacifier going away. During both of my attempts, I told my kids that they were getting so big which meant that they could do so many fun new things. When they heard about all the exciting things that big kids could do, they eagerly agreed. Then we talked about how there were babies that really needed their pacifiers because they were little. I emphasized that the babies really, really needed those pacifiers. Again, they both agreed and were eager to help the babies!
Believe me, the first time around with Talie I was laughing inside thinking that this pacifier weaning method would never work.
We had a variation of this conversation 5 to 6 times a day for the next three days. Each conversation lasted less than 30 seconds.
Every time they asked for their pacifier or showed it to me I would remind them that, "In 3 days we are giving the pacifiers to the babies." "In 2 days we are giving the pacifiers to the babies." "Tomorrow we are giving the pacifiers to the babies." This is a crucial step in the pacifier weaning process, to talk to your toddlers about when you are getting rid of the pacifiers.
Step 2: Get Rid of the Pacifiers
Day 3 is the big day! On day 3, when your toddler wakes up remind them that the baby fairy is coming to pick up all the pacifiers for the babies!
Make it an exciting event! See who can find the most pacifiers for the babies.
Once all the pacifiers have been found let your toddler leave all the pacifiers on the front porch for the "baby fairy" who will come and pick them up and take them to the babies that need them!
We talked about how happy all those babies would be when they got their new pacifiers!
You might need to distract your toddler for a bit to get their mind off just losing their pacifiers.
Once distracted, grab the pacifiers off the porch and replace it with a new toy or a stuffed animal as a thank you from the babies.
What's next in the getting rid of the pacifier 3 day method?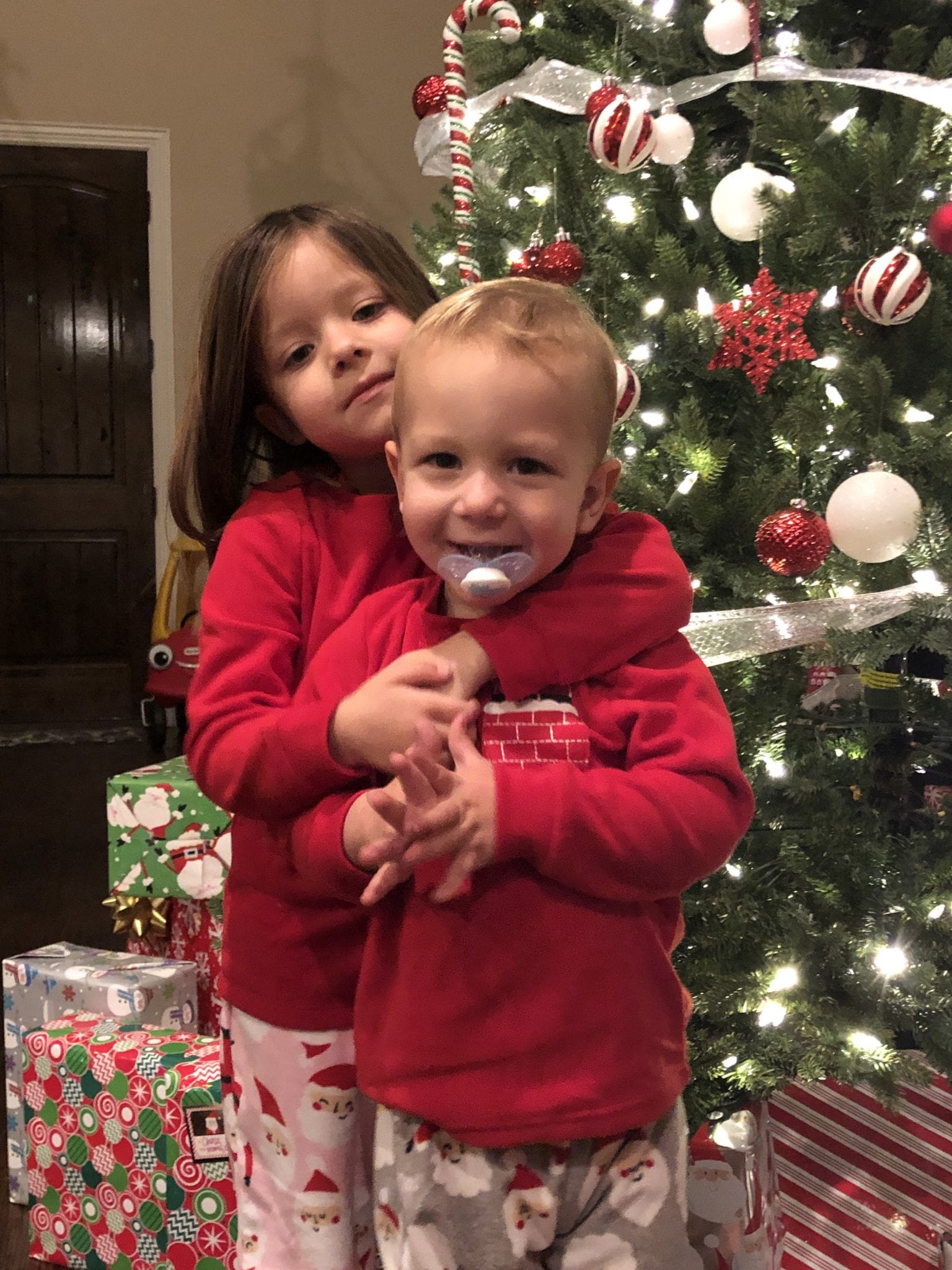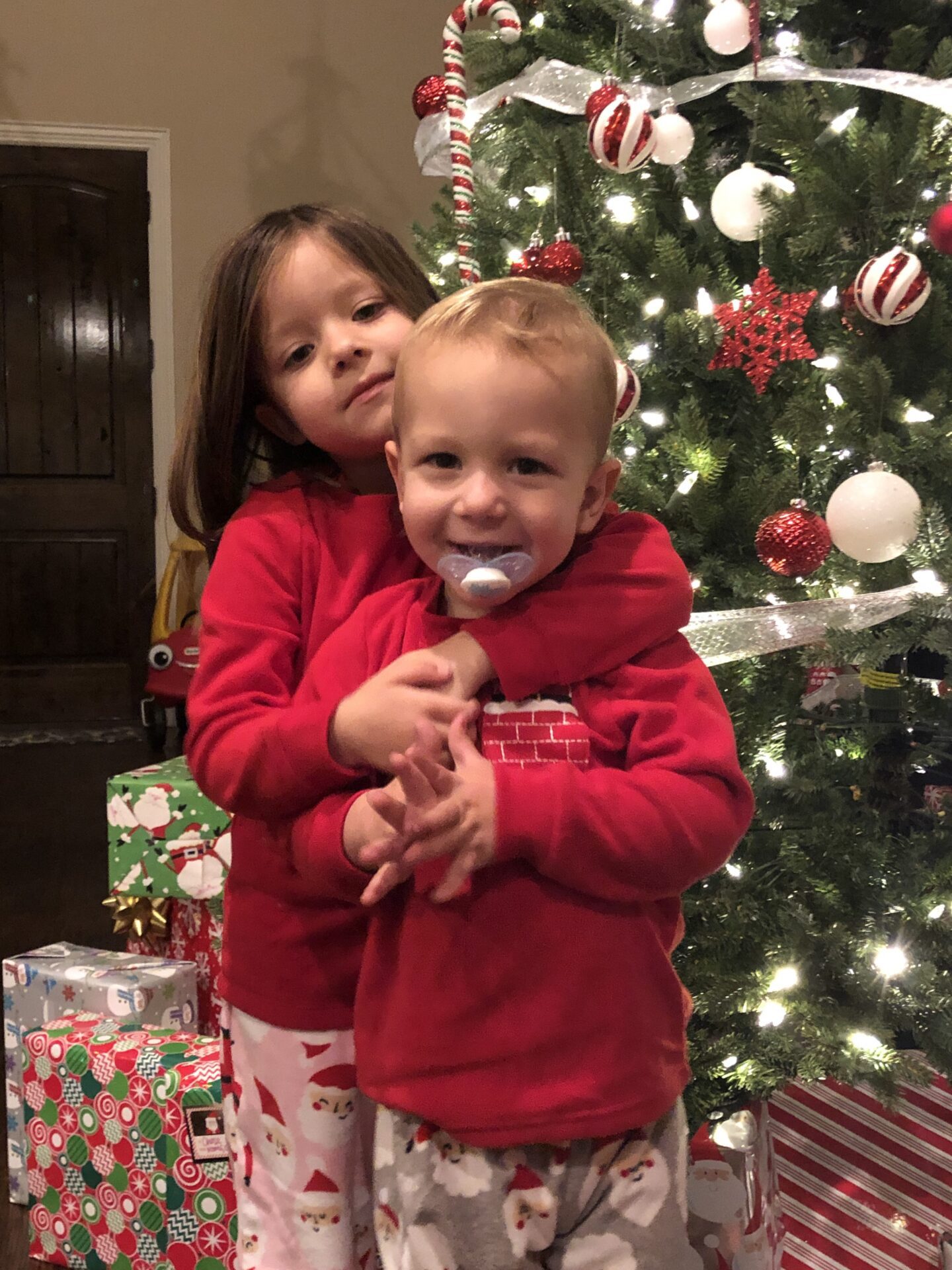 Even though technically the pacifiers are gone, the process isn't quite over. You have to stay strong with your conversations!
It is pretty inevitable that your toddler will ask for their pacifiers again.
This is when you remind them how happy those babies are with their new pacifiers and how big your toddler is!
Each time we did this pacifier weaning method, reminding them of this totally satisfied them!
This conversation could happen many times throughout the next few days.
This weaning from pacifier method actually works so well!
As time goes on, your toddler will ask less and less for their pacifier and before you know it every trace of their pacifier obsession will be gone!
More Tips on Pacifier Weaning!
How to get your toddler to sleep without pacifier
The daytime portion of this method went great, but believe me, I was dreading bedtime for both of my kids! I knew it would be really difficult for them not to have their comfort item. Your method of how to get a toddler to sleep without pacifier use may be different depending on your child.
You may get a meltdown like I did the first night with Talie. She completely lost it and had so much trouble falling asleep that night.
I was so tempted to give her a pacifier, but I'm so glad I didn't. After a night of tears, she finally fell asleep as I sat by her bed and held her hand…
But guess what? The next night was better and after a few days, she started falling asleep without crying because her pacifier was gone.
Certainly, sleep training without pacifier can be the hardest part of this pacifier weaning method because it really is weaning from pacifier cold turkey, just remember that the tears won't last forever!
Your toddler will adjust and become so much stronger and more independent in their sleep! And there is a good chance they will actually sleep even better without their pacifier because they won't wake up looking for it!
If getting your toddler to sleep without a pacifier is difficult, you can try replacing their pacifier with something else like a new special stuffed animal they can hold and cuddle with.
.Just they can do this, and they will sleep deeper and wake up happier after learning to comfort themselves without using a pacifier!
When to start getting rid of the pacifier?
Getting rid of the pacifier habit is going to be different for each child! It's completely up to you when you decide to try and start pacifier weaning.
I decided to wait until about 2 ½ with both of my little kids when using this pacifier weaning method.
Since the explanation to your toddler about babies needing pacifiers is so important to the success of this 3-day pacifier weaning method, it's critical your child has the ability to understand what you are saying when talking about the "baby fairy coming"
For this reason, you may want to wait until your toddler is closer to 2 or 2 ½ to begin! You know your child best, so if you think that they will be able to understand… then go for it!
Other Ideas for Pacifier Weaning
There are lots of different ways you can break up with the binkies.
Make it fun! Get creative by adjusting this method to your child, or try something completely different. Since every child is so unique, their experience with pacifier weaning is likely to be as well.
Here are some other ways that you can try weaning from pacifier use!
Have a goodbye party
You could try a send-off. Have a goodbye party for the pacifiers! Have your toddler pick their favorite food for dinner and celebrate getting rid of the pacifier.
It might be Mac N Cheese, but if it helps them with this big milestone…Do It! We need to encourage them by celebrating breaking the pacifier habit.
Replace instead of getting rid of the pacifier cold turkey!
Have your toddler pick a replacement to love, one that isn't a pacifier. It could be a stuffed animal, a special blanket that they pick out, or a pillow that they choose to go on their bed each night.
If your toddler loves books help them pick a new book that you can read together each night! These are great pacifier alternatives for toddlers.
It's hard to know how to get your toddler to sleep without pacifiers but a new comfort item will definitely help.
Watch a video or read a book about pacifier weaning
There are videos and books written for toddlers, to help them break their pacifier habit and help them celebrate that they are "getting bigger".
These books can help you feel more prepared as a parent and show your toddler that weaning from pacifiers is part of being a big kid!
"Mail" the pacifiers away
I heard of one mom who had their toddler help put all the pacifiers in a box and had the "mailman" send them to other little babies.
This could be a simple variation of our 3-day pacifier weaning method where you have the toddler be more of an active part of getting rid of the pacifier collection!
It can be heartbreaking to take your child's pacifier away. This goes for them and for you! If you stick to the plan you will be able to get rid of a pacifier and be free of them in no time!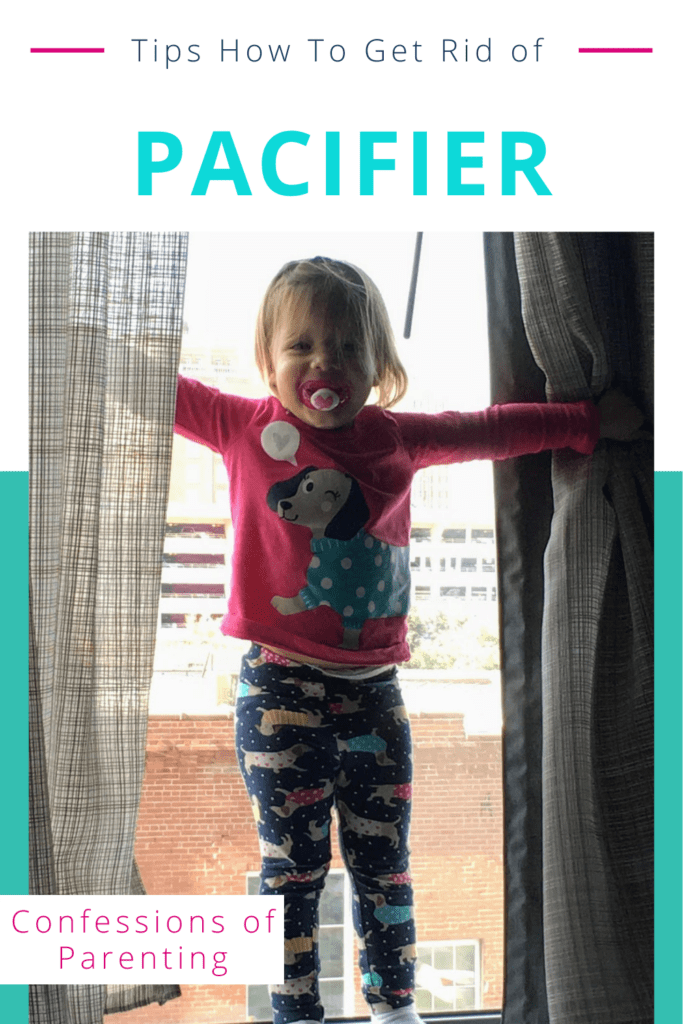 How did you help your toddler get rid of the pacifier? Share in the comments!
Looking For More Tips For Raisng Toddlers? Check Out These Great Articles!
You can also FOLLOW ME on FACEBOOK, TWITTER, INSTAGRAM, and PINTEREST to find more great ideas on raising kids, spicing up your marriage, and having fun as a family!