Valentine's Day is quickly approaching and what better way to celebrate than with the very best Valentines Day songs for kids. It is a great way to get them moving and grooving and in the mood to celebrate! Whether you are listening in the car or at school kids of all ages love these Valentine's Day song ideas!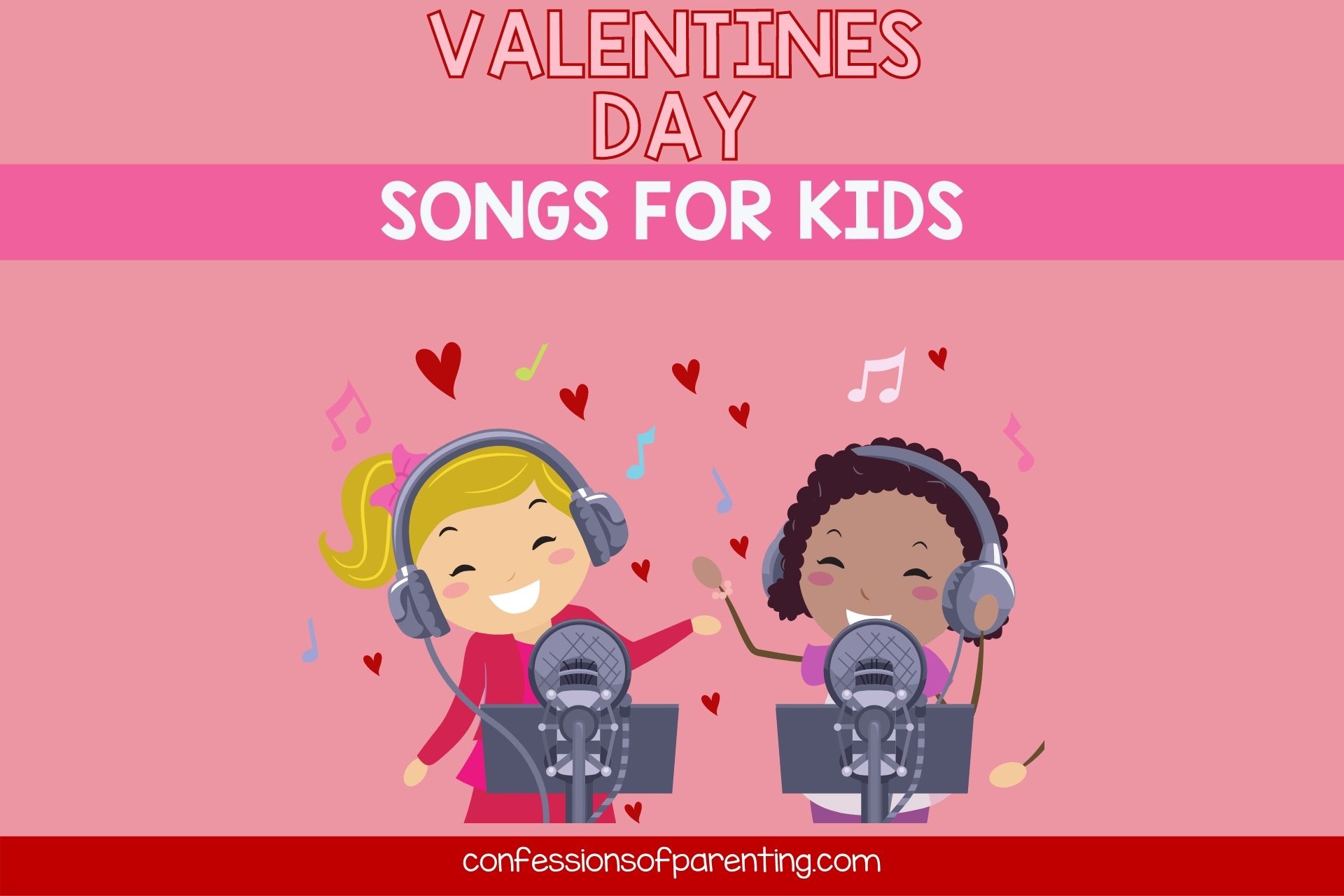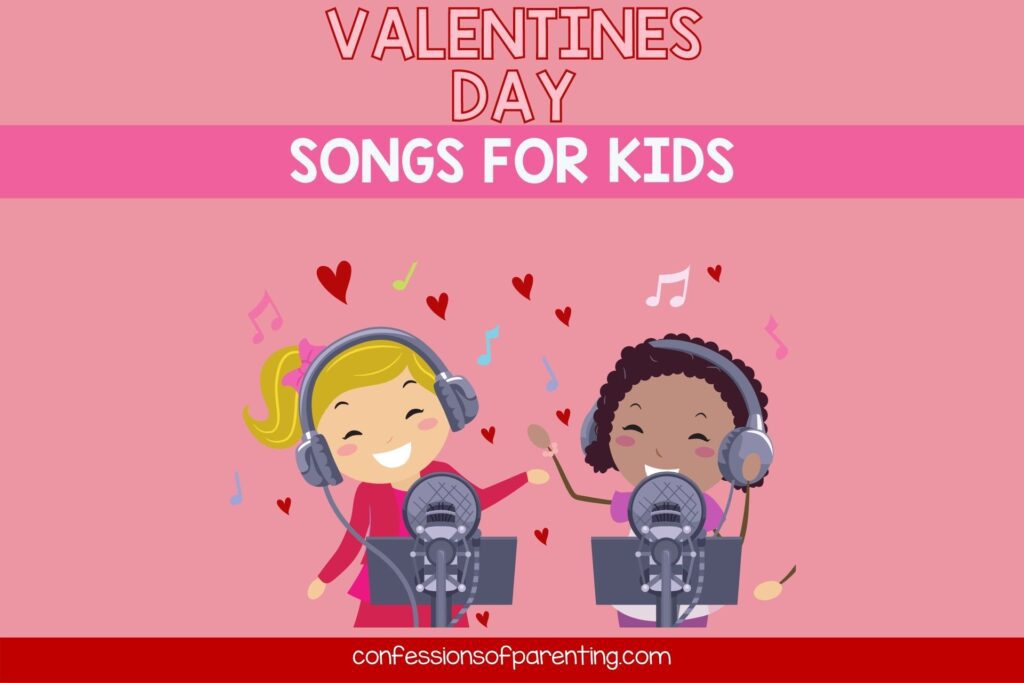 If you have kids or work with kids you probably know by now that as soon as they hear music their body just starts moving and grooving! I absolutely love that! Even with my older kids music connects and bonds us!
I am so excited to share with you some of our favorite Valentine's Days songs for kids. These are clean and fun and perfect for the car, class parties, or everywhere you want to listen!
How to Use these Valentine's Day Songs
Incorporating music into your routine at home or in the classroom is super important. It allows kids brain breaks, helps get the wiggles out, and helps kids connect. And these Valentine's Songs are age-appropriate for kids, no more cringing when you hear the words being sung or having to explain some interesting topics to the kids.
Most of these songs are on YouTube (YESSSS!) so that you can play them on your computer screen, TV, or projector so that everyone can see!
Valentines Day Songs for Kids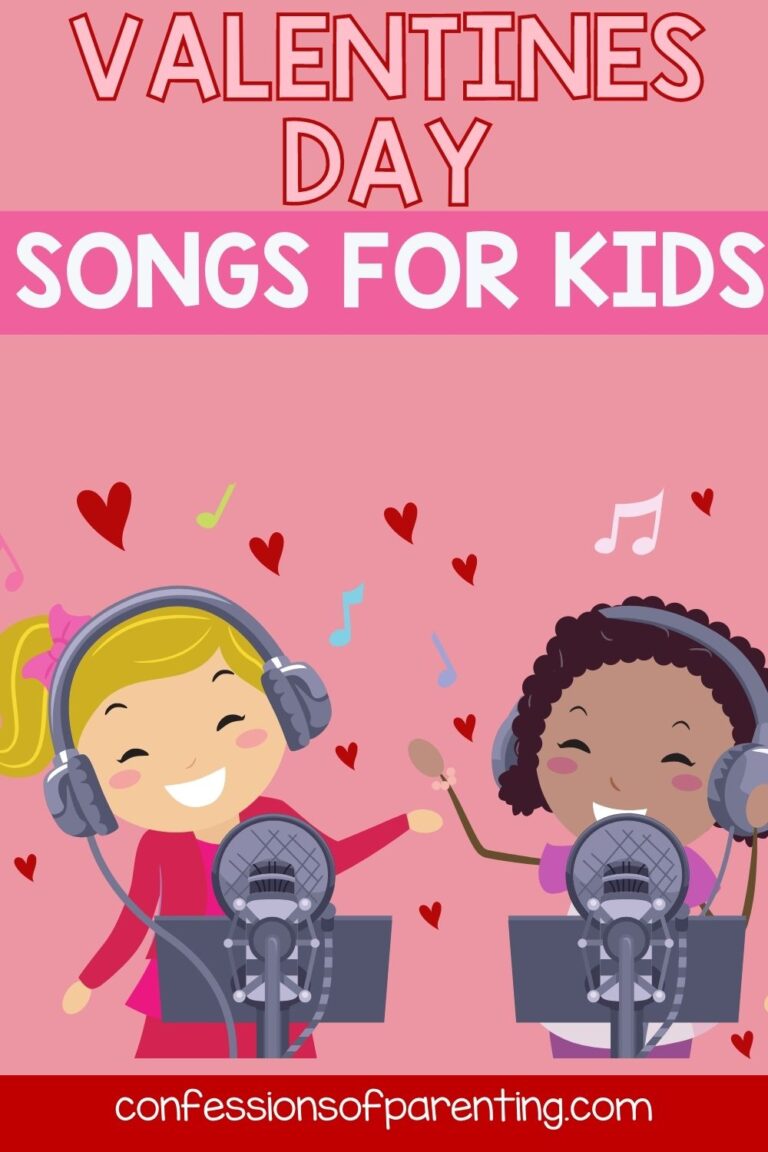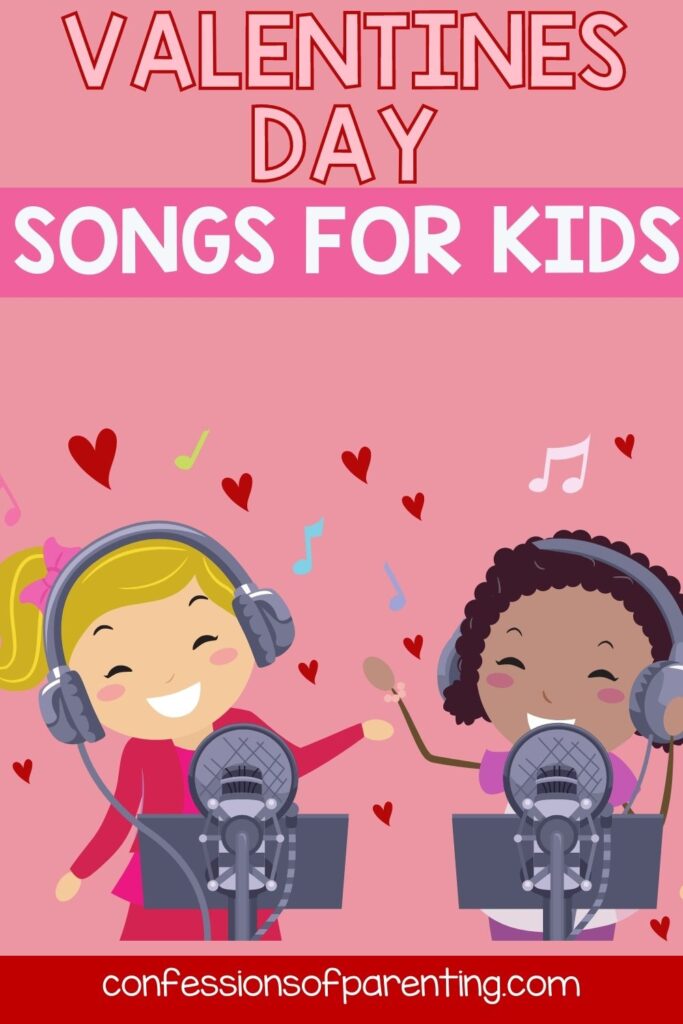 Elmo and Abby's Valentine's Day Song from Sesame Street
You're My Best Friend by Queen
We're Going To Be Friends by The White Stripes
You're My Honeybunch by Buddy Castle
You've Got A Friend In Me by Randy Newman
Tony Chestnut by The Learning Station
Getting To Know You from The King and I
Valentine's Day Song by The Kiboomers
Love Is An Open Door from Frozen
A Bushel and a Peck from Guys and Dolls
Skinnamarink by Sharon, Lois & Bram
Boom Chicka Boom Valentine's Day by The Learning Station
Quiero Ser Tu Amigo from Sesame Street
5 Little Hearts by The Kiboomers
Valentines, Valentines, What Color Do You See? by The Kiboomers
I Love You Song by The Kiboomers
Valentine's Day Sharks by PinkFong
I'm a Little Valentine by The Kiboomers
Valentine's Day Song by Jack Hartmann
A Tisket, A Tasket Valentine Song by The Kiboomers
All You Need Is Love by The Beatles
You Are Heart, by The Learning Station & Becky Bailey
Put A Little Love In Your Heart by Mary Mary
Listen to Your Heart by Kesang Marstrand
Better Together by Jack Johnson
Love (from Robinhood) by Nancy Adams
A Hug by The W. L. A. Children's Choir
Dinosaur Valentine by Liz Buchnanan
Hakuna Matata (No Worries) – Simba,Timon, Pumbaa
Valentine Shapes by The Kiboomers
Under the Sea from The Little Mermaid
Mail Myself To You by Woody Guthrie
Kiss the Girl from The Little Mermaid
Happily Ever After – Jordan Fisher & Angie Keilhauer
In the Big Blue World from Finding Nemo: The Musical
What A Wonderful World by Louis Armstrong
Daughters of Triton from The Little Mermaid
Belle (Reprise) from Beauty and the Beast
Lavender's Blue Dilly Dilly – Lyrics (Cinderella 2015 Movie Soundtrack Song)
If I Never Knew You from Pocahontas
When You Wish Upon A Star by Jiminy Cricket
Shiny by Jemaine Clement (Moana)
A Whole New World (from Aladdin) by Mena Massoud & Naomi Scott
It's Not Easy from Pete's Dragon
An Unusual Prince/Once Upon a Dream (From "Sleeping Beauty")
Can You Feel The Love Tonight from "The Lion King"
Mine, Mine, Mine from Pocahontas
Frozen Heart from Frozen (OST)
Beauty and the Beast Tale As Old As Time
For the First Time in Forever (From "Frozen"/Sing-Along) by Kristen Bell & Idina Menzel
Reflection from Mulan (Disney Sing-Along)
Part of Your World from "The Little Mermaid"
True Love's Kiss from "Enchanted"
So This is Love from Cinderella
When She Loved Me by Sarah McLachlan
The Wonderful Thing About Tiggers from Winnie the Pooh
Someday My Prince Will Come from Snow White and the Seven Dwarfs
A Dream Is A Wish Your Heart Makes from Cinderella
When We're Human from Princess and the Frog
You're Welcome (from Moana/Official Video) by Dwayne Johnson
That's How You Know from Enchanted
A Girl Worth Fightig For from Mulan
You'll Be in My Heart by Phil Collins
Almost There (From "The Princess and the Frog") by Anika Noni Rose
Mother Knows Best (From "Tangled"/Sing-Along) by Donna Murphy
Let It Go Sing-along from Frozen
How Far I'll Go (from Moana/Official Video) by Auli'i Cravalho
If I Didn't Have You from Monsters, Inc.
I'll Make A Man Out Of You from Mulan
Did we forget a favorite Valentine's Day song for kids? Share in the comments so we can add it to the list!
For more Valentine's Day fun try some of our favorites!