Your family's favorite Mexican-inspired snack is made easy with this Air Fryer Taquitos Recipe! These Taquitos are quick and simple and great for freezing! Taquitos in the air fryer are easier than you think, and if you do decide to freeze them this is the perfect guide for doing taquitos in air fryer.

Air Fryer Taquitos Recipe
I'm all about super easy dinners, so when I heard about the awesome air fryer craze, I had to try it out! I can definitely say I haven't been disappointed. I haven't tried too many things in it yet, but I have tried this air fryer taquitos recipes and it's absolutely delicious!
We really enjoy having a side of watermelon salsa with mint with some yummy tortilla chips. It helps get a healthy fruit to balance dinner out and is a really refreshing addition. You could also make a simple shaved brussel sprout salad to go with this and it would be a hit!
This recipe would even be a great after school snack. Taquitos are easy to freeze and cook up super quick in the air fryer whether they are fresh or frozen!
Air Fryer Taquitos Recipe
Makes: 12 taquitos
Prep time: 10 minutes
Cook time: 10 minutes
Total time: 20 minutes
Ingredients for Air Fryer Taquitos
1 lb ground beef
1 small onion, finely chopped
1 packet taco seasoning
⅓ cup water
1 can diced tomatoes with green chilies
1 cup shredded cheddar jack cheese
12 large corn tortillas
1 tbsp vegetable oil
How to Make this Air Fryer Taquitos Recipe
We love taquitos in our house, and I was so happy to find out that they are so easy and quick to make in my air fryer!
For this recipe, you will start by heating a large-sized skillet on medium heat. While your pan is heating up you can prepare your small onion by dicing it into fine pieces. When your pan is hot, add the chopped onion as well as the ground beef.
When the meat is fully cooked, add your taco seasoning, water, and diced tomatoes with green chilies and stir together. Cook while stirring occasionally until the sauce begins to thicken.
As your sauce is thickening, you can prepare your tortillas by microwaving them for 30 seconds on a plate that has been covered with a damp paper towel. This will help soften them up and bring moisture into them that will help with the rolling!
To assemble your taquitos, spoon a line of the ground beef mixture down the center of each tortilla. Top each with cheese and roll the tortillas tightly over the filling, setting them on a flat surface with the seam side down.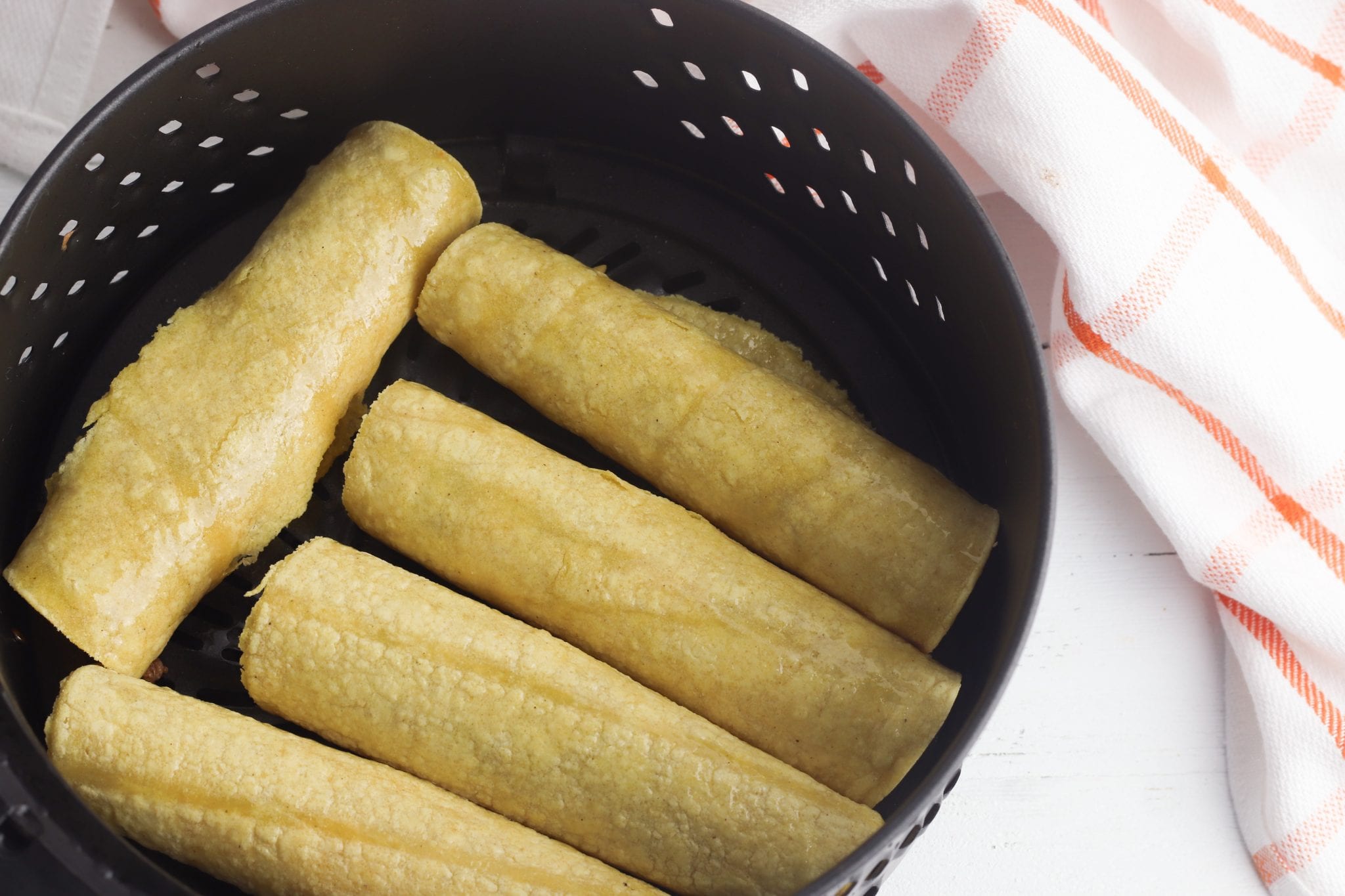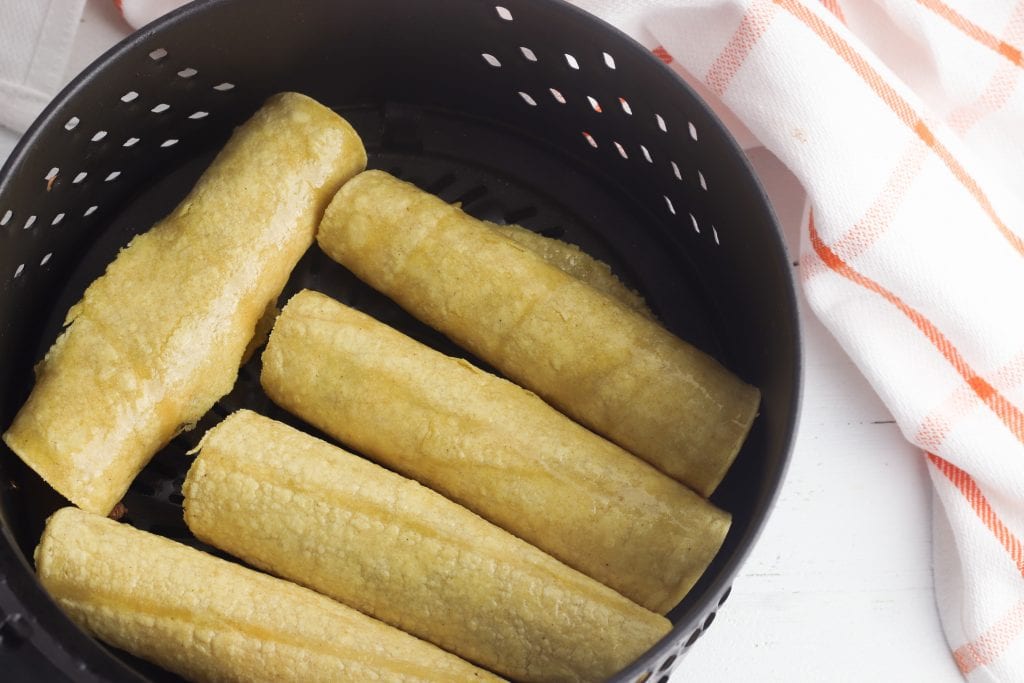 Brush vegetable oil on each of the taquitos and place them carefully in the basket of your air fryer. When they are all ready, set your air fryer to cook for 10 minutes at 400 degrees.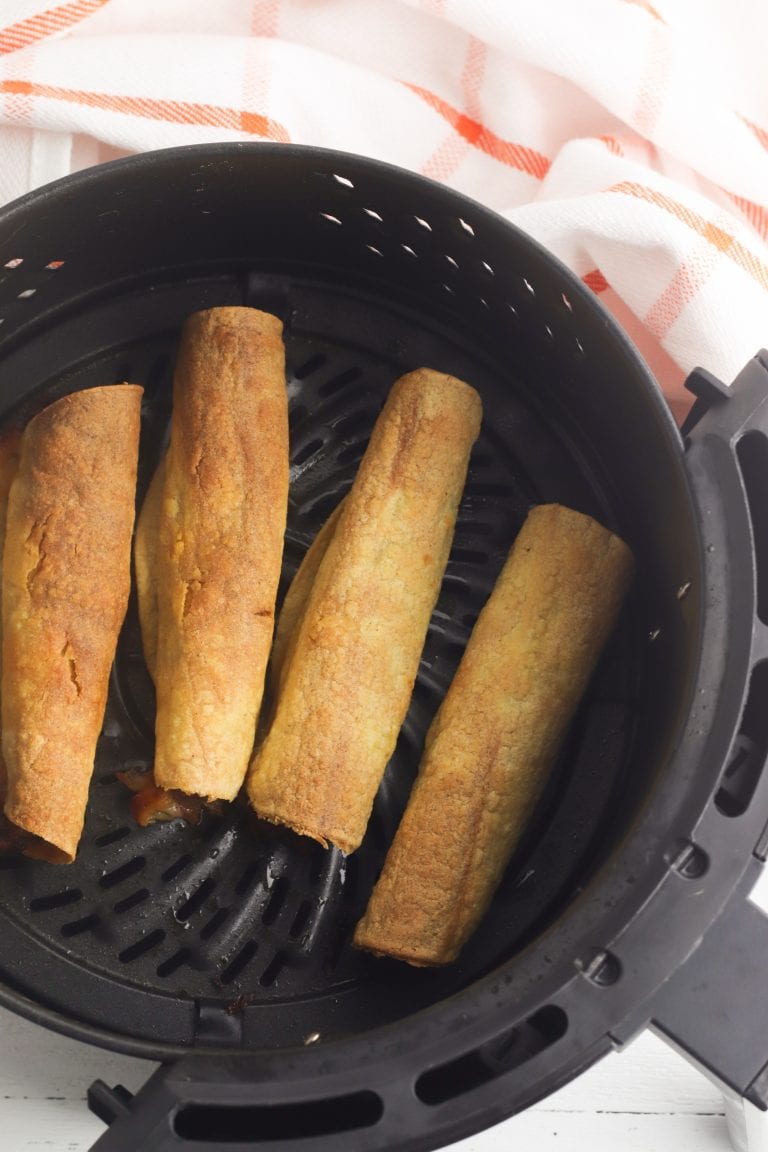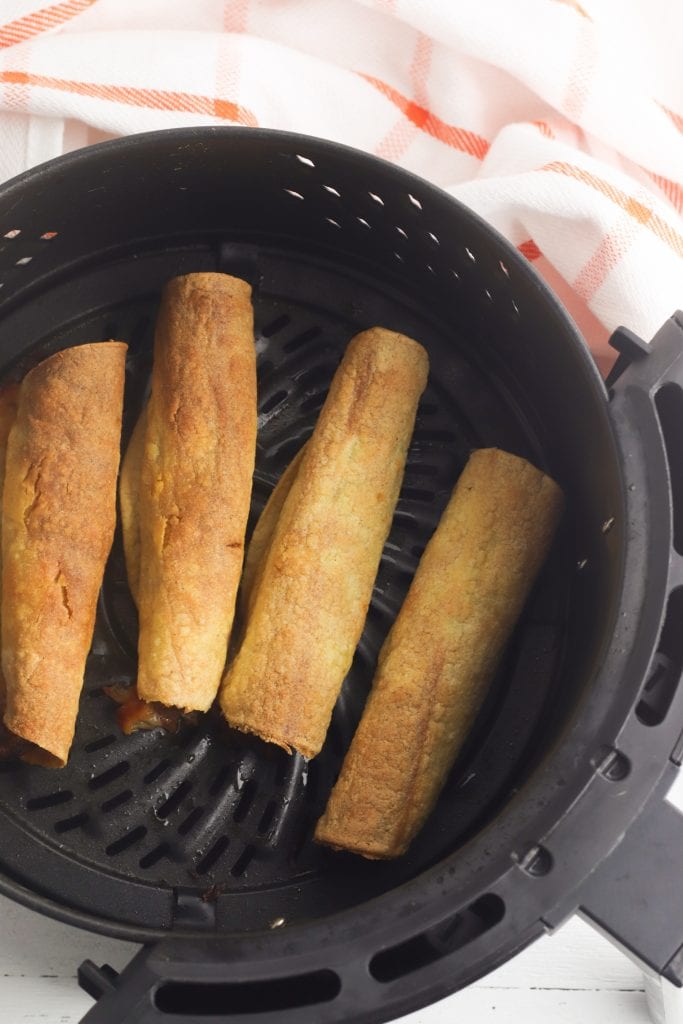 Wait for your timer to go off and get ready to enjoy these delicious air fryer taquitos!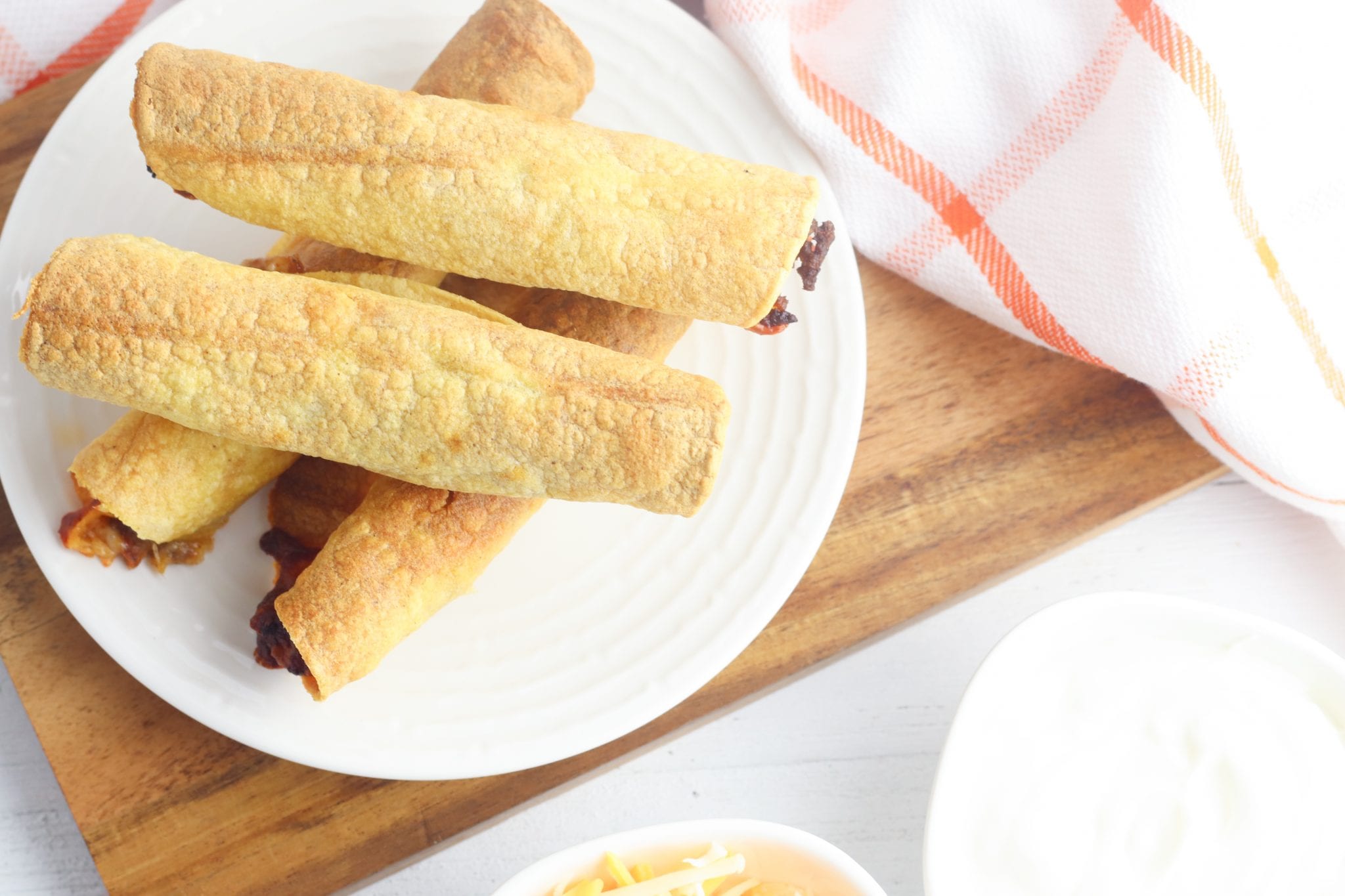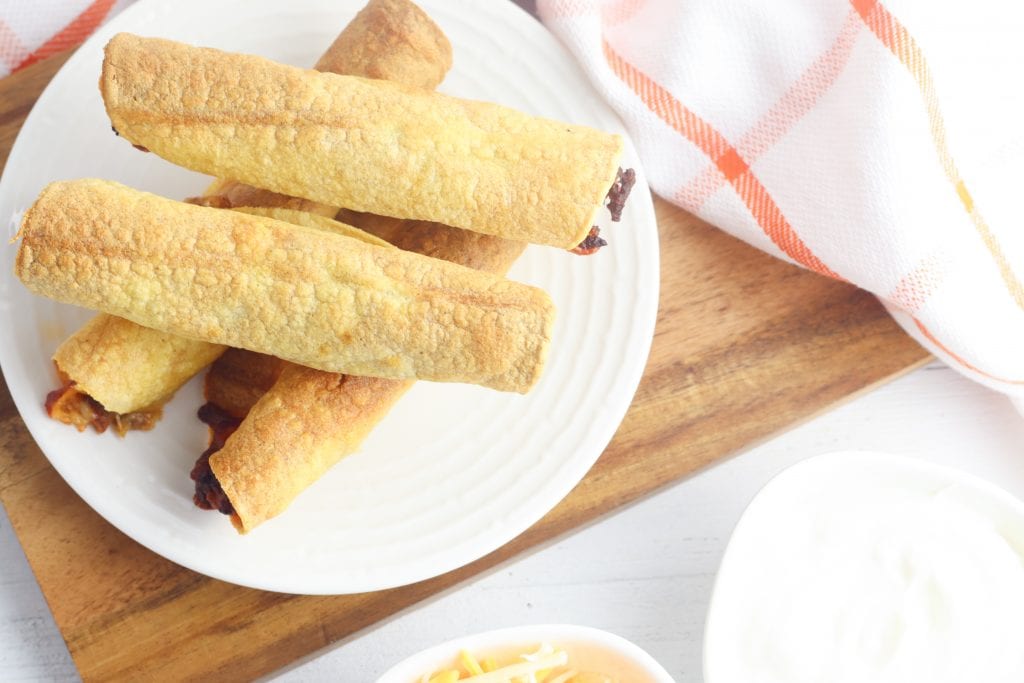 Tips and tricks for Air Fryer Taquitos
If you and your family like to cook tacos, taquitos, burritos, and other Mexican-inspired dishes often, consider grabbing a bulk jar of taco seasoning! I have been stuffing my pantry with packets for years until I found a bulk jar and it is so convenient. It keeps the seasoning fresh and you don't have to worry about any waste. I love this

Old El Paso

brand you can find at Walmart!

There are many sizes and brands of air fryers, so you may have to adjust how many taquitos that you make at a time. If they don't all fit, make them in a few batches! Since they only take ten minutes to cook, it's so easy to split them up to make some room.

An air fryer is really important to this recipe. You could try to bake them in the oven, but they won't turn out as crispy and delicious as you want your taquitos to be. Air fryers are so great because they add all the texture and flavor of fried foods without so much time, energy, and fat! Check out this

Ninja air fryer

if you are ready to take the air fryer plunge!

You can use whatever kind of onion that you prefer in this recipe. The onions that I think pair great with these flavors are white, yellow, and sweet onions. You can also dice them to your preference. My kids like when I dice the onions very fine, but you can absolutely dice them larger if that's what you like!
How should I store my extra taquitos in an air fryer?
If you by some miracle don't finish all these taquitos and have some to spare, you can store them safely in your fridge in an airtight container. If you want to keep that crispy texture, you'll want to reheat them in your air fryer just like you did the first time.
They should last about 3-5 days in your fridge with no problems.
If you want to save them for a longer period, you can also freeze them! Once they have cooled, put them in a freezer-safe bag or container and pop them in your freezer. You can bring them out and reheat them just like you would with store-bought varieties.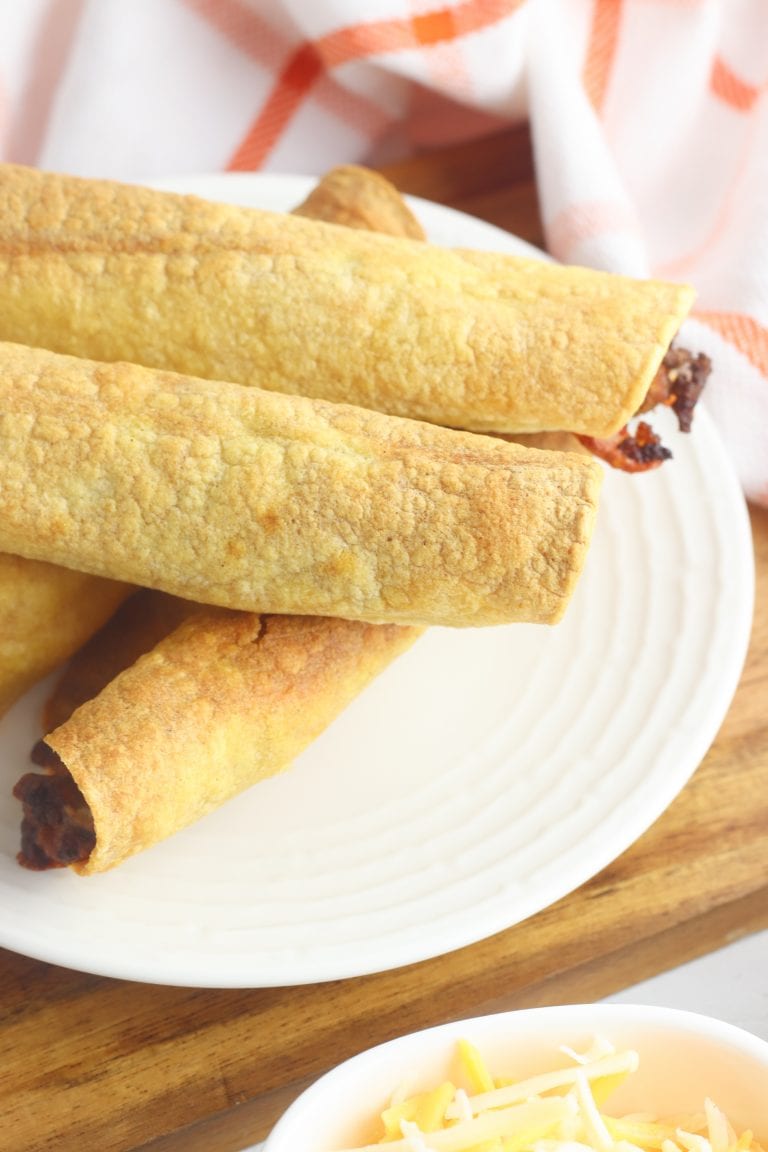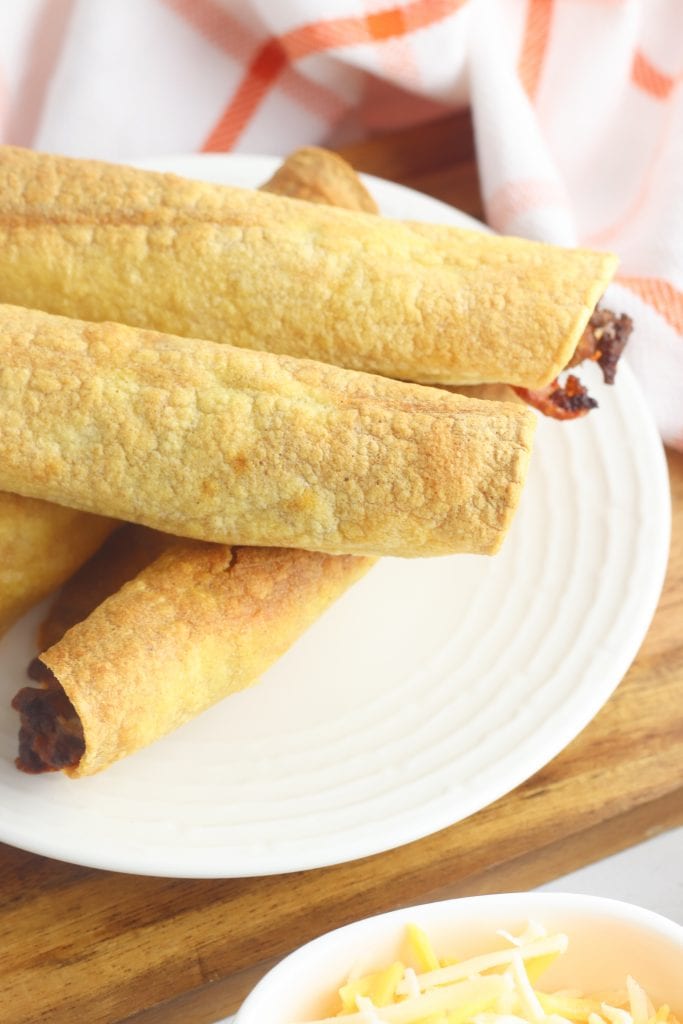 Can I reheat frozen taquitos in an air fryer?
Yes! Air fryers are great for all your frozen favorites, including frozen taquitos.
I would suggest adjusting the temperature and cooking time if your taquitos are frozen. Instead of cooking them like fresh at 400 for 10 minutes, try cooking them at 375 for 12-15 minutes to make sure that they are cooked through.


Can I make this recipe without green chilies?
You sure can. I love a little heat in my taquitos and I think that the green chilies give them an extra pop of flavor without too much spice.
However, if you don't like the spice or you are serving these to little ones who may not like it, you can get plain diced tomatoes to substitute for those with added green chilies.
Share with us in the comments how your Air Fryer Taquitos recipe turns out! And tag us on
Instagram
with a picture of your recipe! We would love to see it!
Yield: Makes 12 taquitos
Air Fryer Taquitos
Ingredients
1 pound ground beef
1 small onion, finely chopped
1 packet taco seasoning
1/3 cup water
1 can diced tomatoes with green chilies
1 cup shredded cheddar jack cheese
12 large corn tortillas
1 tablespoon vegetable oil
Instructions
1. In a large skillet, brown the ground beef with the chopped onion.
2. When the meat is cooked through, add the taco seasoning, water, and tomatoes with green chilies. Cook until sauce begins to thicken, then remove from heat.
3. Place the corn tortillas on a plate covered with a damp paper towel. Heat in the microwave for 30 seconds.
4. Spoon a line of hamburger mixture down the center of each tortilla and top with cheese. Roll the tortilla tightly and place on a flat surface with the seam side down.
5. Brush vegetable oil over the top of each taquito and place them in the basket of the air fryer. The taquitos will need to be cooked in batches based on the size of your air fryer basket.
6. Set the air fryer to cook at 400 degrees for 10 minutes.
Check out these other great recipes!
Don't forget to save this Air Fryer Taquitos Recipe on Pinterest so you can find it next time you are searching for a delicious Mexican-inspired dish to try in your air fryer!