Are your kids being a little sneaky this winter? This Elf on the Shelf Camera Printable is the perfect reminder for them to be on their best behavior!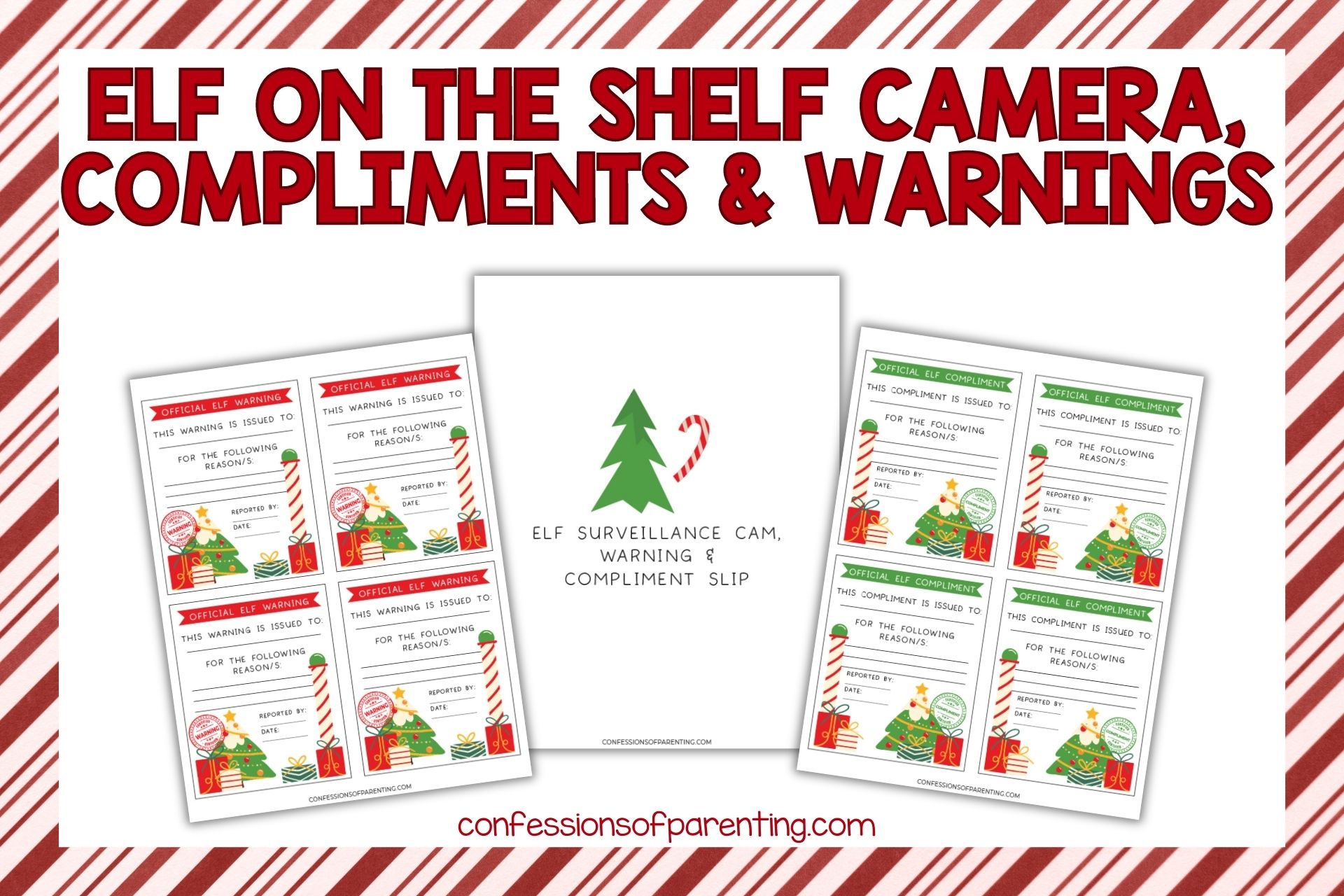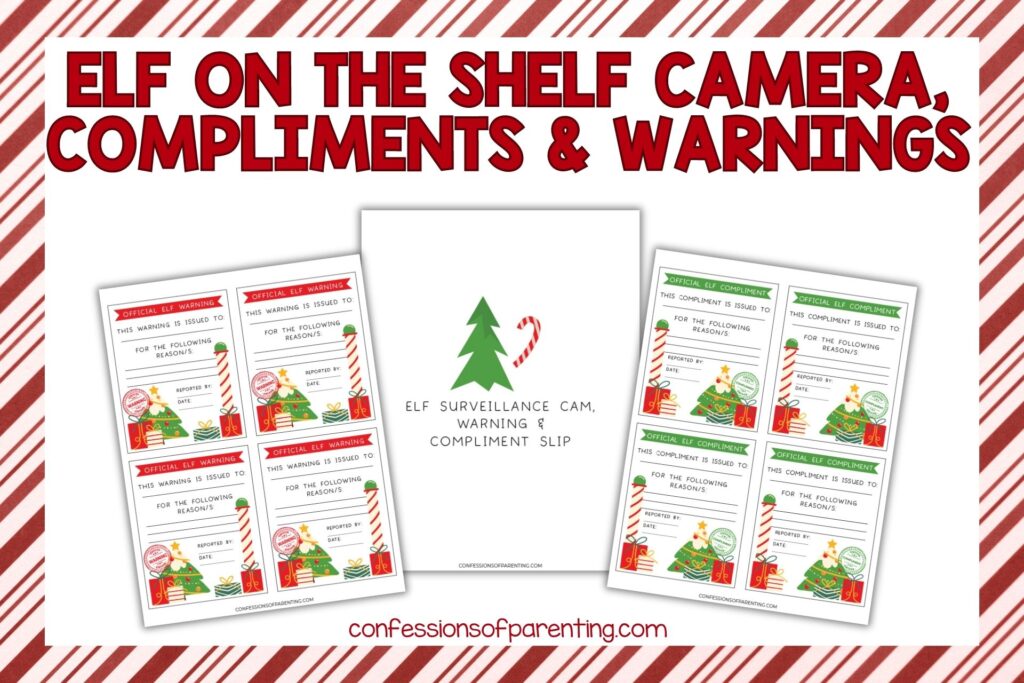 Elf on the Shelf Camera Printable
When I was a young child, I loved trying to sneakily figure out what presents I would be getting for Christmas. I would search for hidden presents in my parent's closet, shake the wrapped ones, and guess what the present was based on the sound. I even tried to unwrap some using my mom's clothing steamer to release the tape without damaging the paper! Spoiler alert: it didn't work as well as I hoped!
All kids are naturally curious, and during this season of great joy and anticipation, their curiosity can sometimes lead them to make questionable decisions. That's where the Elf on the Shelf comes in handy!
As Santa's eyes and ears, your elf on the shelf reports back to the big guy in the North Pole about all of the naughty and nice things your child does. The tricky part is that the elf can't see kids who are in a different room. With the Elf on the Shelf Camera Printable, your elf can use video surveillance to ensure that every action is reported.
If the kids are caught doing something naughty an official elf warning can be issued. The same is true if they are benign kind. They can get a compliemtnt from the elf.
The Elf on the Shelf is a beloved tradition in my family. I love to get my family excited by putting Elf Trivia Questions in their school lunchboxes as a fun surprise.
On the night before our elf makes his first appearance, I print out a fun Elf on the Shelf Arrival Letter for the kids. I also make sure to print out a fun activity, like Christmas Pictionary, for my kids to play. They love getting a small gift, and I love that it gives my kids something fun to do!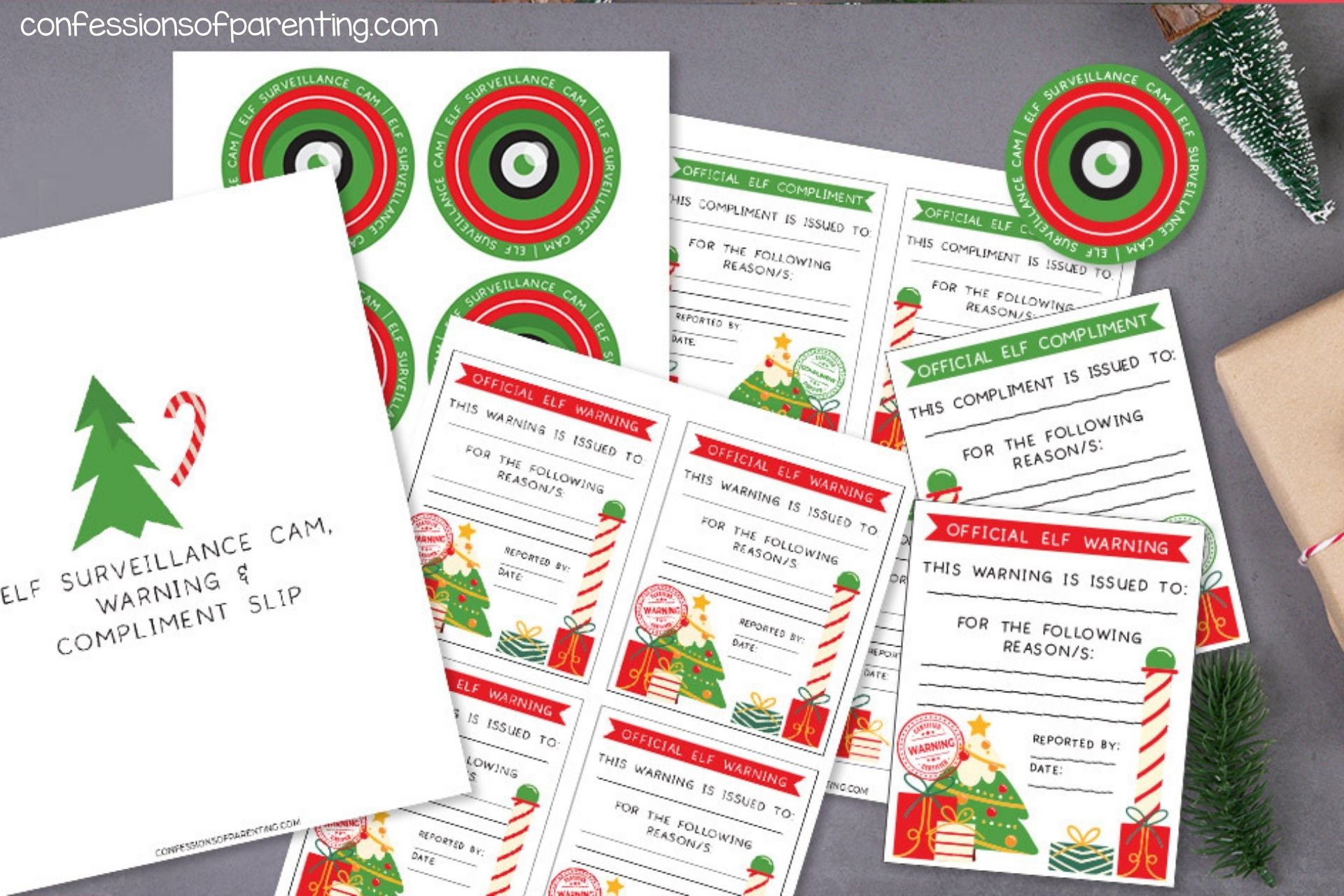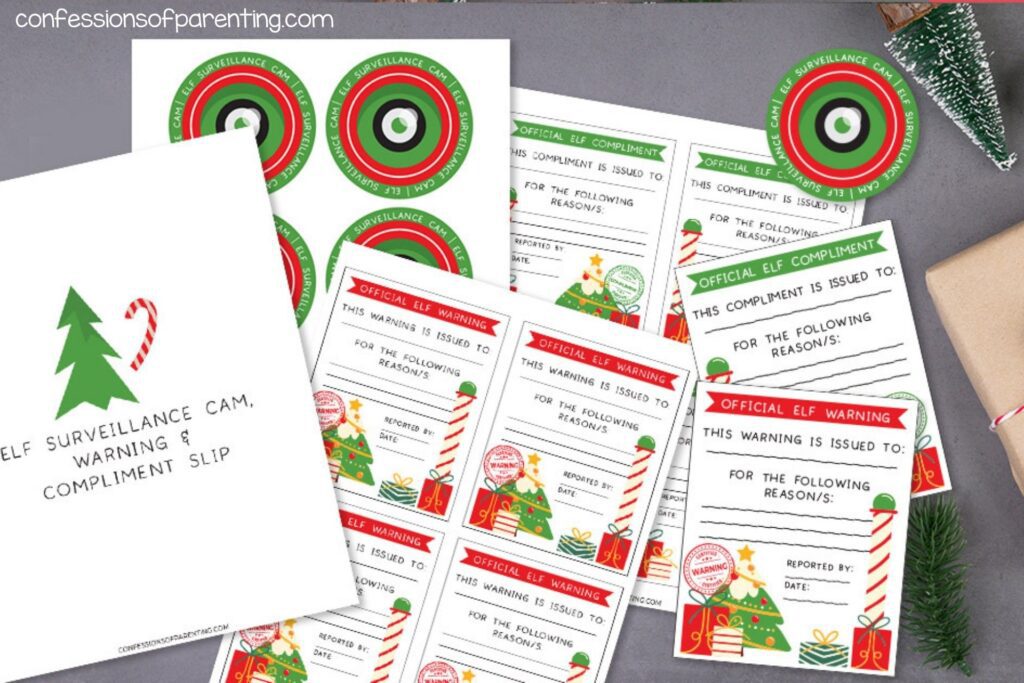 Benefits of Holiday Traditions
In our house, we go all-in with traditions. Especially during winter, traditions are an important part of our celebrations. It's the time when my family slows down and we can reflect on the past year. There are so many benefits to having traditions!
Your kids learn about important family values, such as the meaning of Christmas.
Happy memories of family traditions will create feelings of nostalgia when adults think about their childhoods.
Life is busy, but traditions offer a fun break from your regular routines.
Traditions encourage strong family relationships!
Your kids will develop a sense of identity and connection to their culture and family.
Supplies Needed for the Elf on the Shelf Camera and Notes Printable
Printable Elf on the Shelf Camera
Color Printer
White Cardstock
Scissors
Tape
Pen (or any writing utensil to complete the warning and compliment slips)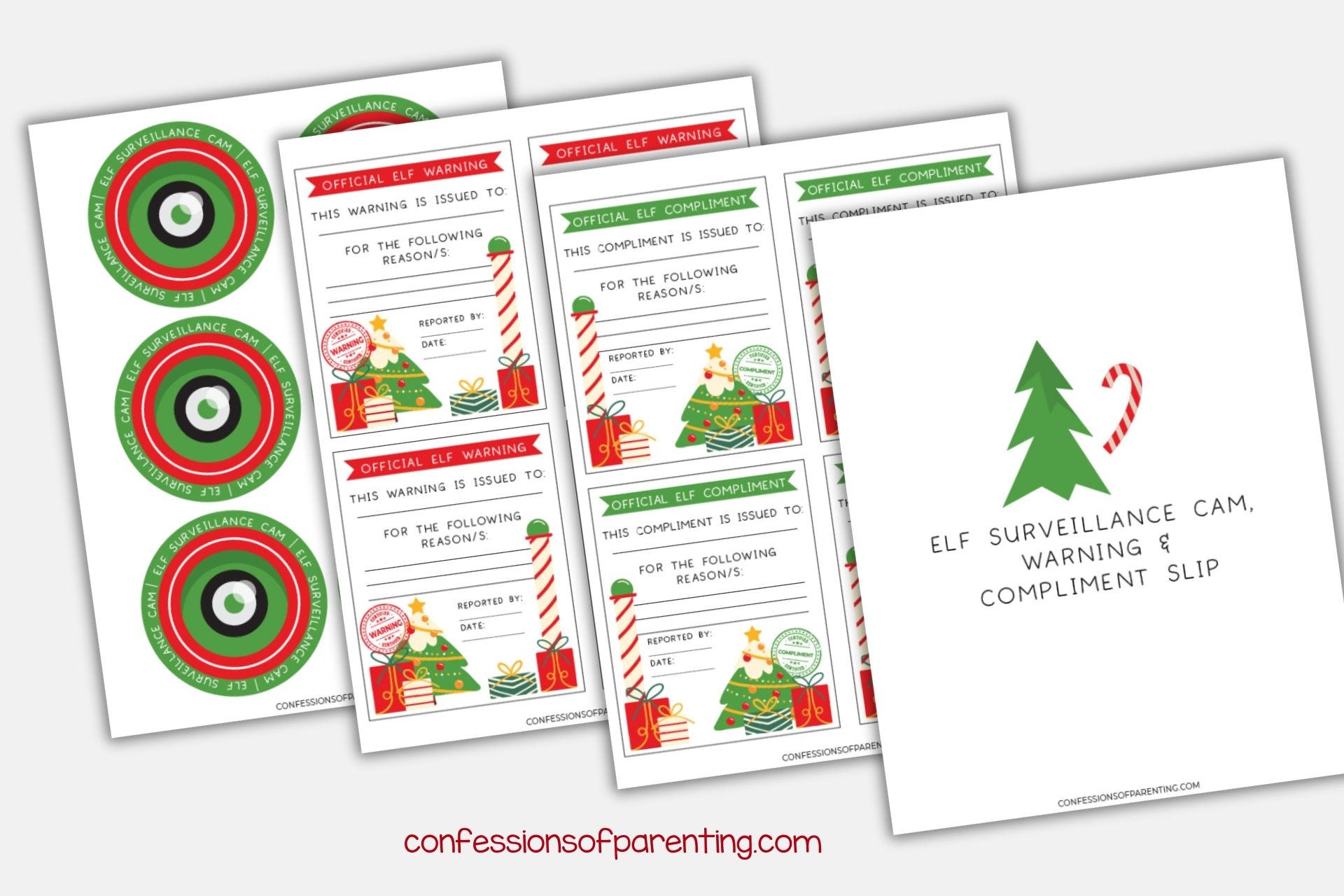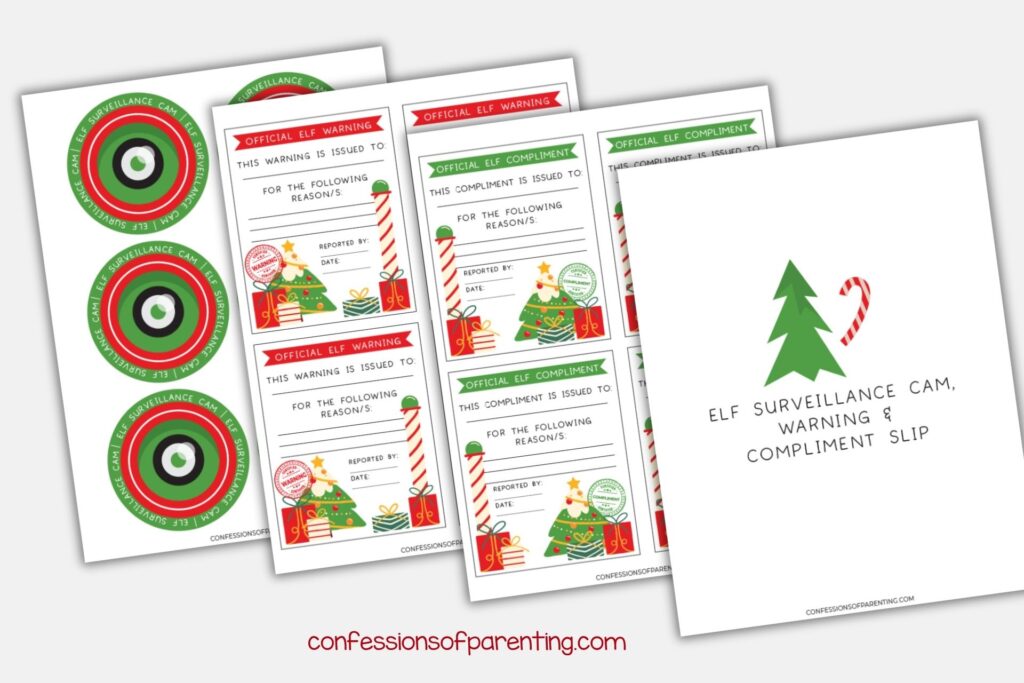 How to Use the Elf on the Shelf Camera
Download the Elf on the Shelf Camera printable.
Print the file on cardstock.
Cut the cameras and notes out.
Place the cameras strategically around your house for optimum effect.
Set the scene with your Elf on the Shelf writing notes. Make sure to fill out slips for your children to find!
How to Use Elf on the Shelf Warnings
Download the Elf on the Shelf Warnings.
Print on a piece of paper.
Fill it out in your best elf writing and then leave it with the elf in the morning.
You almost guaranteed that your kids will want to try better the next day!
Tips for Success
Make sure to put the cameras where the kids can see them! Here are some ideas:

By the dinner table
Near the front door
Attached to the TV

This printable would be a great addition to a classroom as well!
Use the notes sparingly. You want to make sure that your kids aren't expecting them!
Laminate the cameras to reuse year after year.
You could take one of the cameras and add a hook or string to turn it into an ornament for your tree!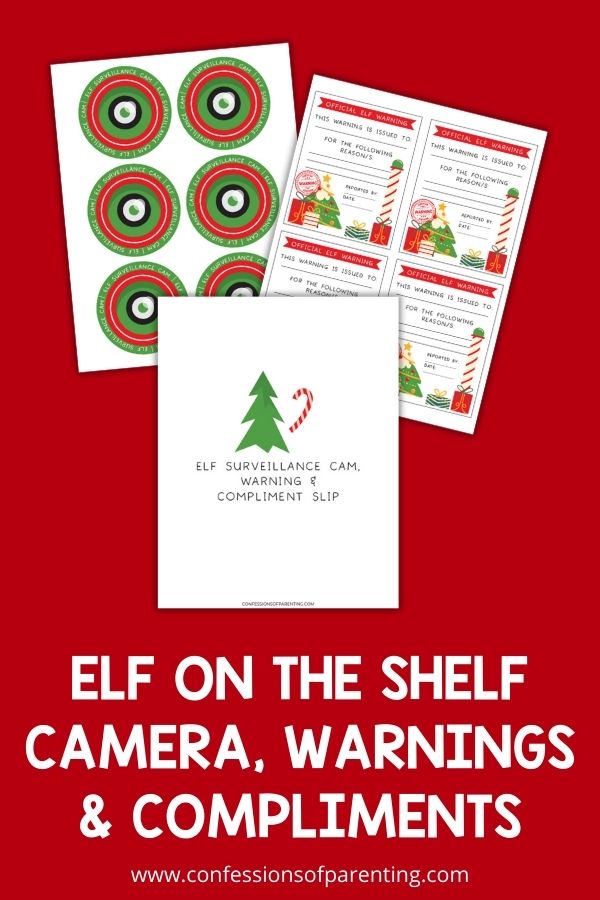 Grab your free Elf on the shelf printable Below
Download your free Elf on the Shelf Printable Cameras, Warnings and Compliments below to simplify your December!
Don't forget to share your elf on the shelf surveillance cameras or elf on the shelf warnings with us on Instagram! Tag us @micheletripple. We can't wait to see the fun!
How Do I access my free printables?
Fill in the form above. You will receive an email in your inbox. If you don't see it, check your spam folder! You will then click to confirm your subscription. Once confirmed, you will be sent your printable through your email.
How Do I Print a PDF?
You'll need a program that supports PDFs. Adobe Acrobat is a great option. Open the program, click File, then print. Select your printer and the number of copies you want to print. Be sure you click double-sided if you want it to print on both sides.
Can I resell these?
You may not resell any printable found on our website or in our resource library. You may use them for class parties, at church, at home, or in the classroom. You may get these printed at an office supply store or copy center at your own expense.