As the seasons change to fall it is only natural to start to get excited about the upcoming holidays, especially Halloween. There is so much magic as you mix fun and spookiness, it makes it so irresistible. From carving pumpkins, to creative costumes, there is so much to look forward to. But one of our favorite parts of Halloween are the Halloween Party games!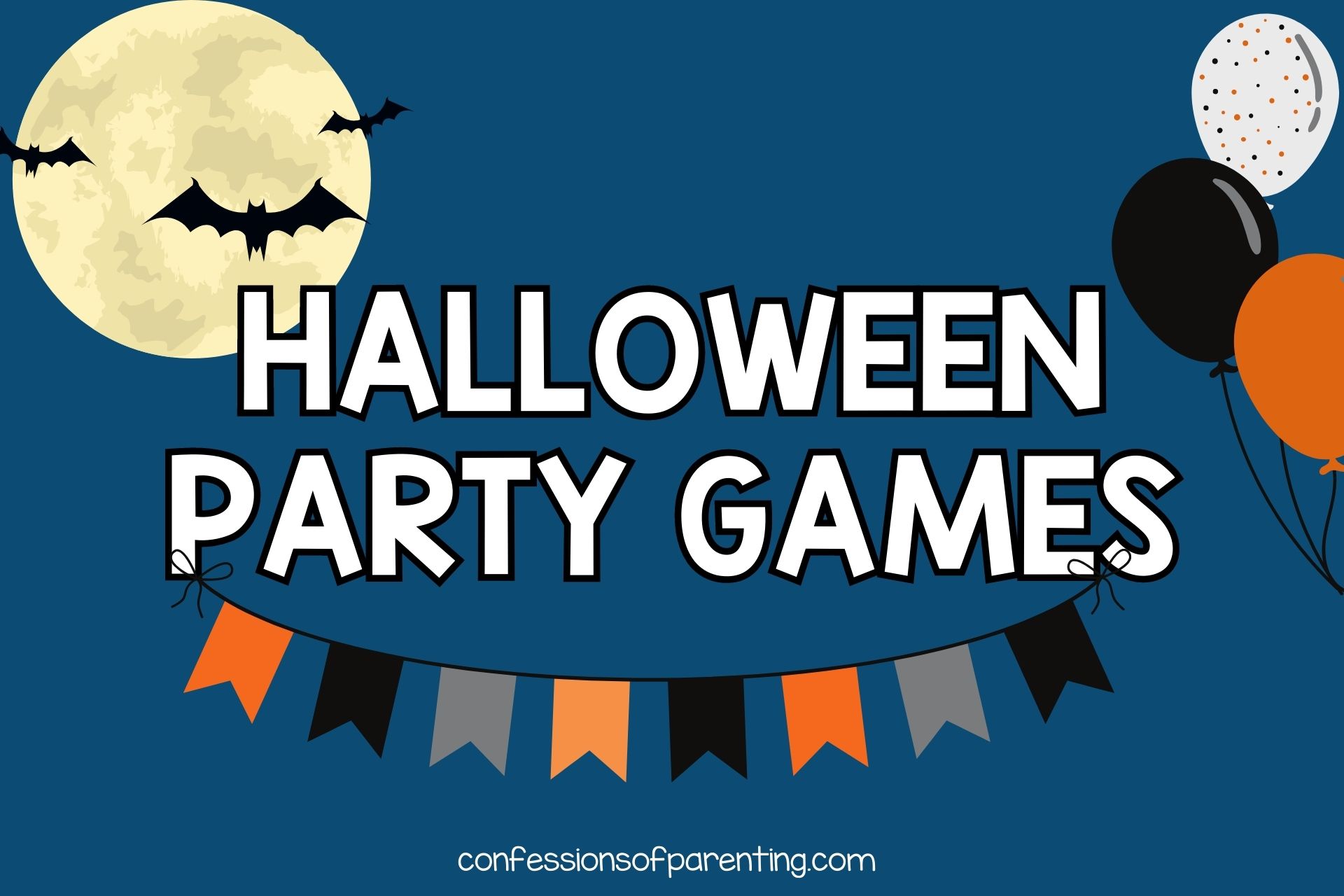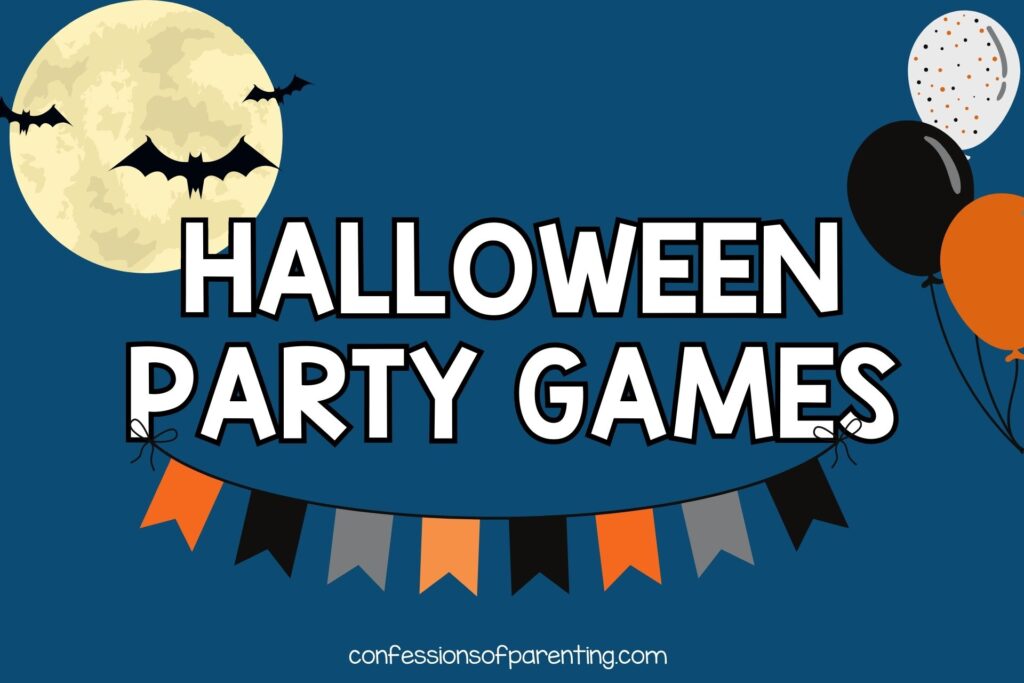 Whether you are planning a party or want a fun family game night with your family, Halloween party games transform an ordinary night into a fun unforgettable night that your kids will remember for a long time. We've loved playing Halloween Minute to Win It Games and I knew we needed to add a few more fun Halloween party games to our list!
There are so many Halloween party games. From traditional games like bobbing for apples to creative new takes on hide-and-seek, Halloween games are full of fun that everyone will enjoy playing together.
So gather around with your friends and family because these Halloween games are sure to create lasting memories for your ghouls and goblins of all ages.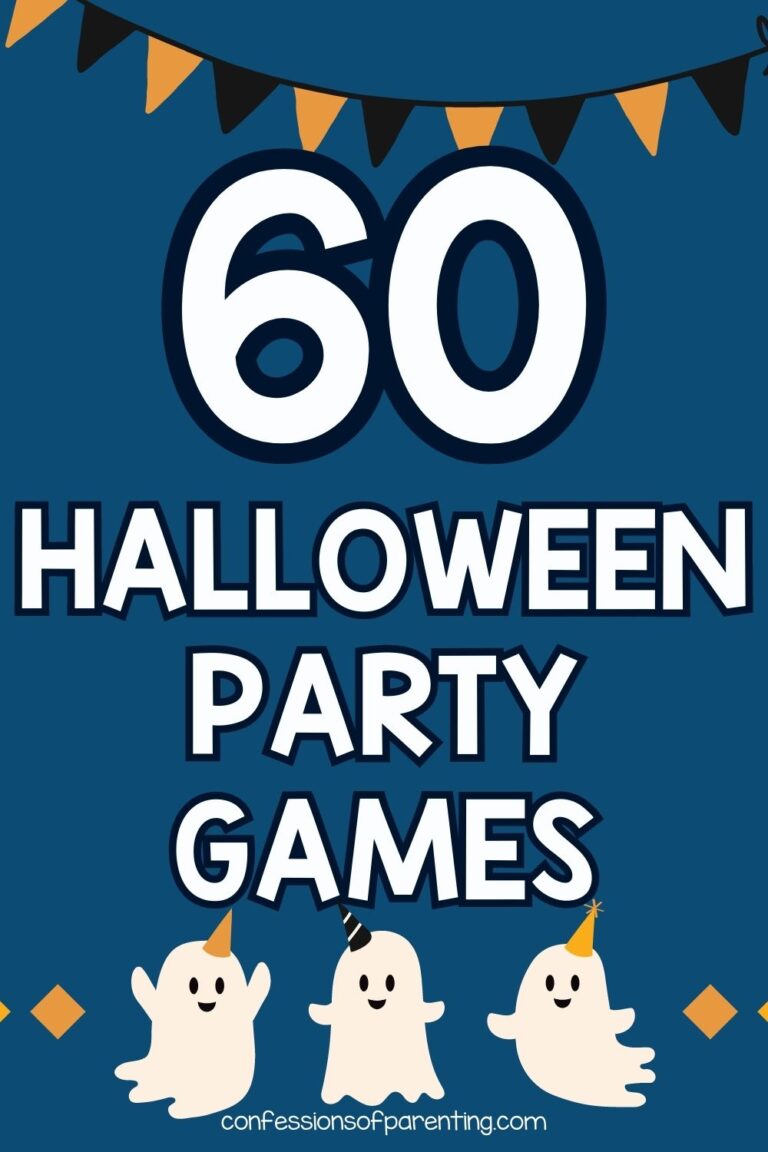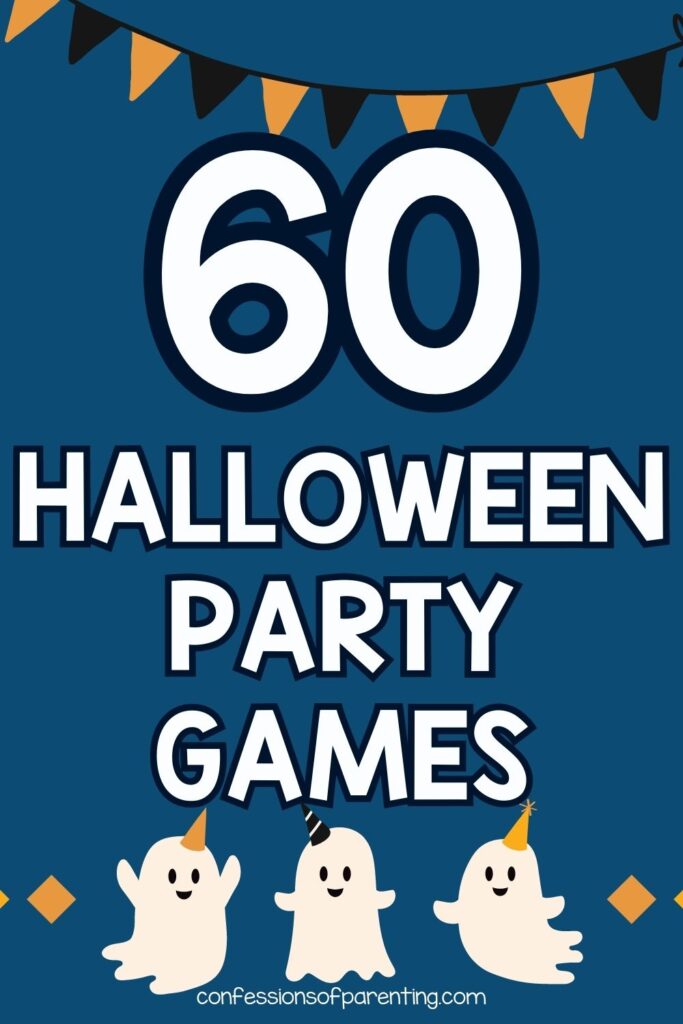 Planning a halloween party? Don't get caught empty-handed! Grab our Halloween Activity Bundle!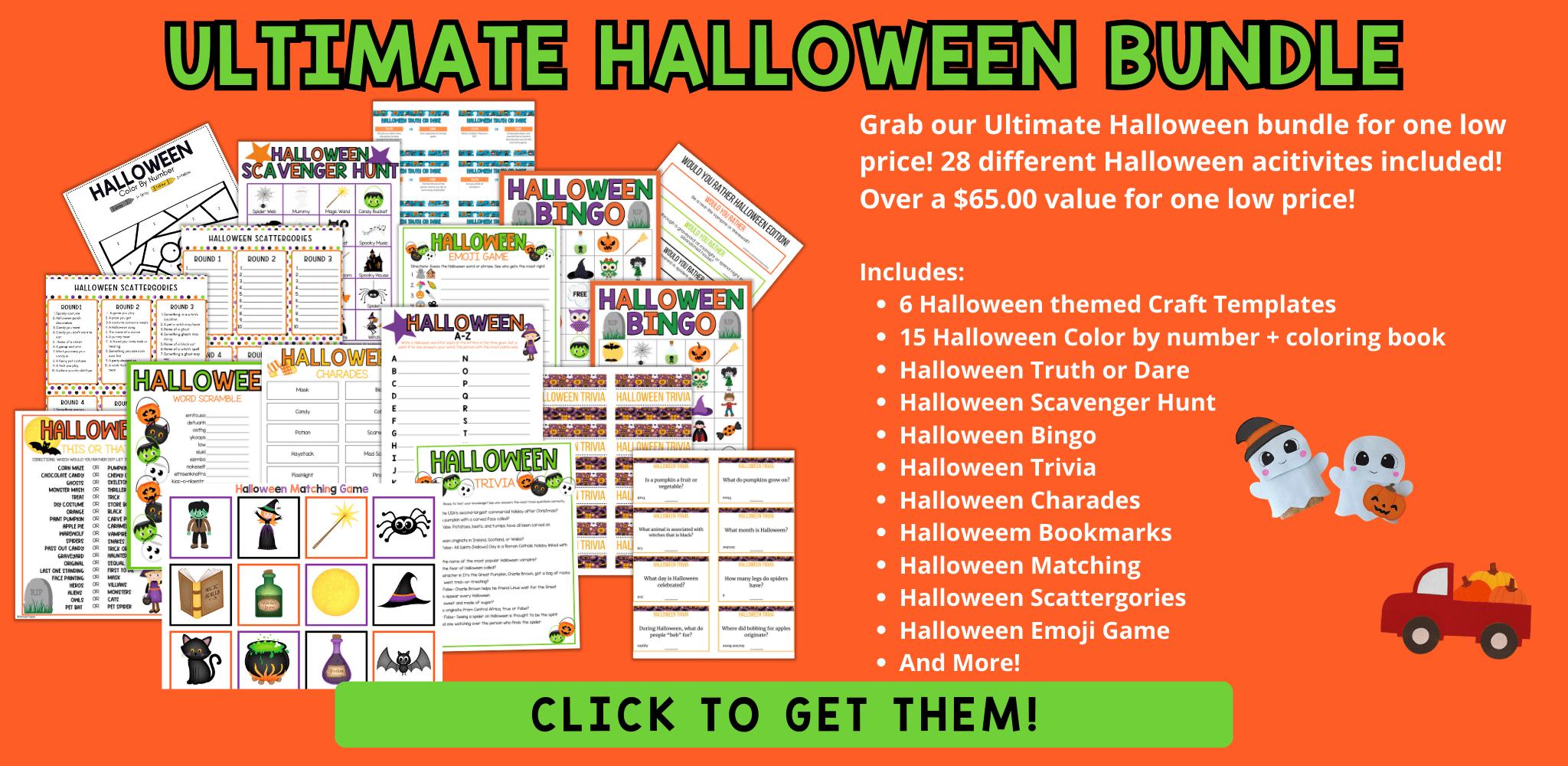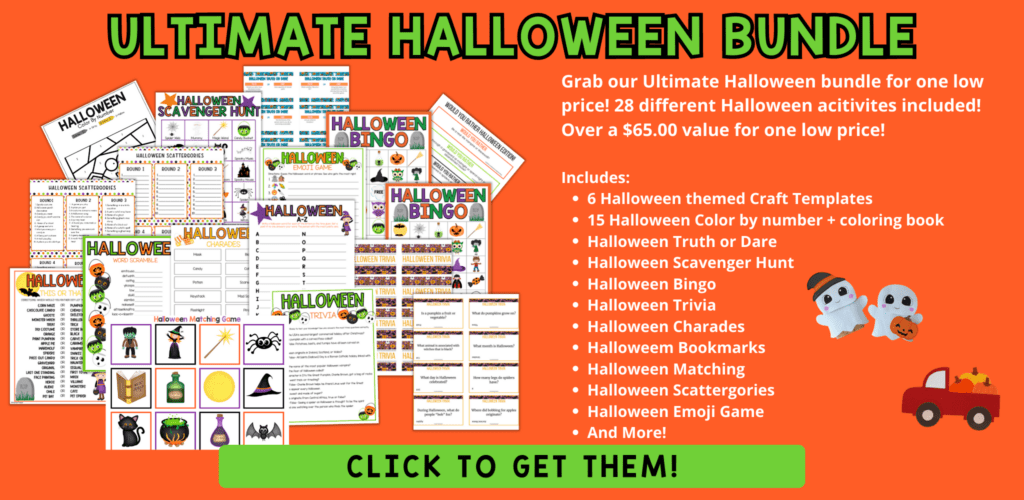 60 Best Halloween Party Games for an awesome celebration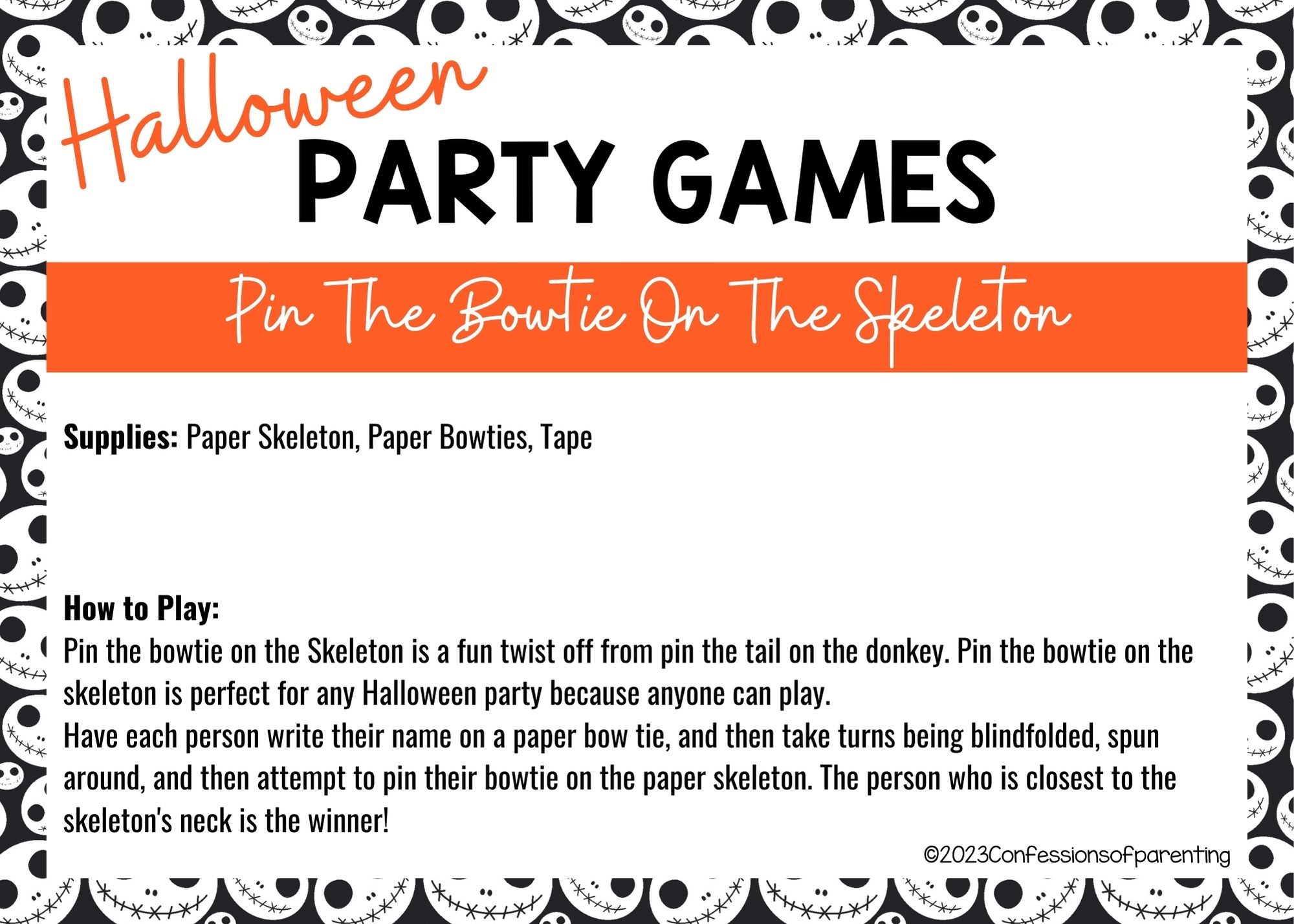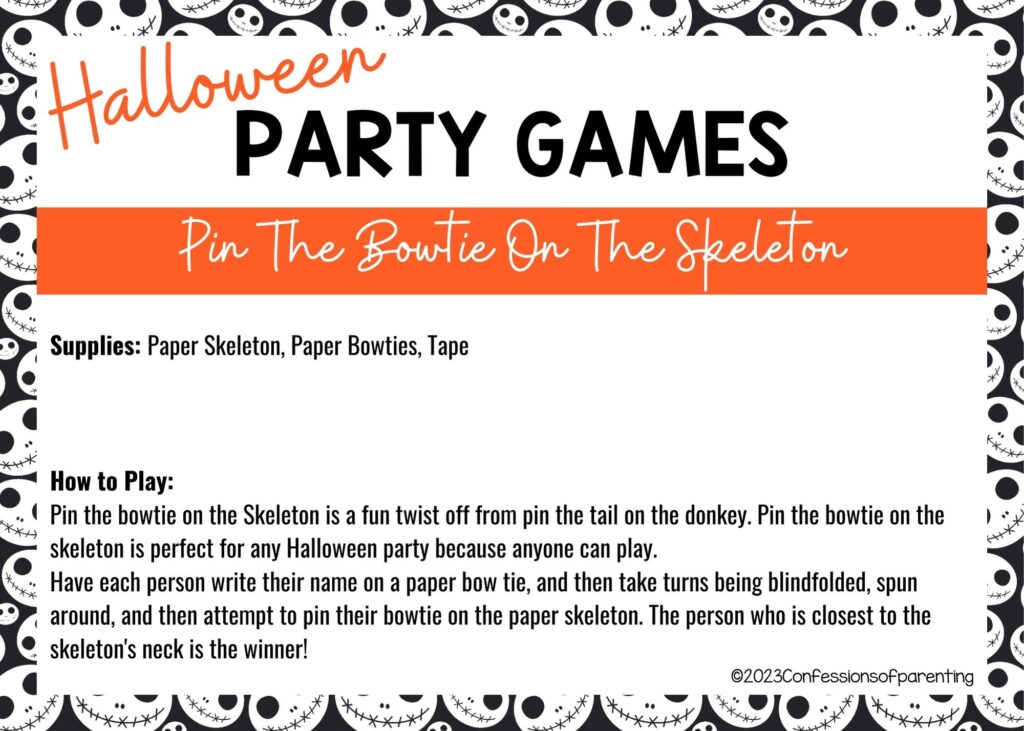 Pin The Bowtie On The Skeleton
What You Will Need
Paper Skeleton
Paper Bowties
Tape
Pin the bowtie on the Skeleton is a fun twist off from pin the tail on the donkey. Pin the bowtie on the skeleton is perfect for any Halloween party because anyone can play.
Have each person write their name on a paper bow tie, and then take turns being blindfolded, spun around, and then attempt to pin their bowtie on the paper skeleton. The person who is closest to the skeleton's neck is the winner!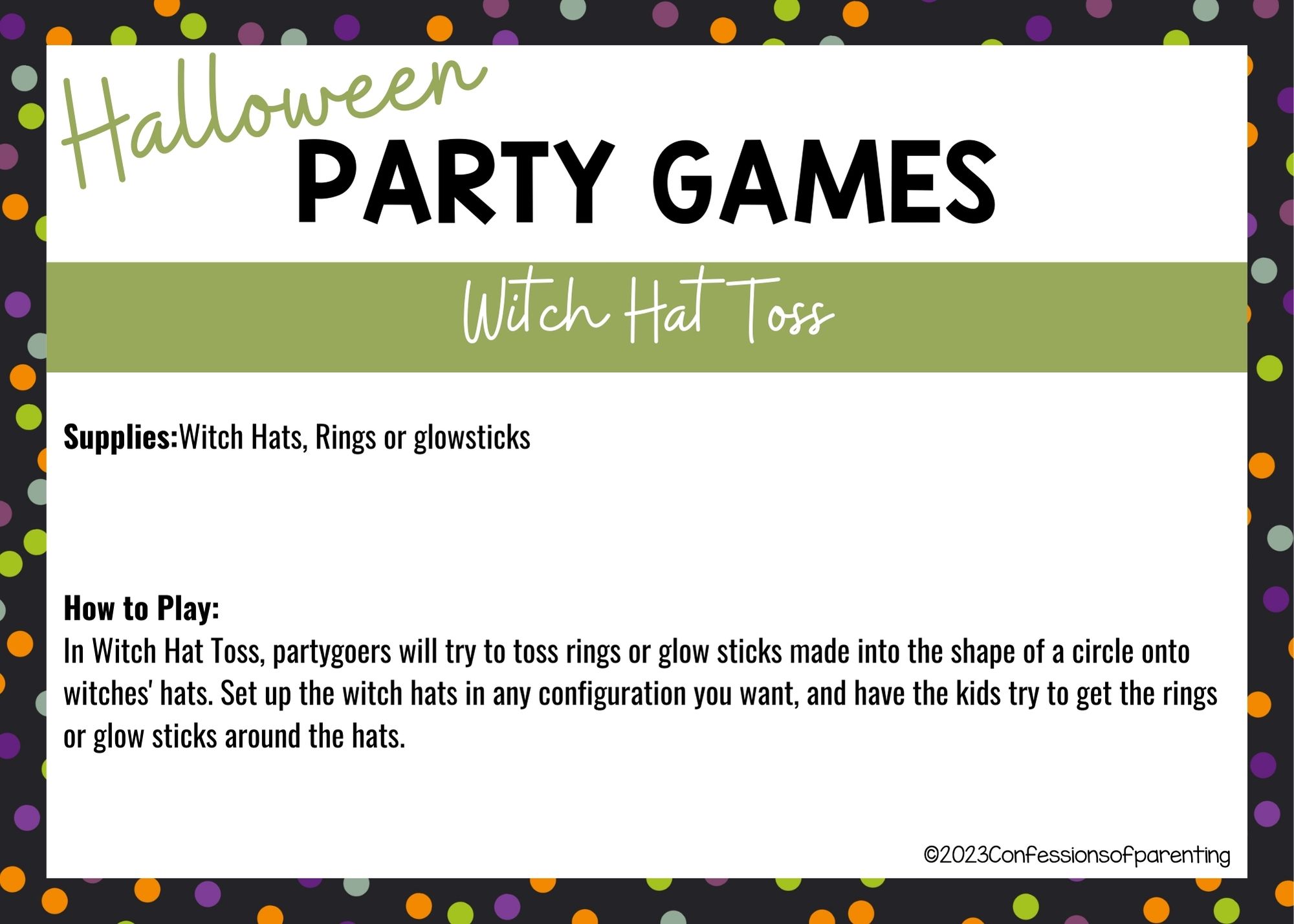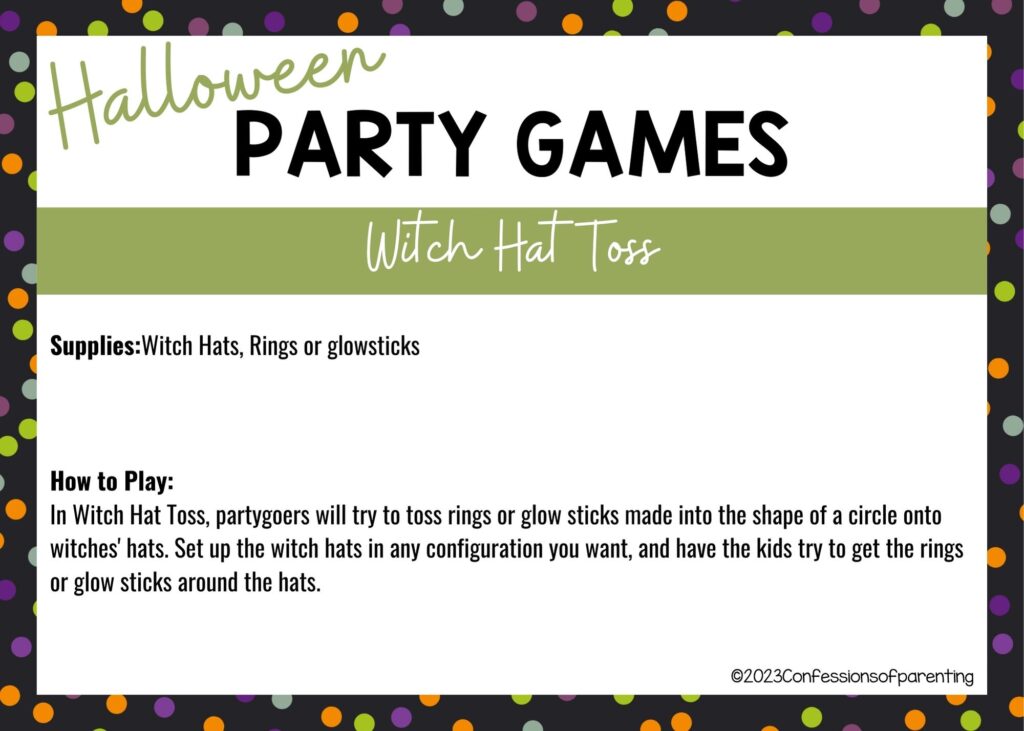 Witch Hat Toss
What You Will Need
Witch Hats
Rings or glowsticks
In Witch Hat Toss, partygoers will try to toss rings or glow sticks made into the shape of a circle onto witches' hats. Set up the witch hats in any configuration you want, and have the kids try to get the rings or glow sticks around the hats.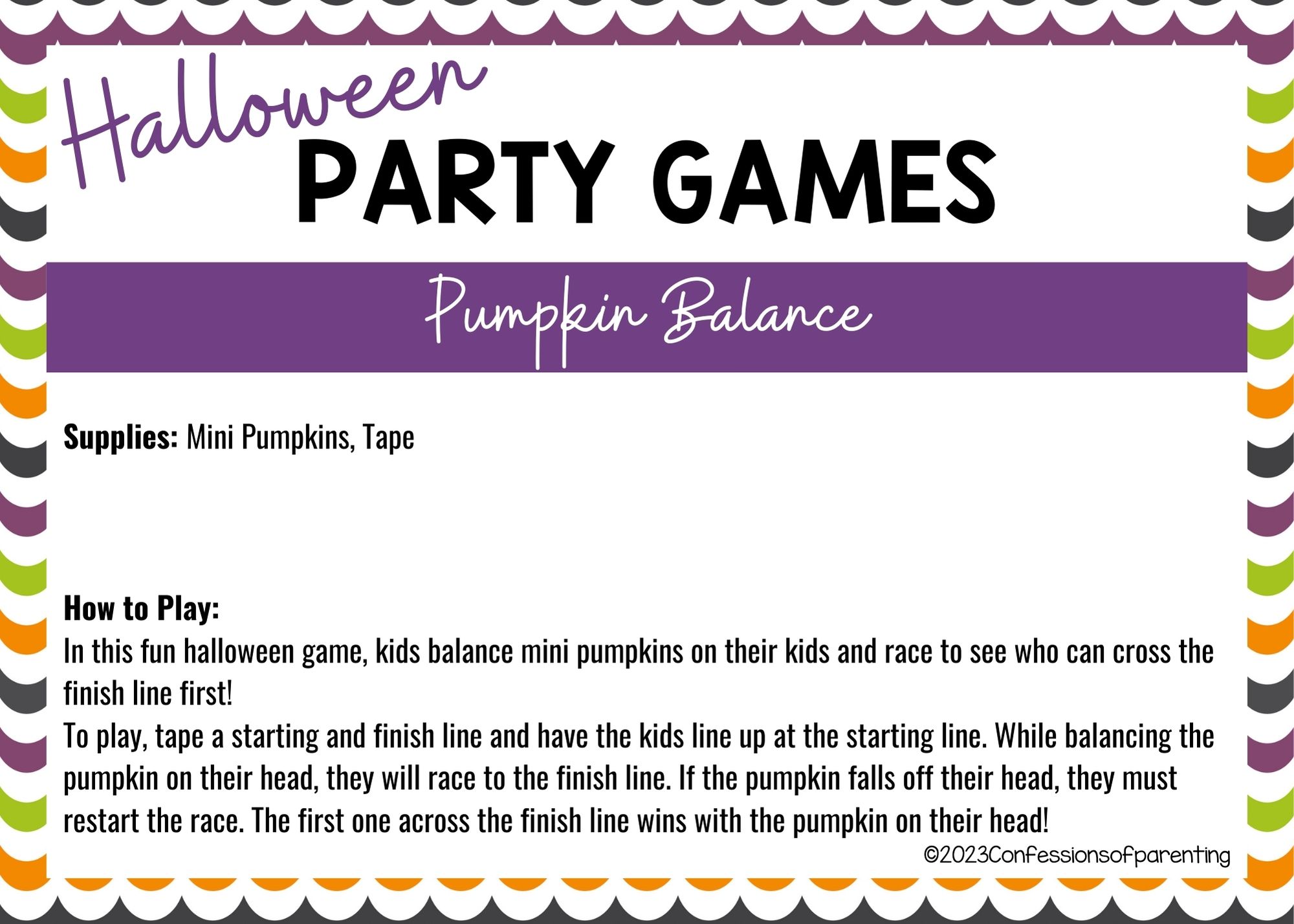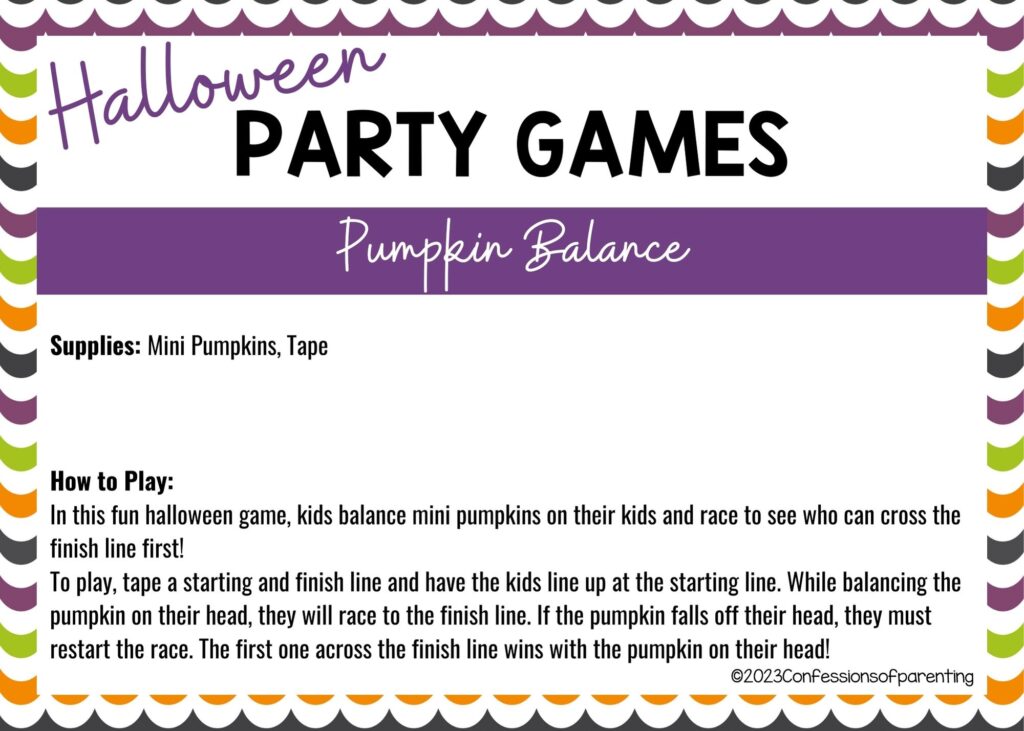 Pumpkin Balance
What You Will Need
In this fun halloween game, kids balance mini pumpkins on their kids and race to see who can cross the finish line first!
To play, tape a starting and finish line and have the kids line up at the starting line. While balancing the pumpkin on their head, they will race to the finish line. If the pumpkin falls off their head, they must restart the race. The first one across the finish line wins with the pumpkin on their head!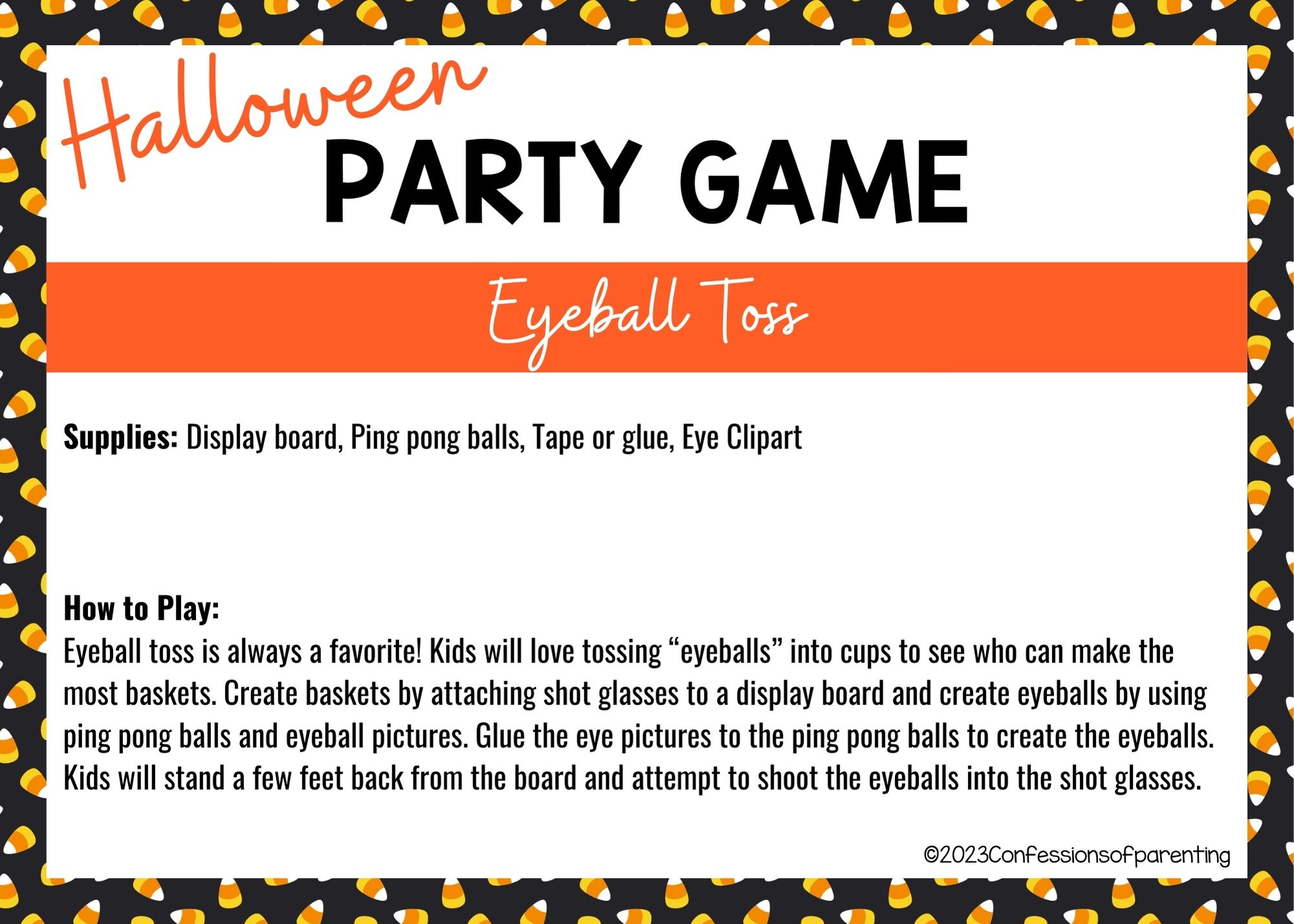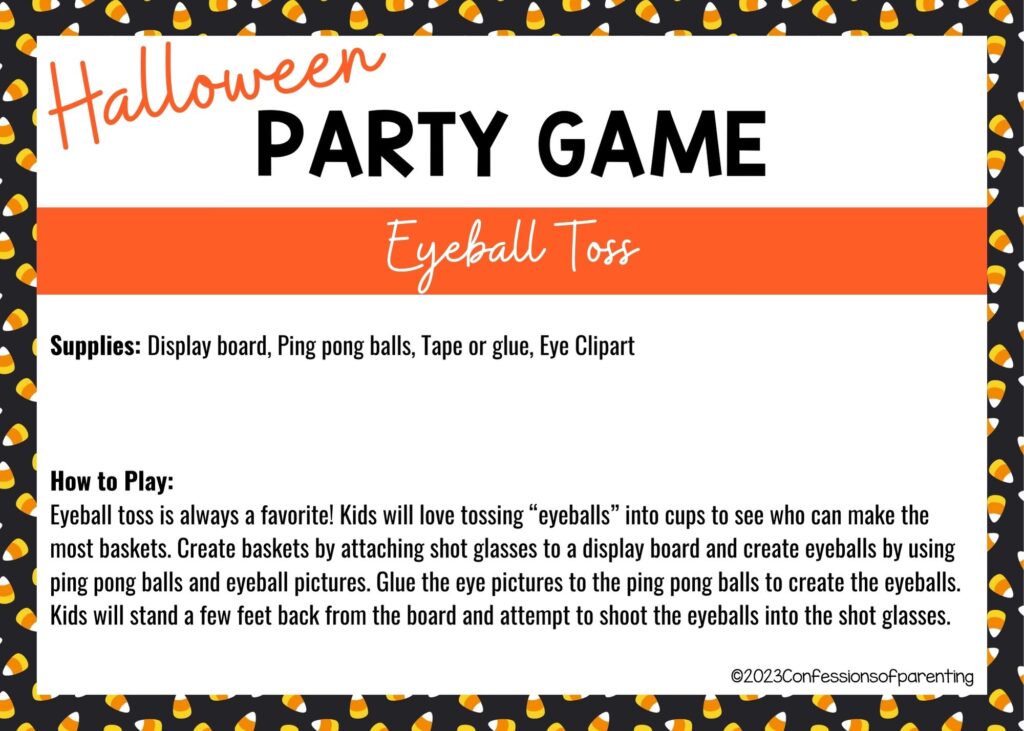 Eyeball Toss
What You Will Need
Display board
Ping pong balls
Tape or glue
Eye Clipart
Eyeball toss is always a favorite! Kids will love tossing "eyeballs" into cups to see who can make the most baskets. Create baskets by attaching shot glasses to a display board and create eyeballs by using ping pong balls and eyeball pictures. Glue the eye pictures to the ping pong balls to create the eyeballs. Kids will stand a few feet back from the board and attempt to shoot the eyeballs into the shot glasses.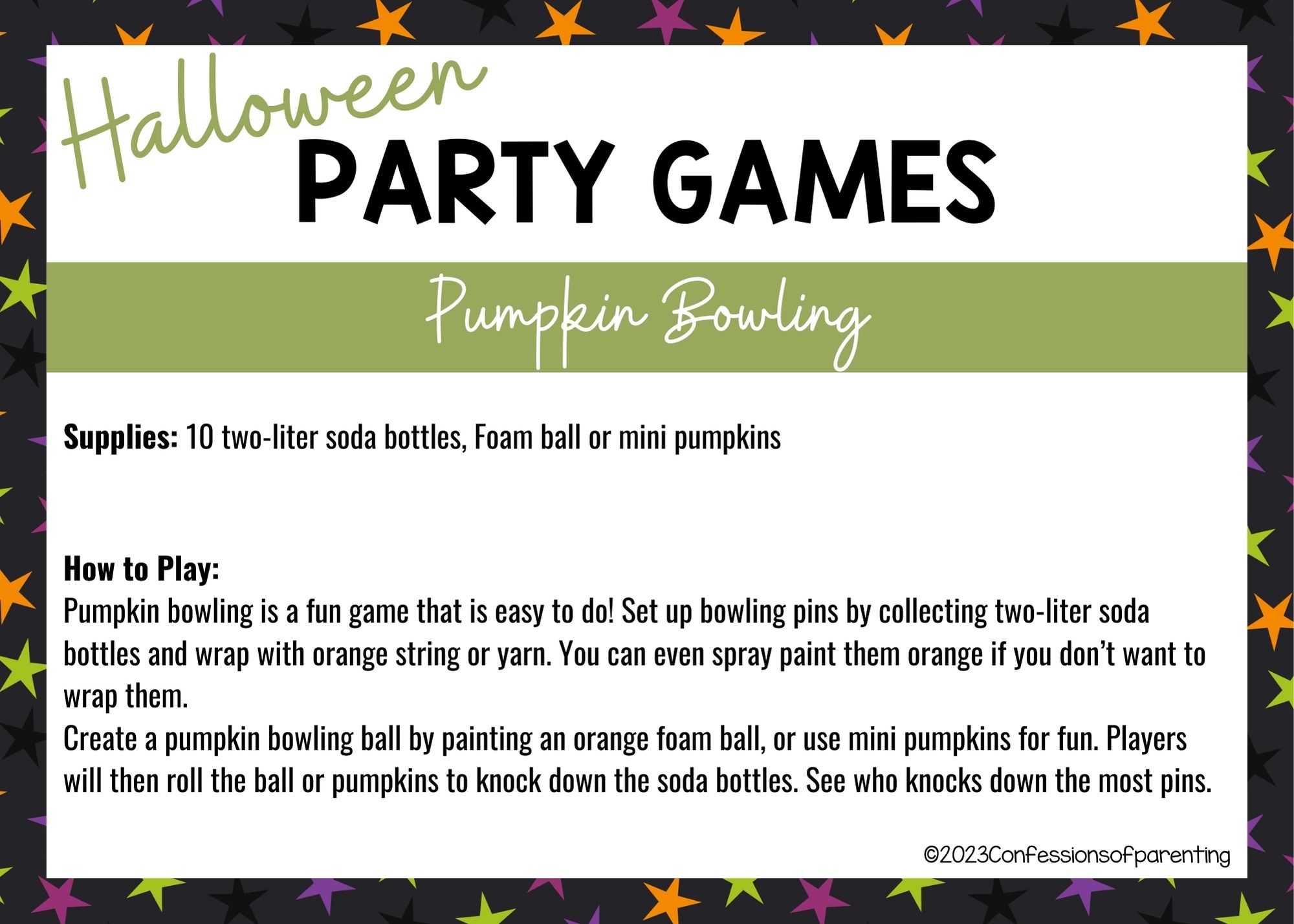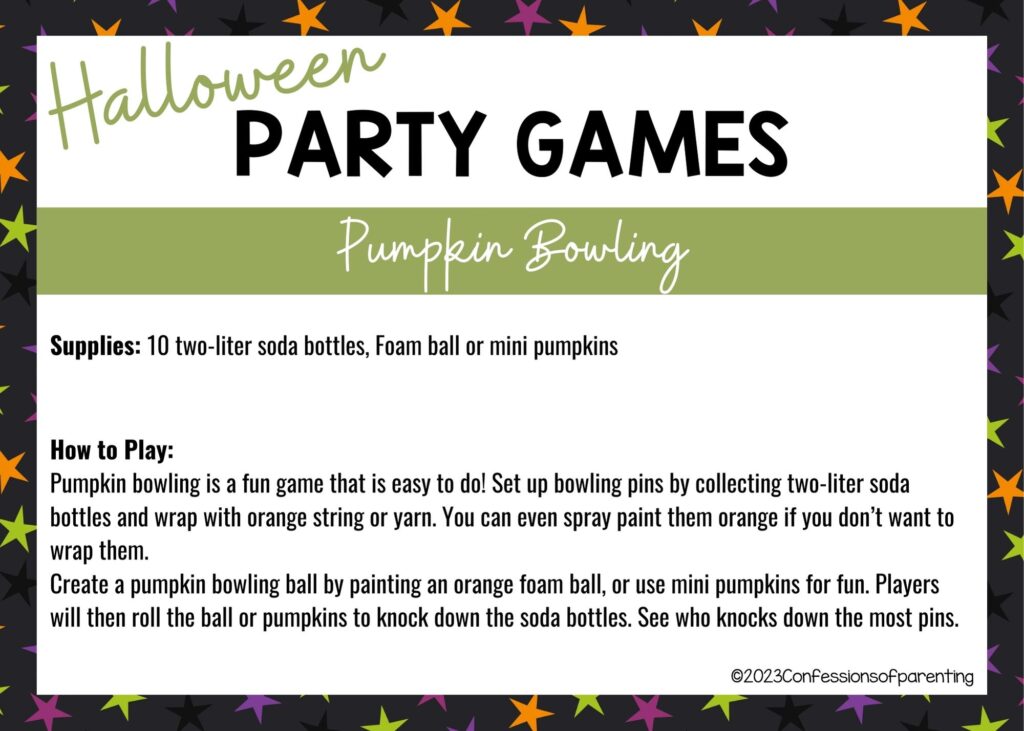 Pumpkin Bowling
What You Will Need
10 two-liter soda bottles
Foam ball or mini pumpkins
Pumpkin bowling is a fun game that is easy to do! Set up bowling pins by collecting two-liter soda bottles and wrap with orange string or yarn. You can even spray paint them orange if you don't want to wrap them.
Create a pumpkin bowling ball by painting an orange foam ball, or use mini pumpkins for fun. Players will then roll the ball or pumpkins to knock down the soda bottles. See who knocks down the most pins.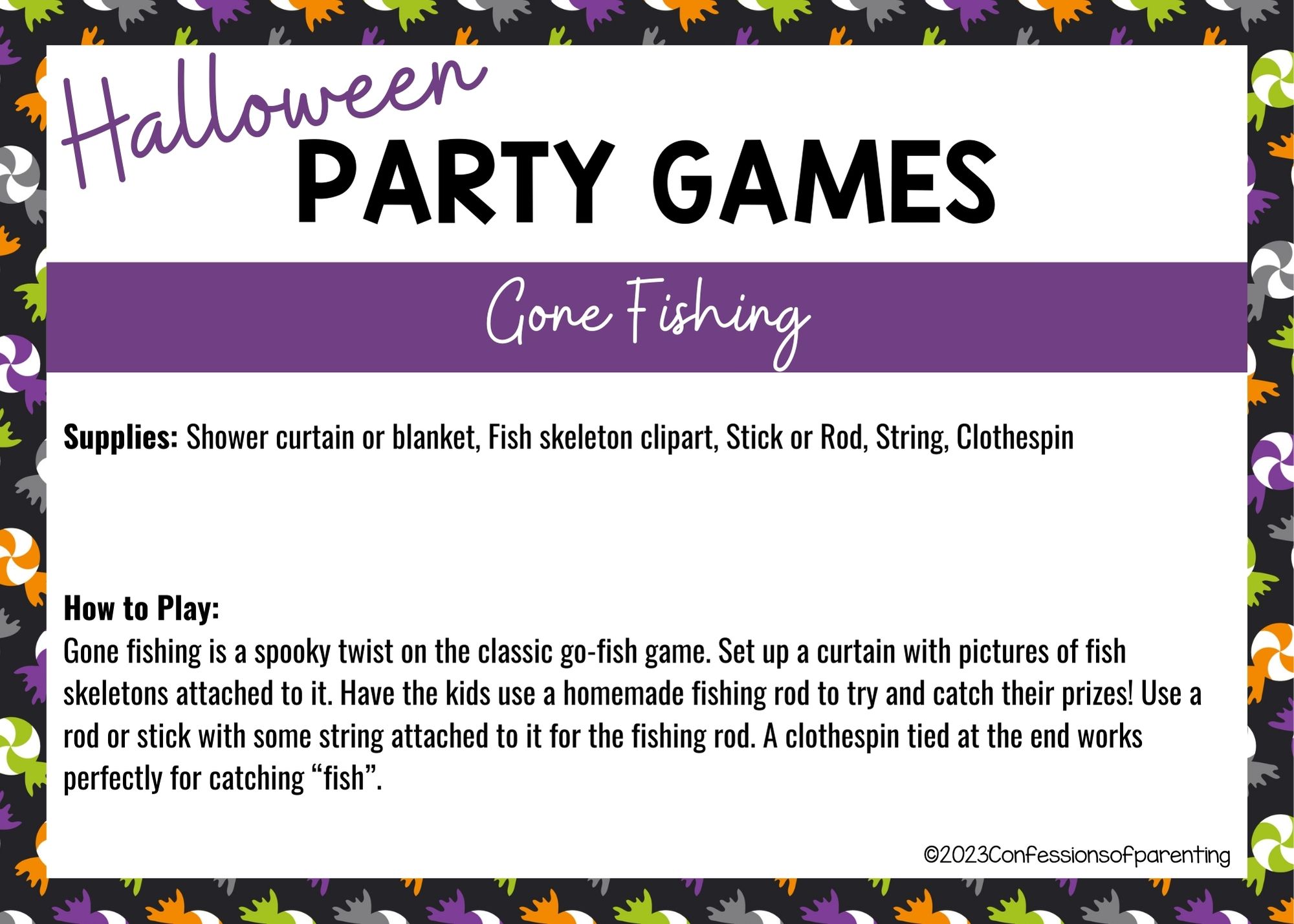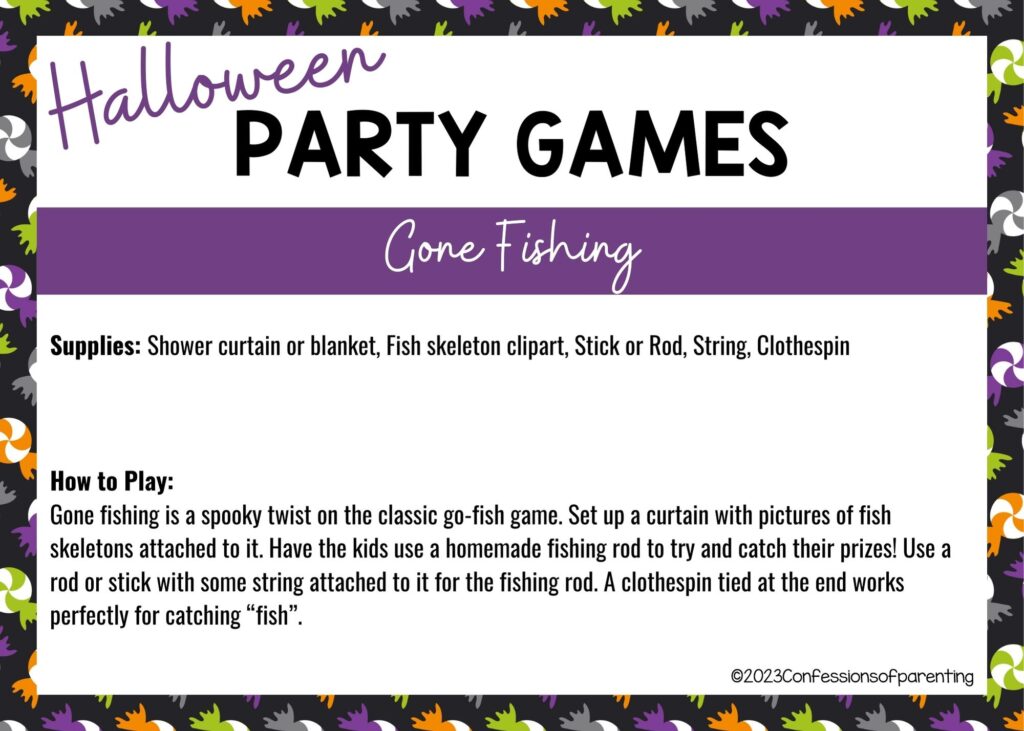 Gone Fishing
What You Will Need
Shower curtain or blanket
Fish skeleton clipart
Stick or Rod
String
Clothespin
Gone fishing is a spooky twist on the classic go-fish game. Set up a curtain with pictures of fish skeletons attached to it. Have the kids use a homemade fishing rod to try and catch their prizes! Use a rod or stick with some string attached to it for the fishing rod. A clothespin tied at the end works perfectly for catching "fish".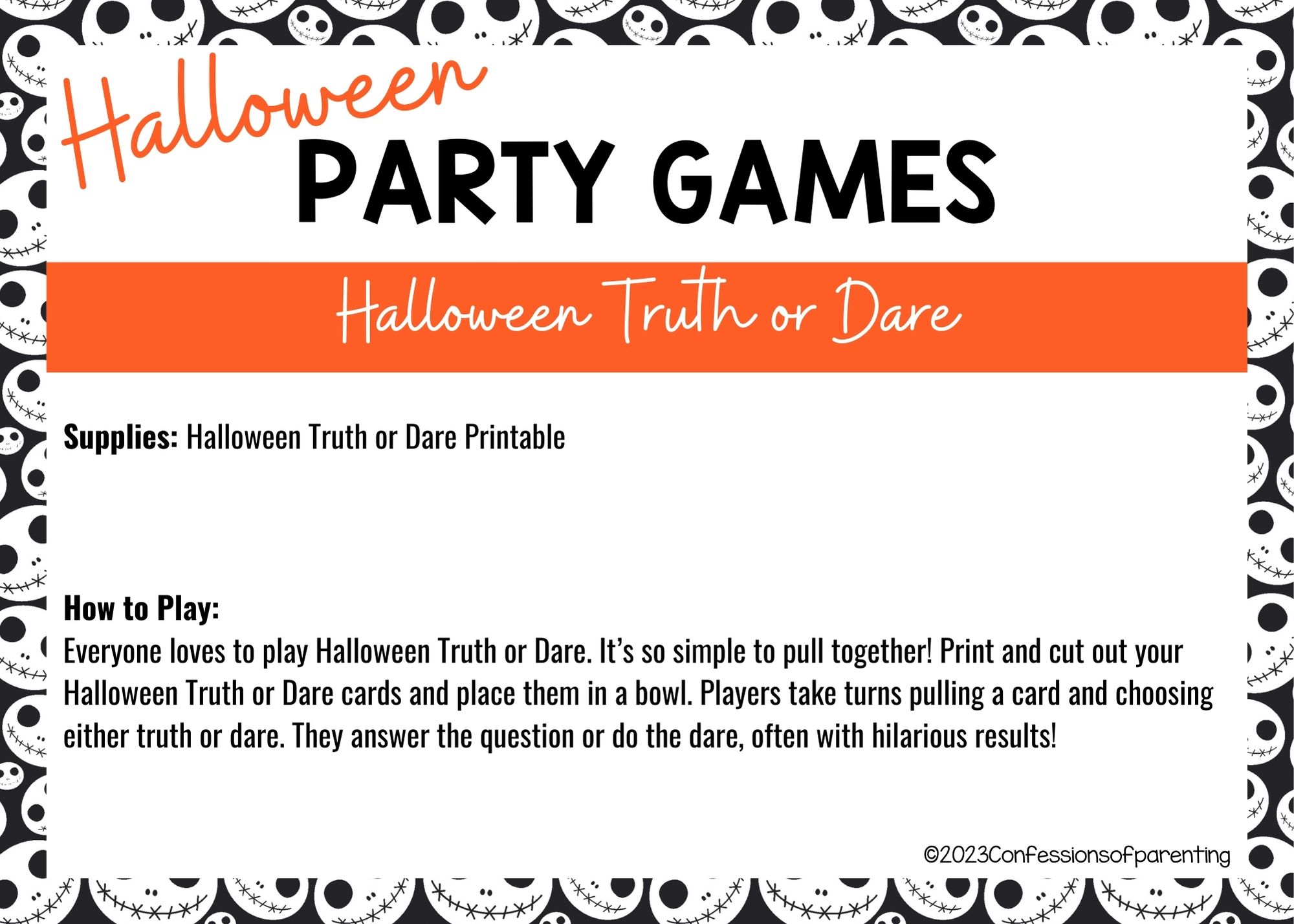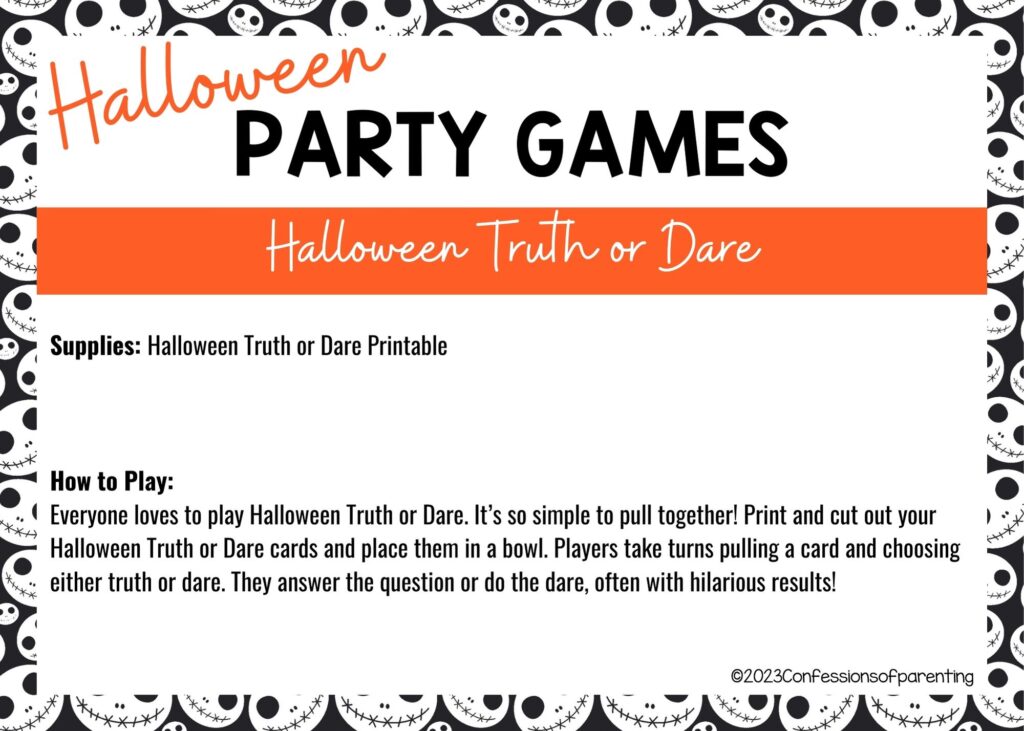 Halloween Truth or Dare
What You Will Need
Everyone loves to play Halloween Truth or Dare. It's so simple to pull together! Print and cut out your Halloween Truth or Dare cards and place them in a bowl. Players take turns pulling a card and choosing either truth or dare. They answer the question or do the dare, often with hilarious results!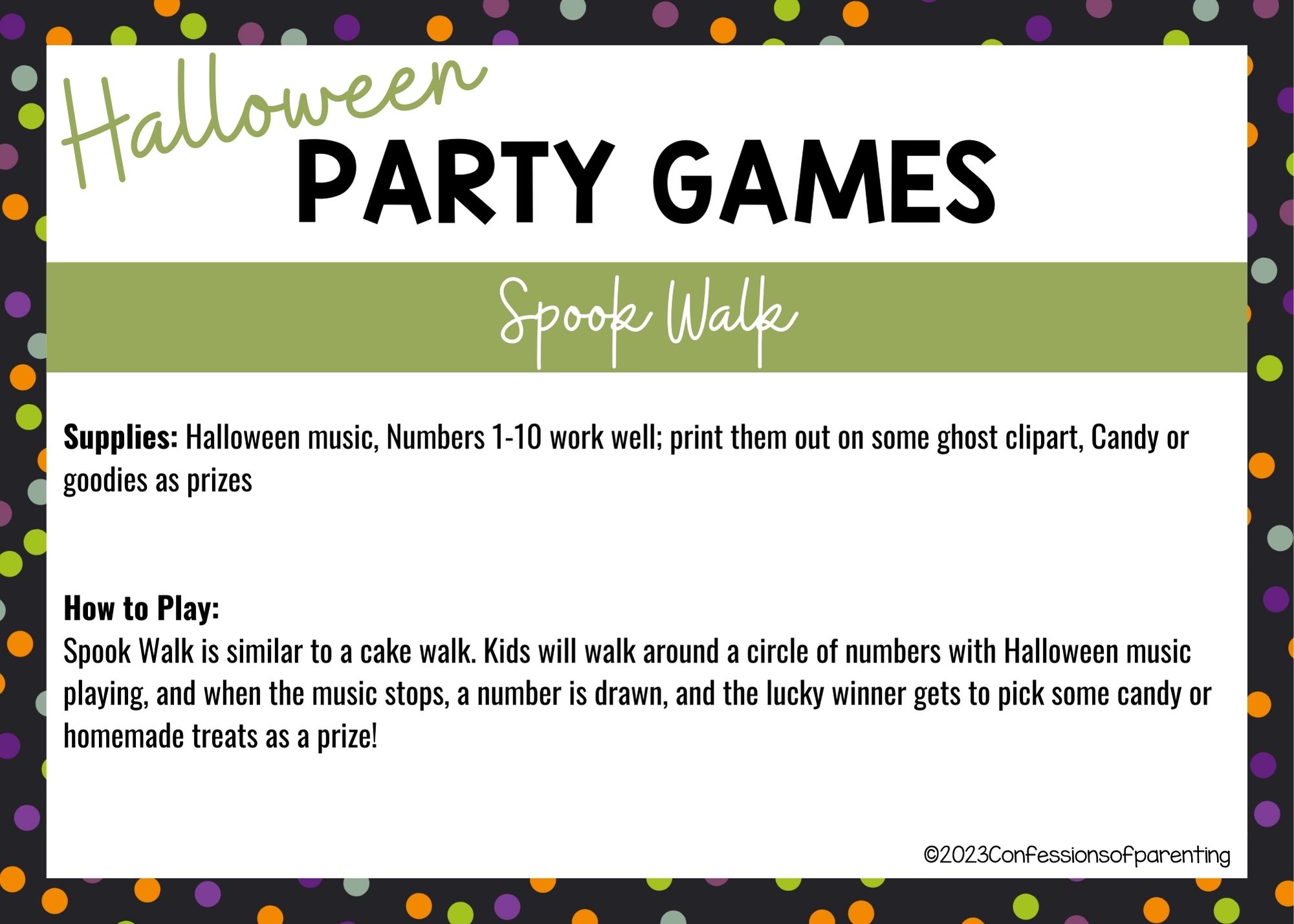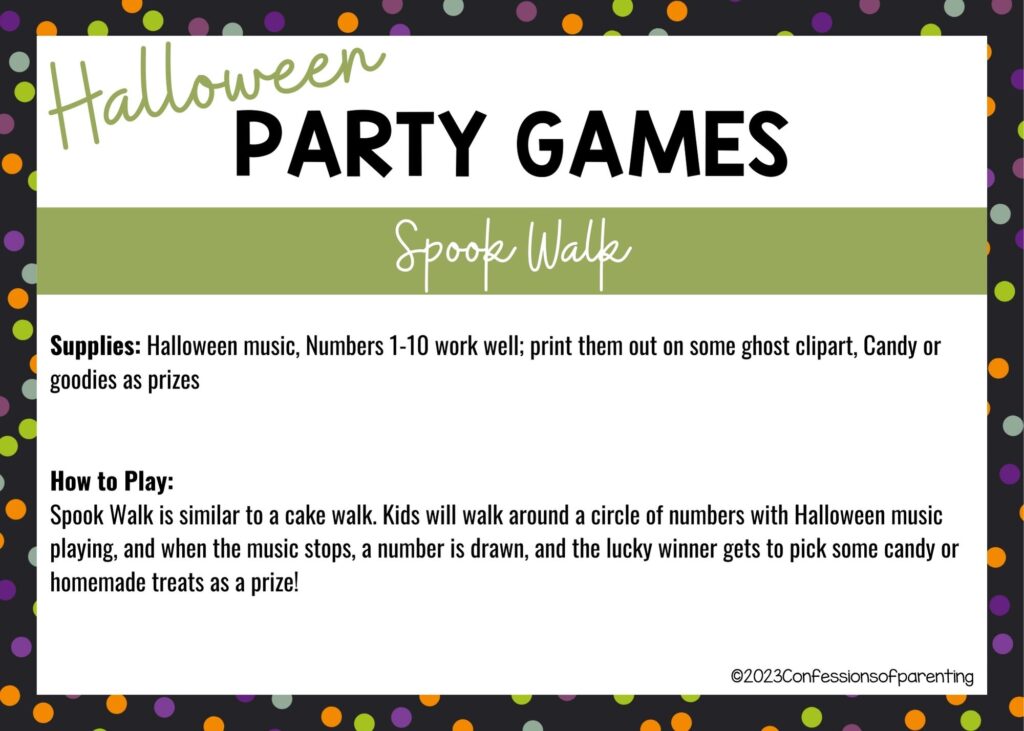 Spook Walk
What You Will Need
Halloween music
Numbers 1-10 work well; print them out on some ghost clipart
Candy or goodies as prizes
Spook Walk is similar to a cake walk. Kids will walk around a circle of numbers with Halloween music playing, and when the music stops, a number is drawn, and the lucky winner gets to pick some candy or homemade treats as a prize!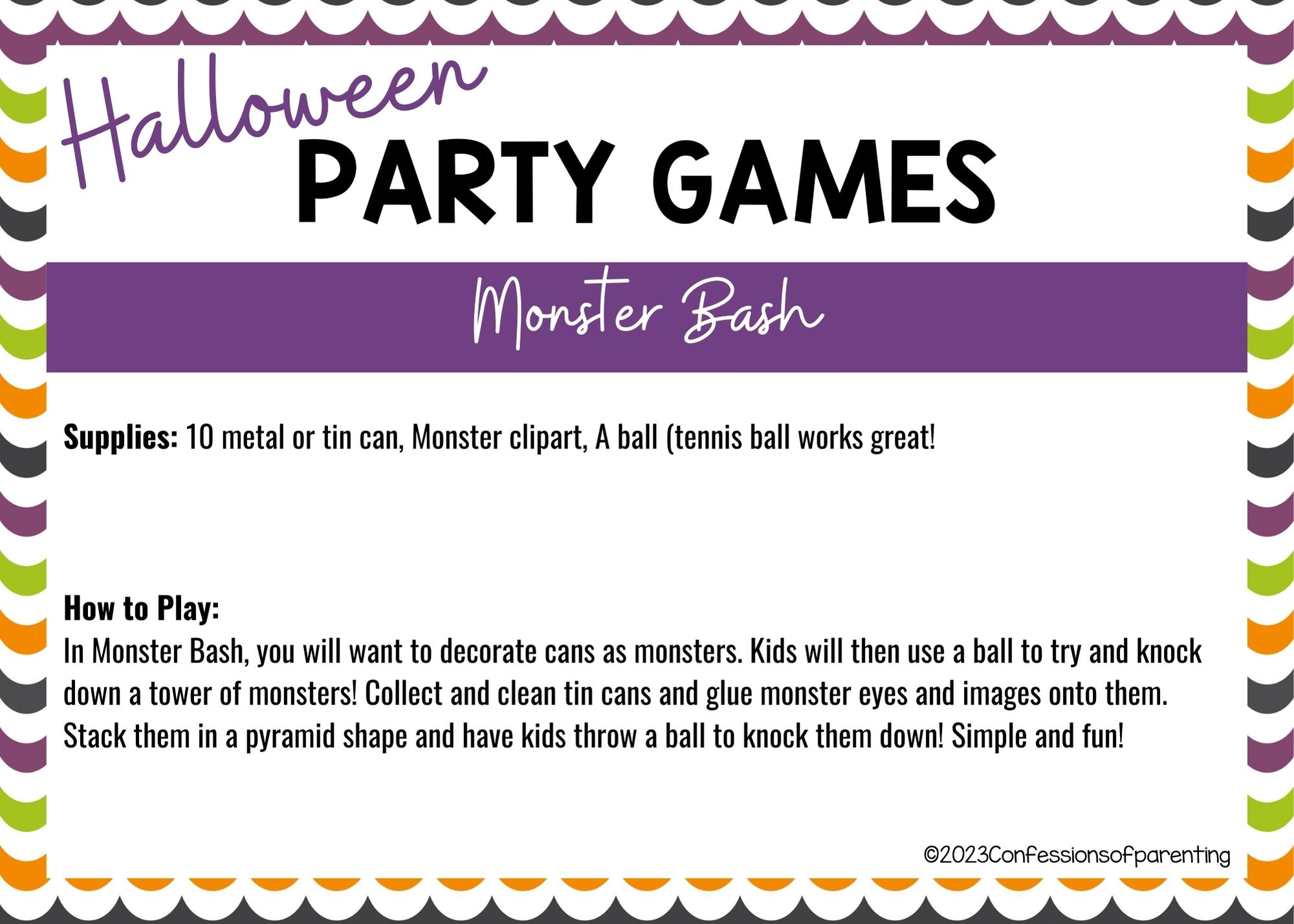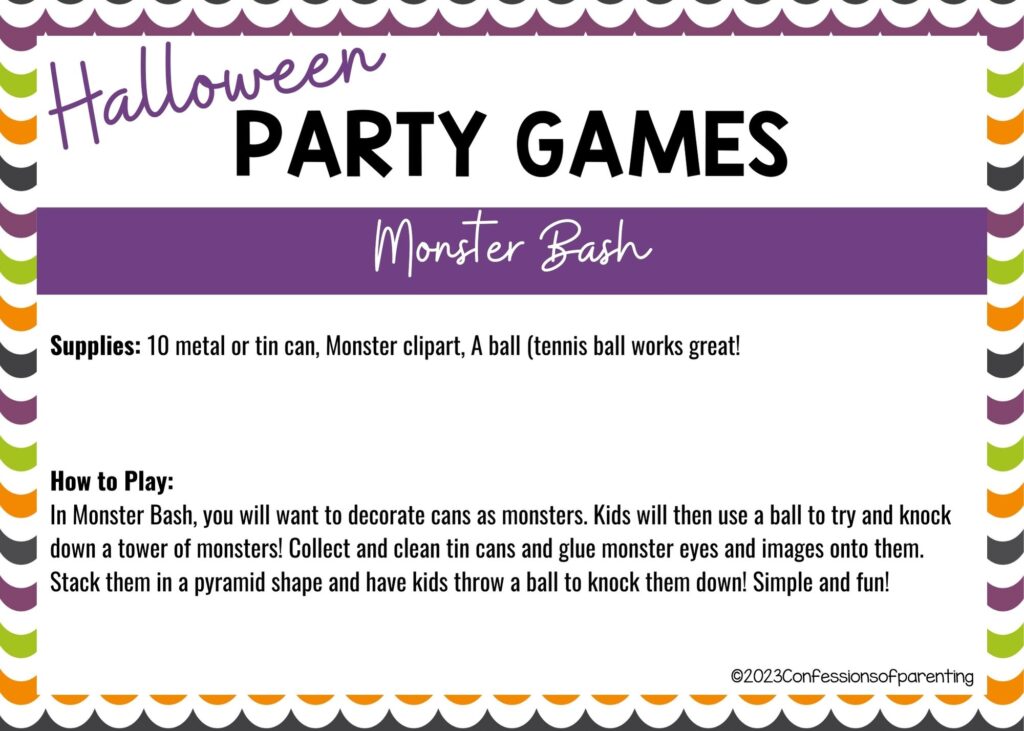 Monster Bash
What You Will Need
10 metal or tin cans
Monster clipart
A ball (tennis ball works great!
In Monster Bash, you will want to decorate cans as monsters. Kids will then use a ball to try and knock down a tower of monsters! Collect and clean tin cans and glue monster eyes and images onto them. Stack them in a pyramid shape and have kids throw a ball to knock them down! Simple and fun!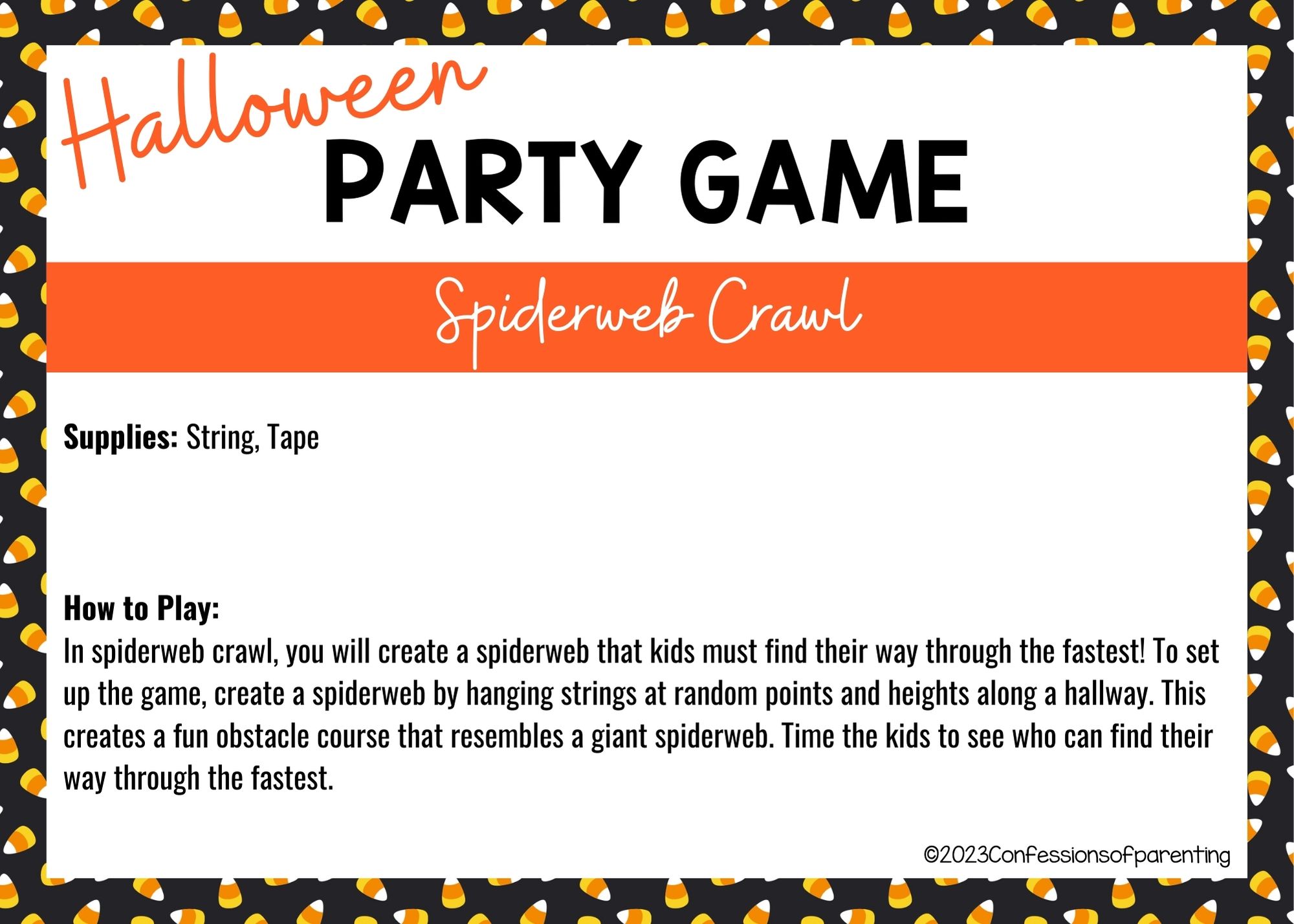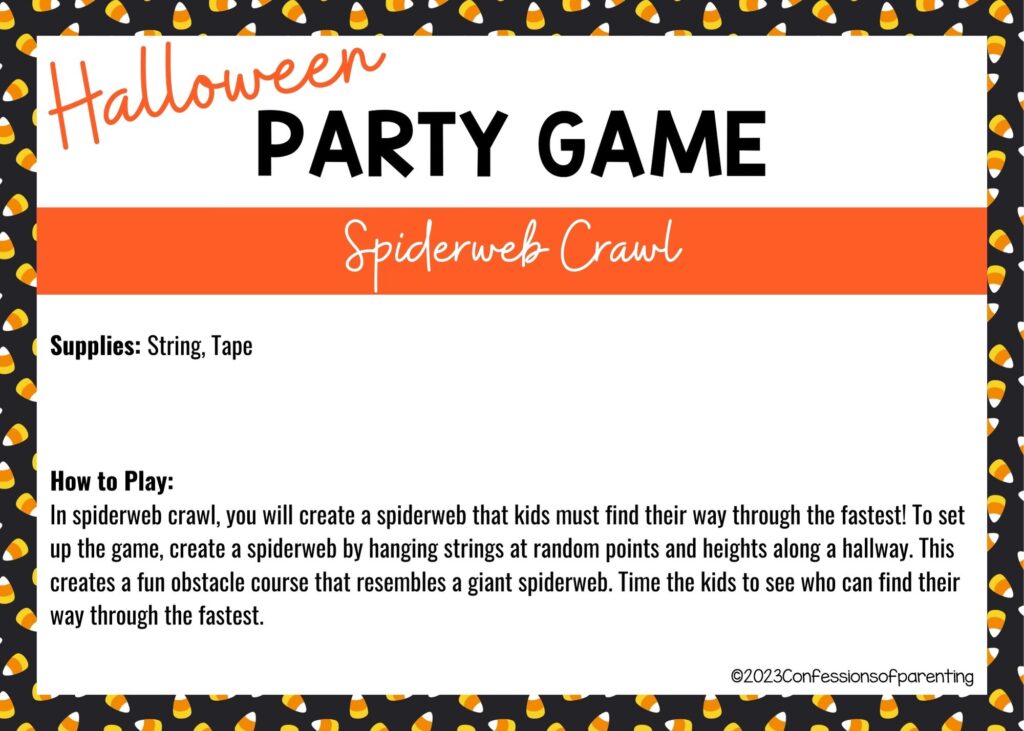 Spiderweb Crawl
What You Will Need
In spiderweb crawl, you will create a spiderweb that kids must find their way through the fastest! To set up the game, create a spiderweb by hanging strings at random points and heights along a hallway. This creates a fun obstacle course that resembles a giant spiderweb. Time the kids to see who can find their way through the fastest.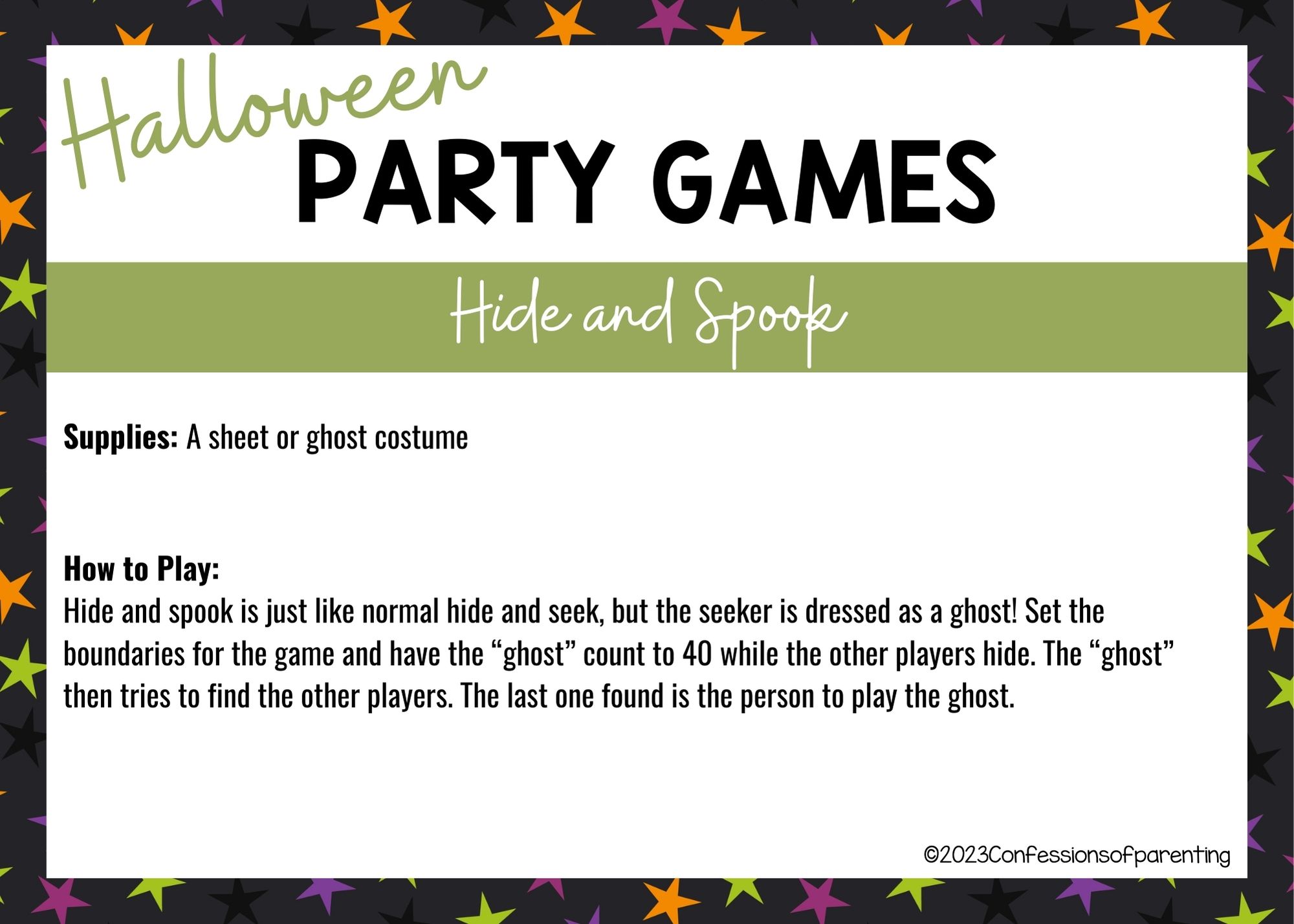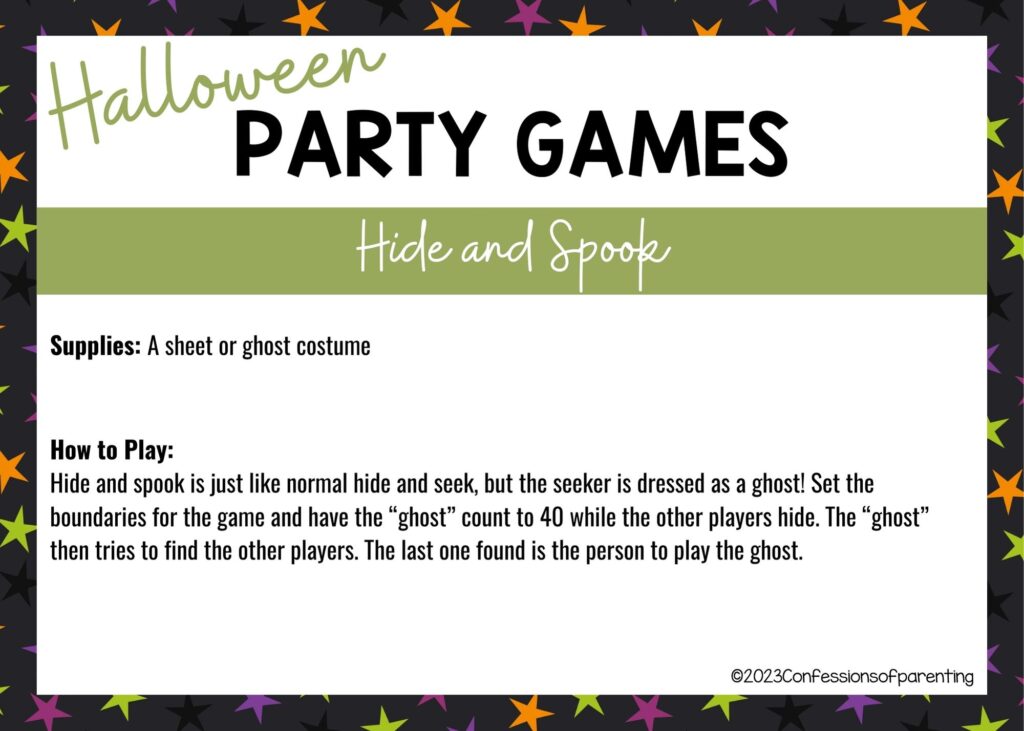 Hide and Spook
You Will Need
Hide and spook is just like normal hide and seek, but the seeker is dressed as a ghost! Set the boundaries for the game and have the "ghost" count to 40 while the other players hide. The "ghost" then tries to find the other players. The last one found is the person to play the ghost.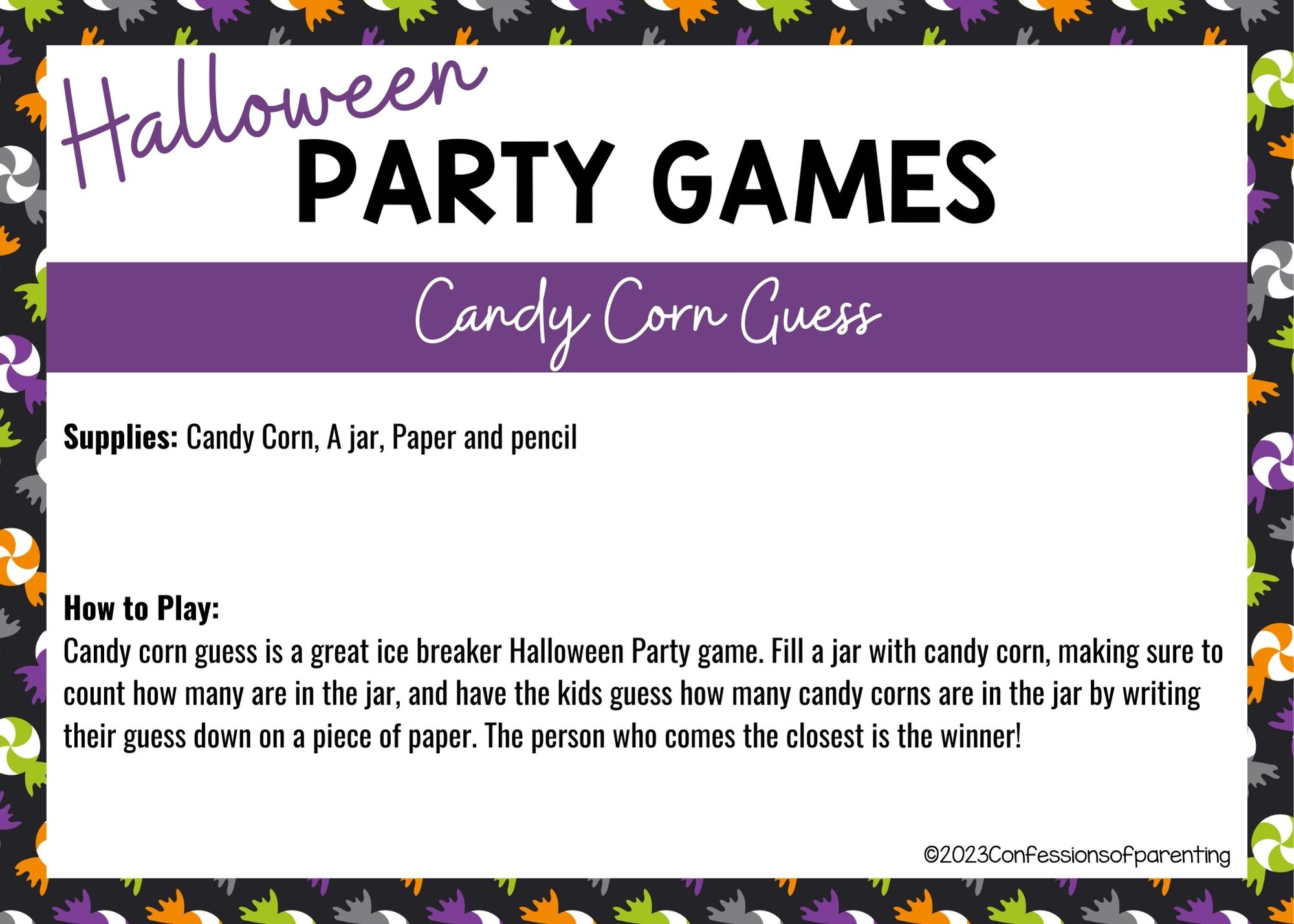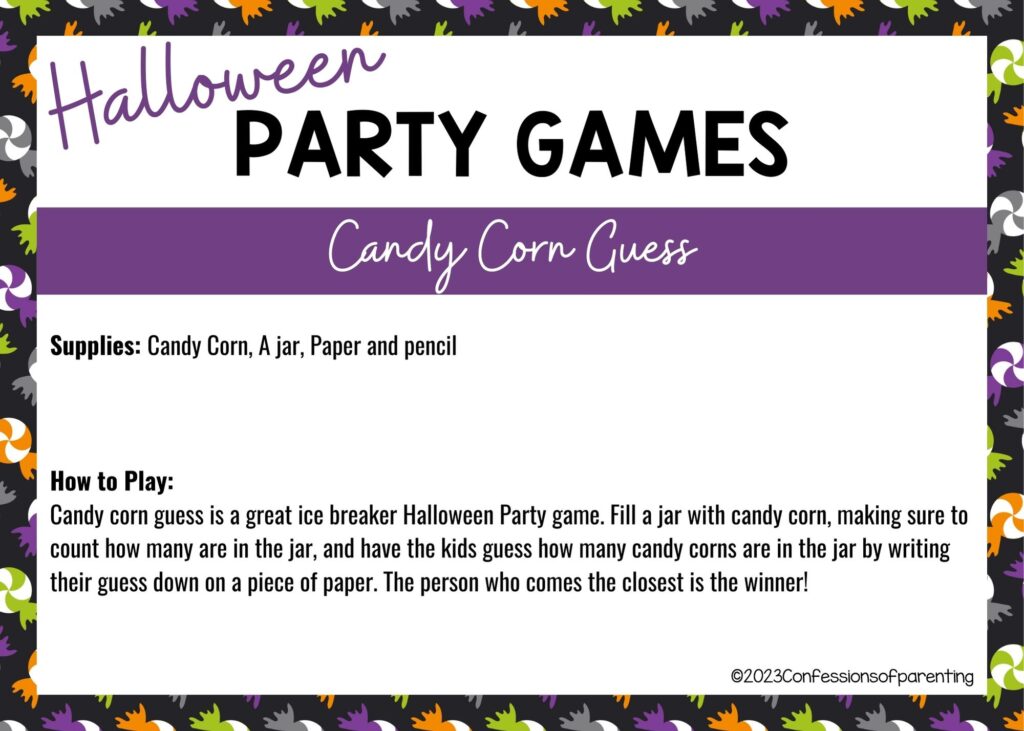 Candy Corn Guess
What You Will Need
Candy Corn
A jar
Paper and pencil
Candy corn guess is a great ice breaker Halloween Party game. Fill a jar with candy corn, making sure to count how many are in the jar, and have the kids guess how many candy corns are in the jar by writing their guess down on a piece of paper. The person who comes the closest is the winner!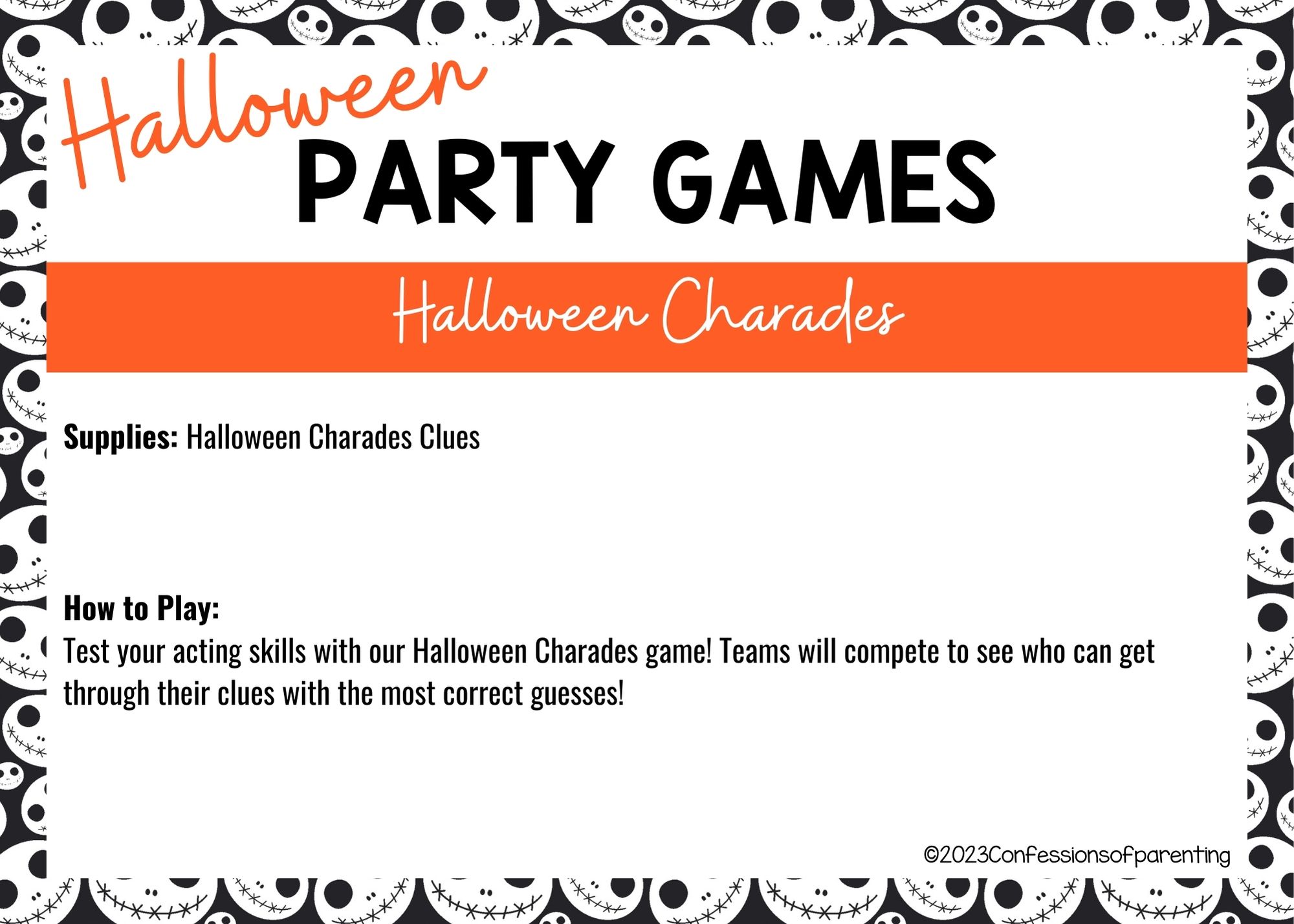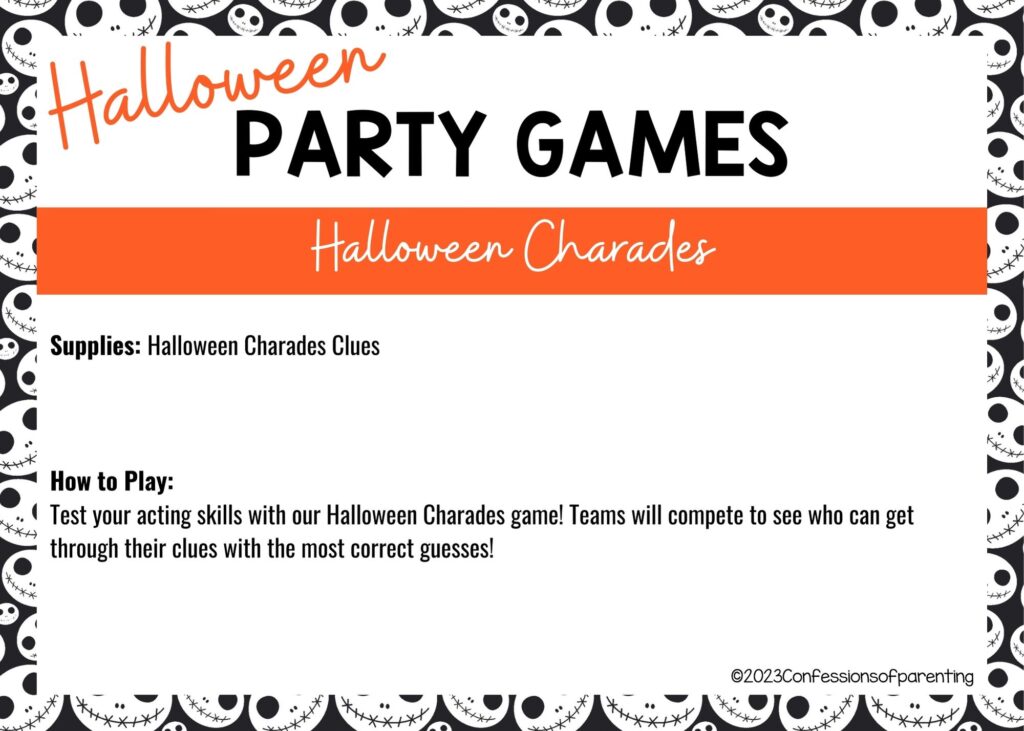 Halloween Charades
What You Will Need
Test your acting skills with our Halloween Charades game! Teams will compete to see who can get through their clues with the most correct guesses!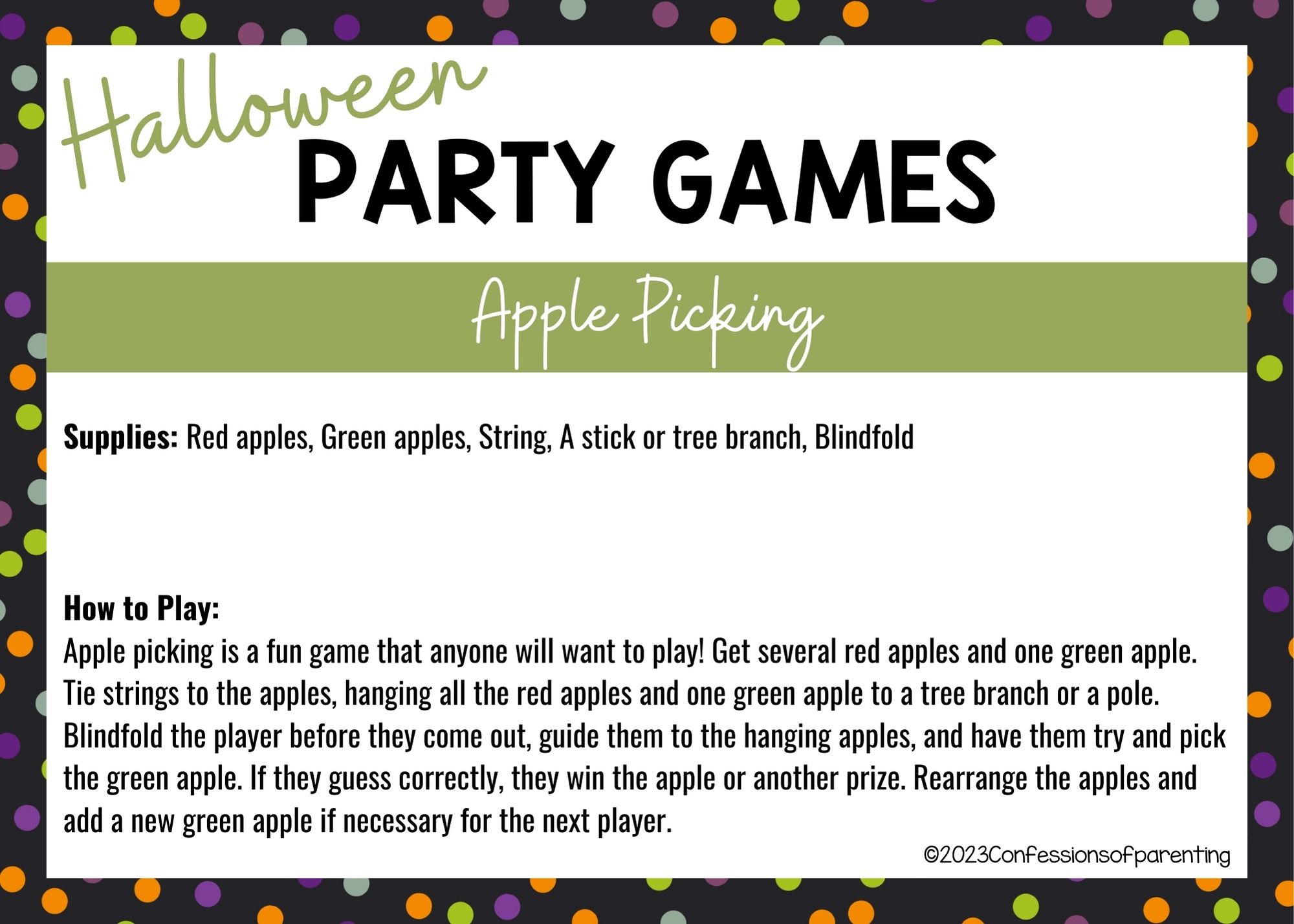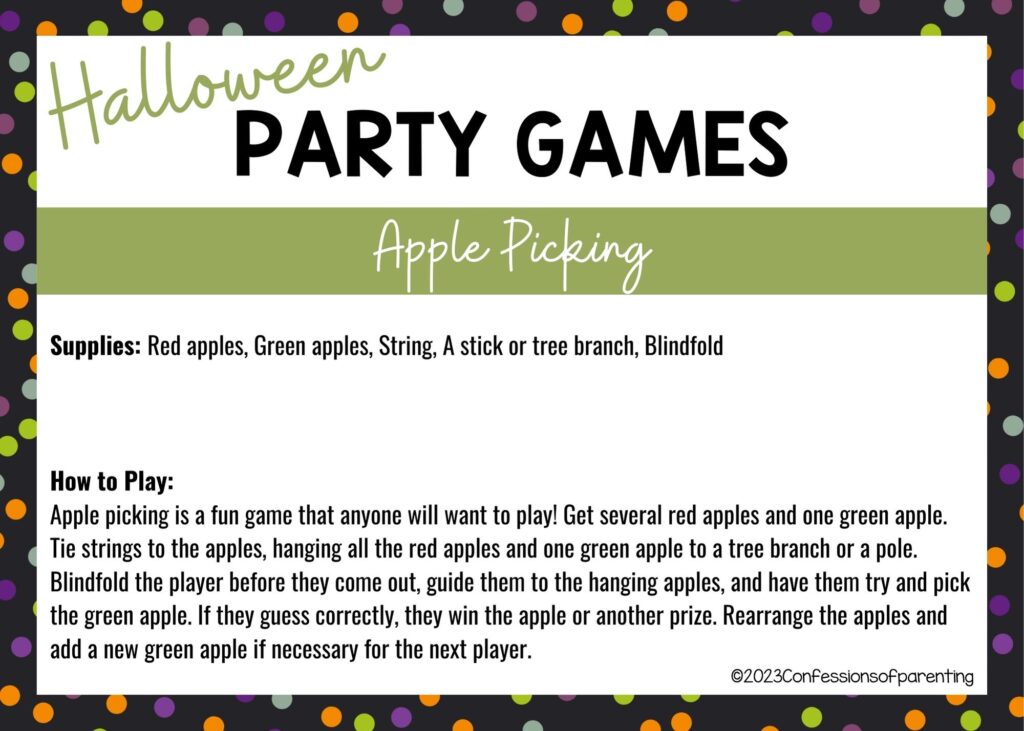 Apple Picking
What You Will Need
Red apples
Green apples
String
A stick or tree branch
Blindfold
Apple picking is a fun game that anyone will want to play! Get several red apples and one green apple. Tie strings to the apples, hanging all the red apples and one green apple to a tree branch or a pole. Blindfold the player before they come out, guide them to the hanging apples, and have them try and pick the green apple. If they guess correctly, they win the apple or another prize. Rearrange the apples and add a new green apple if necessary for the next player.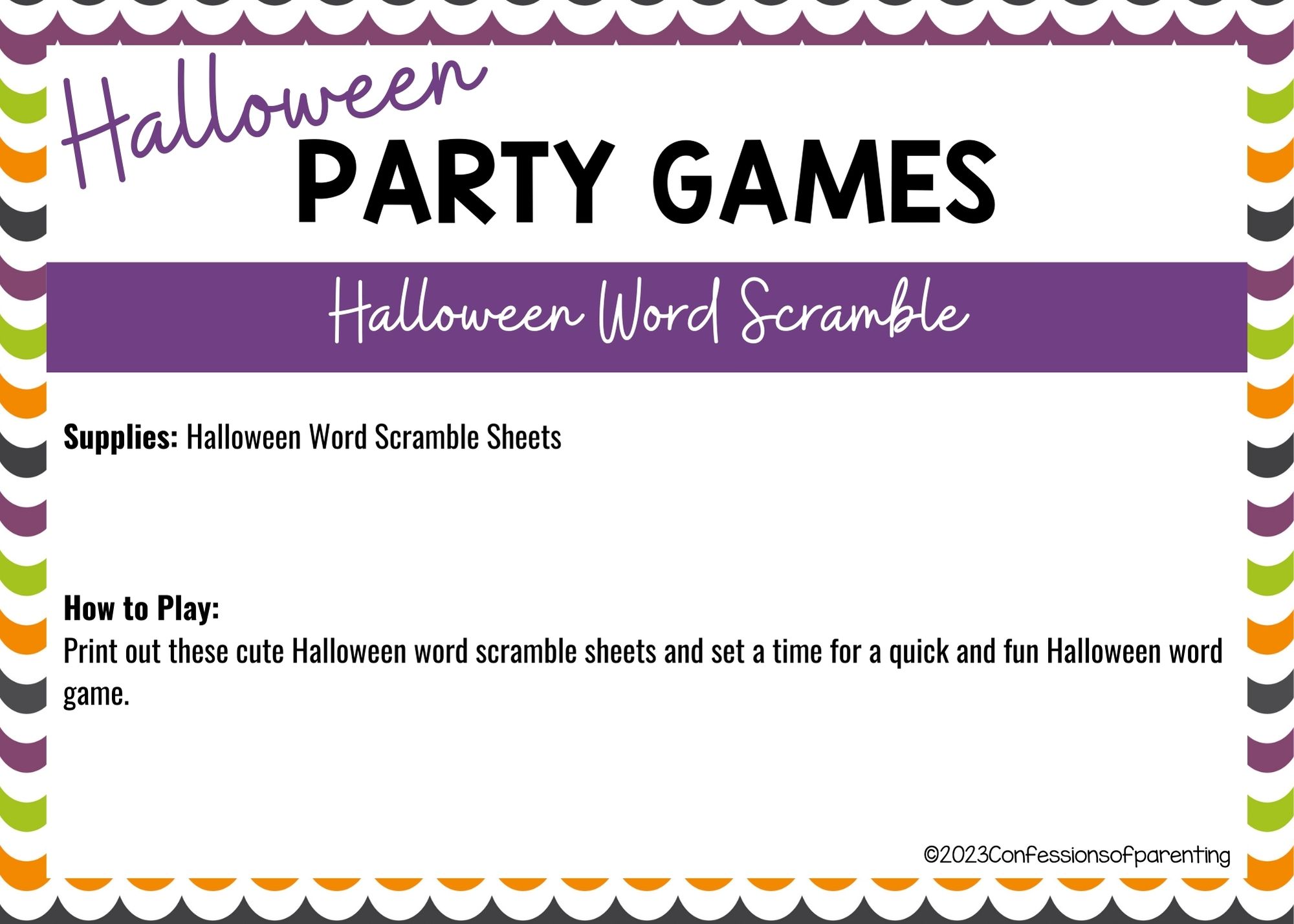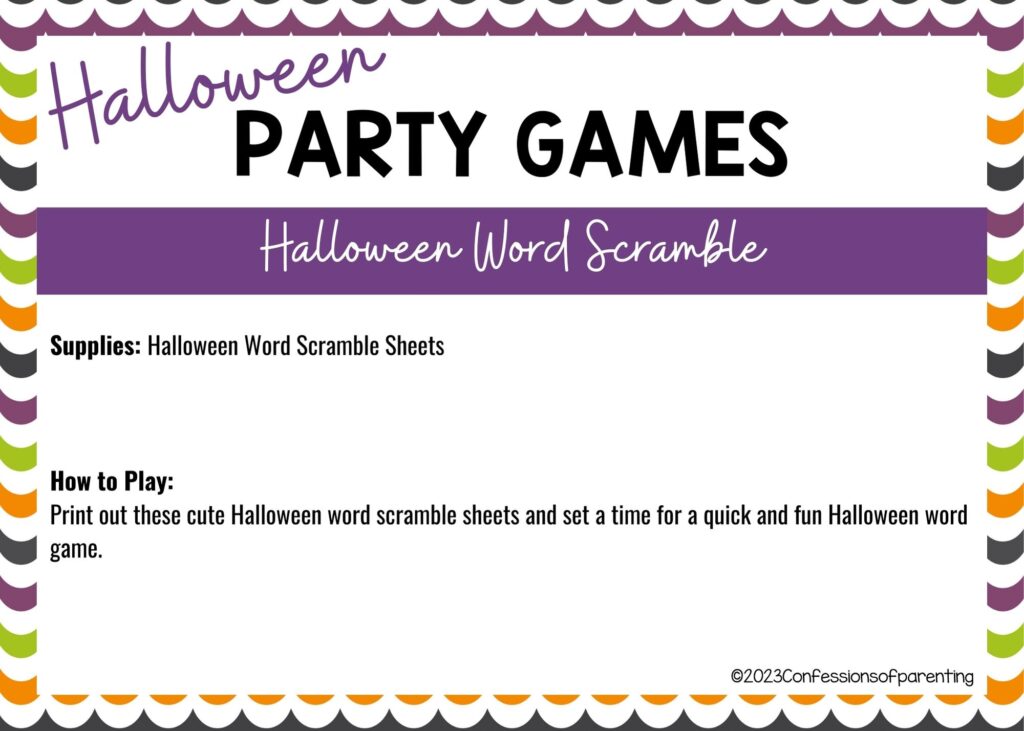 Halloween Word Scramble
What You Will Need
Print out these cute Halloween word scramble sheets and set a time for a quick and fun Halloween word game.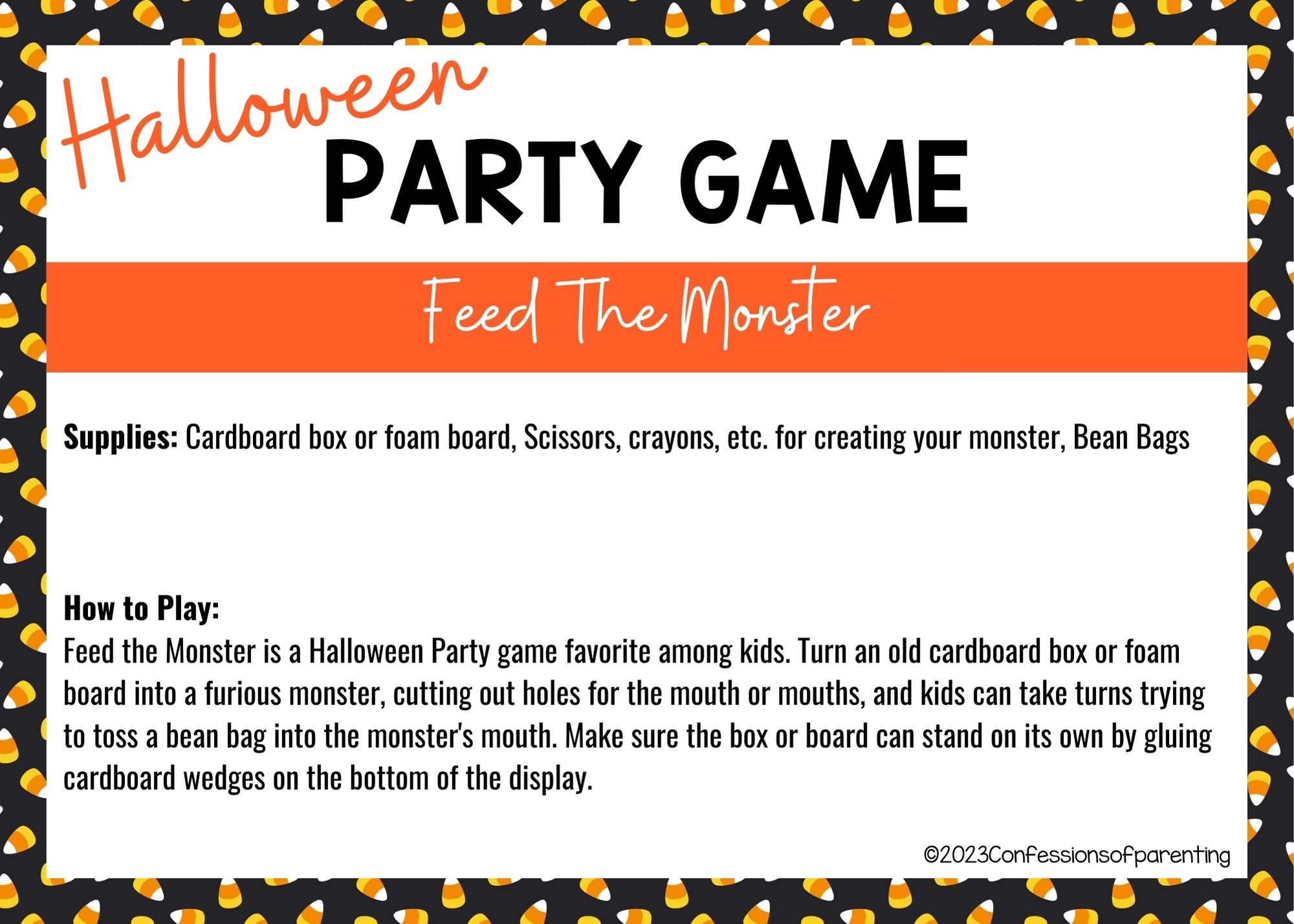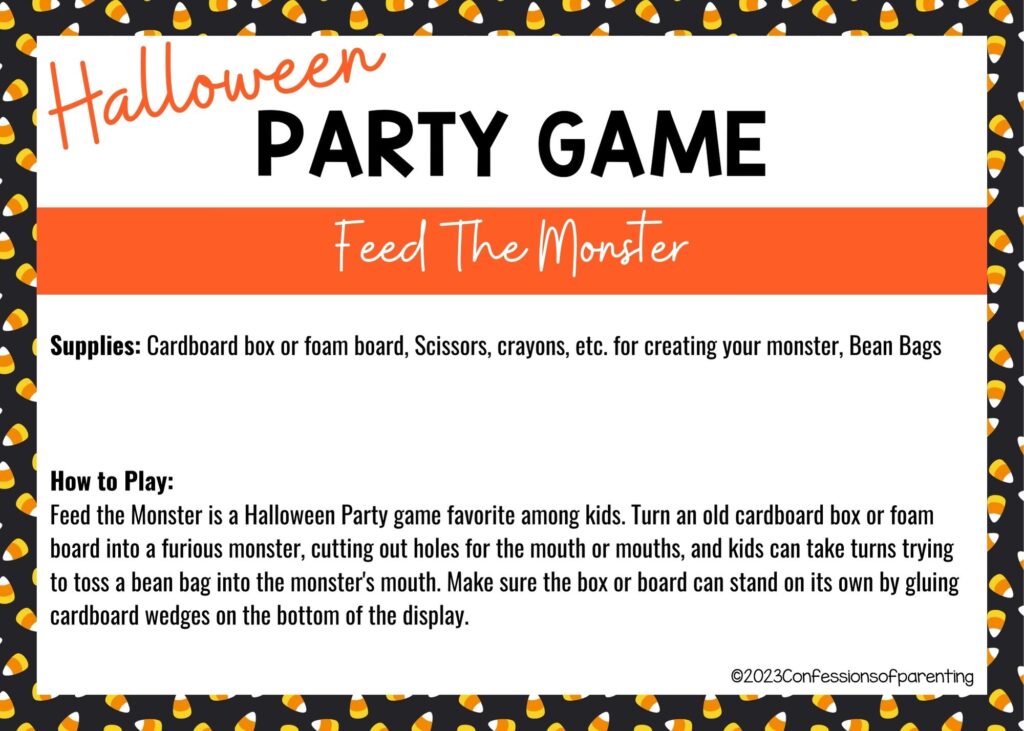 Feed The Monster
What You Will Need
Cardboard box or foam board
Scissors, crayons, etc. for creating your monster
Bean Bags
Feed the Monster is a Halloween Party game favorite among kids. Turn an old cardboard box or foam board into a furious monster, cutting out holes for the mouth or mouths, and kids can take turns trying to toss a bean bag into the monster's mouth. Make sure the box or board can stand on its own by gluing cardboard wedges on the bottom of the display.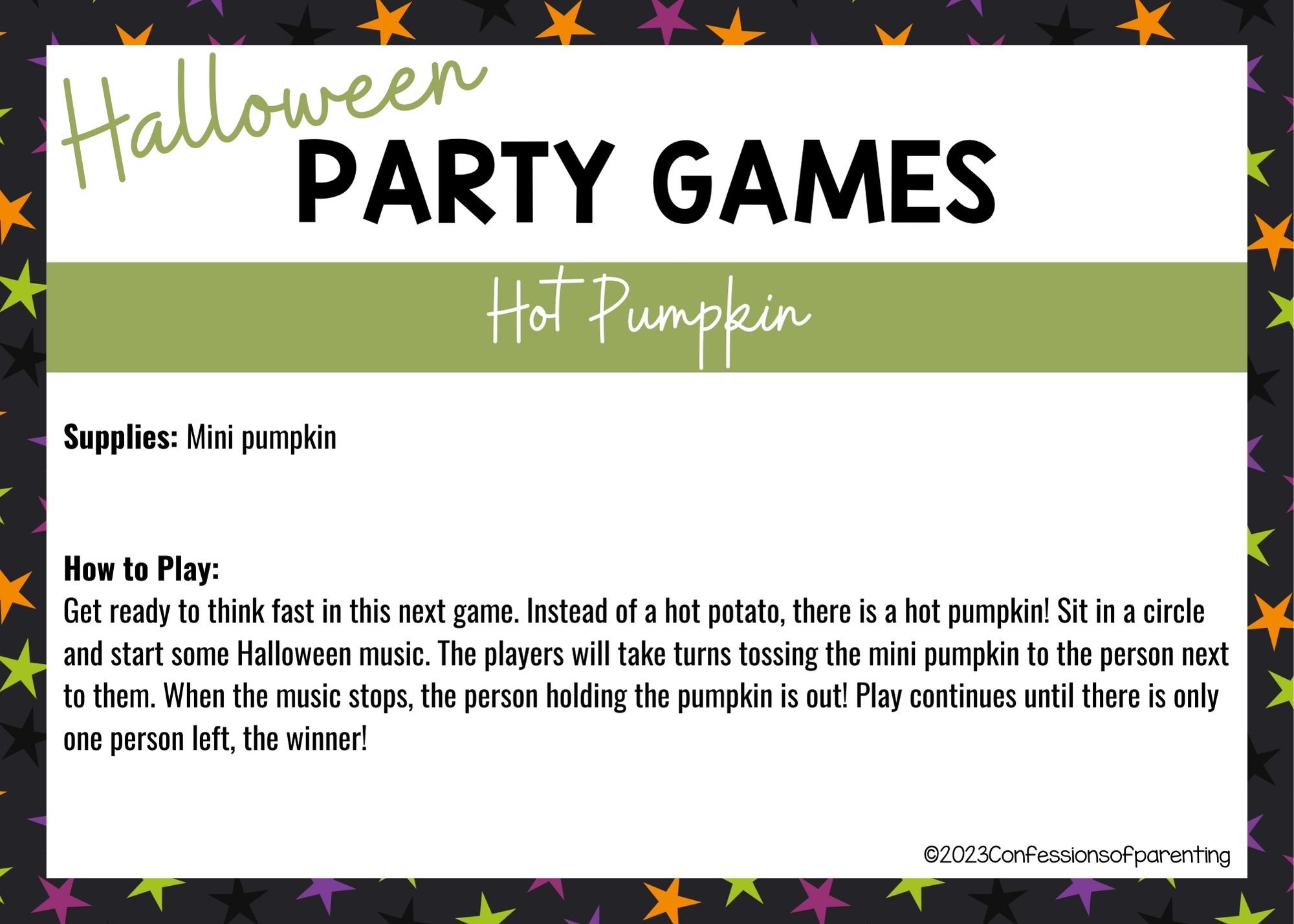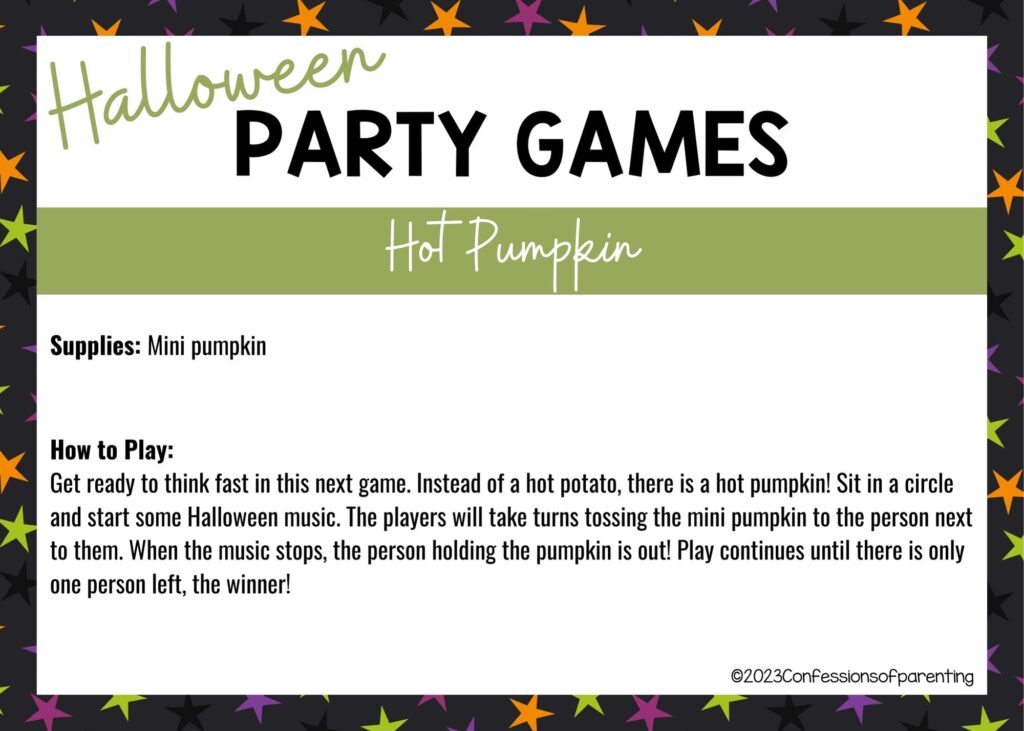 Hot Pumpkin
What You Will Need
Get ready to think fast in this next game. Instead of a hot potato, there is a hot pumpkin! Sit in a circle and start some Halloween music. The players will take turns tossing the mini pumpkin to the person next to them. When the music stops, the person holding the pumpkin is out! Play continues until there is only one person left, the winner!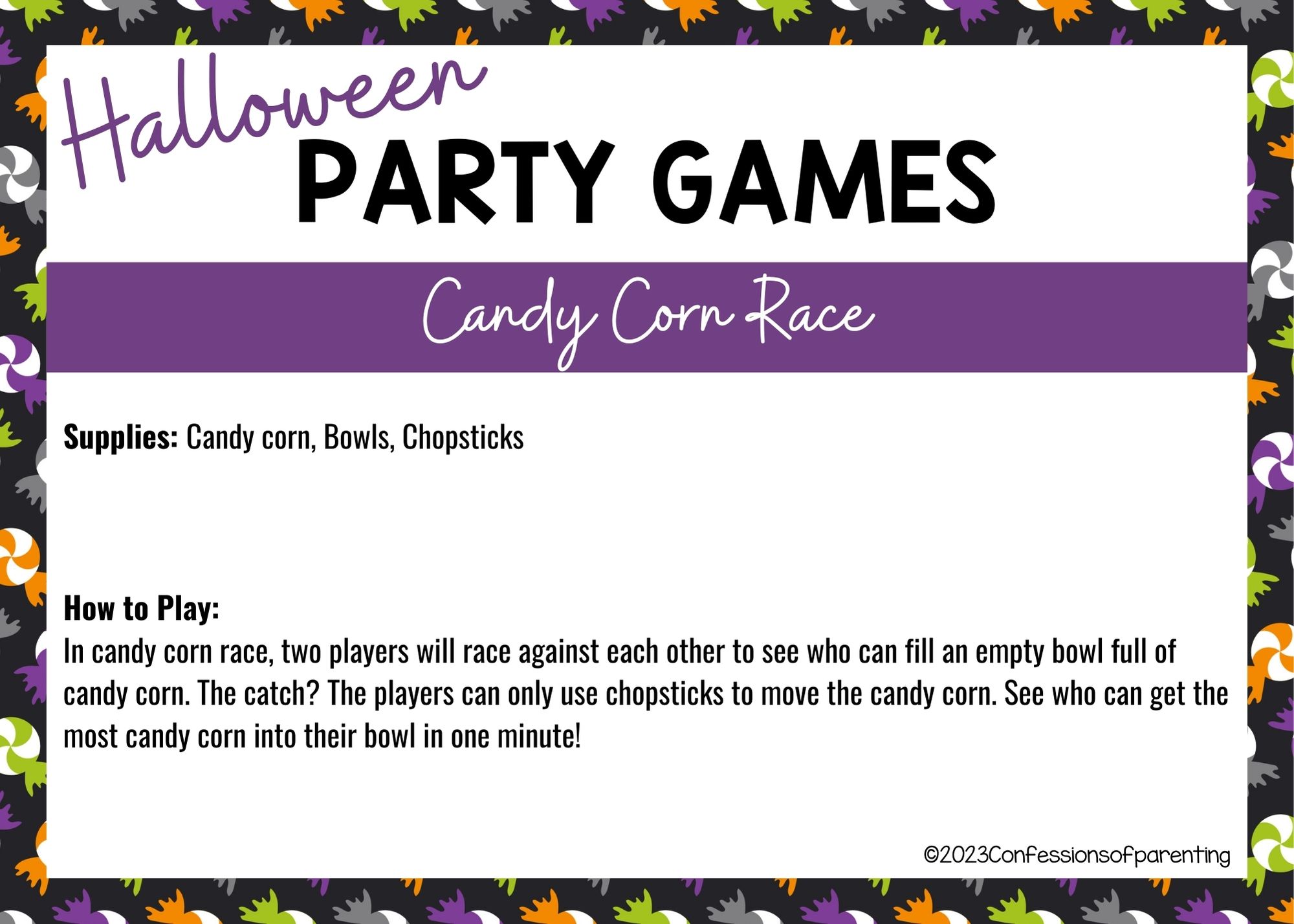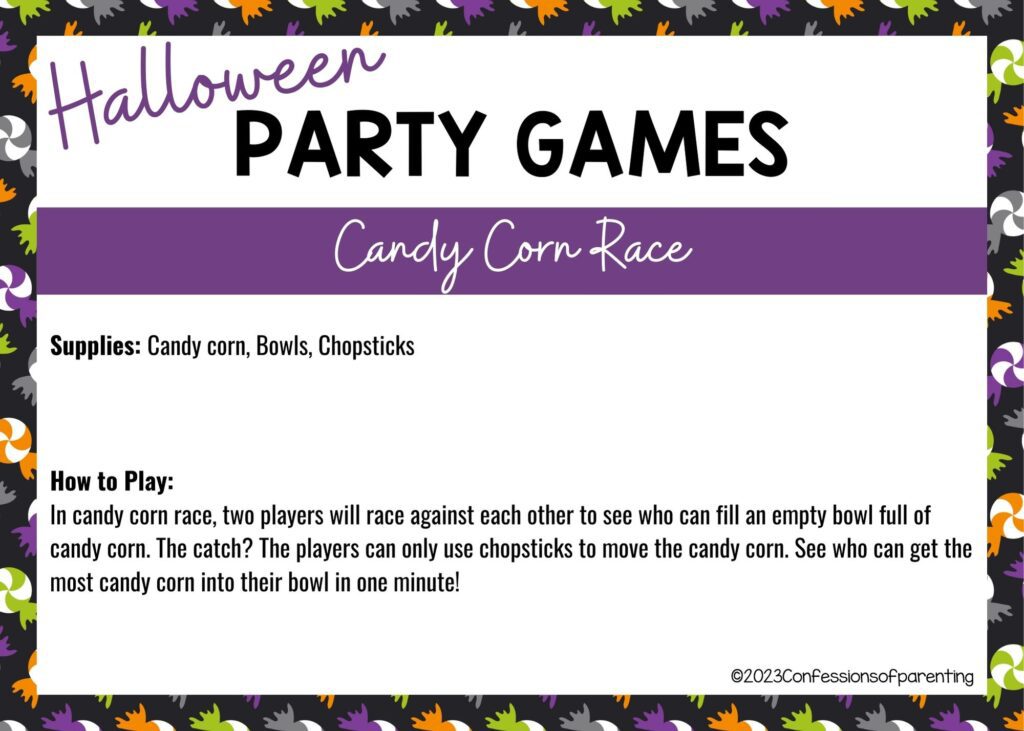 Candy Corn Race
What You Will Need
Candy corn
Bowls
Chopsticks
In candy corn race, two players will race against each other to see who can fill an empty bowl full of candy corn. The catch? The players can only use chopsticks to move the candy corn. See who can get the most candy corn into their bowl in one minute!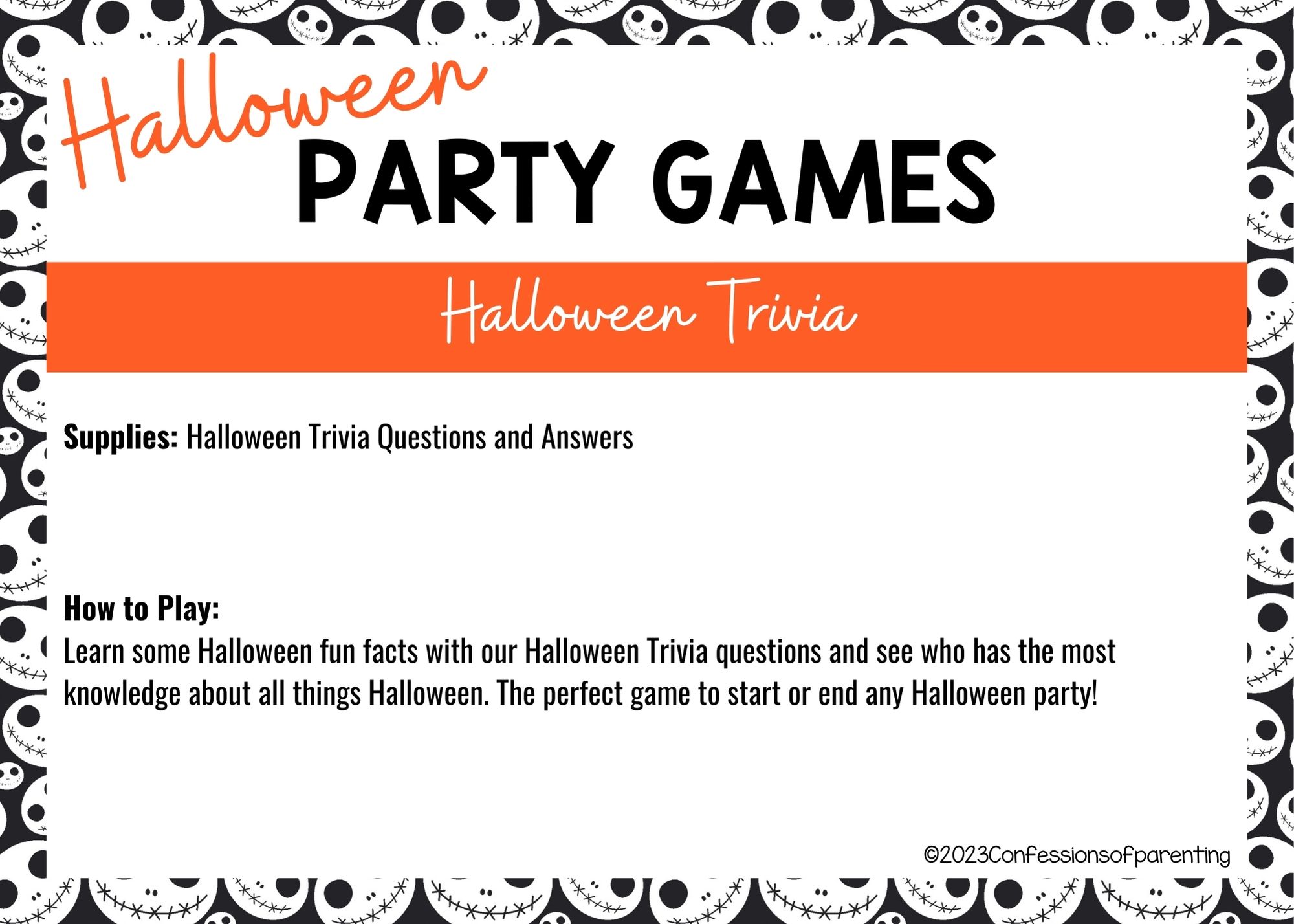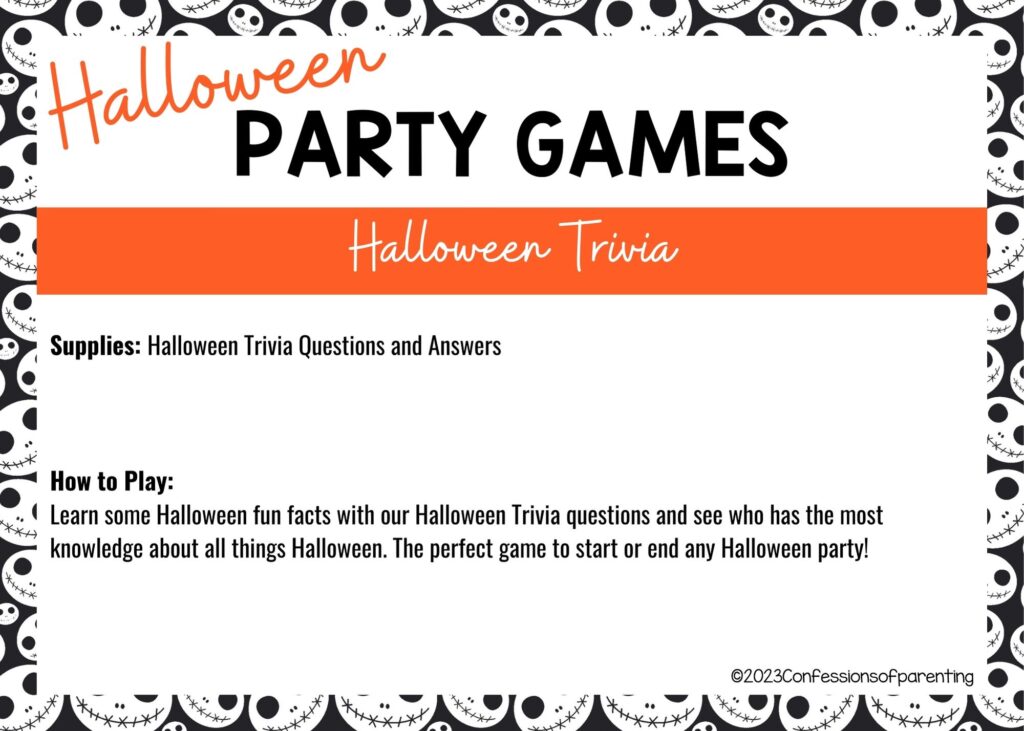 Halloween Trivia
What You Will Need
Learn some Halloween fun facts with our Halloween Trivia questions and see who has the most knowledge about all things Halloween. The perfect game to start or end any Halloween party!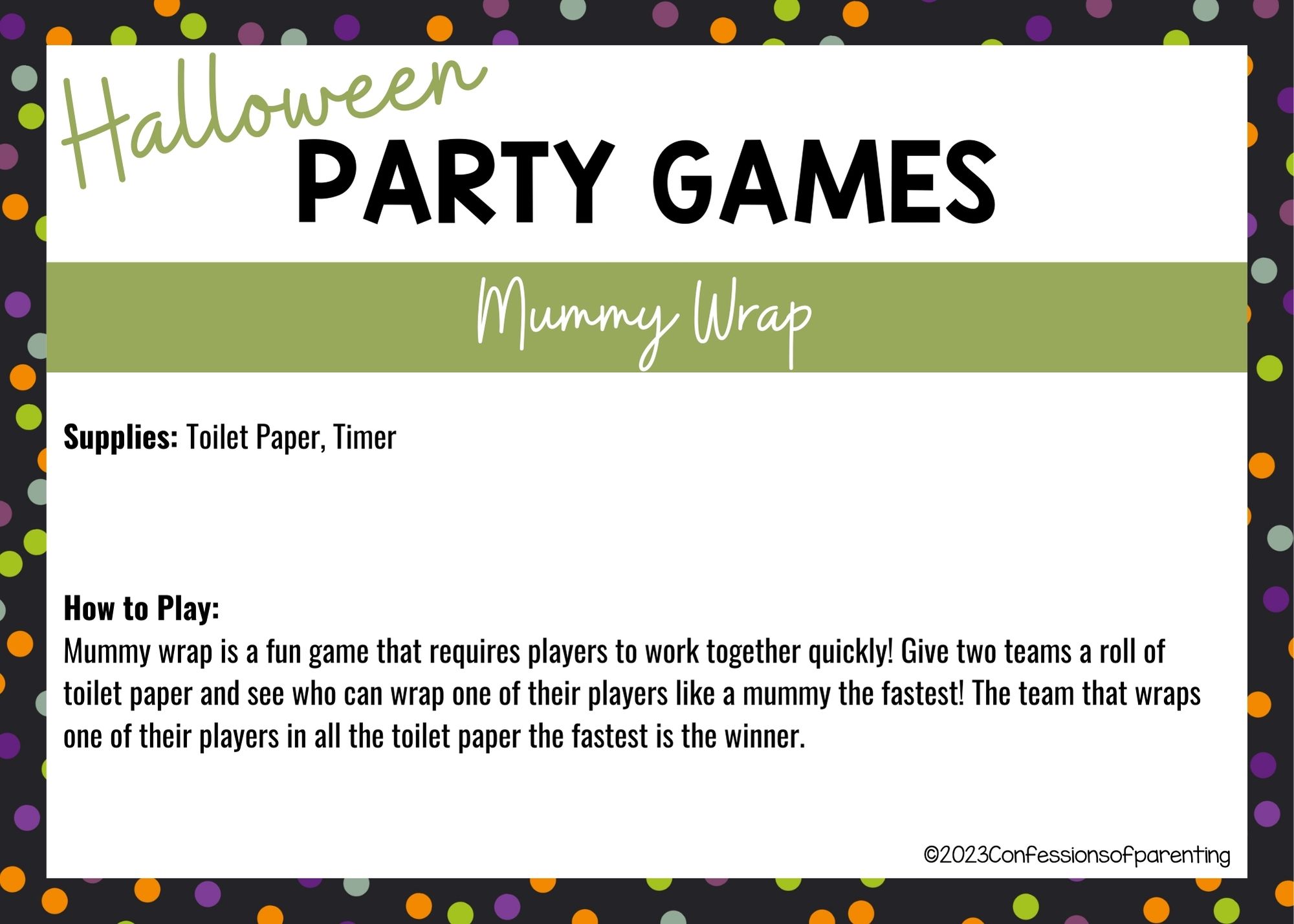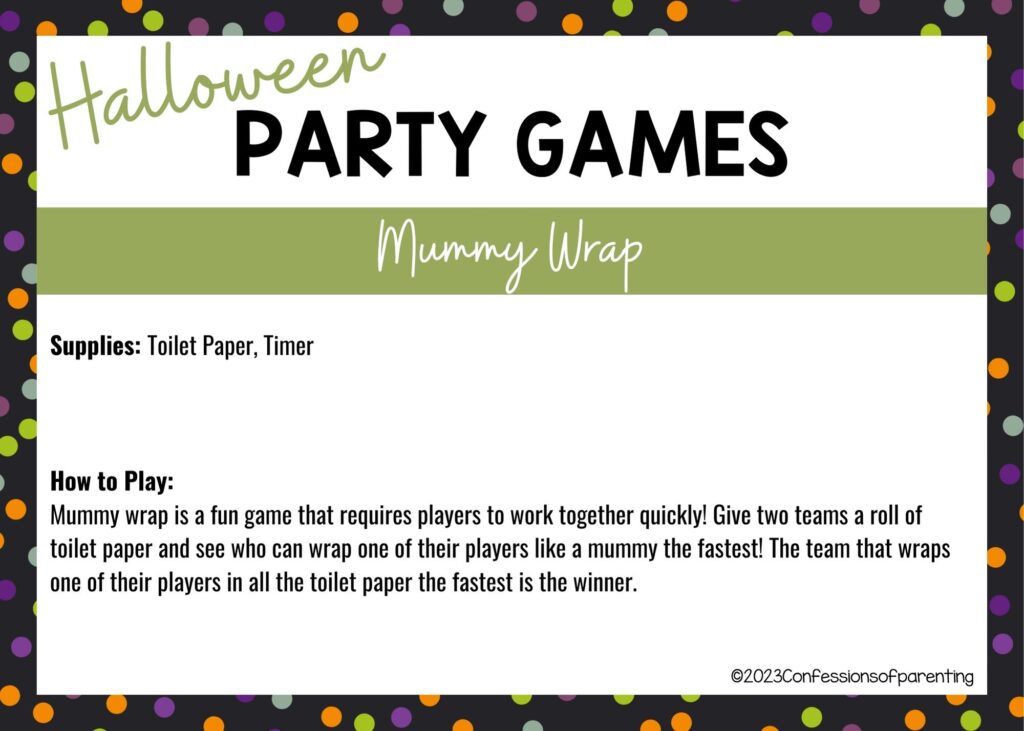 Mummy Wrap
What You Will Need
Mummy wrap is a fun game that requires players to work together quickly! Give two teams a roll of toilet paper and see who can wrap one of their players like a mummy the fastest! The team that wraps one of their players in all the toilet paper the fastest is the winner.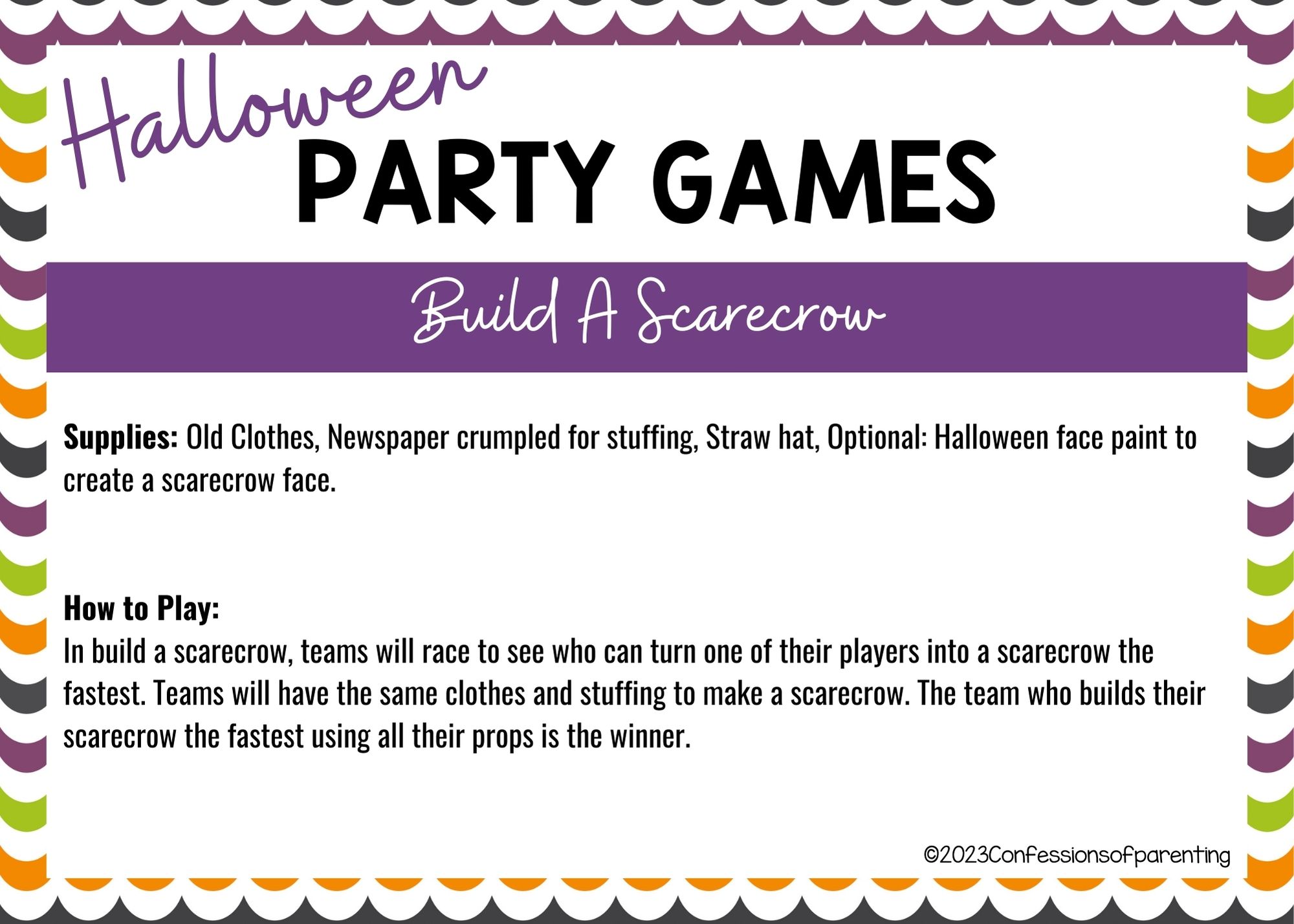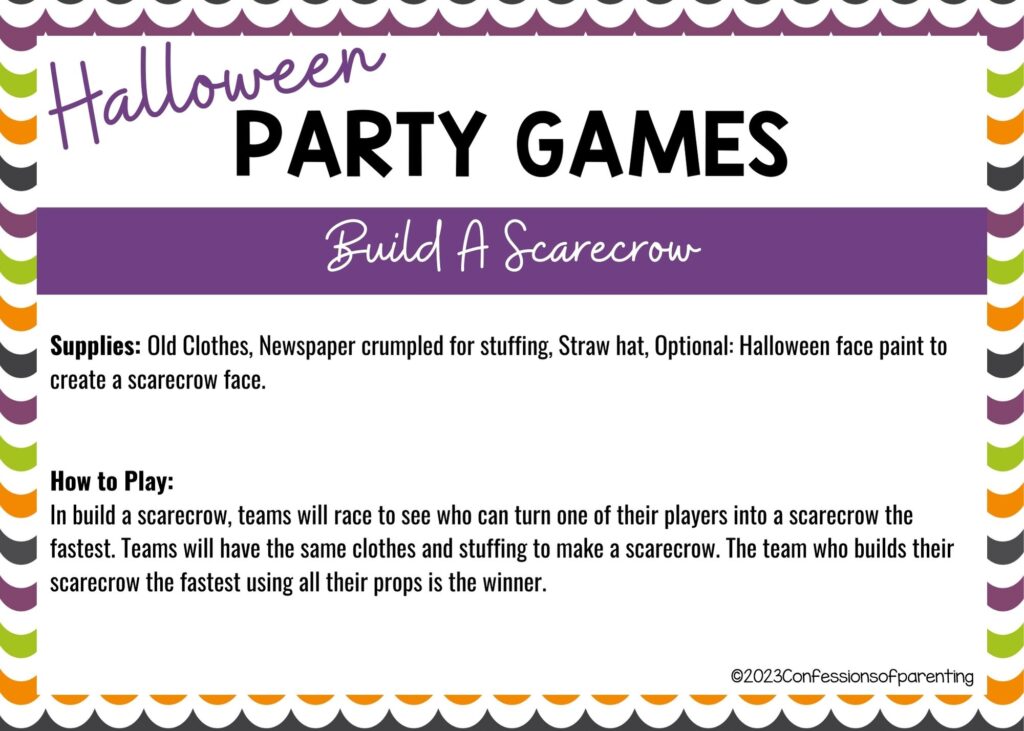 Build A Scarecrow
What You Will Need
Old Clothes
Newspaper crumpled for stuffing
Straw hat
Optional: Halloween face paint to create a scarecrow face.
In build a scarecrow, teams will race to see who can turn one of their players into a scarecrow the fastest. Teams will have the same clothes and stuffing to make a scarecrow. The team who builds their scarecrow the fastest using all their props is the winner.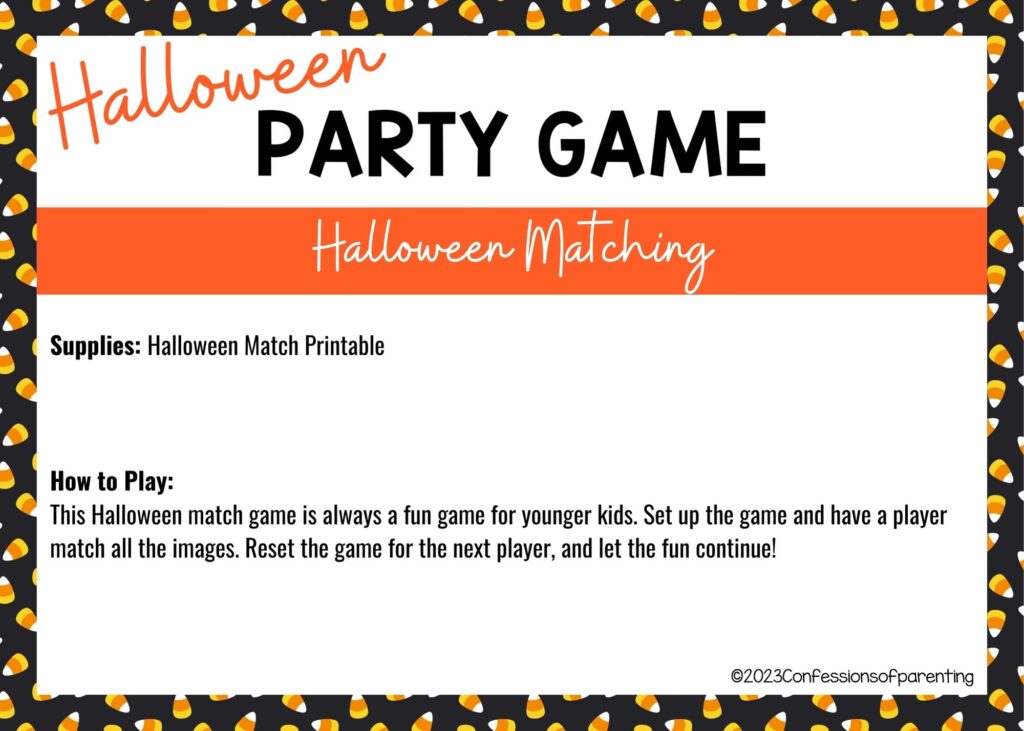 Halloween Matching
What You Will Need
This Halloween match game is always a fun game for younger kids. Set up the game and have a player match all the images. Reset the game for the next player, and let the fun continue!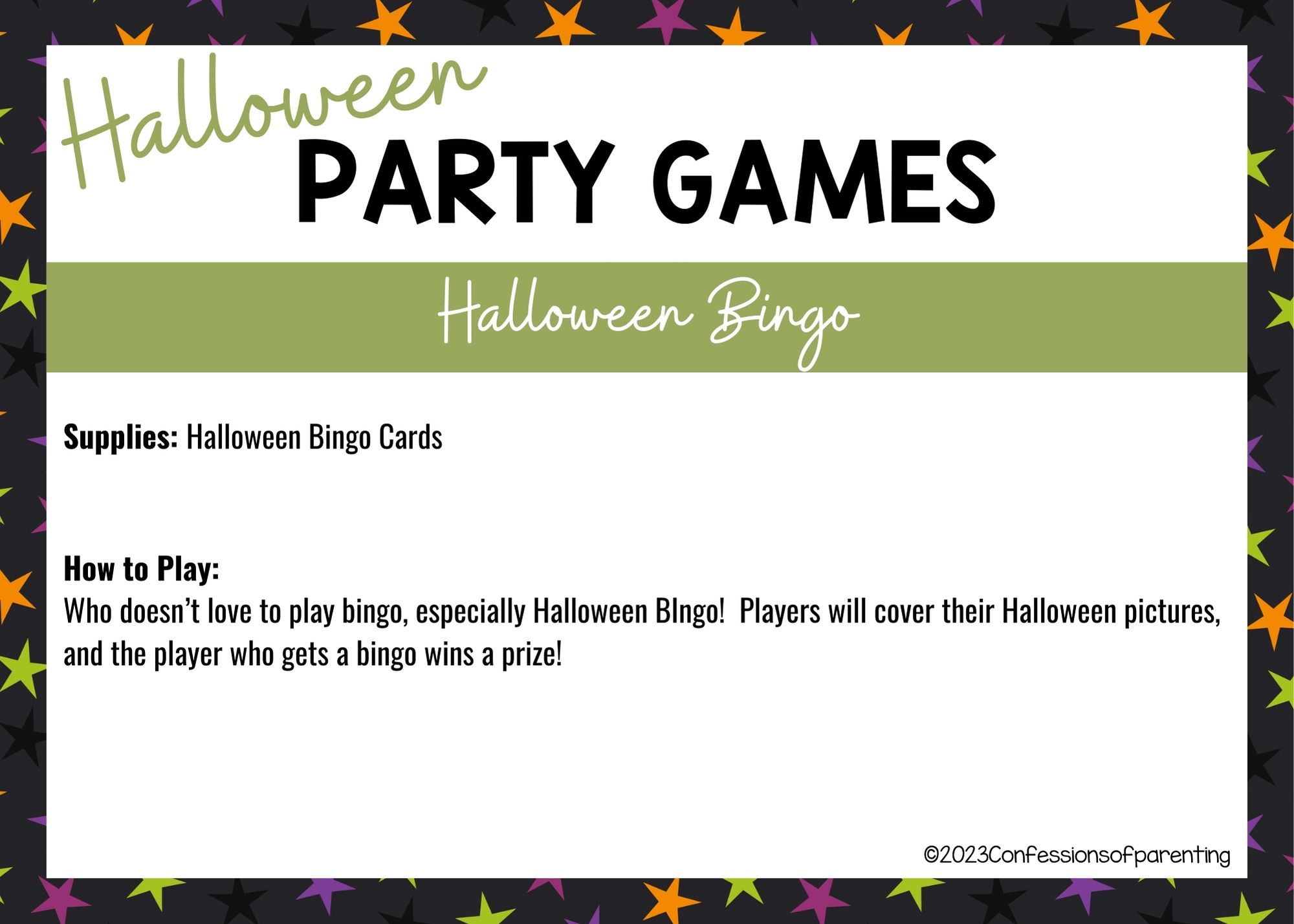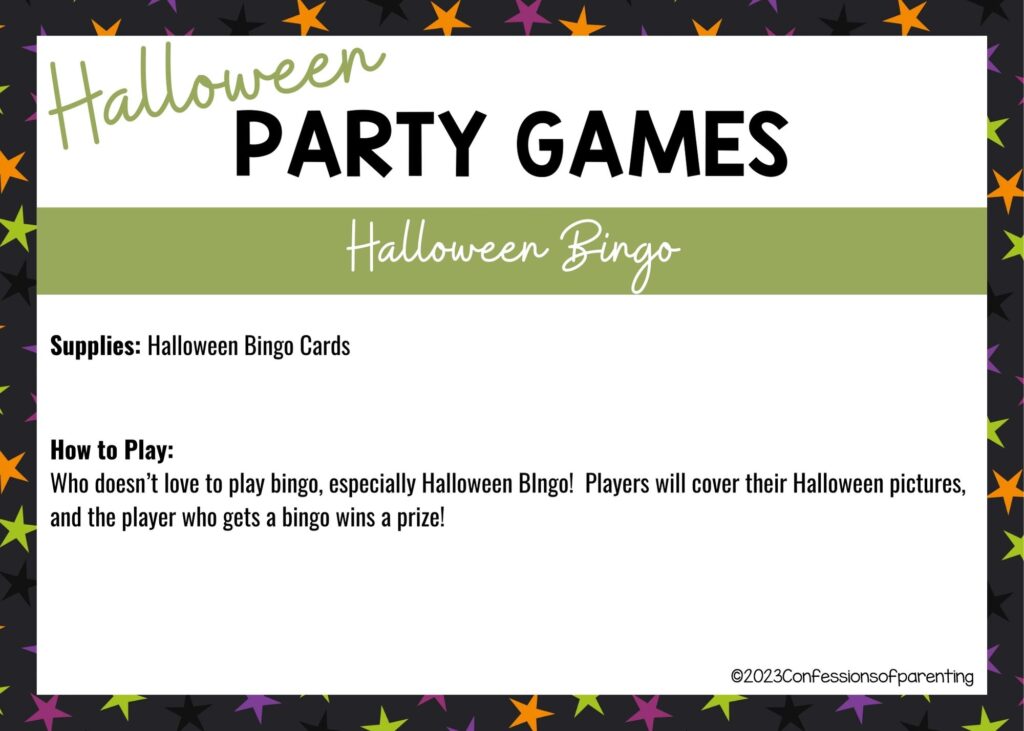 Halloween Bingo
What You Will Need
Who doesn't love to play bingo, especially Halloween BIngo! Players will cover their Halloween pictures, and the player who gets a bingo wins a prize!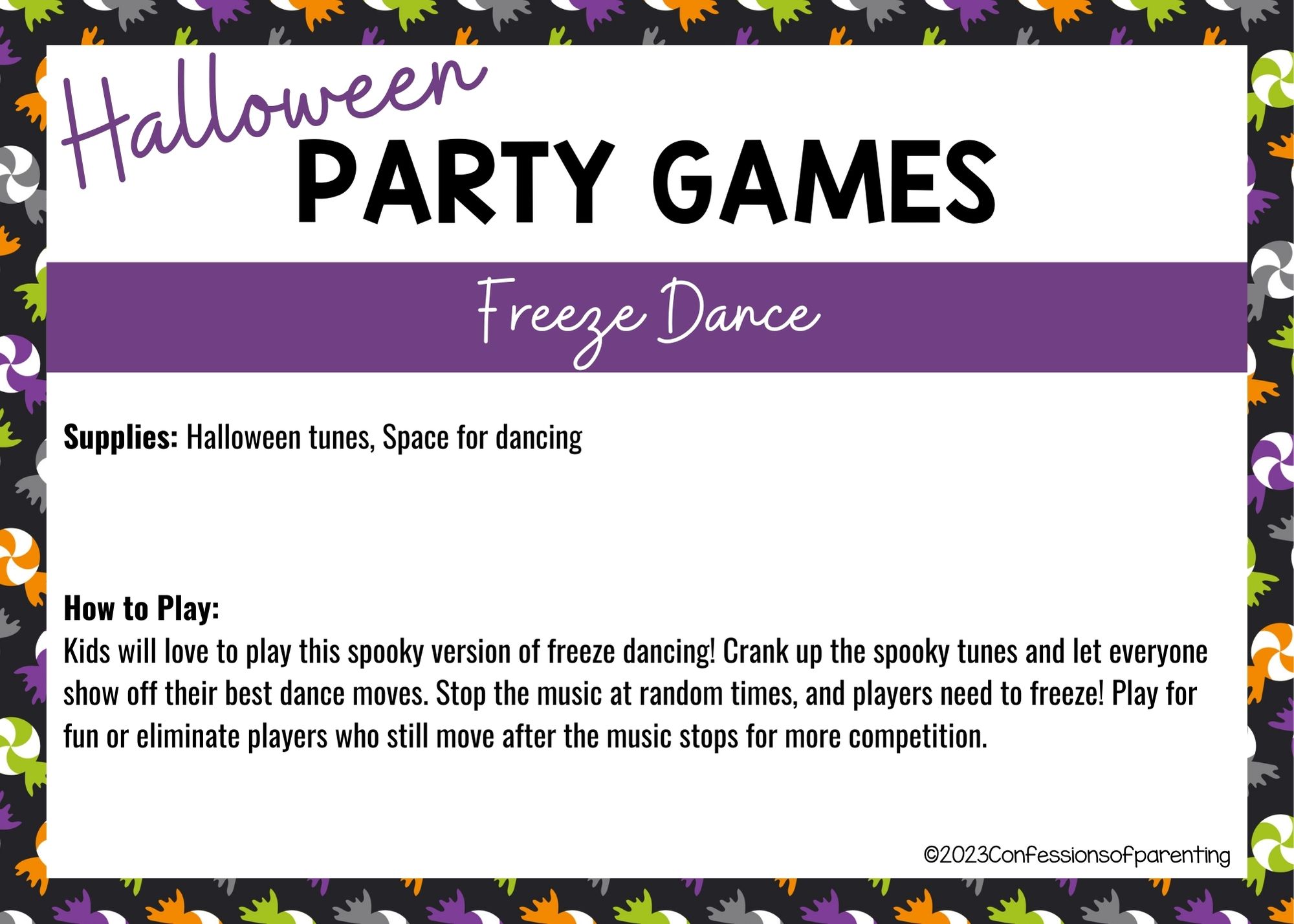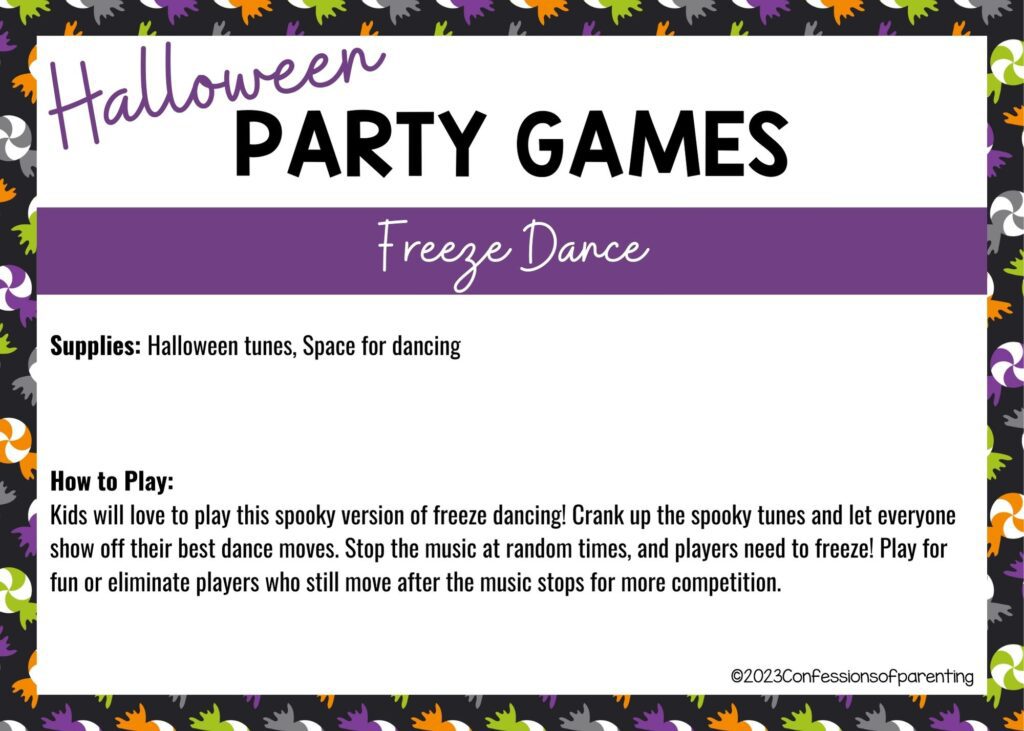 Freeze Dance
What You Will Need
Halloween tunes
Space for dancing
Kids will love to play this spooky version of freeze dancing! Crank up the spooky tunes and let everyone show off their best dance moves. Stop the music at random times, and players need to freeze! Play for fun or eliminate players who still move after the music stops for more competition.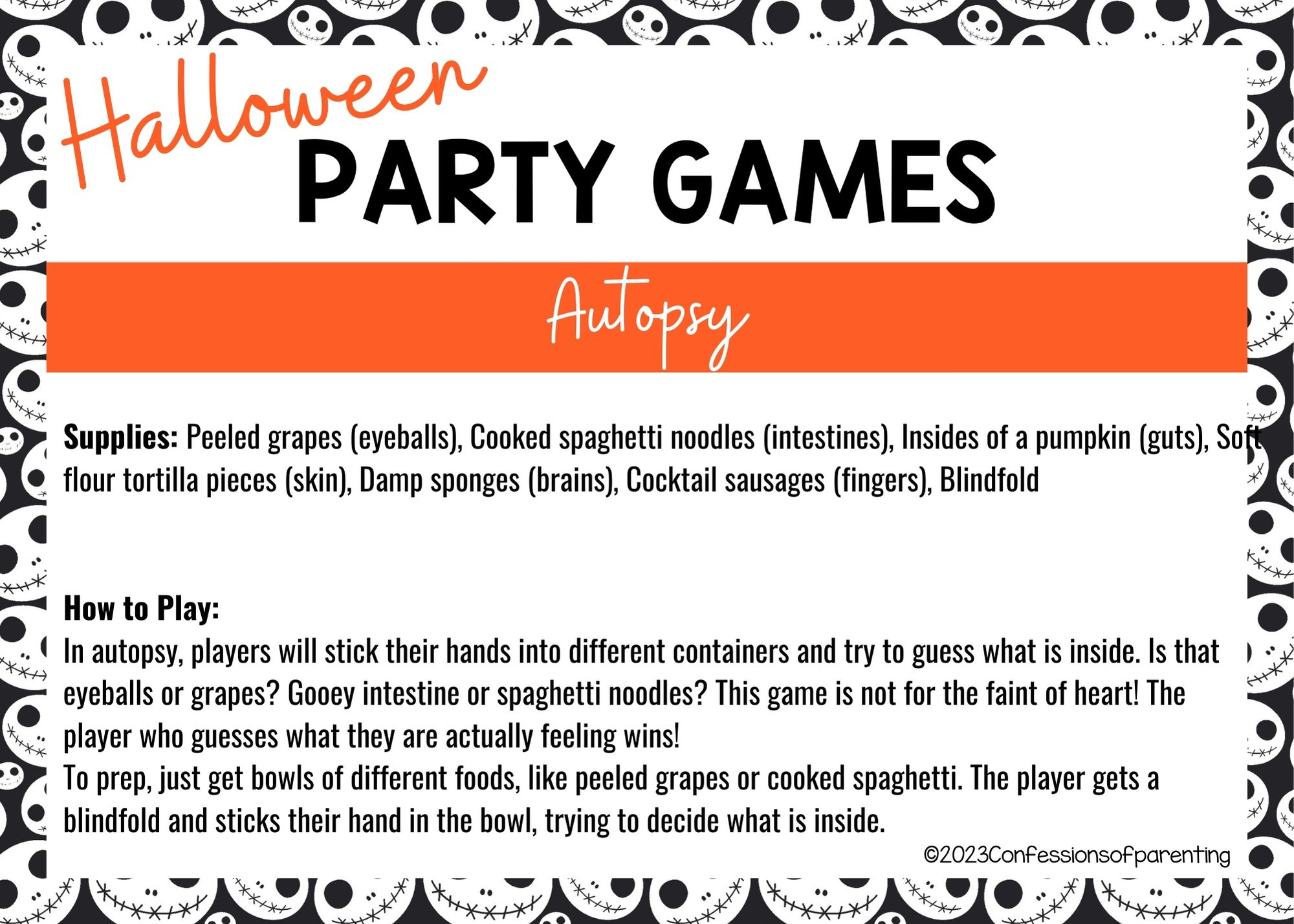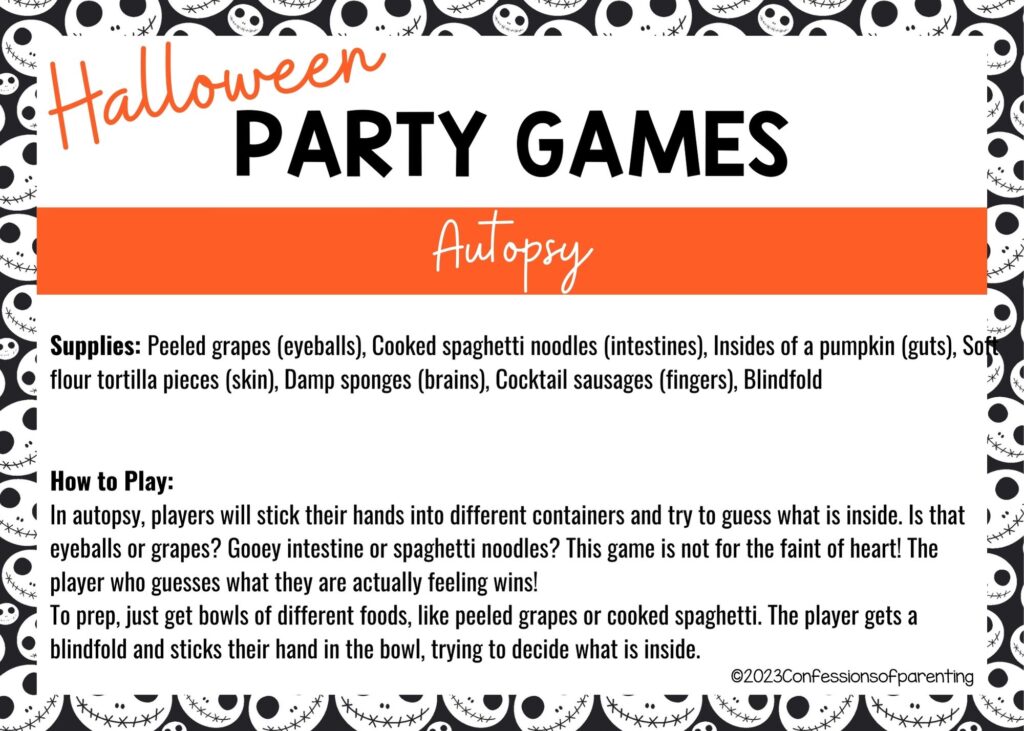 Autopsy
What You Will Need
Peeled grapes (eyeballs)
Cooked spaghetti noodles (intestines)
Insides of a pumpkin (guts)
Soft flour tortilla pieces (skin)
Damp sponges (brains)
Cocktail sausages (fingers)
Blindfold
In autopsy, players will stick their hands into different containers and try to guess what is inside. Is that eyeballs or grapes? Gooey intestine or spaghetti noodles? This game is not for the faint of heart! The player who guesses what they are actually feeling wins!
To prepare, just get bowls of different foods, like peeled grapes or cooked spaghetti. The player gets a blindfold and sticks their hand in the bowl, trying to decide what is inside.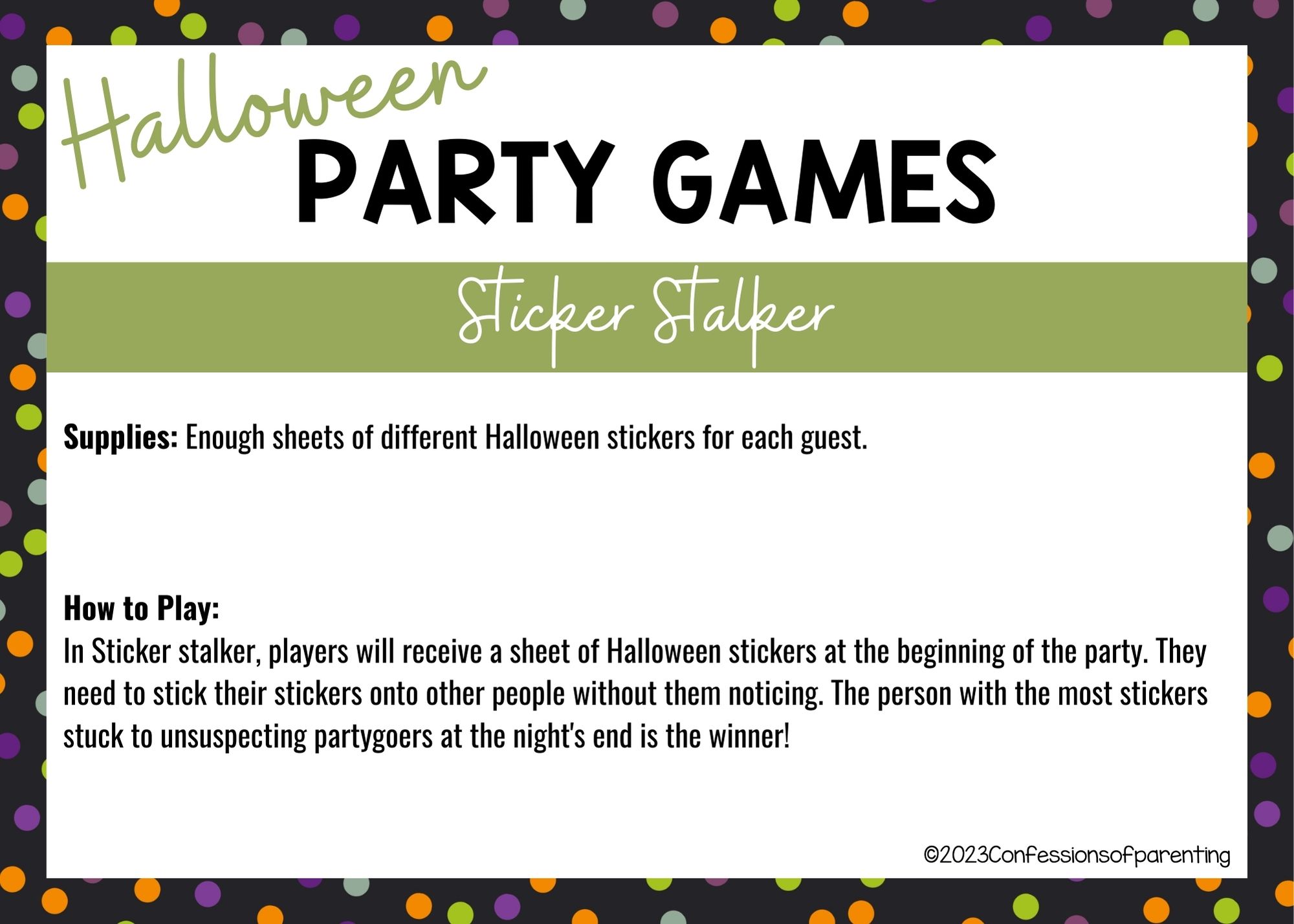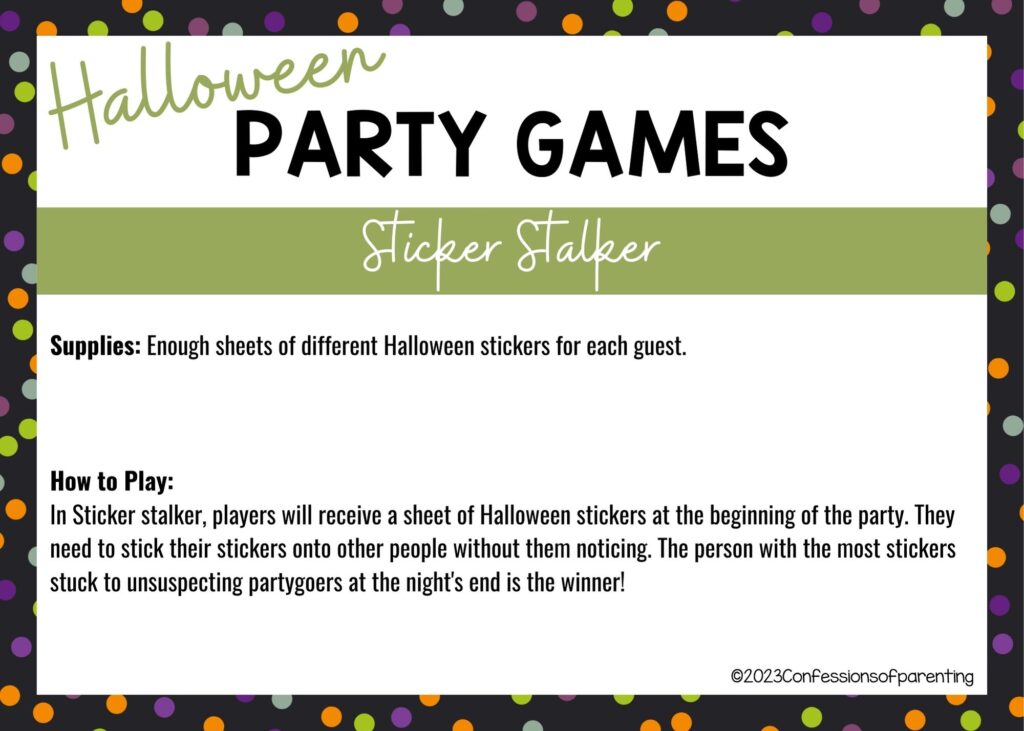 Sticker Stalker
What You Will Need
Enough sheets of different Halloween stickers for each guest.
In Sticker stalker, players will receive a sheet of Halloween stickers at the beginning of the party. They need to stick their stickers onto other people without them noticing. The person with the most stickers stuck to unsuspecting partygoers at the night's end is the winner!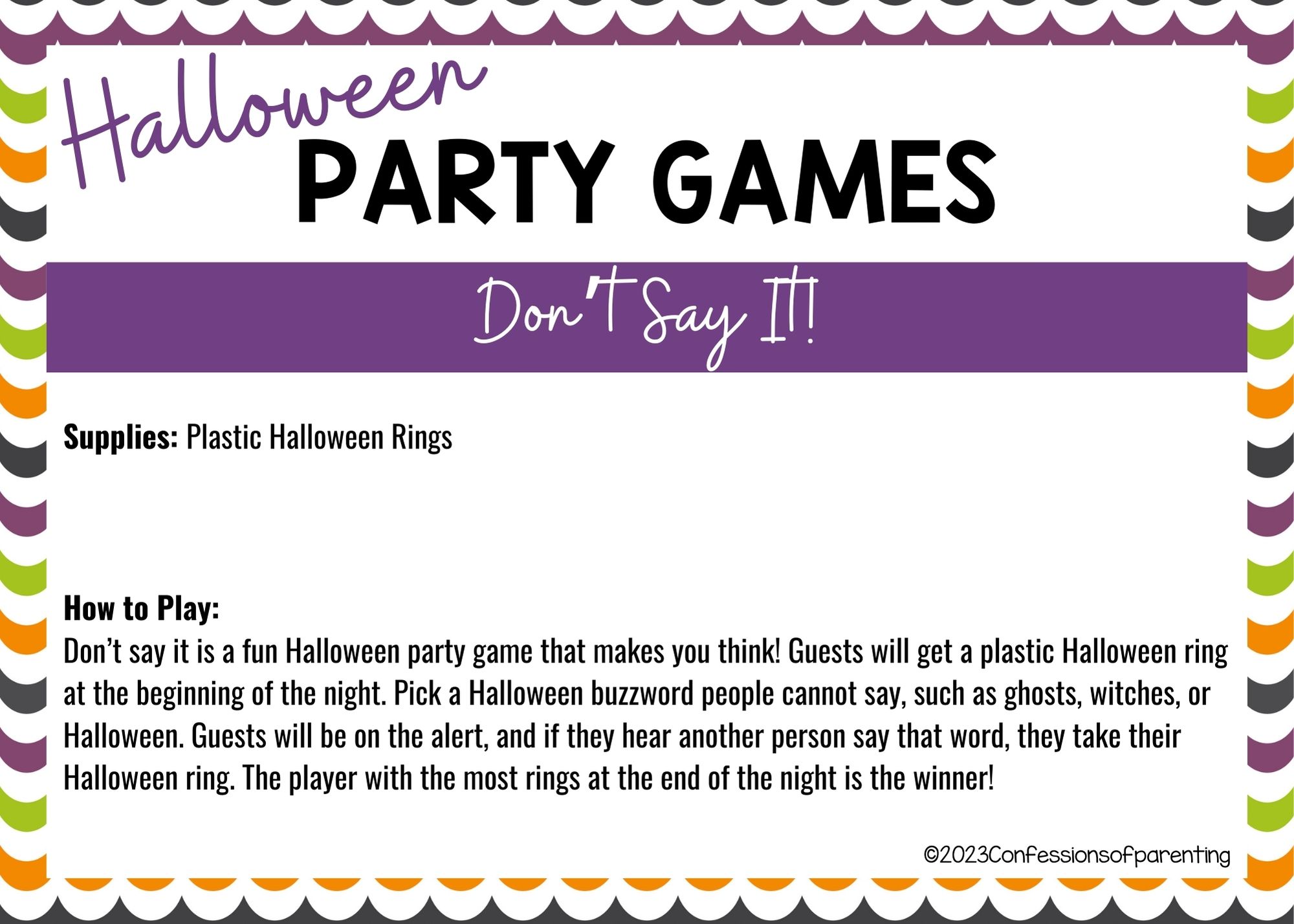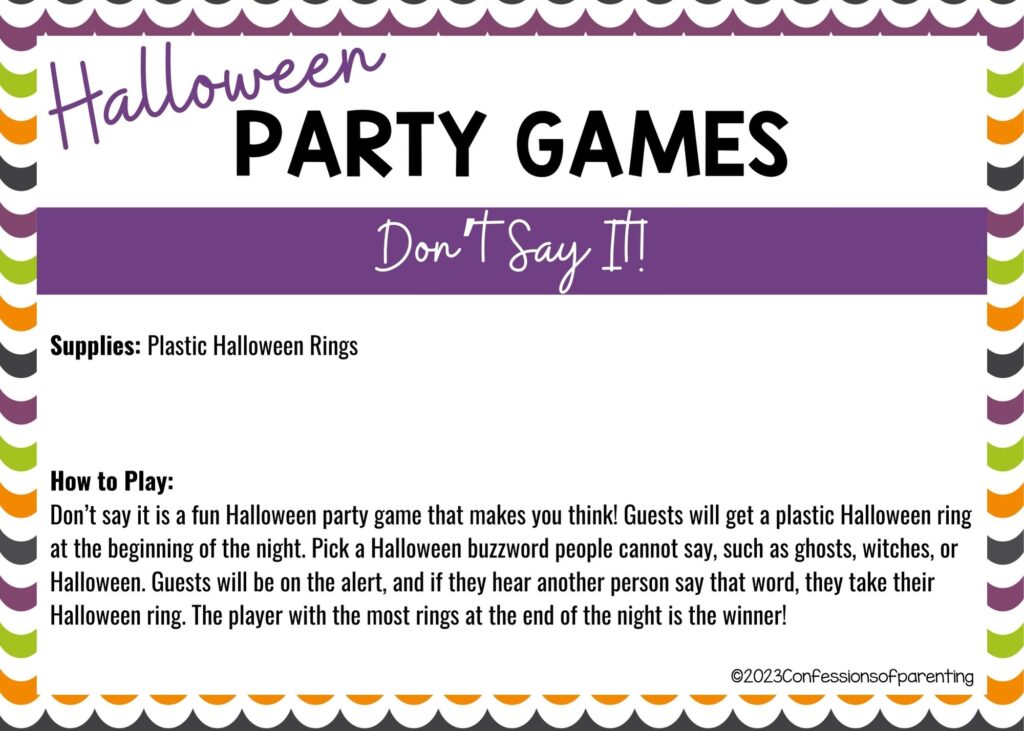 Don't Say It!
What You Will Need
Don't say it is a fun Halloween party game that makes you think! Guests will get a plastic Halloween ring at the beginning of the night. Pick a Halloween buzzword people cannot say, such as ghosts, witches, or Halloween. Guests will be on the alert, and if they hear another person say that word, they take their Halloween ring. The player with the most rings at the end of the night is the winner!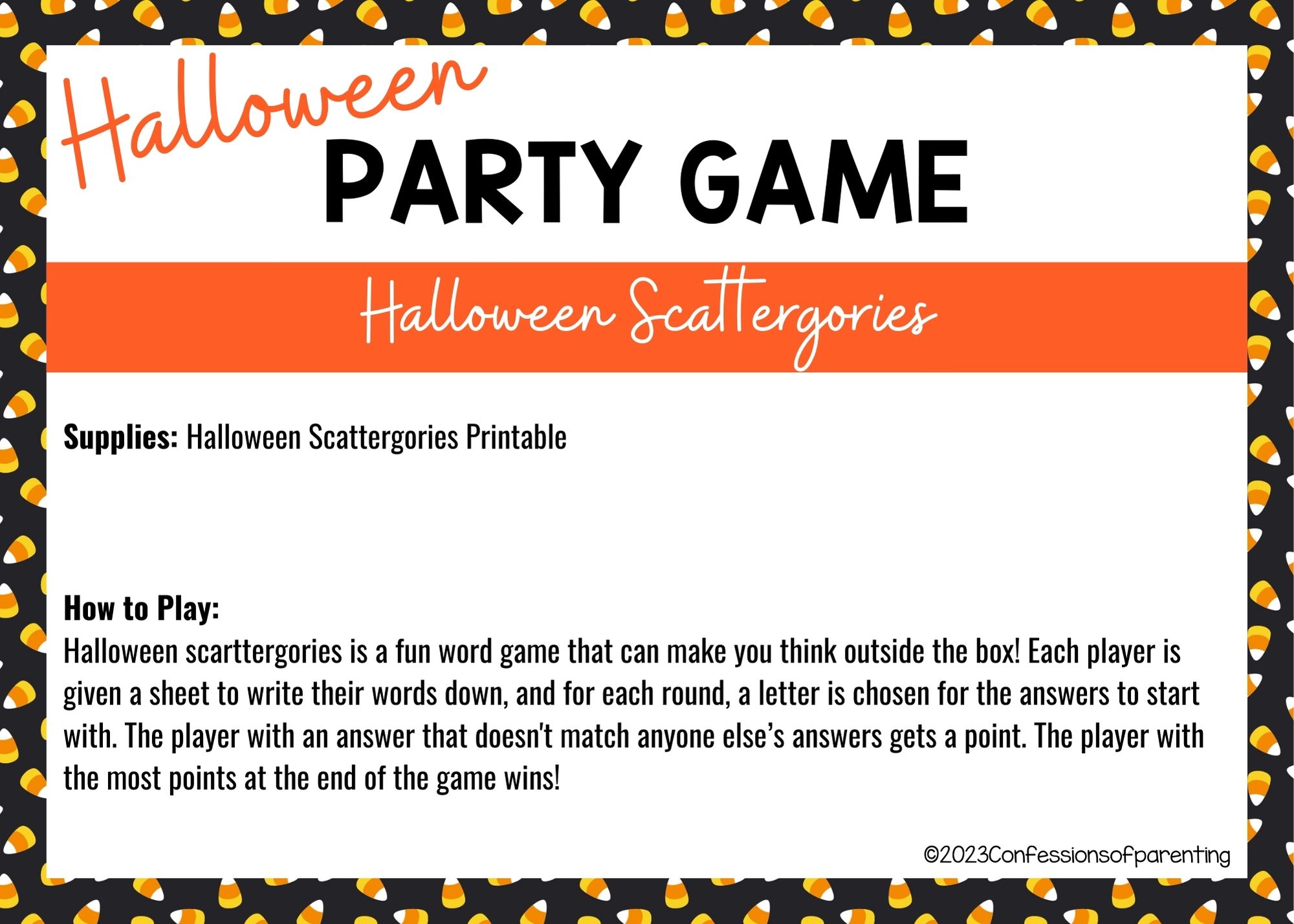 Halloween Scattergories
What You Will Need
Halloween scattergories is a fun word game that can make you think outside the box! Each player is given a sheet to write their words down, and for each round, a letter is chosen for the answers to start with. The player with an answer that doesn't match anyone else's answers gets a point. The player with the most points at the end of the game wins!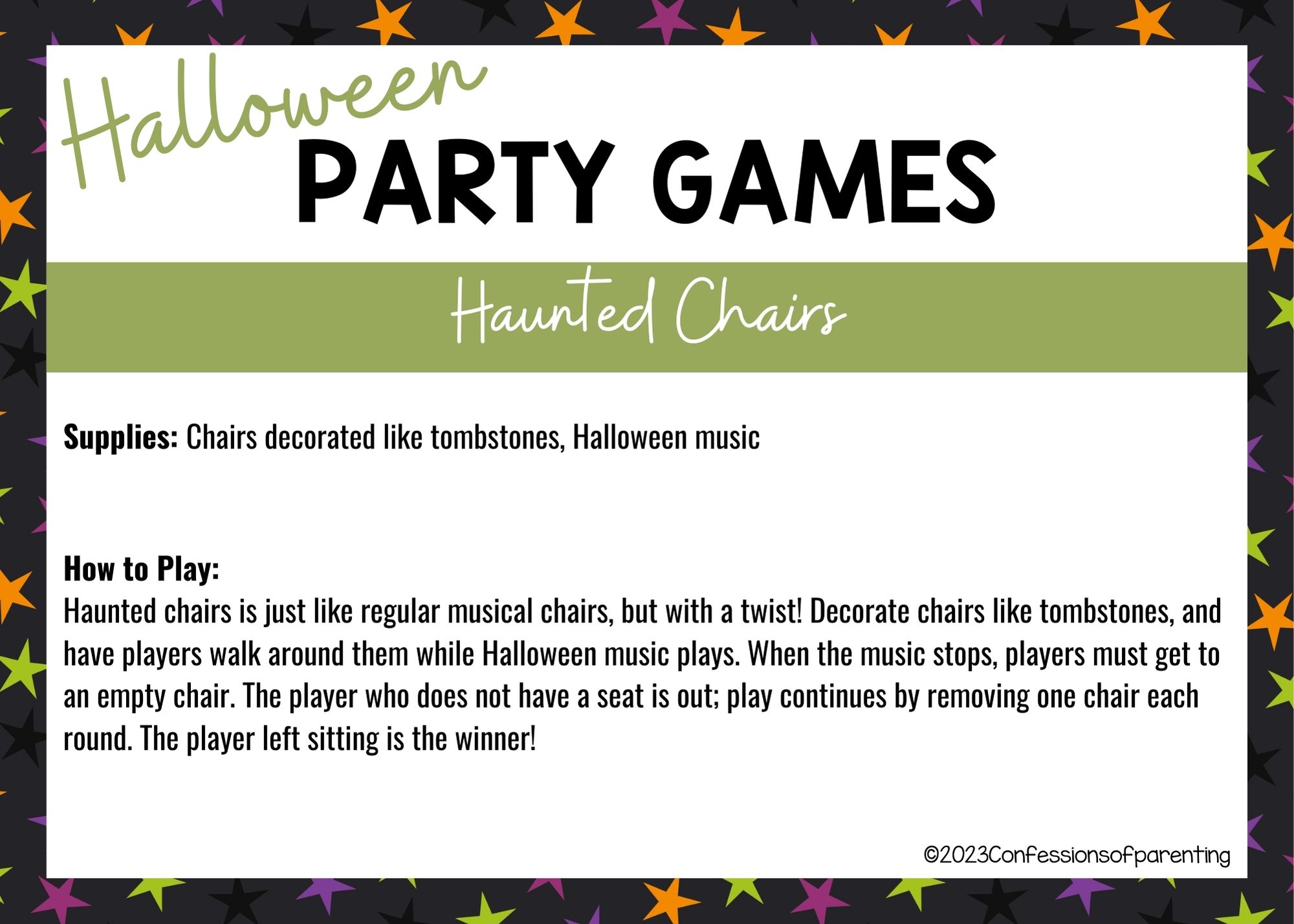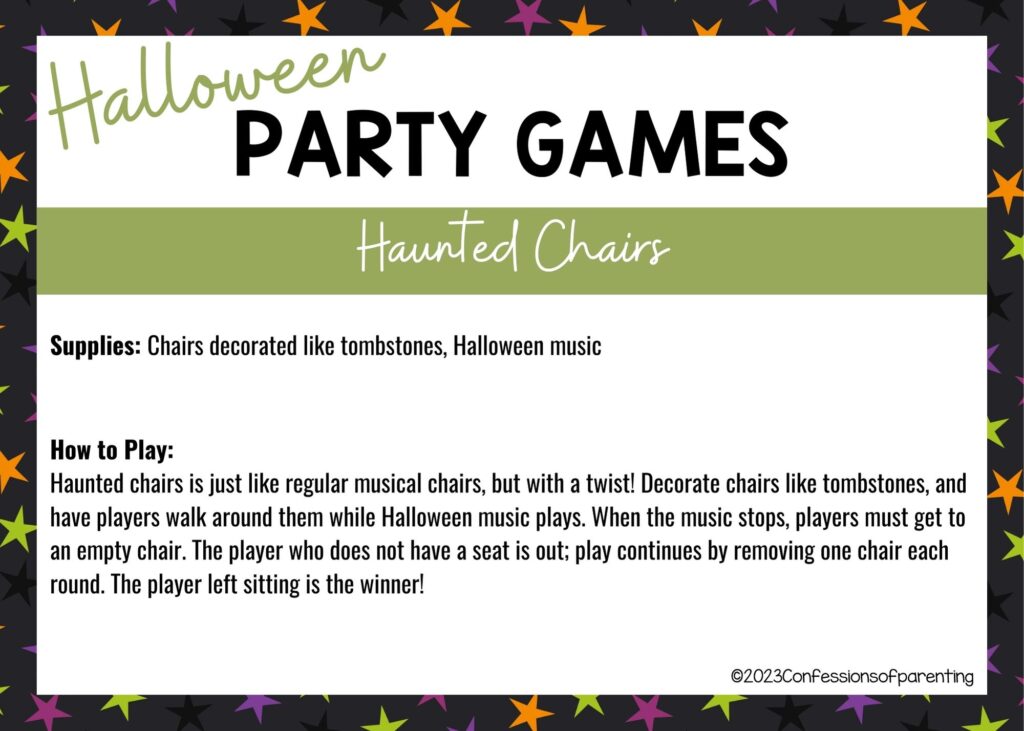 Haunted Chairs
What You Will Need
Chairs decorated like tombstones
Halloween music
Haunted chairs is just like regular musical chairs, but with a twist! Decorate chairs like tombstones, and have players walk around them while Halloween music plays. When the music stops, players must get to an empty chair. The player who does not have a seat is out; play continues by removing one chair each round. The player left sitting is the winner!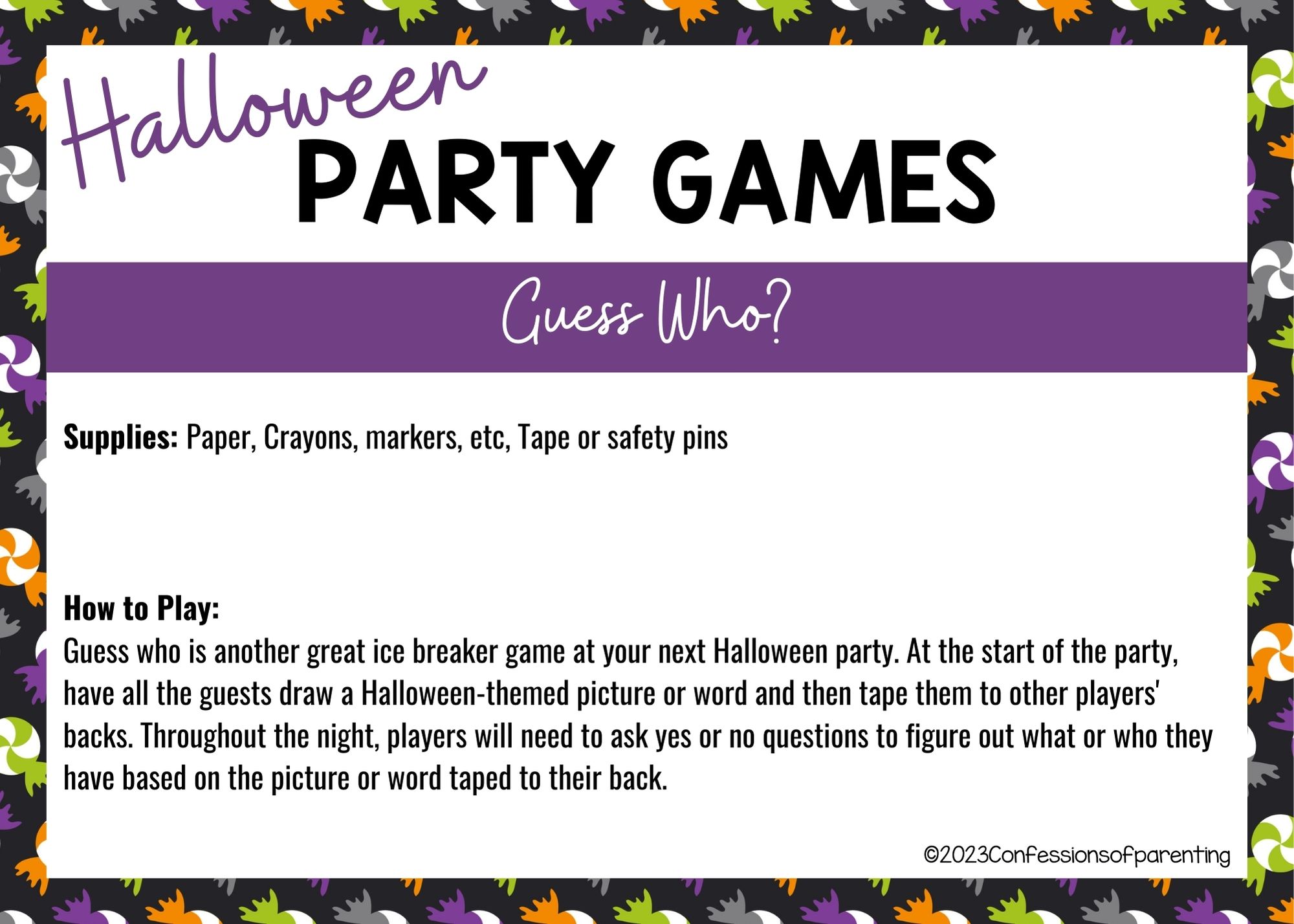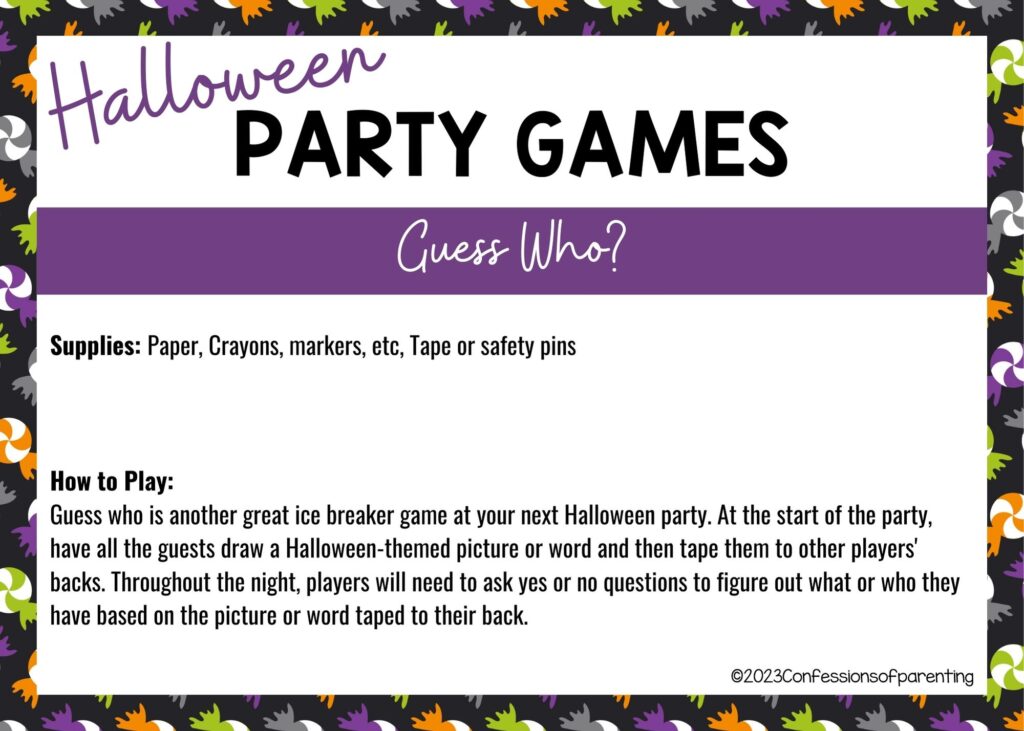 Guess Who?
What You Will Need
Paper
Crayons, markers, etc
Tape or safety pins
Guess who is another great ice breaker game at your next Halloween party. At the start of the party, have all the guests draw a Halloween-themed picture or word and then tape them to other players' backs. Throughout the night, players will need to ask yes or no questions to figure out what or who they have based on the picture or word taped to their back.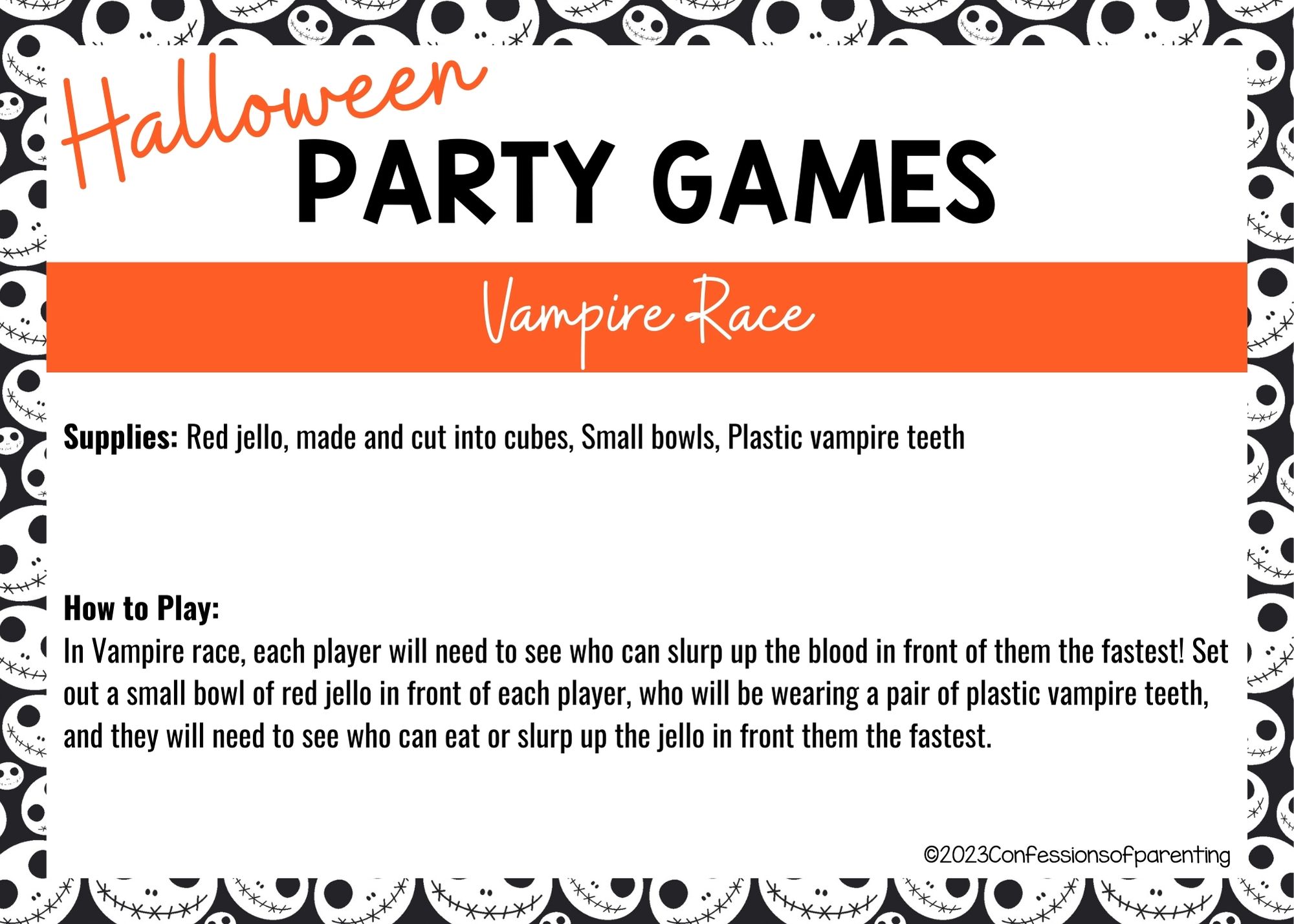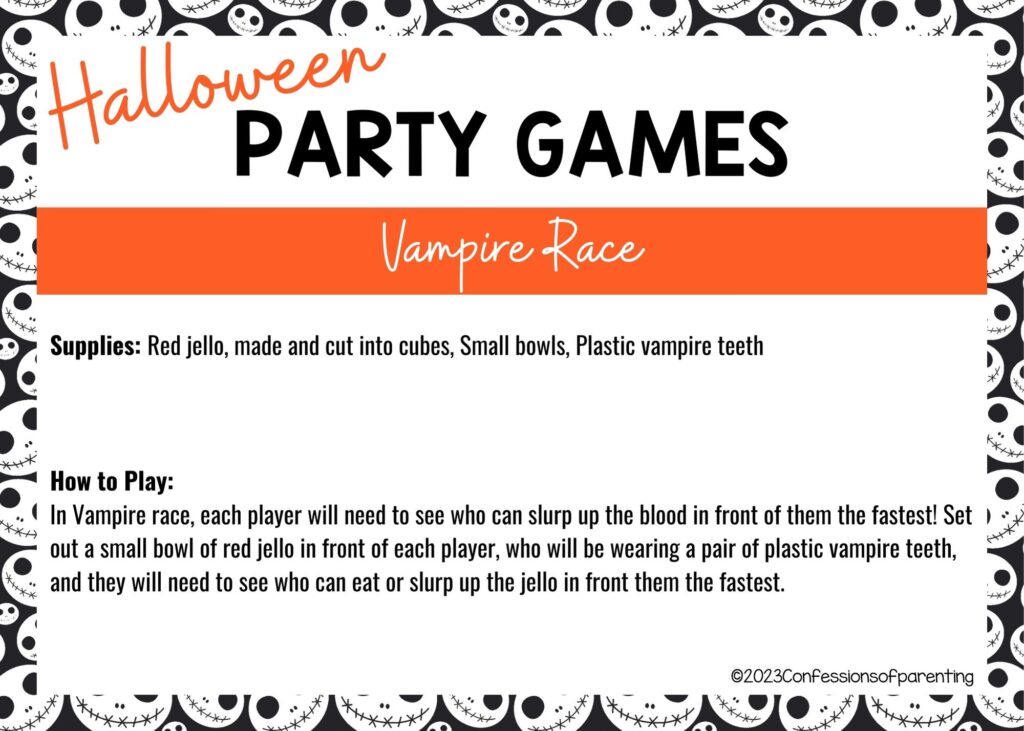 Vampire Race
What You Will Need
Red jello, made and cut into cubes
Small bowls
Plastic vampire teeth
In Vampire race, each player will need to see who can slurp up the blood in front of them the fastest! Set out a small bowl of red jello in front of each player, who will be wearing a pair of plastic vampire teeth, and they will need to see who can eat or slurp up the jello in front them the fastest.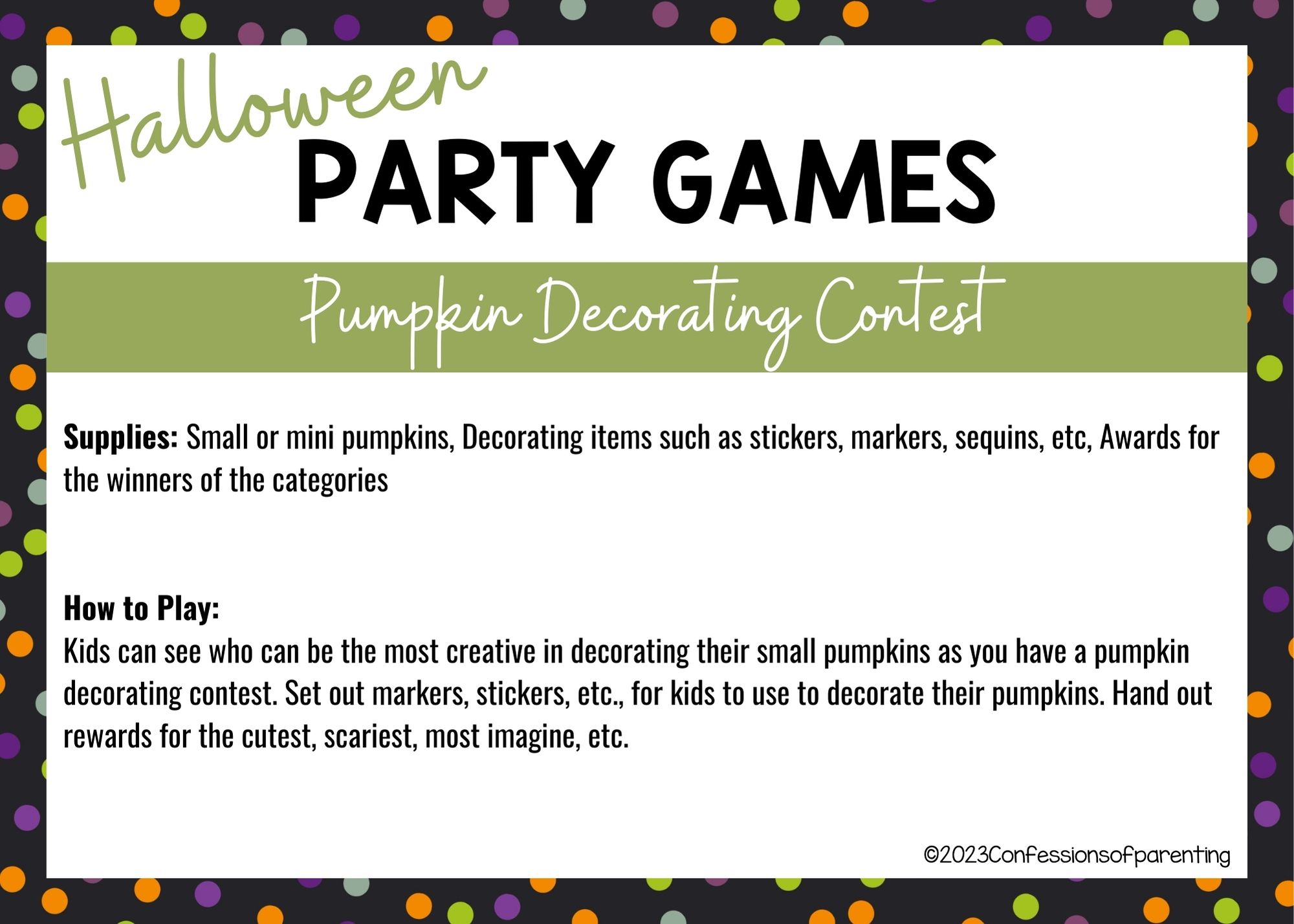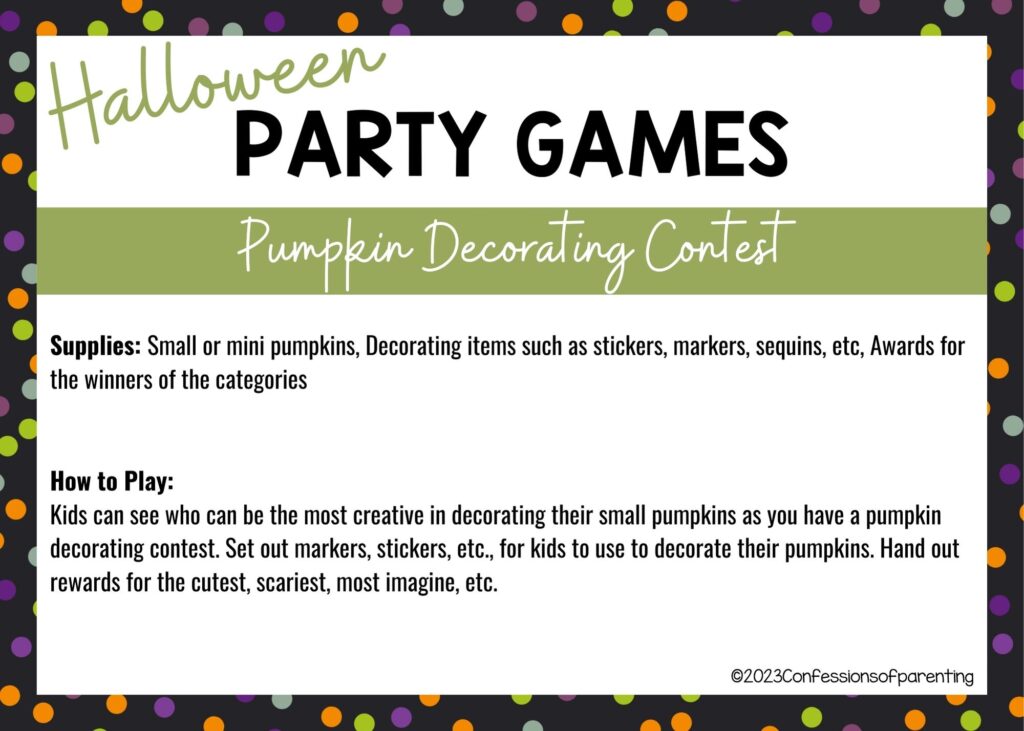 Pumpkin Decorating Contest
What You Will Need
Small or mini pumpkins
Decorating items such as stickers, markers, sequins, etc
Awards for the winners of the categories
Kids can see who can be the most creative in decorating their small pumpkins as you have a pumpkin decorating contest. Set out markers, stickers, etc., for kids to use to decorate their pumpkins. Hand out rewards for the cutest, scariest, most imagine, etc.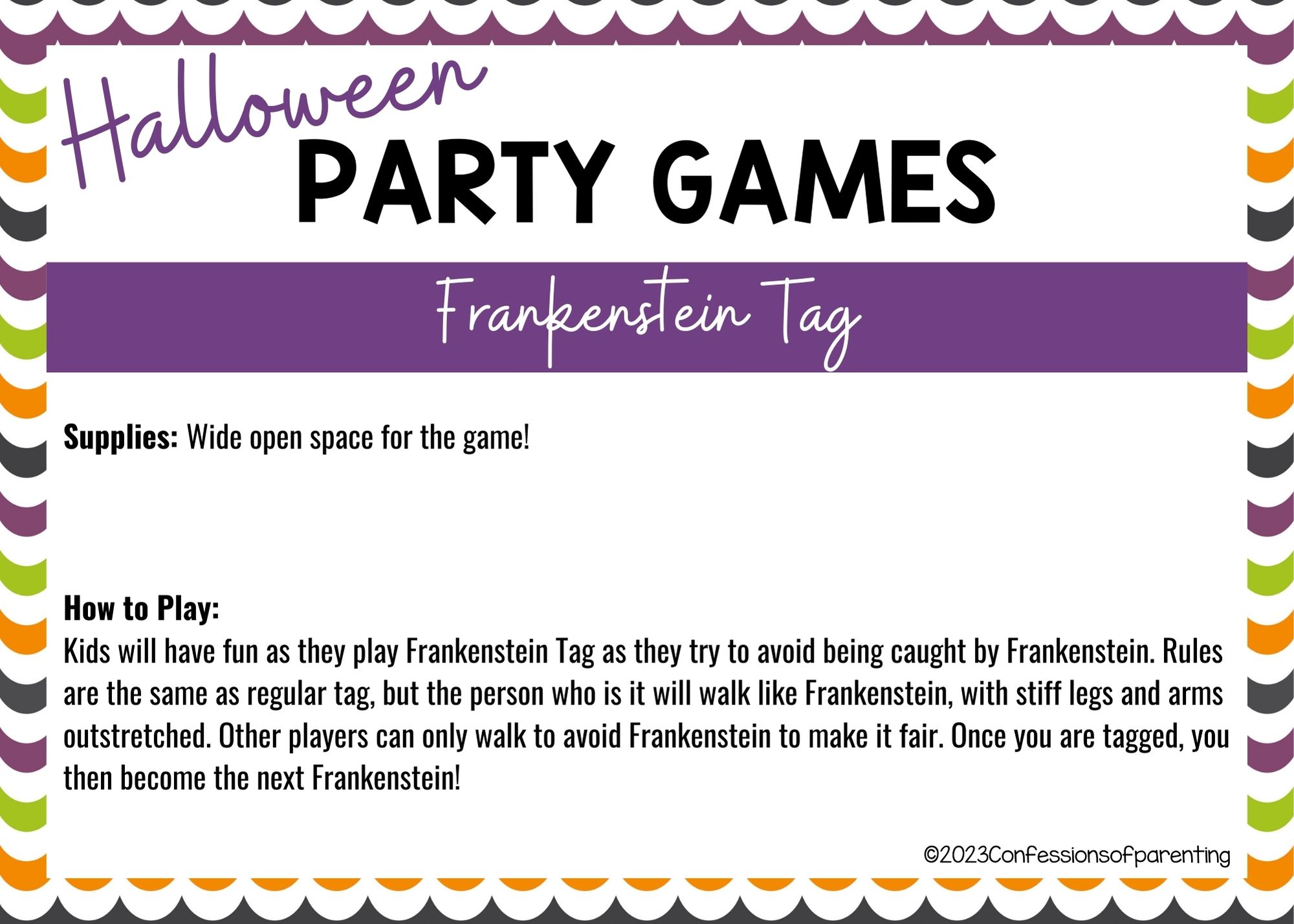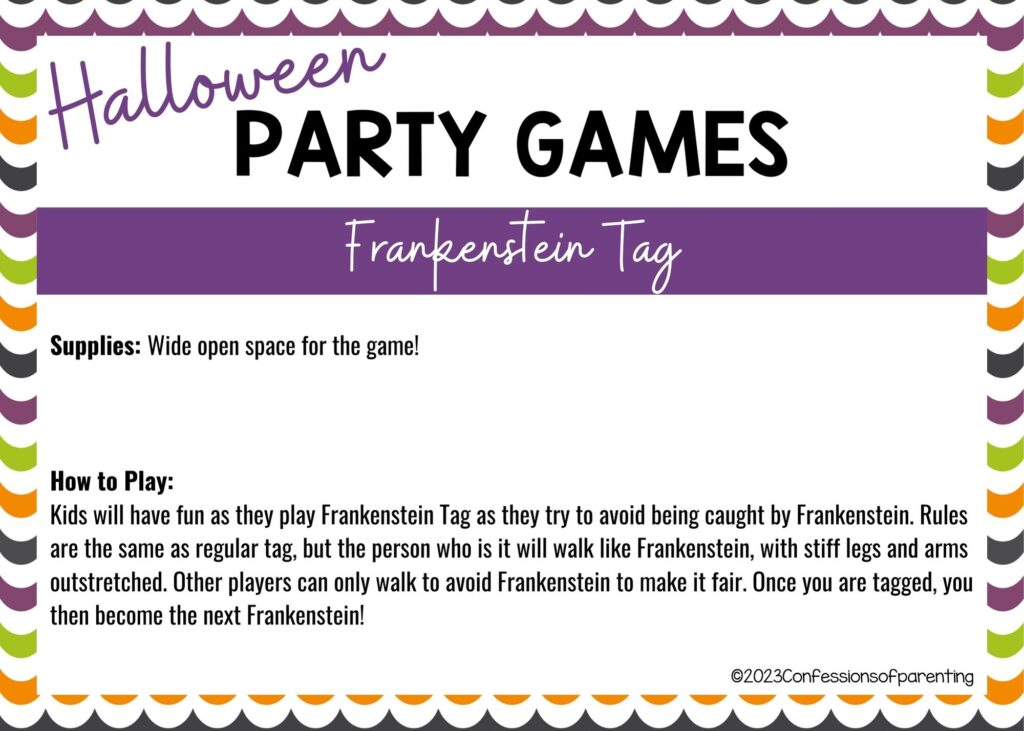 Frankenstein Tag
What You Will Need
Wide open space for the game!
Kids will have fun as they play Frankenstein Tag as they try to avoid being caught by Frankenstein. Rules are the same as regular tag, but the person who is it will walk like Frankenstein, with stiff legs and arms outstretched. Other players can only walk to avoid Frankenstein to make it fair. Once you are tagged, you then become the next Frankenstein!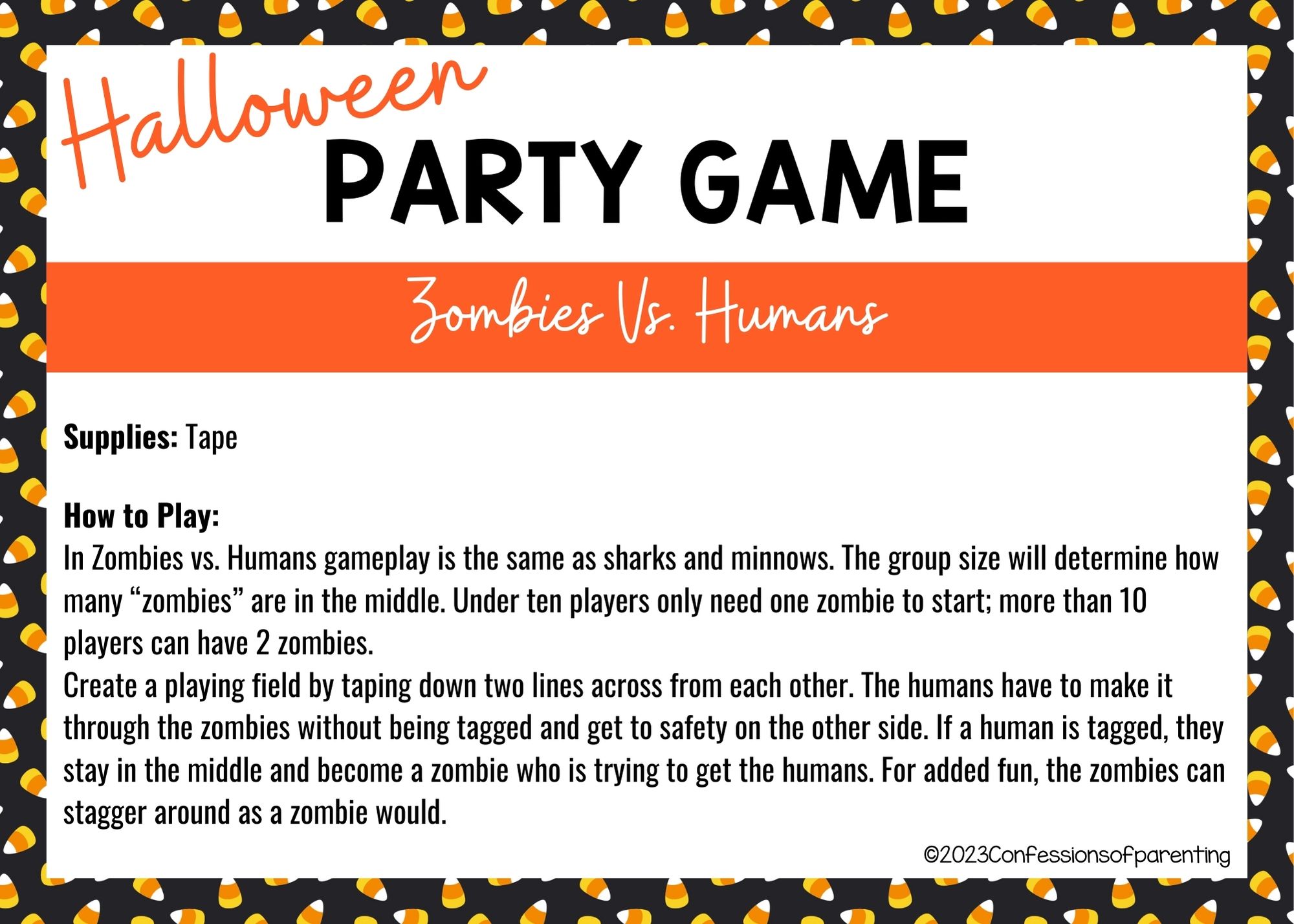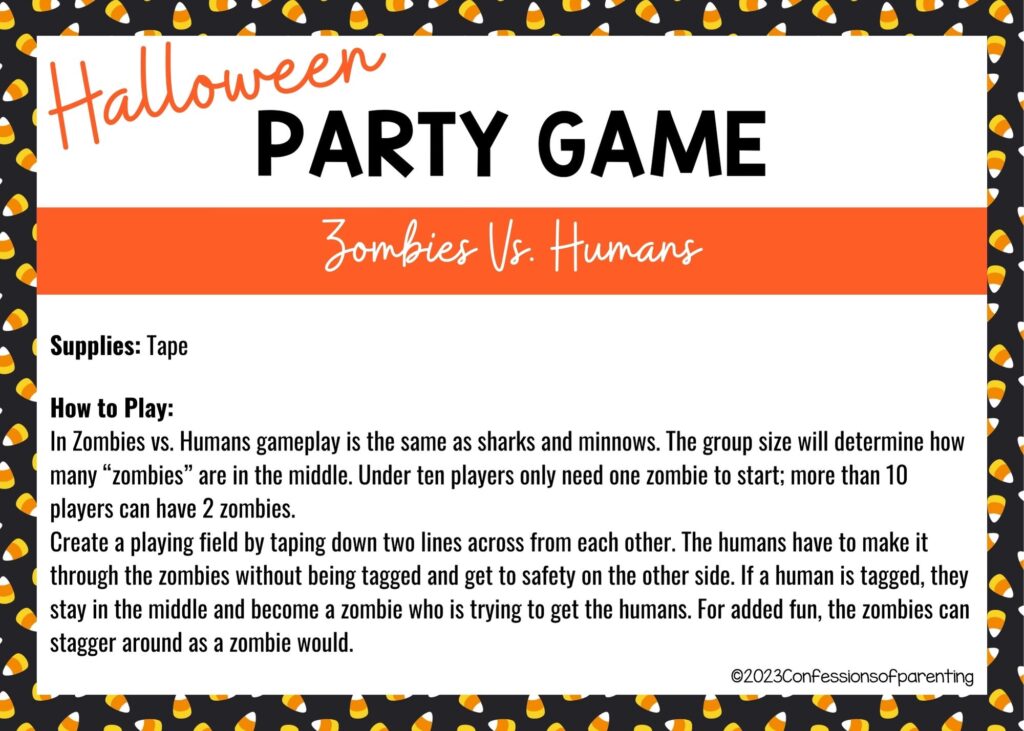 Zombies Vs. Humans
What You Will Need
In Zombies vs. Humans gameplay is the same as sharks and minnows. The group size will determine how many "zombies" are in the middle. Under ten players only need one zombie to start; more than 10 players can have 2 zombies.
Create a playing field by taping down two lines across from each other. The humans have to make it through the zombies without being tagged and get to safety on the other side. If a human is tagged, they stay in the middle and become a zombie who is trying to get the humans. For added fun, the zombies can stagger around as a zombie would.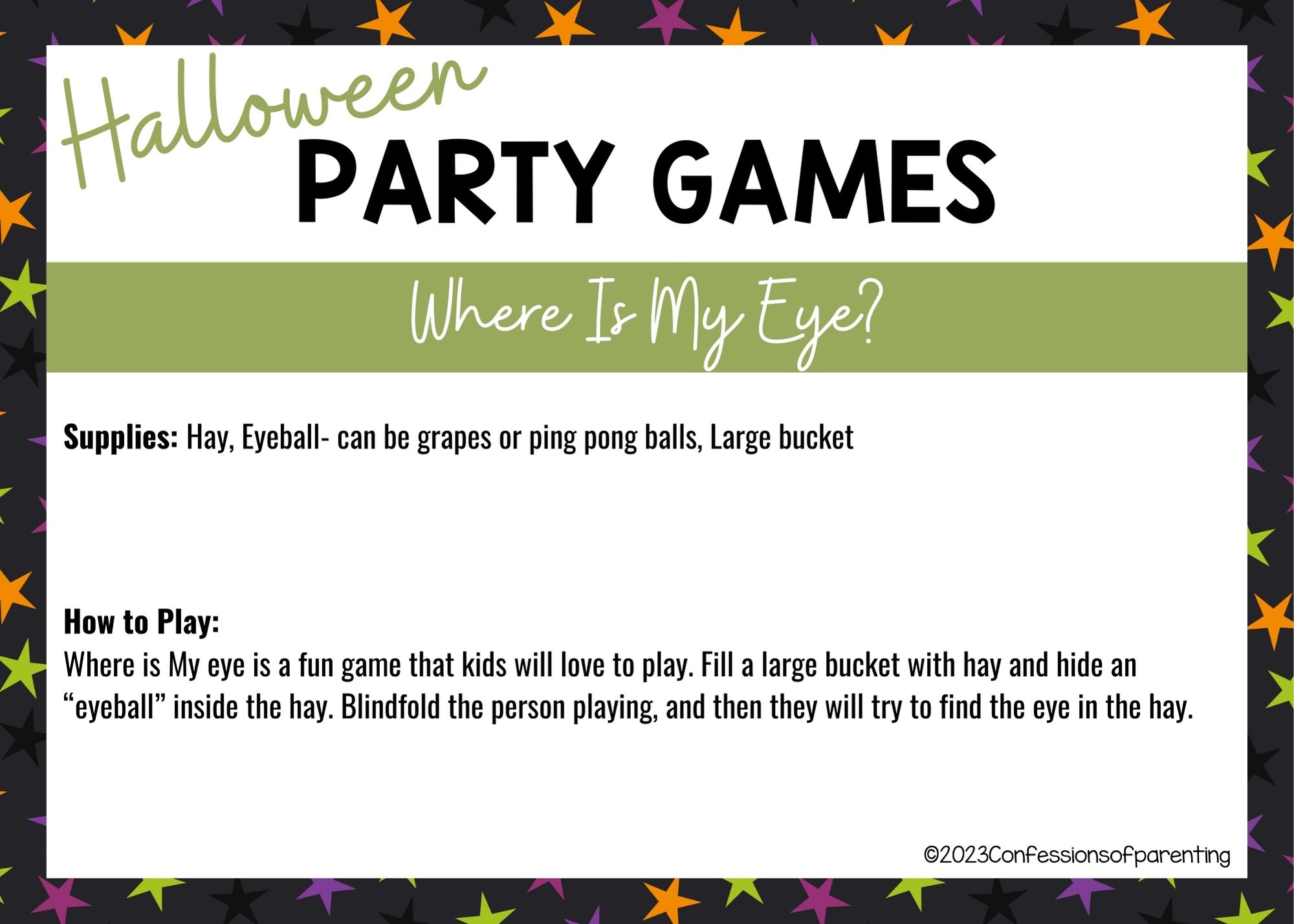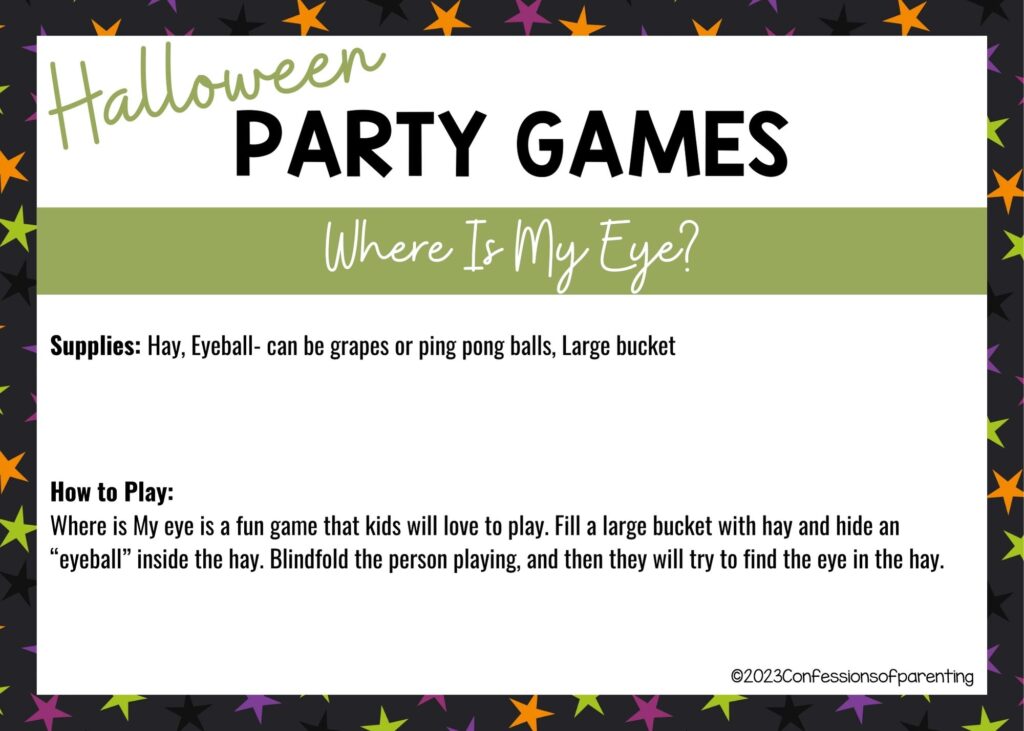 Where Is My Eye?
What You Will Need
Hay
Eyeball- can be grapes or ping pong balls
Large bucket
Where is My eye is a fun game that kids will love to play. Fill a large bucket with hay and hide an "eyeball" inside the hay. Blindfold the person playing, and then they will try to find the eye in the hay.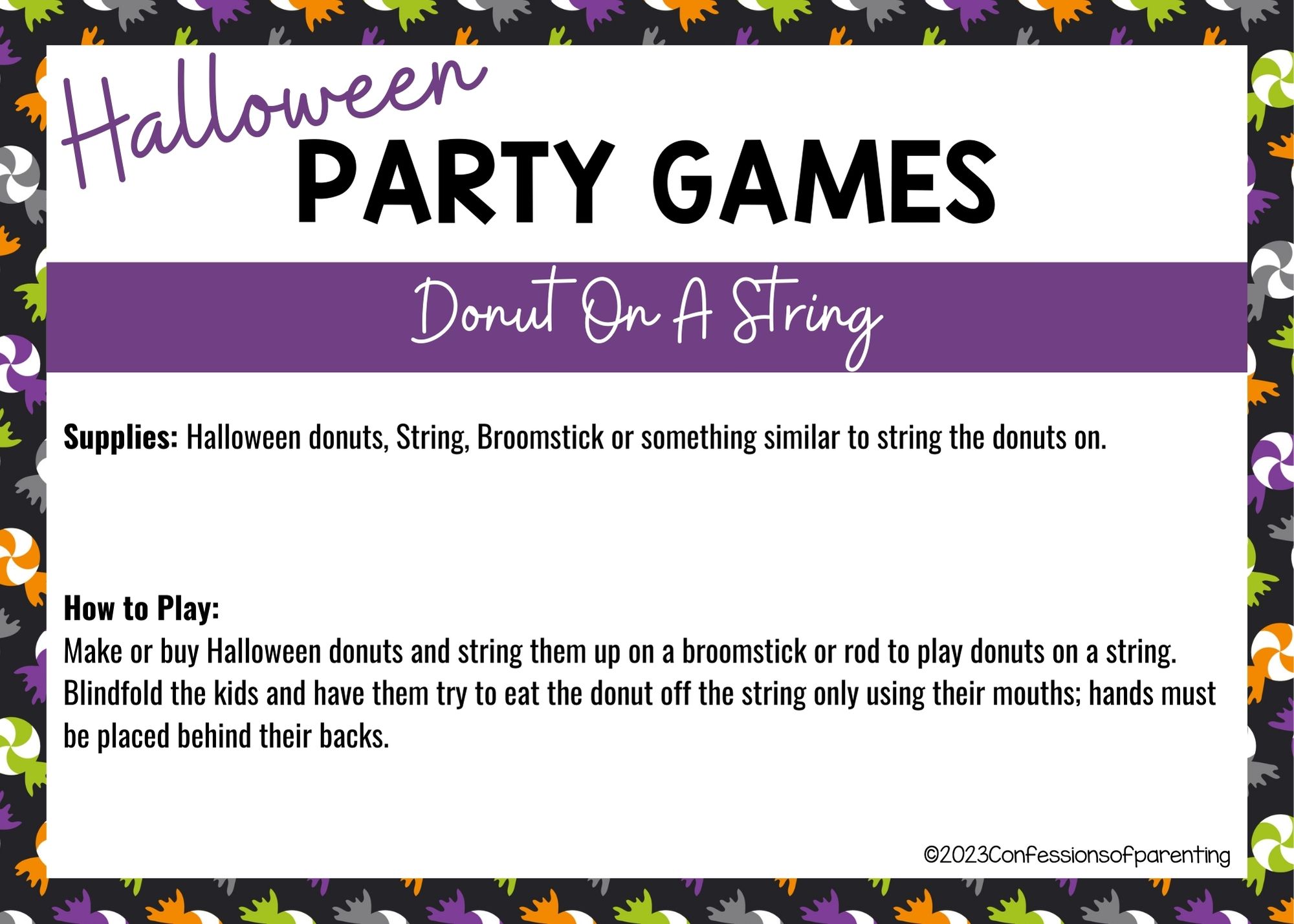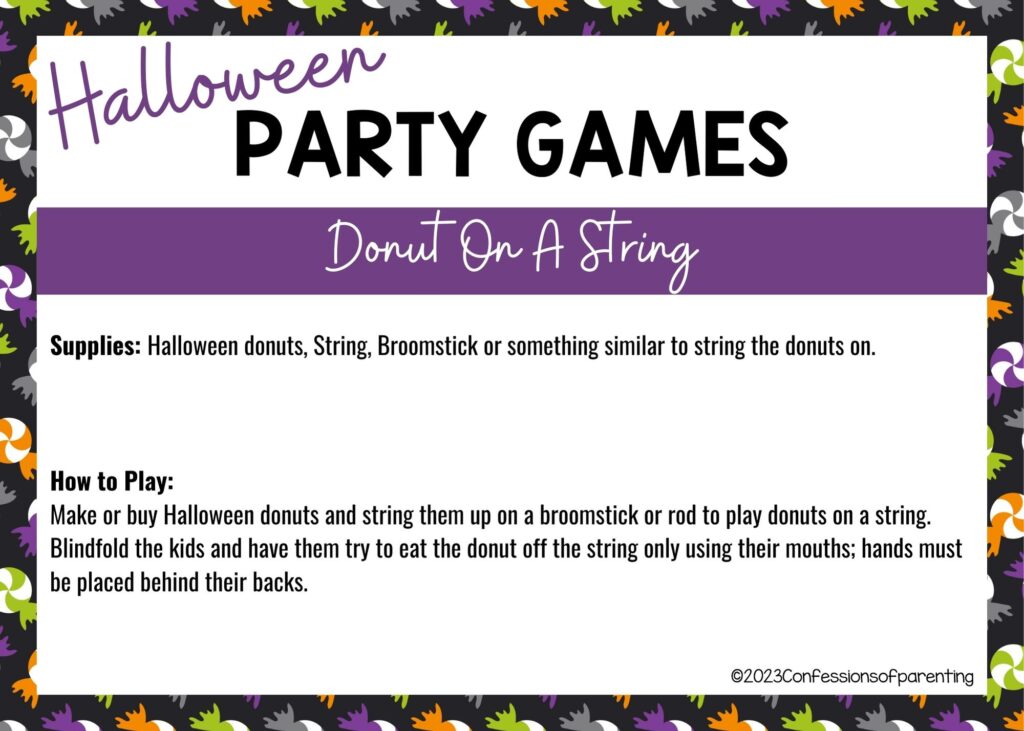 Donut On A String
What You Will Need
Halloween donuts
String
Broomstick or something similar to string the donuts on.
Make or buy Halloween donuts and string them up on a broomstick or rod to play donuts on a string. Blindfold the kids and have them try to eat the donut off the string only using their mouths; hands must be placed behind their backs.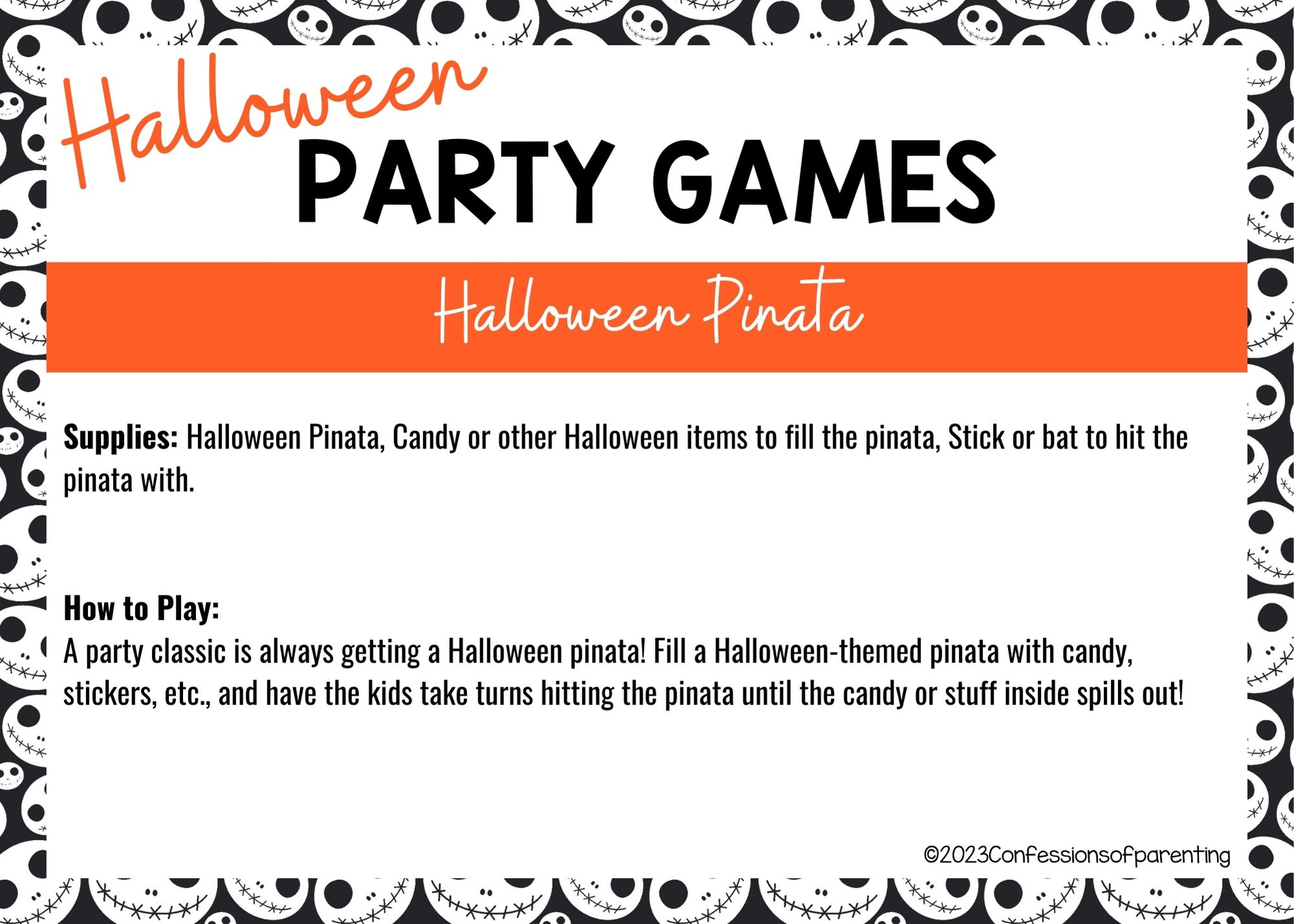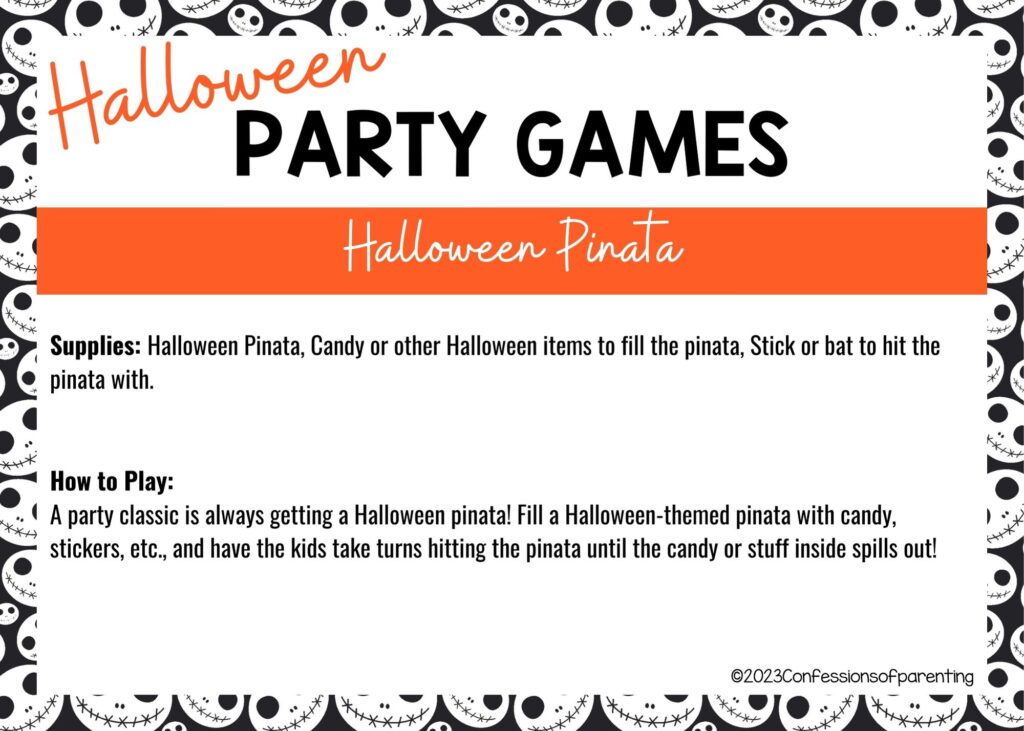 Halloween Pinata
What You Will Need
Halloween Pinata
Candy or other Halloween items to fill the pinata
Stick or bat to hit the pinata with.
A party classic is always getting a Halloween pinata! Fill a Halloween-themed pinata with candy, stickers, etc., and have the kids take turns hitting the pinata until the candy or stuff inside spills out!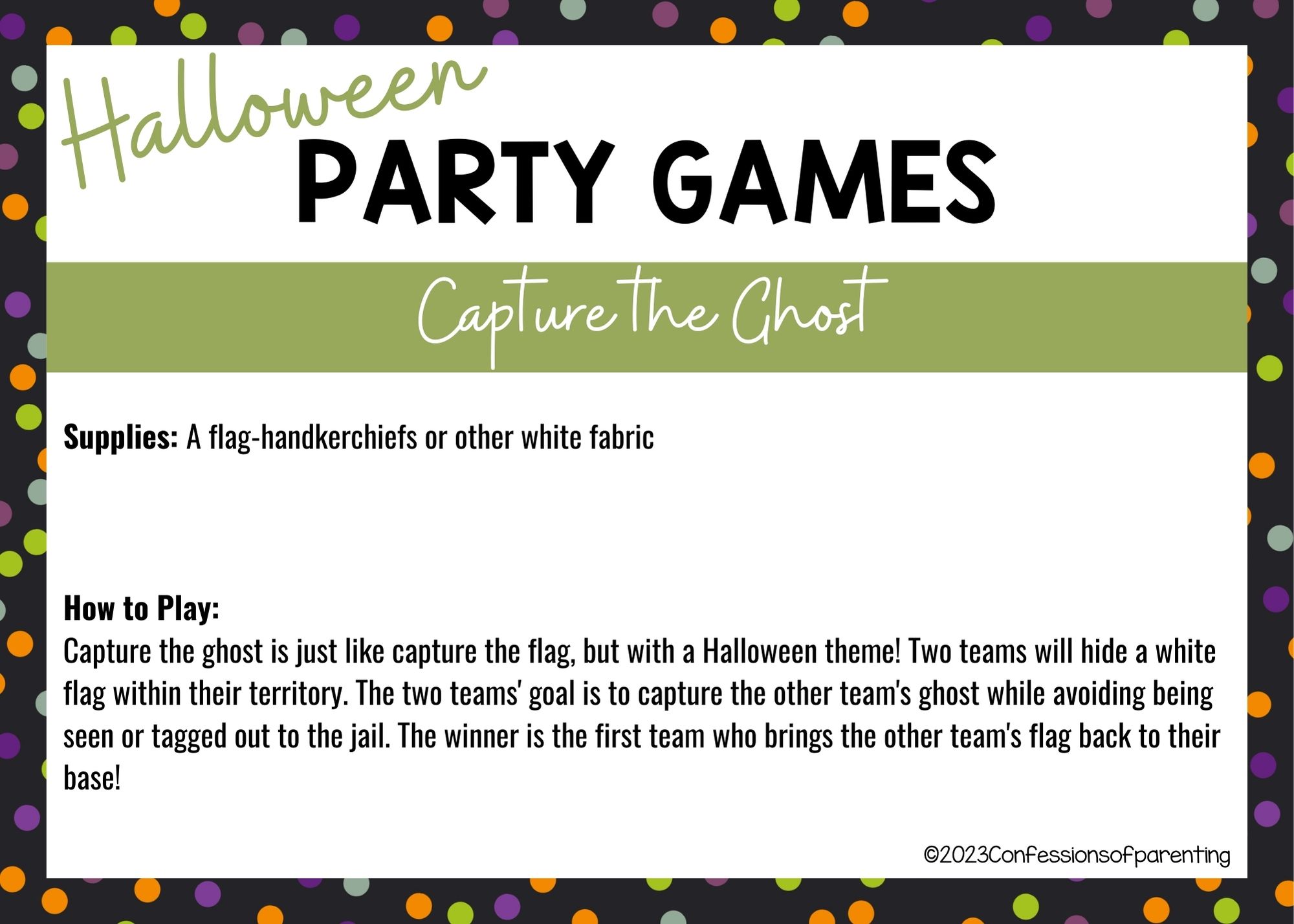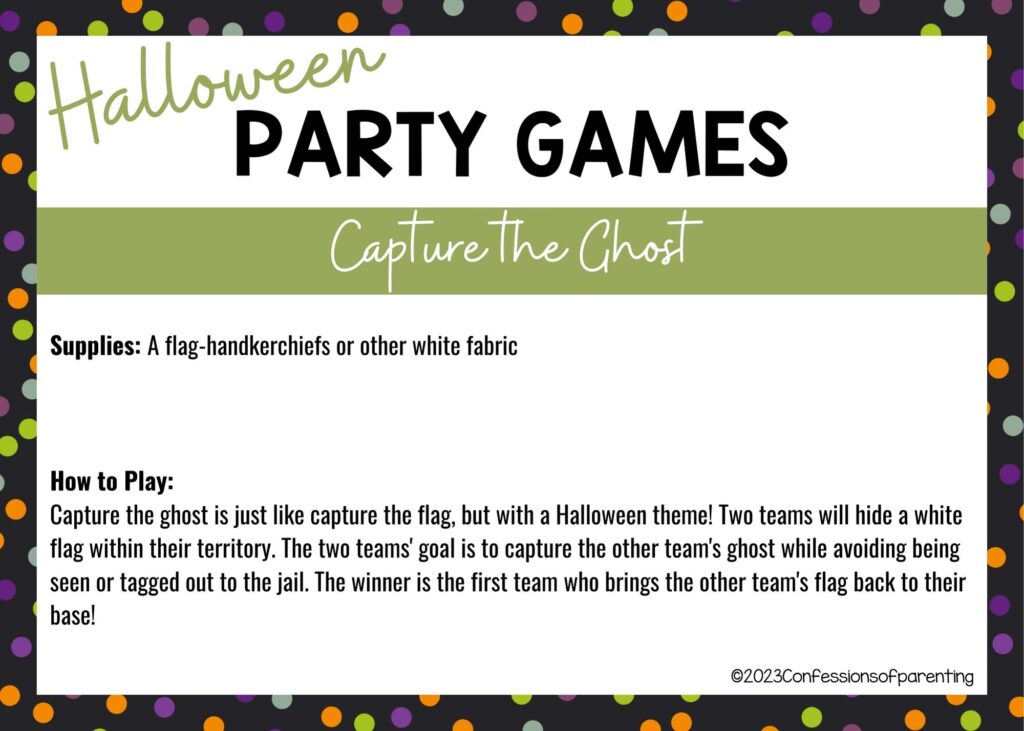 Capture the Ghost
What You Will Need
A flag-handkerchiefs or other white fabric
Capture the ghost is just like capture the flag, but with a Halloween theme! Two teams will hide a white flag within their territory. The two teams' goal is to capture the other team's ghost while avoiding being seen or tagged out to the jail. The winner is the first team who brings the other team's flag back to their base!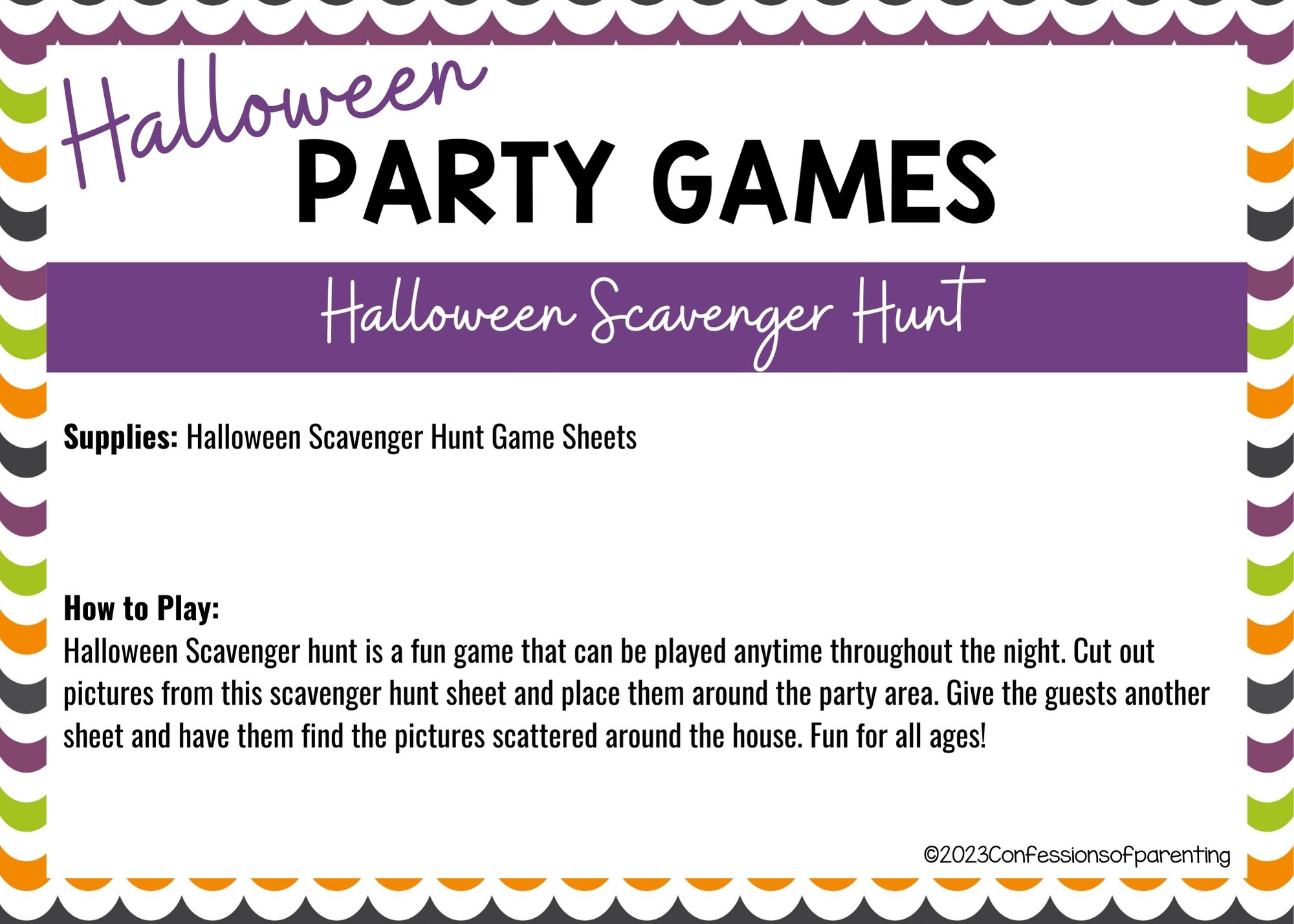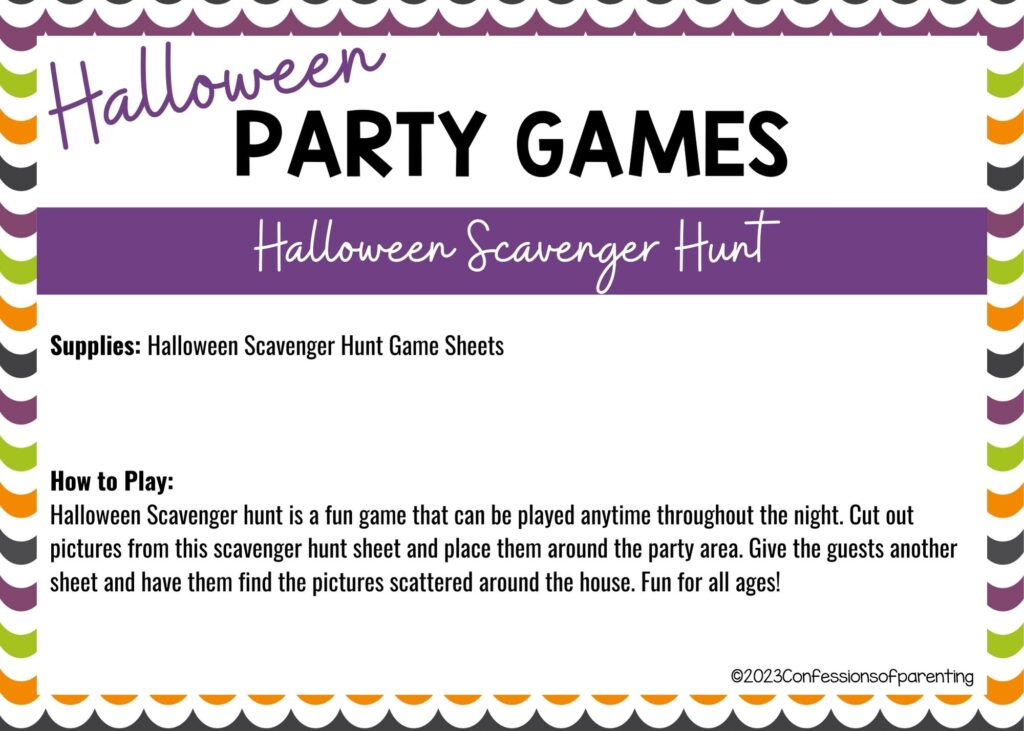 Halloween Scavenger Hunt
What You Will Need
Halloween Scavenger hunt is a fun game that can be played anytime throughout the night. Cut out pictures from this scavenger hunt sheet and place them around the party area. Give the guests another sheet and have them find the pictures scattered around the house. Fun for all ages!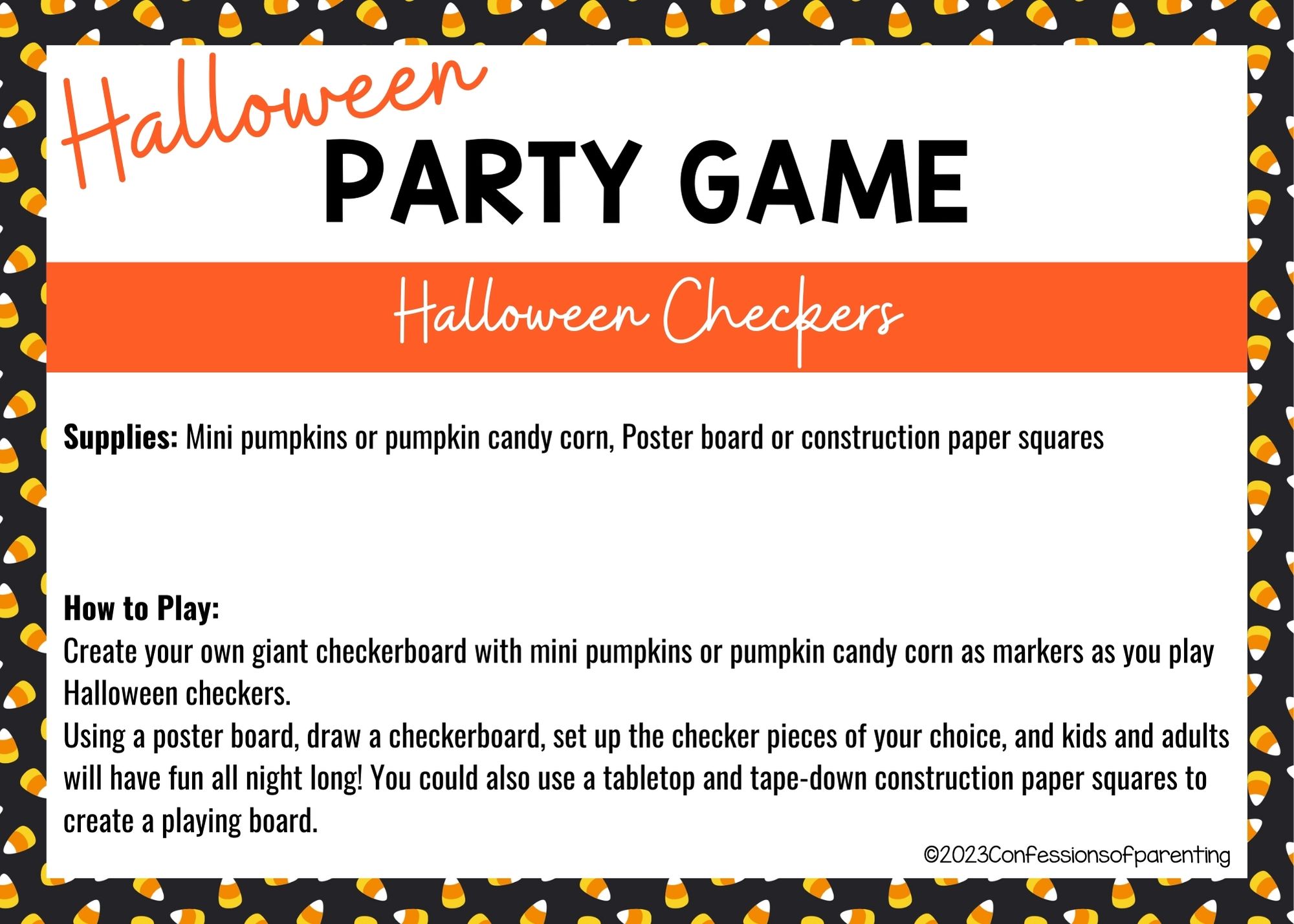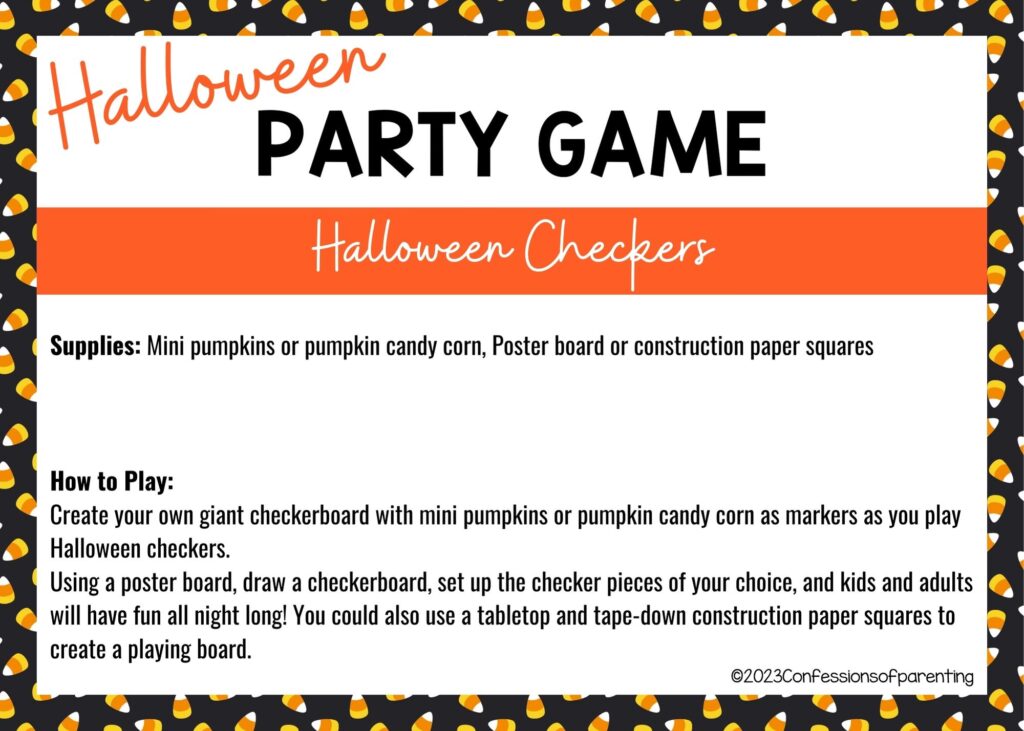 Halloween Checkers
What You Will Need
Mini pumpkins or pumpkin candy corn
Poster board or construction paper squares
Create your own giant checkerboard with mini pumpkins or pumpkin candy corn as markers as you play Halloween checkers.
Using a poster board, draw a checkerboard, set up the checker pieces of your choice, and kids and adults will have fun all night long! You could also use a tabletop and tape-down construction paper squares to create a playing board.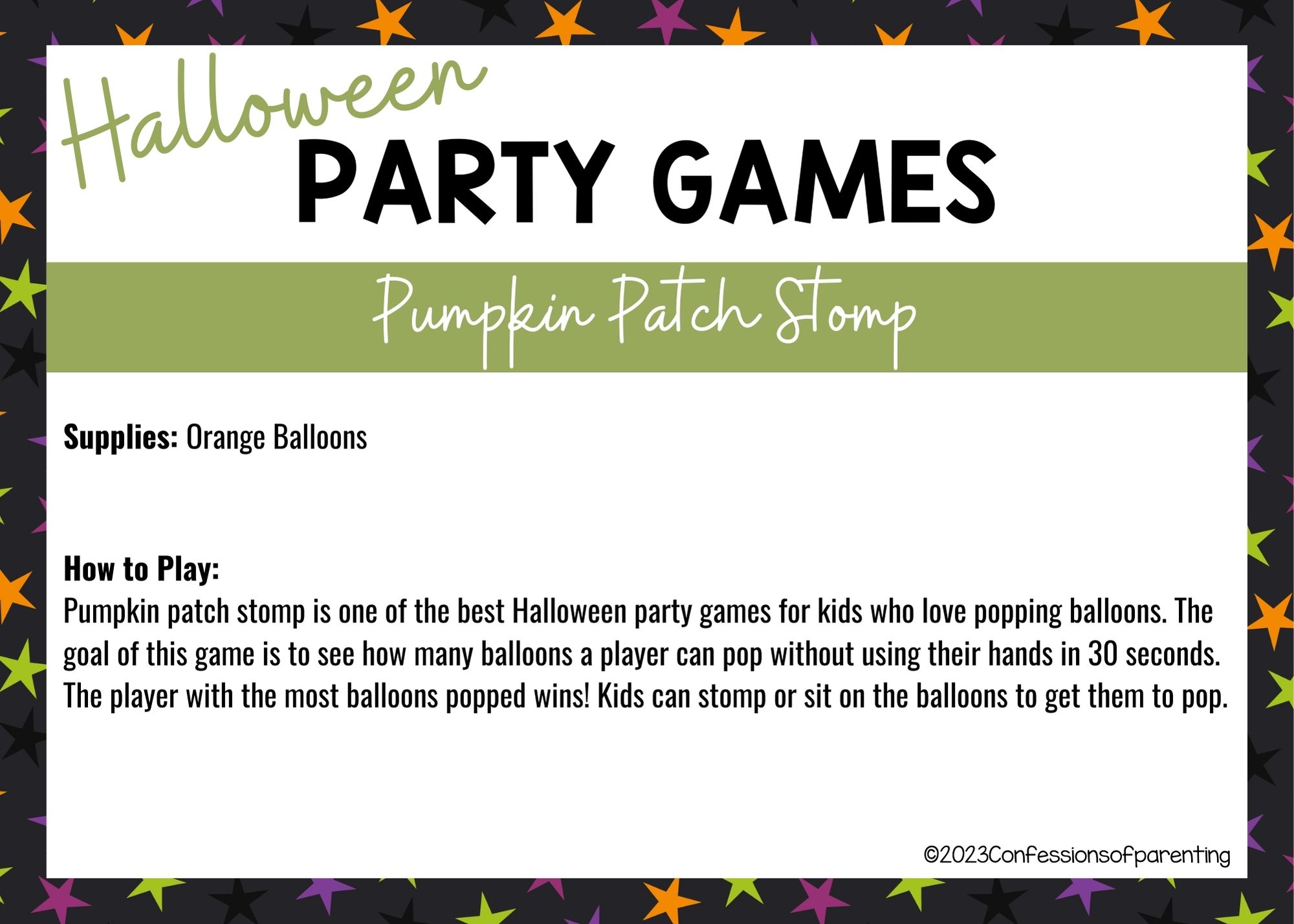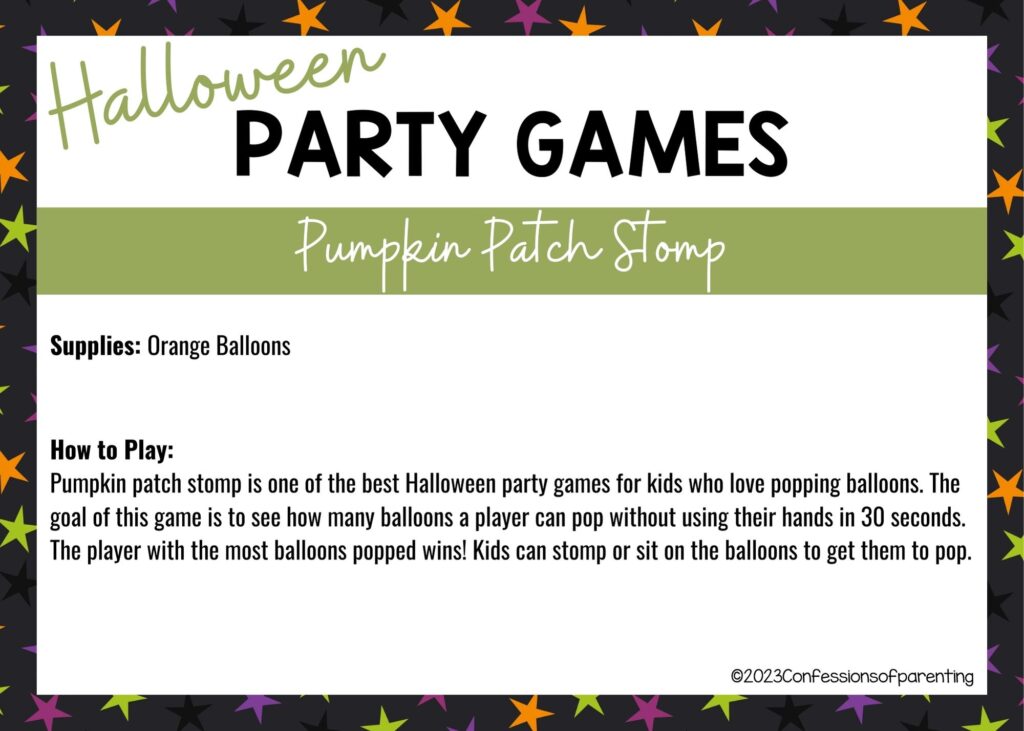 Pumpkin Patch Stomp
What You Will Need
Pumpkin patch stomp is one of the best Halloween party games for kids who love popping balloons. The goal of this game is to see how many balloons a player can pop without using their hands in 30 seconds. The player with the most balloons popped wins! Kids can stomp or sit on the balloons to get them to pop.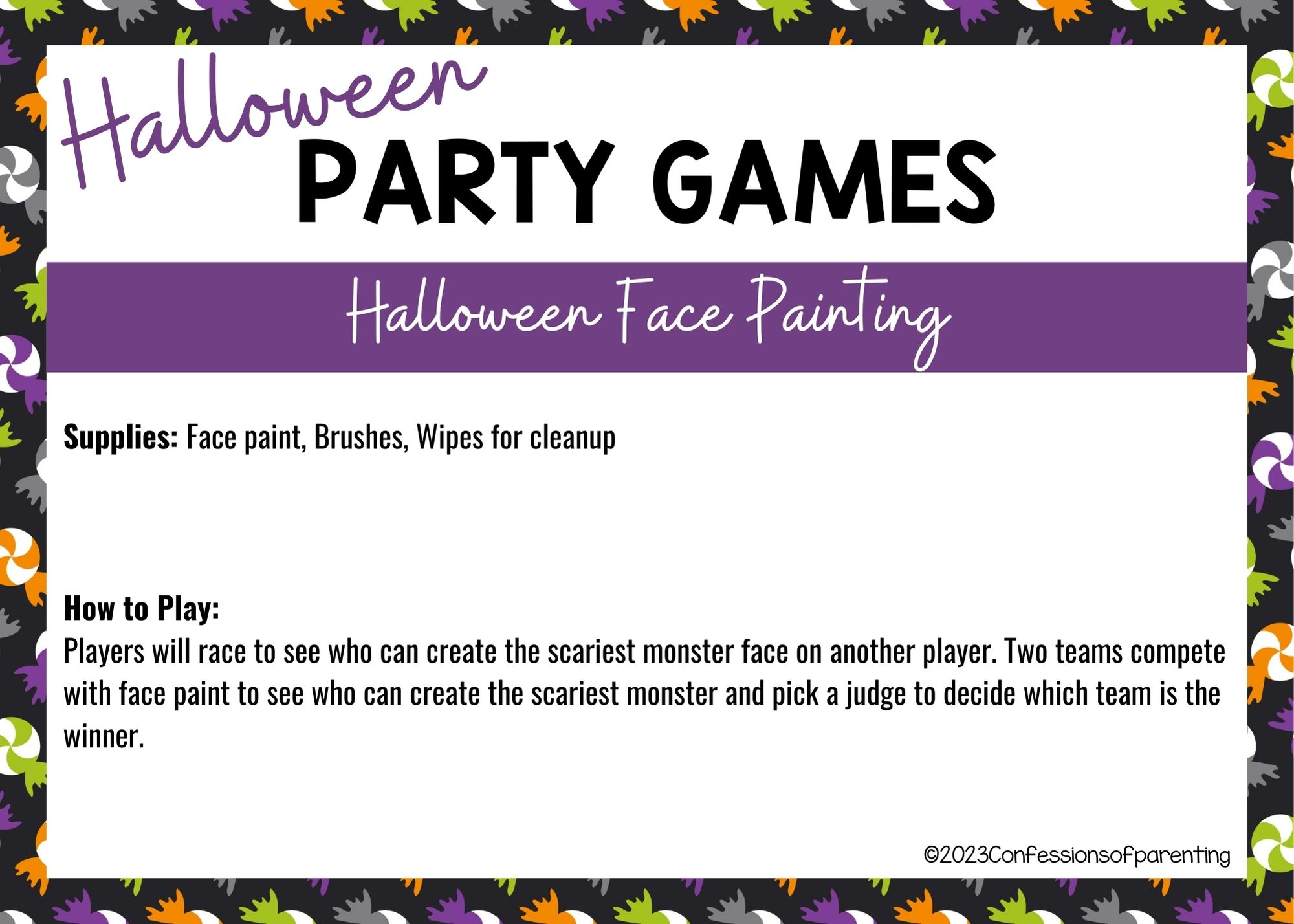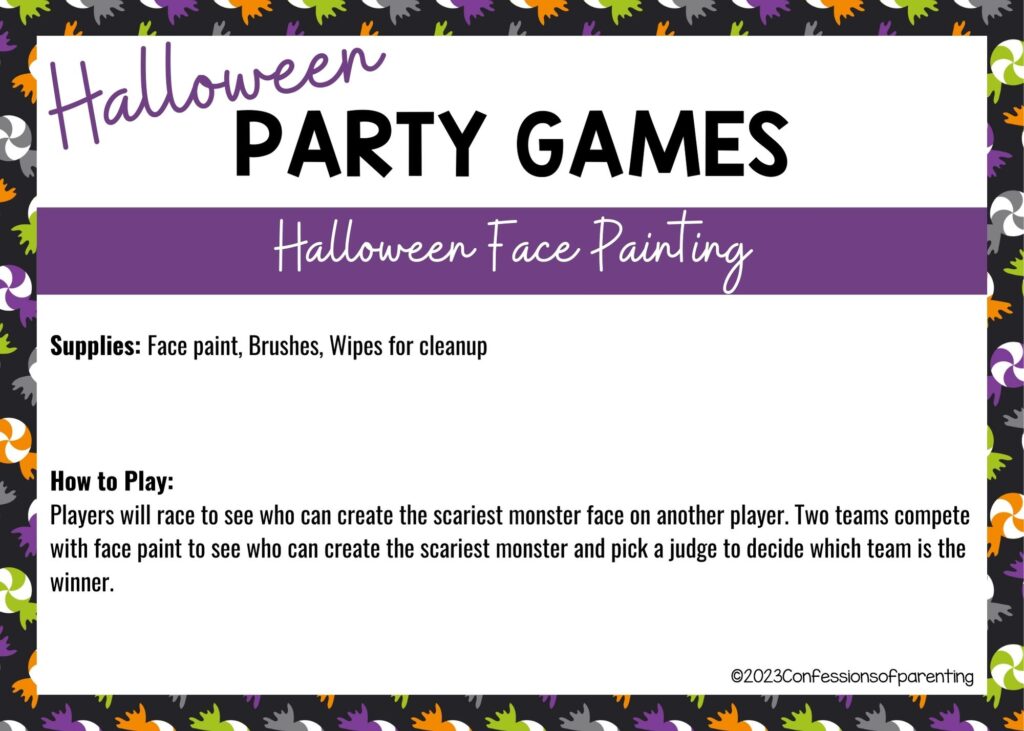 Halloween Face Painting
What You Will Need
Face paint
Brushes
Wipes for cleanup
Players will race to see who can create the scariest monster face on another player. Two teams compete with face paint to see who can create the scariest monster and pick a judge to decide which team is the winner.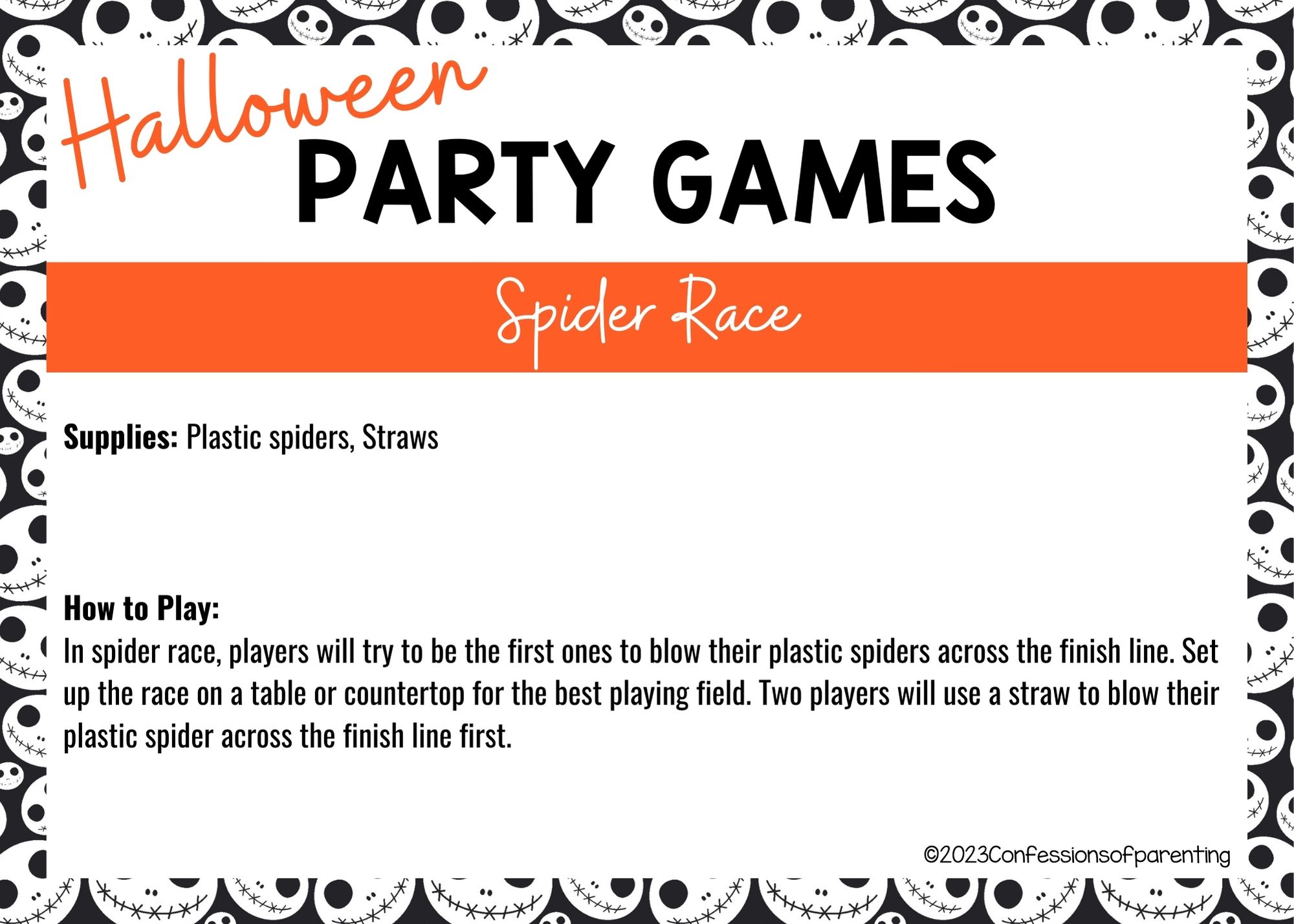 Spider Race
What You Will Need
In spider race, players will try to be the first ones to blow their plastic spiders across the finish line. Set up the race on a table or countertop for the best playing field. Two players will use a straw to blow their plastic spider across the finish line first.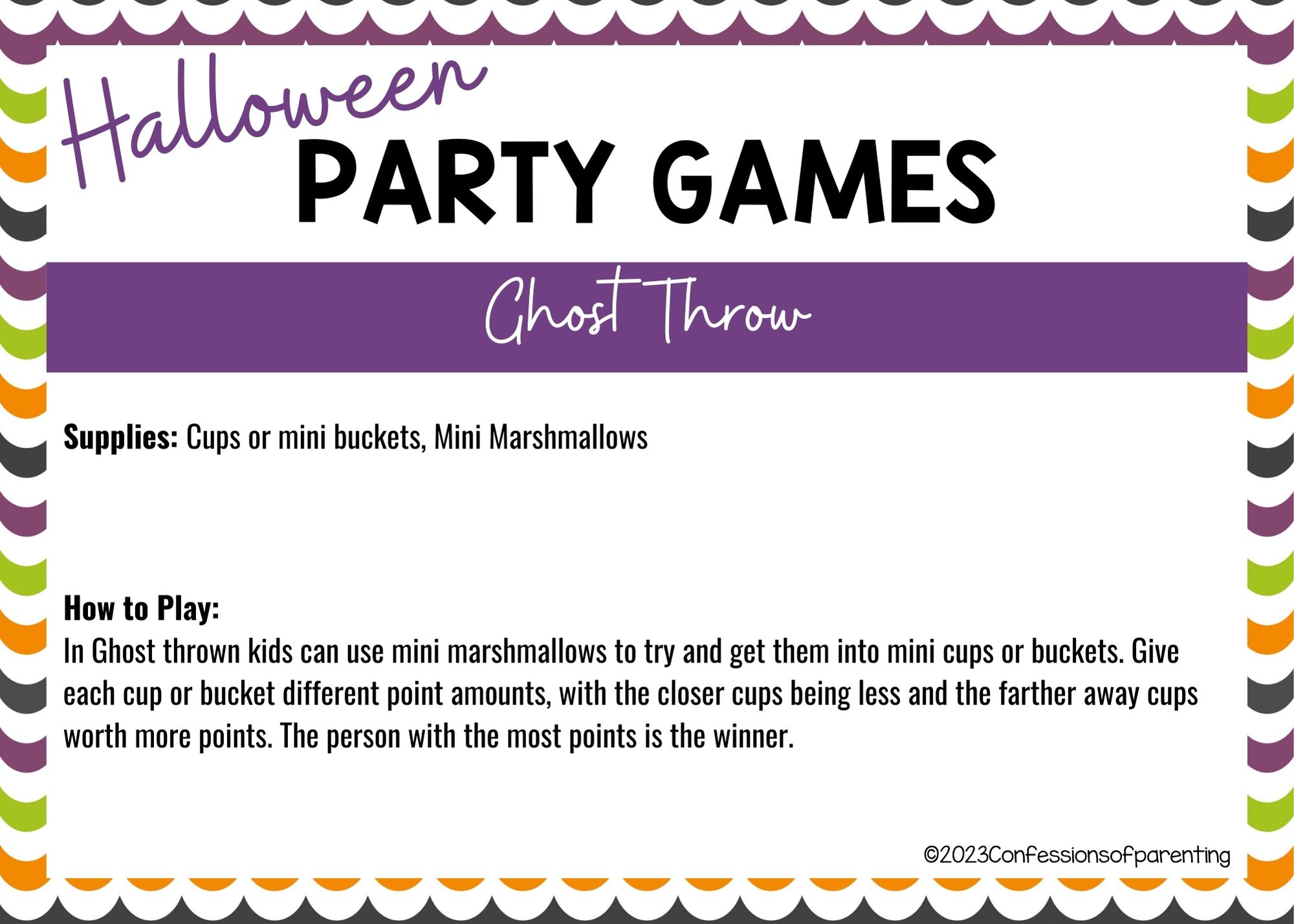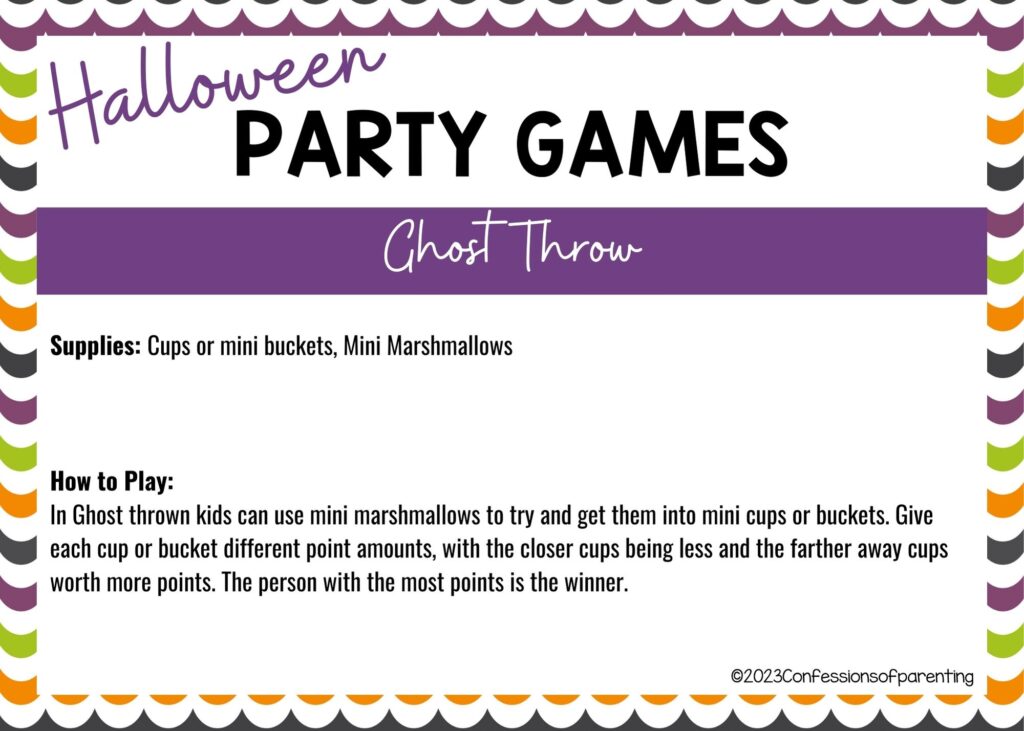 Ghost Throw
What You Will Need
Cups or mini buckets
Mini Marshmallows
In Ghost thrown kids can use mini marshmallows to try and get them into mini cups or buckets. Give each cup or bucket different point amounts, with the closer cups being less and the farther away cups worth more points. The person with the most points is the winner.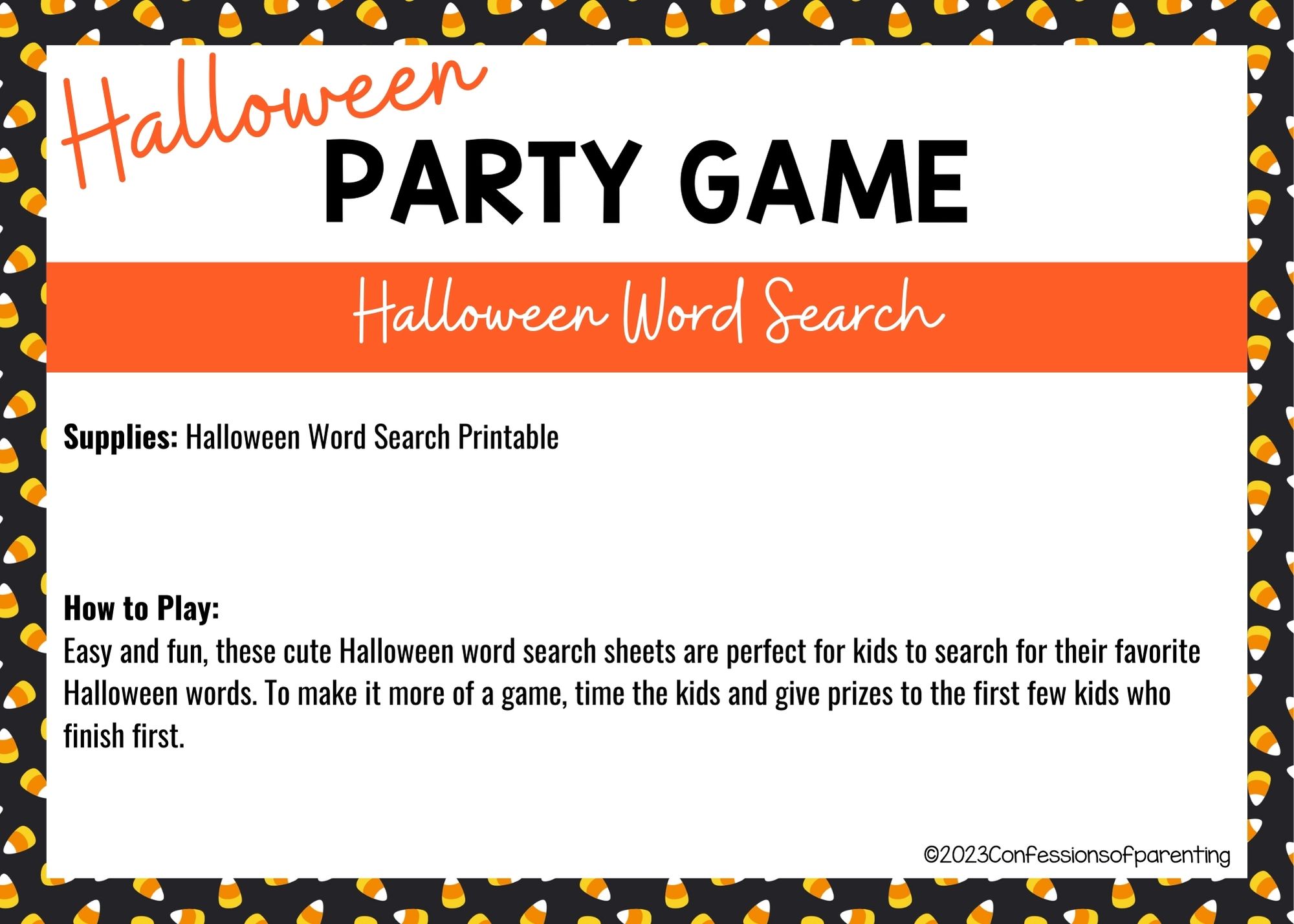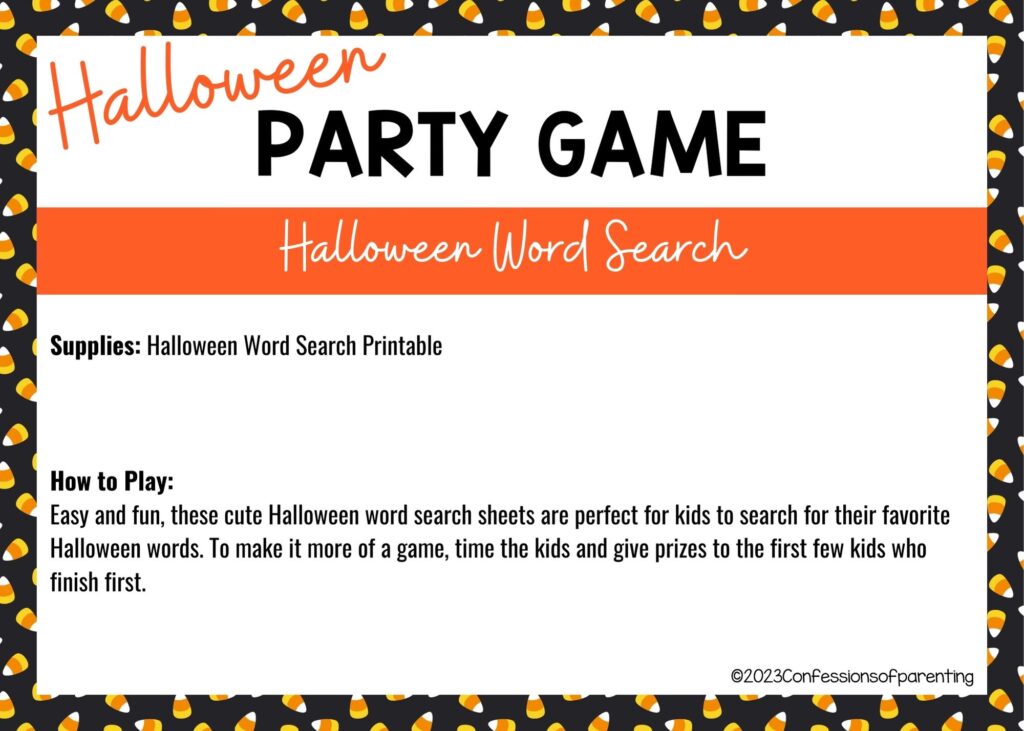 Halloween Word Search
What You Will Need
Easy and fun, these cute Halloween word search sheets are perfect for kids to search for their favorite Halloween words. To make it more of a game, time the kids and give prizes to the first few kids who finish first.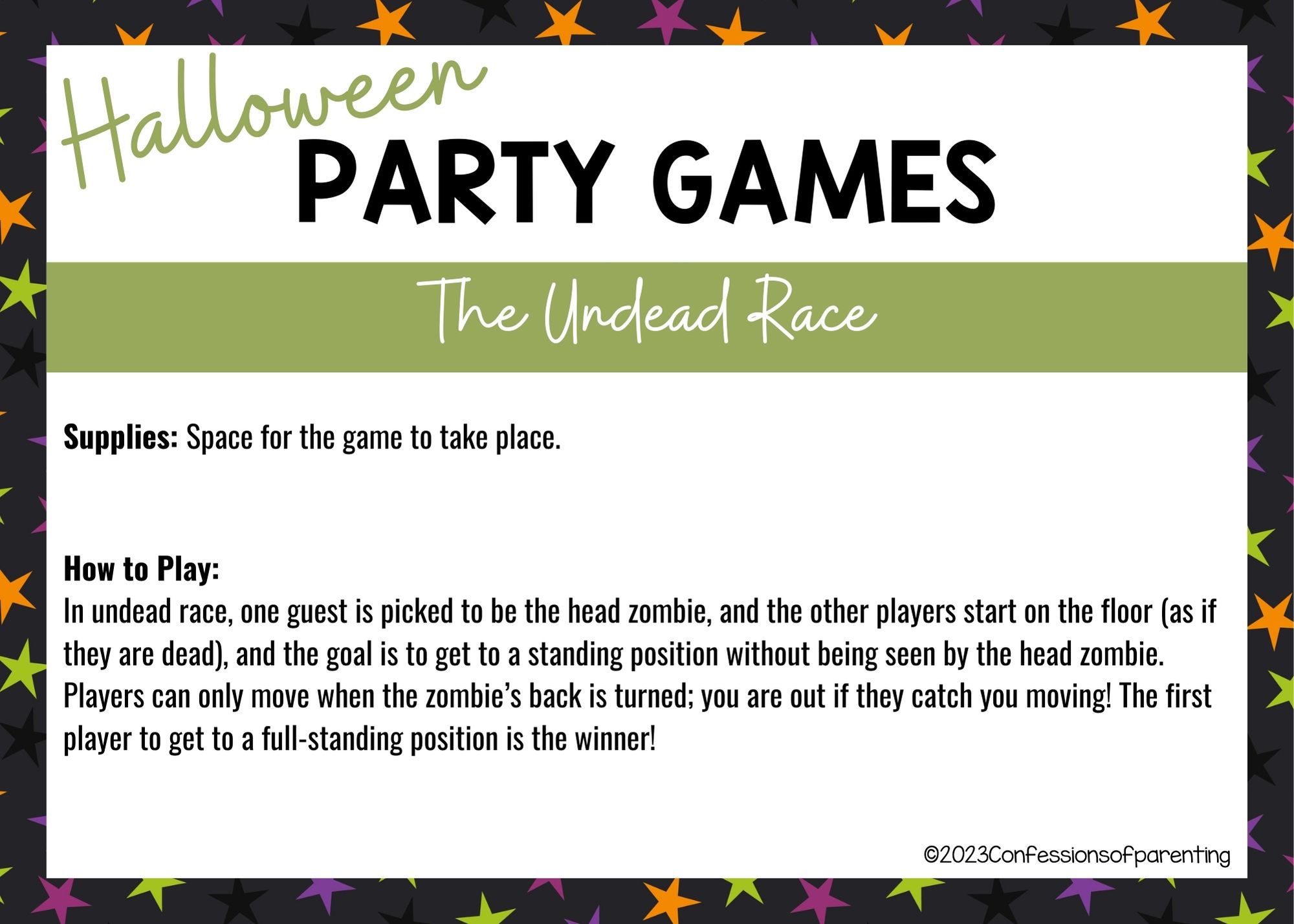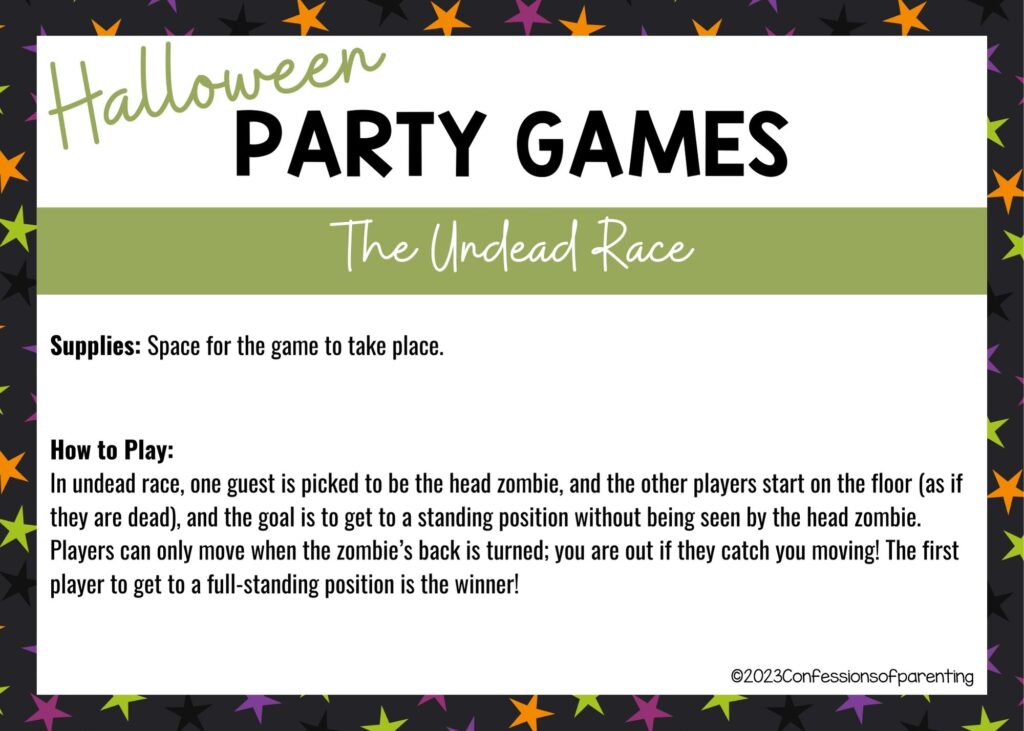 The Undead Race
What You Will Need
Space for the game to take place.
In undead race, one guest is picked to be the head zombie, and the other players start on the floor (as if they are dead), and the goal is to get to a standing position without being seen by the head zombie. Players can only move when the zombie's back is turned; you are out if they catch you moving! The first player to get to a full-standing position is the winner!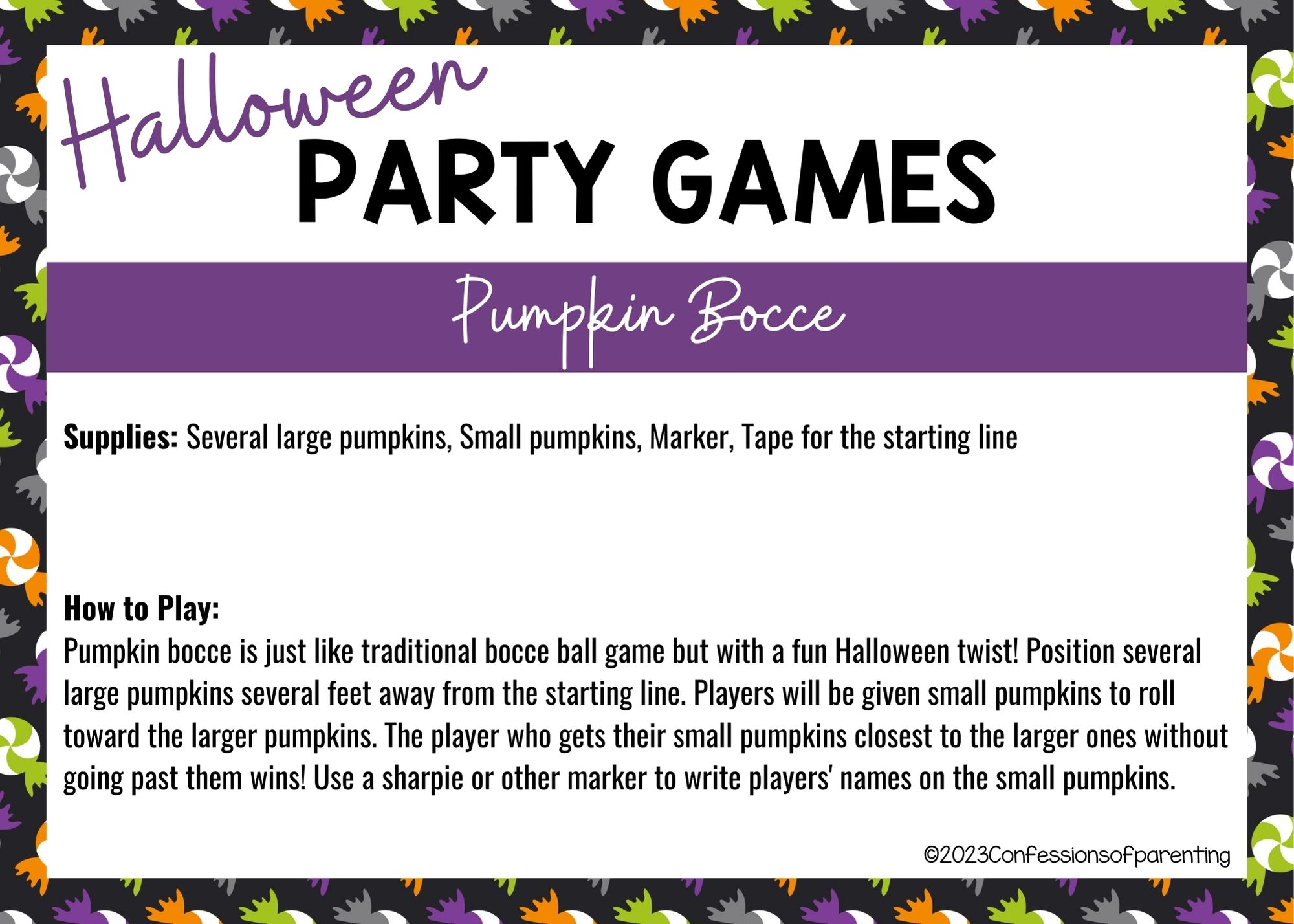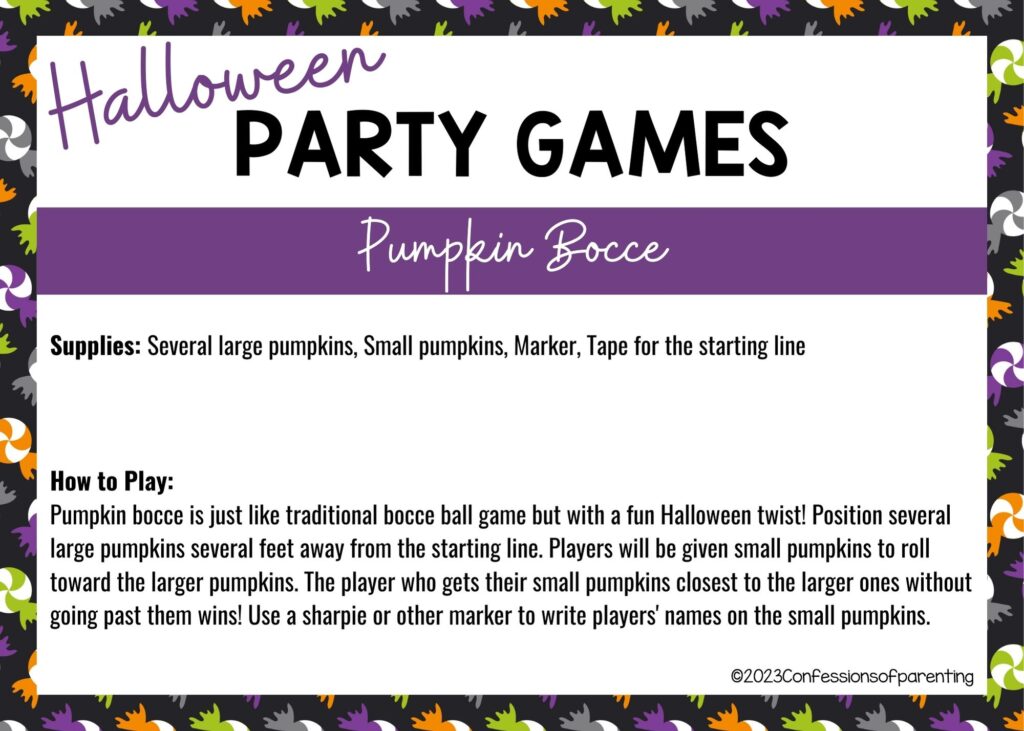 Pumpkin Bocce
What You Will Need
Several large pumpkins
Small pumpkins
Marker
Tape for the starting line
Pumpkin bocce is just like traditional bocce ball game but with a fun Halloween twist! Position several large pumpkins several feet away from the starting line. Players will be given small pumpkins to roll toward the larger pumpkins. The player who gets their small pumpkins closest to the larger ones without going past them wins! Use a sharpie or other marker to write players' names on the small pumpkins.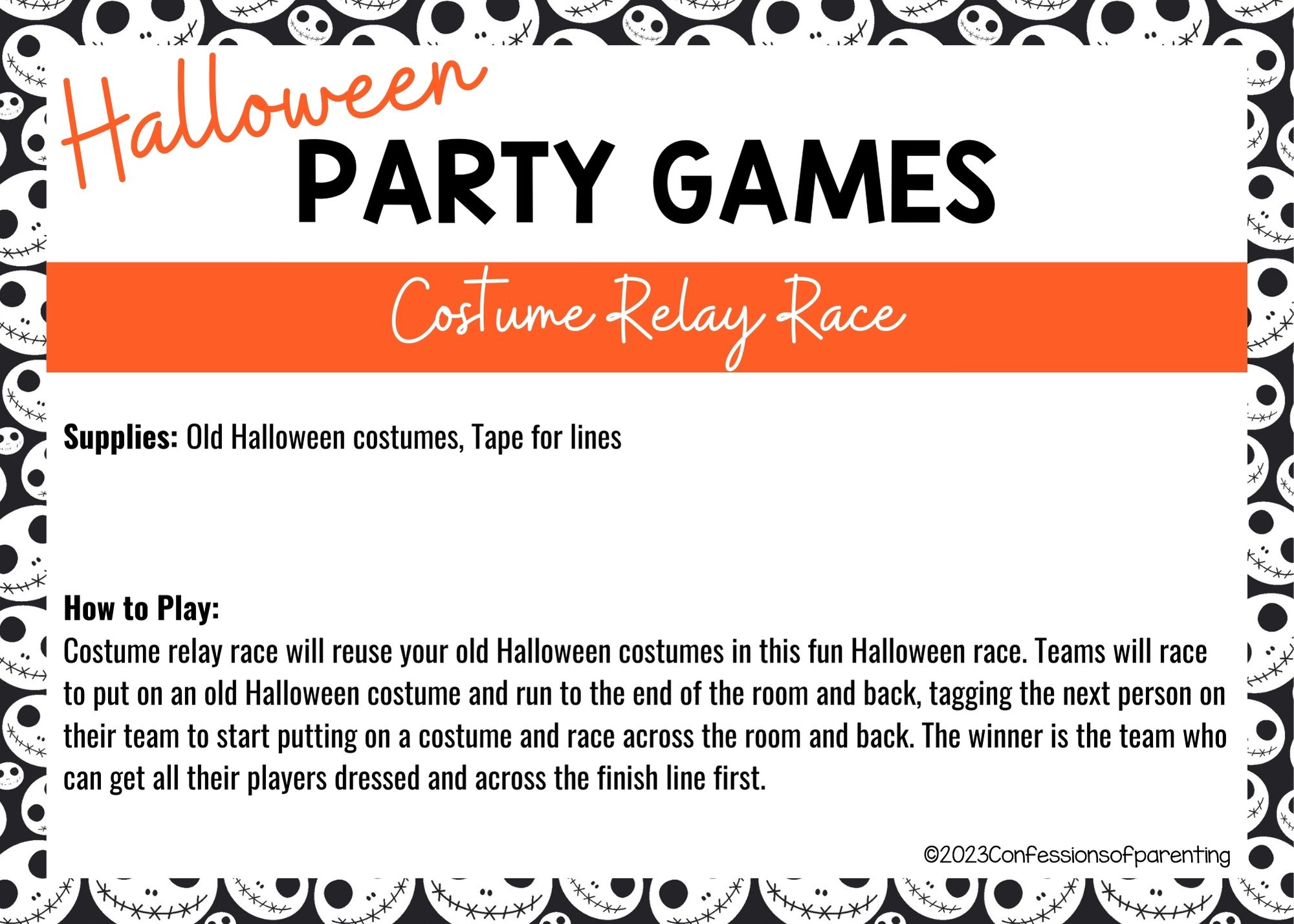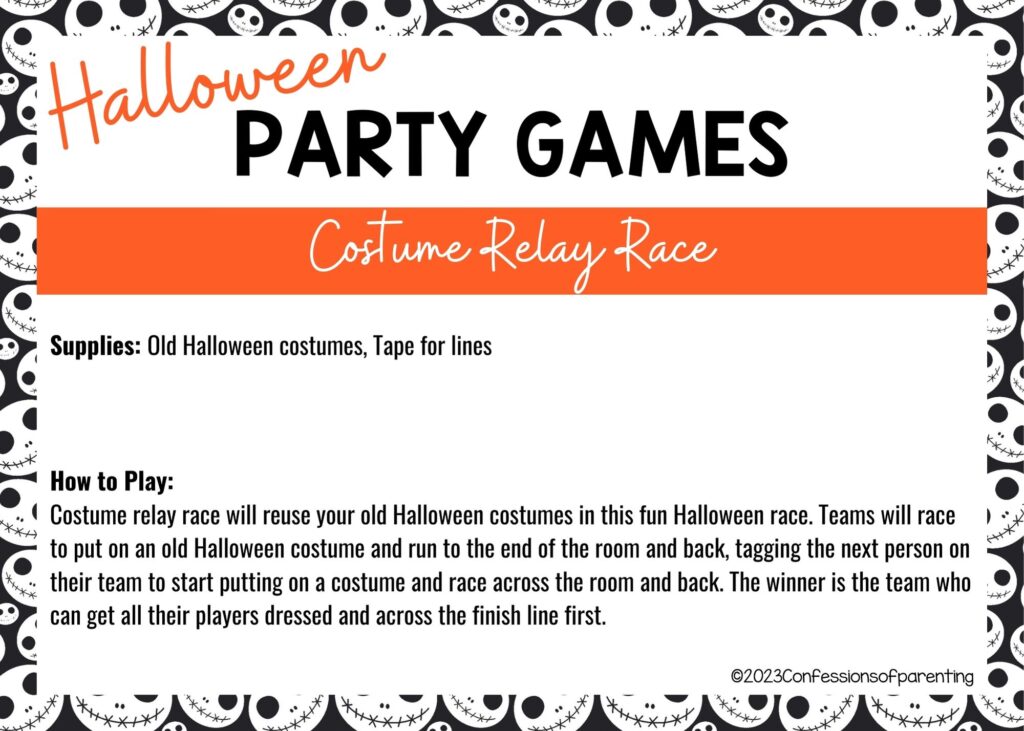 Costume Relay Race
What You Will Need
Old Halloween costumes
Tape for lines
Costume relay race will reuse your old Halloween costumes in this fun Halloween race. Teams will race to put on an old Halloween costume and run to the end of the room and back, tagging the next person on their team to start putting on a costume and race across the room and back. The winner is the team who can get all their players dressed and across the finish line first.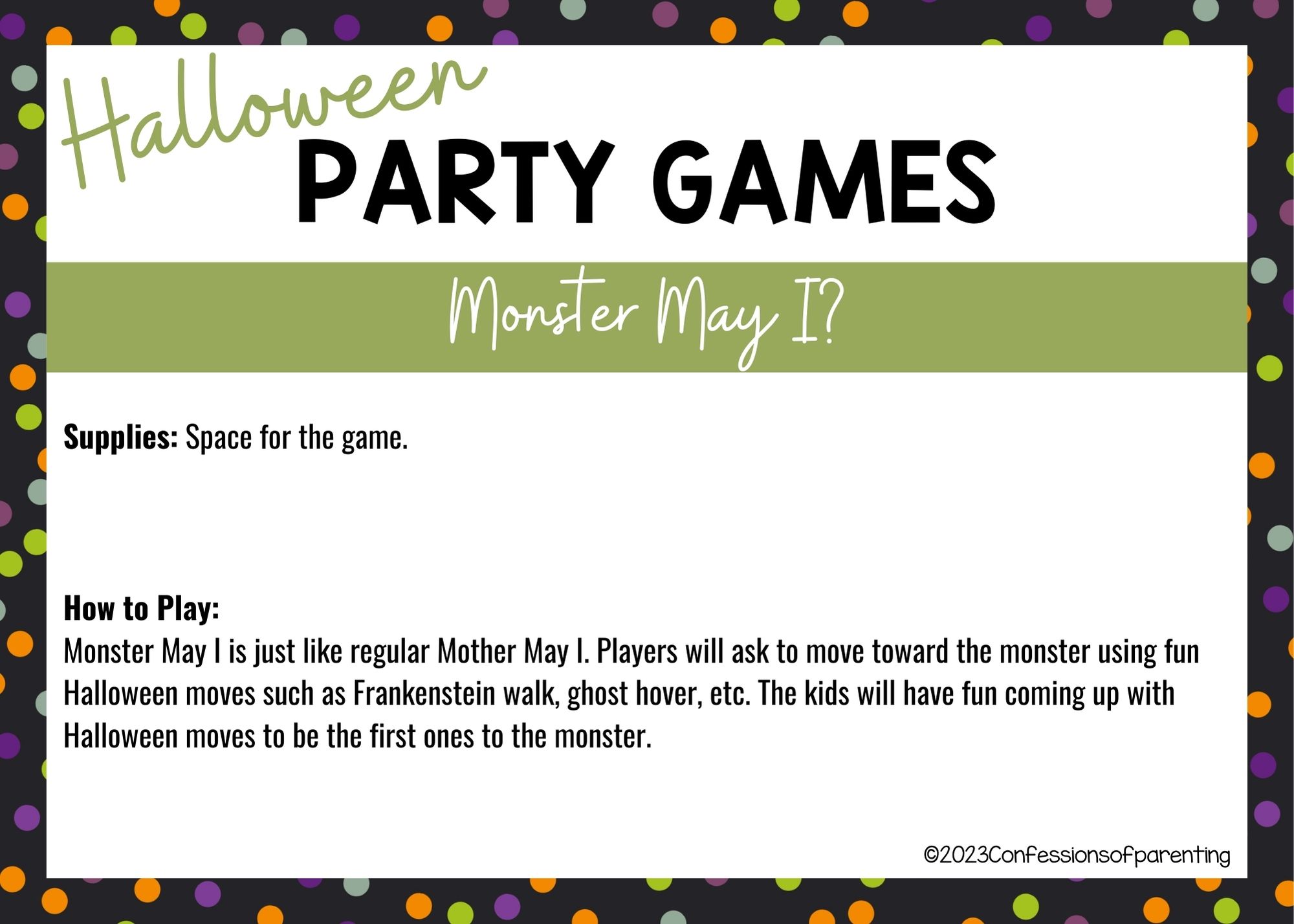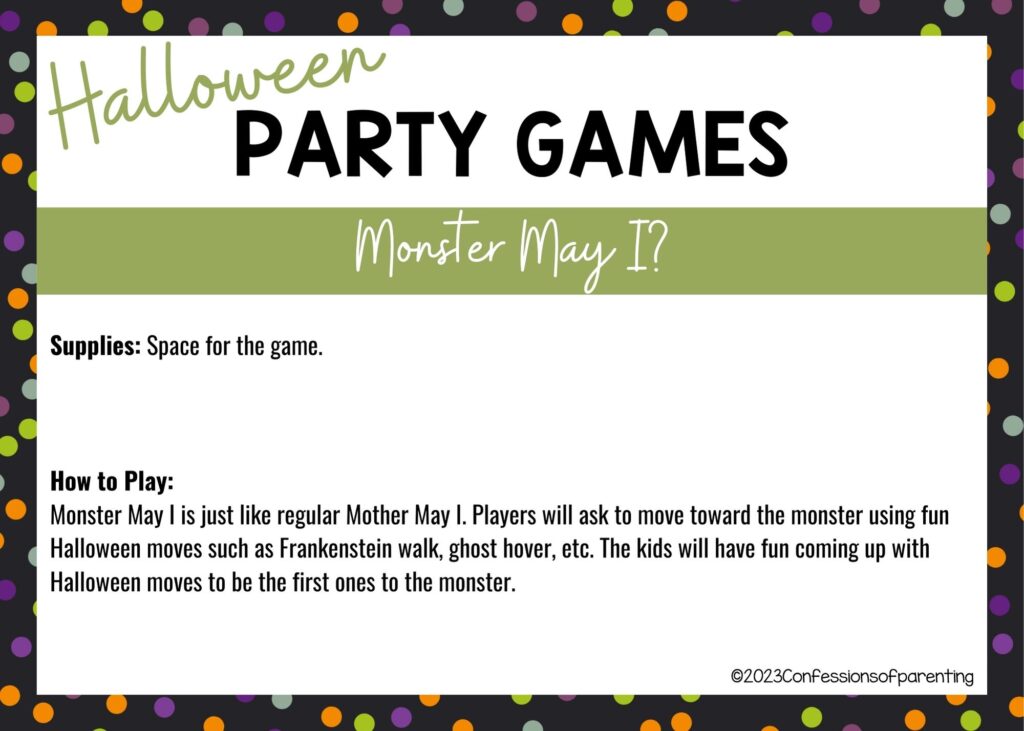 Monster May I?
What You Will Need
Monster May I is just like regular Mother May I. Players will ask to move toward the monster using fun Halloween moves such as Frankenstein walk, ghost hover, etc. The kids will have fun coming up with Halloween moves to be the first ones to the monster.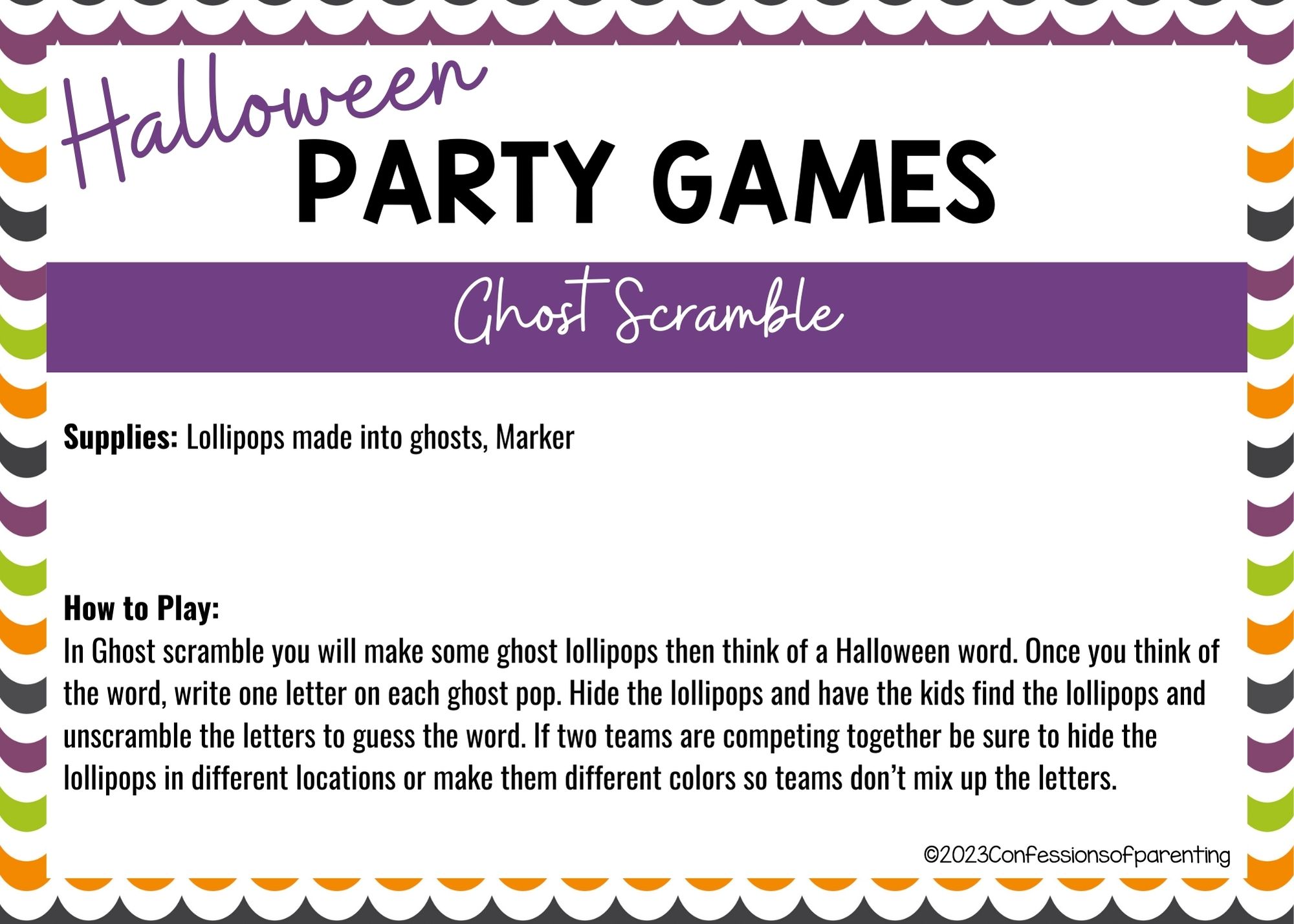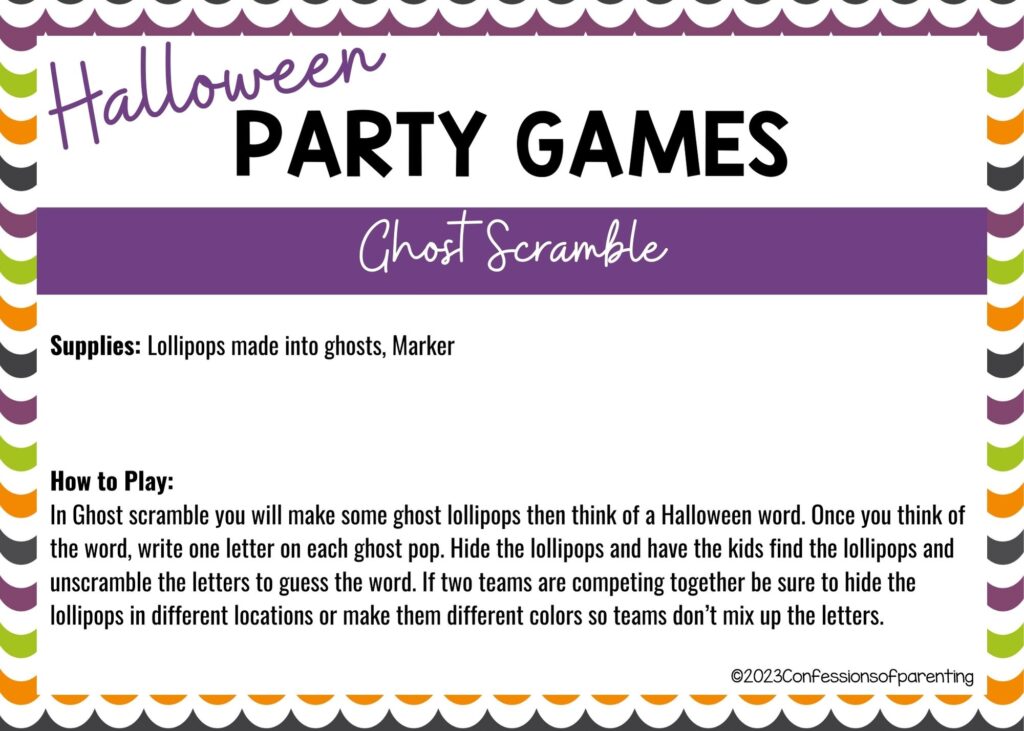 Ghost Scramble
What You Will Need
Lollipops made into ghosts
Marker
In Ghost scramble you will make some ghost lollipops then think of a Halloween word. Once you think of the word, write one letter on each ghost pop. Hide the lollipops and have the kids find the lollipops and unscramble the letters to guess the word. If two teams are competing together be sure to hide the lollipops in different locations or make them different colors so teams don't mix up the letters.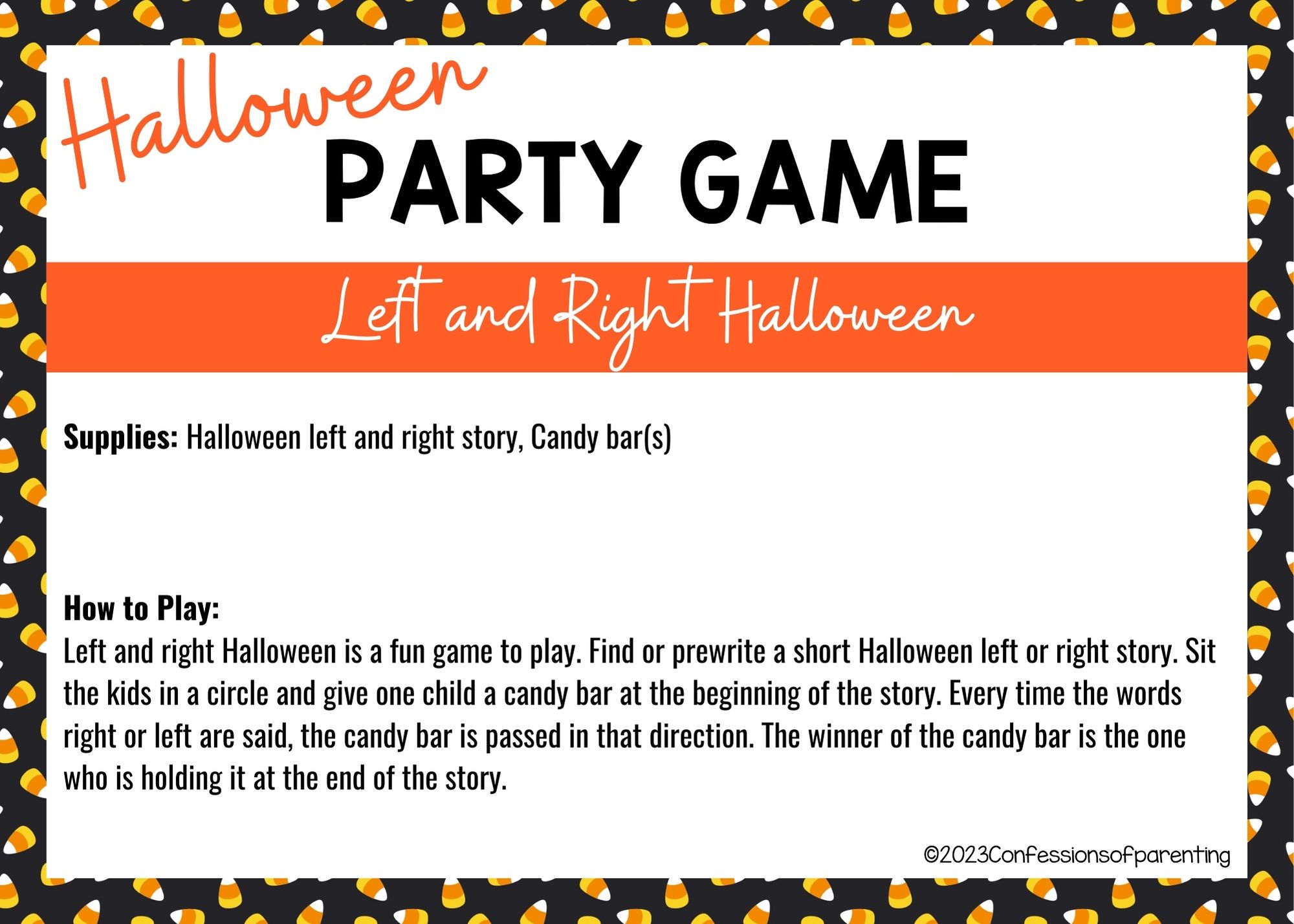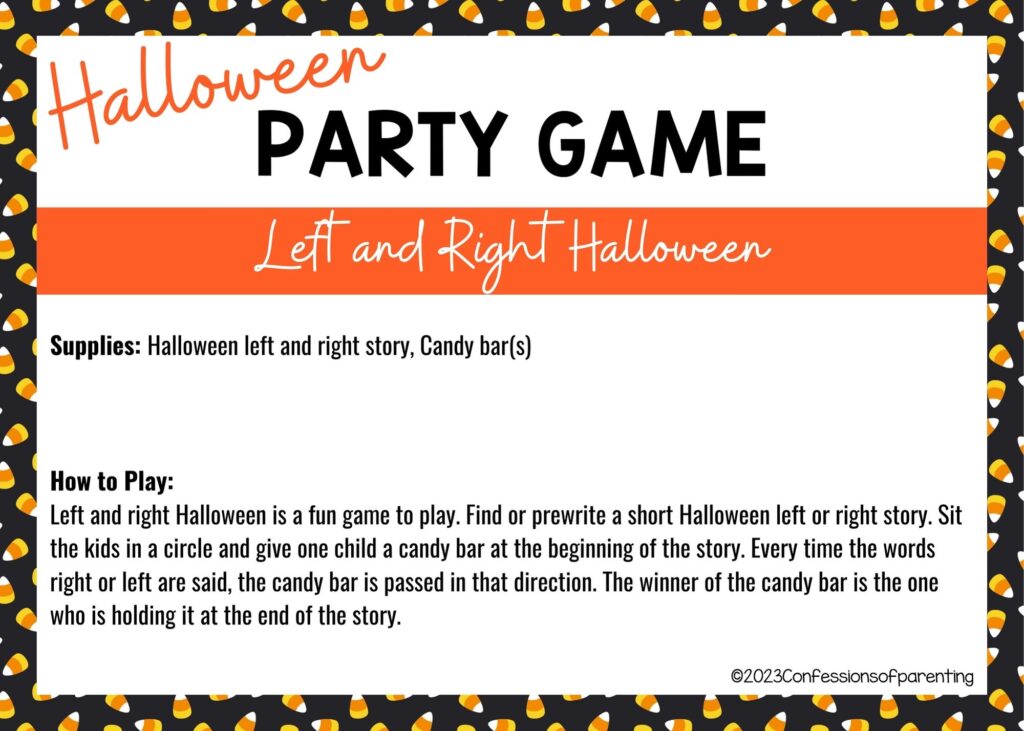 Left and Right Halloween
What You Will Need
Halloween left and right story
Candy bar(s)
Left and right Halloween is a fun game to play. Find or prewrite a short Halloween left or right story. Sit the kids in a circle and give one child a candy bar at the beginning of the story. Every time the words right or left are said, the candy bar is passed in that direction. The winner of the candy bar is the one who is holding it at the end of the story.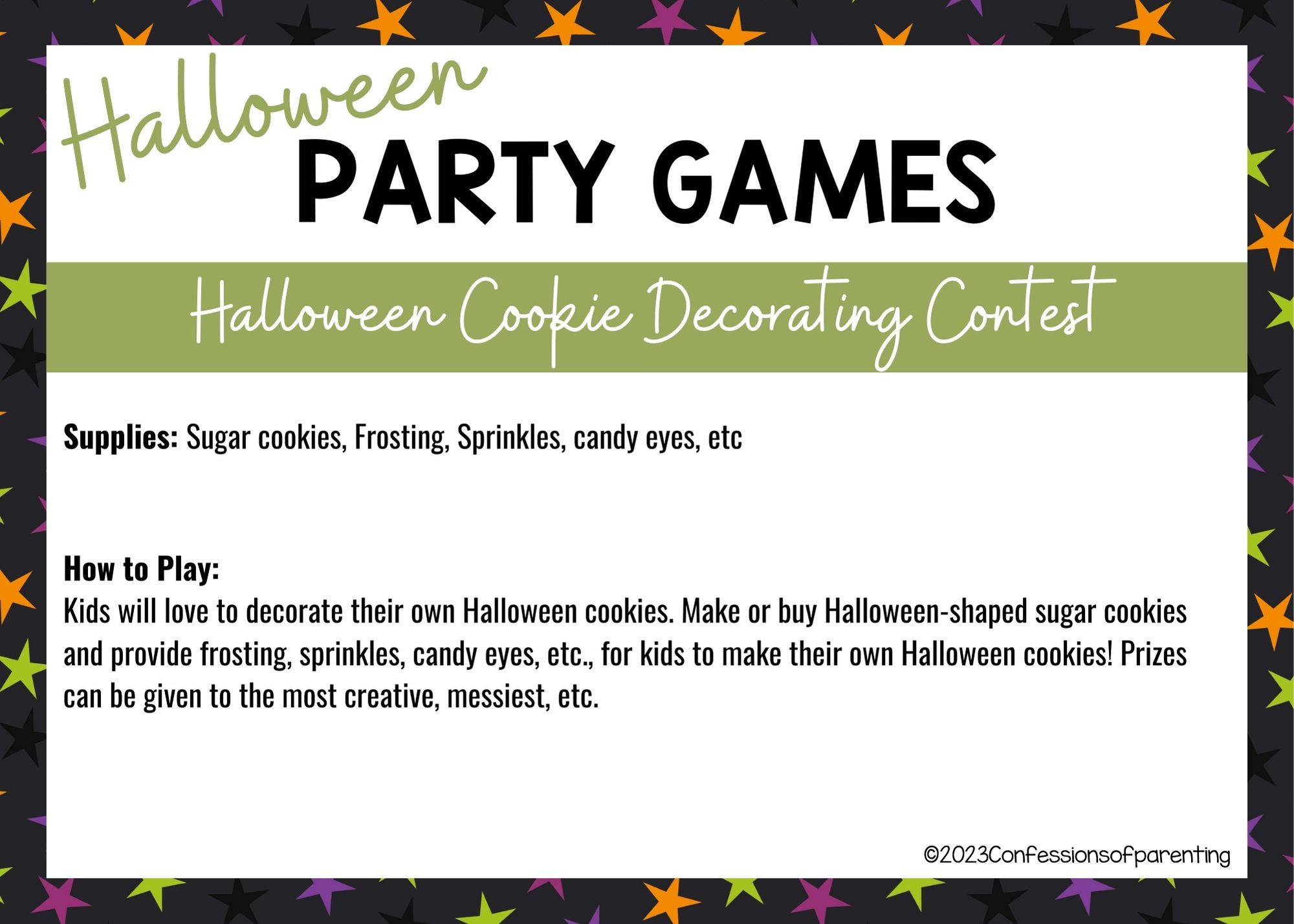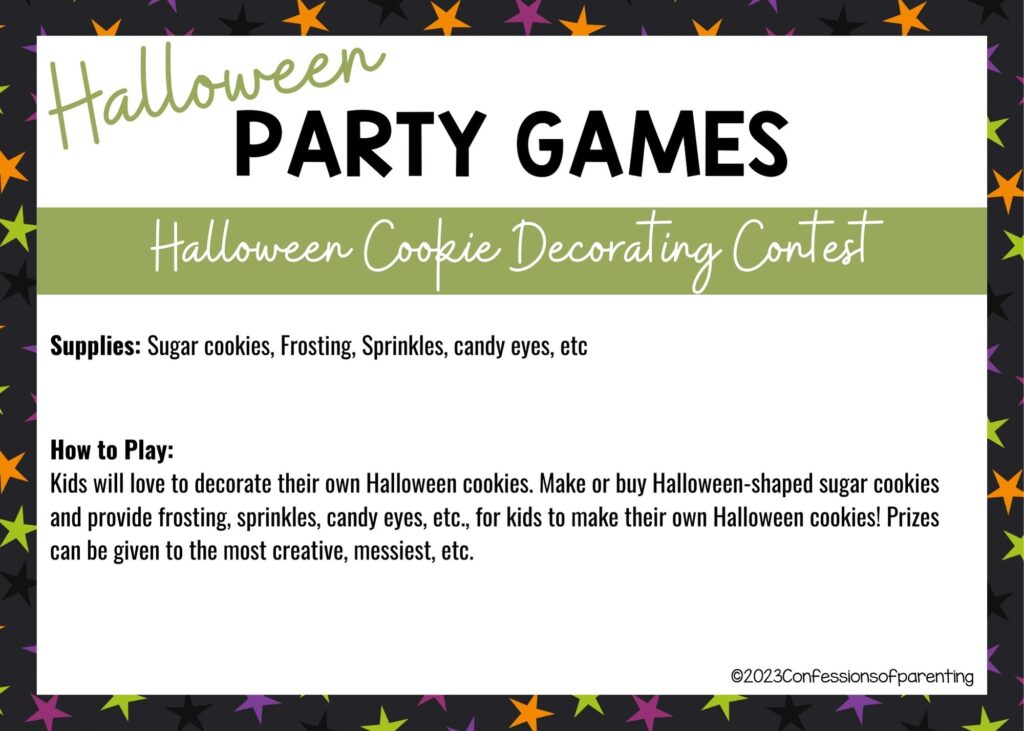 Halloween Cookie Decorating Contest
What You Will Need
Sugar cookies
Frosting
Sprinkles, candy eyes, etc
Kids will love to decorate their own Halloween cookies. Make or buy Halloween-shaped sugar cookies and provide frosting, sprinkles, candy eyes, etc., for kids to make their own Halloween cookies! Prizes can be given to the most creative, messiest, etc.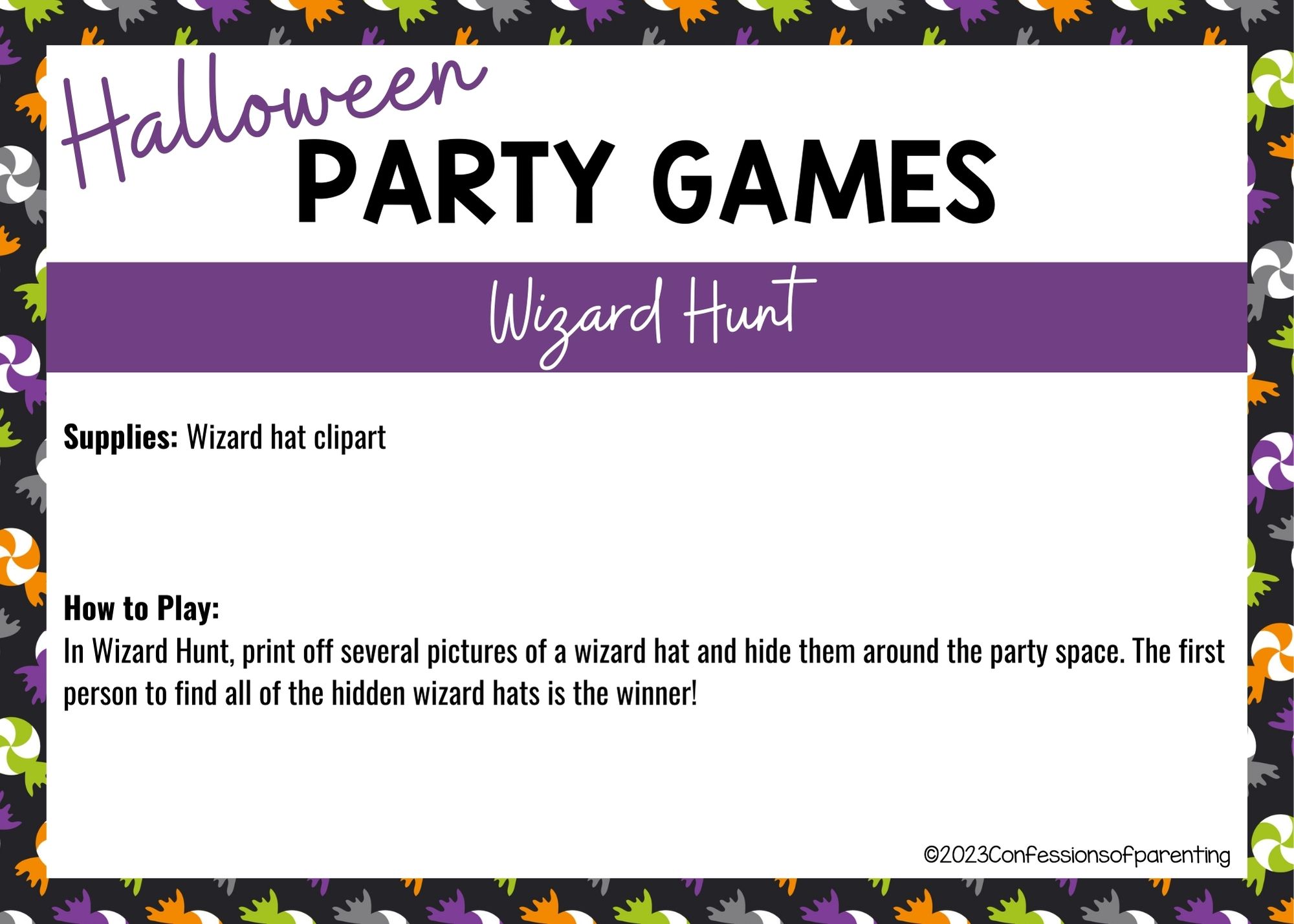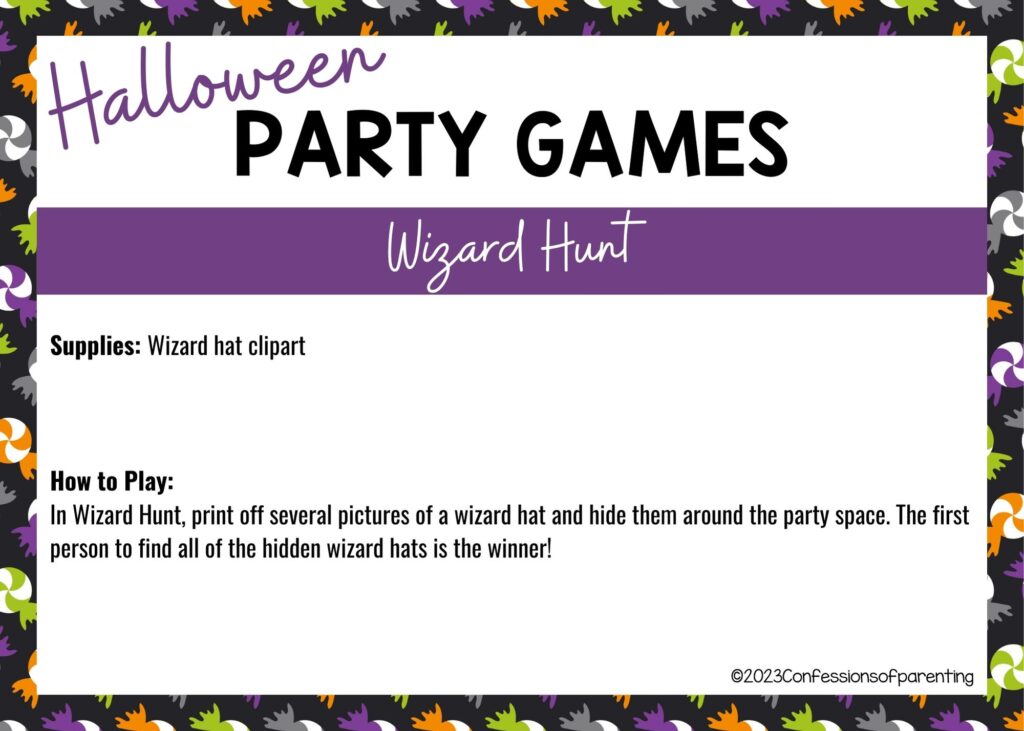 Wizard Hunt
What You Will Need
In Wizard Hunt, print off several pictures of a wizard hat and hide them around the party space. The first person to find all of the hidden wizard hats is the winner!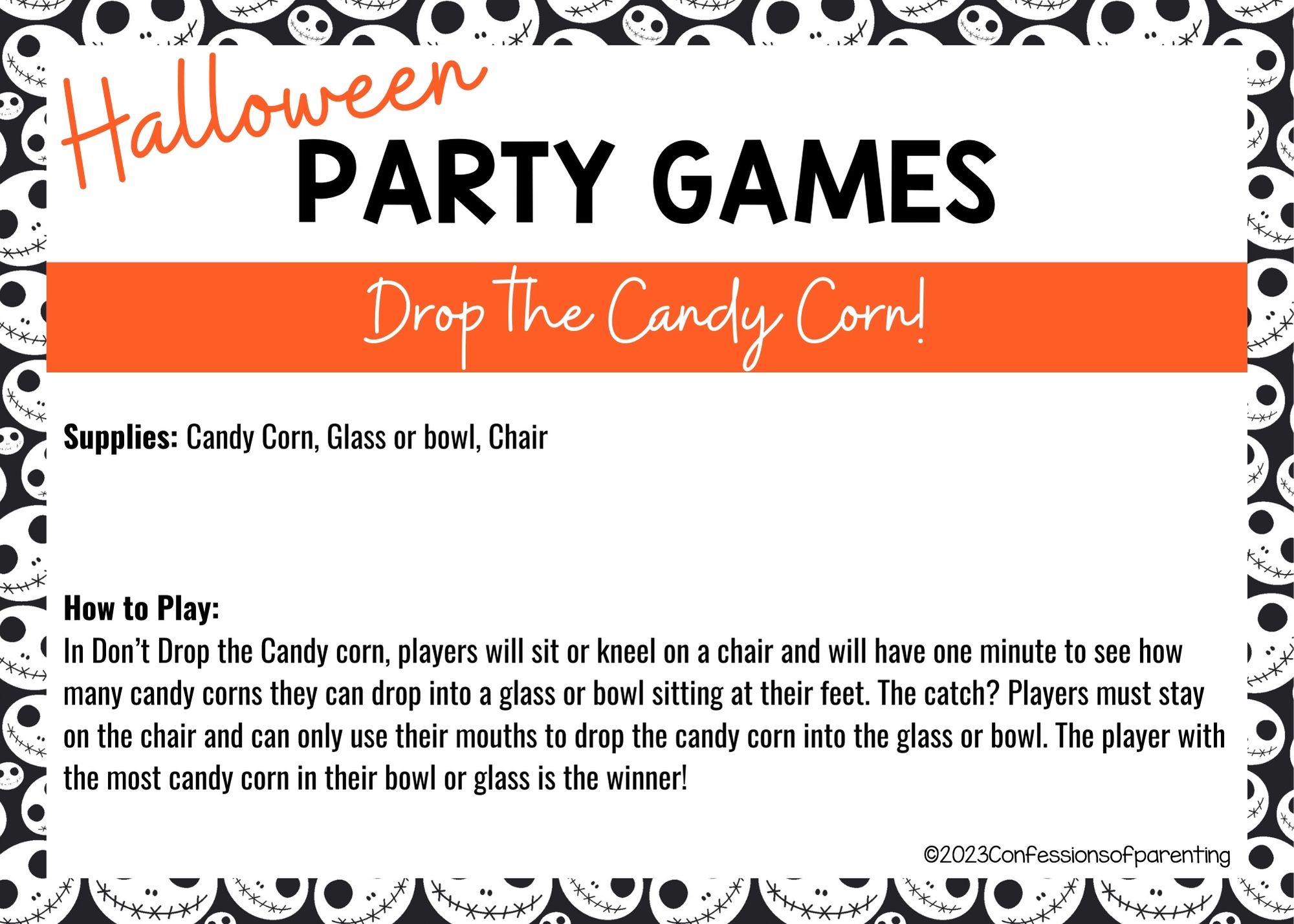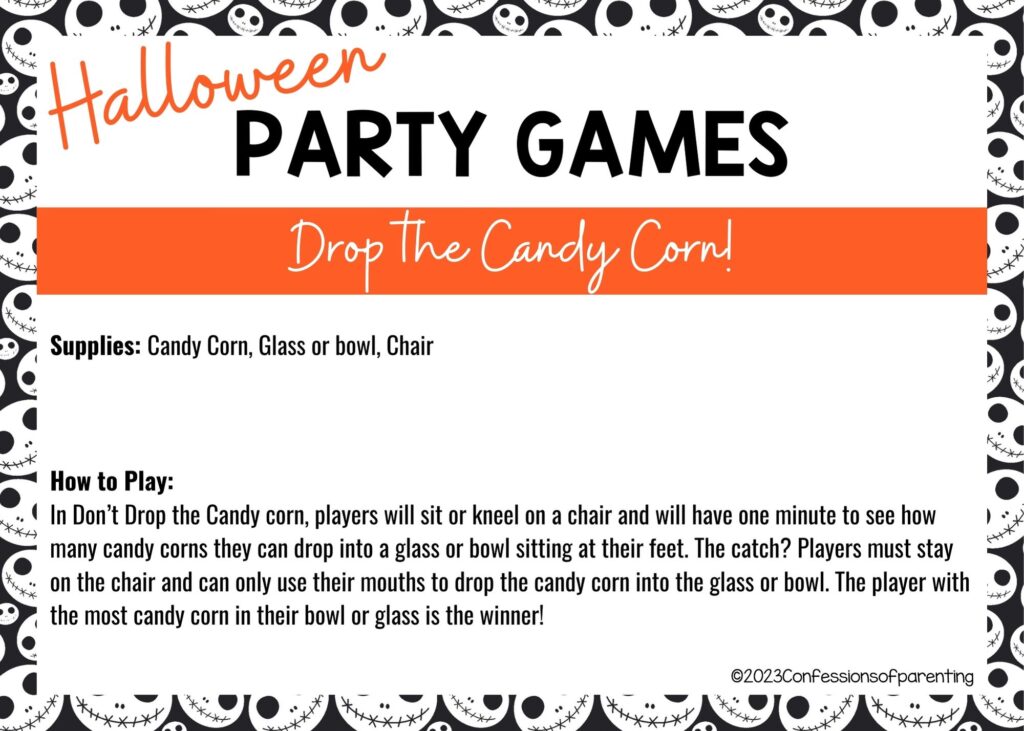 Drop the Candy Corn!
What You Will Need
Candy Corn
Glass or bowl
Chair
In Drop the Candy corn, players will sit or kneel on a chair and will have one minute to see how many candy corns they can drop into a glass or bowl sitting at their feet. The catch? Players must stay on the chair and can only use their mouths to drop the candy corn into the glass or bowl. The player with the most candy corn in their bowl or glass is the winner!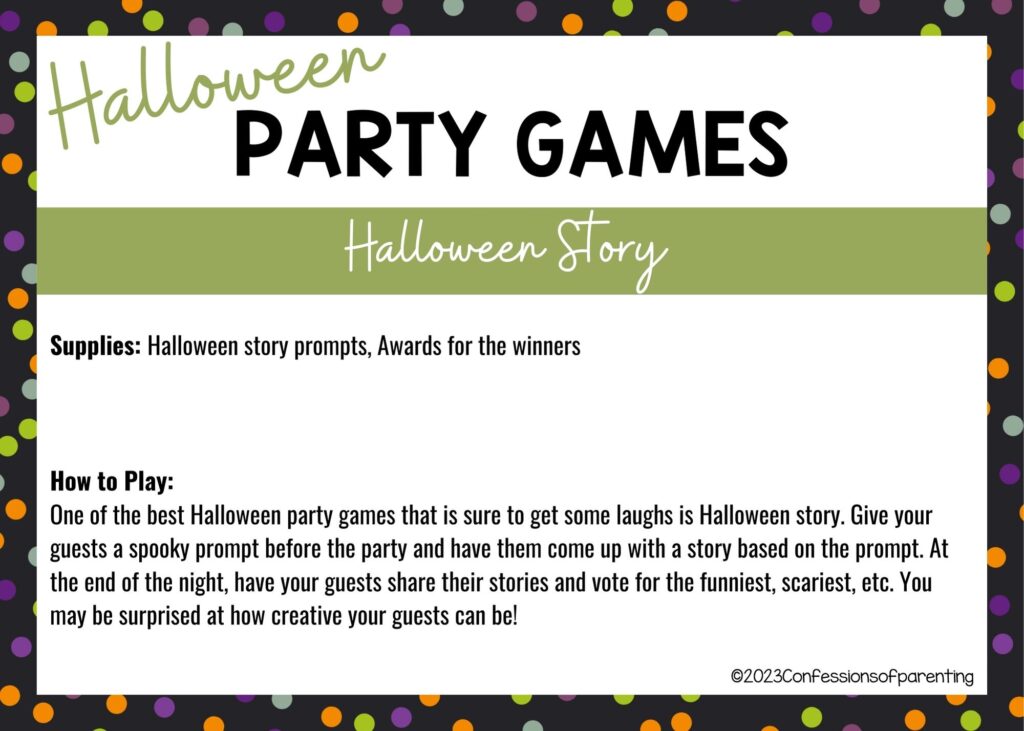 Halloween Story
What You Will Need
Halloween story prompt
Awards for the winners
One of the best Halloween party games that is sure to get some laughs is Halloween story. Give your guests a spooky prompt before the party and have them come up with a story based on the prompt. At the end of the night, have your guests share their stories and vote for the funniest, scariest, etc. You may be surprised at how creative your guests can be!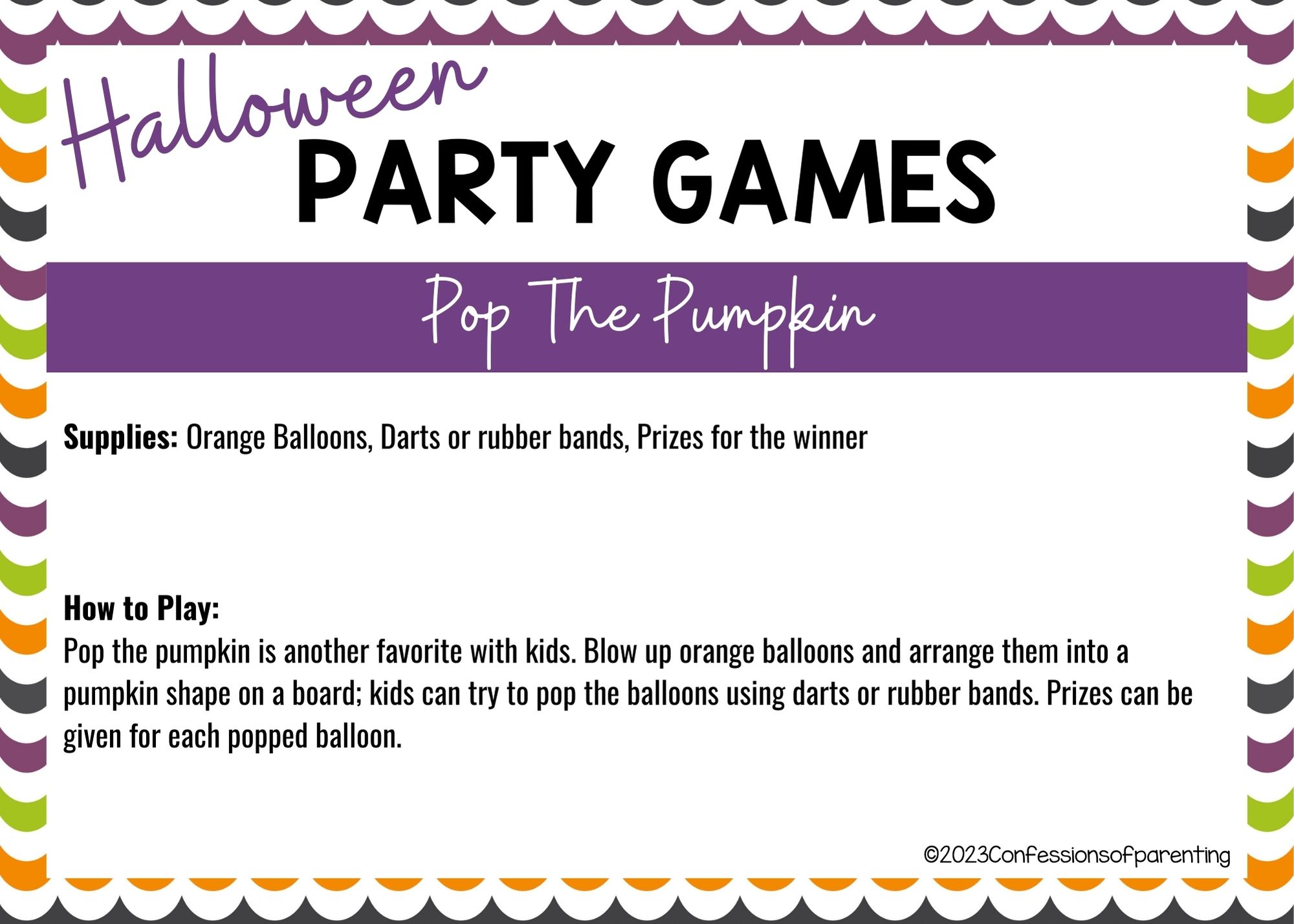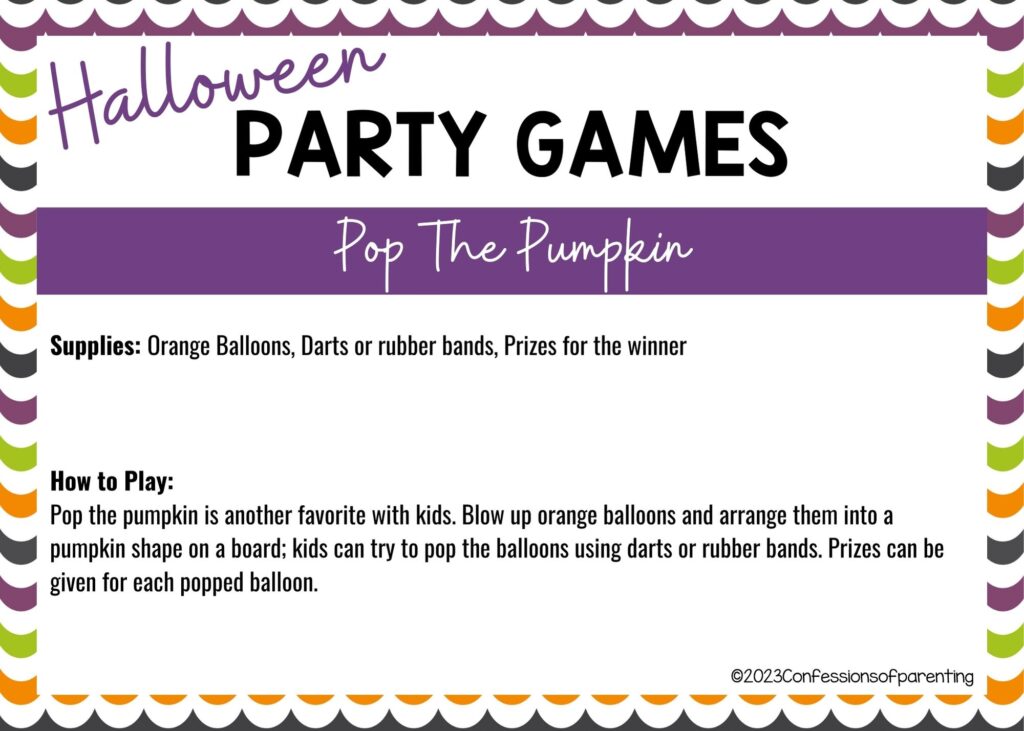 Pop The Pumpkin
What You Will Need
Orange Balloons
Darts or rubber bands
Prizes for the winner
Pop the pumpkin is another favorite with kids. Blow up orange balloons and arrange them into a pumpkin shape on a board; kids can try to pop the balloons using darts or rubber bands. Prizes can be given for each popped balloon.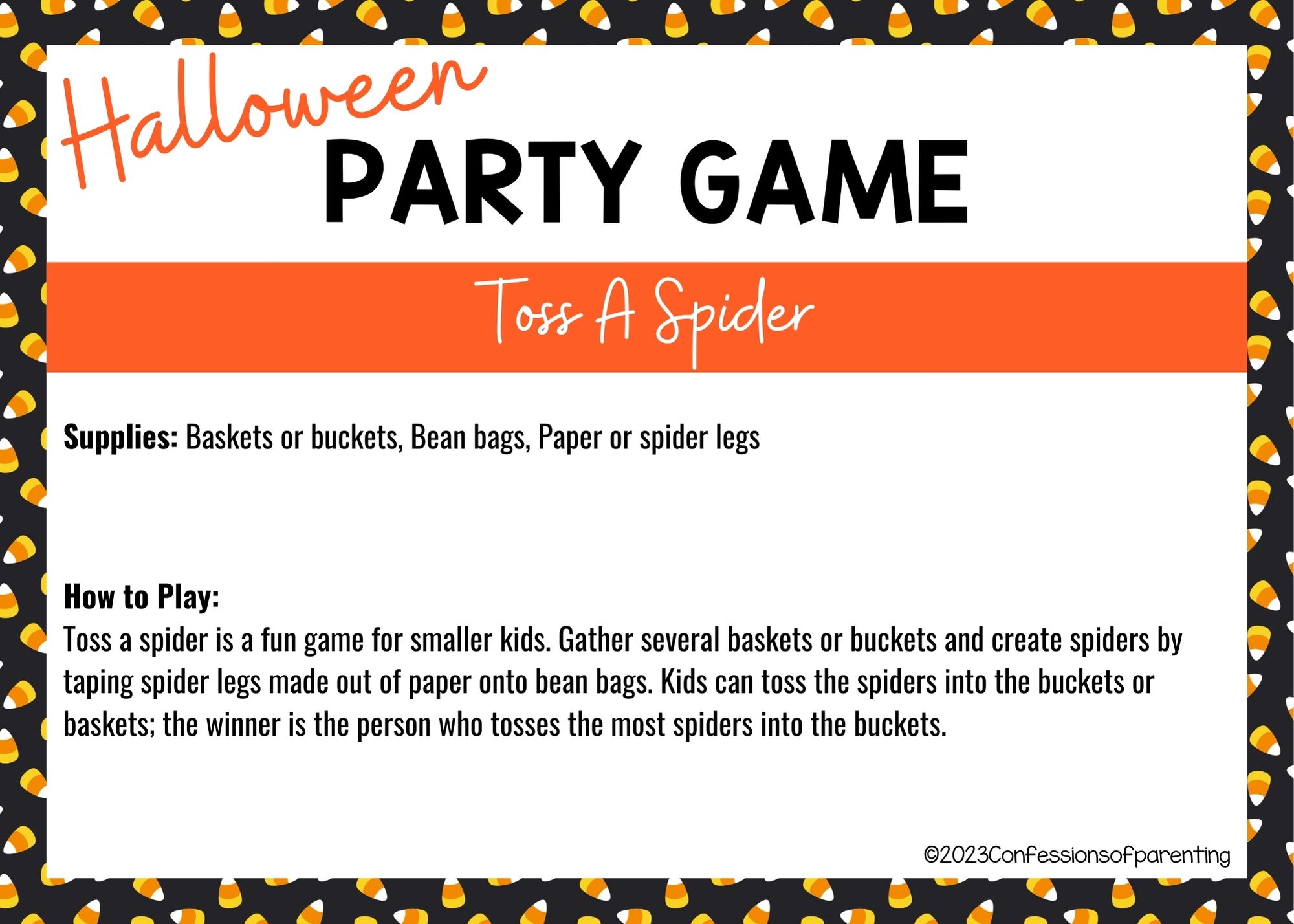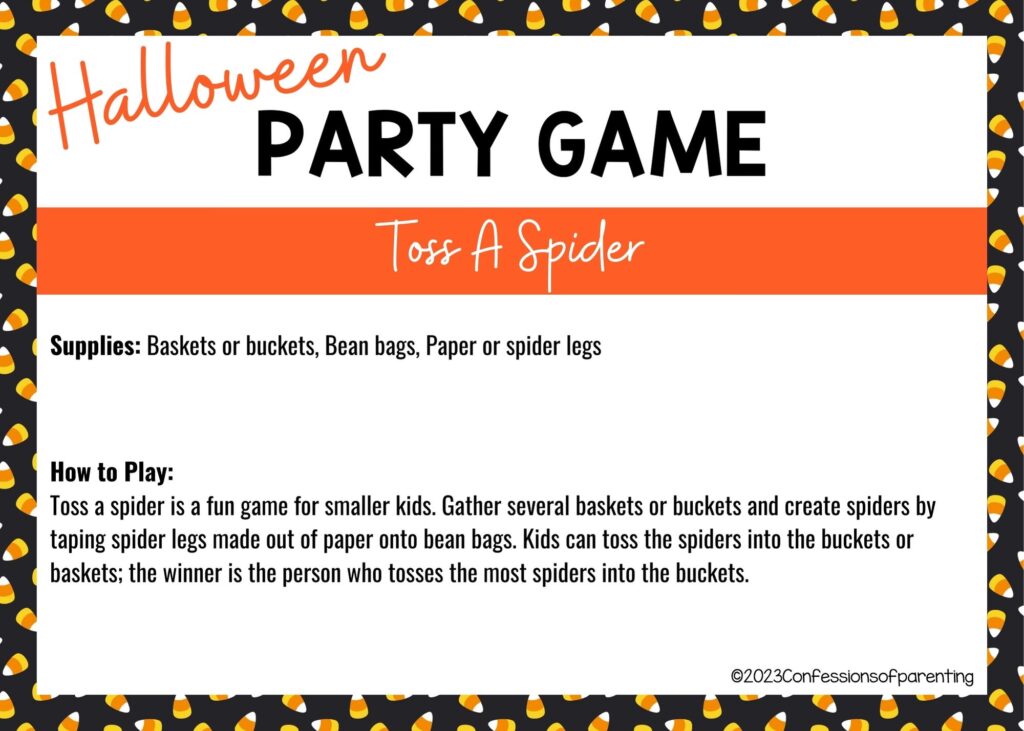 Toss A Spider
What You Will Need
Baskets or buckets
Bean bags
Paper or spider legs
Toss a spider is a fun game for smaller kids. Gather several baskets or buckets and create spiders by taping spider legs made out of paper onto bean bags. Kids can toss the spiders into the buckets or baskets; the winner is the person who tosses the most spiders into the buckets.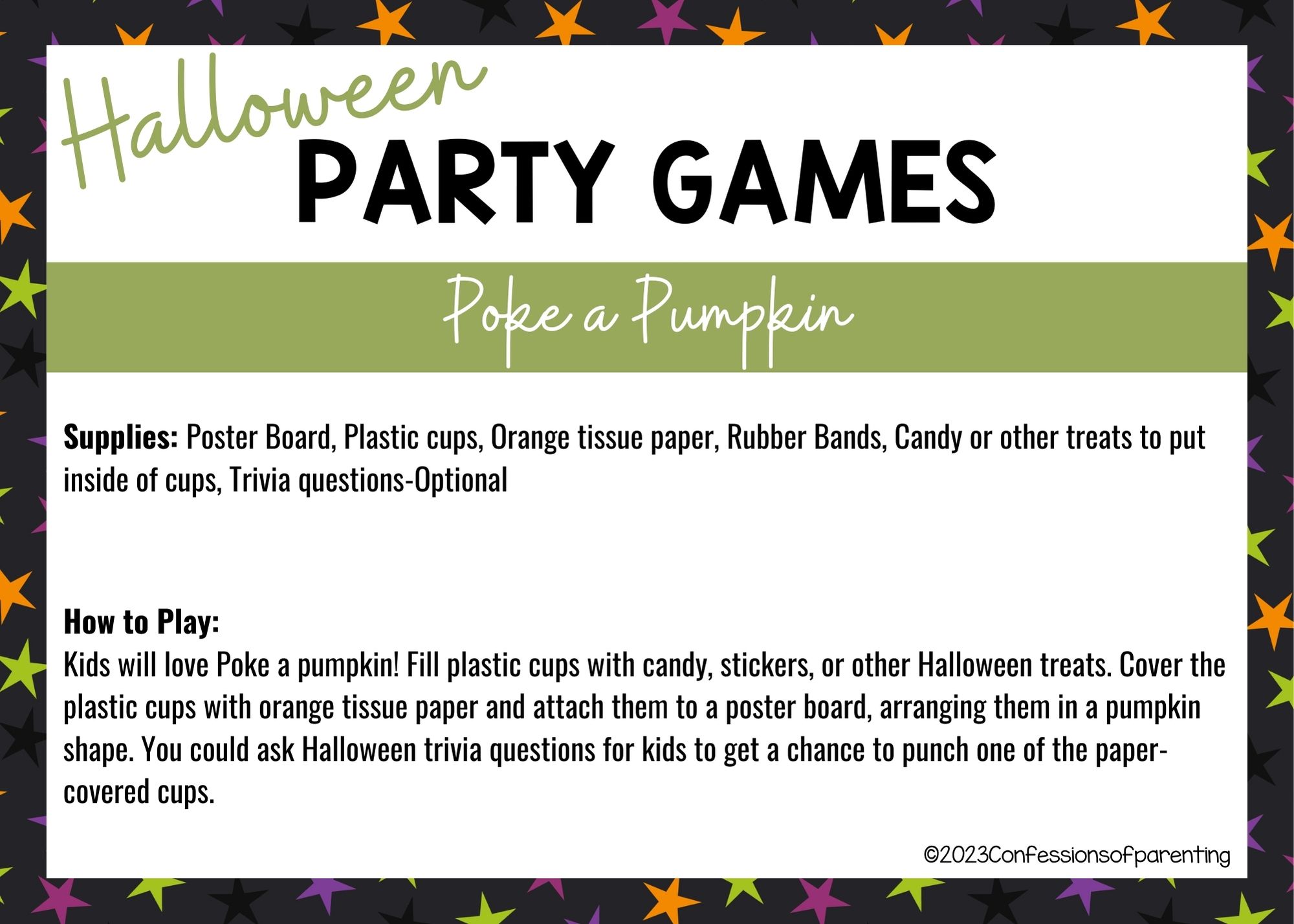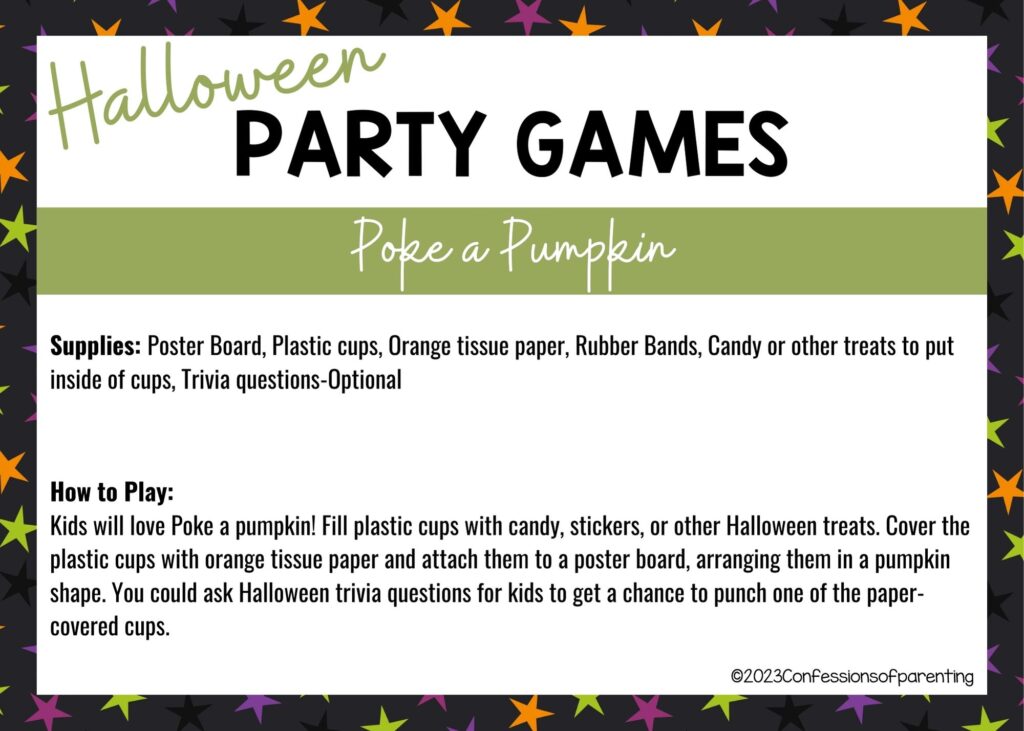 Poke a Pumpkin
What You Will Need
Poster Board
Plastic cups
Orange tissue paper
Rubber Bands
Candy or other treats to put inside of cups
Trivia questions-Optional
Kids will love Poke a pumpkin! Fill plastic cups with candy, stickers, or other Halloween treats. Cover the plastic cups with orange tissue paper and attach them to a poster board, arranging them in a pumpkin shape. You could ask Halloween trivia questions for kids to get a chance to punch one of the paper-covered cups.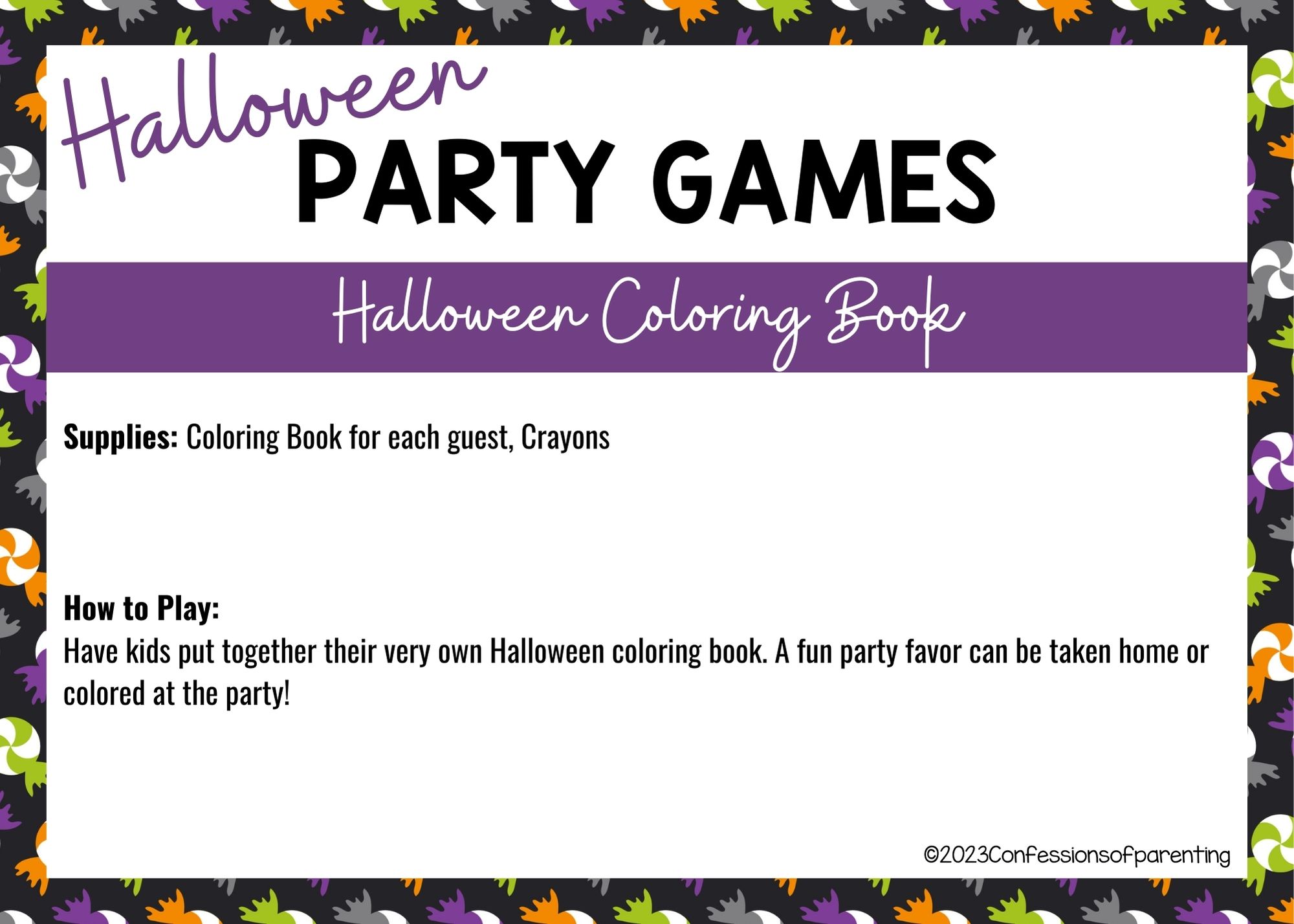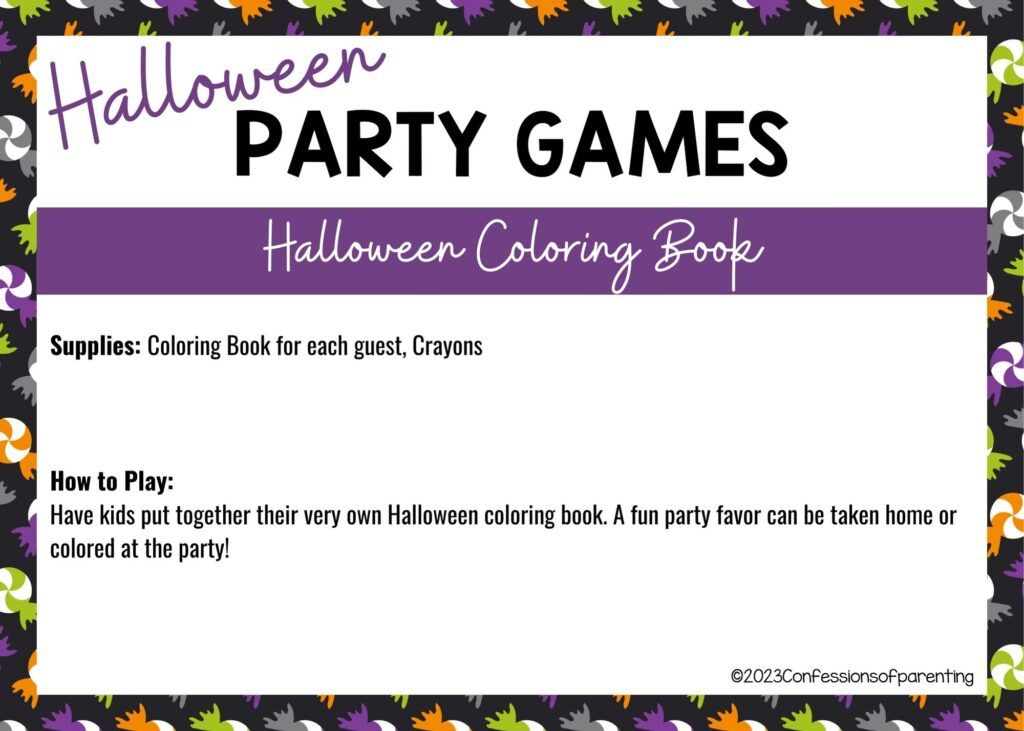 Halloween Coloring Book
What You Will Need
Have kids put together their very own Halloween coloring book. A fun party favor can be taken home or colored at the party!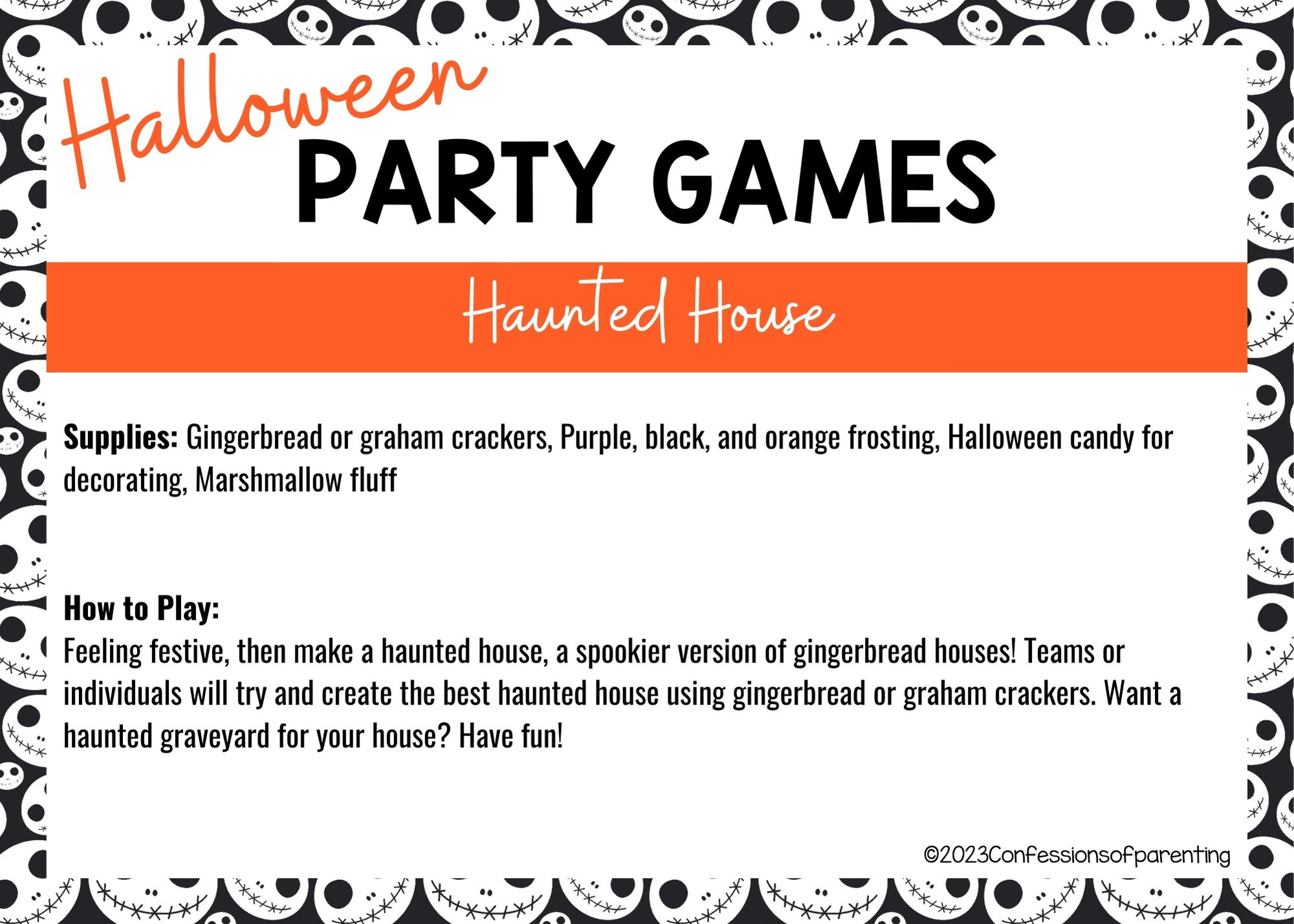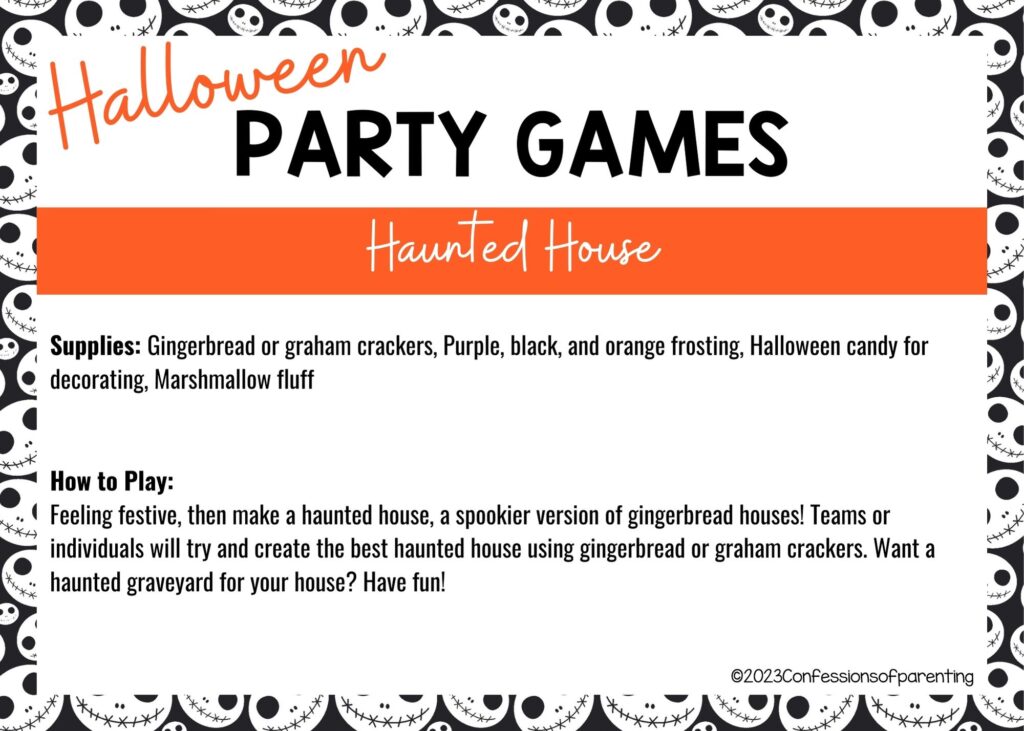 Haunted House
What You Will Need
Gingerbread or graham crackers
Purple, black, and orange frosting
Halloween candy for decorating
Marshmallow fluff
Feeling festive, then make a haunted house, a spookier version of gingerbread houses! Teams or individuals will try and create the best haunted house using gingerbread or graham crackers. Want a haunted graveyard for your house? Have fun!
Do you have even more fun Halloween party games and ideas? Share them in the comments so others can have a spooky good time with their friends.