Can you believe August is already here? We thought it would be fun to start sharing monthly writing prompts to help teachers and parents get kids writing more! These August writing prompts are to help get kids thinking creatively and writing more.
If you are looking for other great journal prompts for kids, here are some awesome ones!
Benefits of Writing Prompts for kids
There are so many benefits to getting kids to write. Did you know that most kids love to write, but they struggle with what to write about?
Giving kids daily writing prompts help get their brains thinking about one subject so they can just start writing. Therefore monthly prompts help them get to write about a whole bunch of different topics throughout the year.
Here are some other benefits of writing.
Helps with communication.
Strengthens memory skills.
Develops better penmanship
Strengthens fine motor skills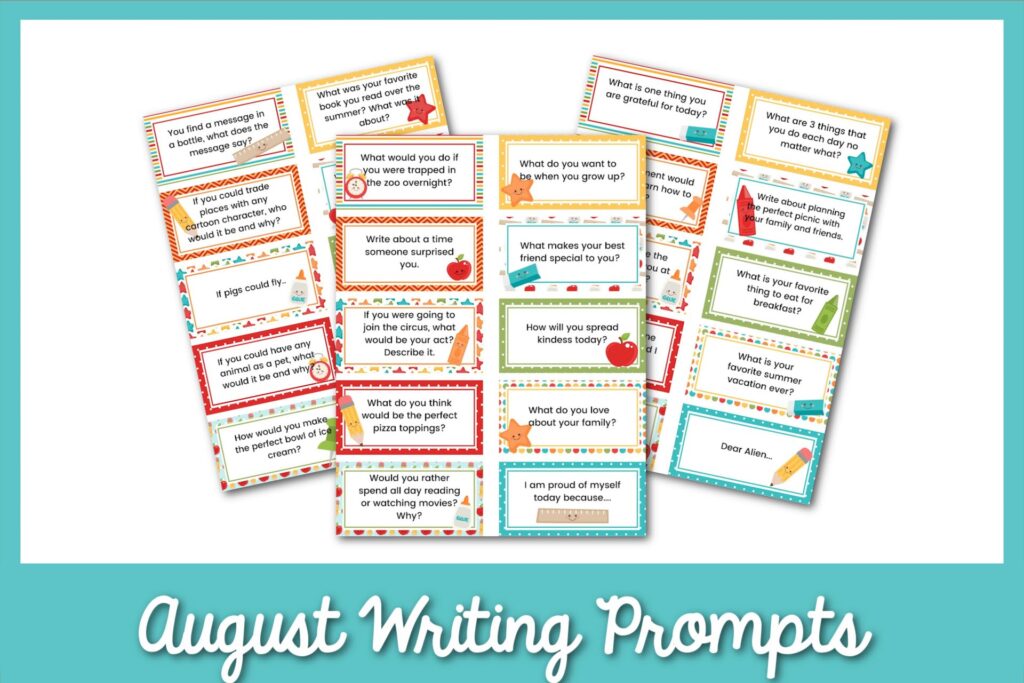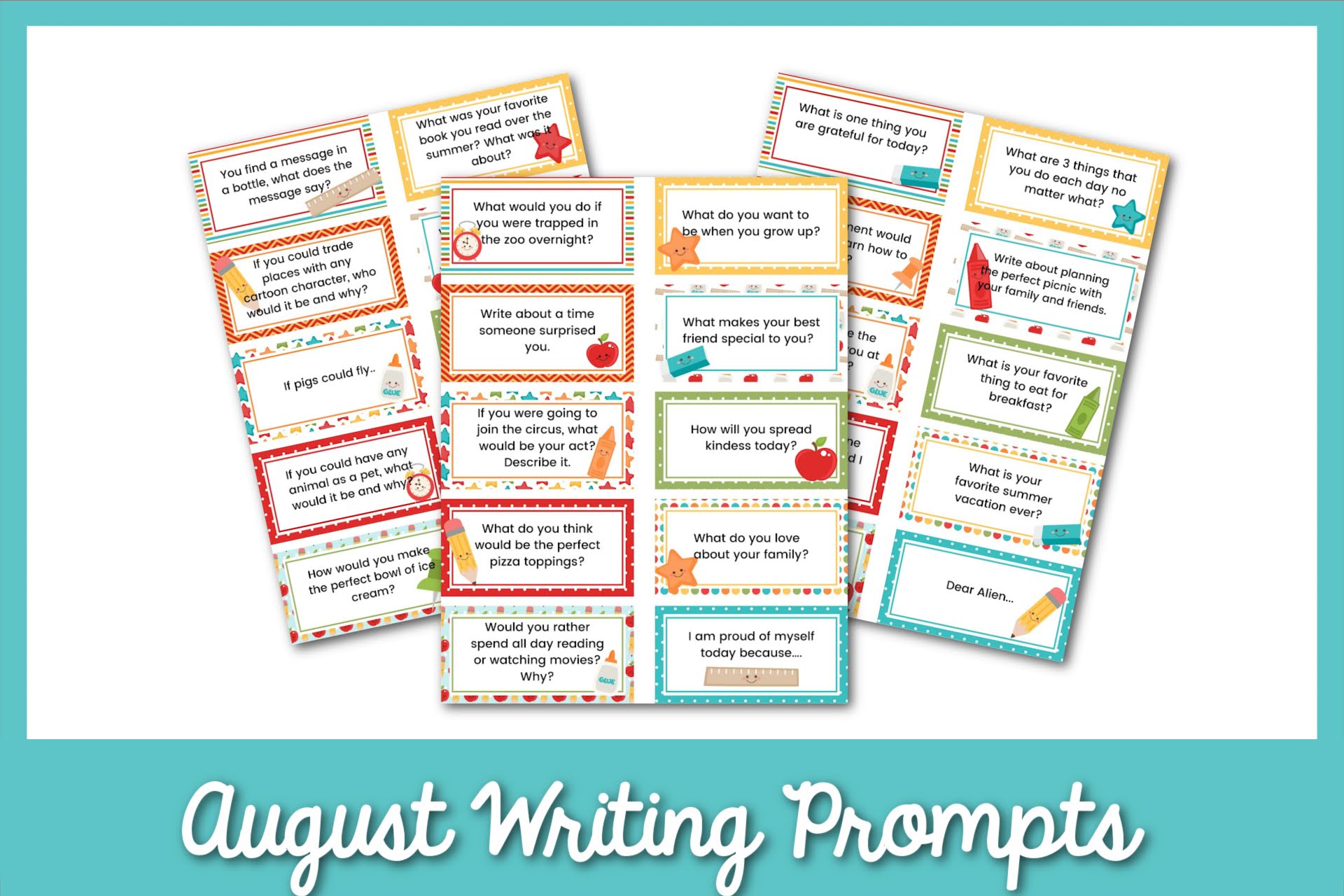 Supplies Needed for August Writing Prompts
The good thing about writing is that you can do it anywhere. If your kids love typing let them use these August writing prompts in Google Docs or in another word program. If you want them to actually write then I love grabbing these supplies so all there prompts stay in the same place.
To make it easy for you, you can download these August Writing prompts so you can print them, cut them, and laminate them. Or you can just refer back to this list each day. It is really up to you.
For Older Kids:
For Younger Kids:
30 August Writing Prompts for Kids
What was your favorite book you read over the summer and what was it about?
If you could trade places with any cartoon character, who would it be and why?
What was your favorite memory from this summer and why?
If you could have any animal as a pet, what would it be and why that animal?
What is your favorite back to school memory?
You are able to take a trip to space which planet would you visit?
How would you make the perfect bowl of ice cream?
Write a new campfire song.
You find a message in a bottle, what does that message say?
What would you do trapped in the zoo overnight?
What makes your best friend special to you?
How will you spread kindness today?
What do you want to be when you grow up?
Would you rather spend all day reading or watching movies? Why?
I am proud of myself today because….
Write about a time someone surprised you.
What are 3 things that you do each day no matter what?
If you were going to join the circus, what would be your act? Describe it.
If pigs could fly…
What is one thing you are grateful for today?
What instrument would you like to learn how to play?
What do you think would be the perfect pizza toppings?
What would be the perfect day for you at the state fair?
Write about planning the perfect picnic with your family and friends.
Dear alien…
If I could change one thing about the world I would…
What is your favorite thing to eat for breakfast?
What is your favorite summer vacation ever?
Write about a fun time you had visiting family.

Check out these other Writing Prompts for Kids
Check out these fun games for kids!