Modest swimsuits for tweens can be like trying to find a tractor in the city. They're there, but they're rare. To help you out, I've made a list of the best modest bathing suits for tweens! All of the best options will be brought straight to you.
Tween Swimsuits
Finding tween swimsuits can be difficult, especially finding modest swimsuits for tweens can be hard, frustrating, and so exhausting. There are a ton of options out there, but they're often expensive, and not very modest. It can definitely be overwhelming!
To help make your life (and my life) easier, I've put together a list of the best and cutest modest bathing suits for tweens. Enjoy!
The Best Modest Swimsuits for Tweens
We are a participant in the Amazon Services LLC Associates Program. As an Amazon Associate, I earn from qualifying purchases.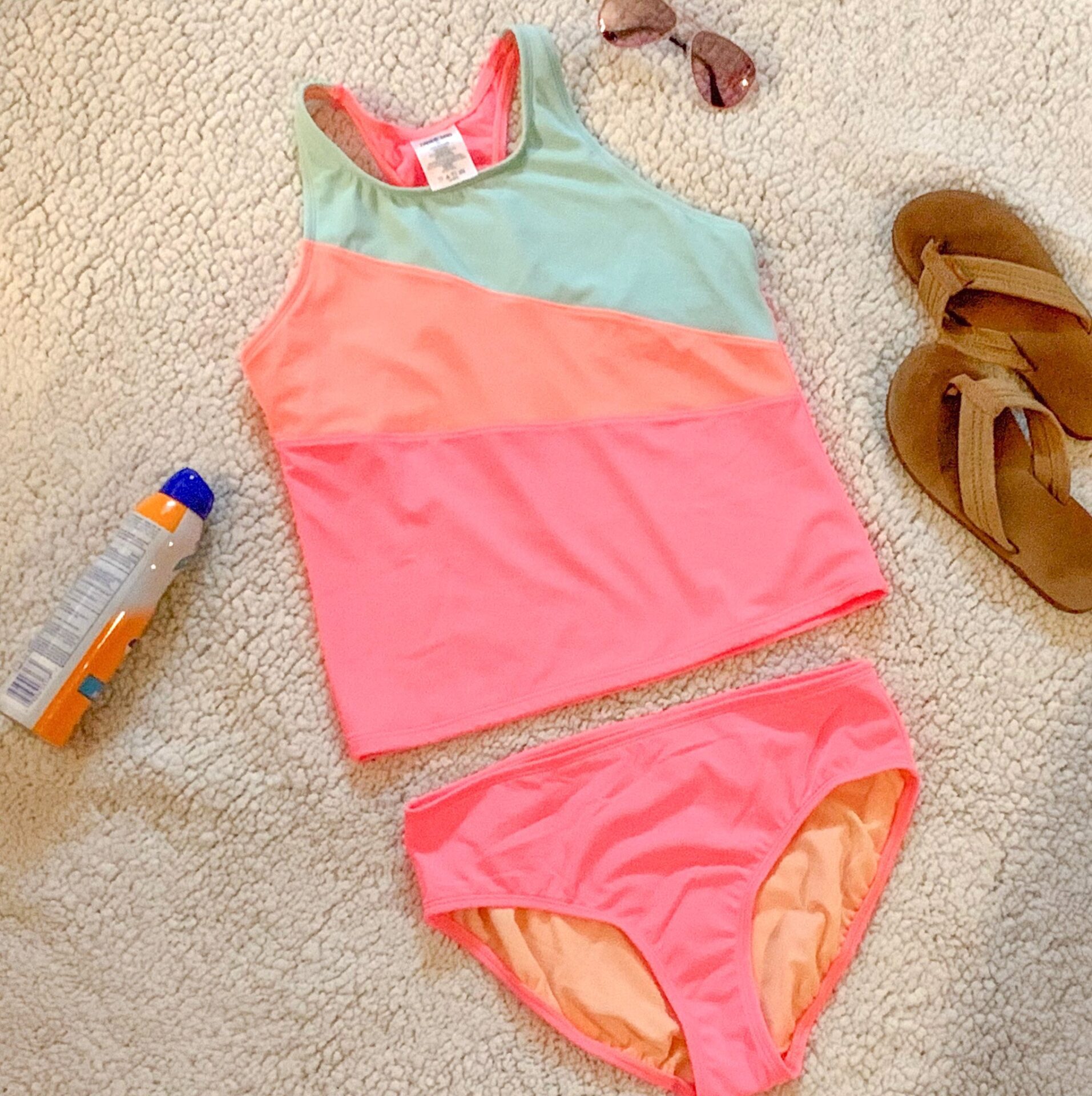 Baja Bliss One Piece
Billabong is a great place to look for modest swimsuits for tweens. I love the Baja Bliss One-Piece swimsuit. It's a classic one-piece look, with darling stripes and full coverage. This is a pricier, but adorable option for modest bathing suits for tweens.
Nike Spiderback One Piece

Looking for a Colorful. Sporty but yet Stylish one piece? This suit is designed with the young athlete in mind, Nike's Spectrum Spiderback one-piece swim suit keeps will keep your teen comfy and will not restrict her movement in the pool.
Boho Babe One Piece
If your girl loves patterns and designs, then the Boho Babe One Piece is a great option for her! I love the cute, but non-overwhelming design of this bathing suit. It has a simple tie in the front, making for even more coverage if you need it.
Rad Wave One Piece
I am a huge fan of cute stripes! The Rad Wave One Piece from Billabong takes cute stripes to the next level in this modest swimsuit for tweens. There is a small v-neck in the front and a few crossing straps in the back.
Land's End Girls Colorblock Tankini Top


The ability to mix match bottoms and tops is a huge plus when it comes to swimwear. I promise you will love it as much as I do with Land's End Colorblock Tankini Top and Land's end bikini bottoms mix match options they have!
This Tankini razor back top is perfect for tweens who are looking to stay covered and protected from the sun. With the built in shelf-bra and lining your tween will have peace of mind when it comes to swimming this summer.
Beach Bliss One Piece
Floral prints on swimsuits have been really popular lately! The cute floral print is just one reason to love the Beach Bliss One Piece from Billabong. This modest swimsuit has a halter top look in the front and a cute macrame detail in the front center.
Girls' Ray of Sun One Piece
I love the bright design of the Girls' Ray of Sun One Piece. This ranks high for modest bathing suits for tweens because the back looks similar to a bikini, but the front offers all the coverage of a one-piece. The straps are wider than spaghetti-straps, which means they stay on in all situations and won't slip off the shoulder.
SO® Crochet Tankini and Bottoms Set

This fun colored and 3 tiered design SO Crochet Takini and Bottom set will have your tween feeling in style while out with her friends! With two color options I am loving this modest tween suit from Kohl's.
Juniors' ZX Sport X Stream One-Piece Swimsuit

This modest Juniors' ZX Sport X Stream One-Piece Swimsuit will bring some fashionable flair to your tweens swimsuit collection. An added bonus it offers UPF 30+ sun protection.
Girls' Wild Side Bodysuit Rashguard
Depending on what you'll be doing, bodysuits are an excellent option! I love the Girls' Wild Side Bodysuit Rashguard. This bodysuit helps minimize sunburn, maintains modesty, and prevents rash! This adorable floral-print bathing suit would be perfect for the beach or a really sunny swimming pool.
Hibiscus floral printed tankini

This Vineyard Vines Hibiscus Floral print tankini is a perfect option for any day at the beach or pool. The back is super stylish with the razor back straps. Your tween will love the softness of the fabric and the print is beautiful.
Athleta Girl Sunny Flora Tankini

When shopping for tweens swimwear I love Athleta's line of swimwear because of the ability to pick different bottoms. Your tween may love the shorts or the bikini bottom. Let them decide what they feel the best in and they can't go wrong with this beautiful flower print Athleta Sunny Flora Tankini.
ZeroXposur Fun Geo Pattern Tankini

The ZeroXposur Fun Geo Pattern Tankini is top-notch when it comes to modest bathing suits for tweens! It comes with a nice halter top, bottoms, and boyshorts. I think these are really great because a lot of girls don't feel confident enough to wear just bikini bottoms at first. Having the option to wear shorts is a great feeling.
Follow the Sunshine Tankini

This is another swimsuit that allows your girl to show her personality! The Follow the Sunshine Tankini is a relatively simple design. The top is all black with thick shoulder straps and a small tie in the front. The bottoms have verticle rainbow stripes. The personality of this suit is found in the front logo in shiny foil that proudly proclaims, "Follow the Sunshine"
Tame the Sun Long Sleeve Swimsuit
This tween swimsuit is perfect to protect more skin from the sun while keeping your style still intact! It has an adorable design and is perfect for simply going swimming in the back yard or going to the beach
Kanu Surf Girls' Kelly One Piece Swimsuit
If you're looking for a swimsuit that covers well with tons of cute options for different prints, then this is the suit for you! This is a great option for a modest tween swimsuit because you can have several of the same style with completely different designs.
Lands' End Girls Slim Racerback One Piece Swimsuit
You can never go wrong with stripes! They are classic and this racerback bathing suit is neutral with black and white and great coverage.
BELLOO Girls Two Pieces Swimsuit Tankini Set 2 Piece Bathing Suits
This cute 2 piece swimsuit tankini covers everything and has a super cute print! It's lined and has cute thick straps that keep everything in place. The bottoms are very modest and have cute little stylish ties to add a little spunk!
KALAWALK Girls Lemon Double Ruffle One Shoulder Adjustable Swimwear Fashionable One Piece Bathing Suit
I think this may be my most favorite of all the options! The modest tween swimsuit is adjustable at the legs and also has an adorable ruffle. It gives off a sophisticated vibe with an adorable pattern.
Which modest bathing suits for tweens are you buying this year? Share your best bathing suit in the comments!
Be sure to share your modest swimsuits for tweens in your stories on
Instagram
and tag us @confessions_of_parenting! We love seeing what you are up to! While you are at it, be sure to follow us to see what else we are working on to make your life easier!
Check out these Modest Swimsuit Posts:
Don't forget to save all of these cute modest bathing suits for tweens on Pinterest so you can find them again!