Have you heard of using positive affirmations to lift your mood and improve your day? Positive affirmations if used can change your mood and outlook on life!
How to Take Back Your Happiness with Positive Affirmations
Have you ever met someone who has gone through a stressful event and somehow is still confident and happy as if they are completely unphased? I always look at these people with such respect and admiration but also so much disbelief at their strength.
Sometimes it feels like when something negative happens in my life I have no choice but to feel anxious, upset, or even angry with the situation.
For a long time, I thought about how amazing it would be if somehow I could change that and not feel so defenseless against the stresses of motherhood, marriage struggles, and life in general.
Well, guess what? I can! And so can you!
If you want to make a simple change in your days that will help you take back control of your thoughts, mood, and emotions, start with positive affirmations!
What are Positive Affirmations?
If you are new to positive affirmations, I've got everything you need right here!
Positive affirmations are statements, phrases, words, or thoughts that are meant to encourage you and allow you to take back control of how you feel. You might think of them as personal mantras!
Something that sets positive affirmations apart from other thoughts and words is how intentional they are meant to be.
These phrases aren't just passing thoughts. They are intentional opportunities to remind yourself of your strength and encourage you to be your best self.
Positive affirmations should be repeated as much as you need them to bring joy into your life! The best thing that you can do is to make them a part of your morning routine so that you start off every day in a more positive and confident way.
Many people say their positive affirmations while looking in a mirror. If you don't feel comfortable doing that at first, you can say them in your head. As long as you are being intentional and taking the time to really let the words sink in, they'll be effective!
Although, I will say that there is a lot of power in hearing out loud these impactful words come from your mouth.
And positive affirmations don't have to be used solely for your own gain. You can also use them to encourage and uplift everyone around you!
There are positive affirmations that are helpful for men, ones that may help your children and even your toddlers, and many affirmations for other friends and loved ones.
What are Words of Affirmation
You've probably heard about "words of affirmation" when talking about love languages. This is a really similar concept.
Words of affirmation are just what they sound like: words that affirm your worth and encourage you.
Oftentimes, words of affirmation are positive affirmations that are said to loved ones to make them feel more in control, more loved, more needed, and more recognized. They often confirm how important you are to the person who is saying them.
You may already know whether or not these words of affirmation help to strengthen you and help feel the love from others. But honestly, everyone can benefit from hearing words of affirmation!
As human beings, we need to feel needed and seen and words of affirmation are one of the best ways for that to happen! It just feels good hearing someone you love say something that affirms that love!
Benefits of Positive Affirmations
You may be wondering why it's so important to take back that control in your life through positive affirmations.
Positive affirmations help you make the realization that it is possible (and pretty easy) to not feel so negatively about things happening in your life! Distress is not inevitable. You can choose to feel happy, peaceful, and joyful by using positive affirmations and taking back control of emotions.
Of course, it's important to remember that it's okay to feel a whole range of emotions.
The purpose of positive affirmations is not to ignore and overshadow the negative events in your life. The purpose of positive affirmations is to strengthen you so that you can cope more effectively with those events!
What could be better than an increased strength in your emotional well being?
Examples of Positive Affirmations
If you need some help getting started and want to see what positive affirmations may look like, here's a list of examples of positive affirmations!
I am strong.
I am thankful for all of the good things I have in my life.
I'm a good friend.
I'm doing my very best as a mother.
I can choose to be present in the moment.
If I fail, I can try again.
My goals are possible if I work hard.
I choose to be hopeful instead of fearful.
My opinion matters.
How to Create Positive Affirmations for You
Keep in mind that positive affirmations aren't universal. An affirmation that someone else uses may work for you, but more often you'll want to personalize your own affirmations that cater to your needs.
The best way to create positive affirmations is to think about what's going on in your life!
What are the things in your life that you are working towards? What are you happy about or proud of? What are the things that you're struggling with or you want to improve?
Take those things and try to come up with a statement that helps propel you forward and make you feel more in control of the situation.
Whatever it is, let it be a paradigm shift for you. I hope that positive affirmations can help you take back your mind and emotions so that you can feel more confident as a wife, mother, friend, and person.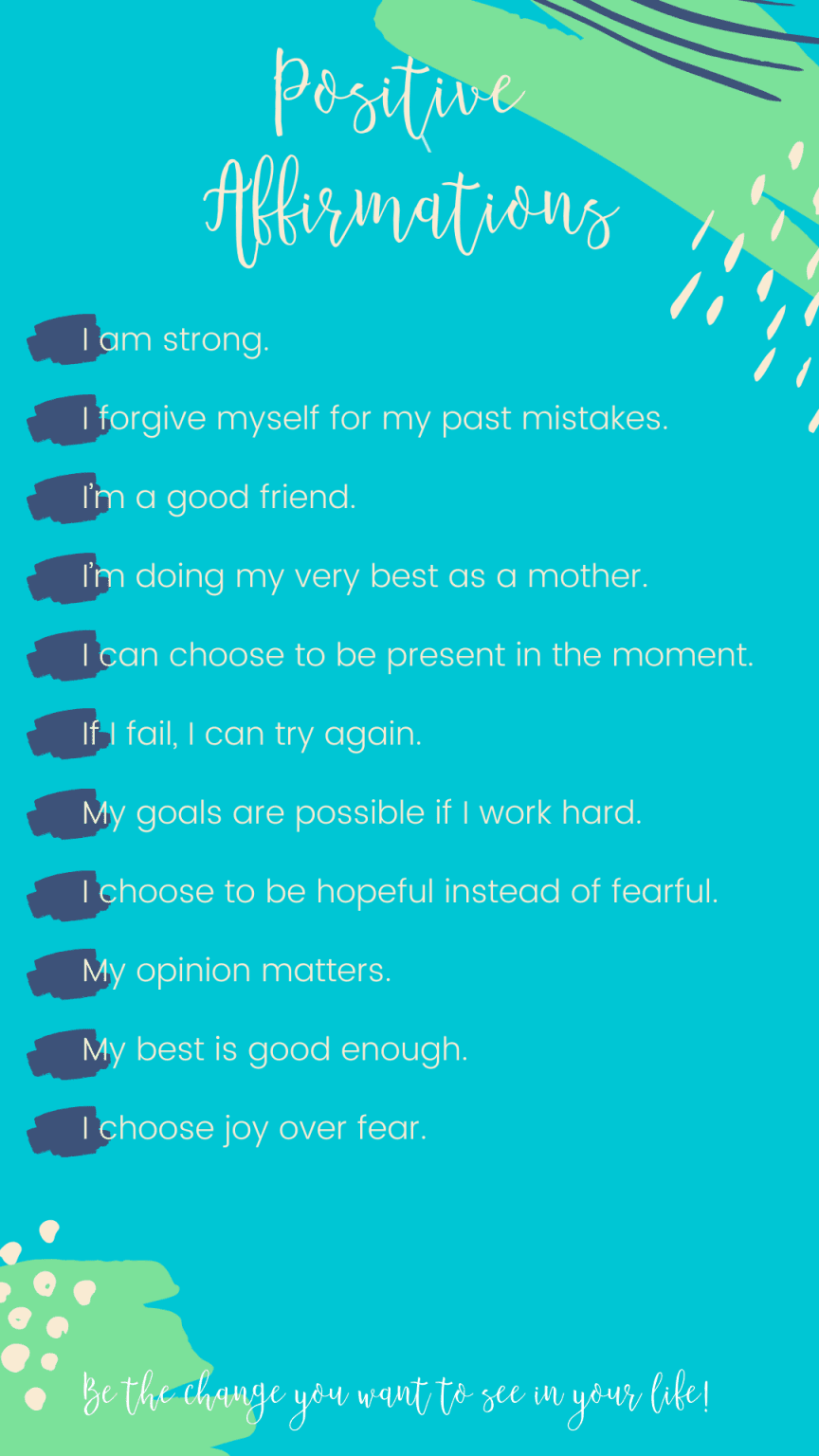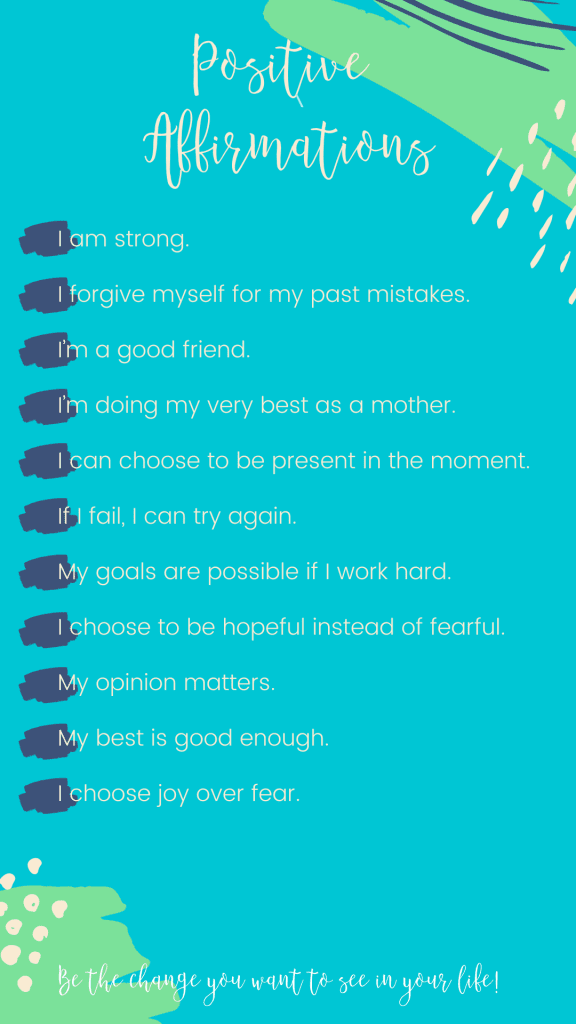 What positive affirmations are you going to try? Share in the comments!
Check these other positive affirmation posts!
We hope that you enjoy this post about positive affirmations! Be sure to share your experience in your stories on Instagram and tag us @confessions_of_parenting! We love seeing what you are up to!
Don't forget to save this Positive Affirmation Post on Pinterest so you can find it easily when you are looking for ways to improve your life!