Oreo Rice Krispies are the perfect lunch box snack or afterschool treat to connect with your kids over a delicious treat! Try these gooey oreo rice Krispie treats today!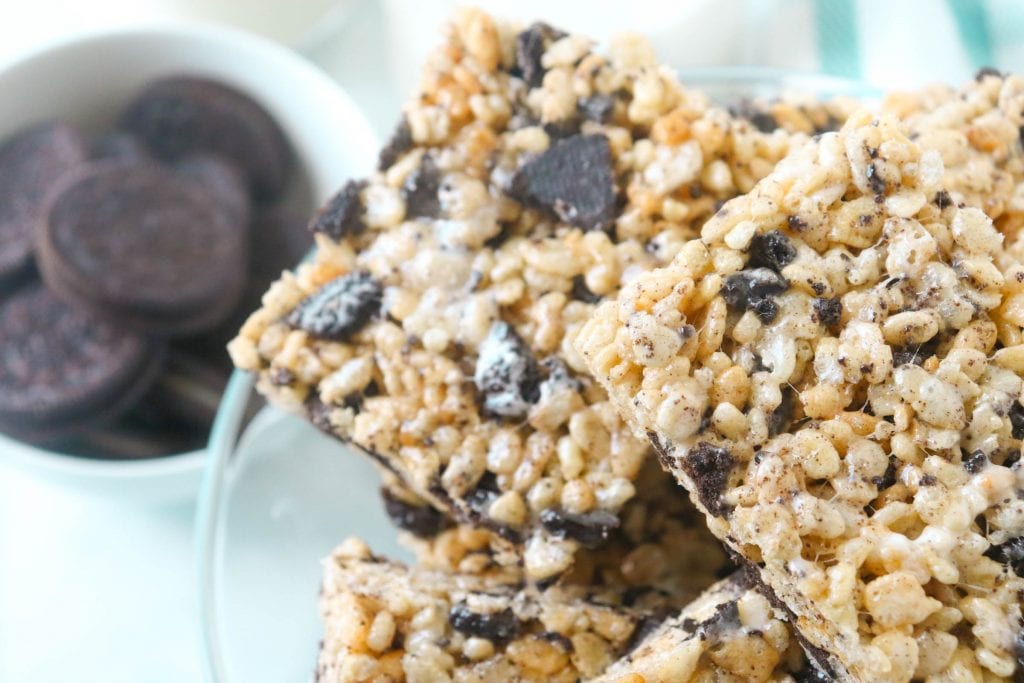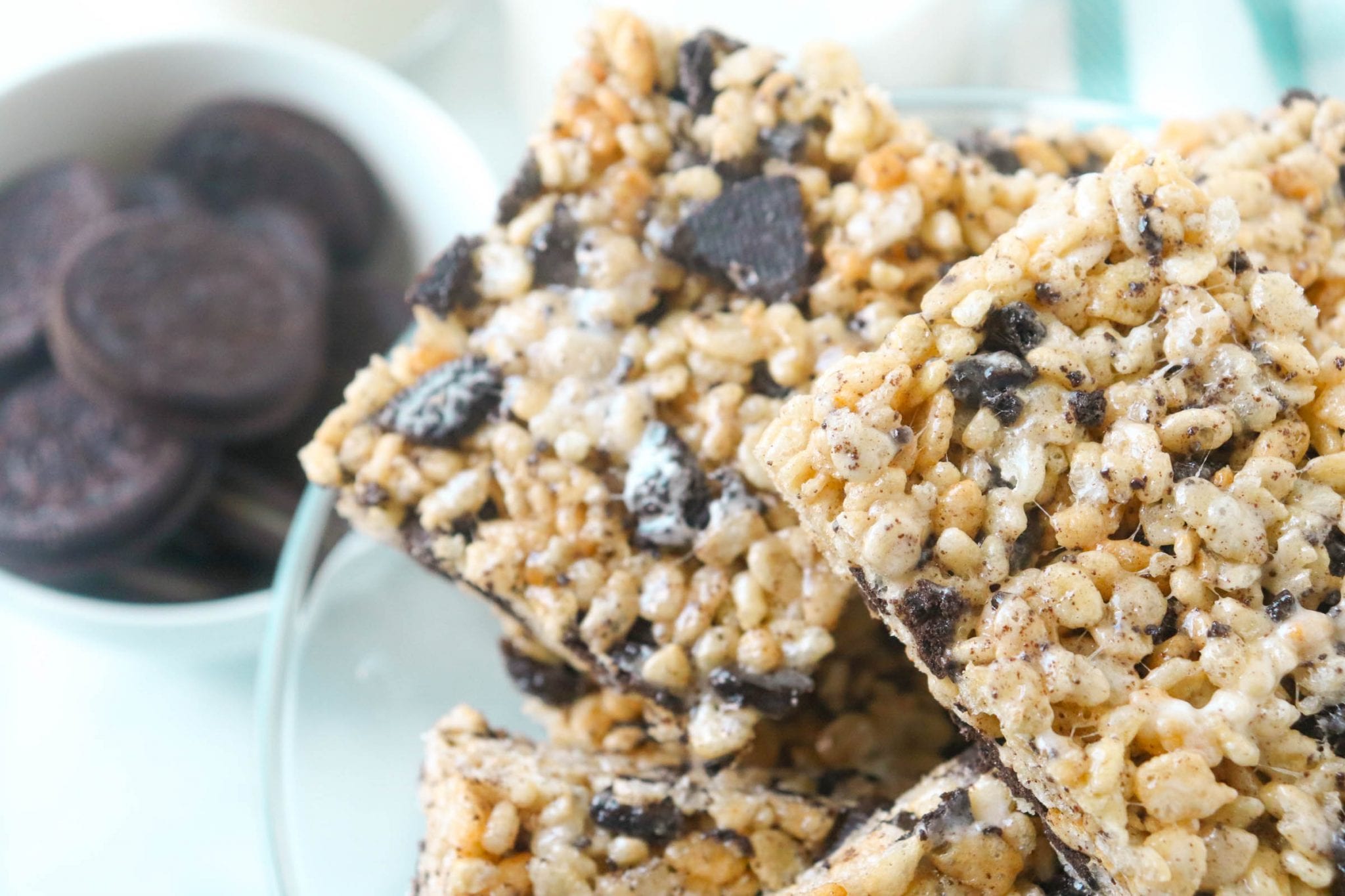 The Best Gooey Oreo Rice Krispies
In our house, we love a good after school snack. There is something about the kid's coming home from school and sitting at the counter and sharing a few moments of their day with me.
Rice Krispie treats are so easy to make and make the perfect quick and easy snack. So today we are sharing our gooey oreo rice Krispies with you!

How to Make Oreo Rice Krispie Treats
Yield: 12 Squares
Prep Time: 5 minutes
Cook Time: 10 minutes
Ingredients for Oreo Rice Krispies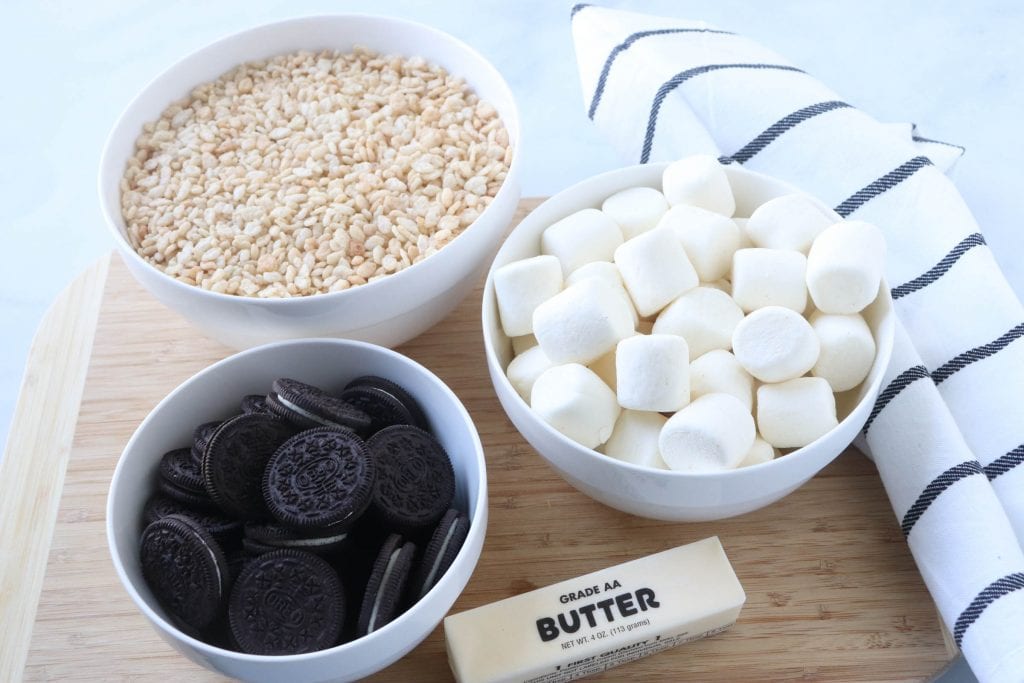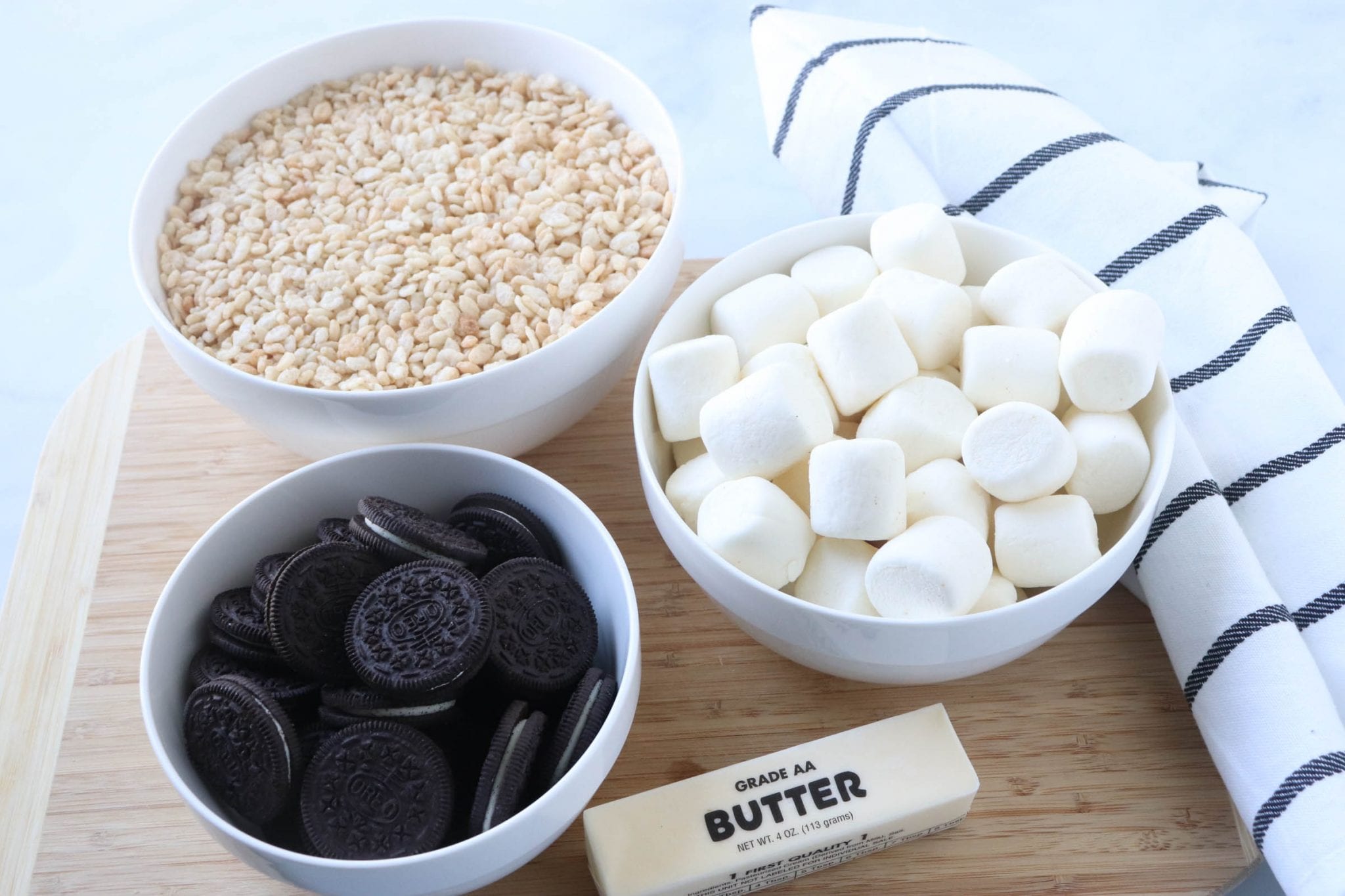 5 Tablespoons Butter
40 big marshmallows (a bag and a half)
6 cups Rice Krispies Cereal
20 Regular Oreos, crushed
Directions for Ooey-Gooey Oreo Rice Krispies
Before you begin, you will want to cut your Oreos into pieces. There is no need to make the pieces the same size, so just chop them up and set aside, even the oreo dust!
In a large pan, melt the butter over low heat.
After the butter is melted, then add marshmallows to the pan and stir slowly. You will want to keep the heat on low so it melts slowly. This is the secret to perfect rice Krispies! This makes the rice Krispies stay soft and delicious.
Once the marshmallows are melted, remove from heat and add cereal and crushed Oreos (including oreo dust!)
Stir until the oreo rice Krispie treats are combined well.
Next, press your gooey Oreo Rice Krispies into a greased 13x 9 pan. These oreo rice Krispie treats will be gooey and sticky. A great way to handle the stickiness of the rice Krispie treats is to butter your spatula or spray it with cooking spray to help you press down the Rice Krispie treats.

Tips and Tricks for Ooey-Gooey Oreo Rice Krispies
Be sure to melt your marshmallows on slow heat on the stove. This is the secret to the perfect rice Krispie treat. When you melt marshmallows on high or in the microwave your rice Krispie treats tend to be hard and dry out faster.
Be sure to use cooking spray on your pan so your rice Krispies don't stick, if you want to remove your rice Krispie treats easier, then you can line your pan with parchment paper or wax paper.
Can you use other flavor oreo cookies?
For this ooey-gooey Oreo Rice Krispie treats I used original Oreos, but don't limit yourself to only using these. Try other great oreo flavors that you love!
How do you cut Oreo rice Krispies into shapes?
It is easy to make rice Krispies shapes. You will want to follow the steps above, but then rather than cut it into equal squares, use a cookie cutter to cut the Rice Krispies. Be sure to spray the cookie cutter with cooking spray so that it easily cuts through the Rice Krispies.
What if I don't want extra gooey Rice Krispie treats?
If you don't want extra gooey rice Krispie treats you can cut back the number of marshmallows that you use to one bag of big marshmallows.
Can I use Mini Marshmallows for these Oreo Rice Krispies?
Yes, you can use mini marshmallows for these gooey oreo rice krispies. In fact, I have used them on several occasions, I usually just use whatever marshmallows I have at home. Be sure to use 1 ½ bags.

How did your Gooey Oreo Rice Krispies turn out? Share in the comments!
Are you looking for more great Dessert Ideas?
Be sure to share your Ooey-gooey Oreo Rice Krispies in your stories on Instagram and tag us @confessions_of_parenting! We love seeing what you are up to! While you are at it, be sure to follow us to see what else we are working on to make your life easier!
Don't forget to save these Oreo Rice Krispie Treats on Pinterest so you can find it easily!!