This Fall Bingo free printable is a great way to teach your kids the changing seasons & get excited about fall with this fall bingo free printable! Just download, print, and enjoy!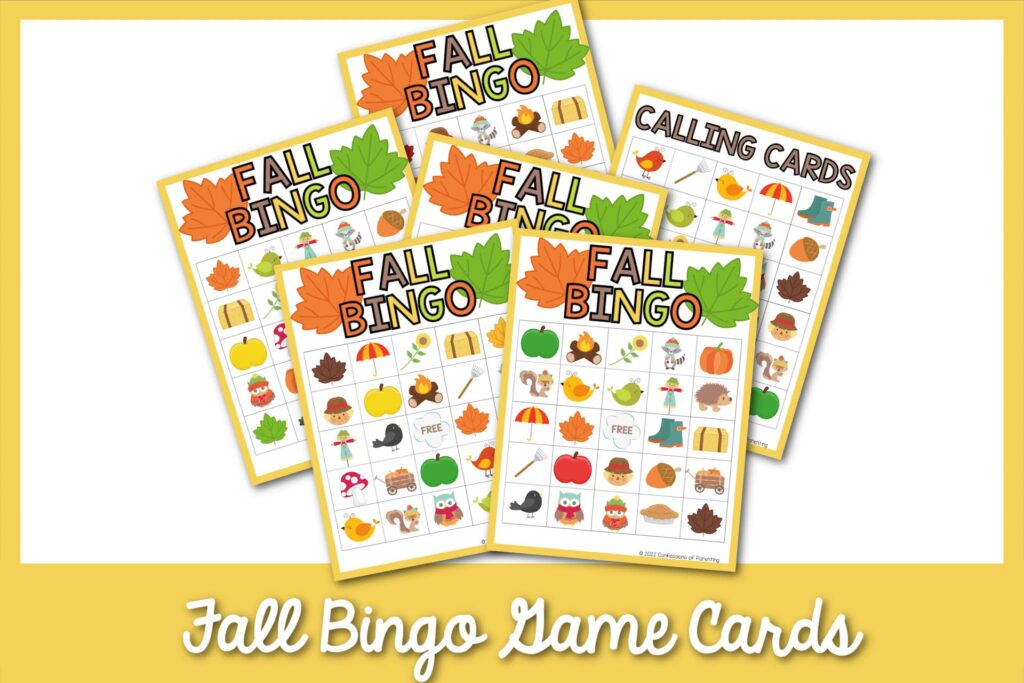 Fall Bingo Free Printable
After a long hot summer, most of us are ready for the changing seasons and welcome Fall with open arms! At least, that's how we feel down here in Texas! You and your kids will love this fun Fall Bingo free printable as you celebrate all the fun things that come with this season!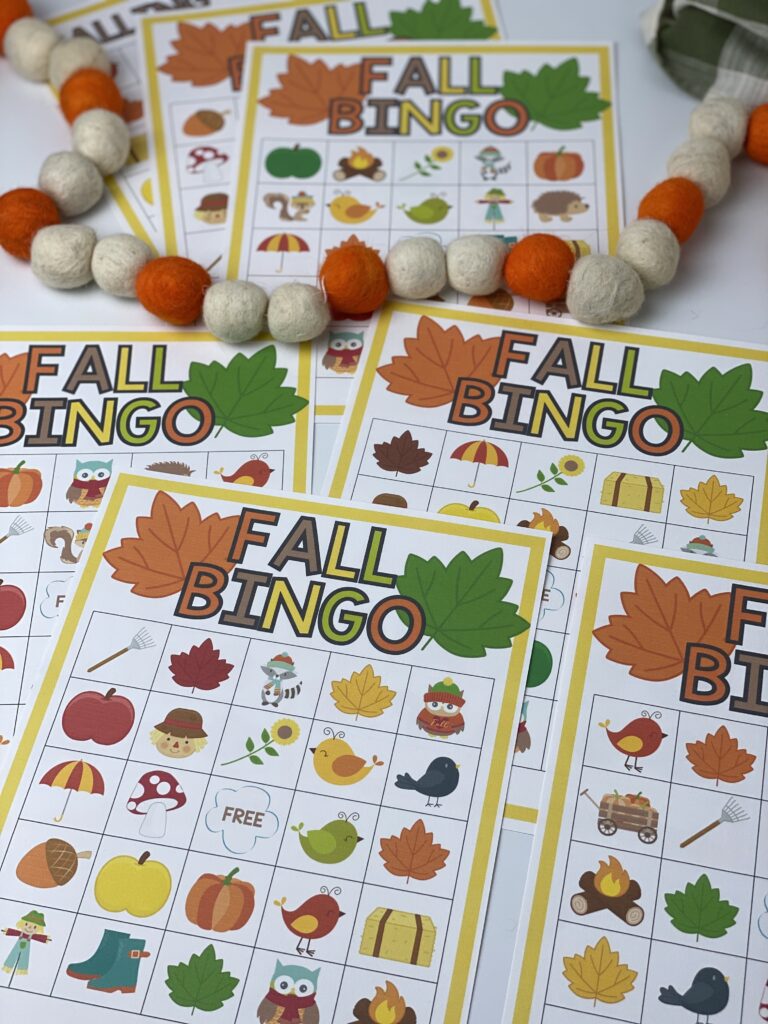 When I created this Fall Bingo free printable, I tried to include all the things that I love about Fall! It was so fun to reflect on this season, and it made me so excited to have fun with my family this year! If you're looking for something fun to do with your family this fall season, check out these 30 Fall Family Activities, Fall Riddles or have a Fall Scavenger Hunt.
I hope you enjoy this cute and creative Fall Bingo free printable as we add it to our growing list of bingo games like multiplication bingo, Halloween Bingo, Thanksgiving Bingo, and Winter Bingo! Check out all our other bingo games for kids!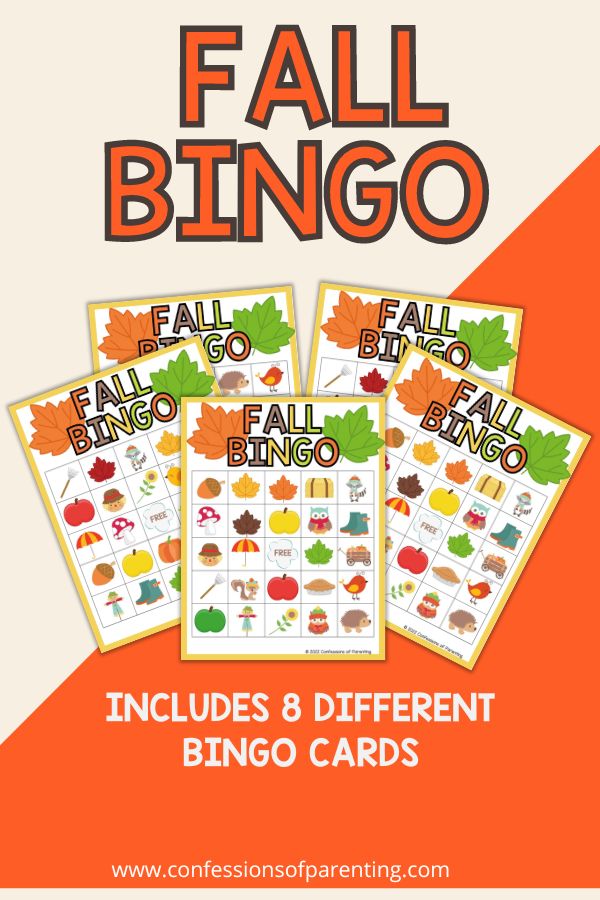 How to Play Fall Bingo
I love that Bingo games are perfect for all occasions, like our summer bingo or our ocean bingo! Whether you're a teacher, parent, babysitter, church worker, daycare worker, or just a fun aunt or uncle, you can use this game! Plus, you can easily adjust it to play with teenagers, adults, or 3-year-olds! It helps me with my big family to keep everyone happy and having fun!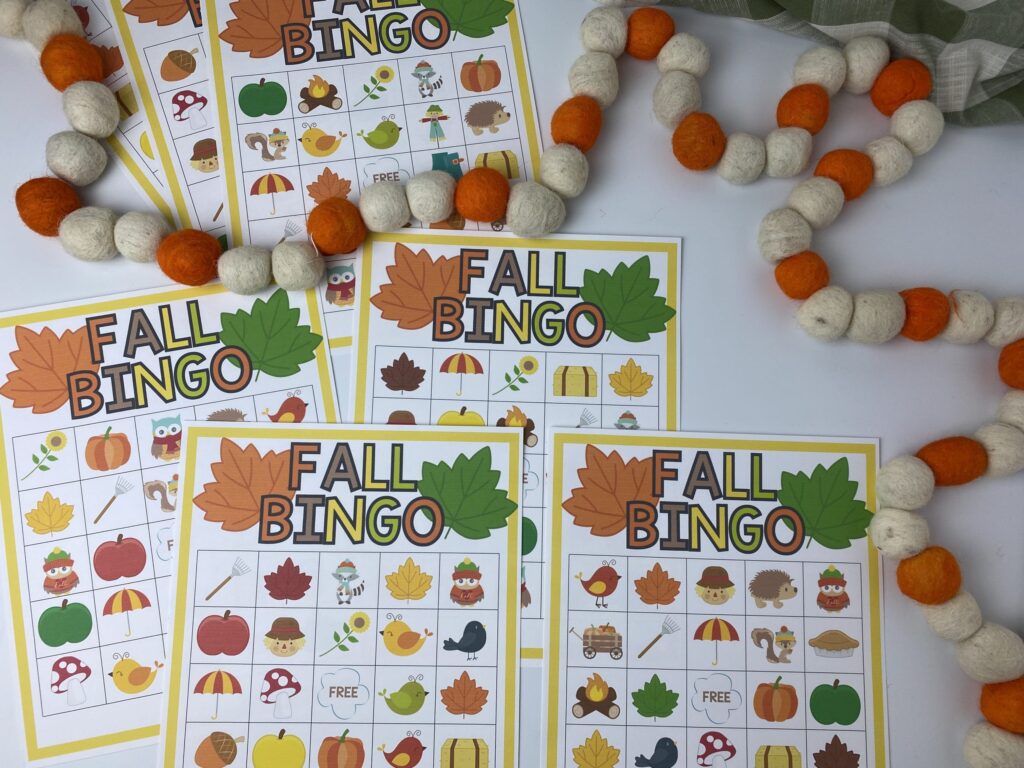 This Fall Bingo free printable game is super easy to play.

Start your game by giving each player a Fall Bingo card.

The last page of your free printable is titled "calling cards." These have all the pictures from the bingo sheets. You can cut out each calling card, shuffle them, and place them face-down.

If you want to make it more exciting, you can put the calling cards in a bag, basket, bowl, or hat! You can have the person in charge pull out one calling card at a time, or you can have a player choose a card from the hat/bowl!

After everyone has their Fall Bingo card, give them something to cover their squares with. You could use a variety of things. This is what makes Fall bingo fun! Try to use things that represent the fall season. How cute would it be to use these little

foam fall leaves

as markers? Or you could use things around the house, such as buttons or candies,

or you can even just use scraps of paper. For

more creative ideas, check out my tips and tricks section!

Be sure to put a marker on your "Free Space!"

Then, use the calling card pile to draw one card at a time. After a calling card is drawn, everyone must find where the corresponding picture is on their individual Fall bingo cards and cover it up with a marker.

Once you fill up a row of 5 horizontally, vertically, or diagonally, yell out, "BINGO!" The first person to yell bingo wins!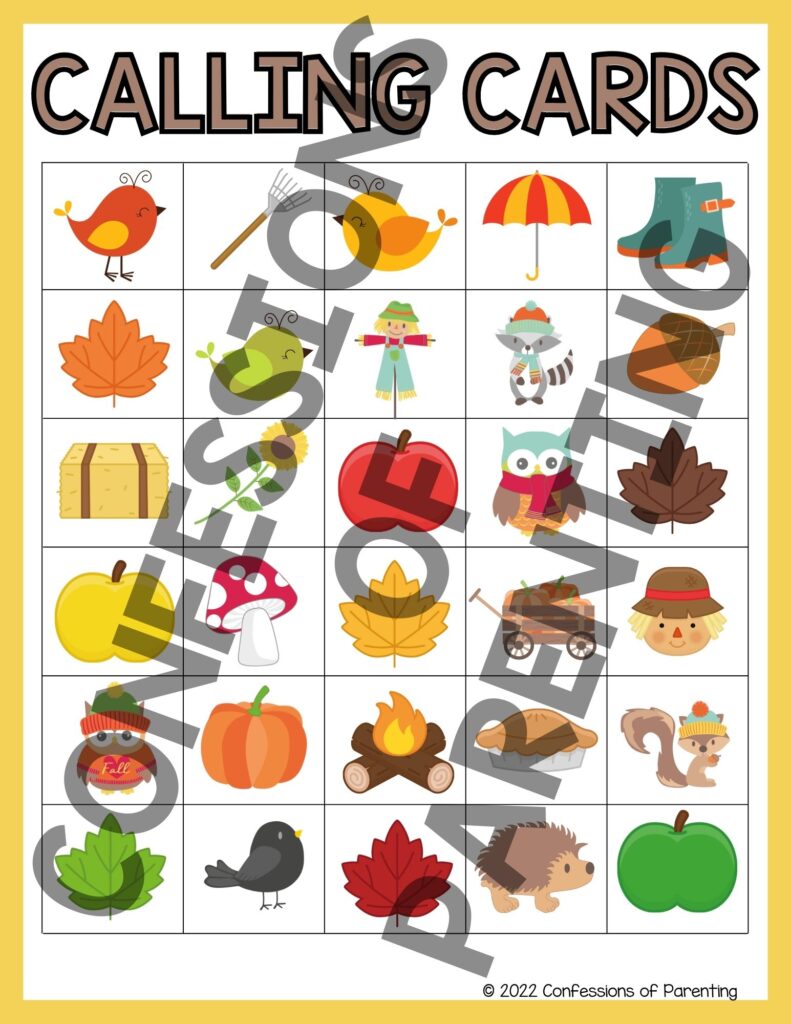 Tips and Tricks for Fall Bingo
Fall bingo is for everyone! But after years of playing bingo with friends and family, I've come up with some tips and tricks to make sure that this game is fun and interesting for any age, group, or event!
Laminate or Use Cardstock
If you are planning on using Fall bingo several times this season, I highly suggest you laminate it!
This is a great way to make sure your bingo stays fresh and clean the whole season and even for years to come. It looks more professional and it's a heck of a lot more durable.
We all know that spills are unavoidable, especially with young kids. Protect your Fall Bingo game and get it laminated.
If you don't have young kids or you just want to skip the extra hassle, you can also just use a nice cardstock paper to keep your Fall Bingo set nice!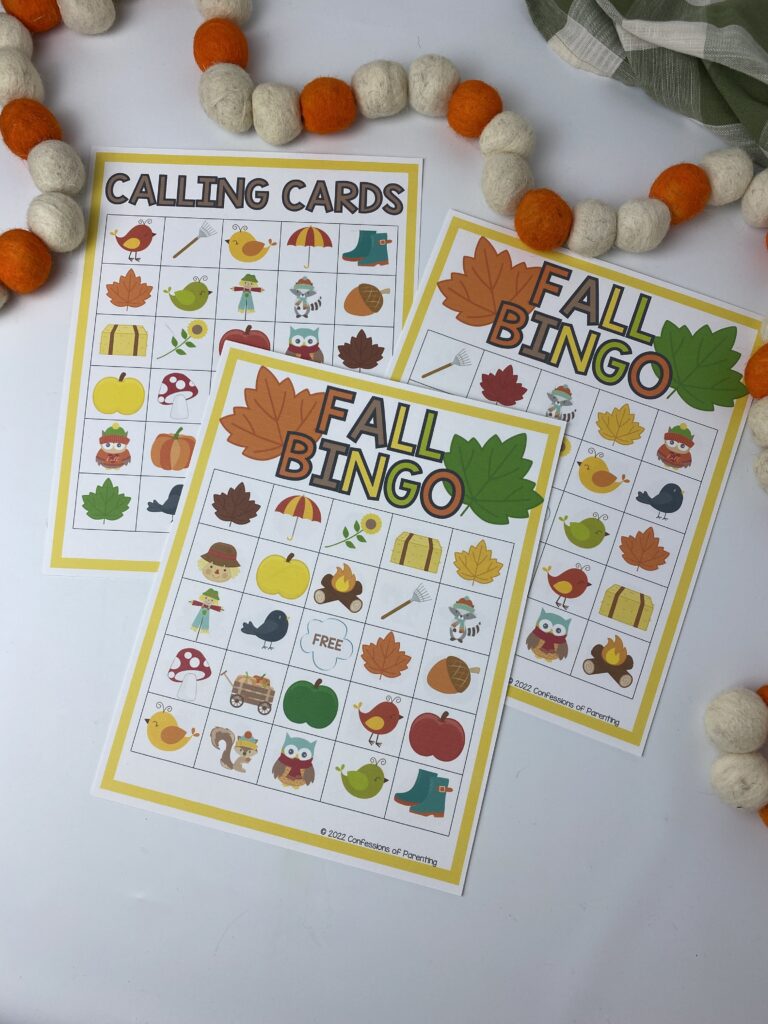 As I mentioned in the instructions section, placeholders are the things that make Fall Bingo super fun! You can go to any craft store (Hobby Lobby excuse maybe?!) and find a variety of things to use as your placeholders.
I like using this Acrylic fall Table Scatter! And yes, I know it's made for decorations, but it makes the game so much fun! Plus, you can continue to use these pieces as sensory toys for toddlers to teach them how to count or sort by color or shape. They're awesome!
Some other things you could use might include these fall foam shapes (careful, they're adhesive on the back!), orange buttons, these little jelly pumpkins, candy corn, spooky Hersey's Kisses, or Reese's Pieces. Don't be afraid to get creative here!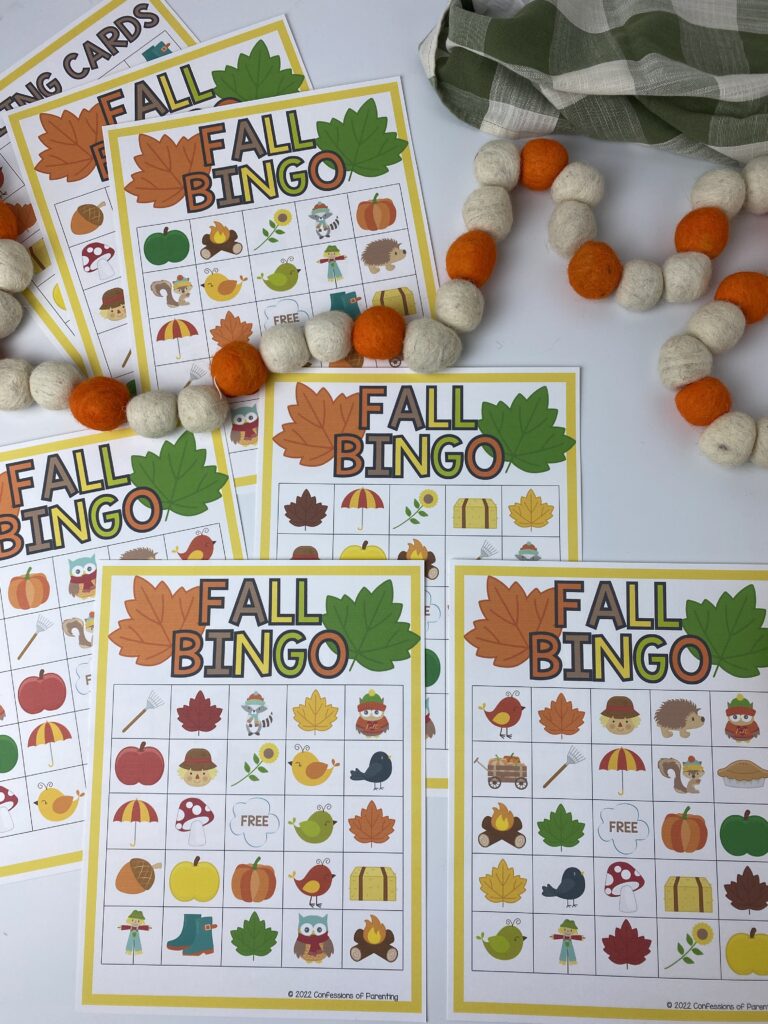 Use this time to create conversations about all the different fall things your players plan on doing. If you have younger kids, ask them about the pictures. Talk about their experiences with these pictures and how they feel about certain things. This will make the game so much more engaging and fun!
If you have younger kids you might want to consider playing this in teams. Partner the kids and adults together and have them play as a team against other partnerships. Or you can play boys vs. girls, summer/spring birthdays vs. winter/fall birthdays, etc.
There are a ton of different ways to spice this game up, and personally, playing on teams is one of my favorite ways to do just that.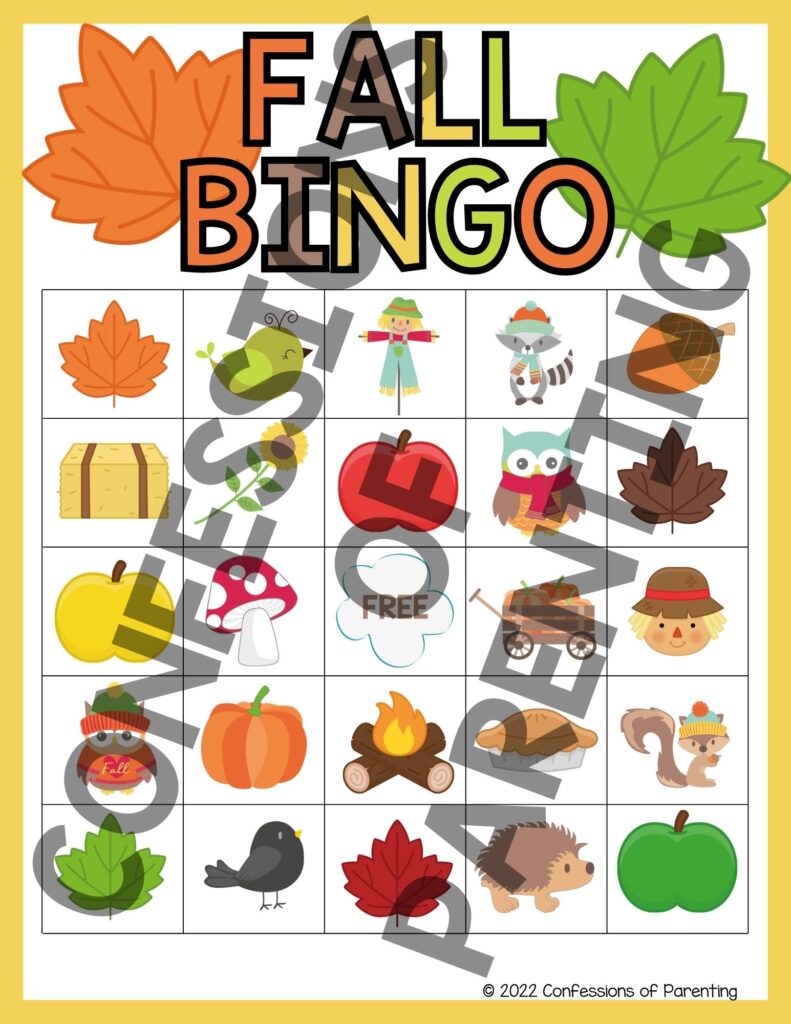 Give away prizes
If you want to raise the incentive to play, I highly suggest handing out prizes to the winners! Even if it's just something small, it makes the game more fun!
If you want your game to be a big hit, you can even give out a small prize to each player and reserve the big prizes for the winners. This will keep everyone on the edge of their seats as they listen closely for the next picture to be called!
If you're looking for some great prizes, check out this Pumpkin Carving Kit, these funny skeleton slippers, and you can't go wrong with a great big bag of fall candies!
Don't stop at bingo
This game is way too fun to stop at just one bingo winner! Keep going and let your friends or family play for second or third place. Or clear the board and play over and over again.
My family loves to keep playing until someone blacks out their whole bingo board. The more cards are called the more competitive and fun the game will get! Trust me, you won't want to stop playing once you start!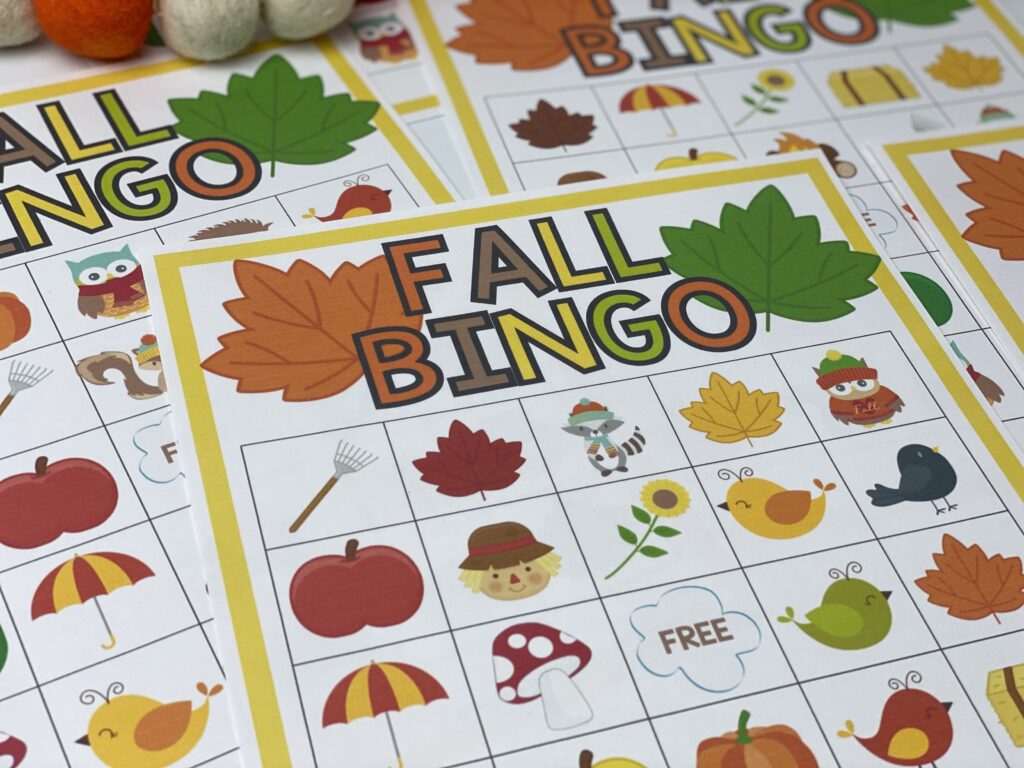 Fall Activities
This fall is so easy to spend time with your kids and your family with our fun fall activities. We have so many fun activities to choose from; they are so easy! All you have to do is download, print, prep (less than a couple of minutes), and start playing!
Simple family time is the best time and creates long-lasting family memories that you and your kids will remember forever!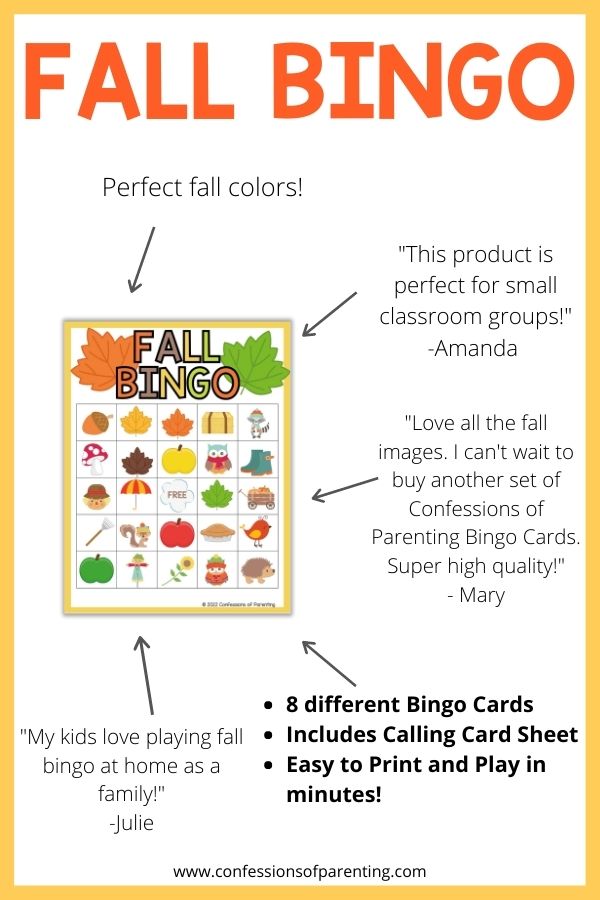 Fall Bingo Cards Free Printable
Grab your free fall bingo cards by joining our free Confessions of Parenting email list below! But if you aren't quite ready to get exclusive offers and emails from us, you can grab your fall bingo cards right here!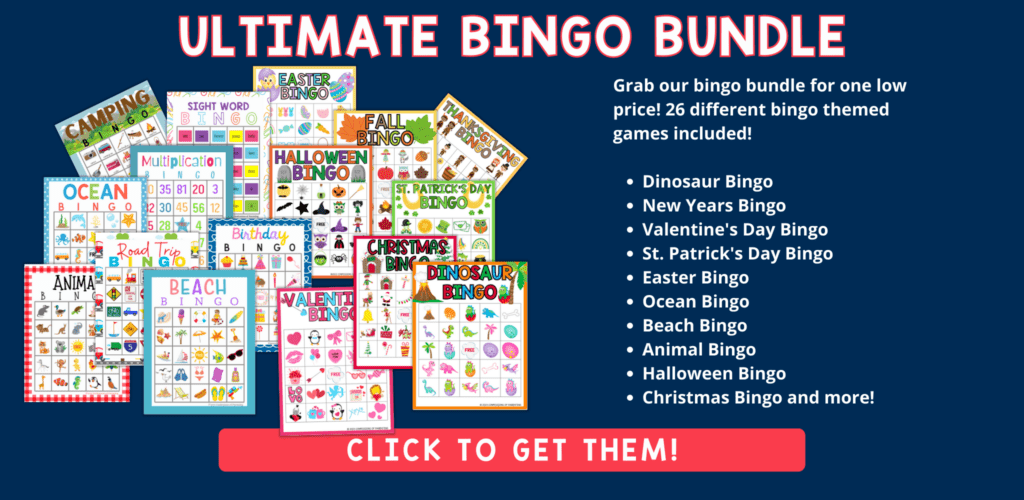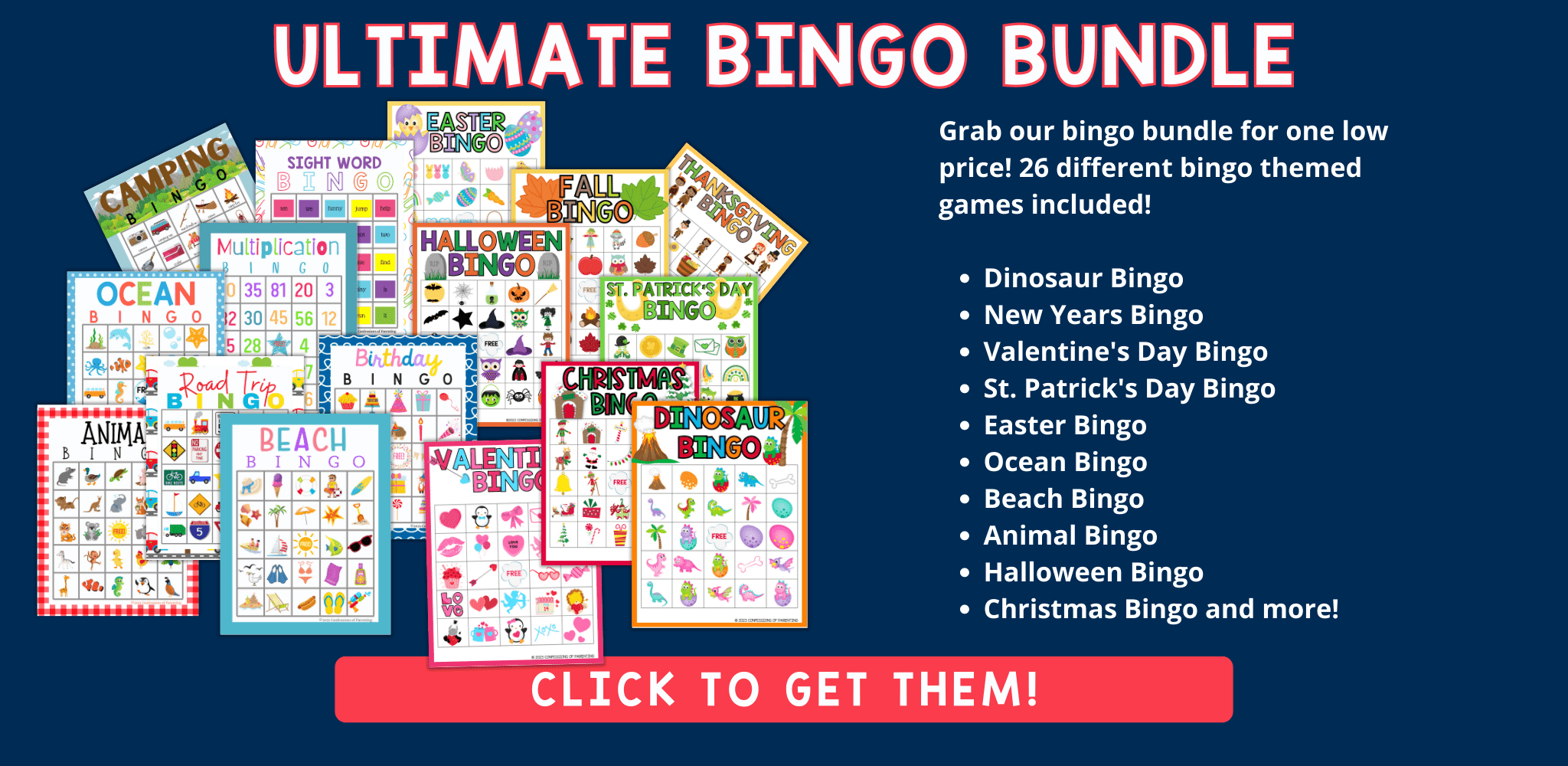 Helpful Tools We Love When Downloading Printables
Printer– I love my HP+ printer that uses Instant Ink. I love it because we can use as much color ink as you want for one low cost starting at $.99/ month for ink. Try it out for free here!
Cardstock- I always recommend printing on cardstock. This makes it way more durable so you don't have to worry about printing it time and time again.
Laminator / Laminating Sheets- Again, for added durability, grab a laminator and laminating sheets so that you can use this again and again!
Scissors (I seriously love these ones)
Dry Erase Pens- Use dry erase pens so that you can wipe your laminated printable clean over and over again for endless use!
Love Bingo Games? Don't forget to grab these too!
How Do I access my free printables?
Fill in the form above. You will receive an email in your inbox. If you don't see it, check your spam folder! You will see an email with your free printable.
How Do I Print a PDF?
You'll need a program that supports PDFs. Adobe Acrobat is a great option. Open the program, click File, then print. Select your printer and the number of copies you want to print. Be sure you click double-sided if you want it to print on both sides.
Can I resell these?
You may not resell any printable on our website or in our resource library. You may use them for class parties, at church, at home, or in the classroom. You may get these printed at an office supply store or copy center at your own expense.