This Valentine's Day Bingo free printable is the perfect activity for you and your family this year! Bingo is an all-time favorite because it's easy to understand and fun to play. Download your free Valentine's day bingo cards now!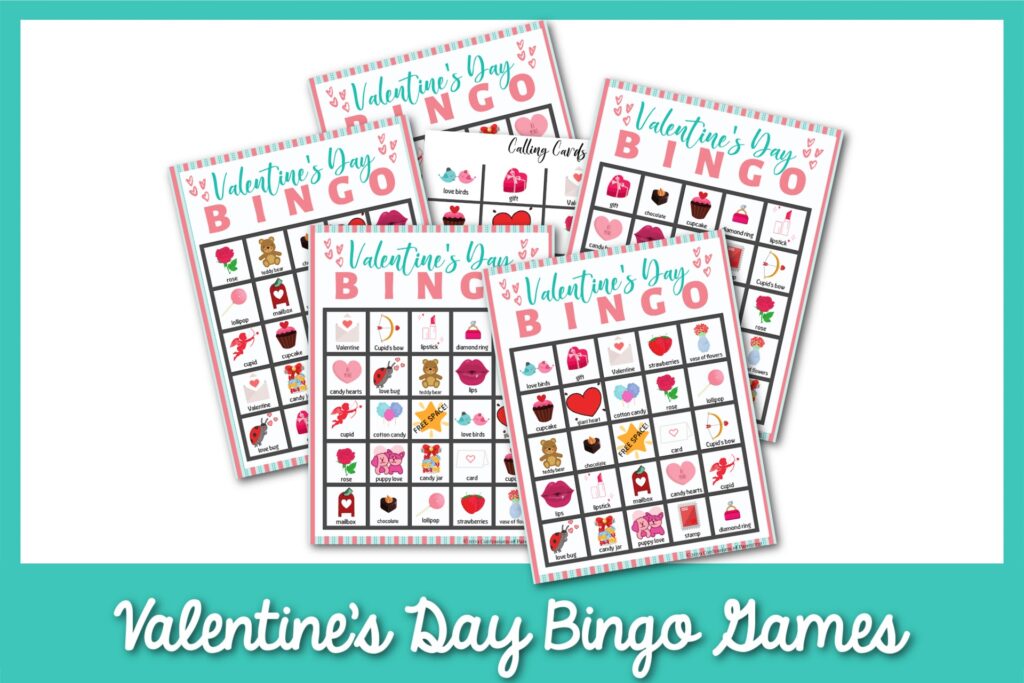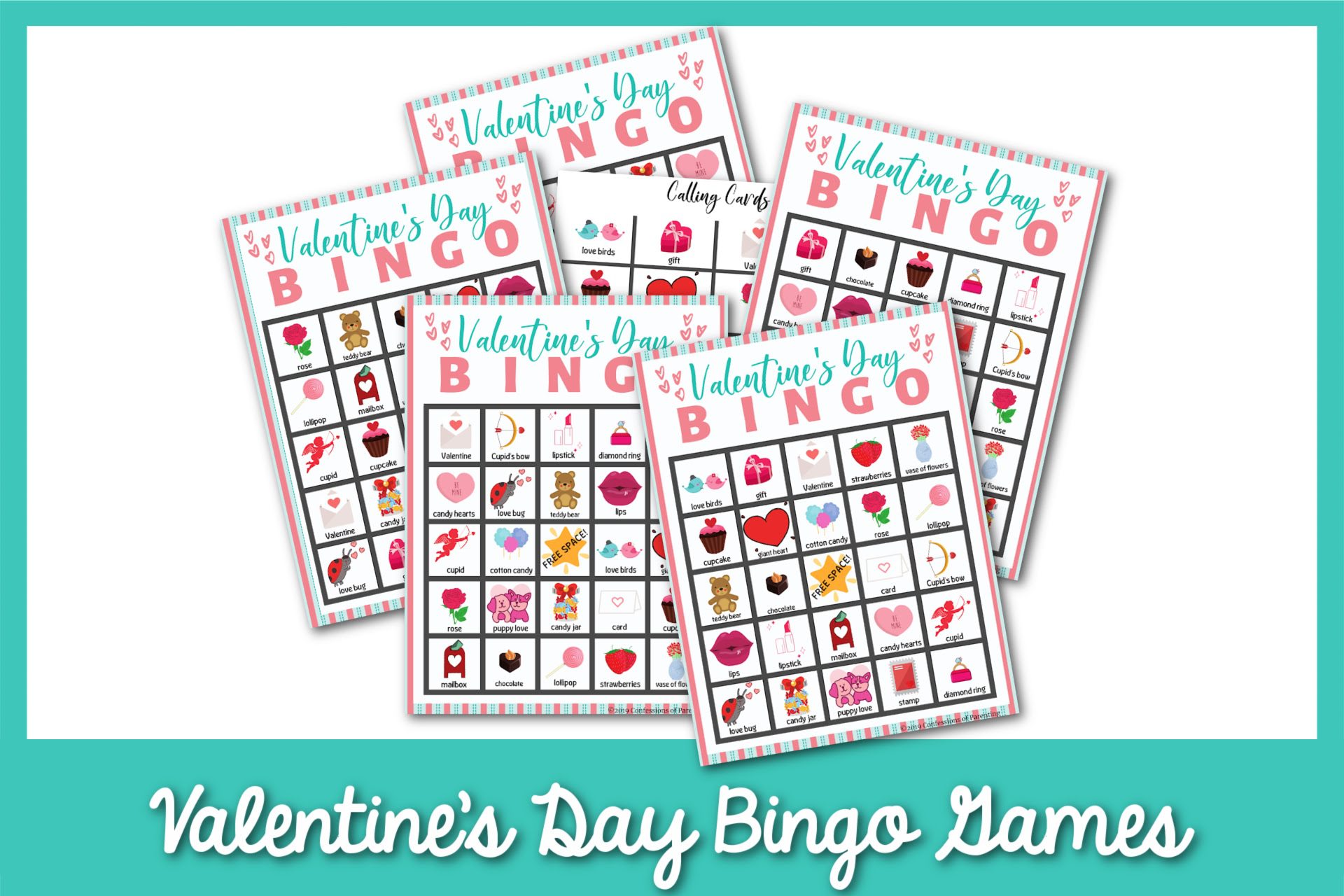 Valentine's Day Bingo Free Printable
Valentine's Day is one of my favorite holidays. I love the happy attitudes all around, the appreciation of love and friendship, and the family fun! It also helps that we get to eat the most amazing pink ombre pancakes that are perfect for Valentine's Day!
Growing up, I always loved doing fun things with my family for Valentine's Day like Valentine's Day scavenger hunts, making Valentine's for one another, and making strawberry cake mix cookies. It always brought us closer together, and we love having any reason to celebrate!
If you want some other fun Valentine's Day ideas, be sure to check out our Valentine's Day Trivia, Riddles, and Charades.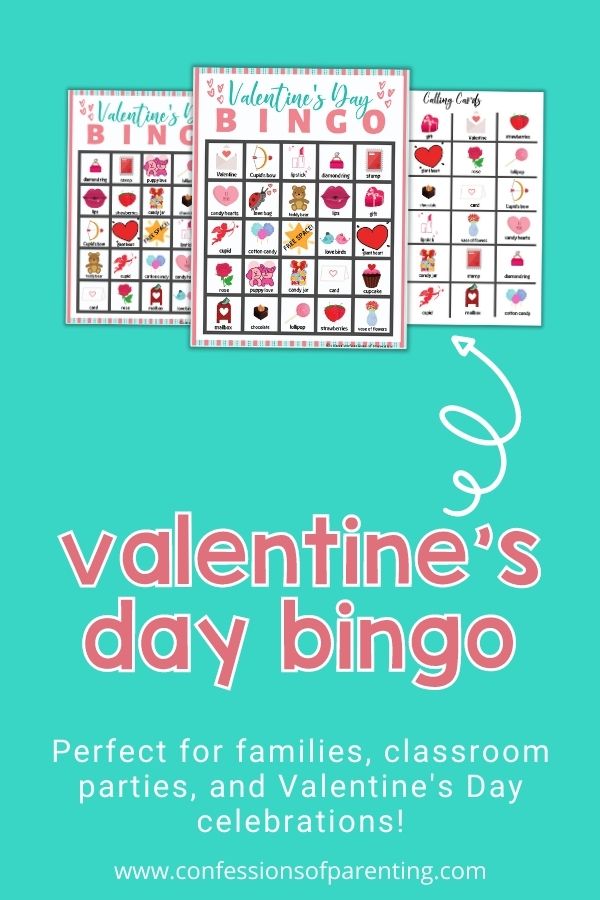 One of the best ways you can celebrate with your family this year is with these FREE Valentine's Day Bingo cards printable! It's super cute, easy to play, and lots of fun!
We are adding this bingo game to our growing list of free Bingo games like our spring bingo, Earth Day bingo and more! Check out all our other bingo games for kids!

How to Play Valentine's Day Bingo
Valentine Bingo is an easy game to learn and to play. One of the best things about this game is that anyone can pick it up in a matter of minutes. It really is perfect for kids of all ages as well as adults.
First, give everyone a Valentine's Day Bingo card. There are six different pages included in this free Valentine's Day Bingo printable.
If you want to use these Valentine's Day Bingo cards again I suggest laminating them. This is a good starter laminator that works really well and is perfect for small home projects. I have also found that Amazon usually has the best price on laminating sheets as well!
When you print your Valentine's Day bingo card, you will notice a sheet at the end of the printable with squares of pictures on them, this is the calling card sheet. You will want to cut out all the calling cards (laminate them for extra durability) and shuffle them and set them in a pile upside-down or place them in a bowl or a basket.
After everyone has selected a Valentine's Day bingo card, give them something to cover their squares with. You could use candy, paper heart cutouts, chips, small toys, whatever you want! We love to use conversation hearts because it is Valentine's Day Bingo!
Before you begin, be sure to put a marker on your "Free Space!"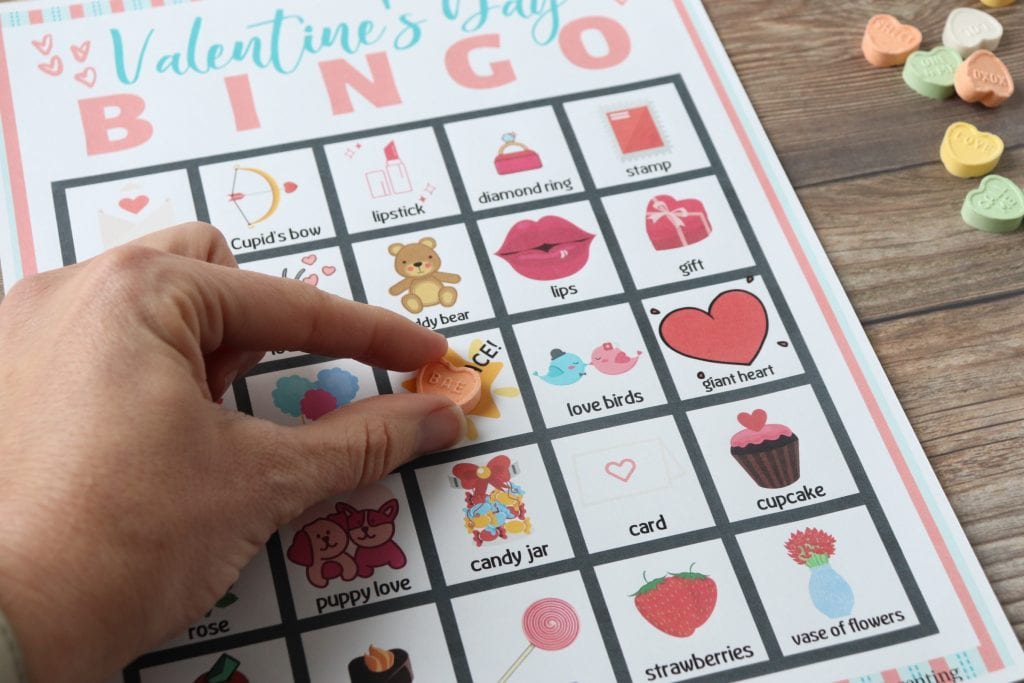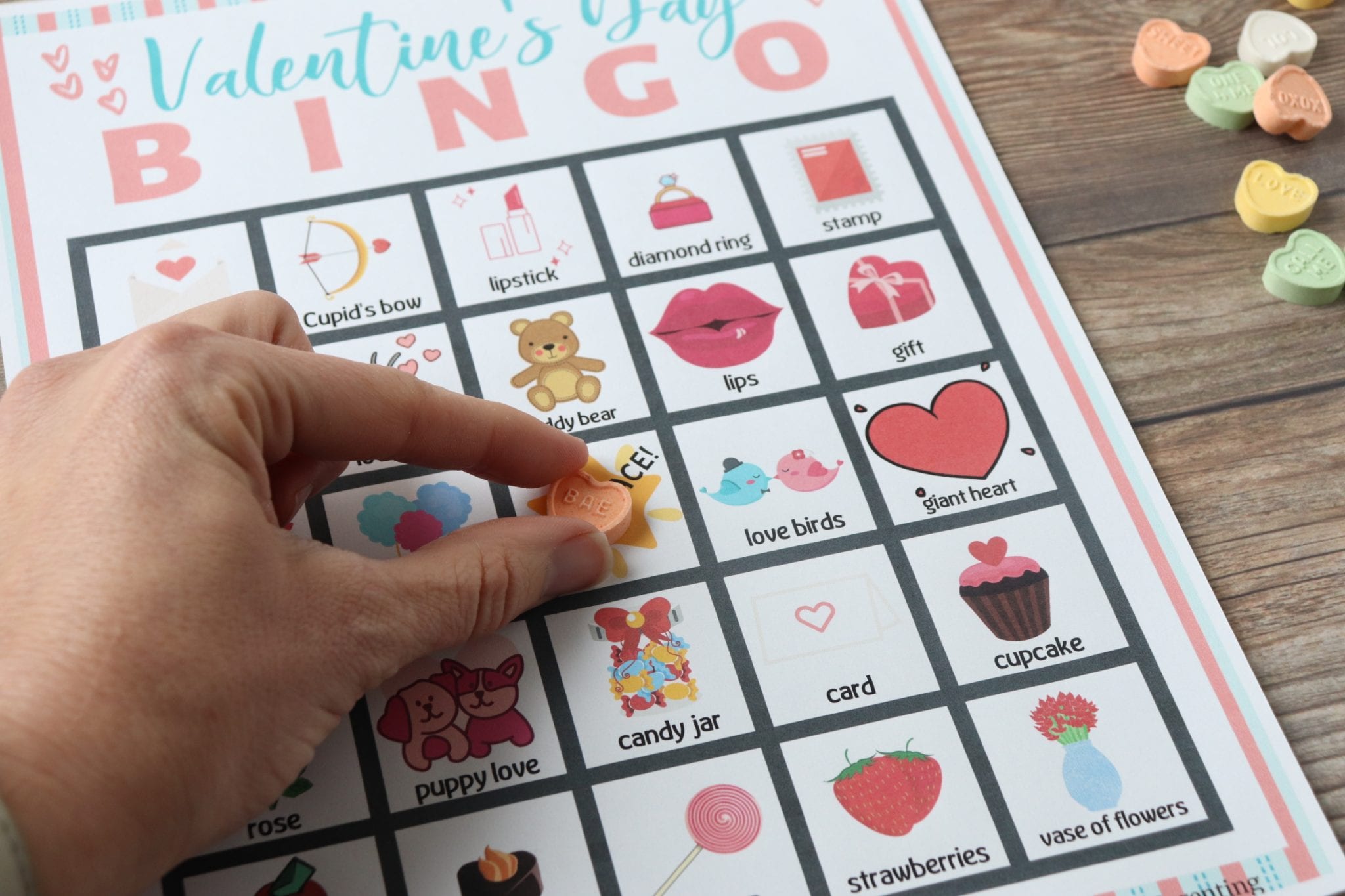 Then, use the calling card pile to draw one card at a time. After a calling card is drawn everyone must find where the corresponding picture is on their Valentine's Day bingo cards and cover it up with a marker.
Once you fill up a row of 5 horizontally, vertically, or diagonally you have to yell out "BINGO!" The first person to yell bingo wins!
More Valentine's Fun!
Looking for more fun Valentine's Day activities to do with friends and family? You will want to grab our ultimate Valentine's Day bundle loaded with all kinds of fun activities to help you connect with the ones you love! Use these fun activities at home or in the classroom. This bundle comes with over 80 pages of fun for one incredible price.
Helpful Tools We Love When Downloading Printables
Printer– I love my HP+ printer that uses Instant Ink. I love it because we can use as much color ink as you want for one low cost starting at $.99/ month for ink. Try it out for free here!
Cardstock- I always recommend printing on cardstock. This makes it way more durable so you don't have to worry about printing it time and time again.
Laminator / Laminating Sheets- Again, for added durability, grab a laminator and laminating sheets so that you can use this again and again!
Scissors (I seriously love these ones)
Dry Erase Pens- Use dry erase pens so that you can wipe your laminated printable clean over and over again for endless use!
Fun Tips for Valentine Bingo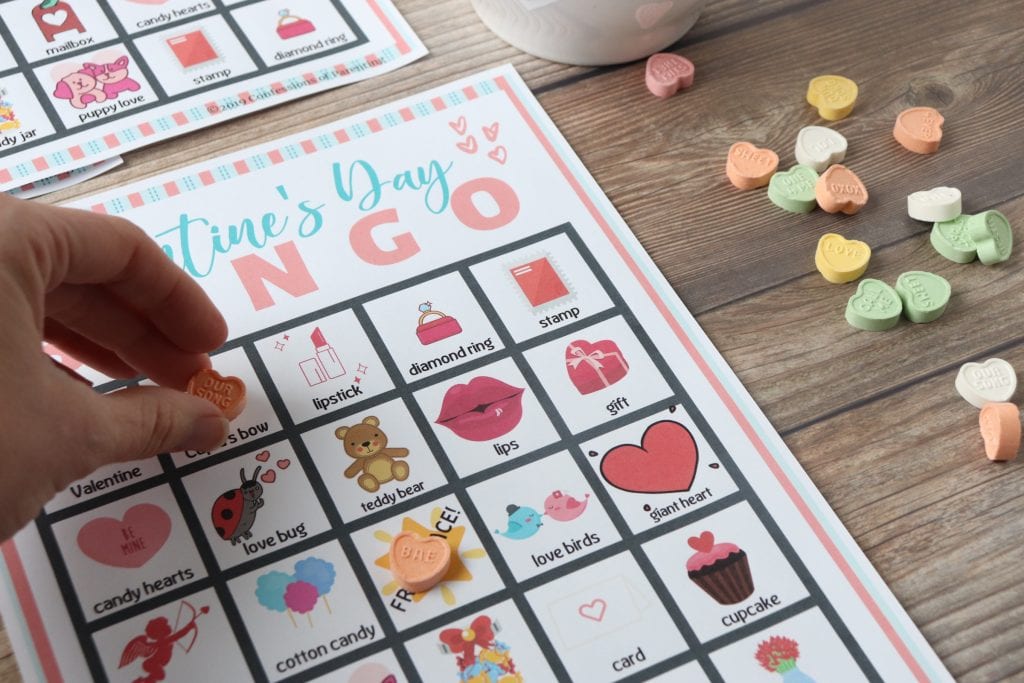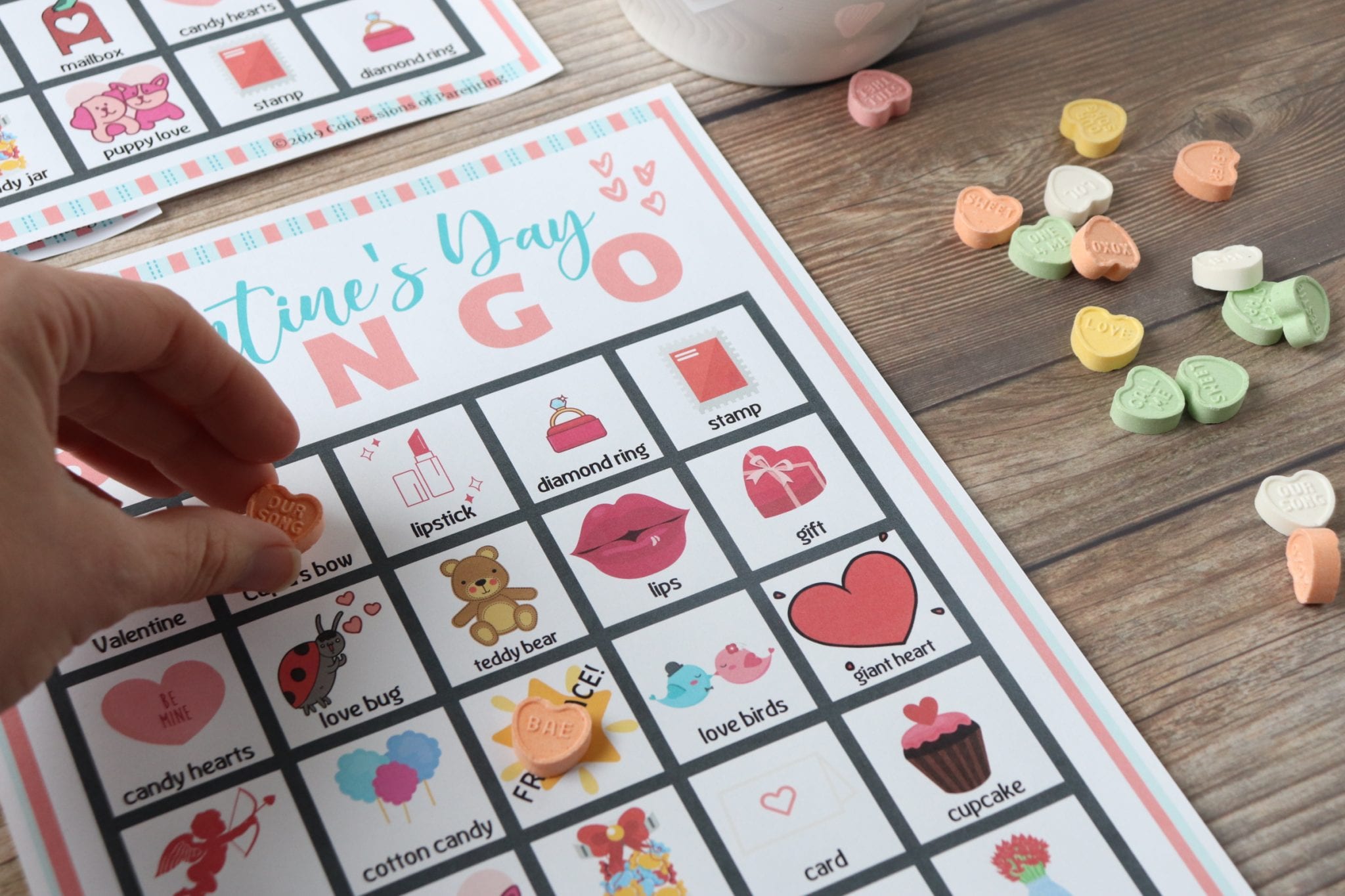 Valentine Bingo is perfect for schools, parties, home, or church. Again, it's so simple and kids love how the anticipation grows as time goes on throughout the game and they get closer to getting a BINGO.
To help everyone enjoy the game more, I've gathered a few of the best tips for playing Valentine's Day Bingo.
Print on cardstock
We love having the tradition of playing bingo on all of the different holidays, but I don't love having to print out the games over and over again. So, if you want to avoid this print on cardstock them. This makes the game a lot more durable! You could even laminate it if you're really serious.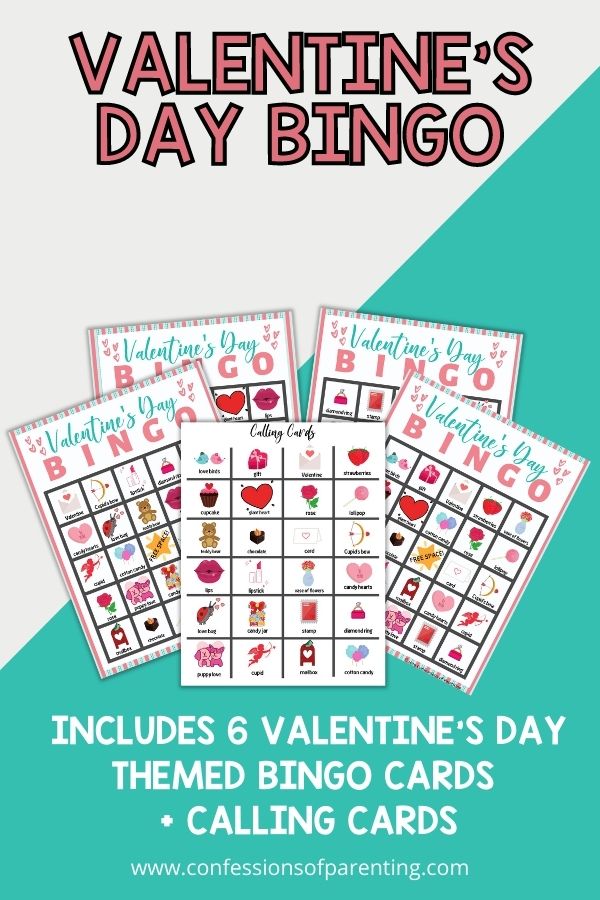 Use different placeholders.
Get creative and try something new every round you play! This is a great way to spice up the game and keep everyone entertained. A few of our favorite placeholders are M&Ms, conversation hearts, sticky notes, heart cutouts, and game pieces from different board games.
Explain the pictures.
Valentine Bingo doesn't just have to be a game. It can easily be made educational for your child. You can explain the pictures and how they relate to Valentine's Day or you can ask your child how they think it's related to Valentine's Day.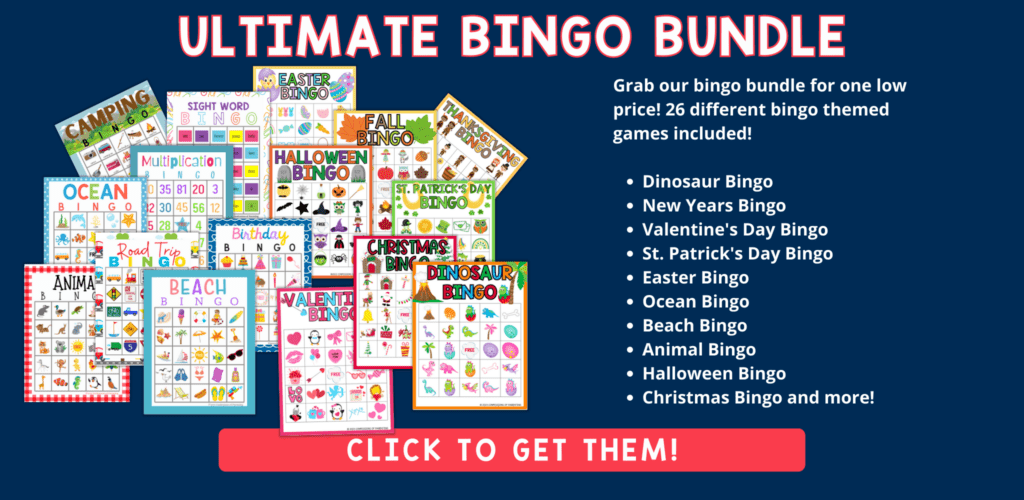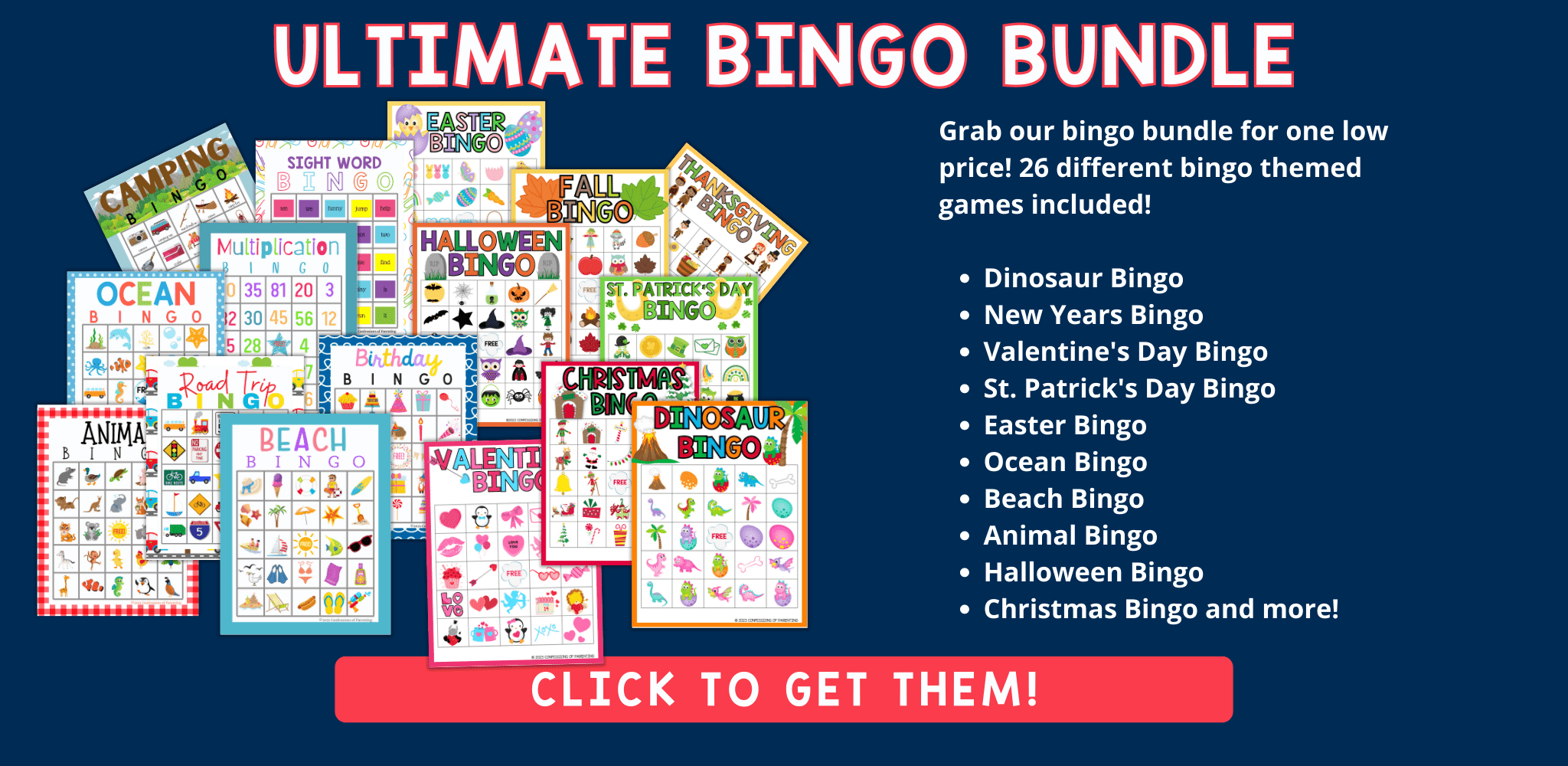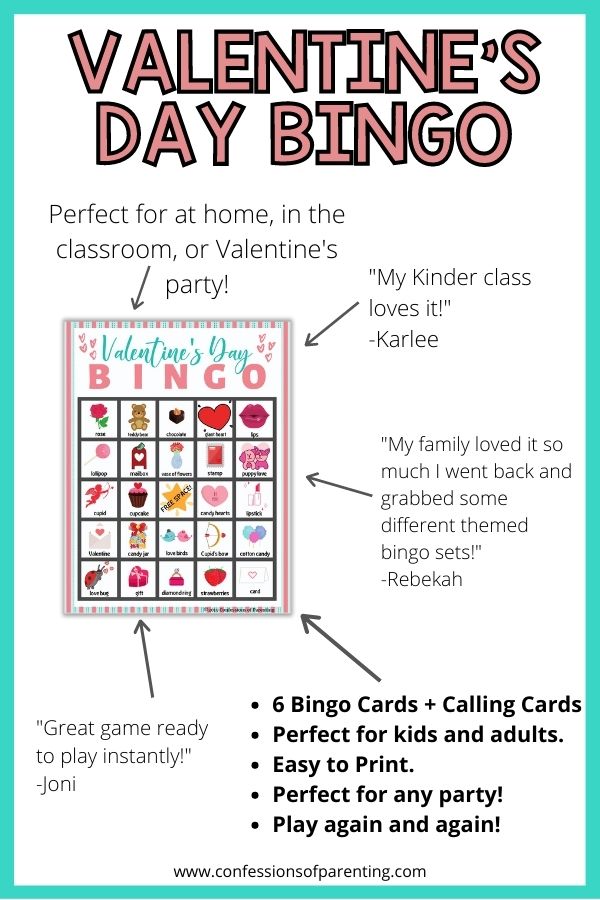 Download Free Valentine's day Bingo
Grab your free Valentine's Day Bingo game by joining our Free Confessions of Parenting email list below! If you aren't quite ready to join, you can grab it right here!
Play in teams.
This is a great way to invite some friendly competition to your game. You can play boys vs. girls, in partnerships, or kids vs. adults to see what team can all get a bingo first.
Give the winner a prize!
This is another great way to up the ante in your games. It helps everyone stay excited and involved!
Switch cards
One thing my family loves to do is to switch Valentine's Day bingo cards after each round.
It keeps things interesting because your odds of winning are never the same. And you have to spend time looking for pictures in different places. It keeps things fun!
Valentine's Day Bingo Cards Free Printable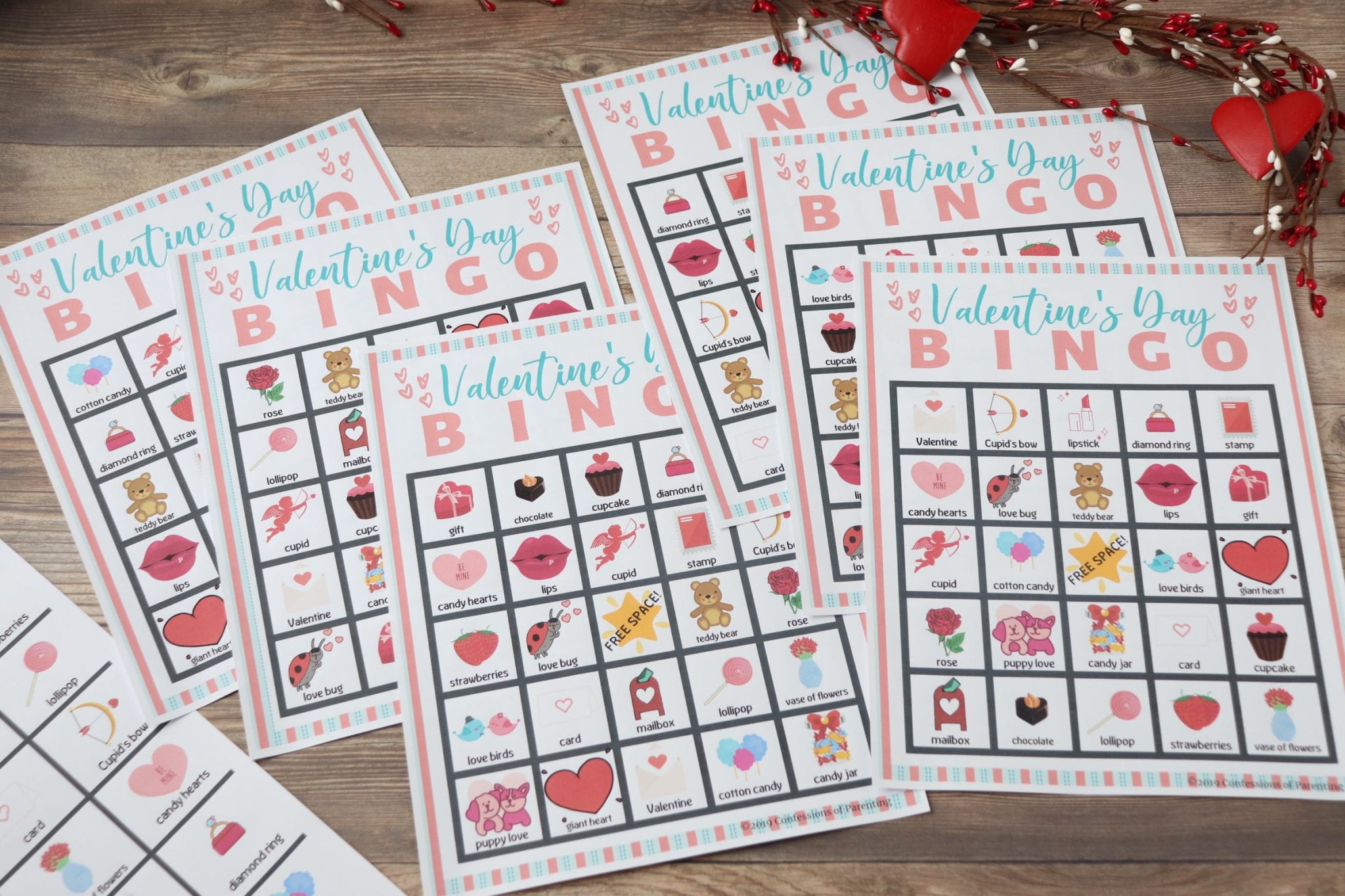 I hope your family loves this tradition as much as mine does. It's a great way to keep the holidays fun and family-friendly.
Love Bingo Games? Don't forget to grab these too!
How Do I access my free printables?
Fill in the form above. You will receive an email in your inbox. If you don't see it, check your spam folder! You will see an email with your free printable.
How Do I Print a PDF?
You'll need a program that supports PDFs. Adobe Acrobat is a great option. Open the program, click File, then print. Select your printer and the number of copies you want to print. Be sure you click double-sided if you want it to print on both sides.
Can I resell these?
You may not resell any printable on our website or in our resource library. You may use them for class parties, at church, at home, or in the classroom. You may get these printed at an office supply store or copy center at your own expense.